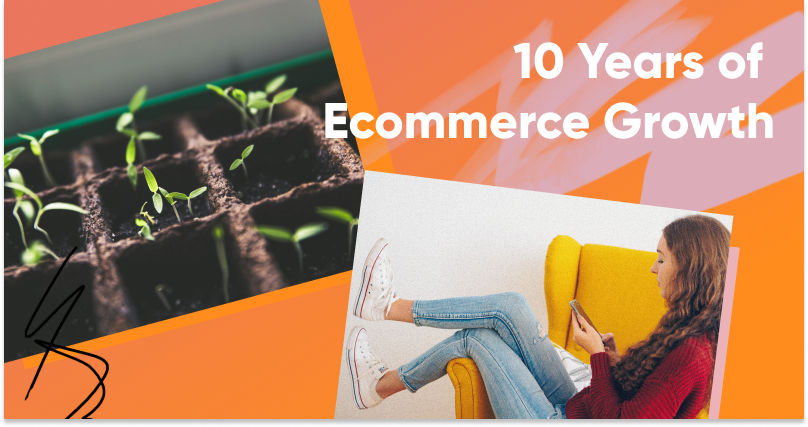 If there's one thing 2020 taught us, it's to be prepared for the unexpected.
A lot happened last year. The global pandemic forced companies around the world to rework their business models. In record time, they adapted to the growing ecommerce demand.
2020 left a significant mark on ecommerce. It felt like someone pressed a button and fast-forwarded the digital world by 10 years.
It's safe to say that 2020 was a lot of things—including a very important year for ecommerce.
Let's look at how the industry has changed. We'll also share three crucial tips for 2021 and beyond.
1. Optimize mobile experience
Mobile responsiveness has always been important, but this year is different.
An estimated 54% of total ecommerce sales are expected to come from mobile devices this year. It's essential to make all your ecommerce experiences mobile-friendly.
Your ecommerce store could be getting between 70-90% mobile traffic. Naturally, you'll want to convert those visitors into loyal customers and your best chance is to create a mobile-friendly shopping experience.
Here's the thing. Responsive design is only one aspect of a good mobile experience. A growing number of mobile shoppers expect a seamless and immersive virtual shopping experience using elements like precise location and augmented reality (AR).
You can take advantage of this trend by capitalizing on smartphone capabilities, such as:
GPS for helping shoppers find products at nearby stores.

Rear and front-facing cameras, so customers can preview products using AR.

A built-in microphone, so customers can use voice search or give voice commands.
Also, you want to factor in "thumb-oriented design" when designing your mobile ecommerce store. You can place buttons and menus in locations that are "thumb reachable" by increasing greater accessibility for one-hand usage.
Ecommerce brands started by offering customers free shipping as a sales incentive. Things have changed and now free shipping is standard practice.
64% of consumers

expect companies to cover all shipping costs. Meeting your customers' expectations is important for building brand loyalty and minimizing site abandonment.

ShipStation reported

that 39% of shoppers

are more concerned about shipping costs than they were before the COVID-19 pandemic started

.
The Solution? Ease their concerns with a sticky bar that advertises your shipping policy. That way, they understand your free shipping conditions from the beginning.
Below, you can see an example of a free shipping threshold where the customer is encouraged to reach over $150. This means more revenue for you too!
Did you know more than half of consumers will switch brands after a negative experience?
Your greatest asset is your customers. If you make them feel acknowledged and appreciated, you can turn occasional shoppers into lifelong supporters.
Engaging with your followers by building a strong community will set you apart from your competitors and encourage customers to be loyal to your brand.
If you already have a mailing list and manage a professional Facebook group, you're off to a good start. You can also optimize your community by providing customers with a holistic experience that includes:
Live video chats

Webinars and Q&A events

Meaningful content offering tips and tricks, as well as "how-to" videos
Platforms like Facebook, Twitter, and Instagram offer you a space to listen to customer feedback and engage in conversations with your followers.
Ecommerce is constantly changing. Keeping up with those changes doesn't have to be difficult.
We're certain that our tips in this post will help you adapt to evolving customer preferences and expectations.
Learn more about how you can keep up with ecommerce trends by watching Colin Cooper's webinar on our Ecommerce Revolution Facebook group.
Haven't joined our group yet? Click the link above to register. It only takes 30 seconds and you'll gain access to live webinars and Q&A sessions with industry experts, and other valuable resources to help you improve your ecommerce company.
We'll see you there!