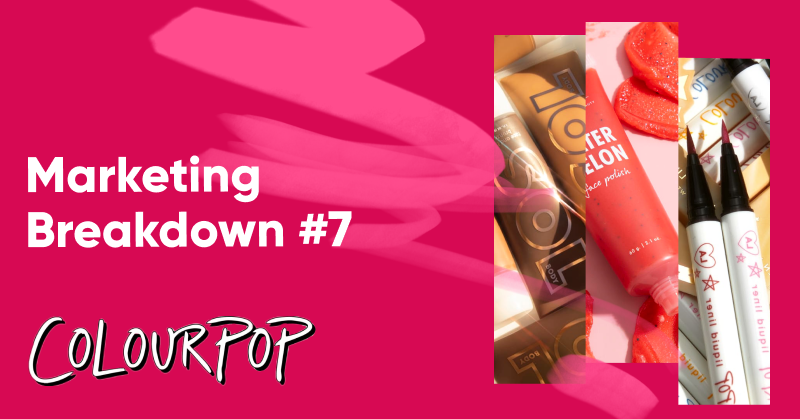 In this breakdown, we'll look at how ColourPop uses social media to grow their business. You'll learn how to apply this strategy to your company and grow your brand—regardless of your industry.
ColourPop was a small, relatively unknown cosmetics company when it launched in 2014. Now, it's a household name that generates more than $70 million in annual sales and competes with big-name brands like Urban Decay, Kylie Cosmetics, and KKW Beauty.
We analyzed ColourPop's campaign to see what made them so successful—then we came up with a guide to help you enjoy similar results. 
Let's jump in. 
Step 1: Give freebies in exchange for authentic reviews
When done right, influencer marketing is one of the best strategies in your marketing playbook. 
Twitter found that nearly half of consumers trust influencer recommendations as much as their actual friends.
But there's a catch—influencer content needs to be authentic if it's going to inspire shoppers. Otherwise, the campaigns won't work. 
Or worse, they'll backfire. 
ColourPop knew it, so they partnered with top beauty influencers like Kathleen Lights and Nikkie Tutorials and gave them free products in exchange for reviews.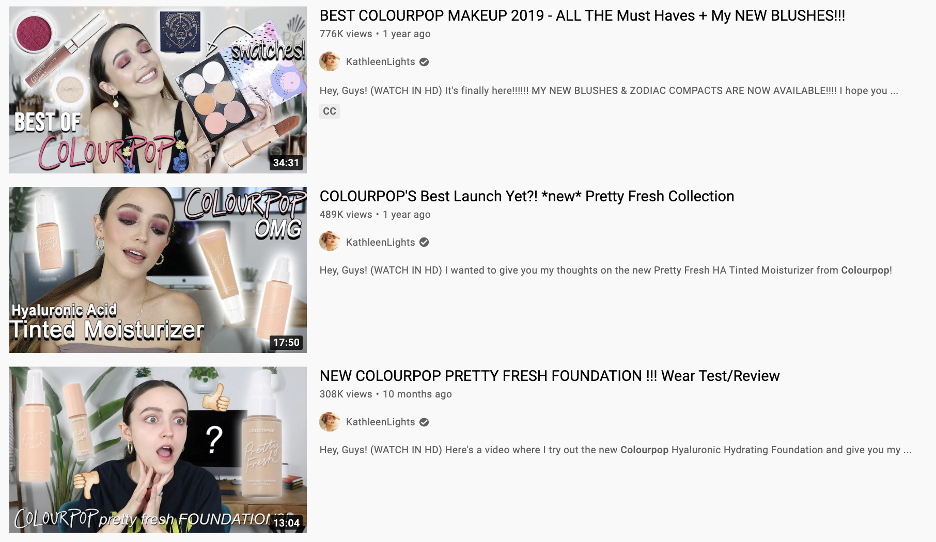 These partnerships created a lot of buzz around the brand.

Beauty influencers review the products and share the results with millions of people. ColourPop gets a lot of exposure without aggressive promotion. Suddenly, more people took interest in ColourPop and created their own reviews.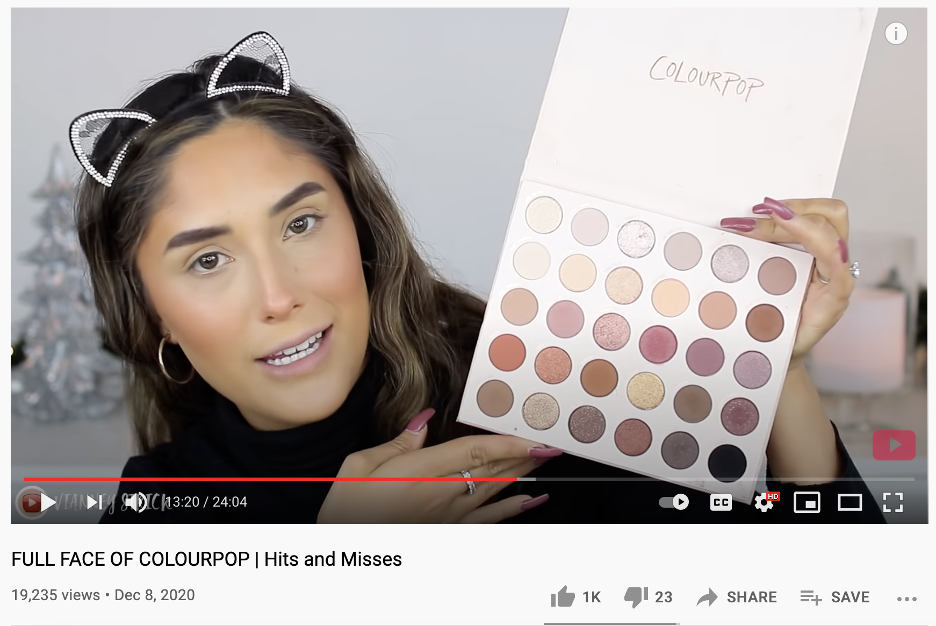 You can adopt a similar approach by working with influencers in your industry.
Don't worry if you can't afford big-name influencers with millions of followers. You can enjoy similar results working with micro-influencers with anywhere from 10,000 to 100,000 followers. They're much more affordable and more likely to accept freebies in exchange for reviews, of course, you need to check followers' quality before making a partnership.
Here are some tips to find the right influencers:
Relevancy is important:

Find influencers that align with your industry. They have followers who'll be interested in your products.

Focus on quality, not quantity:

Look for influencers with high levels of engagement instead of ones with a lot of followers.

Share the same values: Influencers are the face of your company. Only work with people who share your values.
When you do find the right influencers to represent your brand, connect with them.
Step 2: Build meaningful relationships with your influencers
Want to make your marketing strategy stand apart from your competition? Deepen your collaboration with influencers. 
ColourPop created product lines with their top influencers like the "KathleenLights x ColourPop" collaboration. They made their influencers part of their brand instead of just using them for product reviews.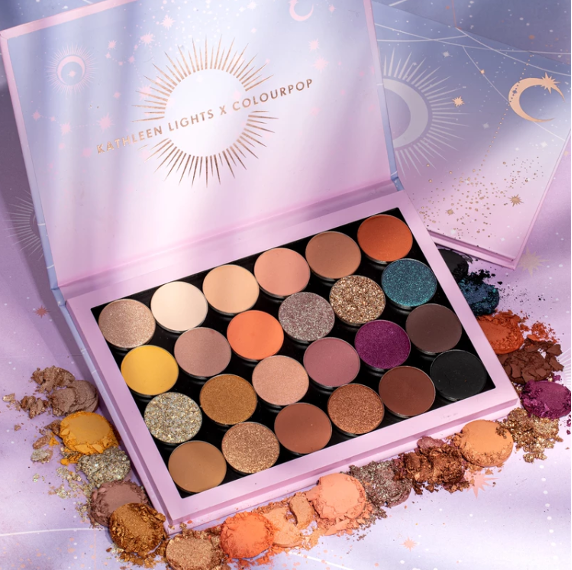 Or this collaboration with RawBeautyKristi.
These collaborations are great for everyone.
Followers are interested in buying the products because they're fans of the influencers. You enjoy an increase in sales. And influencers increase their credibility because they get to play a role in creating a product. 
If you're running a DTC company, you can do similar collaborations with your influencers. You don't need a large-scale operation with an extensive product line—the RawBeautyKristi x ColourPop collaboration only has six products. 
A couple of new products are enough to reach new customers. You just need to make sure your signature products align with the style and personality of your influencer. Fans really need to see the influencer in the product for this tactic to drive sales.
Step 3: Get your hashtag trending
Create a hashtag specifically for your campaigns if you want to boost engagement and improve your brand recognition.
ColourPop created the #ColourPopMe hashtag and included it in their Instagram posts. This made it easier for people to participate in discussions about ColourPop products and view branded ColourPop content.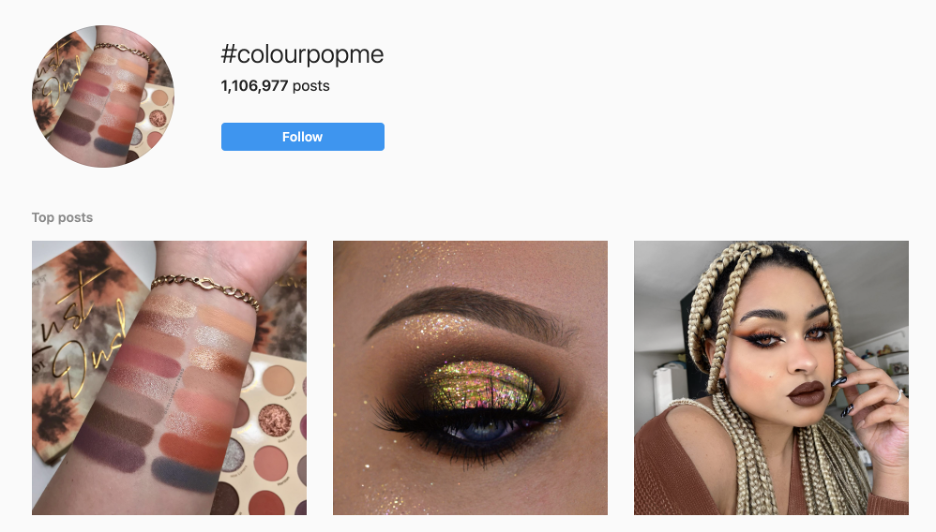 And it didn't take long for #ColourPopMe to take off. Now 1.1 million people use that hashtag on Instagram when posting about their range of products. 
How did they get that many people to use it?
They encouraged them. ColourPop adds Instagram photos using the hashtag to their product page.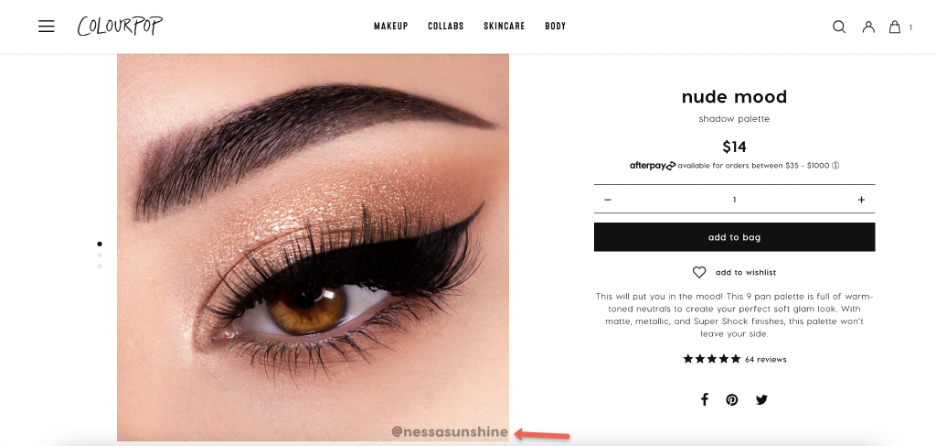 They also share these images on their Instagram account. And in both cases, ColourPop makes sure to credit the photos they use—which is a great opportunity for aspiring influencers to gain exposure.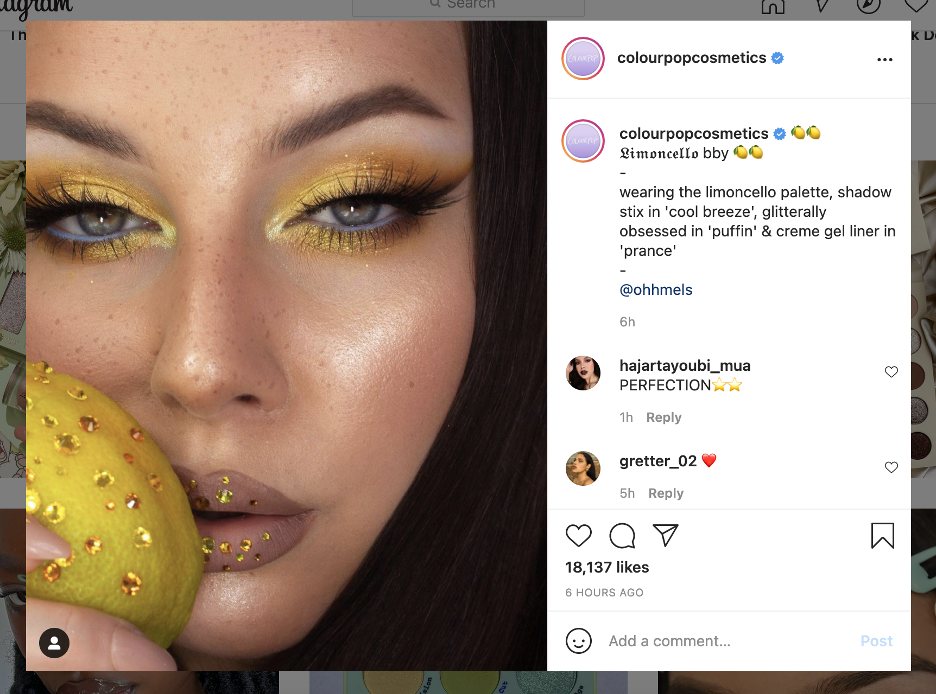 What's great about this strategy is that anyone can do it—all you need is a social media presence. Here's how you can launch a similar social media campaign for your business:
Create a hashtag for your brand. Make sure the hashtag is unique so it's easy to recognize and clearly associated with your company.

Create awareness around this hashtag. Talk about it on your website, add it to your marketing campaigns, and consistently use it when posting on social media.

Encourage your followers to create content using your hashtag.
Here's how ColourPop encouraged their Facebook followers to spread their #ColourPopCollection hashtag: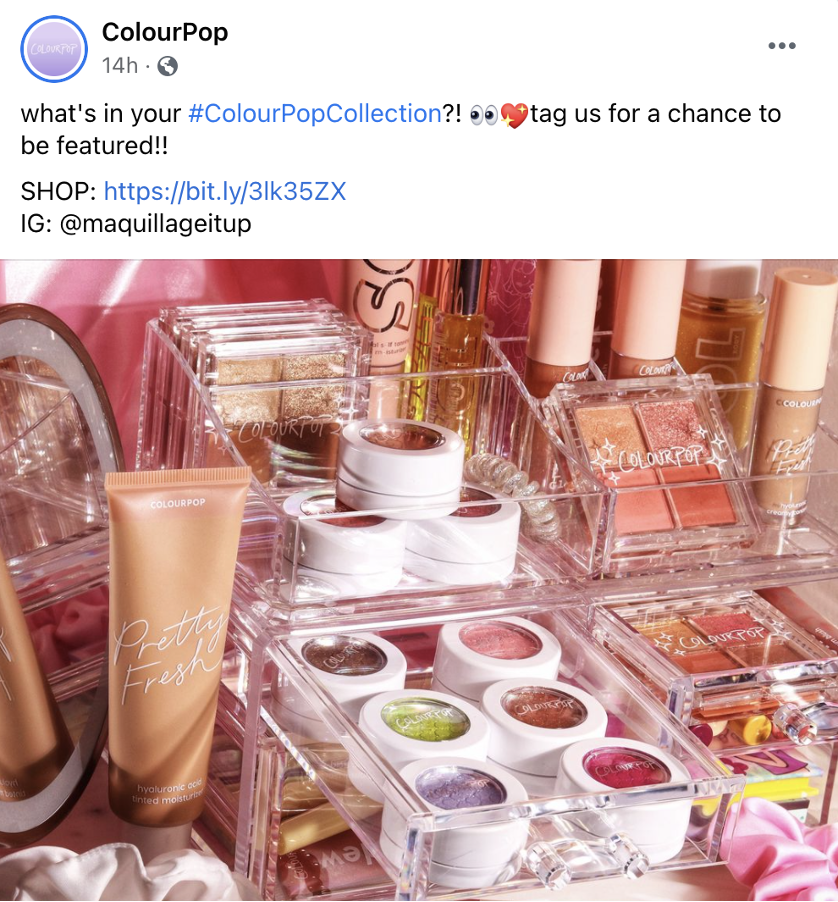 You can try this strategy with your business. 
Here's how you can do it:
Ask followers to use your hashtag to create branded content like pictures, videos, and product reviews. 

Feature that content on your website and social media profiles. 
Protip: Include a little note with your order—thanking the customer for their purchase. Then, ask them to share their experience using your hashtag.
Here's a great example of it.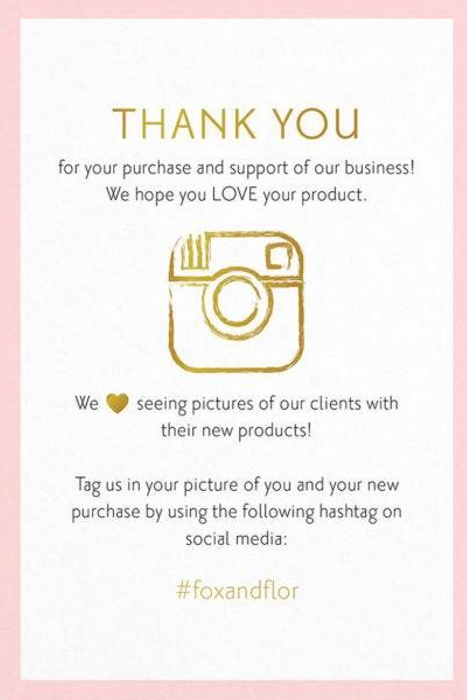 Customers love feeling appreciated by their favorite brands. Use this approach to increase brand loyalty and create more awareness around your hashtags.
Step 4: Host Instagram giveaways
Giveaways are great for generating excitement around your brand—which is why ColourPop constantly hosts giveaways on Instagram.
They ask customers to like, comment, and share their social media content. They get more engagement, and customers get free stuff. 
Let's look at how they do it.
First, ColourPop creates an Instagram post advertising the giveaway. They post a picture of the prizes and give instructions on how to enter the sweepstakes. 
ColourPop uses sweepstakes as a fun way to engage with their followers on Instagram. You can do the same by hosting a giveaway for people who:
Follow your social media account.

Like a specific post.

Leave a comment on the post.
For ColourPop's campaign above, they asked followers to comment on their favorite character in Animal Crossing. But you can choose anything for followers to talk about. 
You can even use this opportunity to collect feedback. Ask them to rate or review your products.
Another great tactic ColourPop used was the "bonus entry." When someone reposts ColorPop's post, they're entered into an additional giveaway for extra prizes. This helped ColourPop amplify their reach while giving followers the chance to win twice.
And how did this strategy perform? Incredibly well. ColourPop received 150,000 likes and 26,000 comments within the first 16 hours of launching the campaign.
What if you don't have 10 million followers like ColourPop? Granted, you won't receive as many likes in a day. But you can still use this strategy to strengthen relationships with customers and increase your followers.
Ask your influencers to participate in your giveaways. This will help you extend your reach, so you can introduce your brand to even more people. 
Here's how ColourPop partnered with KathleenLights to host their giveaway.
There's one key difference between this giveaway and the one ColourPop posted. 
With KathleenLights' giveaway, followers have to tag three friends to enter the sweepstakes. 
This is a great strategy for creating awareness around your brand. You're not just reaching your influencer's followers—you're also reaching the followers of their followers.
You can apply this strategy to your social media campaigns, even if you don't work with influencers. Next time you host a giveaway—have your followers tag their friends as part of the entry requirements. This is an easy way to increase your social reach—and it really works!
Create an amazing social media strategy
There you have it—four actionable steps that will transform your social media campaigns. 
Want to know why these steps work? Because each one focuses on building relationships. ColourPop baked relationship-building into their social media strategy. They connected with their followers, with influencers, and even built connections between their influencers and their followers. 
You can follow the same strategy. And like ColourPop, you can build your customer loyalty, grow your brand organically, and turn interested shoppers into lifetime customers.