There are a ton of marketing blogs on the Internet. People write about a wide range of marketing topics and they share their best practices for digital marketing – even though they might not be experts in the subject.
It's hard to keep up with all the information out there. How do you decide which advice is reliable and which tips aren't worth following?
We're here to help! In this article we've gathered some of the worst pieces of marketing advice you should definitely NOT follow in 2018. By avoiding these mistakes, you can be sure to use your time and effort for marketing where it counts the most.
#1 – You need to be active on every single social network
Social media is an important part of online marketing. It gives you a great opportunity to reach your audience or promote your brand. But there's a big misconception that your business has to be on every single social network.
Not every social media site is right for every business. Monitor your engagement and stop wasting time and money on social media sites and platforms that don't work for you.
Here's an example: Statistics show that roughly 85% of Pinterest users are female. So it doesn't make sense to be active on Pinterest if your audience and your customers are 50 year-old men. However, if your business focuses on fashion or beauty products, there are plenty of ways to use Pinterest to boost engagement.
Find the right networks and set goals for your engagement. Facebook and Twitter can be a great starting point for any business because they have huge audiences. Bear in mind that doesn't guarantee that they will be the most engaging social media sites for you.
Ask yourself: Where is my audience? Where are they searching for information? And then, do some research and experiment. There's no rule of thumb that works for every business. By testing different platforms and posts, you can learn what works best for your business.
#2 – Email marketing is dead
"Email marketing is dead." I'm sure you've heard this one before, many people have been saying this for years. It goes in waves, first people say it's dead, then it's alive, then it's dead again.
The truth is, email marketing is not dead. In fact, it's constantly evolving as marketers create more targeted email campaigns. There are a number of email marketing platforms for using personalization and automation workflows to improve your results.
According to one ecommerce study, segmented and targeted emails generated up to 58% of revenue. Welcome emails, follow-up emails, cart recovery emails and more can be used to engage your customers and visitors to your site.
Email marketing can be one of your best channels to increase sales when used effectively. We even wrote an article on how automated email marketing can grow your sales.
Here are some more statistics that prove email marketing is very much alive:
#3 – You should buy email lists
When it comes to your time, buying an email list is much easier than building one, that's true. But think about it: those recipients have never heard of you or your company, so why would they open your email?
Quite often your message will be marked as spam and it will have a negative effect on your reputation. Not to mention the fact that you had to pay for it.
The best practice is to send emails to people who actually want to hear from you. There are plenty of options to build a great email list that will help your business. You can set up a special landing page for your newsletter subscription or just place it on your homepage.
When you offer deals and discounts to people who subscribe, people are more likely to sign up. Another proven tactic is to offer a free eBook or white paper to encourage people to subscribe. If you don't have an eBook, you can offer another giveaway. Most importantly, make sure it is something that has real value for your audience.
OptiMonk is another great option to build an email list of people who are interested in your business. You can create a popup that asks people to sign up for your list right before they leave your site. Check out the example here that uses a simple form to request only the email address of the visitor.
(Note: Would you like to learn more about OptiMonk and how to use popups? Click here and download our free ebook that contains over 100 pages of tips and best practices for engaging and reengaging your customers and boosting the sales on your site with onsite retargeting.)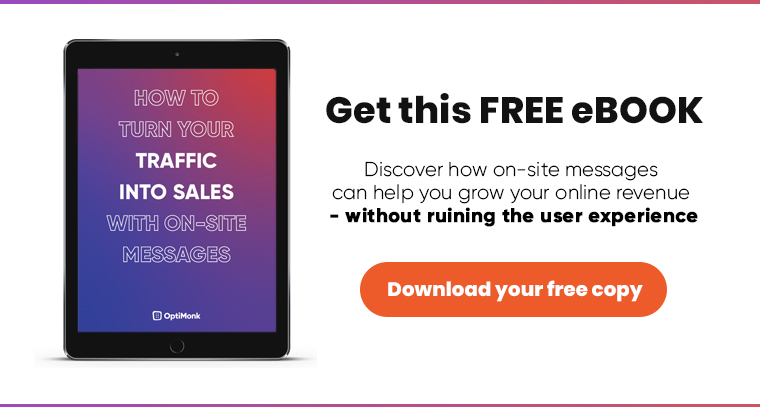 #4 – Don't personalize
This is some of the worst marketing advice you will ever hear.
Customers love when their shopping experience is personalized. Think about your favorite coffee shop or grocery store where the seller greets you by name. Don't you love when you're recognized and they pay special attention to you? To provide a great user experience, you need to forget about the "one size fits all" approach and personalize your offers for each customer.
You can use dynamic content on your homepage based on specific data to customize your content and messages. For example, geotargeting based on location, or traffic source, depending on which site or ad platform a visitor used to get to your site.
With personalization, you can suggest products based on your customers' previous purchases, and, you can create highly-customized emails to boost their engagement.
For example, let's say you visit an online shop, add a few things to your cart, but then leave without buying. A popup asks whether you want to sign up for a discount. You like the brand and products so you give your email address. The next day, you'll get an email:
"Hi Anne,
There are 3 products in your shopping cart waiting for you. They were really starting to get attached to you, and we don't want to make them sad. So how about you come back today to finish the purchase and we'll cover the shipping costs?"
As we've seen, these types of cart recovery emails can be highly effective, with a 40.5% open rate.
It's no coincidence that the biggest brands like Amazon or Netflix use personalization too. For example, Netflix designs a profile for each user based on their browsing history. They present recently watched movies and suggest 10 more movies that visitors may interested in, based on their profile.
Onsite retargeting can also be used for personalization. When onsite retargeting with OptiMonk is used for ecommerce personalization, up to 15% of abandoning visitors can be converted into sales and leads.
For example, Kitchenware Direct created a rule based on location that displays a popup with the message "Now Shipping to New Zealand!". This message is geotargeted and can be only seen by visitors from New Zealand.
They A/B tested the rule and found there was a big difference in conversions between visitors from New Zealand who saw the message and those who did not. The conversion rate was 5.1% among customers who saw the message, while it was only 1% among the control group.
Check out more ecommerce personalization strategies and tools here.
#5 – Don't waste your time on SEO
Another one you might have heard like "Email marketing is dead," is "Search is dead."
Meanwhile, Google alone performs at least 2 trillion searches each year. Take some time to process that number – 2 trillion.
Now, think about how many people search for your products or services each day, and how many actually find your website. There's probably a huge difference between those numbers – unless you're Taylor Swift of course.
Here's a few quick facts: up to 75% of people type in a new keyword if they don't find what they need on the first page. The first 3 results get approximately 60% of the clicks.
Considering all that, it's clear that SEO is as alive as email – and it's continuously evolving too. I won't deny that getting to the first page for specific keywords can be difficult. It may take a lot of struggle and time but it's worth it because organic traffic still has a huge impact on your overall marketing efforts.
Here's a few more statistics to chew on:
Search drives 10x more traffic to shopping sites than social media. (Source: Search Engine Land)
66% of marketers say improving SEO and growing their organic presence is their top inbound marketing priority. (Source: HubSpot)
The most effective tip here for all sites is to be sure your site is mobile-friendly with a completely responsive design that works across different screen sizes. Since 2015, more searches are being done on mobile than desktop, and the gap is widening. To keep visitors on your site, your website has to look good on all platforms. With the latest update to Google's search algorithm, it's about more than looking good, it's vital that your site is mobile-friendly so you can rank well in search results
Conclusion
We hope you've enjoyed some of the worst marketing advice we could share with you. By avoiding the mistake of following the 5 pieces of advice above, you'll be a step ahead of the game already.
Start the New Year by doing some research and learn which social media sites are the best for your business. Build a reliable email list and send welcome emails, follow-up emails, and automated emails for cart abandonment and other actions. Personalize your messages whenever possible and be sure to follow best practices for SEO. And never buy an email list, paid lists can cause more harm than good.
Have you heard/read any other terrible marketing advice? Share it in the comment section.
Editor's Note: This post was originally published on December 28, 2016 and has been updated for accuracy and comprehensiveness.