Are you new to the world of SMS messaging? Do you need to run an awesome SMS campaign for your Shopify store? If your answer is "yes," then wait 'til you see our 5 top-tier 🏅 SMS marketing strategies. Once you give them a try, you'll see that they're pretty easy to implement.
You want your customers to enjoy shopping on your site, and they want to feel special. 
With this surefire method, you'll have a higher chance of drawing in happy customers that will thank you by becoming loyal fans. 
In this post, you'll also find solid messaging examples that can help you reach your customers on their phones (their most used device) while you simultaneously nail your different marketing goals.
Prepare your engines…
The benefits of SMS marketing for ecommerce
You might be asking: Is SMS marketing worth your time and investment? It definitely is. 
Here's the proof:
SMS marketing helps increase campaign awareness

—

people open 98% of the SMS messages they receive (

Gartner

). That's a huge customer-awareness margin!

SMS messages are best for time-sensitive communication. Since people usually open text messages right away, this method is perfect for messages that need more immediate attention. (Think: timed-welcoming messages, shipment info, big sales, order confirmations, etc.)
Customers are used to SMS marketing— 81% of U.S. customers have opened a text message from a business (eMarketer).
It's no surprise that businesses realize that this is a no-brainer success strategy. Fun fact by eMarketer: 56% of U.S. retail businesses plan to power up by investing more in text message marketing platforms in 2021.
Here's what you can do if you decide to join these businesses for the win.
1. Encourage first purchases with a welcome message
Welcome SMS messages with eye-catching discounts can boost the confidence of new customers to help them place their first order. This format is just like welcome emails, but it has a higher open rate of about 73%.
The discount is the magic ingredient that we need to focus on because many customers can't resist taking advantage of it.
Survey Alert: 40% of online customers follow their go-to brands on social media just to get promos and discounts. That means that almost every second customer has their foot in the door, and they just might be waiting for a discount to press: "Purchase Now."
With those odds, why not play the hand and hope for a full house? What have you got to lose?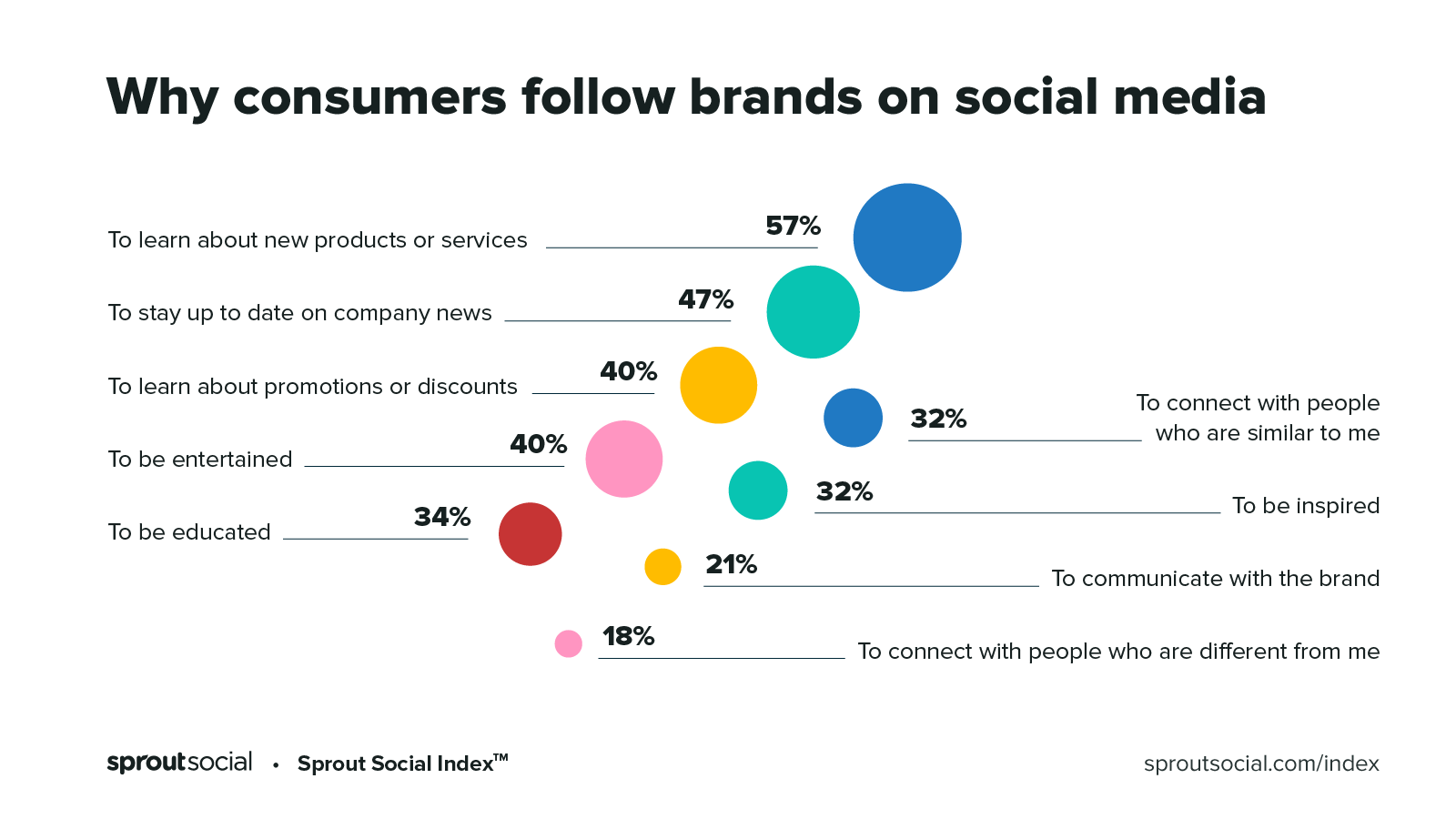 Let's utilize this knowledge to grow your store: 
Show your customers that they subscribed to the right business with a Welcome SMS Campaign. 
It's easy to craft one with Shopify SMS marketing apps, and it can help customers take the plunge with their first order by also giving them an unbeatable discount they can't refuse.
Tips for an effective welcome SMS message campaign:
Write a greeting:

Write a warm, short and sweet "hello" to welcome your new customers to your store.

Add a discount:

To get the ball rolling,

try a discount between 10% – 30% — though feel free to experiment.

Get the timing right:

Aim for sending the message within an hour after they sign up. The fresher the memory of your store, the better.

Add a website link

: Share a link to your product menu so your customer can easily take advantage of their exciting discount.
SMS newsletters are an excellent way to greet new customers. They make a good first impression, increase chances of buying, and simultaneously promote a lasting relationship because it shows that you care.
Here's an example of a welcome text message that follows the tips we described.
"Welcome Sara! To kickoff your sign-up, here's 20% off, to show we care! 
Code: 20OFF
Apply it at the checkout. Thank you and Happy Shopping!
2. Attract customers with flash sales
Customers go crazy for discounts and quick sales. That's why you see flash sales so often. It gets your attention too, right? 
This tactic is called a "Flash Sale" because it highlights major discounts and/or promotions for a limited time. As seen below, this campaign combines the feeling of urgency and the "oohs and ahhs" of the one-time-only sale. 
Also, people love to brag about a good flash-sale-grab. Word of mouth doesn't hurt. (Flash Sales in the US also mean that shoppers buy more than they normally would due to the record-low prices and clearance items. Buying a larger quantity of products also means more ★★★★★ product and store reviews—we'll get to that in a sec.)
Here's an example of a flash sale announcement sent via email… but imagine the high impact of value it would have for a customer if it were a dynamic SMS message…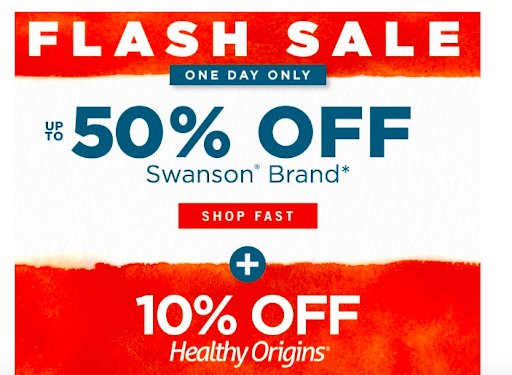 Some tips to create a stellar flash sale SMS campaign:
Attractive products

— promote popular products to invite customers to take advantage of your amazing offer.

Limited time deal

— minimize the sale window to encourage buying.

Higher discount amount

— consider giving a better discount than usual to convince customers to engage.
Your goal: send SMS messages to customers when your Shopify store has a killer sale.
Here's an example of a bright and bold SMS with a flash sale announcement for inspiration:
"Flash Sale! Extra 30% off + Free Shipping on selected items! Code: FLASH.
Shop now: http://goo.gl/l7MS"
3. Request customer reviews to build your reputation
Want more customer reviews for your store?
Reviews are super useful. Positive reviews on product pages can increase conversions up to 270% because they reduce the customer's hesitation about completing their purchase. 
Collecting reviews might be challenging, as most customers don't always write them—but don't worry! We've got your back. 
Let's break it down: BrightLocal found that 72% of customers will write a review for a positive experience, but only if businesses ask them.
Now we can see why more businesses asked for reviews in 2020 than they did in 2019. It's an upward trend.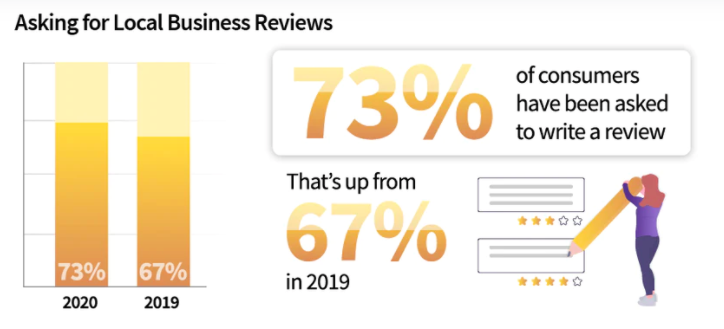 Ever thought about auto-collecting reviews? You might get more bites this way—other companies are seeing the benefits in their numbers, and you can too. 
SMS messaging is perfect for that because 20% of customers have been asked to write reviews via an SMS message, says BrightLocal.
To write a good review SMS campaign, check out these tips:
Thank each customer

—begin by thanking your customer for placing their order. You can use their name and make it personal, even better!

Indicate the total time commitment

—make it clear that writing the review will be easy breezy. This reduces customer hesitation, but only if they don't have to spend more than 1-2 minutes.

Make it easy

—link a review page so customers can submit without any hassle.
A good review request SMS that follows these tips might be something like this:
"Hey Sara! 🎉 Thank you for choosing us! 🎉
Can we steal you for one minute? 
Would you write a quick review about your experience? 
★★★★★
Link:http://goo.gl/l7MS. 
Thanks!"
4. Re-engage passive customers with special offers
Let's get those customers back! Getting customers to go beyond the first purchase stage is difficult (as many don't complete a second purchase), but if we encourage them to become "regulars," we can turn those stats around. How, you ask? 
SMS marketing can help a ton. As mentioned above, text messages not only get opened quickly but often—so they give you a perfect chance to get noticed and communicate "in person." 
Consider sending an SMS message, asking your customer to check out your other products and give them a "Return and Shop With Us Discount" hassle-free. That discount plays a deciding factor and can convince your valued customers to come back for more good deals.
Here's an example to help you dip your toes in the water:
"Hey, Sara! It's been a while. 
Here's a 20% OFF All Products to get you back in the mix. 
Claim here: http://goo.gl/l7MS"
5. Recover more abandoned carts
Shopify stores rely on different strategies to amp up the strength to battle shopping cart abandonment. The most popular are exit-intent popups, abandoned cart emails, push notifications, and, of course, SMS.
If your Shopify store already has SMS marketing, you can use text messages as an extra weapon to aid in abandoned carts issues.
The goal here is two-fold: 1. Remind customers about the product, and 2. Make it easy to finish the purchase. The added bonus? In some cases, abandoned shopping cart messages also communicate discounts and other perks that customers love.
Consider these tips to create an SMS campaign to recover abandoned carts:
Give a friendly reminder

— begin the message by jogging their memory about what they left behind or forgot. 

Use scarcity

— add non-pushy phrases like "Your item is selling fast" or "Your cart expires tomorrow" to help the customer seal the deal.

Make a call to action

— Cheer your customers on by reminding them to finish the purchase process with stand-out words that tell them to make a move on a product or service.

(Your Night Cream is on sale! … or … How's Your Flat Tire? Grab your Auto Tire Repair Kit now. 3 Left.) 

Add a link to the cart

— links make it easy for your visitor to buy what they need. It also might turn your hesitant customer into a supportive superfan. Everyone loves an easy system to navigate, right?

Add a bonus

— consider adding

free shipping

or a

discount

to a second cart-recovery-SMS if the first one is ineffective.
Here's an example of a good abandoned cart SMS:
"Hey Sara~
You forgot your Leather Derby shoes. 
This link will take you to your basket so you can get what you want 🤩 : http://goo.gl/l7MS"
SMS marketing for Shopify
SMS marketing is a modern new way to jumpstart higher revenue for your Shopify store. Remember that many customers are used to getting SMS messages from businesses. By connecting via this route, you can also see how fruitful the results can be.
Check out how our examples and tips help each major goal that store owners have:
Sharing promotions because your products rock

Building a solid reputation

Starting good customer relationships because you truly care

Bringing passive customers back

Recovering abandoned sales like a pro
Take a leap and use these Five Tips to get the most out of your SMS marketing strategy. Remember that SMS marketing is the way of the future, and to win, we've gotta progress—the world's changin'.