Summer is in full swing and I'm sure all you want to do is relax on the beach all day long.
I feel the same way looking out my window right now, I can almost imagine myself there, lying in the sand… Then all of sudden the thought of Q3 sales wakes me up from my daydream!
As you'll see in just a second, the third quarter gives you tons of opportunities to create unique and creative marketing campaigns. Below you will find some great marketing campaign ideas for summer.
While you may not get as much fun in the sun as you'd like, I've got seven great ideas to help you stay productive this summer and boost your sales heading into the fall.
Ok, grab a glass of iced tea or a nice cool lemonade.
Ready?
First, let's talk about the Wimbledon tennis tournament that kicks off today. Since it lasts for two weeks, it's still worth taking a look at how it can promote sales for your business.
Wimbledon is the oldest tennis tournament in the world, and still the most popular one to this day. It was started in 1877, and this year marks the 131st edition. The tournament takes place every year during summer, usually at the beginning of July or at the end of June. This year, it will be held between July 3rd and July 16th.
You can take advantage of the many traditions that are part of Wimbledon in your campaigns. For instance, players must wear white at the tournament, so if you sell clothes, you can run a campaign with a 20% discount on white clothes only:
"Dress like you play at Wimbledon. 20% off all white clothes! Hurry, the discount ends on July 16th when the tournament is over."
I also added a sense of urgency here by putting an end date on the promotion, this helps boost immediate sales.
Here's another great example from Pringles. They created a funny and eye-catching campaign in 2009 where the familiar snack was packaged with labeling that read: "These are not tennis balls!".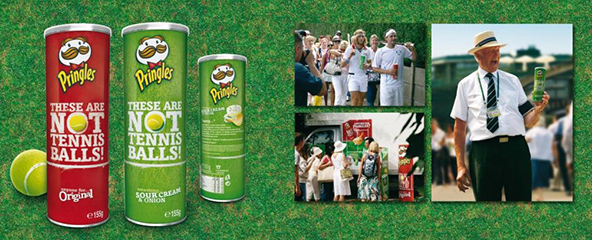 2. Independence Day
Or simply the 4th of July.
On the day that the United States signed the Declaration of Independence, people celebrate all across America. From BBQs to picnics, parades, and fireworks, everyone has some party or celebration happening.
The result is an increase in sales for a range of products from food to flags. In 2016, the National Retail Federation predicted the following sales numbers for the 4th of July:
214 million people plan to celebrate the Holiday, which will result in total spending of approximately $6.8 billion.
Consumers will spend an average of $71.34 per household on food for barbecues and picnics.
Well, those numbers say it all. The 4th is clearly a great day to promote sales.
If you use Instagram, you probably noticed all the photos of BBQs and parties last year. To boost your sales this year, I recommend running a contest on Facebook or Instagram. Use the hashtag "4thofjuly" and ask your followers to submit their favorite 4th of July memory, for example.
You can also add a 4th of July party theme to your newsletter like Brit & Co. did in this email:

3. Wedding season
When you say summer, the next thing that comes to my mind after the beach is weddings.
My Facebook News Feed is flooded with wedding photos starting from the end of May, and this typically doesn't stop until the end of August.
Even though you may not be selling wedding clothes or other wedding essentials, you can still benefit from wedding season.
Here's a few examples to help you generate some ideas:
If you work in the fashion industry, you can promote your elegant clothes: "No idea what to wear to your BFF's wedding? We have some suggestions for you…"
For household items, you can promote these products as wedding gifts.
Outdoors and men's products can be marketed as bachelor party gifts.
The same approach can apply to women's cosmetics and other items as bachelorette party gifts, or for brides and bridesmaids to "look their best".
For electronics, such as cameras or video cameras, you can say: "You'll take the best wedding photos or make the best wedding videos this summer…"
Hotels and travel agencies can also profit from wedding season: simply promote honeymoon discounts.
Check out this example that promotes matching clothes for the wedding party.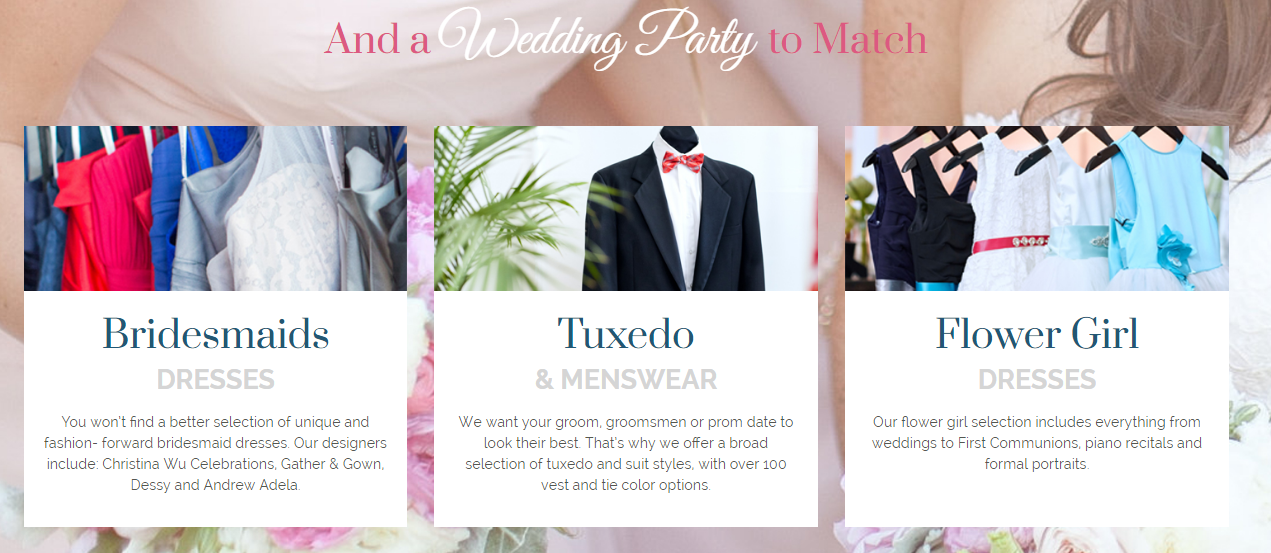 4. End of summer sale
It's common practice for clothing stores to have an end of summer sale at the end of August. But this approach can work for any kind of online store – it doesn't matter what you sell, people love discounts, and the specific reason for the sale may be less important than getting a deal on an item they love.
End of summer discounts help you close out product you didn't sell throughout the season, and also gives you an opportunity to send special deals to existing customers to thank them for their business and encourage repeat purchases.
I recommend creating an onsite retargeting campaign that redirects to a landing page that promotes your "End of Summer" discounted products. Since the goal of this campaign is to get rid of all your remaining summer inventory, it's worth giving more than a 20% discount.
Check out this example below that also captures an email address to continue to market to potential customers into the fall.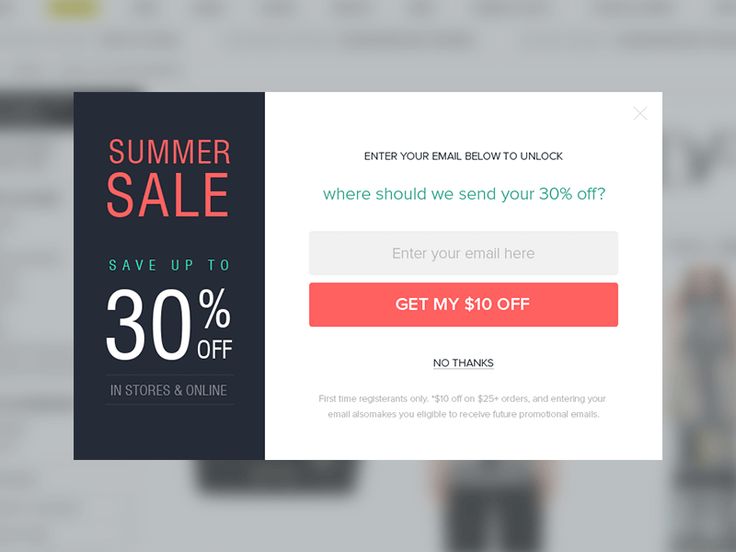 5. Labor Day
Another US Holiday that you don't want to overlook is Labor Day, which is celebrated on the first Monday of September. This year it will be on September 4th.
Like the 4th of July, it's a great opportunity to engage your customers on social media. You can create a photo contest with a Labor Day weekend theme, e.g. – show us how you relax.
Depending on the products you carry, you can relate the contest to your business by creating a rule that your product has to be "hidden" in the photo somewhere to be eligible to win.
Labor Day is also a great day for email marketing campaigns. You can use your existing list plus all of the emails you've gathered with your Q3 promotions 🙂 and offer free shipping or a discount, such as the example below.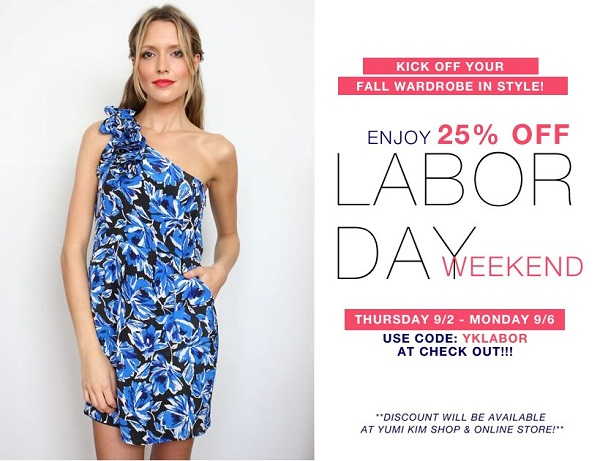 ---
6. Back to School
This is the day everyone is excited about. Okay, maybe not everyone…
Well at least back-to-school shopping gives kids something to be excited about. I still remember those days, getting ready for school…picking out a new pair of sneakers or a new sweatshirt, how cool was that? But don't let me get distracted…back to my point:
This is the second-largest retail period of the year, after the Christmas holiday season. According to a report from a marketing agency, PM Digital, back-to-school spending reached nearly $75 billion in 2015 – wow!
To take advantage of the increase in Labor Day sales, you need to know your target audience:
kids going back to school
college students starting on their own
and… their parents
Once you know your audience and the benefits your products can offer them, it will be easier to choose the best marketing channels and messages.
Here's our favorite back-to-school campaign from Poppin, the office supply company:

7. Other Fun "National" Holidays
For my last tip, I've got a great way to diversify your store from the competition. Target the less popular, and quirky "National" Holidays. Here are some that are coming up over the next few months:
July 5th: National Bikini Day
July 17th: World Emoji Day
July 21st: National Junk Food Day
August 6th: National Friendship Day
August 10th: National Lazy Day
August 16th: National Tell a Joke Day
September 12th: National Video Games Day
September 15th: National Online Learning Day
September 29th: National Coffee Day
These are just a few examples, there's a looooot. So, dig in, have fun, and find one that fits your store.
Conclusion
It's tough to escape the feeling of slowing down in the summer. I hope these summer marketing campaign ideas I've gathered will keep things moving for your Q3 marketing strategy.
You can send this article to your teammates to inspire more ideas. Then, collect all of your ideas in a spreadsheet or list and plan your campaigns.
Onsite retargeting is one of the best ways to promote seasonal discounts and Holiday campaigns, so be sure to include it in your game plan.
What was your most creative marketing campaign so far? Or, what beach are you daydreaming of right now? Let us know in the comments, and enjoy your summer indoors or out!
(Note: Have you heard of OptiMonk? It's a powerful onsite retargeting solution that helps you convert up to 15% of abandoning visitors to sales and leads. Give it a try – click here to create a free OptiMonk account now.)