Artificial intelligence is revolutionizing many industries at the moment, and the ecommerce industry is no exception. Your digital marketing strategy can't remain the same for very long. Because no one else's will.
Artificial intelligence marketing tools are capable of saving marketing teams hours and hours of time on tasks like customer data analysis, content writing, and online brand reputation management. What makes AI marketing tools so useful is their ability to adapt to context and provide custom solutions.
In this article, we'll introduce you to 15 AI-powered marketing solutions that can help you optimize almost every aspect of your marketing strategy, from streamlining your social media marketing and lead generation process to improving your conversion rate optimization efforts. There's something for every marketer in this list of new AI marketing tools.
So let's get started!
What are AI marketing tools?
An AI marketing tool uses artificial intelligence to simplify and enhance various marketing tasks. These innovative solutions typically leverage machine learning, which means that the program learns to complete a task by looking at thousands of examples. 
For example, by reading thousands of customer support conversations, an AI tool can pick up all the customer service skills it needs to be the first point of contact for users.
AI tools like the one described above have given online businesses access to advanced capabilities that were previously impossible or simply too time consuming to achieve manually. This includes helping businesses analyze customer data, offer personalized recommendations, and optimize digital marketing campaigns in real time.
As a result of all the processes they can automate, AI tools can help save time and resources while boosting the overall performance of marketing and sales campaigns. And artificial intelligence is only becoming more and more accessible, so we can expect to see even more sophisticated AI-powered marketing solutions in the future.
Top 15 AI tools for digital marketing
This list contains some of the best AI-powered tools available in 2023. There are tools that can help you optimize your website, find content marketing ideas, design your social media posts, and even reply to customers on Facebook Messenger or Instagram direct messages.
Whatever task you need help with, there's an artificial intelligence marketing tool for you!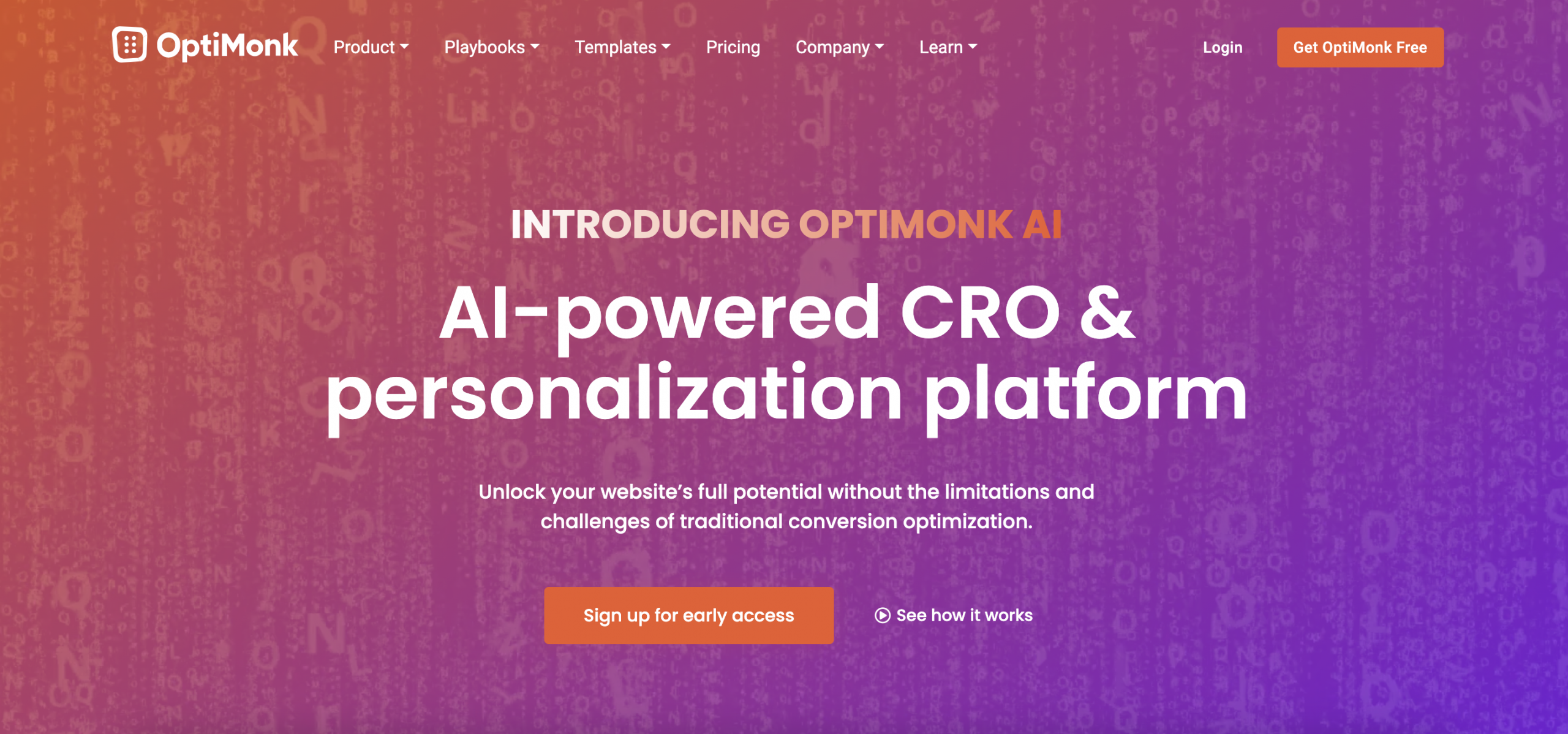 OptiMonk AI is an AI-powered CRO platform designed to automate processes like A/B testing and personalization to maximize your website conversions. 
It is built for marketers looking for new, data-driven ways to improve the efficiency of their marketing without having to hire a CRO team.
Key feature #1: Smart Personalizer
Personalize your landing pages for each and every visitor with the Smart Personalizer feature. You can tailor any headline, description, or text based on the interest of your visitor – 100% automatically.
Imagine the power of having your landing page messaging perfectly aligned with your Google Ads campaigns automatically. With this capability, OptiMonk AI not only enhances relevancy but also supercharges conversions, delivering results that truly matter to your bottom line.
Learn more about Smart Personalizer.
Key feature #2: Smart A/B Testing
Forget time-consuming A/B testing. This feature simplifies what has traditionally been a complex and time-consuming process. A/B testing becomes effortless, thanks to fully automated, AI-assisted A/B testing.
You can seamlessly run multiple A/B tests in parallel on any section of your website. The best part? You decide what to test, but the AI does the heavy lifting, executing them automatically.
It's a game-changer for marketers looking to optimize their web presence with data-driven insights.
Learn more about Smart A/B Testing.
Key feature #3: Smart Product Page Optimizer
This feature leverages the power of AI to turn product detail pages into high-converting sales pages with AI-powered copy.
You can craft better headlines, descriptions, and benefit lists with the help of AI, elevating your product pages to new heights.
And the magic doesn't stop there—OptiMonk AI also allows you to conduct A/B tests to tailor the ideal product page, and it can do this for thousands of product pages concurrently. Say goodbye to the tedious manual work; OptiMonk AI lets you scale your optimization efforts like never before.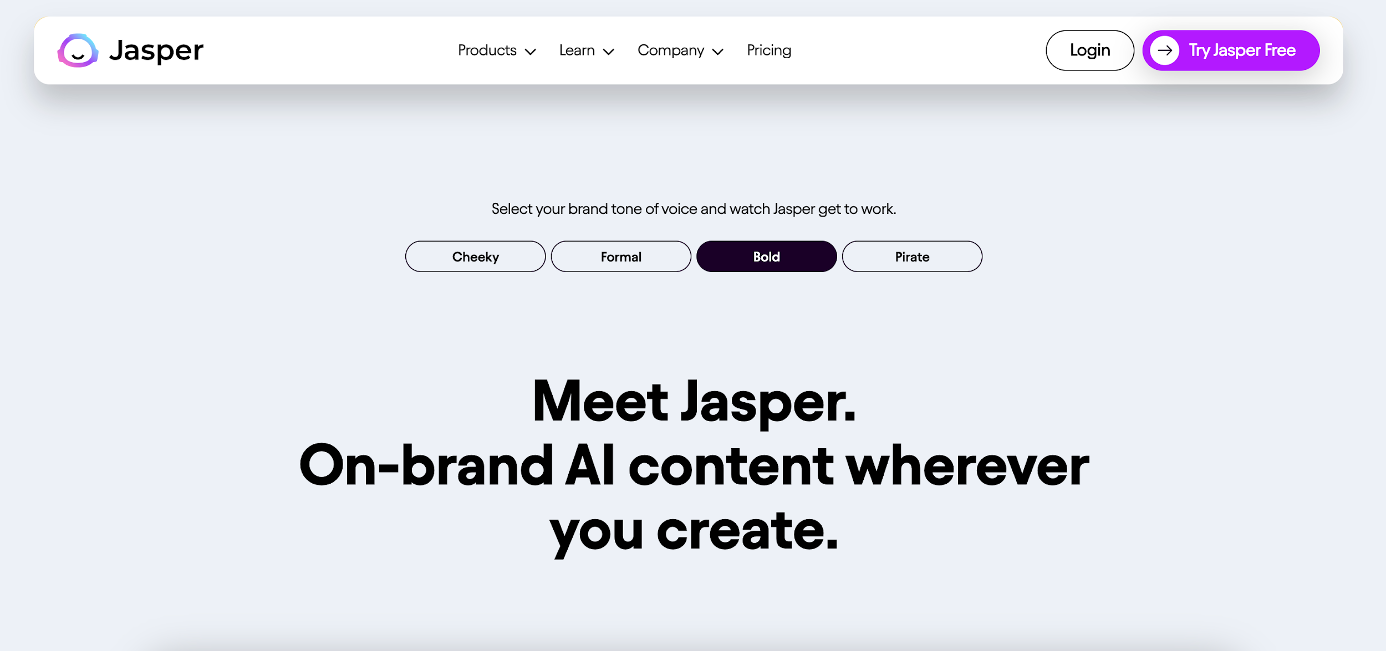 Jasper is an advanced artificial intelligence tool designed to enhance online marketing strategies. It analyzes customer data, identifies trends, and provides actionable insights to optimize campaigns and improve conversion rates.
It's particularly useful for creating content for both ads on paid search platforms and landing pages.
Pricing: Starts at $49 per month.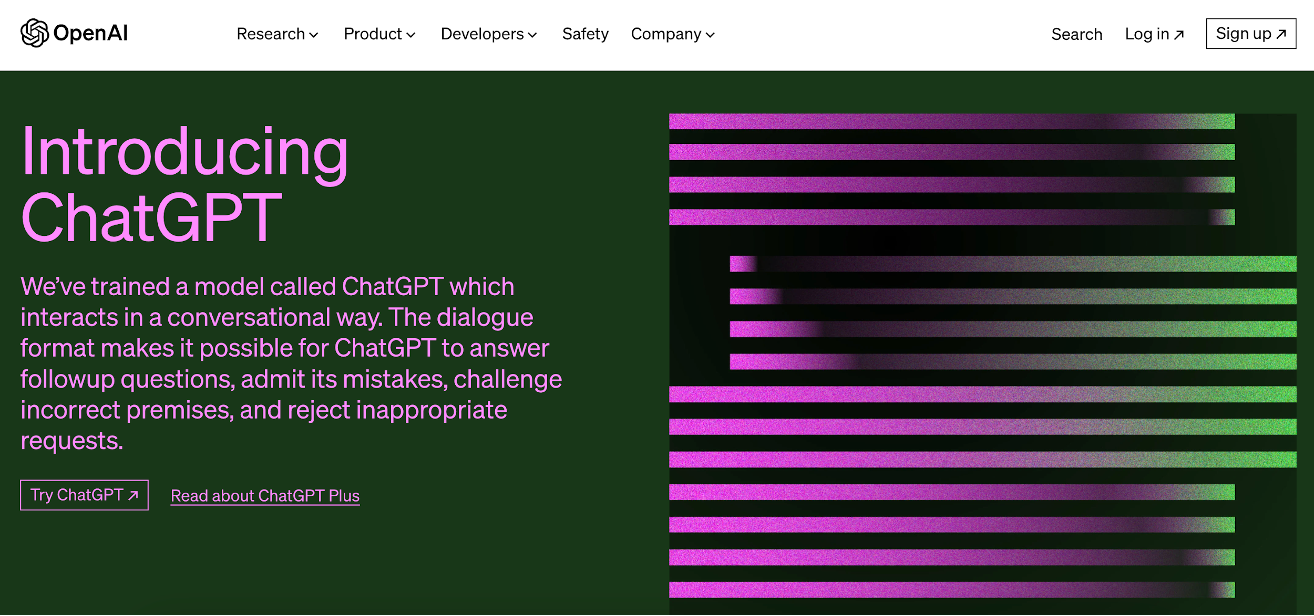 ChatGTP is an advanced chatbot that's often used for online marketing applications like content writing. It offers a wide range of capabilities, including natural language understanding, sentiment analysis, and customer behavior prediction.
With its customizable chatbot interface, ChatGTP delivers personalized experiences at scale, resulting in increased customer satisfaction and brand loyalty.
Pricing: Free.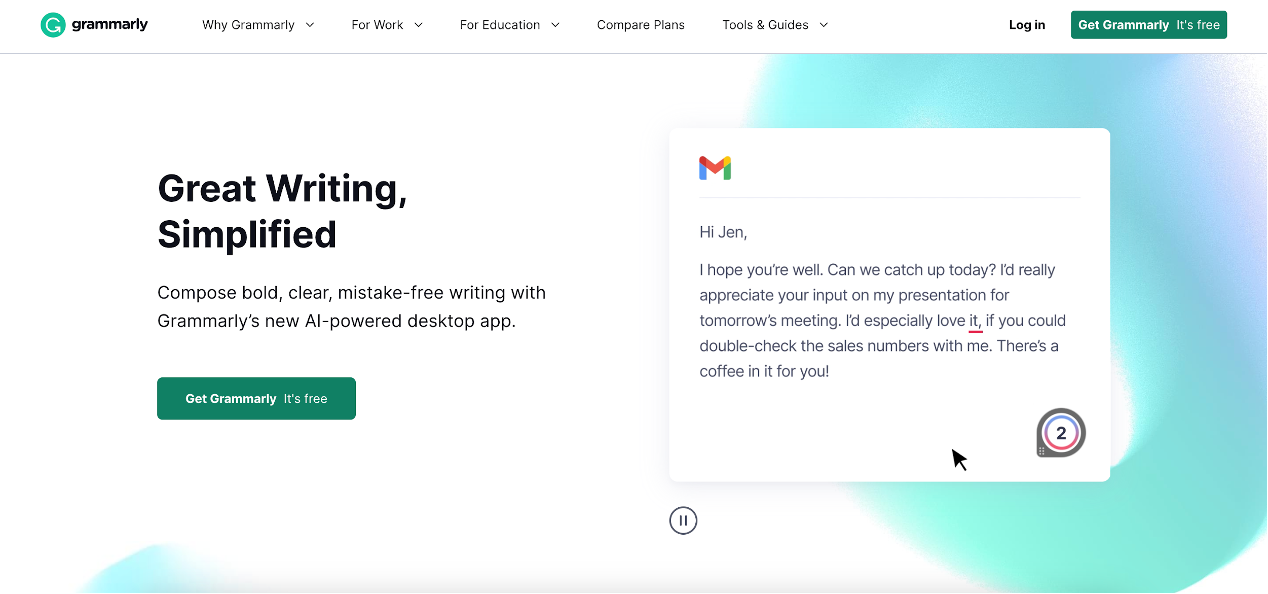 Grammarly is a highly regarded tool for online marketing that helps businesses ensure their content is polished and free of errors. It offers real-time grammar and spelling checks, as well as suggestions for improving clarity and conciseness.
With its advanced AI features like tone detection and plagiarism checking, Grammarly enables marketers to maintain consistency and professionalism across their communication channels.
Pricing: Free plan available. Paid packages start at $29.95 per month.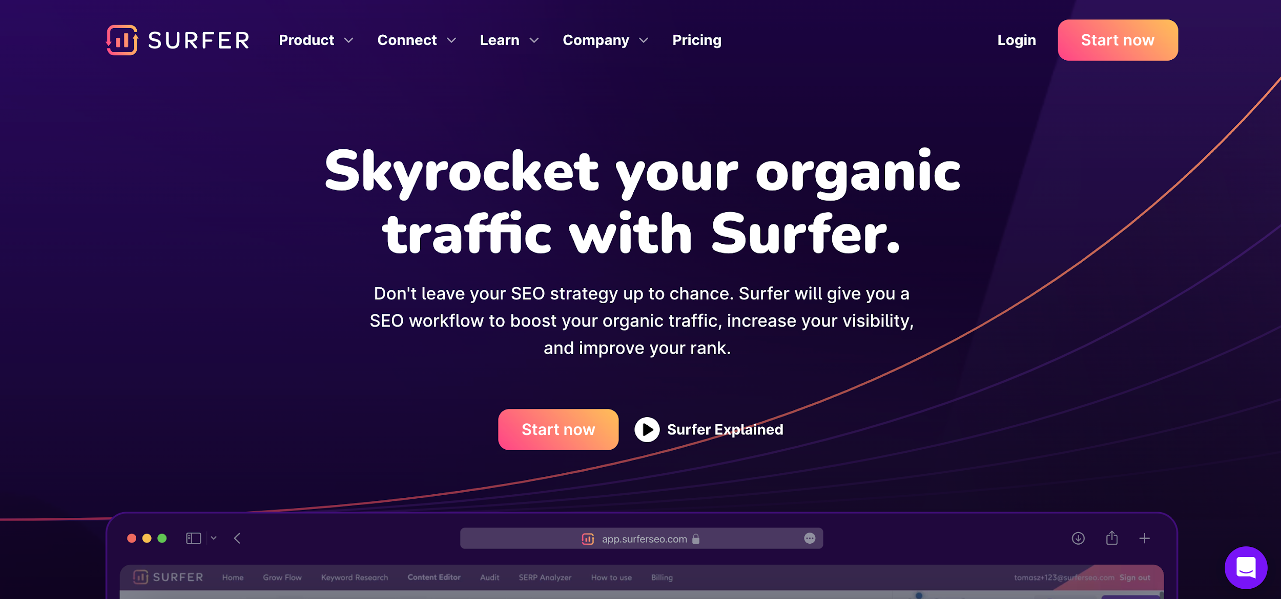 Surfer SEO is AI-powered software that's specifically designed to offer valuable insights to improve search engine optimization (SEO) strategies. It analyzes top-ranking pages, competitor data, and keyword usage to provide actionable recommendations for optimizing website content. 
Surfer SEO's user-friendly interface and comprehensive reports enable marketers to increase organic traffic and rankings.
Pricing: Starts at $59 per month for the basic plan.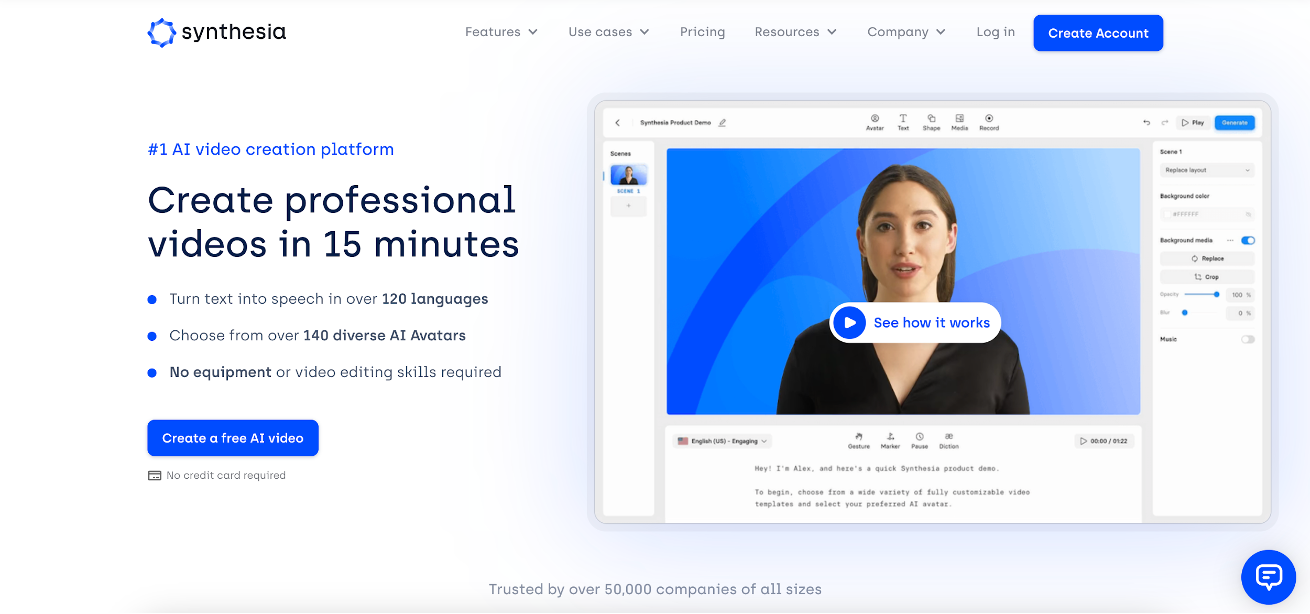 Synthesia is an innovative tool that promises to revolutionize online marketing with AI-enabled video creation capabilities.
It uses AI-powered technology to generate highly realistic, customizable videos, saving time and resources in the production process.
With Synthesia, marketers can create personalized video content at scale, enhancing engagement and boosting conversions.
Pricing: Personal plans are $30 per month.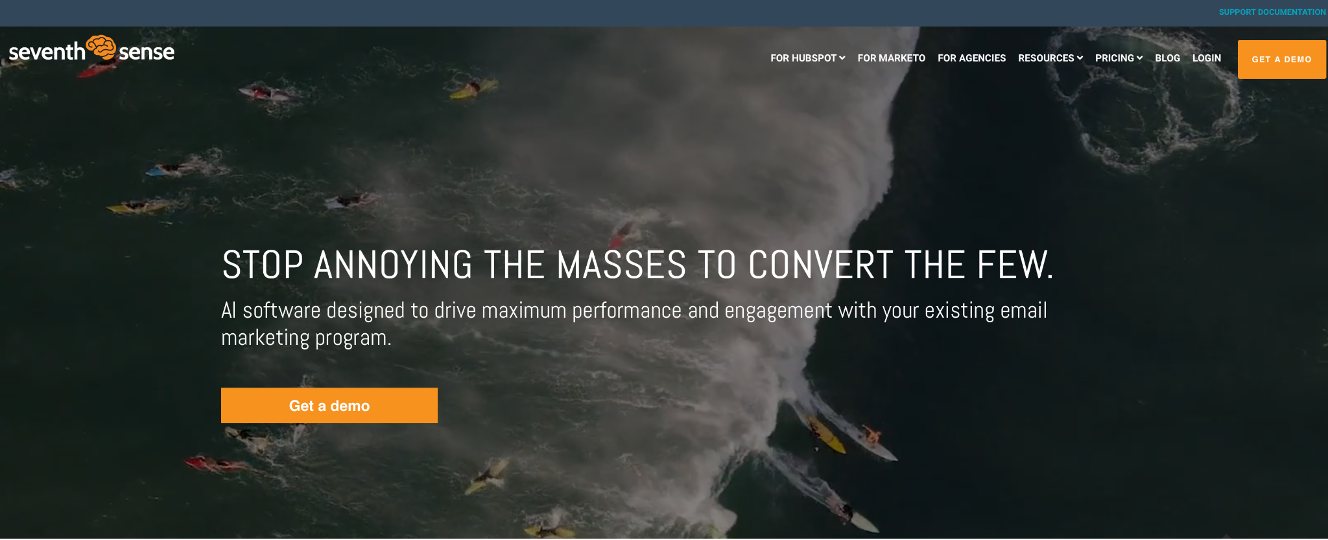 Seventh Sense is a cutting-edge AI tool that optimizes email marketing campaigns by analyzing recipient behavior and engagement patterns.
It uses advanced algorithms to determine the best time to send emails for maximum impact, resulting in higher open rates and click-through rates. Marketers can leverage data-driven insights to deliver timely personalized messages to their audience, ultimately driving conversions and revenue.
Pricing: From $80 per month for HubSpot users. $450 for 50K leads for Marketo users.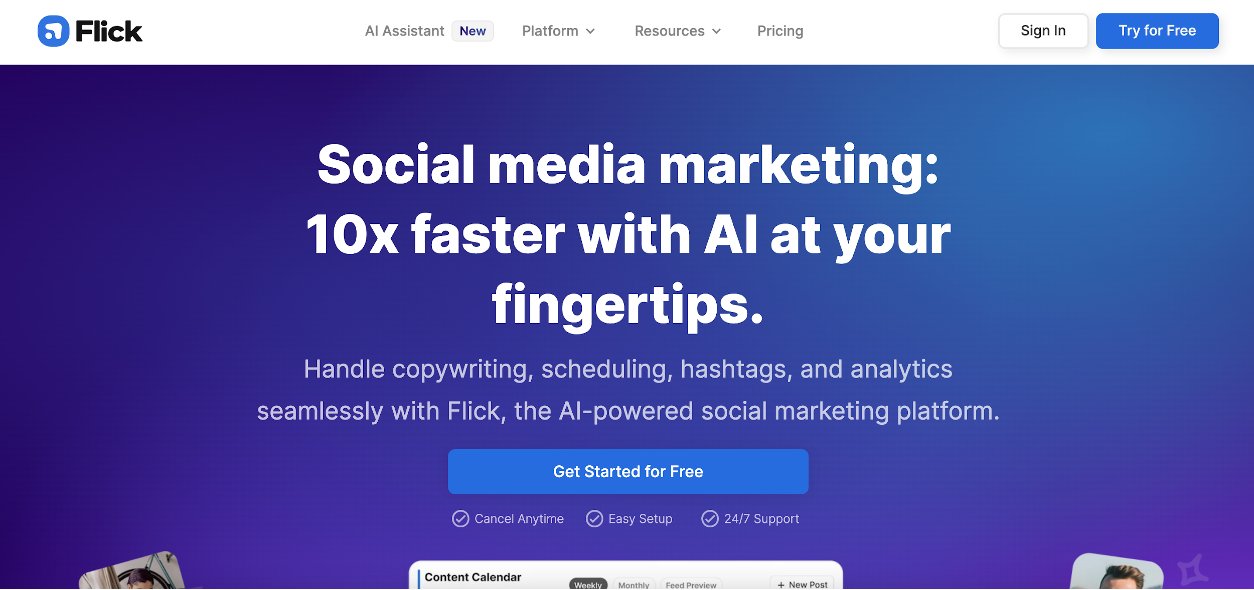 Flick is an AI-powered social media marketing tool that allows you to create content fast, never run out of ideas, and schedule posts in seconds. 
Using this platform, you can craft highly personal and on-brand captions 10x faster. It's like having a personal copywriter at your service.
Pricing: From £14 per month. 7-day free trial available.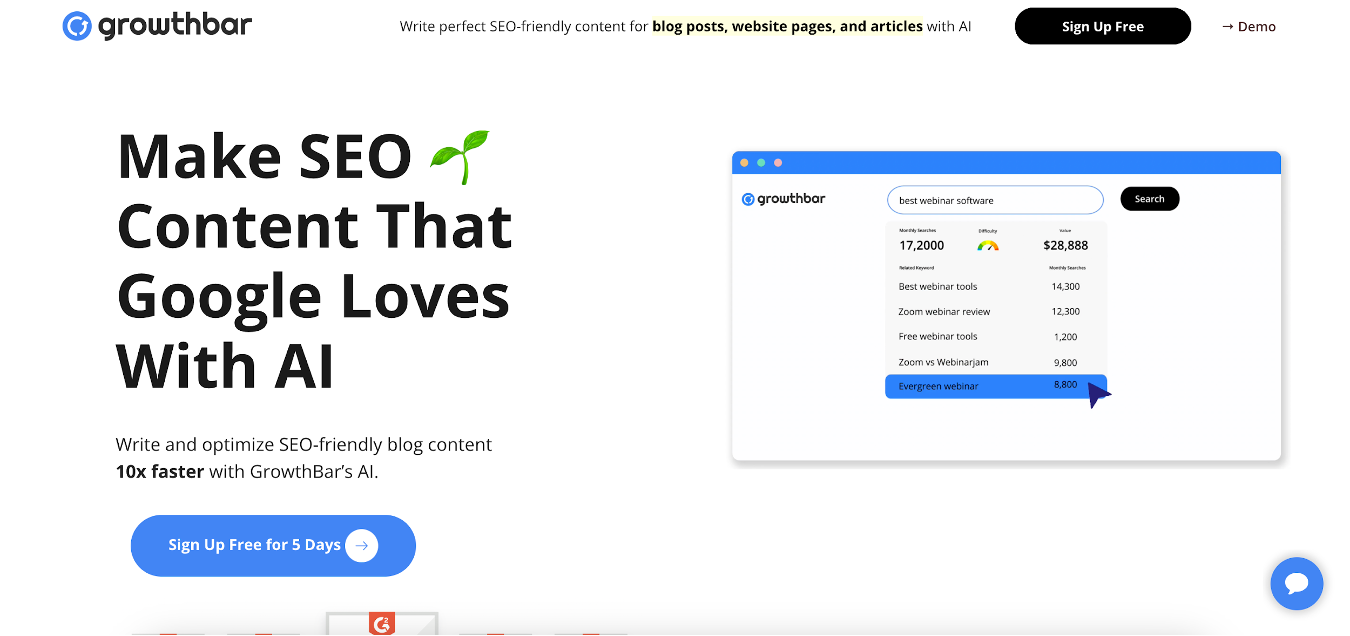 GrowthBar is a powerful tool designed to supercharge online marketing efforts using AI.
It provides instant access to critical SEO data directly within the user's browser, enabling marketers to make data-driven decisions and optimize their strategies effectively. This tool allows users to effortlessly analyze keyword rankings, competitors, backlink data, and more.
Pricing: Starts at $29 per month for the Starter plan. Additional tiers with more features and functionalities available.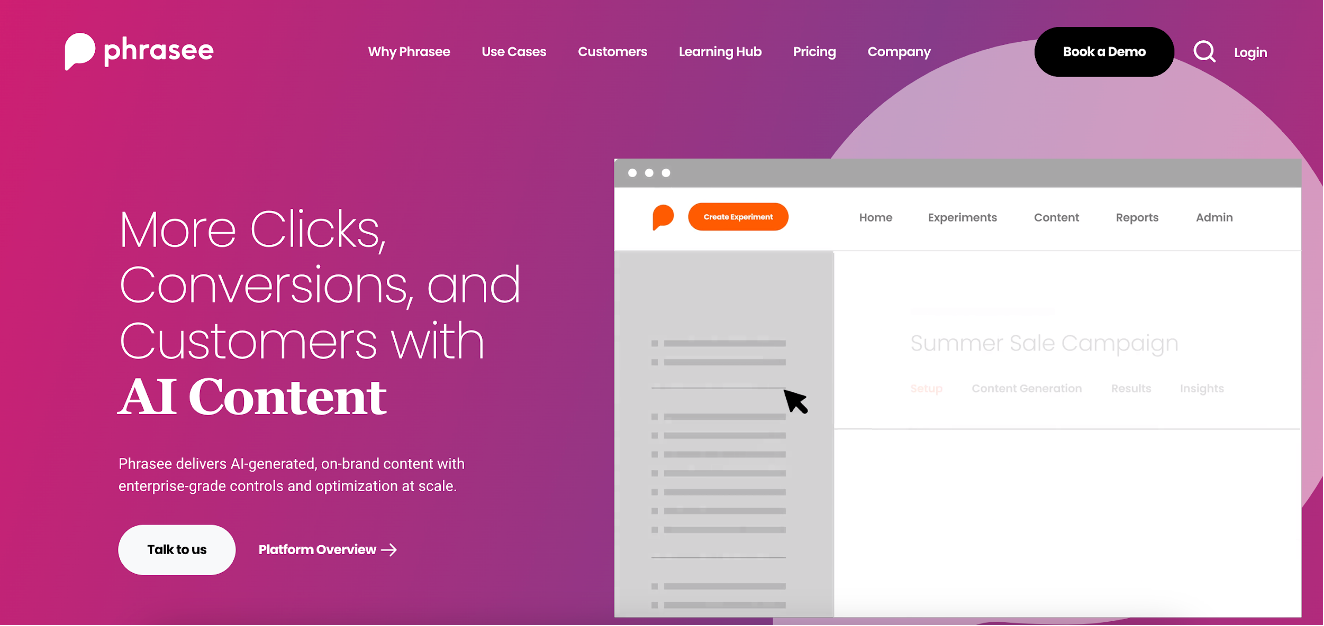 Phrasee is an AI tool that generates compelling copy for email subject lines, social media posts, and ad campaigns.
By leveraging advanced natural language processing algorithms, Phrasee ensures that every message resonates with the target audience and drives higher engagement. With its AI-driven optimization, marketers can enhance their campaigns and achieve better conversion rates.
Pricing: $500 per month.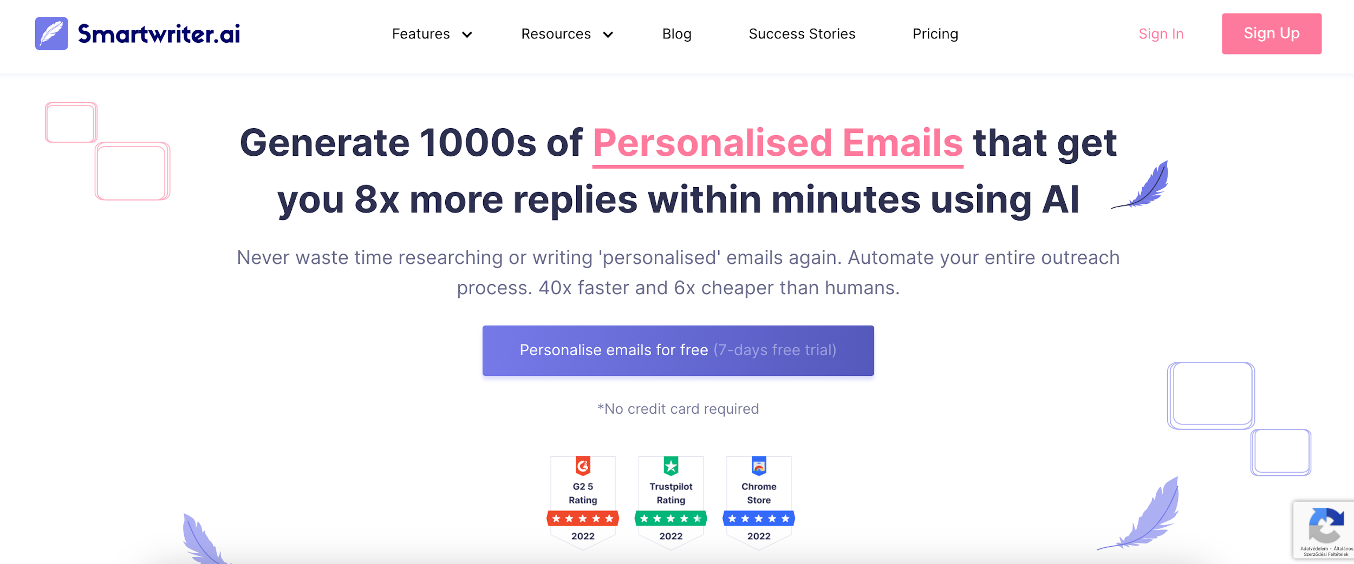 SmartWriter is an AI-powered tool designed to elevate online marketing efforts by delivering high-quality personalized written content.
With its advanced natural language processing capabilities, SmartWriter generates engaging blog posts, social media captions, and website copy, saving marketers time and effort. It provides valuable insights and suggestions to optimize content for SEO, readability, and audience engagement.
Pricing: Starts at $49 per month for the basic plan.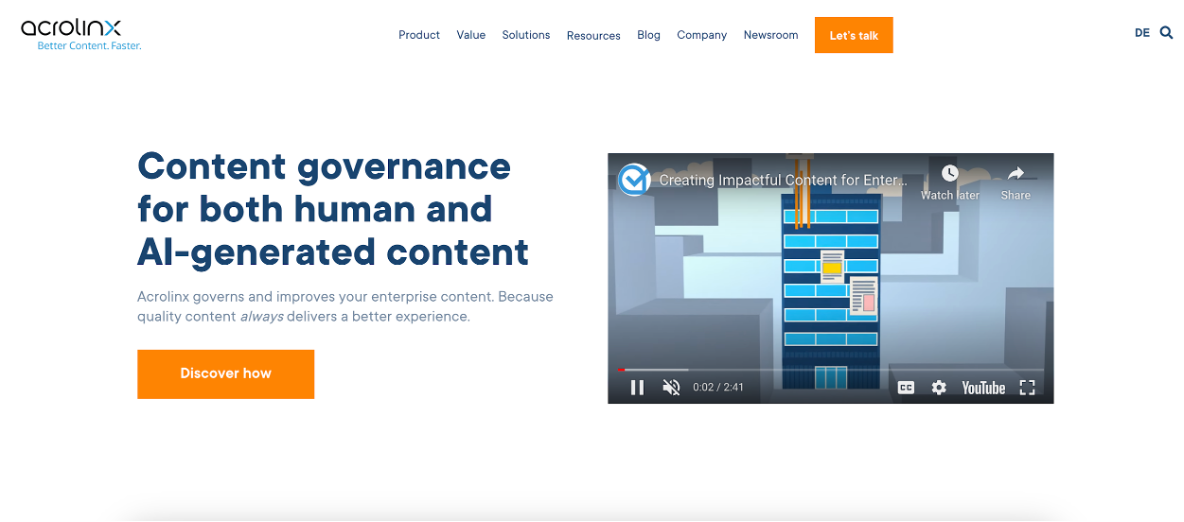 Acrolinx is a robust AI tool specifically built for online marketing professionals to ensure consistent high-quality content across various platforms.
Using advanced linguistic analysis, Acrolinx assists marketers in maintaining brand voice, style, and terminological consistency across many different posts. Marketers can also easily identify and fix grammar errors, enhance readability, and align content with specific guidelines with Acrolinx.
Pricing: Available upon request, tailored to meet the specific needs and requirements of businesses.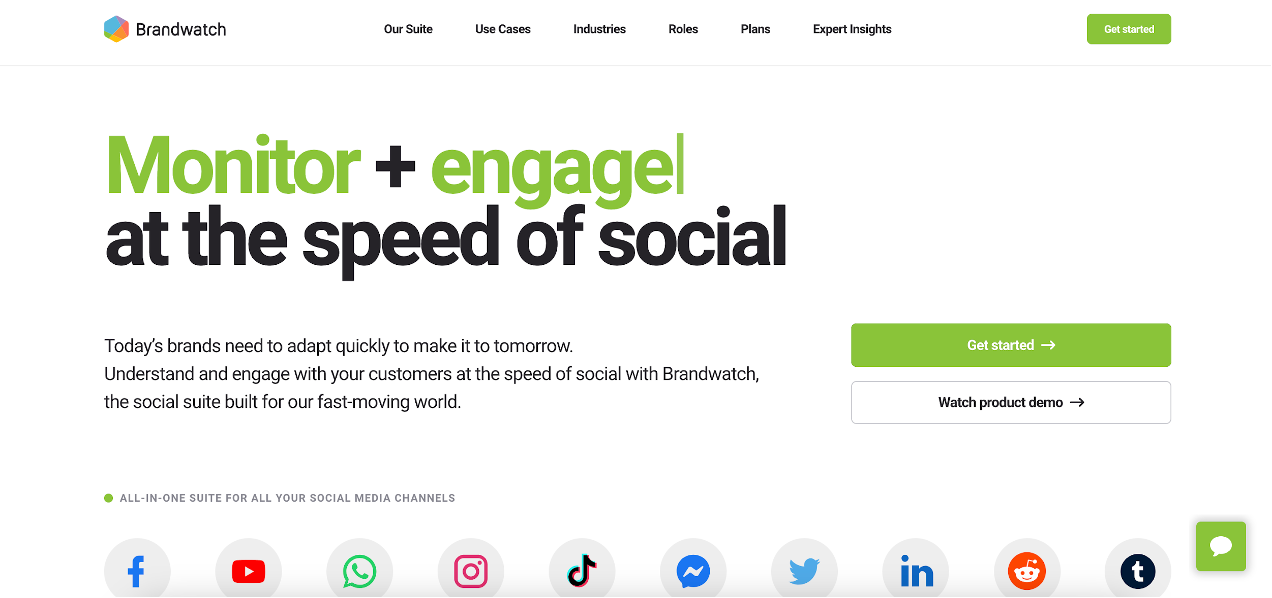 Brandwatch is a powerful AI tool that empowers online marketers to keep track of their branding with comprehensive social media listening and analytics capabilities.
It enables marketers to monitor brand mentions, track industry trends, and analyze customer sentiment across various social media platforms, as well as gain valuable insights to inform their online marketing strategies and make data-driven decisions.
Pricing: Available upon request.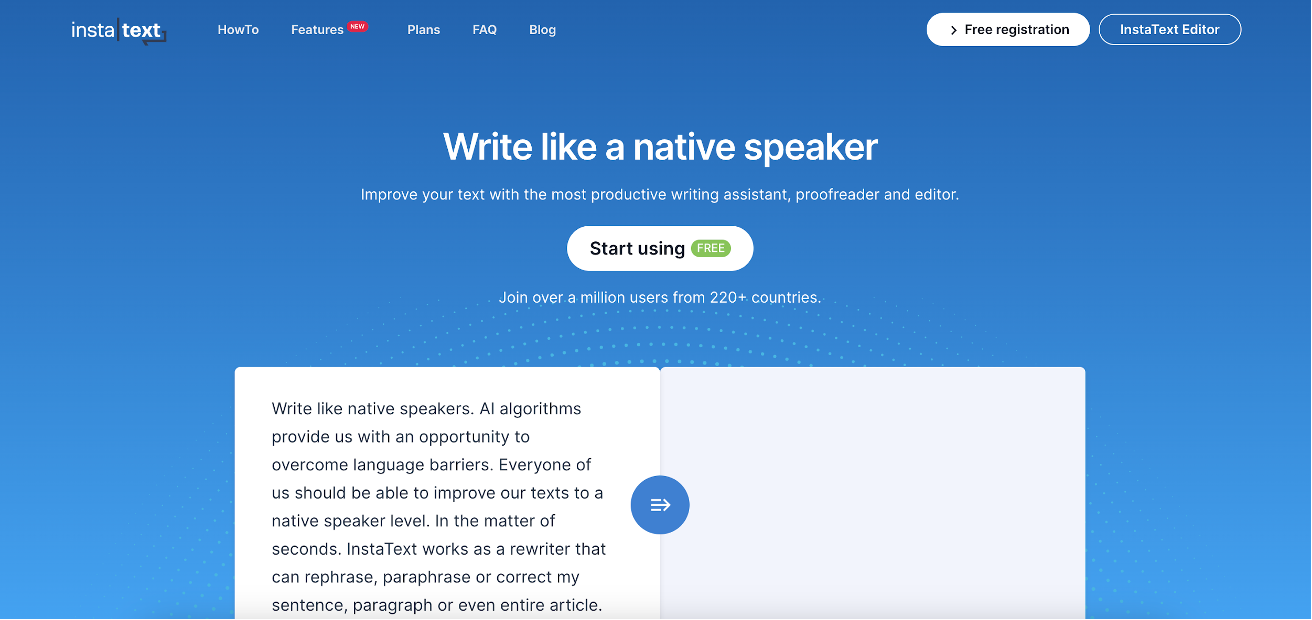 InstaText is an AI-powered tool specifically designed for online marketing professionals, offering advanced text editing and proofreading capabilities.
It utilizes natural language processing algorithms to detect and correct grammar mistakes, improve clarity, and enhance the overall quality of written content, ensuring professional communication across various channels.
Pricing: Starts at $9.99 per month.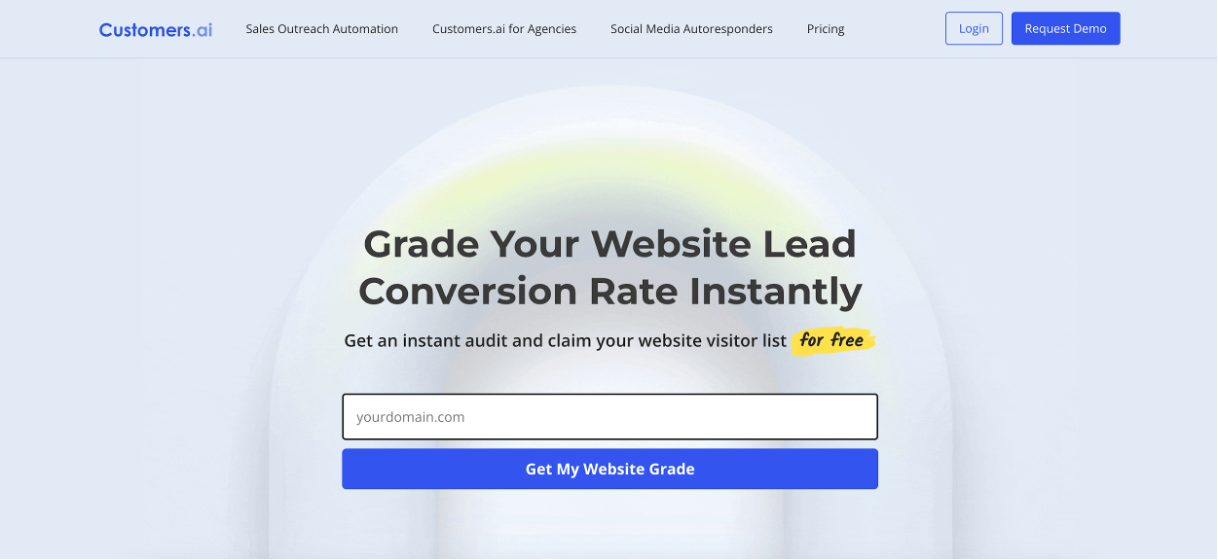 Customers.ai is an innovative AI tool for online marketing that helps businesses gain deeper insights into their customers' behavior and preferences.
It analyzes customer data to identify patterns and make predictions, which helps marketers optimize marketing strategies, personalize their campaigns, and drive higher conversion rates.
Pricing: Free plan available, or from $249 per month.
How to choose the right AI marketing tool?
With so many options, it can be difficult to figure out which AI marketing tool you should invest your time and resources in.
Here are three things to consider when prioritizing how to integrate artificial intelligence into your on-site marketing, search engine optimization, and social media marketing content creation process.
1. Identify your business needs
The first and most important question to ask when you're figuring out which AI tools to use is the following: "Which parts of my marketing efforts take the most time to complete and deliver the worst results?"
Ideally, you want to find an AI marketing tool that both saves you time and delivers better results than you could on your own. 
If you really struggle to increase your conversion rate, you can look into AI-powered CRO tool. However, you might be better suited with an AI copywriting tool if you have trouble creating SEO-optimized content.
2. Consider your budget and resources
Next, research various AI marketing tools designed for the purpose you need help with, whether that's your content strategy or optimizing your Google ads. 
Start by identifying the key features that will help you achieve your specific marketing goals, and then compare your budget with the costs of the AI software packages you're considering.
Choose an AI tool that aligns with your budget, expertise, and overall business strategy, whether you're working on email marketing with Seventh Sense or social media with Flick.
3. Evaluate the tool's features and capabilities
Research different AI marketing tools such as OptiMonk AI for personalization and conversion rate optimization, Surfer SEO for optimization, or ChatGPT for AI writing. Read reviews from other users to compare features, pricing, and the positive and negative feedback they've gotten.
Finally, test out the most suitable options before choosing AI software that best meets your needs.
AI marketing tools vs traditional marketing methods
Where does using artificial intelligence give you a competitive advantage? 
There are certain areas where an AI marketing tool will outperform a human, such as finding keywords for search engines. In other areas, such as social media content creation, the benefits of using artificial intelligence are less cut and dried.
Here are three ways of thinking about whether using AI marketing tools makes sense for a specific task:
1. Efficiency and automation
AI technology excels at automating repetitive tasks in real time because machine learning analyzes its own performance according to task-specific metrics, providing predictions for better automation.
For example, you can create personalized email campaigns tailored to individual customers' preferences with ease, since the content creation process can be taken care of by AI email marketing tools.
When AI handles the data analysis and content creation combine to  you're able to focus on more strategic activities. Automated posting schedules can also give you greater visibility on social media platforms like Facebook or Instagram while cutting down on your workload.
2. Personalization and customer experience
In today's digital world, personalization and customer experience play a vital role in successful marketing campaigns.
With the help of AI tools like Jasper, ChatGPT, and Seventh Sense, marketers can create customized content marketing that resonates with their audience. Automated email marketing and chatbots can also go a long way toward improving the overall customer service experience.
Automated email marketing software in Canada and chatbots can also go a long way at any location towards improving the overall customer service experience.
As a result, using AI technology can lead to enhanced revenue with better customer retention—which means that finding the best AI marketing tools for your unique needs is essential for success.
3. Data insights and analysis
By using AI tools, businesses can identify trends that traditional methods may miss. Additionally, AI marketing platforms can effectively predict customer behavior and recommend personalized content to improve conversion rates.
Using AI marketing software can ultimately save time and resources while optimizing your digital marketing campaigns according to several KPIs, including anything from search engine rankings to influencer marketing engagement.
What is the future of AI in marketing strategy?
Since even the best AI marketing tools are still relatively new, it's difficult to say for sure what impact artificial intelligence will have in the future of digital marketing.
However, there are four trends that we can identify:
1. Increased adoption of AI tools
AI marketing tools have been widely adopted due to their ability to revolutionize traditional methods, such as the now ubiquitous AI-powered chatbots. This technology has helped businesses both improve customer service and save money.
Now, it's possible for marketing and sales teams to optimize marketing campaigns using AI technology and predictive analytics. It's possible that an AI marketing tool may even replace some human-led marketing tasks, like content creation, in the near future.
2. Integration of AI with other technologies
Integrating AI marketing tools with other technologies can lead to synergistic improvements in performance. A great example of this is the integration of AI with SEO Surfer, which allows AI to perform the writing process at the same time that it optimizes the text for search engines. That's almost a complete run-through content strategy.
Another great example of this type of synergy is using AI-powered chatbots to enhance customer experience and engagement on social media platforms like Facebook Messenger.
This allows marketers to focus on developing actionable insights into their target audience's behavior across platforms.
3. Expansion of AI capabilities in marketing
The potential of AI marketing tools is immense because their performance only grows better as they are exposed to more training data. 
The more successful examples of a task that an AI marketing tool sees, the better its insights will be on how to automate and improve the process in question (such as implementing a content strategy, creating landing pages, or managing influencer marketing).
While these tasks are still outside of the reach of AI and machine learning (at least without a great degree of human input) now, but it won't remain that way forever.
4. Ethical and privacy concerns with AI in marketing
Despite all the hype surrounding AI, ethical considerations regarding AI and data privacy must be taken into account for successful integration into marketing strategies.
For example, misuse of data from customers can erode trust and damage brand reputation, so it's crucial to ensure you obtain proper consent and use data responsibly. Additionally, an overreliance on AI-generated content can perpetuate biases or spread misinformation, posing a risk to both brands and consumers alike.
It's only by balancing the benefits of these powerful marketing tools with ethical considerations that marketers can achieve success while still maintaining integrity.
We hope that you've learned something from our tour of the brave new world of artificial intelligence, machine learning, and digital marketing.
So what are you most excited about: AI-powered CRO tools, visual or video content creation tools, social media assistants, or what your sales team can do with all the leads you'll collect from your AI-optimized web pages?