Although it might feel like summer has just started, September is only days away. For kids and their parents, that means one thing: back to school!
The back-to-school period is the second-largest shopping season, surpassed only by the time between Black Friday and Christmas. 
Just how profitable is the back-to-school season? Well, spending is expected to reach $864 per household this year, while the forecasts for back-to-college spending are even higher: $1,199 per household.
The total amount of back-to-school spending looks like it's going to be slightly down from the same period last year. According to the National Retail Federation survey, back-to-school spending for primary and secondary school students will reach $36.9 billion, while those headed back to college will spend about $73.9 billion.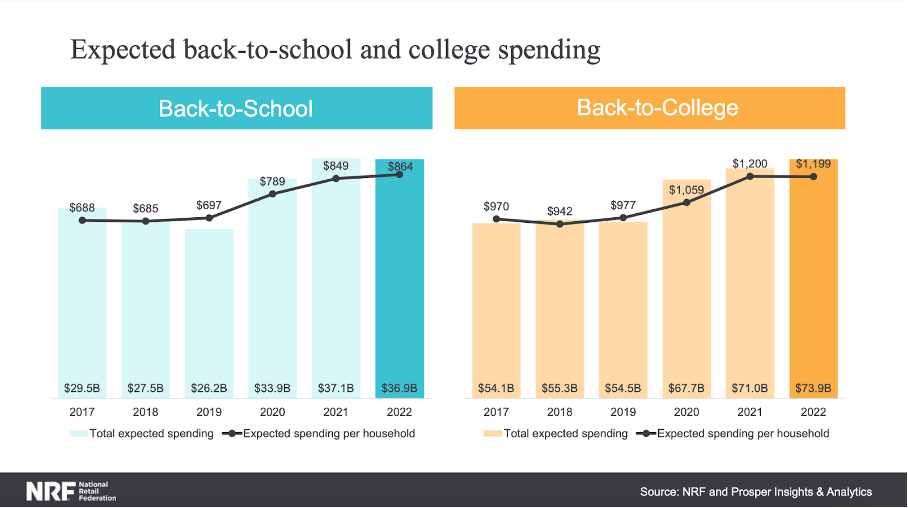 Image source: NRF 
To help you take advantage of the crucial back-to-school period, we've collected 4 popup templates specifically designed for boosting your sales before school starts in September!
1. Use gamified popups to grow your list
Gamification allows you to grow your email list quickly by providing your visitors with a fun way of engaging with your website. When there's a chance to win a big discount, people are more than happy to give you their contact info. 
Their effectiveness is backed up by our internal statistics. On average, OptiMonk's lucky wheel popups have a 13.23% conversion rate, which is more than double the conversion rate of classic email popups (5.10%).

If you'd like to use a lucky wheel, try this seasonally-appropriate template: 
If you prefer a scratchcard-style popup, this one has a great notebook theme: 
2. Promote a discount for site or cart abandoners
You don't want to show an email popup to returning customers and existing subscribers— after all, they're already on your list! But you definitely want to promote your back-to-school sale to people who know your brand or have made purchases before.
A popup that appears precisely when a visitor is about to abandon your webpage is perfect for this. It gives you a chance to capture their attention one last time with a reminder about the great deals you have available.
And you can even ramp up the urgency with a countdown timer, encouraging visitors to buy now rather than later. 
3. Remind your visitors about your sale
A countdown reminder bar is a great tool for ensuring visitors keep thinking about your sale. 
You can display a sticky bar that contains the details of your sale to visitors who arrive from your newsletter or a Facebook ad promoting the sale. You can also increase the urgency with a countdown timer. 
This keeps the idea that "I'm getting a great deal" at the top of a visitor's mind as they browse through your products, increasing the likelihood that their visit will end in a sale!