Continuing education is important for everyone in ecommerce, whether you're just starting your first online business or you're a seasoned pro. You might already be familiar with concepts like retargeting, segmentation, and sales, but that doesn't mean you shouldn't keep learning and deepening your understanding.
As Claude Bernat, a French scientist, once said: "It is what we know already that often prevents us from learning."
Ecommerce courses are an incredibly effective way to keep learning, helping you further hone your skills, and keep your knowledge up to date. Plus, ecommerce courses can help you find new and unexpected ways to grow your business and make more money.
But ecommerce courses are often quite expensive, and it's hard to know whether a course is worth the money or right for your skill level before signing up. To help you out, we've collected 9 of the best ecommerce courses you can take this year—some free, some paid.
What are the top courses available today for ecommerce business owners?
Each course on this list has its own approach, and some are more suitable for certain learners than for others. You can also take courses that comply with your state's training requirement, such as taking OSHA 30 Hour training if you work at a hazardous site.
We'd recommend thinking about your own learning style as you consider which course you'll commit to. That way, you'll get the most out of it!
OptiMonk's Trojan Horse Course is a deep dive into one ecommerce strategy that's been responsible for over $50,000,000 in sales in the past 12 months, and is used by brands like Biktrix and Lions Not Sheep.
Check out some results accomplished with the Trojan Horse strategy:
$281K extra revenue for Biktrix

Extra $60,000 in 2 months for Advanced Teeth Whitening

30%+ increase in sales for Inspire Brand Groups

60%+ increase in ROI for Lions Not Sheep
Not only is the Trojan Horse strategy proven, but it's also scalable for ecommerce brands of any size.
Your teacher is Jason K Williamson, the #1 Klaviyo expert. He'll share with you exactly what he uses to grow his clients' businesses.
The course offers you the full "Trojan Horse" blueprint, a step-by-step funnel walkthrough, Jason's killer popup formula, and all the follow-up sequences that you need to make this a winning strategy.
Who is this ecommerce course right for? For ecommerce store owners who would like an explosive increase in sales and exponential growth for their list.
Cost: Discounts can bring the price as low as $97.
2. Ecommerce Marketing Training Course: Learn how to use ecommerce to attract, convert, and delight more customers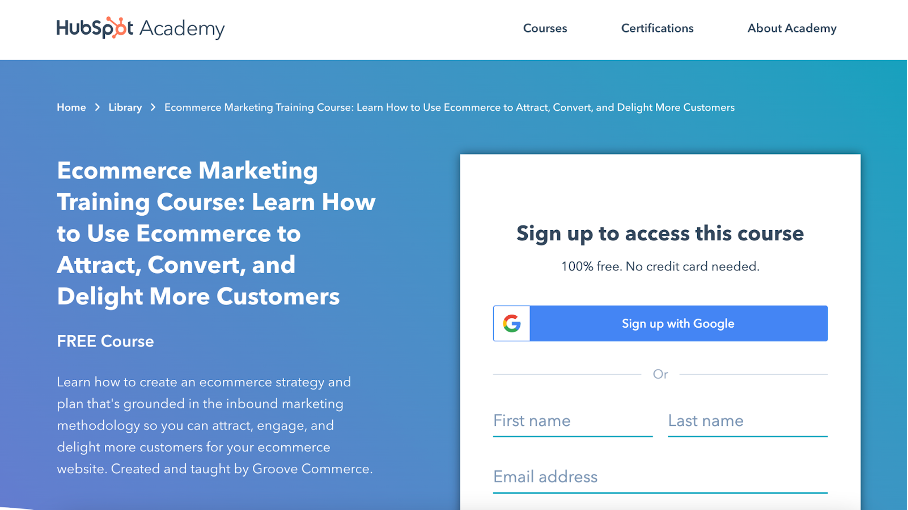 HubSpot's Ecommerce Marketing Training Course will teach you how to create your own ecommerce strategy based on your specific needs. There's a clear emphasis on inbound marketing methods that will help you attract and engage your customers.
In this short course, you'll learn about setting achievable goals for your ecommerce business, building incoming traffic, and creating an exciting and engaging path to purchase.
The information is delivered via 10 short videos, ranging in length from a few minutes to around ten.
Who is this ecommerce course right for? Ecommerce marketers and ecommerce site owners who want to learn the basics of inbound marketing. This ecommerce marketing course is too short to get into the nitty-gritty details, but it does give you a jumping-off point for further learning.
Cost: Free, but email opt-in is required.
3. Dropshipping 101: Build your first online store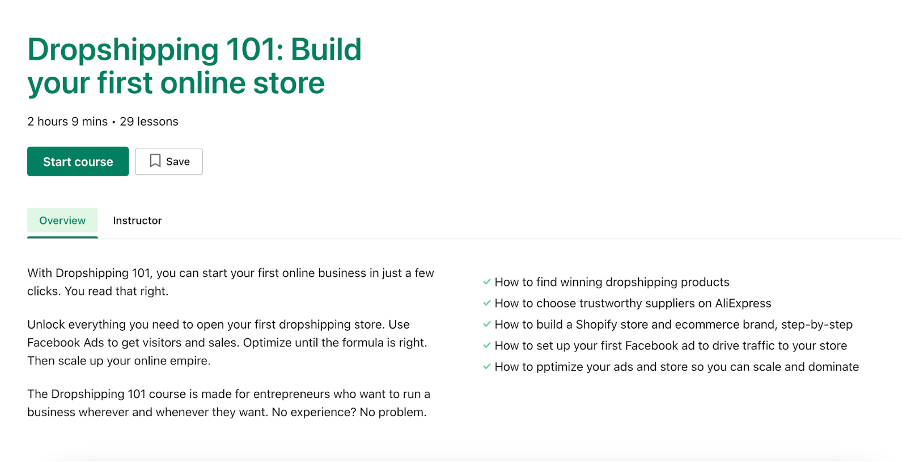 Shopify's Dropshipping 101 course will show you the secrets to starting your first online business in just a few clicks.
You'll learn everything you need to know about dropshipping in just 2 hours. Topics include how to use Facebook Ads to generate sales, how to optimize your dropshipping site, and how to scale up as your business grows.
Who is this ecommerce course right for? Entrepreneurs who are interested in dropshipping but aren't sure how to get started.
Cost: Free, but you'll need to create a Shopify Learn account.
4. Ecommerce Marketing Mastery: Become a Certified Ecommerce Marketing Master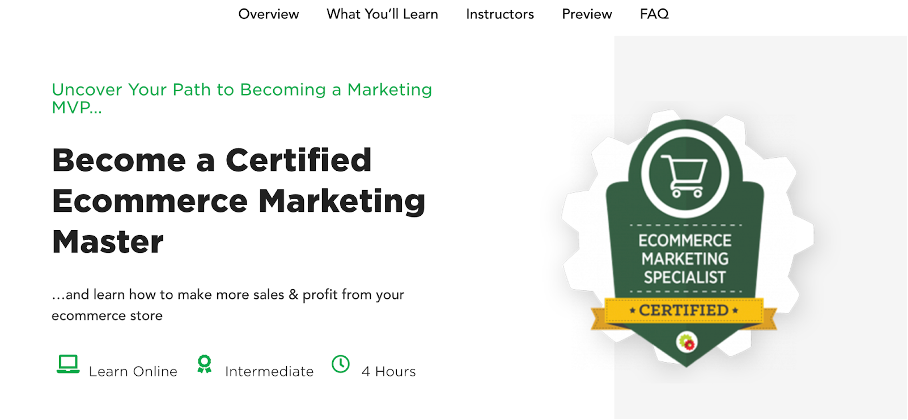 Digital Marketer's Ecommerce Marketing Mastery is an intensive course that promises to help you gain a mastery of online marketing for the ecommerce space.
In this 4-hour course, which includes 40 video lessons, you'll learn about the architecture of a successful ecommerce store marketing team and how to use the most cutting-edge, effective online marketing tools out there.
Who is this ecommerce course right for? If you're interested in building a long-term, sustainable marketing strategy for your ecommerce website, this course is for you.
Cost: $495
5. E-Commerce Essentials: How to Start a Successful Online Business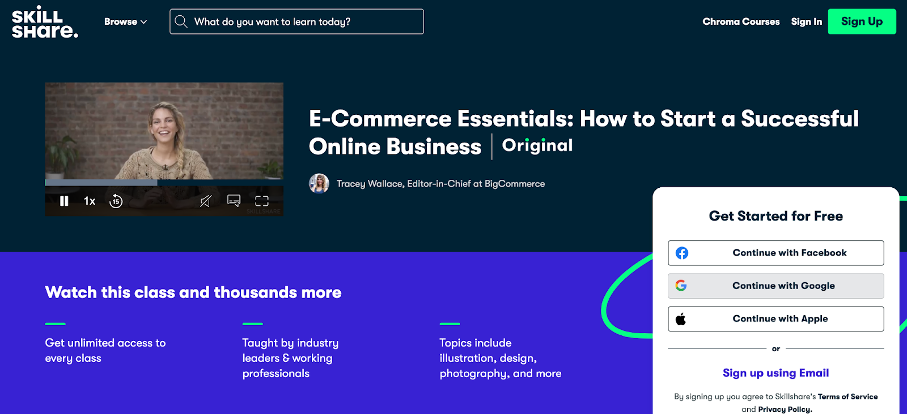 The E-Commerce Essentials course helps you get started on your entrepreneurship journey.
The course is led by Tracey Wallace (editor-in-chief at BigCommerce) and breaks down the process of starting an ecommerce business into manageable steps. She'll explore how to identify marketable products, how to create a store, and how to build a successful marketing strategy… all within an hour.
By the end of the training, you'll have the foundation you need to set yourself up for long-lasting success and a toolbox of tips that you can continue to draw from as you embark on your journey.
Who is this ecommerce course right for? Beginners who are looking for a foundation on which to start the process of launching their own ecommerce businesses.
Cost: You'll need a Skillshare account, which starts at $19/month.
6. Search Engine Optimization Training Masterclass: Beginner SEO To Advanced SEO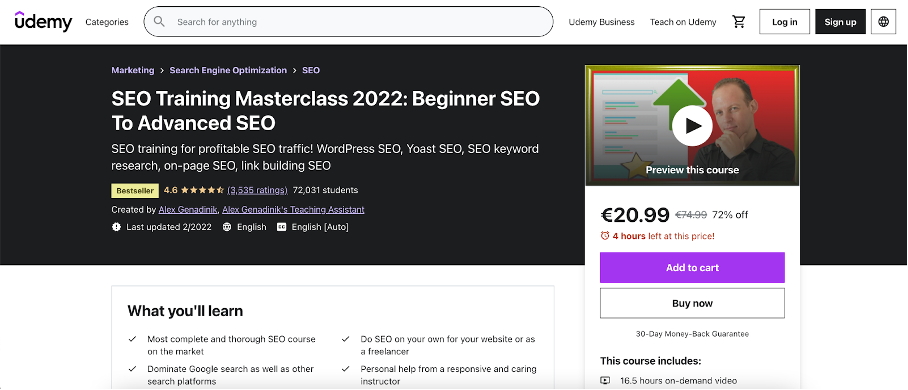 The SEO Training Masterclass is a very detailed course for those who want to improve their SEO skills and unlock the tricks to maximizing inbound traffic from Google and Bing. It includes 16.5 hours of on-demand video, 8 articles, and 78 downloadable resources.
This course will teach you the SEO strategies that the instructor himself has used to reach millions of first-pages. You'll also learn how to integrate your SEO strategy with your social media marketing, publicity, and other aspects of promoting an online store.
Who is this ecommerce course right for? Ecommerce businesses who want to use SEO to grow their business but aren't quite sure how to go about it.
Cost: It's €74.99, but if you catch it at a discount the price goes as low as €20.99.
7. Ecommerce Masterclass: B2B Sales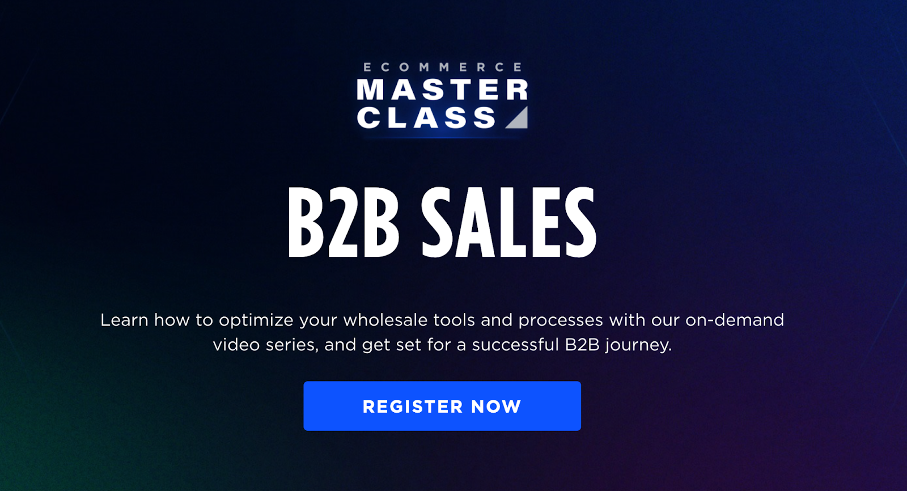 BigCommerce's Ecommerce Masterclass: B2B sales course is the only one on this list that's specifically created for the B2B space. It's focused on getting the right setup by optimizing your wholesale tools and processes.
Split into modules, each with its own video, this course will outline everything from setting up a B2B portal and back-office staff to digital procurement and choosing the right suppliers. It also covers account management, B2B shipping, pricing, and more.
Who is this ecommerce course right for? Whether you're leaning further into the B2B side of your existing hybrid business or selling B2B for the very first time, this course is right for you.
Cost: Free, but registration is required.
8. Build a Dropshipping Empire From Scratch [Proven Blueprint]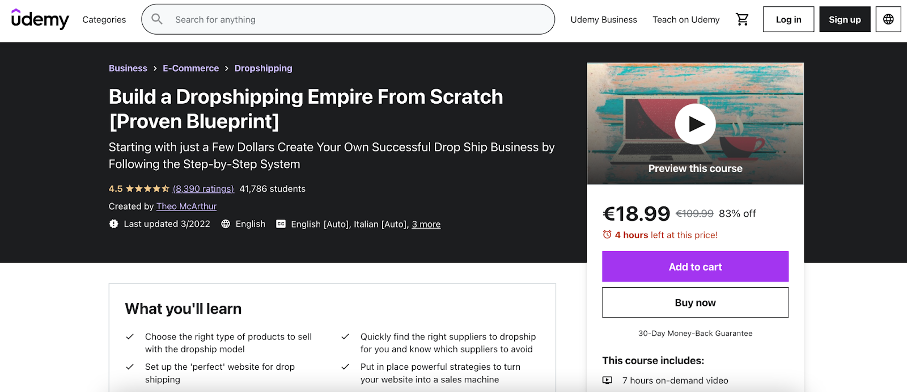 This Udemy course is focused on how to create your own dropshipping business without requiring much startup capital.
It gets into how to choose the right type of products to sell with a dropshipping business model, how to find the right suppliers, and how to set up the "perfect" website for dropshipping.
The course includes 7 hours of on-demand video, 10 articles, and 28 downloadable resources.
Who is this ecommerce course right for? It's great for anyone who wants to start a dropshipping business but doesn't have a lot of money to invest into it.
Cost: It costs €109.99, but discounts can bring the price as low as €18.99.
9. Ecommerce Fundamentals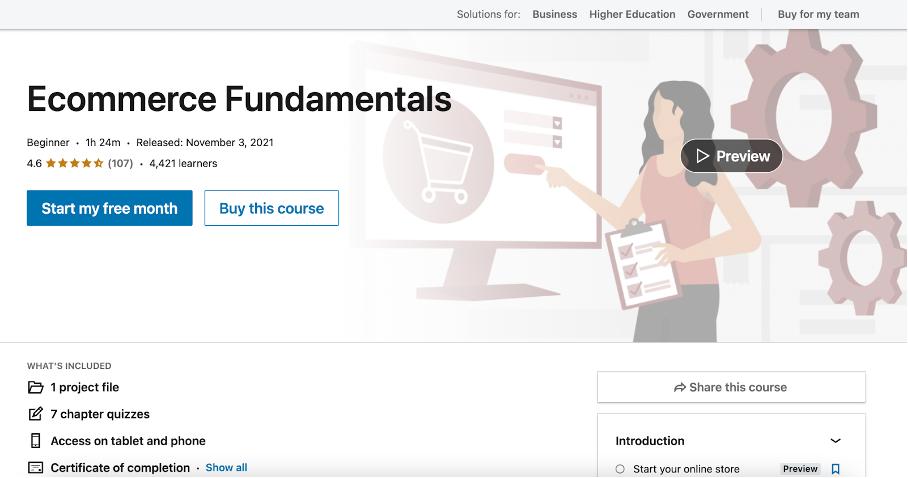 The Ecommerce Fundamentals course is ideal for ecommerce beginners who struggle with the technical aspects of putting their ideas into action.
This course will teach you how to transform your idea—whether it's handmade ceramics or an innovative cat toy—into a full-fledged online store.
It looks at different types of ecommerce business models and teaches you how to evaluate which is right for you. You'll also learn about how to select and target a niche, how to test and refine your products, and how to attract customers, fulfill orders, and manage your finances.
Who is this ecommerce course right for? This course is perfect for you if you think you have a winning product idea but don't know where to start.
Cost: $35.99
Each of these courses has the potential to deliver the knowledge you need to take your ecommerce business to new heights.
When you're choosing which courses to take, always think about your priorities right now. If your site only exists in your imagination, then it's best to choose one of the beginner courses like E-Commerce Essentials or Shopify's Dropshipping 101. But if you're already up and running and want to seriously boost your sales, there's no better choice than OptiMonk's Trojan Horse Course.
That's really all we have to say. The rest is up to you—time to start studying!