Trying to grow your email list? Just starting to put together an email marketing strategy and need to start collecting emails? Either way, you'll accomplish your goals more quickly if you use the best lead generation Shopify popup app for your store.
That's why we've put together this list of the 8 best Shopify popup apps. They'll help you create stunning email popups and capture emails in your Shopify store.
What's the best email popup app for your Shopify store?
We carefully checked the reviews, features, and pricing of the most popular popup apps to create a comparison.
Let's get right into it!
OptiMonk is an extremely powerful popup tool. The feature-rich popup builder allows you to create beautiful popups that convert at high rates…without annoying your site visitors.
That's why it's gained more than 400 5-star reviews on the Shopify App Store.
Let's take a closer look at some of its features.
300+ high-converting templates
OptiMonk's huge template library makes it easy to get started in no time. There are over 300 templates to choose from, all of which are professionally designed and mobile-friendly.
And there are several themes, which give you a great head start toward creating multiple campaigns that are visually consistent. This leads to a smoother, more enjoyable user experience on your website.
Check out some of our email popup templates below:
Flexible drag & drop editor
OptiMonk's editor allows you to customize your popups easily. With one click, you can add, edit, or remove any element.
And there's a wealth of elements to choose from, from the basics like text boxes, custom images, and buttons to the more advanced features like countdown timers, product elements, and coupon elements—just to name a few. The WYSIWYG designer lets you easily edit any of the text elements.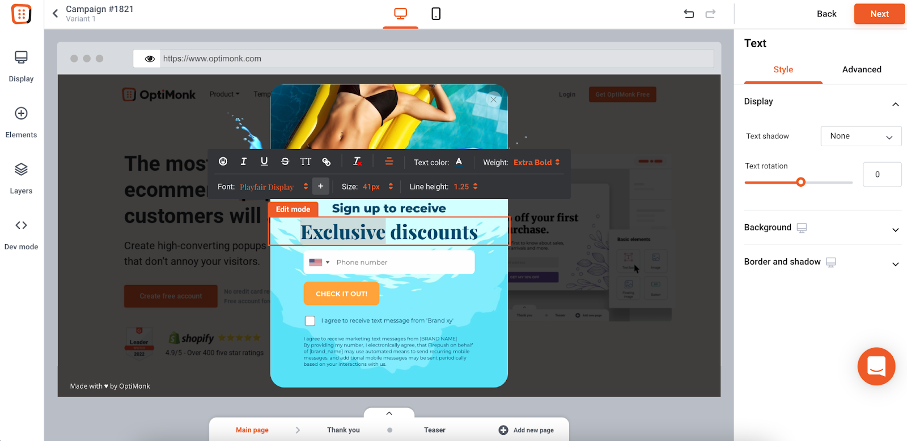 Laser-targeted messages at just the right moment
You can take advantage of industry-leading triggering and targeting features to reach just the right visitors with the right message, triggered at the perfect moment. This means your campaigns will be much more successful.
OptiMonk automatically monitors your visitors' site behavior, so it can display popups exactly when you want them to be shown. Some of the specific actions that can trigger popups include:
Exit-intent technology (on desktop and mobile)

Timer-based triggering

Scroll-based triggering

On-click triggering

Post-JavaScript event triggering
And you can target your visitors based on their location, the pages they've visited (or not), and utilize "cart rules" to set up specific popups based on what's already in their cart. You can even build "sales funnels" to link all these different types of campaigns together.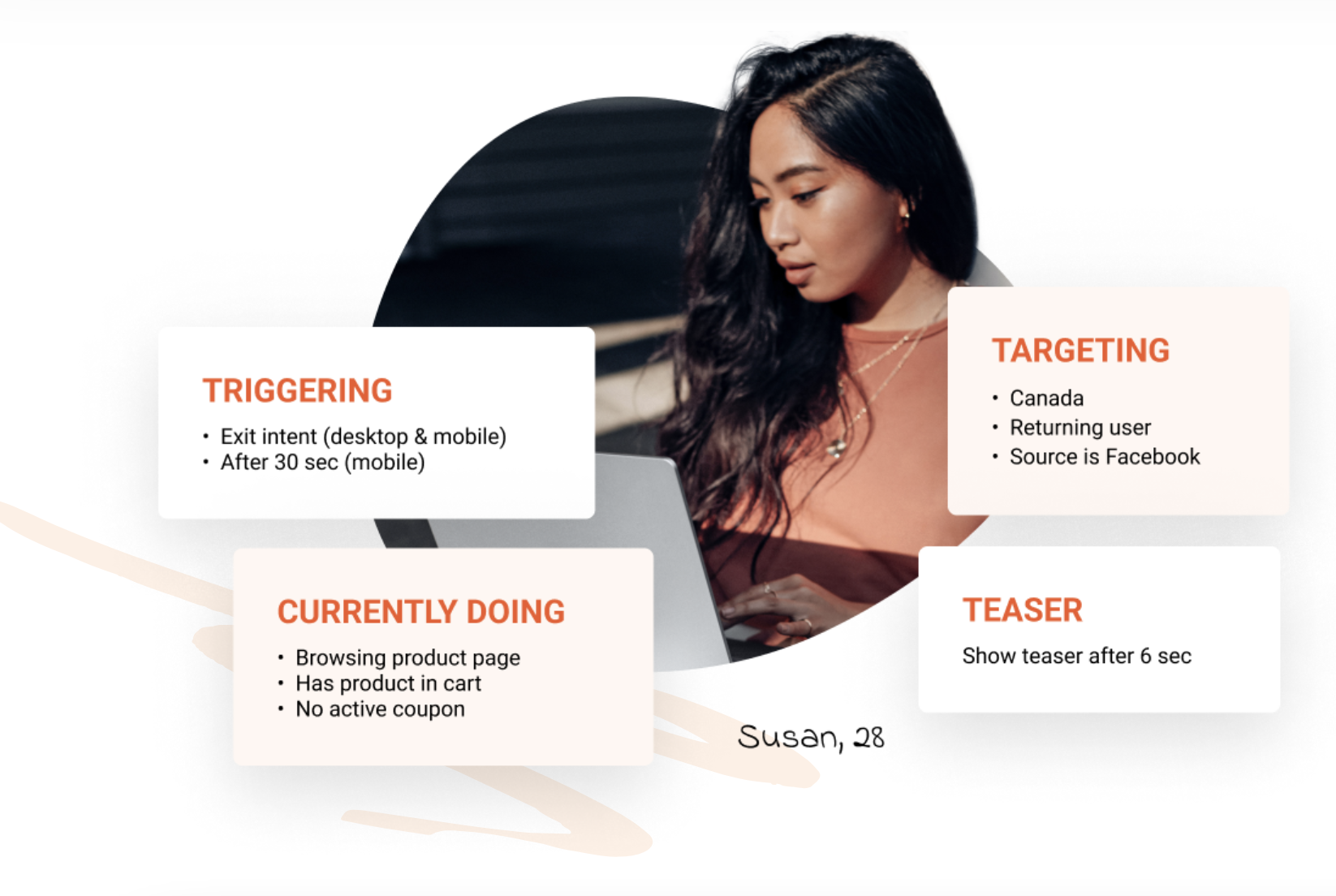 Many types of popups
OptiMonk offers lots of different email popups, but it also gives you access to other types of campaigns like:
Promotional popups

Gamified "Lucky Wheel" popups

Feedback popups

Reminder bars
Since OptiMonk organizes its popups by over 35 different use cases, it's easy to find a popup for any purpose.

A/B testing
You can easily A/B test your campaigns and keep track of their performance. But the unique feature that OptiMonk brings to this domain is the ability to gauge the statistical confidence of your results.
Statistical confidence is a measurement that shows if the performance of a specific campaign will stay consistent. If a variant of your campaign has the highest conversion rate and statistical confidence of over 90%, it becomes the "champion variant."
With OptiMonk, you can use the "Keep only the winner variant running" feature, which will automatically deactivate all the lower-performing variants once a champion is found.

Advanced analytics system
OptiMonk's advanced analytics allow you to see the performance of all your campaigns in terms of the number of impressions, the number of conversions, and conversion rates. And Shopify stores can also see the amount of money OptiMonk generates for them.
OptiMonk also integrates with Google Analytics for detailed data and analysis.

Who should use OptiMonk?
We'd recommend OptiMonk for all Shopify stores as well as marketing agencies that work with ecommerce stores.
We think OptiMonk is the right app for many different types of clients because of its balance between ease-of-use and flexibility.
An individual store owner can run stunning, effective popup campaigns by using the pre-made templates and the drag and drop editor. On the other hand, agencies and large ecommerce businesses can take advantage of the more complex features like HTML/CSS editing and custom targeting rules.
Pricing
Free, or from $29/month.
Mailmunch can act as both a popup plugin and full email marketing software. However, this dual functionality has both pros and cons. While using only one platform is convenient, the available features can fall behind a software that's dedicated to just one purpose.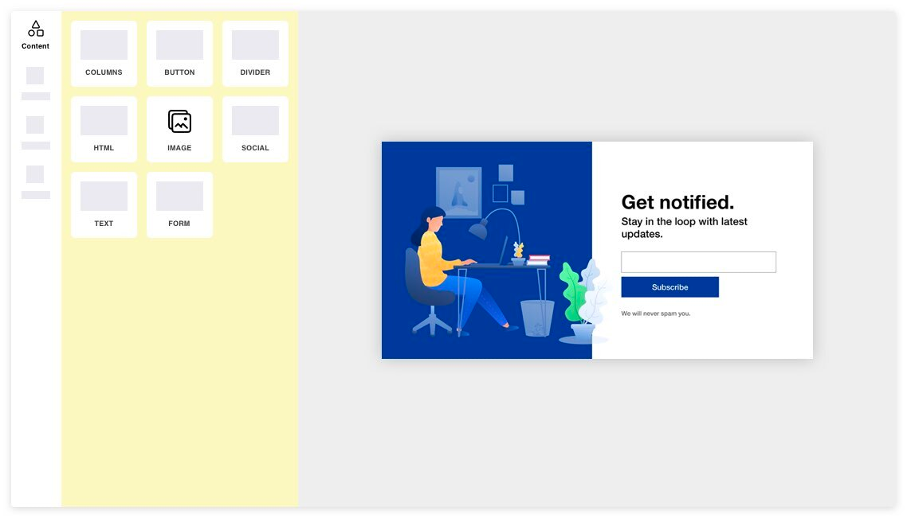 Mailmunch has several triggering options to choose from when it comes to presenting your popups—spanning the clever use of exit-intent technology to an ever-present floating bar.
Once you've built up a list of contacts, you can use Mailmunch's personalized email campaigns to send individually tailored messages to your email subscribers.
Having access to this level of email marketing automation helps store owners deliver persuasive messages without having to spend too much time creating welcome messages and promotions.
Who should use Mailmunch?
Mailmunch's email functionality makes it useful for ecommerce stores looking for a free-to-install tool for keeping in contact with their customers. They have some good-looking templates, but there aren't many to choose from.
Pricing
Free, or from $13.99/month.
Privy allows you to create popups and run your email marketing campaigns through their app. You can use their editor to create lead generation popups and emails to send when someone subscribes to your list.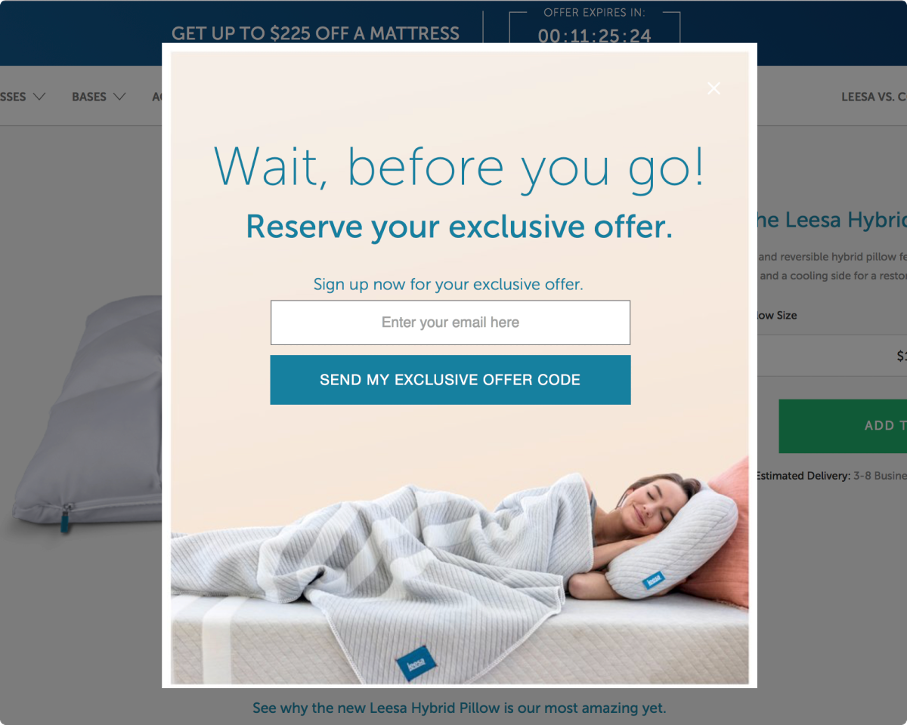 Since Privy is geared towards marketing to your contact list, they have lots of popup templates meant for that purpose. They have some other popup types, like cross-selling and gamified popups, but other important types like fullscreen popups and sidemessages are not available.
One of Privy's best features is its system for sending cart abandonment emails. If an exit-intent popup fails to generate a conversion, you can try again with an email prompting users to complete their transaction.
Who should use Privy?
Privy is great for store owners who love running as much as possible through a single platform. However, others might prefer to use a more powerful marketing tool in combination with a dedicated, feature-rich popup maker.
Pricing
Free for 100 contacts or less, then from $15/month.
Poptin helps Shopify stores add popups to capture leads. Their lightbox popup templates are excellent, and they also allow you to create sidemessages and fullscreen popups.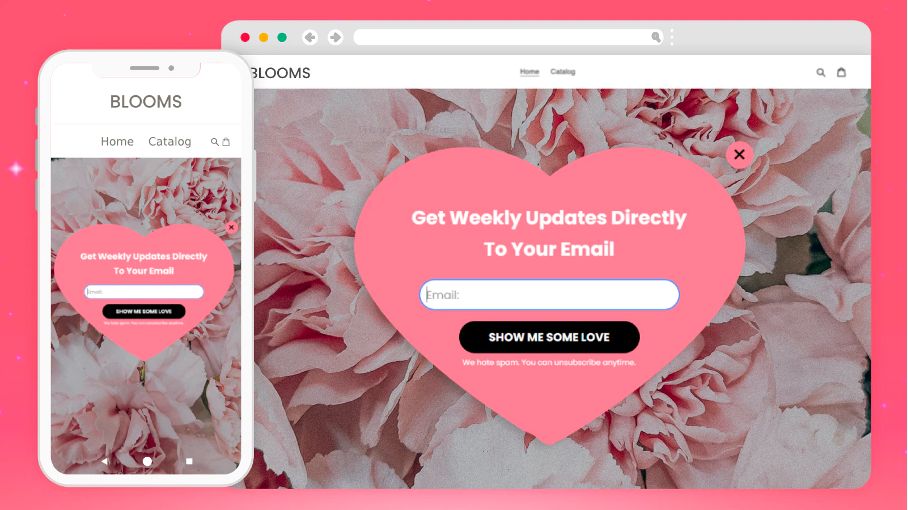 With Poptin, you can set up exit-intent-driven popups or a countdown timer to help create urgency, sending your sales to the top of your visitors' to-do lists.
Although Poptin doesn't offer a full email marketing tool, they do allow you to automatically send "Welcome" and "Thank You" emails to new subscribers.
Who should use Poptin?
Poptin is ideal for a specific set of users: those who want to capture contact info and send a thank you email but aren't interested in running a full email marketing campaign or newsletter.
Pricing
Free, or from $25/month.
Getsitecontrol can generate great lead-building popup forms in addition to their powerful "Getform" survey system. If you decide to use Getsitecontrol for Getform and your opt-in forms, you'll also be able to create some nice-looking popups.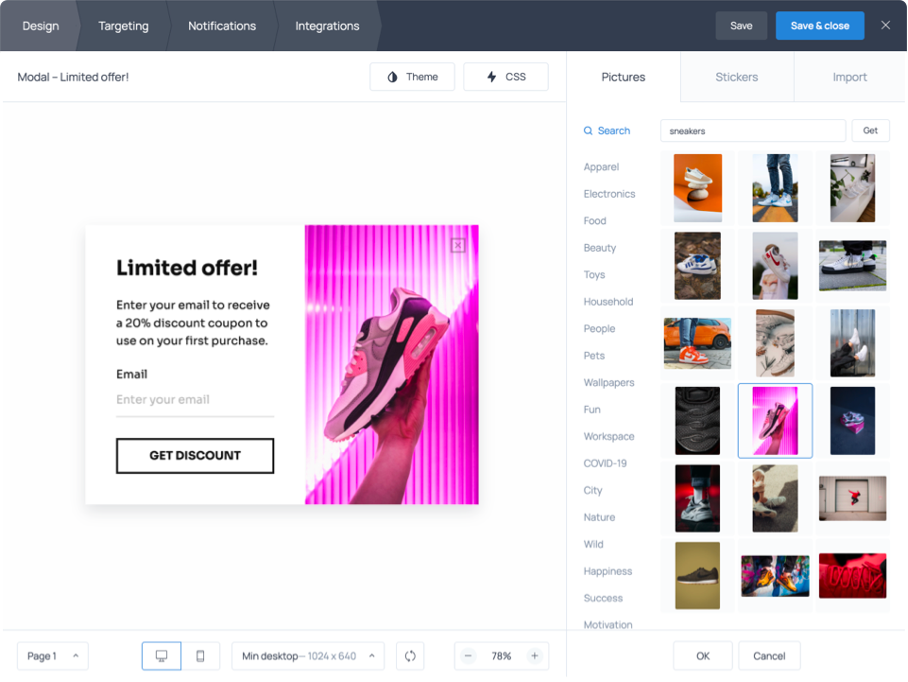 Getsitecontrol offers another type of opt-in form called large notification bars. These give website visitors a chance to subscribe to your email list without interrupting their shopping experience.
Getsitecontrol also has key targeting features that Shopify users can take advantage of. You can easily set up custom popups to appear on the cart page, thank you page, and product pages.
Who should use Getsitecontrol?
Getsitecontrol is a solid popup app for people who use Shopify. Unfortunately, it's not quite as powerful if you run your store on a WordPress site.
Pricing
From 8 Euros a month.
OptinMonster helps Shopify stores generate leads using popups and inline forms. They have a large template library that has many types of popups with reliable features.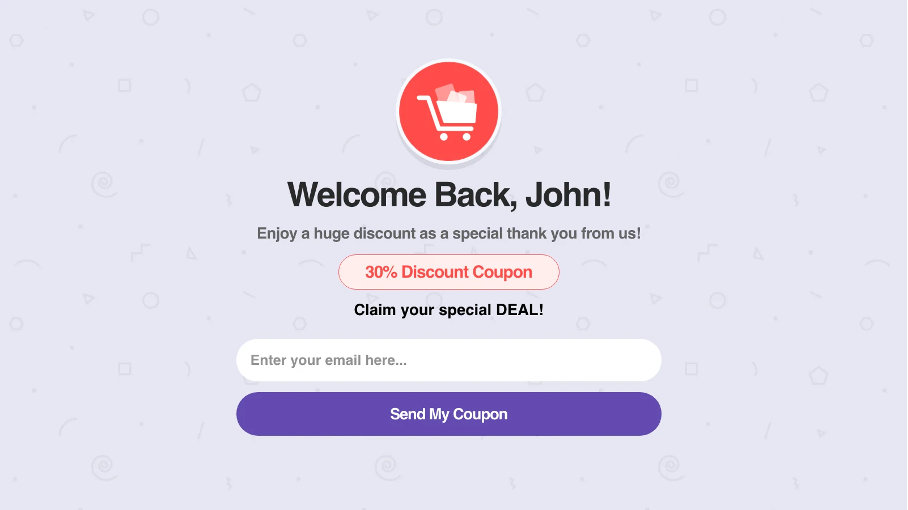 Their popup editor offers plenty of customization. You can add and edit elements like times, contact forms, and images easily so your popups blend in seamlessly with your store's theme.
OptinMonster also gives you access to a suite of tracking and targeting tools. These include geo-location, page-level targeting, and an "InactivitySensor."
There are also options for using both onsite retargeting and follow-ups to improve your conversion rate.
Who should use OptinMonster?
OptinMonster can be a useful Shopify popup app for lead generation. Ecommerce stores that rely on their contact list for a large percentage of their sales should consider using this popup software.
Pricing
From $14/month.
Personizely is a Shopify popup app that allows you to create several different types of popups. That means you could create things like an email popup, a survey popup, a coupon code popup, or upsell/cross-sell popup.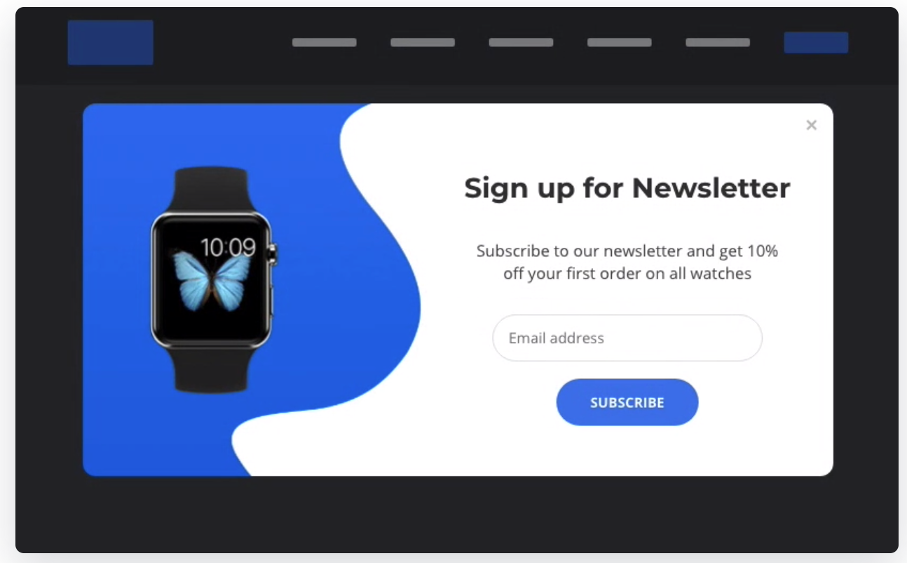 The prospect of saving money is one of the most powerful motivators for getting your visitors to sign up for your email list. Whether you offer a percentage discount or make a BOGO offer, these popups will help you grow your list.
You also have the option of creating an exit-intent popup to deliver the same message.
This Shopify app also allows you to create "sales motivator bars," which inform visitors about the cart value that qualifies for free shipping.
Who should use Personizely?
Personizely is a good all-around option for creating many different types of popup campaigns. However, at $29 a month for the basic plan, it lacks some of the more advanced features (like A/B testing and some integration options) that a popup software at this price point would typically offer.
Pricing
From $29/month.
Unlike some of the lead generation tools we've just seen, Justuno popups also focus on driving ecommerce conversions. The company leverages an advanced AI system to deliver insights on your customers and help you increase conversions.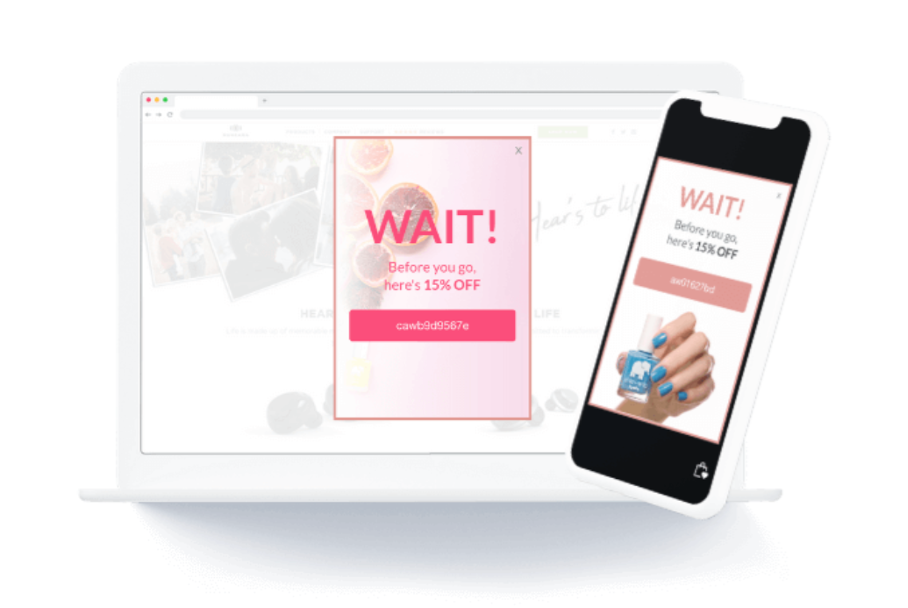 Justuno automatically gathers data about your users to personalize your popups. Based on the browsing history of each customer, you can recommend certain products or deliver tailored messages that will appeal to them.
You can also take advantage of Justuno's personalization features while upselling and cross-selling products to your customers. The specific offers that Justuno displays to your customers will be based on what they've already shown interest in.
Who should use Justuno?
Justuno is a powerful tool, but not all ecommerce stores need its advanced segmentation and personalization features. Since you'll need to be on the Justuno Plus payment tier to access their AI-recommendation engine (which will cost at least $399/month), we'd only recommend it for very large ecommerce operations or agencies.
Pricing
From $49/month.
The best Shopify popup apps to grow your email list
Popup apps are an essential tool in your efforts to collect email addresses for marketing purposes. That's because popups convert much better than an in-line form hiding at the bottom of your website. Since a bigger list of email subscribers is necessary if you want to generate more sales, you should carefully consider which app you'll use to grow your email list.
The best of the best Shopify popups come from OptiMonk's huge library of professionally-designed, mobile-friendly popup templates. Their advanced features are second to none, with industry-leading targeting options and precise control over triggering.
If you're ready to start running some new Shopify popups, register for OptiMonk today. You're sure to find an email popup you'll love!