Online shoppers aren't just price-conscious—they're also well-aware of how to find the best deals. Many customers have a habit of using comparison shopping engines to analyze the offers of multiple retailers.
But, what are comparison shopping engines?
They gather product and pricing information from many ecommerce websites. Consumers are then able to search for a specific item or product category and see what different stores offer.
Listing your products on price comparison websites is essential for a few reasons. Shopping search engines:
Provide an additional touchpoint for customers

Access many users and large search volumes

Have users with a high intent to buy since they are actively looking for a specific product
In this article, we'll take a look at some of the best comparison shopping engines on the web.
Let's get started!
9 best comparison shopping engines for ecommerce stores
To make it a bit more manageable, we've split our list into three categories:
The big search engines

The dedicated shopping engines

The niche shopping engines
We'll also go over which price comparison sites fit best with different types of online stores. This will help you figure out the most crucial comparison engines to join.
The first three entries on our list are not dedicated online marketplaces. Rather, they are offshoots of large search platforms like Google and Bing.
1. Google Shopping
Google Shopping is in the number one spot for a reason: it's a behemoth in online commerce.
When users search for a specific product on the Google Shopping search, the algorithm will find results from different retailers. Customers can then filter those results by price, new/used products, and shipping cost.
And when a customer clicks on one of your products, they'll be taken directly to your product page.
Customers can also end up in Google Shopping from standard Google search results. 
This means that whenever someone searches for products in your niche (say "artisanal bath products") there's going to be a link to Google's price comparison engine. Make no mistake—searches like these can be a huge source of traffic.
It's free for online merchants to join Google Shopping (since April 2020). But that doesn't mean that your products will automatically rank highly.
That's because Google sells shopping ads that influence how and where a merchant's product shows up.
Note that ads for Google Shopping aren't the same thing as regular Google ads since they only affect the Shopping platform. That said, the average cost-per-click in Google Shopping is $0.44.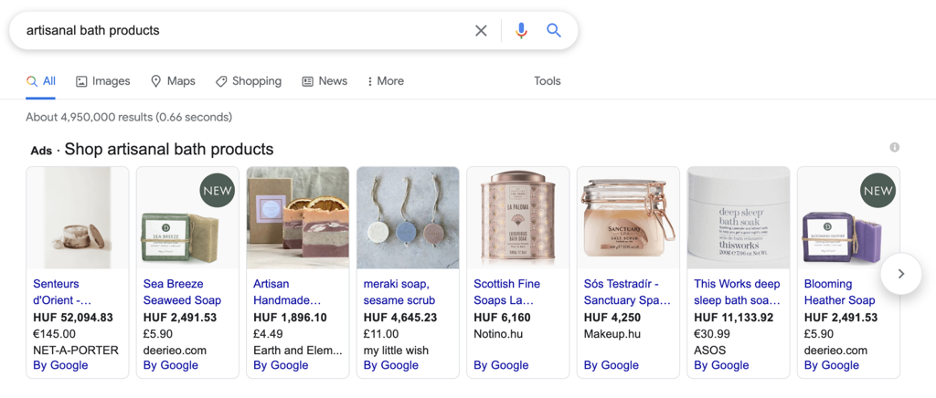 2. Bing Shopping
Bing product ads show up at the top of relevant search results. Each highlighted listing displays names, product prices, and product reviews.
Their shopping comparison engine helps customers browse product categories like 'electronics' and 'fashion.' 
Within this section of Bing's website, there are lots of filters to help people find the products they're interested in. You can sort by standard attributes like price ranges and retailer, but also color.
Bing Shopping runs on a cost-per-click model and the average CPC is $0.46. 
Keep in mind that Bing doesn't experience the same search volume as Google does. For that reason, it's best to use Bing Shopping as an additional source of traffic rather than a replacement for Google Shopping.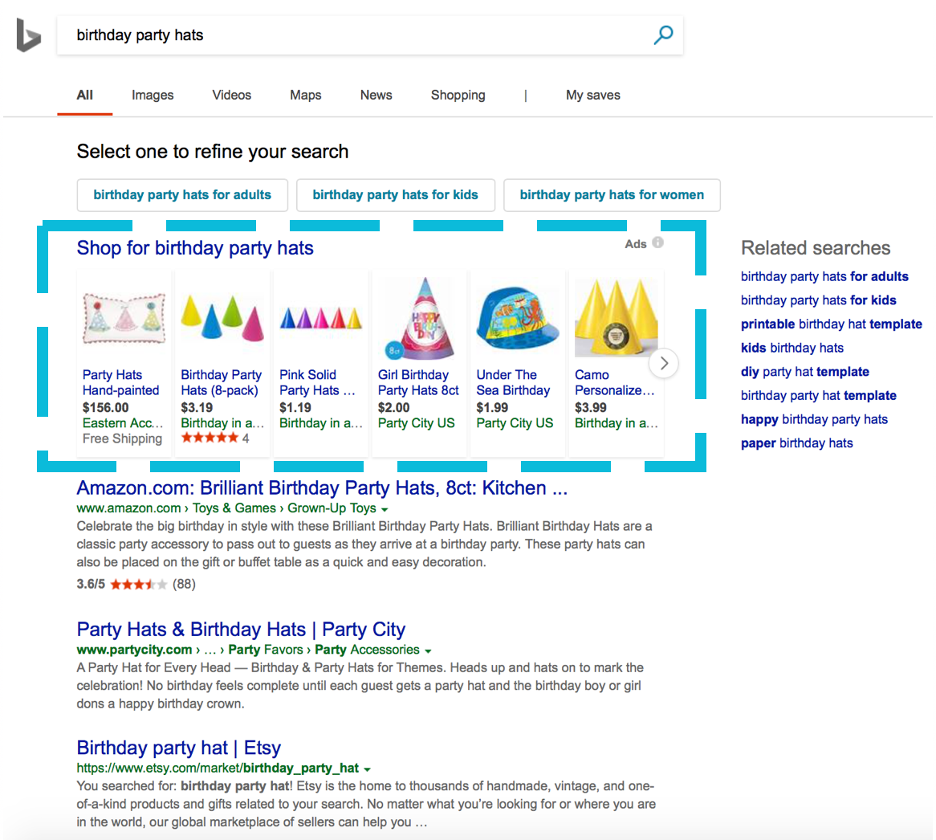 Image Source: KlientBoost
3. Yahoo Shopping
Although Yahoo has fallen behind Google and Bing, the site is still popular among certain segments of the population. In fact, users over the age of 54 still use Yahoo's services, like Mail. This helps the platform retain over 600 million users on mobile each month.
That means getting onto Yahoo Shopping can be a great idea for online businesses whose target market is older.
Yahoo Shopping's platform has several features that go beyond those of Google and Bing. First off, the price comparison site features deals you can only find on Yahoo Shopping.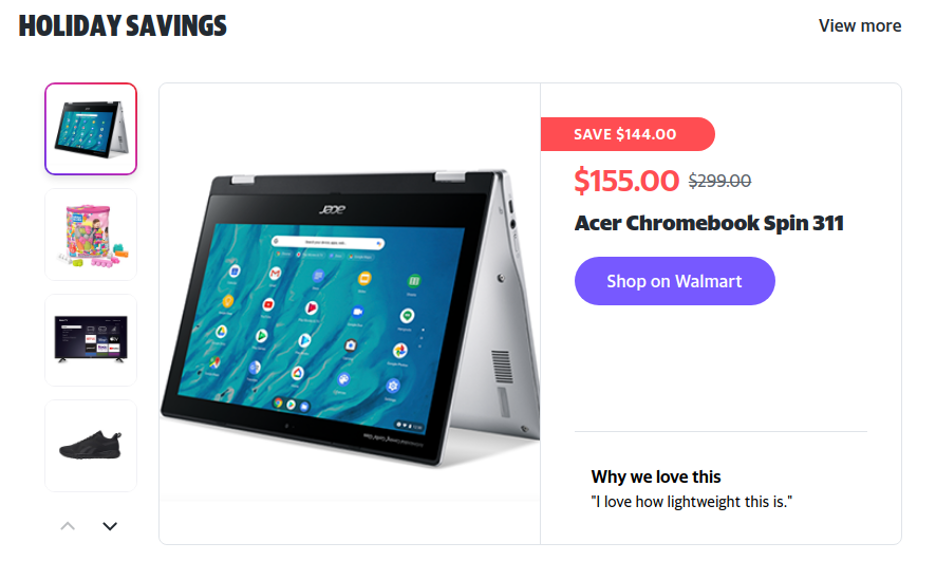 There's also a cashback program. If a customer completes an order through Yahoo's system, they're eligible to get cashback on certain products. The exact rates vary, topping out at 15%.
The final unique feature of Yahoo Shopping is their on-site blog called "In the Know by Yahoo." It provides users with helpful guides and video reviews.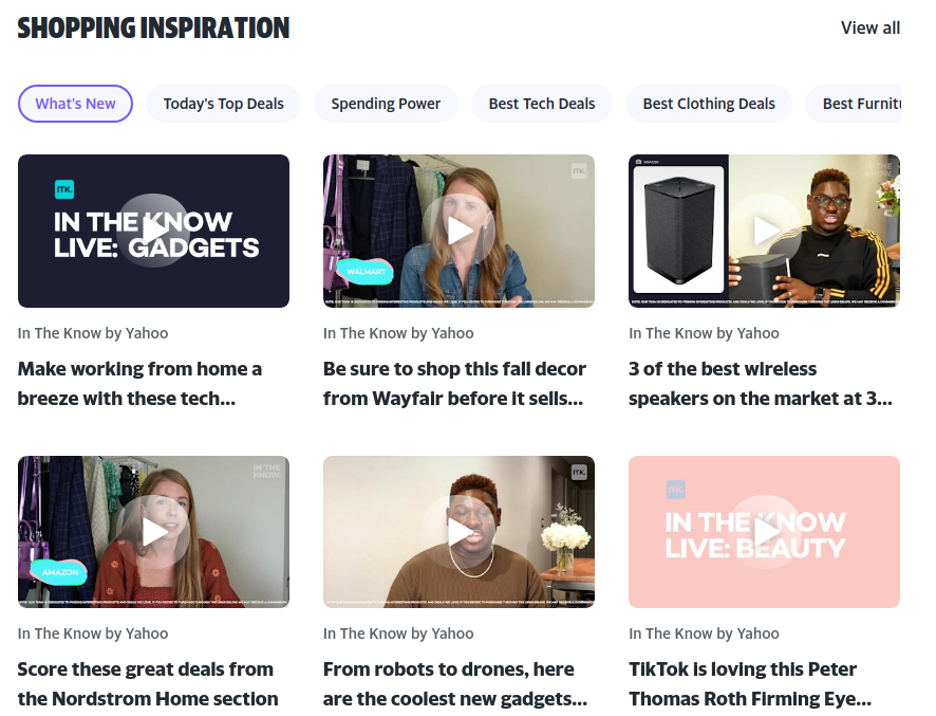 All in all, Yahoo Shopping is a great site to shop on. 
And there's more good news. To have your products featured on Yahoo, all you've got to do is buy clicks on Bing Shopping. You'll be getting access to two comparison engines for the price of one.
The dedicated comparison shopping engine sites
The next group of websites are one-stop shops for finding the best deal on just about anything. Each of them offers a ton of price comparison tools that make online shopping easier.
Let's take a look at the three top comparison shopping engines.
4. Shopzilla
Shopzilla is one of the best comparison shopping sites.
From Shopzilla's homepage, customers have the option of searching for specific products or using categories to browse more randomly.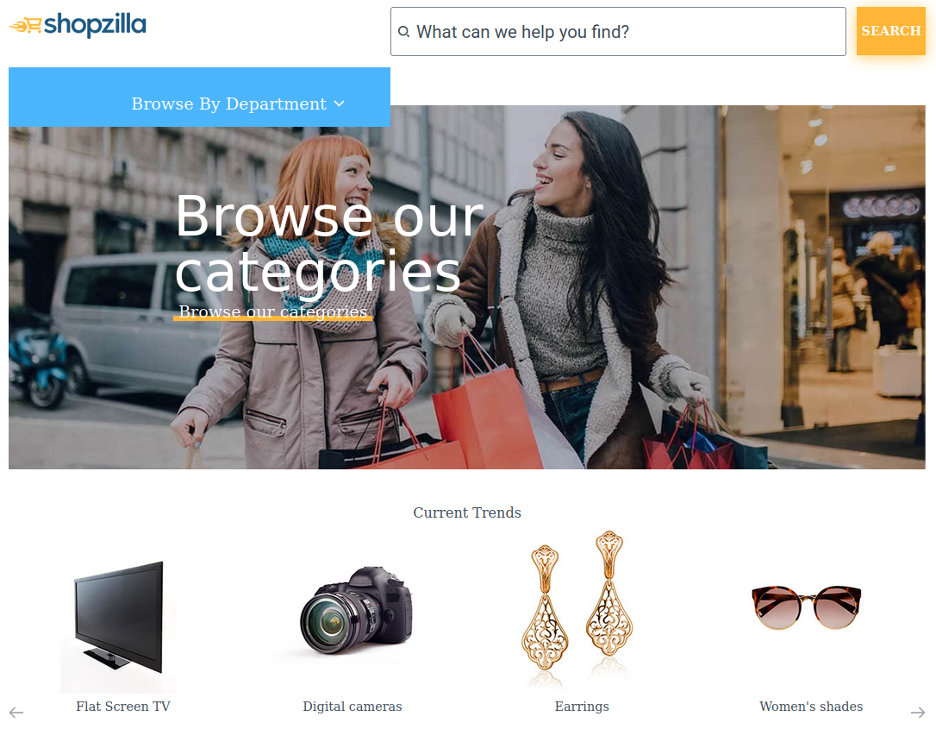 Searches lead to a results page with lots of information. There are large photos and lots of room for product details. Shoppers can also use several criteria to filter down their results.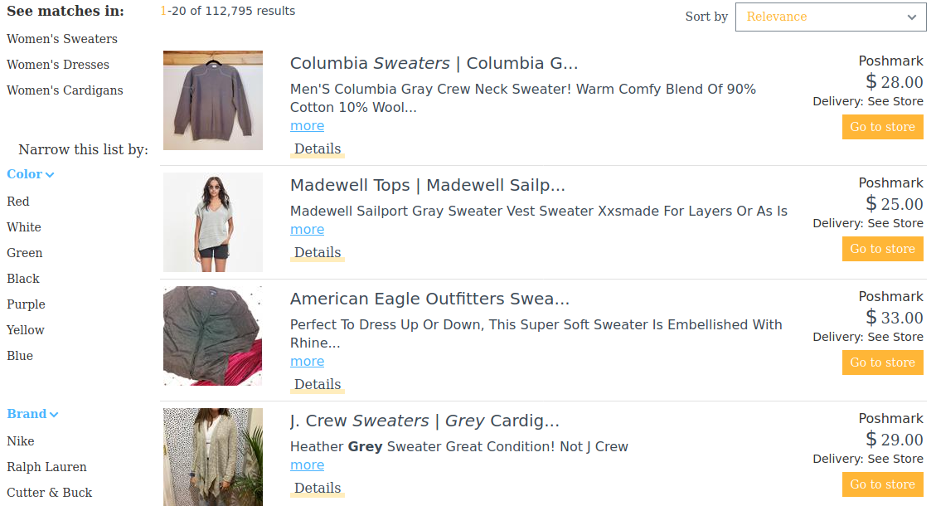 Shopzilla requires ecommerce merchants to make an initial payment of $500 to use their website. Fortunately, the sum doesn't disappear. It's added to a pay-per-click account.
Shopzilla is part of the Connexity network, which also runs the price comparison sites PriceGrabber and Become. This means that investing in Shopzilla gives you access to the other sites as well.
5. Shopmania
Shopmania is a great way for customers to quickly and easily compare prices.
That's because the site is very well-designed. The big, brightly colored categories flow well into the results page. Likewise, the results are easy to navigate and the simple layout encourages the visitor to click through product pages.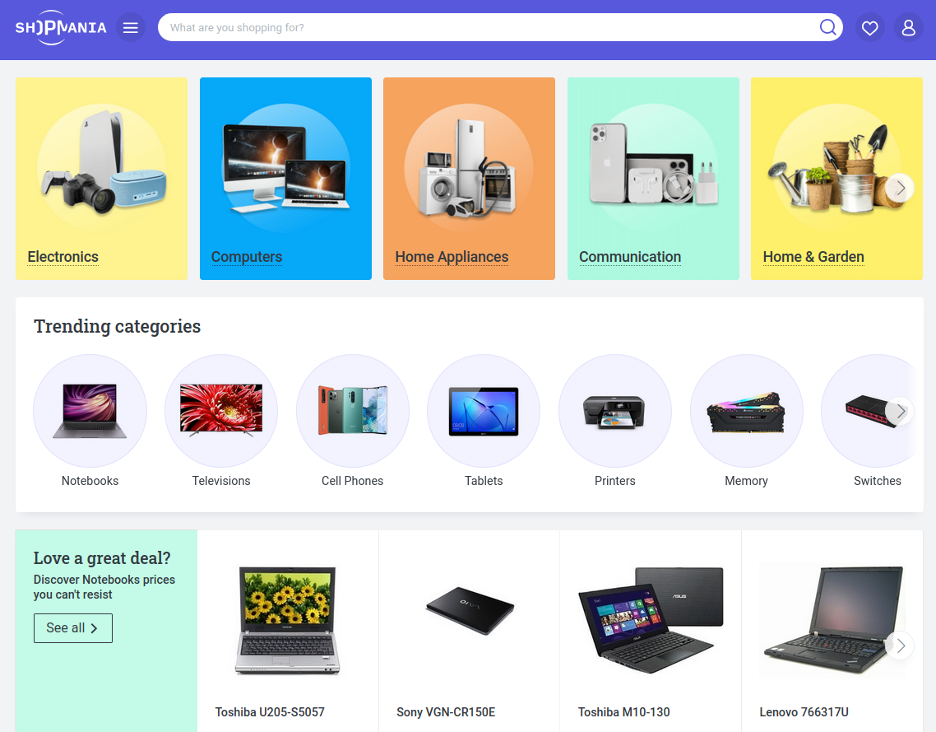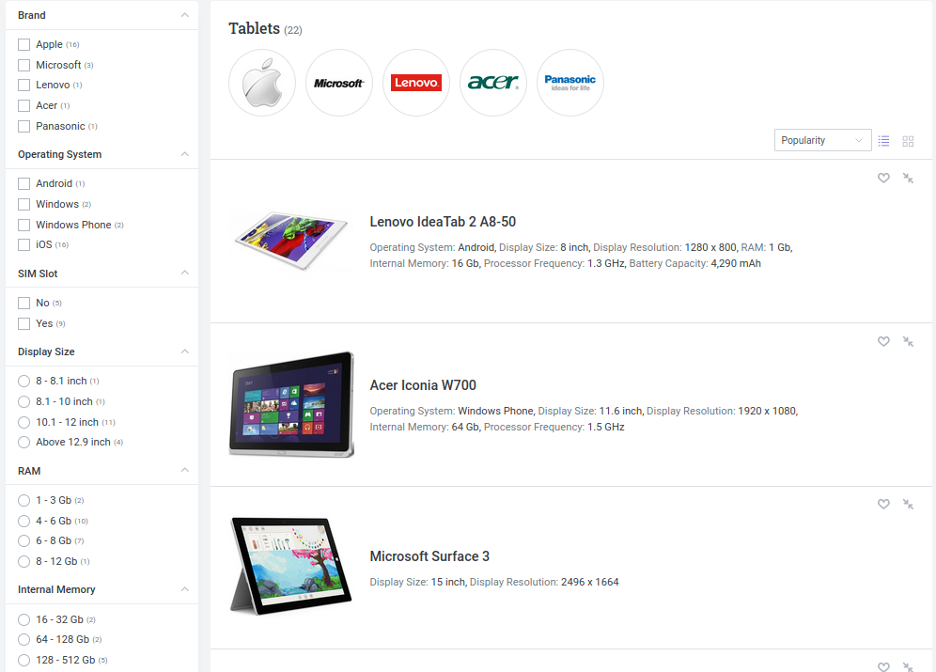 You'll probably be able to find a category for your items on Shopmania no matter what type of products you sell. You can see all of their product categories below.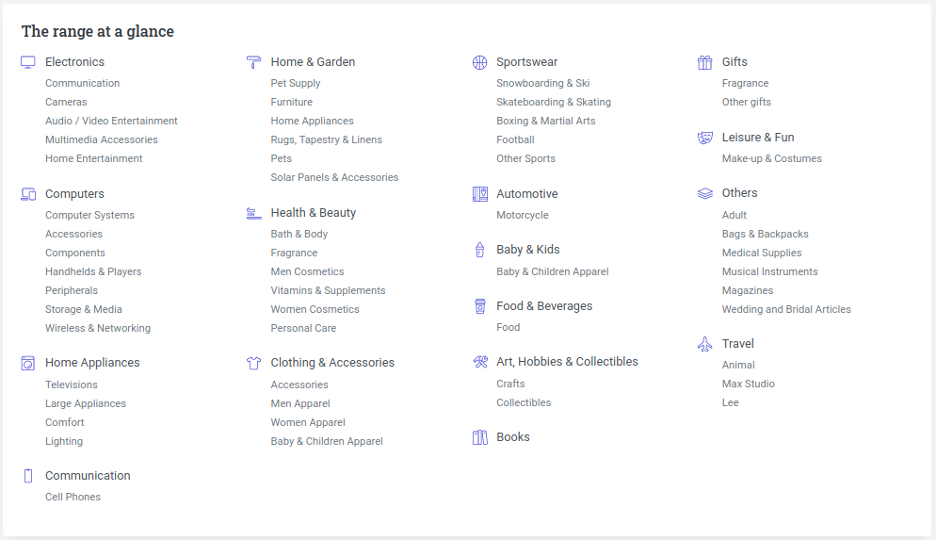 Like most of the other sites on this list, ShopMania is a pay-per-click platform. As an added benefit, Shopmania helps you sell on Facebook for free when you sign up.
6. Shopping.com
Shopping.com, formerly known as DealTime, is another veteran comparison shopping engine.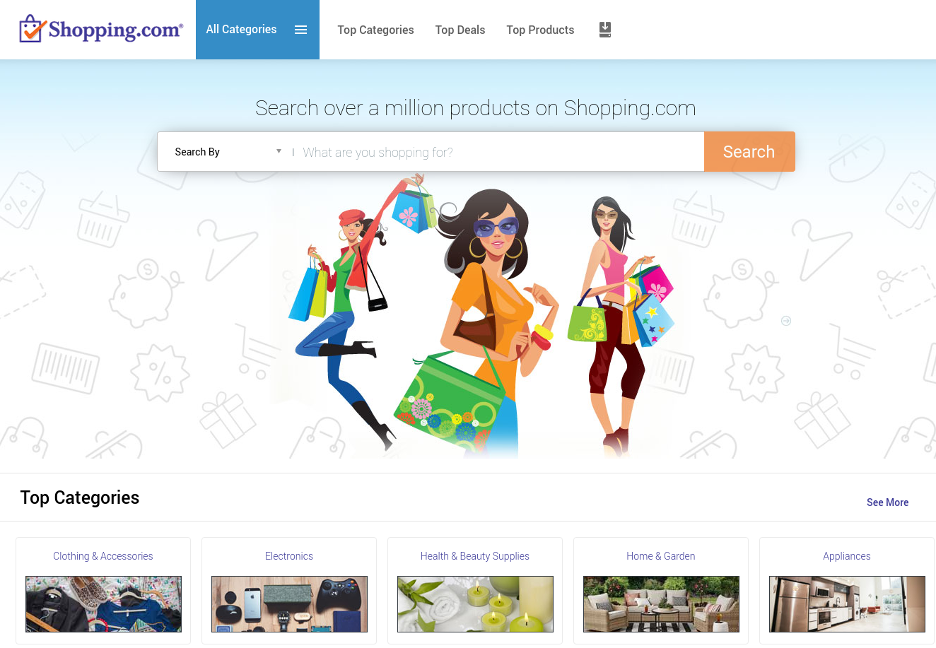 The site compares products from both eBay and third-party online retailers. This means consumers always have tons of options. 
Notice the search results below: It returns products listed both on and off eBay for 'men's jackets.'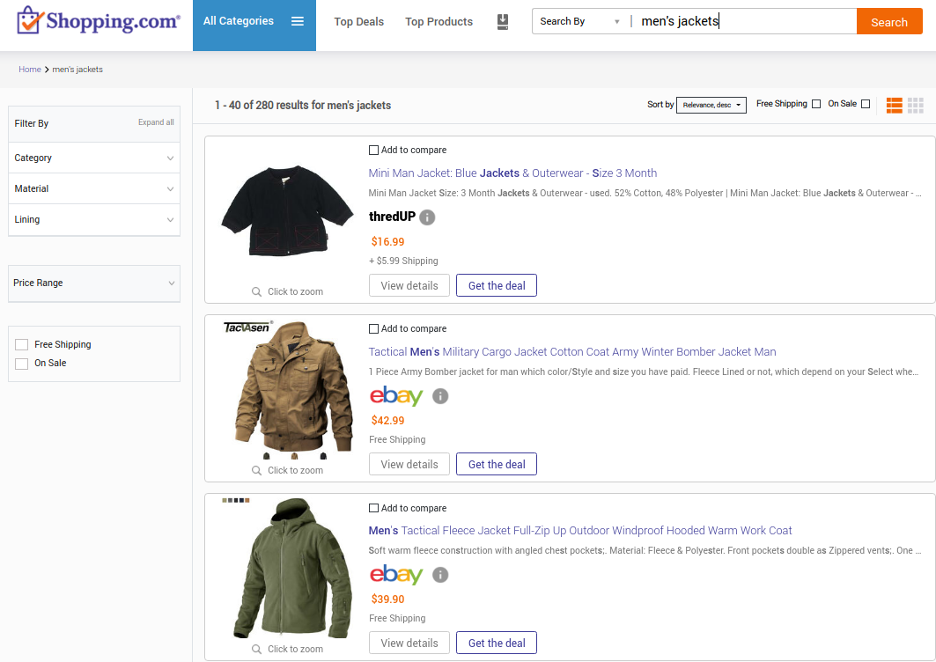 The checkboxes on the left of Shopping.com are a great touch. Online shoppers can use them to filter out any products that aren't on sale and don't ship for free.
Other filter options, like material and lining in this example, change based on what you're searching for.
Shopping.com was part of the eBay commerce network before it was shut down in 2019. However, you can still use Shopping.com's CPC plan to drive traffic from the site.
The niche shopping engines
The final three comparison shopping engines each serve a distinct niche. If your online store sells the same type of products as one of these stores, you can benefit from listing on it.
7. Wanelo
Wanelo presents itself as a 'digital mall.' The site combines aspects of online shopping with social networking.
Wanelo has over 500,000 stores on their site, which collectively list over 30 million products. They have 11 million users taking a look at those products too.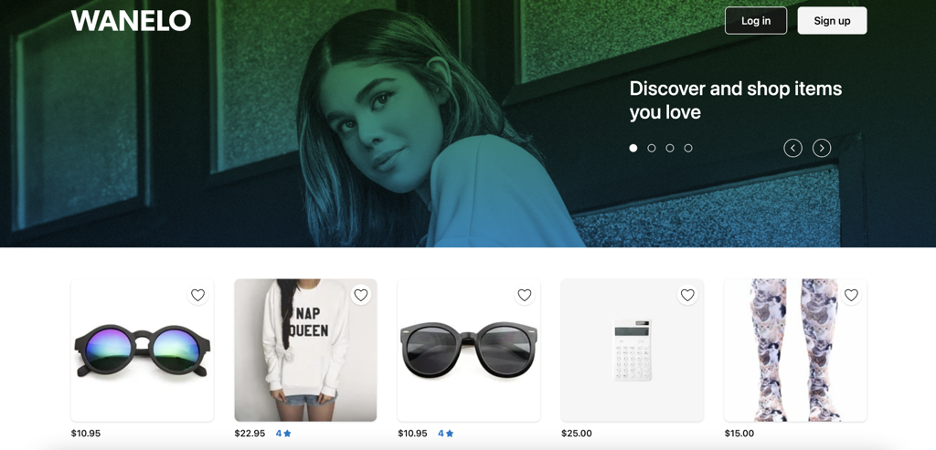 Just like social networks, shoppers can follow their friends and their favorite stores. They'll receive updates when new products are added or existing ones go on sale.
Even their results page looks and feels like a social network. Notice that shoppers can like products with a heart.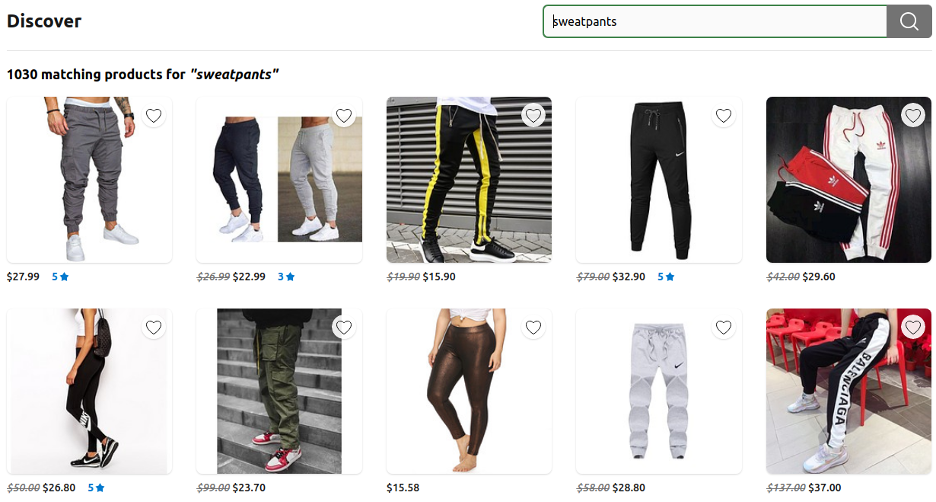 Listing products on Wanelo is exceptionally easy for Shopify store owners. All you need to do is install the Wanelo app.
Unlike most of the comparison shopping engines on this list, you don't need to pay for clicks on Wanelo. Instead, the platform just takes a flat rate 17.1% commission on each order.
8. URSTYLE
URSTYLE is similar to Wanelo in trying to walk the line between fashion ecommerce and social networking. However, it promotes itself as a destination for both high-end fashion and home decor.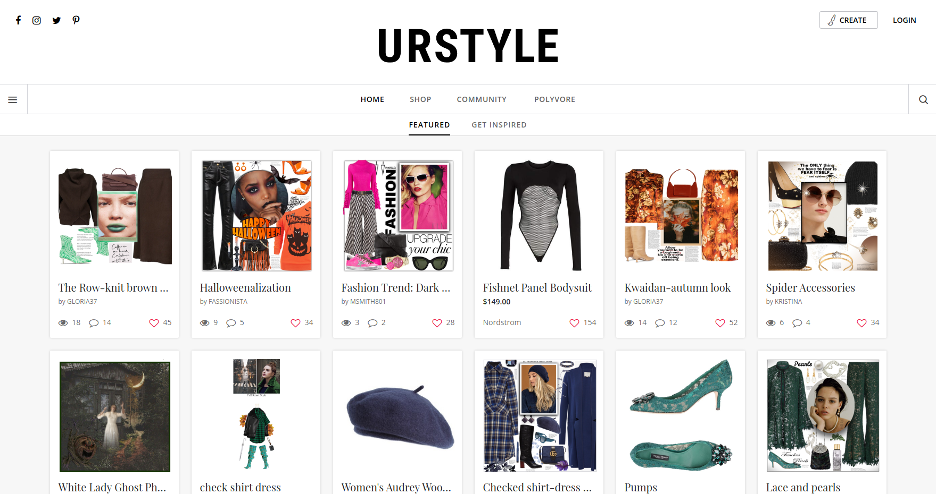 URSTYLE's homepage is designed to look like a social network. Shoppers can like and comment on products.
Their site also features a community section where users can share their opinions about fashion, beauty, and decor.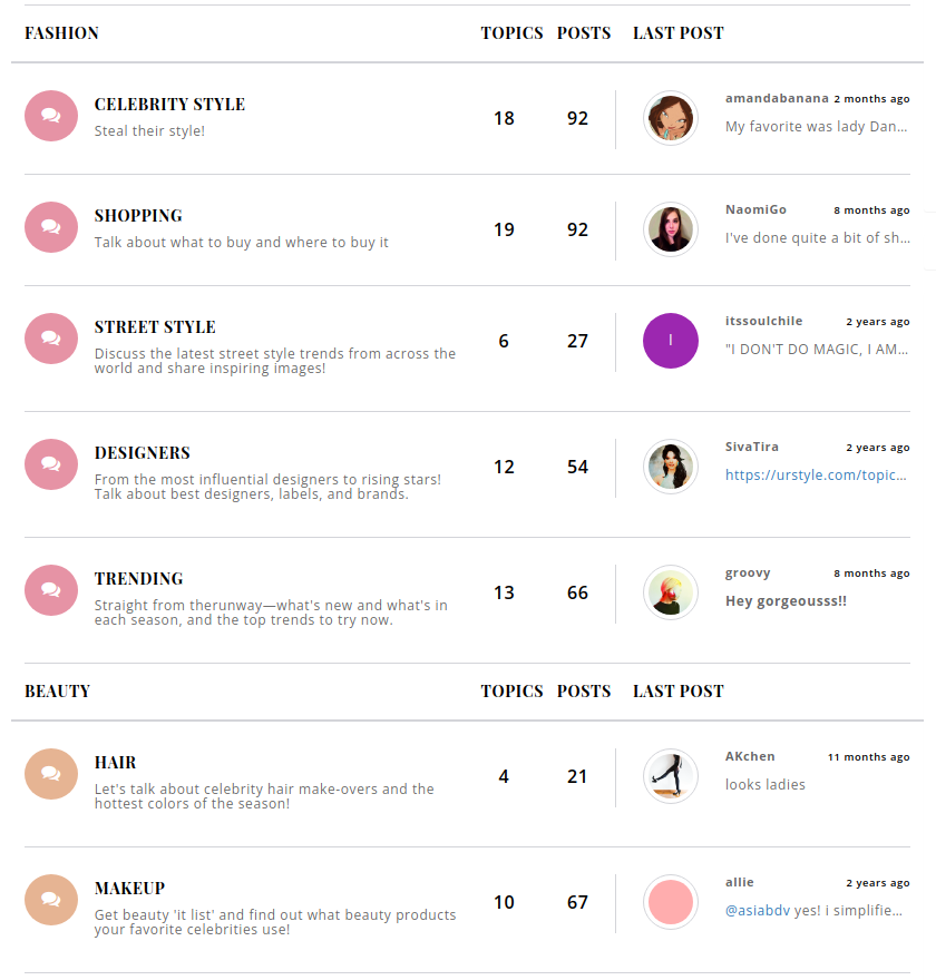 When you search for a product on URSTYLE, you'll find lots of results. Despite that volume, it's easy to browse because of the large images. There are also lots of filtering options like category, price, and color.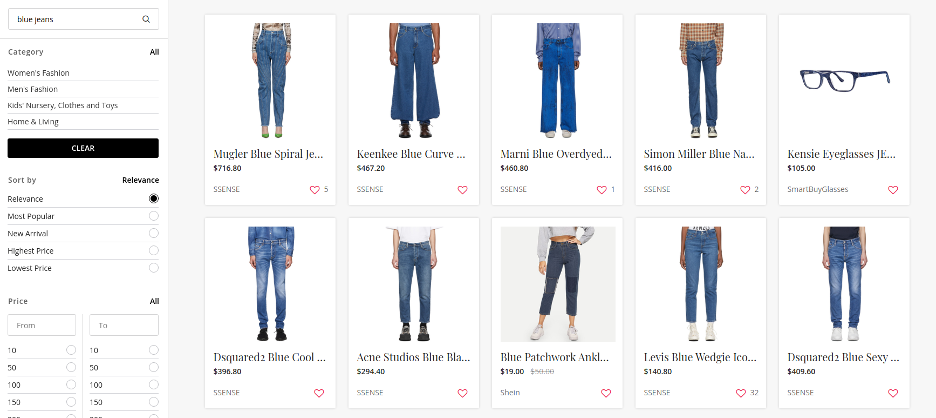 9. Cosmetify
Cosmetify is a comparison shopping engine that helps people compare products and prices of top cosmetics companies.
As you can tell from their homepage, Cosmetify has a big catalog of products—almost 500,000!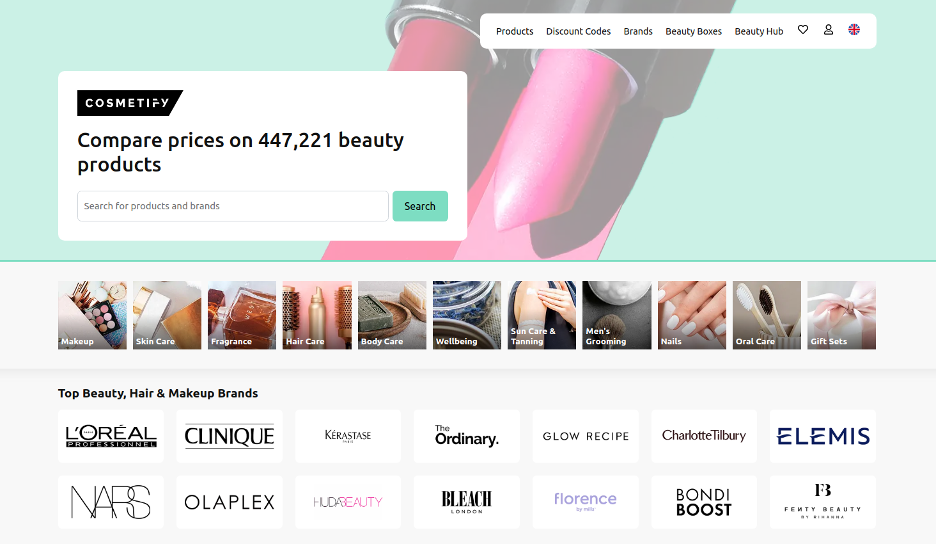 Cosmetics is a great niche for a comparison shopping engine because consumers are looking for identical products at the lowest price. For example, the same shade of Charlotte Tilly lipstick remains identical regardless of where you buy it or what price you buy it at.
Selecting a specific product takes you to a page that compares the prices of many retailers. You've also got the option to set up price alerts on the products you're interested in.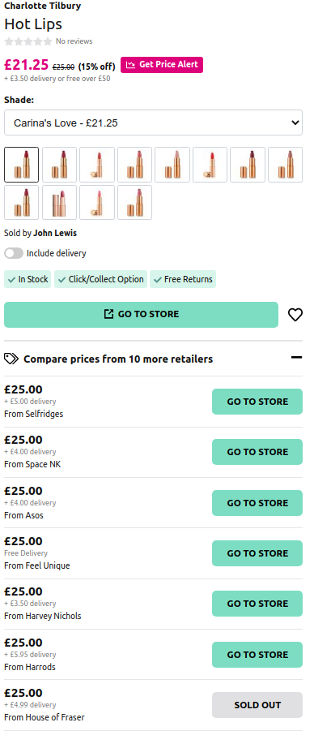 Cosmetify also has a great interface for browsing product categories. Not only can you filter by makeup type, color, and brand, but you can also look for solutions to specific problems (like dark spots and dullness).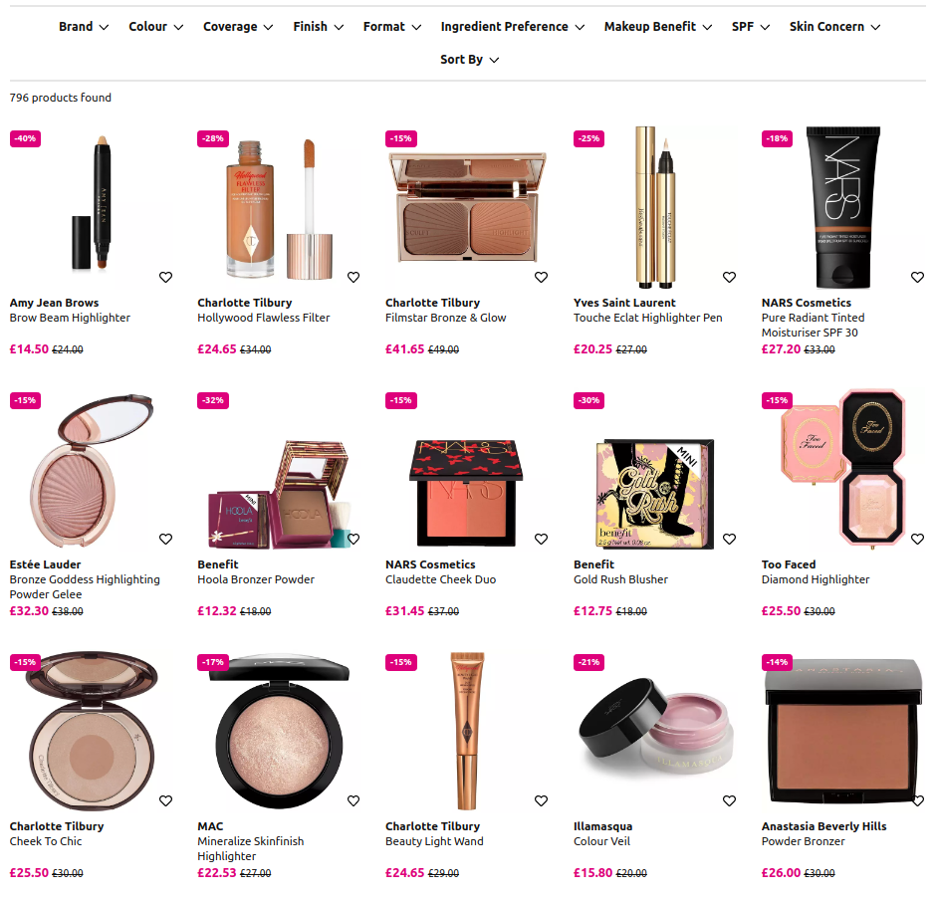 To get your products on Cosmetify, you'll have to partner with them. They make it easy to apply with a simple form on their website.
There's not one "best comparison shopping engine" for every brand. It's best to consider what price comparison websites work well with the products you sell. 
Deluxe fashion brands will want to get onto URSTYLE, while Shopzilla and Shopmania are better choices for an electronics store.
You should consider taking advantage of Google Shopping no matter what type of e-store you have. Since there's a huge volume of traffic flowing through the platform, using some of your marketing spend for product ads is a good idea. 
If you can find the ideal shopping engine for your products, you'll experience a new influx of traffic.  
So why not give one a try?