You've probably experienced upselling lots of times. Perhaps you went for the premium option at the car wash or you got the more expensive wine that your server recommended because it was only a few dollars extra.
Upselling is a crucial part of modern business. And it's no less important for a Shopify store to upsell (and to do it well).
Studies show that upselling can increase an online store's revenue by 10-30%. It's also 68% more cost-effective to upsell to an existing customer rather than finding a new one.
In this article, we'll take a look at the best Shopify upsell apps and what each option has to offer.
Before we get into our list of upsell apps, let's take a look at the definition of upselling and how it's different from cross-selling.
Here's the definition we've found in an academic research paper:
Upselling "refers to the practice of selling more expensive items, add-ons, or other products or services to an existing customer."
So your upsell strategy should revolve around offering your customers "something" extra in exchange for an additional fee. Your upsell offers can vary depending on the types of products your store sells.
Here are a few examples of successful upselling campaigns by some great ecommerce companies:
Spotify

: The music streaming platform has a free plan that anyone can join, but only paying customers can access their premium features (like ad-free music, unlimited plays, etc.).

Dollar Shave Club

: They advertise their "Dollar a Day" tagline, but they also offer lots of more expensive bundles and add-ons. For instance, their customers can get a higher quality razor for an extra fee.

Away Travel

: This is an extremely successful online brand that sells luggage and travel accessories. They encourage shoppers to buy bigger and more expensive suitcases.
We've covered the definition of upselling and some upselling campaign examples. It's also important to distinguish the difference between upselling offers and cross-selling offers.
Cross-selling is all about getting your customers to buy extra items, not upgrading the ones they're already interested in. For example, you might recommend complementary products on your Thank You page. Cross-selling is also a very powerful sales tool, but we will only focus on upselling in this article.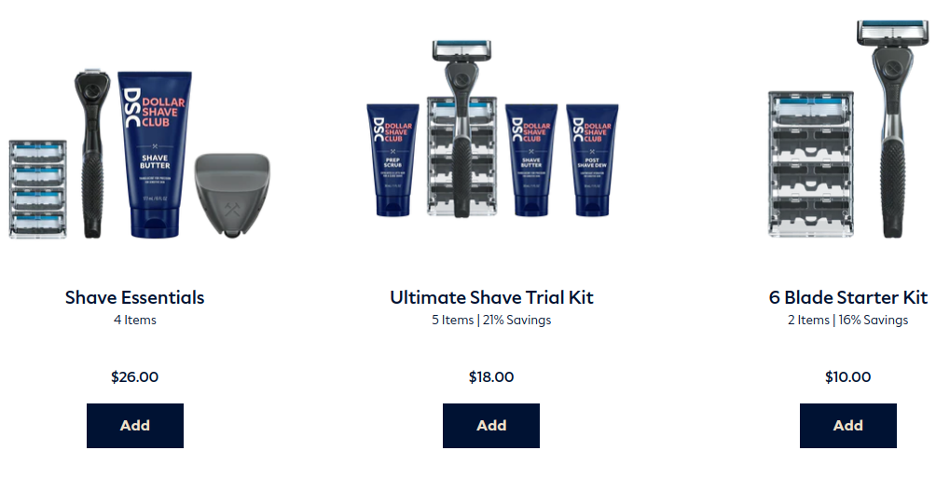 Shopify-specific tips
When it comes to upselling on Shopify, there's good news and bad news.
The good news is that developers have created many Shopify upsell apps that do a lot of the work for you. The bad news: you'll need to figure out which apps work best for your store. Don't worry, we'll help you out with that.
First, you'll need to track your conversion rates before and after installing your upsell apps. If the percentage of website visitors who complete a purchase drops, the new upselling app is likely the cause. At that point, you should tweak your upsell offers or try out a different app.
Second, you'll also want to track your average order value because a successful upsell campaign will drive shoppers to purchase more expensive options.
Once you've found a formula that increases your conversion rate and average order value, you can continue to make small changes and keep A/B testing your whole upsell process. There might be more profit waiting for you.
Best Shopify upsell apps for 2023
Now it's time to take a look at the best Shopify upsell apps!
Developer: OptiMonk
Pricing: Free, or from $29 a month
OptiMonk is a flexible and powerful popup tool that grabs your customers' attention so you can promote your upsell offers.
You can use OptiMonk's popups to deliver personalized recommendations. For example, you can help visitors choose their items by recommending the most popular products on your category pages.
Or you can recommend relevant products to people when they're about to leave your page.
When you recommend products that visitors have already shown interest in, you'll see much higher conversion rates.
Developer: Innonic
Pricing: Free
The Upsell Recommendations app uses a recommendation engine similar to Amazon because it's proven to work.
You can choose from three algorithms to create recommendations for your customers:
Bestsellers

Category bestsellers

Intelligent product recommendations
The intelligent product recommendations option allows you to display your most popular products, the most expensive ones, or personalized recommendations like "Best for you."
This wealth of options allows you to make a decision based on which recommendations will be the most profitable for your store.
Since this is a free Shopify app, you can start using all of its features as soon as you install it.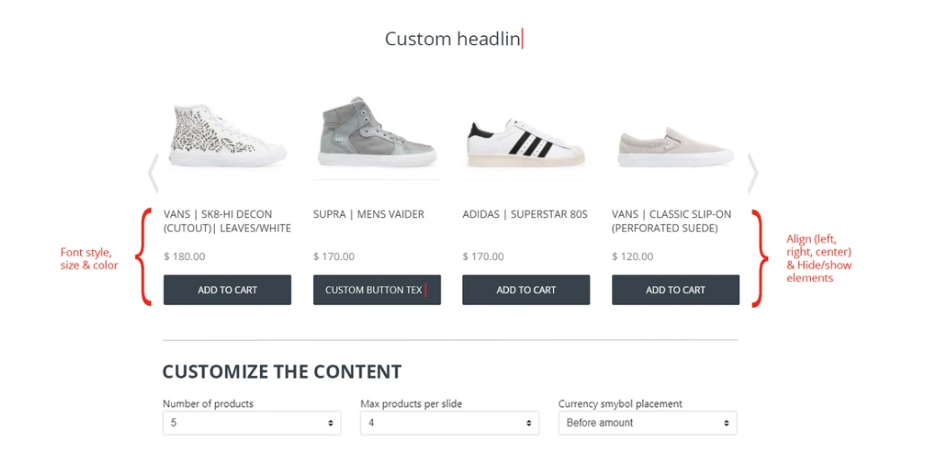 Developer: BOLD
Pricing: From $9.99 a month
Bold Upsell is a fairly basic yet functional upsell/cross-sell app. It's great for people who are learning the ropes of upselling and don't want to invest in a high-end option.
This upsell app allows you to create upsell offers on your cart page. They encourage your customers to either upgrade their product or buy a higher-priced bundle.
You can also use Bold Upsell to deliver post-purchase upsells, so your customers can add on to their order.
Bold Upsell's standout feature is the upsell option to target specific user segments. You can show one upsell offer to customers who have less than, say, $20 of products in their cart and send a different offer to those with a higher cart value.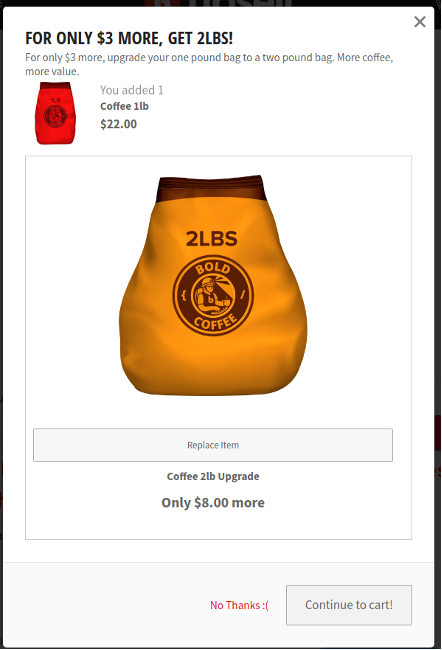 Developer: Digismoothie
Pricing: From $39.99 a month
With Candy Rack, you can upsell directly on your product pages rather than during the checkout process. As soon as your shoppers click "Add to Cart," they'll see a message with options for upgrading and adding additional items.
Candy Rack comes with an AI-enabled upsell recommendations function, which learns the best combinations of products to upsell or bundle together. This type of smart upsell takes a lot of the work out of upselling and leads to great results.
This upsell app works particularly well for add ons like warranties and insurance.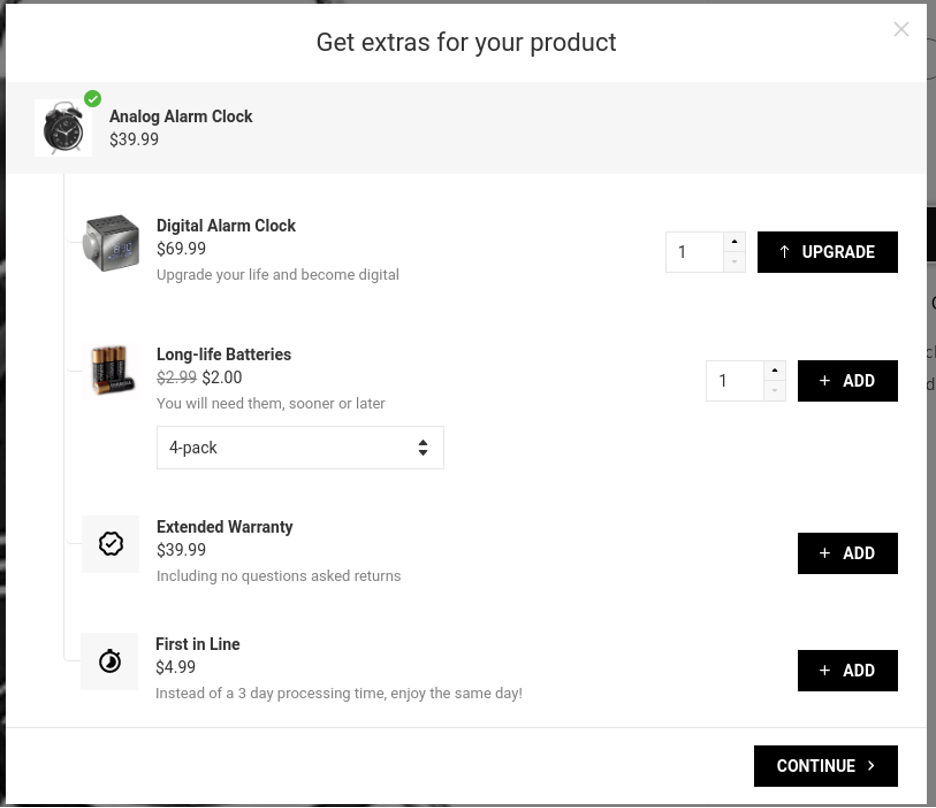 Developer: Digismoothie
Pricing: From $19.99 a month
Last Upsell allows you to upsell or cross-sell after your customers have already completed the checkout process. You can display upsell messages on your customers' order confirmation page.
A powerful stage of the customer journey for you to make your upsell pitch is right after a customer makes a purchase. That's because you can meet your customers' needs for upgrades, gift-wrapping, or fast shipping. Once your visitors buy your product, they're more likely to be interested in add ons.
Last Upsell runs on the same AI-tech that Digismoothie's other Shopify app, Candy Rack uses.
Developer: StilyoApps
Pricing: Free, or from $7.99 a month
ReConvert Upsell & Cross Sell also displays messages on the order confirmation page. But it includes a few features that Last Upsell doesn't have.
You can boost your sales by offering upsell bundles on your checkout page, and also nudge shoppers back into your sales funnel.
The ReConvert system directs your customers to a thank you page that contains upsell messages through a link in the confirmation email. It also collects useful information like your customers' birthdays, so you can send them deals and promos later.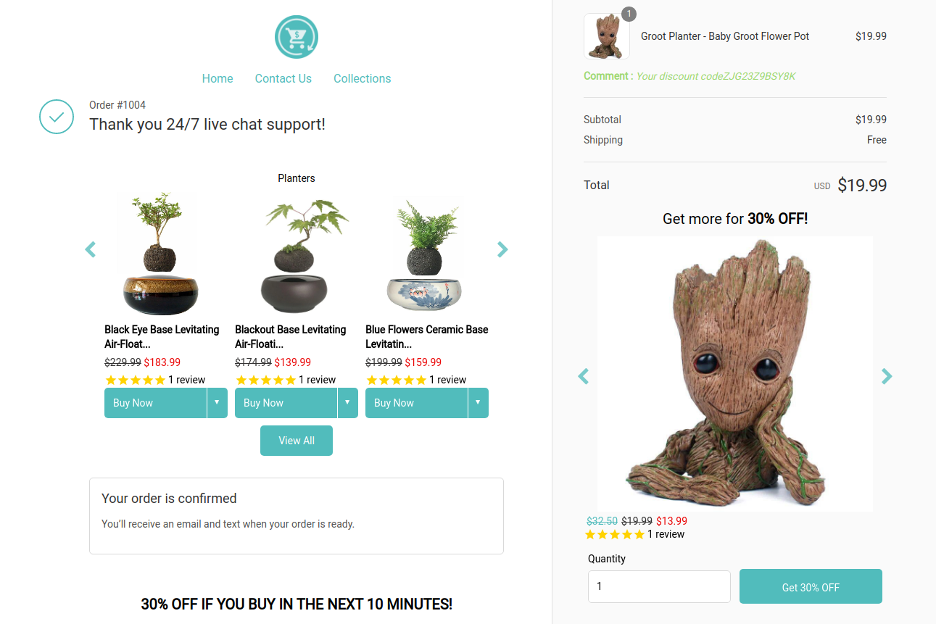 Developer: Conversion Bear
Pricing: Free, or from $49.99 a month
The Honeycomb Upsell & Cross Sell Shopify app makes it incredibly convenient for your customers to add to their orders post-purchase. It's an easy one-click upsell that looks good and works well on both mobile and desktops.
Their upsell app allows you to display multiple offers at once. This gives your customers more options. They might not like your first or second upsell offer, but they may find the third one irresistible.
Honeycomb's customer support is another outstanding aspect of their business. Unlike other developers, they're available over the phone rather than through live chats or emails.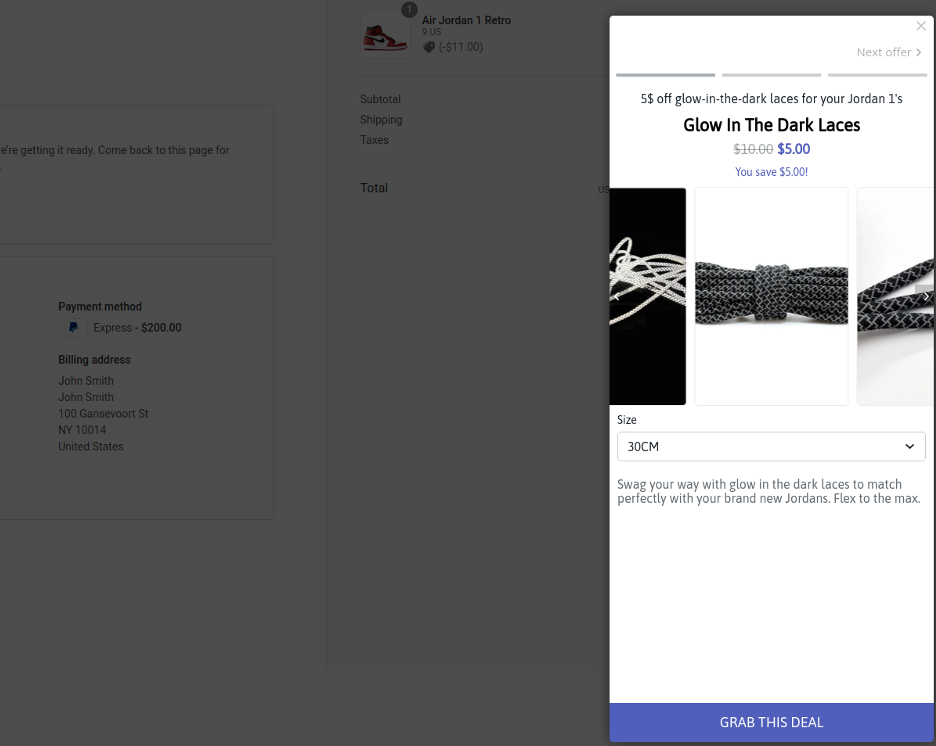 Developer: Helixo
Pricing: Free
This free upsell app by Helixo allows you to display offers on your product pages and your shopping cart page. ALPHA Cart Upsell & Cross Sell also has templates for "buy one, get one free" and "buy one, get one half off" offers.
Since it's a free product, it doesn't have all the features of other Shopify upsell apps. For instance, there's no option to use AI to analyze what products are frequently bought together and then to push those upsells.
However, ALPHA is a good option if your store doesn't have a huge number of products, and you want to set up custom upsells.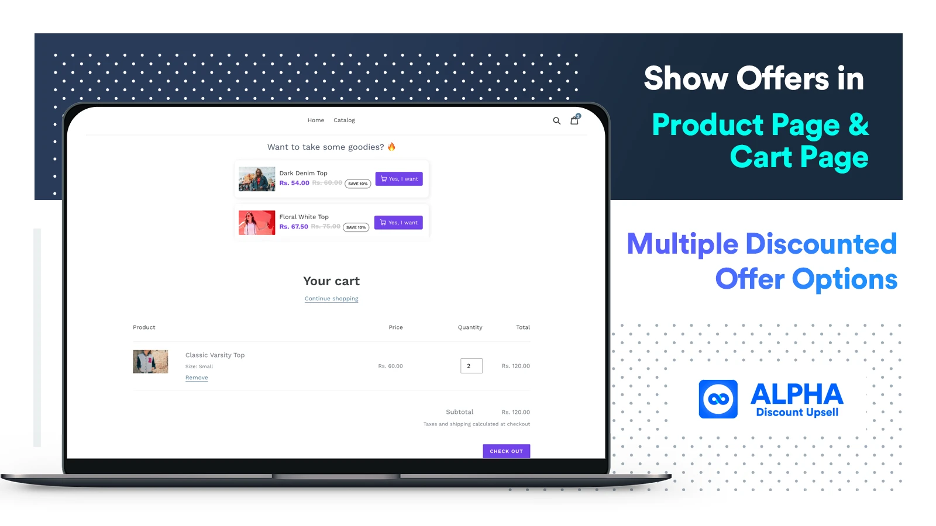 Developer: Booster Apps
Pricing: from $19.99 a month
Booster Apps' Discounted Upsells is a great app for incentivizing your customers to go for your upsell offers. Discounted Upsells uses your customers' purchase as an opportunity to show another great deal on an additional product.
For example, when a customer buys a toothbrush, you might offer them toothpaste at 50% off.
This makes your discounted add-on offer more enticing.
By using Discounted Upsells' AI system, you can identify the best products to upsell at the most-profitable discounts.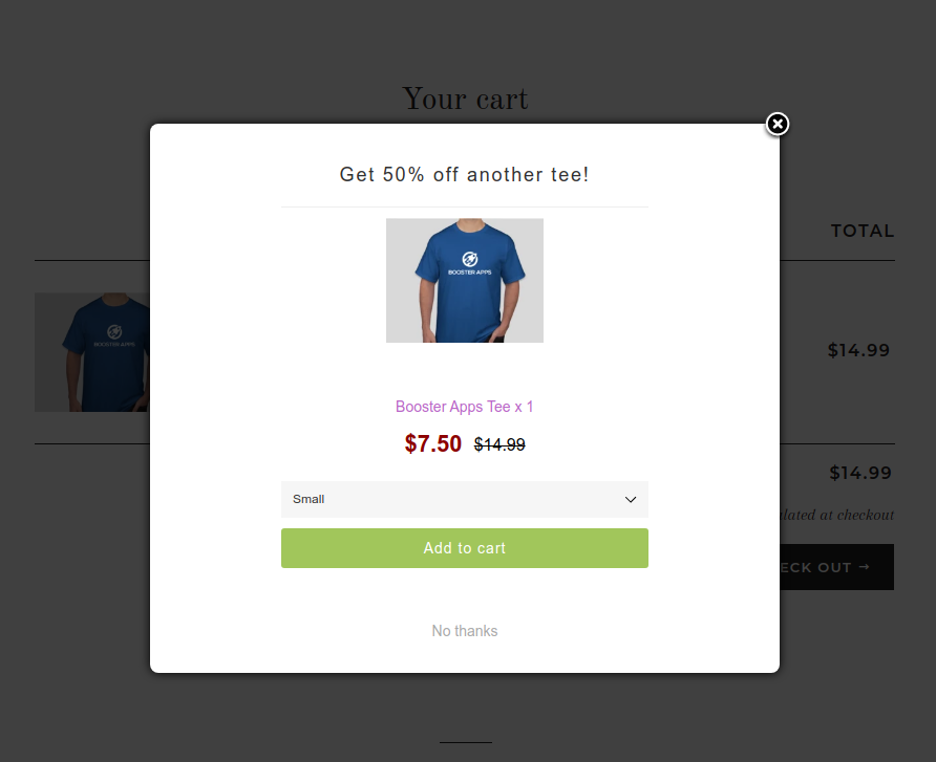 Developer: In Cart Upsell
Pricing: Free, or from $19.99
In Cart integrates one-click upsells onto your online store without interrupting your shoppers while they're viewing a product page or checking out.
This Shopify app allows you to upsell based on a number of factors, such as:
Related products

Items frequently bought together

Geographic locations
Their premium tiers include additional benefits like A/B testing and advanced AI-enabled targeting.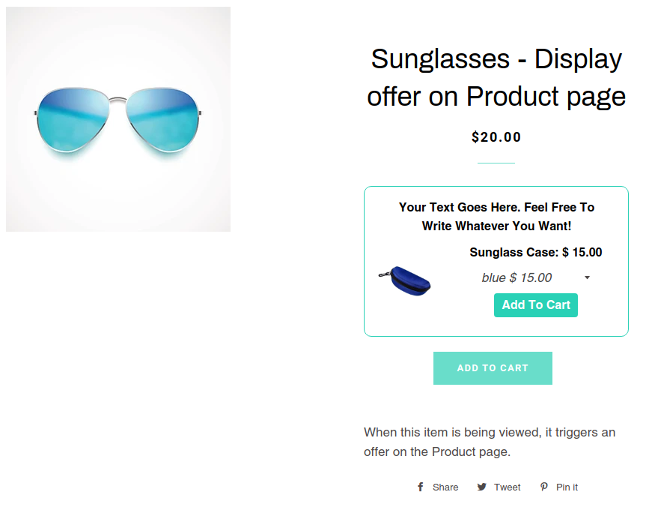 Developer: LimeSpot
Pricing: from $18.00 a month
LimeSpot Personalizer doesn't just help you with upselling.
Rather, it's a generalized personalization engine for your store which helps you create enticing upsell offers for each customer.
LimeSpot has one of the most powerful AI tools on Shopify. They help segment customers and produce personalized content based on those factors.
You can also use LimeSpotfor "You Might Also Like" recommendations and personalized bundles that you can upsell later. As a bonus, you can also upsell those bundles when you offer them!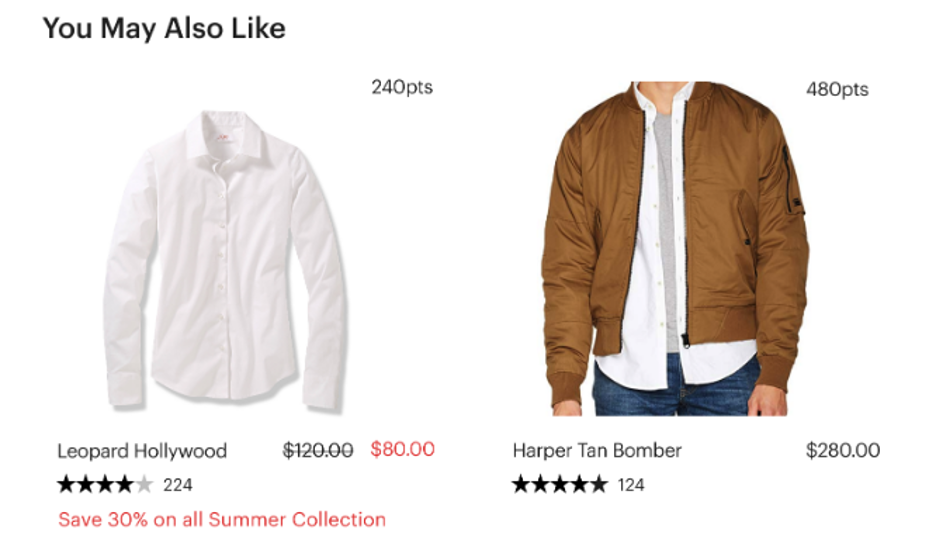 There you have it, the 11 best Shopify upsell apps! We're sure that there are at least one or two that will fit into your store perfectly. As you start trying them out and A/B testing, you might even find that a combination of two or three, is the optimal solution for your business.
Many of these upsell apps have at least a 14-day free trial, while some have a 30-day free trial. That gives you plenty of time to see if they increase your average order value.
So it's time to upsell, cross-sell, and start growing your ecommerce store. Give one of these apps a try today!
Let us know which one works the best for you in the comments!