Did you know that 25% of first-time buyers relied solely on the homepage to form an impression on what type of products are sold on a website? If the homepage is done right, it can lead to greater visitor engagement and thus higher conversions.
On the other hand, if the homepage is missing out on essential information or features, it can lead to high bounce rates. To address this challenge, we present you 25 tips that are a key to homepage success.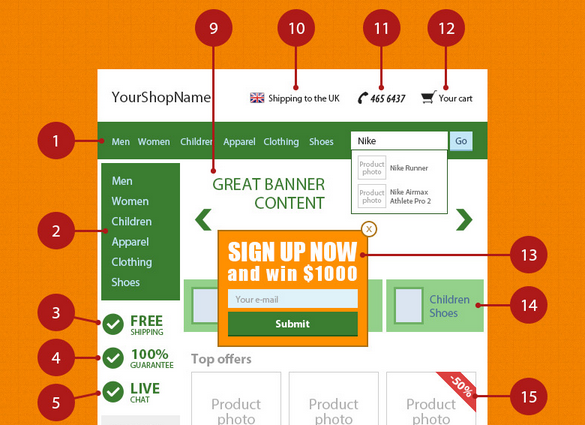 On an e-commerce website, the quality, presentation, and content of the homepage play a critical role in whether the customer browses through the rest of the website or simply exits. A website may offer the best products at the best prices, but if the homepage does not communicate it effectively, customers may exit the site.
Many other critical factors require attention when designing a homepage. For example, apart from information on availability, the homepage also needs to gain the prospective customer's trust.
This article discusses some essential topics website owners and developers need to keep in mind while designing a homepage.
1. Provide a Clear Value Proposition
The homepage should immediately give visitors a clear idea of the site's value proposition and competitive advantage.
A good example of this is the Blue Nile website, shown below. The tag line  beside its logo informs the customer of what to expect from the site. Birchbox.com is another good example. It prominently states that it is the best way to shop for beauty and grooming products. A clear and visible logo is also an absolute must, if a website is to create a distinct identity in the consumer's mind.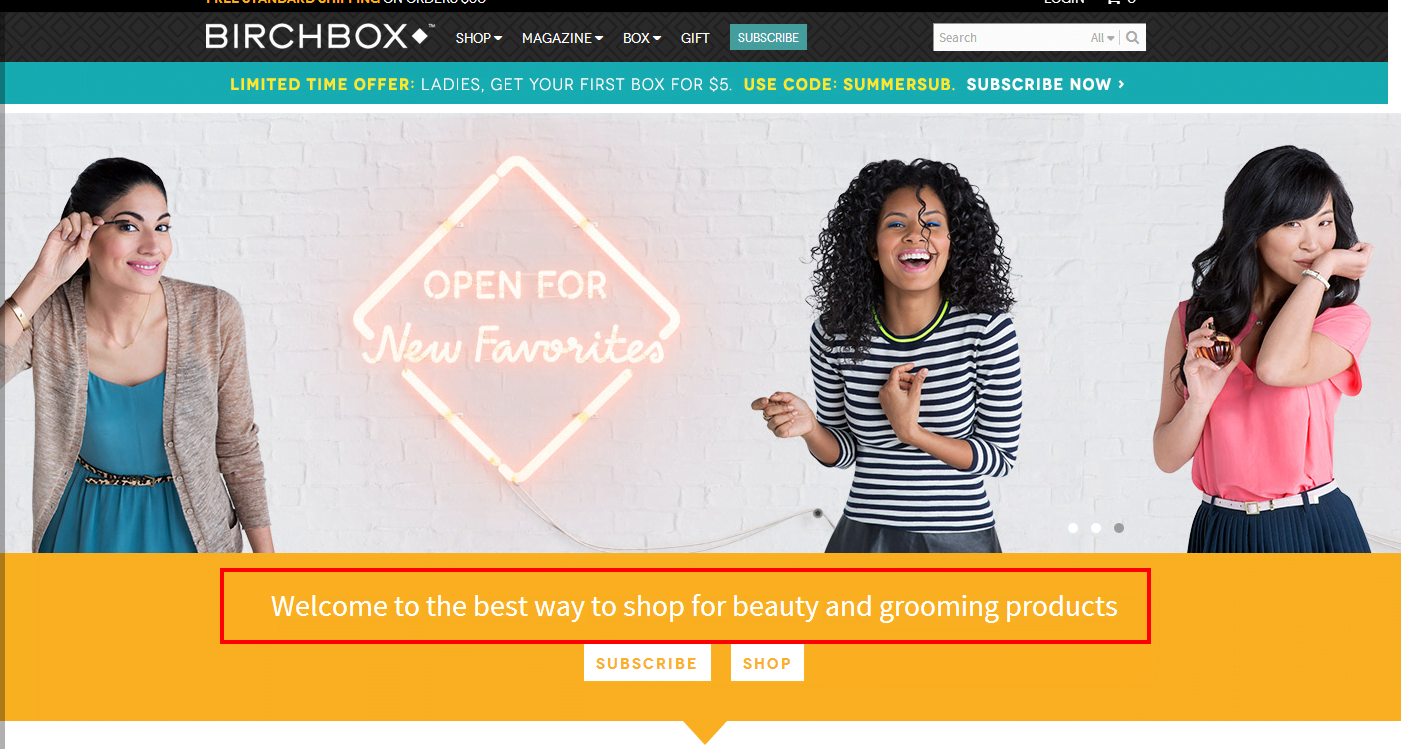 Birchbox.com
2. Add a Prominent Search Box with Autocomplete feature
No e-commerce site is complete without a search box. After exploring the homepage, potential customers are most likely to use the search box to seek what they need. According to some surveys, the capability of conducting a site search can increase conversion by up to a 50 percent.
Designers should be sure to display the search box prominently. Owners and designers should test multiple positions and sizes to see which generates the most queries. Amazon's search box is a classic example of a search box that dominates a page..
In addition, the search box should always be visible. For example, Flipkart's search box is visible even while the customer is scrolling to the bottom of the page.
A key challenge with search boxes is to generate accurate responses. On average, only 50 percent of all searches return successful results. For better results, the search routine should be able to recommend alternatives. It should also have an autocomplete feature to save users time and help them find what they want.
Sites with an intelligent autocomplete search feature receive six times as many conversions as those that do not. Using Flipkart as an example again, its search results suggest products and categories the user might like. Also included are popular products with images. A search box also provides additional data on buyer behavior. This can lead to optimization of paid marketing efforts as well as indicate about trends.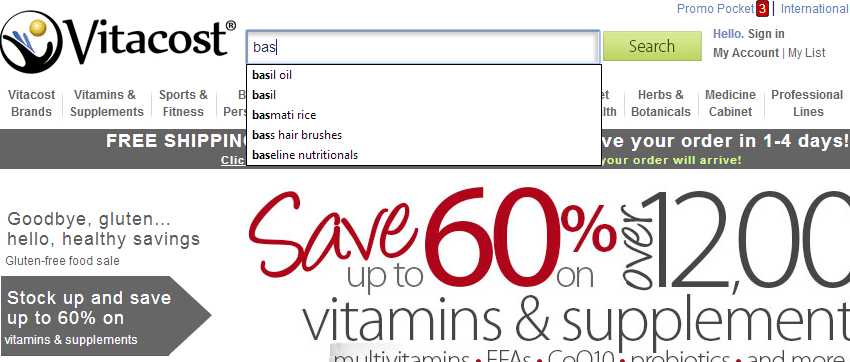 Vitacost.com
3. Attach Images to at Least 30 Percent of the Main Categories
As part of a recent study, 25 percent of first-time buyers depended solely on the homepage content and navigation to determine what type of products the site sells. This means that if those customers don't receive either direct or implied information about their desired product on the homepage, they may not visit any inside page.
To avoid this problem, the homepage should adequately represent all of the top products and categories. Although it may not be possible to feature all categories on the homepage, as a best practice, you should include at least 30 percent of main categories on your homepage. Customers find full or thumbnail images most useful. Also, be sure to highlight any special deals on products in featured categories.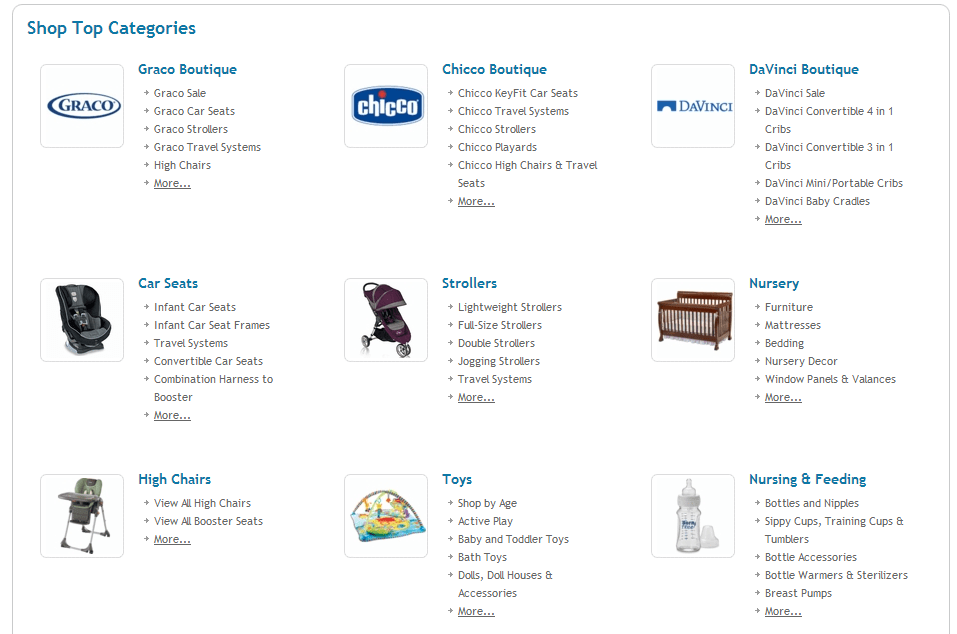 AlbeeBaby.com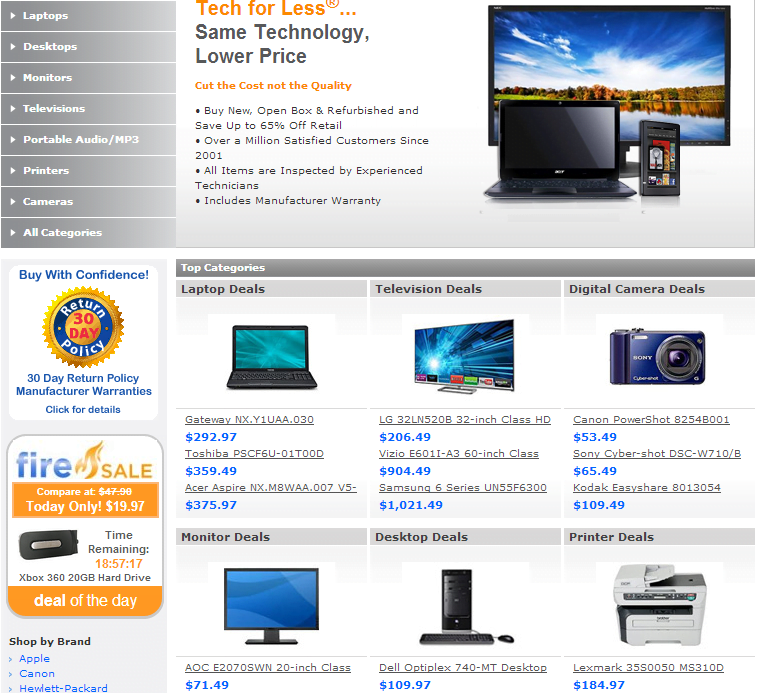 Techforless.com
4. Offer a Diverse Selection of Product Recommendations
Similarly, the homepage should also give visitors a clear idea of the site's product diversity. This is particularly applicable to websites that sell a wide range of products. Among the 50 largest e-commerce sites in the US, 28 percent provide a very narrow representation of their products.
Do not simply feature the most popular and most profitable products; other product types should also get some space. Good examples of sites that display diversity in this way are DrugStore.com and CharlotteRusee.com.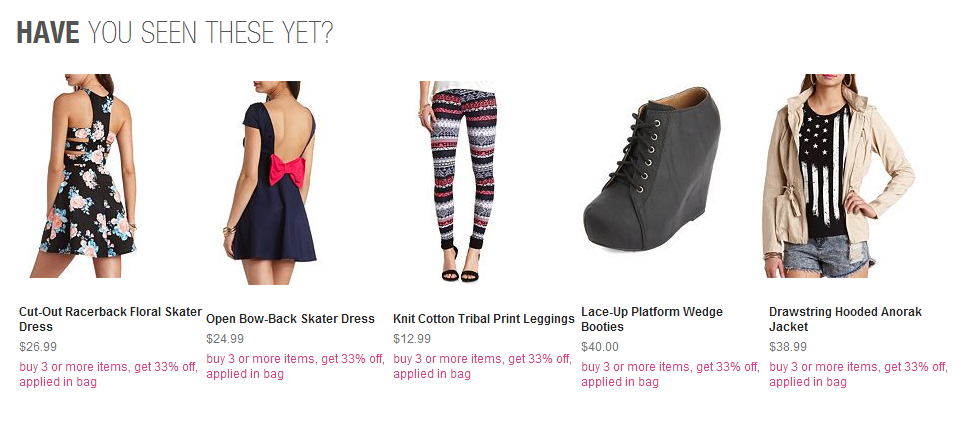 CharlotteRusee.com

DrugStore.com
5. Have Fewer than 12 Categories
Place the category menu either horizontally across the top or vertically along the left. It should include only 5 to 12 top-level categories. Label the categories in language the customers can understand, not in industry jargon. Within each category, include a special offers subcategory, as Sony has done.

Bebe.com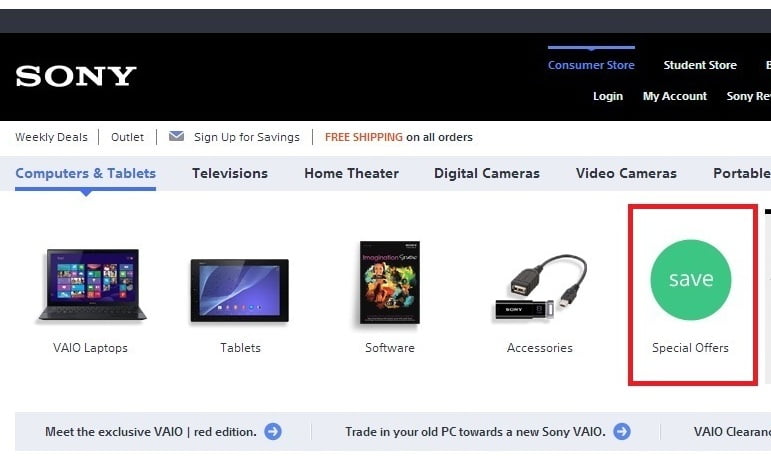 Sony.com
Drop-down menus are an essential category bar feature. They let consumers go straight to the category or subcategory of their choice. For best results, drop-down menus should not have more than two levels. This gives users better control of the menu and maintains a site's mobile-friendliness.
A drop-down menu can be activated in two ways — by either hovering over it or clicking on it with a mouse pointer. Most retailers and users prefer the hover option. Timing is very important. According to Jakob Nielsen, there should be a delay of 0.5 seconds before a menu appears so that it does not pop up every time a user unintentionally hovers over the drop-down menu.
There are various ways to show subcategories within each category—by brand, by product type, or even by recommended products/deals, as is used below by Comet. Price can be another subcategory, as used by Officers Club. It is a best practice to showcase best sellers in drop-down menus.
To improve the menu's visibility, add a border or shadow to distinguish the drop-down menu from the main menu, particularly if the main menu is white. Some sites use full page-width menus, which can display more options, special offers, clearer headings, and even images. Sunglass Hut and BMW provide two excellent examples of images used in drop-down menus. Note that you should test the drop-down menus extensively on different types of browsers before launching, to make sure there are no compatibility problems.
6. Highlight Special Offers
A survey indicates that 47 percent of online shoppers are only interested in discounted items. Therefore, it is a best practice for the homepage to feature prominently a section dedicated to discounted. BestBuy.com provides a good example of this. Another example is Fab, which shows discounted or "Clearance" items in a different color in the top navigation.
7. Feature Popular Items

Gaiam.com
Popular products help improve customer decision making, so display the top most popular products, or even the most popular products within each category. You can conduct A/B tests to determine which products lead to better conversion rates. Your site can display these as "trending" products. For example, Best Buy has a bar displaying "Trending Now" products, and Amazon has a section displaying "What other customers are looking at right now."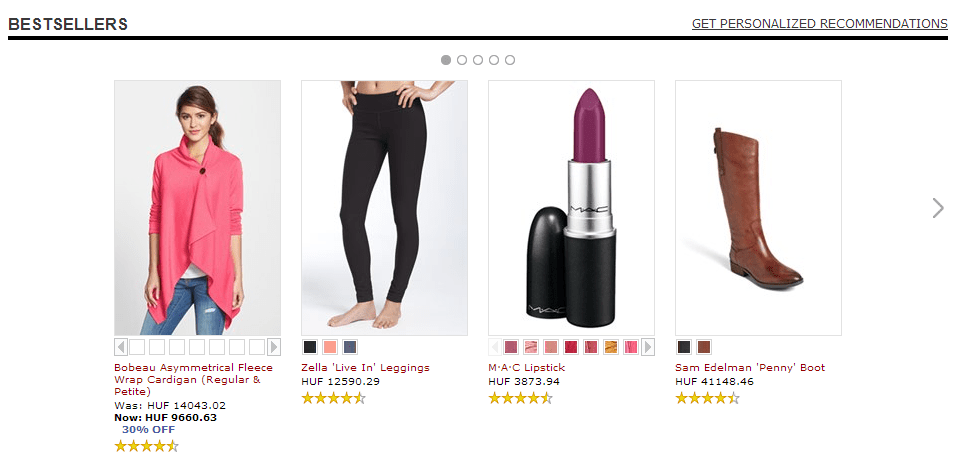 Nordstorm.com
8. Feature New Arrivals and Seasonal Items
Display of new arrivals plays a particularly important role in dynamic categories such as fashion, electronics, etc. Highlighting new products is particularly useful for recurring customers. Be sure to include seasonal items on the homepage, as well. For example, Macy's has sections on its homepage for "College Lifestyle," which features all college-related products, and "Sunny Outlook," which has all products related to the summer season.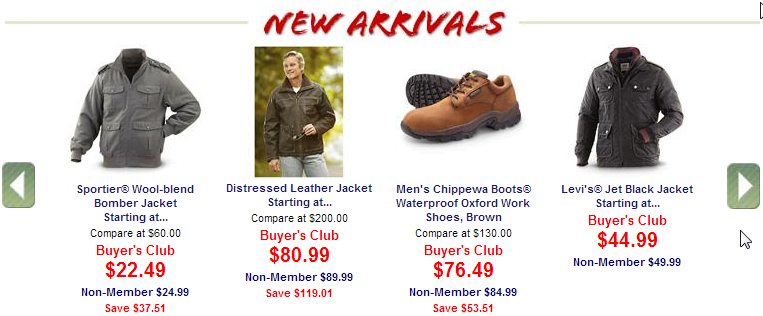 Spotmansguide.com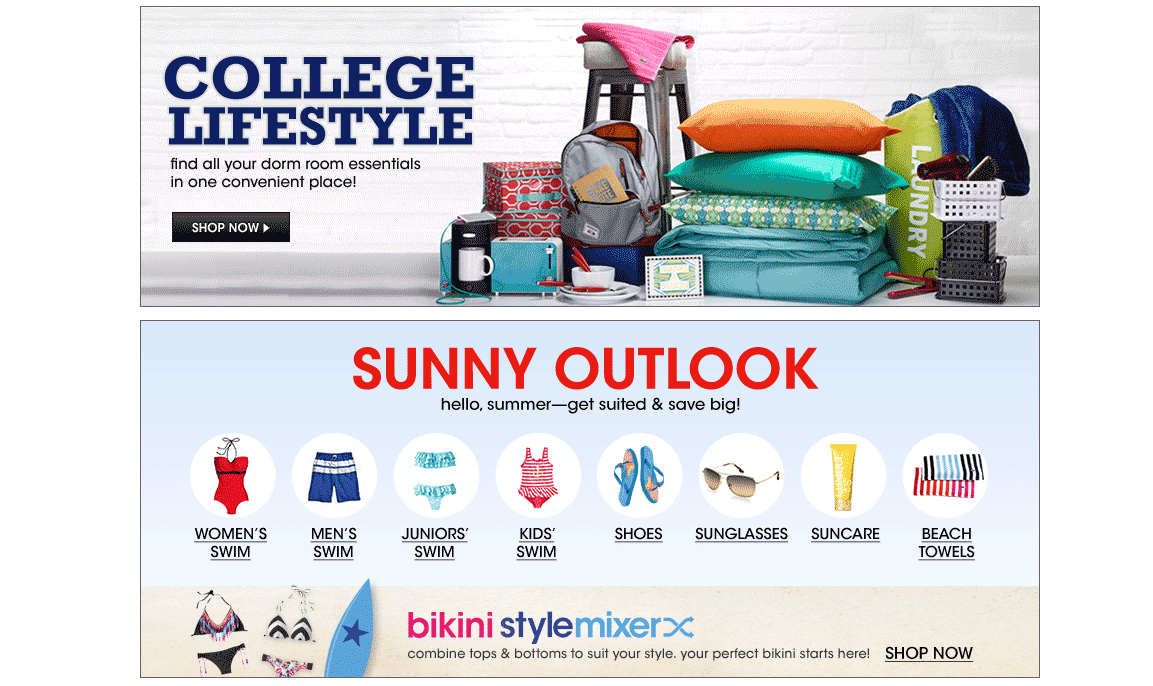 Macy's.com
9. Offer Personalized Recommendations
Recommendation engines such as Gravity, Scarab Research and Nosto can make personalized item suggestions to customers based on their shopping history, location, search keywords, pages viewed, etc. For example, if a customer searches for "men's shoes," your site should also suggest other, similar categories.

Rakuten.com

Nosto.com
10. Link to Categories of Featured Products
Always link featured and discounted products back to the product category. Most customers are interested in not only the specific product on sale, but also the type of the product. According to a survey, 43 percent of top e-commerce sites got this wrong.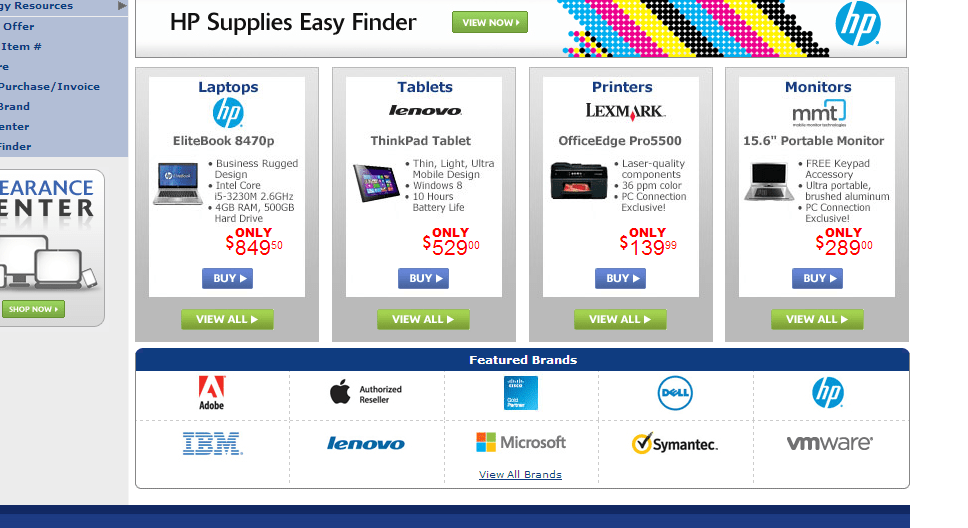 Pcconnection.com
11. Place Main Products Above Page Fold
A website's "page fold" is the area above which visitors can see everything without further action. According to a study, users spend 80 percent of their viewing time above the page fold. Therefore, keep all main products above the fold.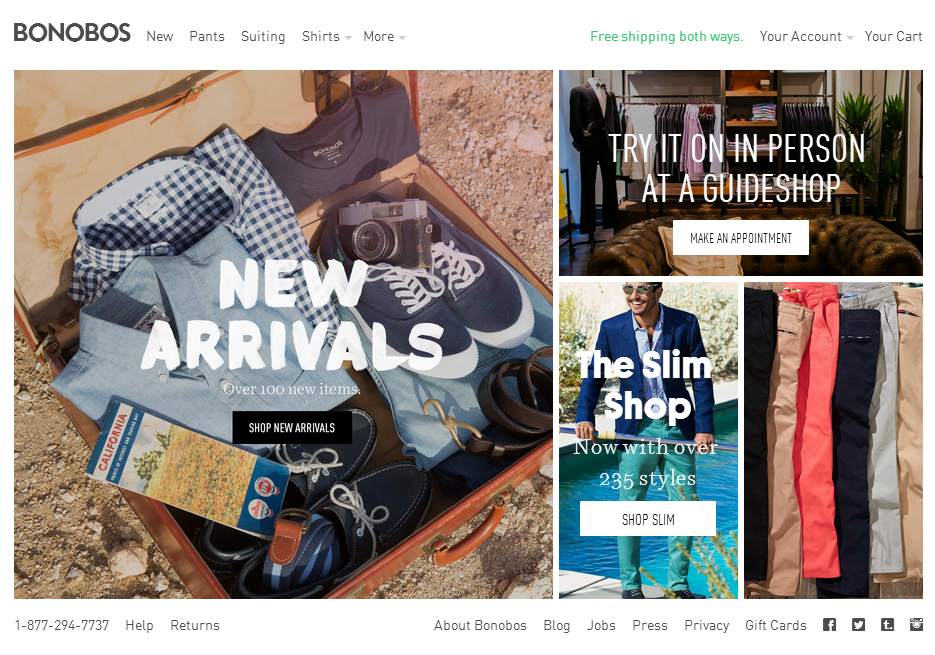 Bonobos.com
12. Be Clear About Shipping and Returns Policies
Shipping and returns policies should be clearly listed on the homepage, especially if you offer free shipping or if your return policy is better than your competition's. If the offer is attractive, it can significantly improve conversions. Place it on top, either on the right or left hand side of the homepage.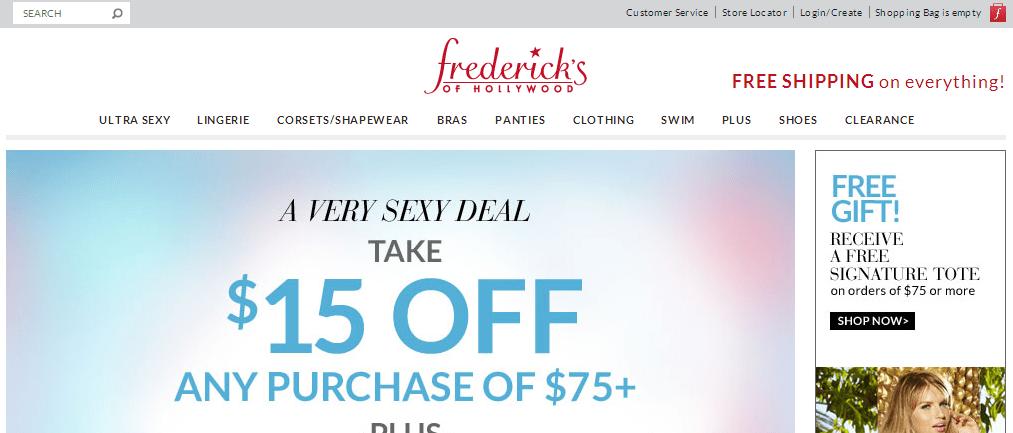 Fredericks.com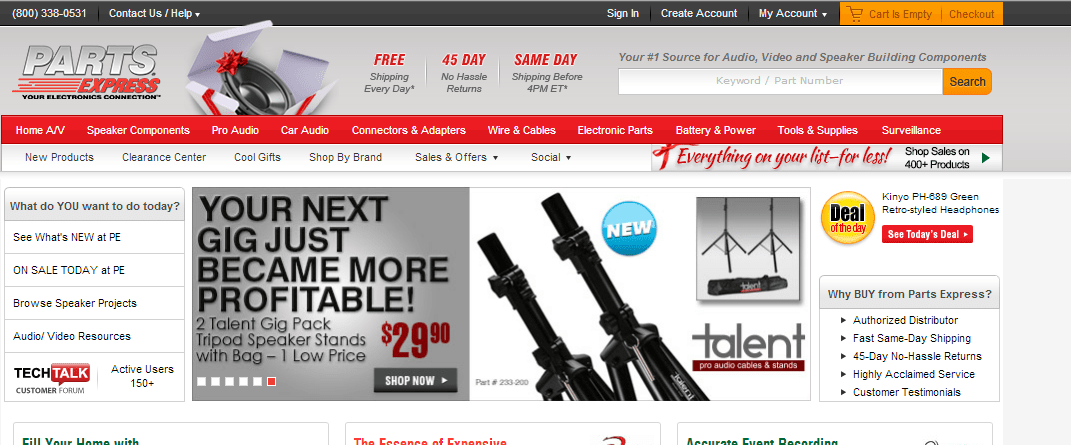 Parts-Express.com

Pureformulas.com
13. Display Contact Information
Always display the phone number and address prominently on the homepage. It assures the customer that the site is genuine and their credit card and personal information are safe. This also helps increase conversions, because customers can call for answers to any queries or questions that might be hindering their decision to buy. Place the phone number on both the top and bottom, although you only need to display the address on the bottom.

GuitarCenter.com

Macy's.com
14. Display Trust Seals
Trust seals or badges play a big role in winning customer confidence and assuring them of website/payment security, especially if your brand is new or not well known. According to few surveys, 61 percent of customers failed to proceed with a purchase if a website featured no trust seal. At the same time, it is important to include only credible trust badges. One survey indicated that 75 percent of participants declined to purchase when they did not recognize the trust seal. Top trust badges include Norton, McAfee and TRUSTe.

Carolina.com
15. Use Entry Pop-ups
Several leading e-commerce providers use entry popups. Examples of a pop-up include an announcement of a first-time customer discount, or special information for visitors from a particular location. They can also include an option to sign up to receive special offers and notices of new releases. It is best if entry pop-ups are not compulsory; provide an exit option, as it may otherwise have a negative effect on conversions. However, some companies consciously keep it compulsory to attract only serious buyers. For example, Zulily has an entry pop-up with no exit option.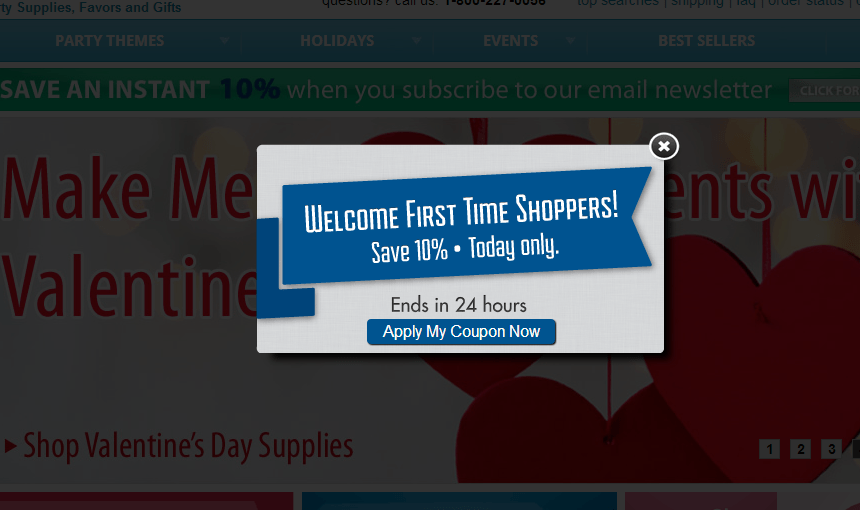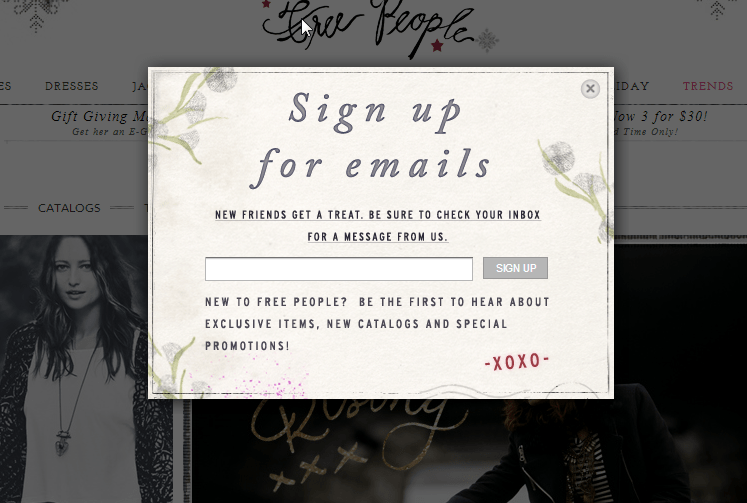 FreePeople.com
You can also use pop-ups to find out more about the customer and make personalized recommendations. For example, Birchbox lets users choose whether they are interested in beauty or grooming. Shoedazzle offers first-time visitors a quick quiz, to learn about their shopping preferences.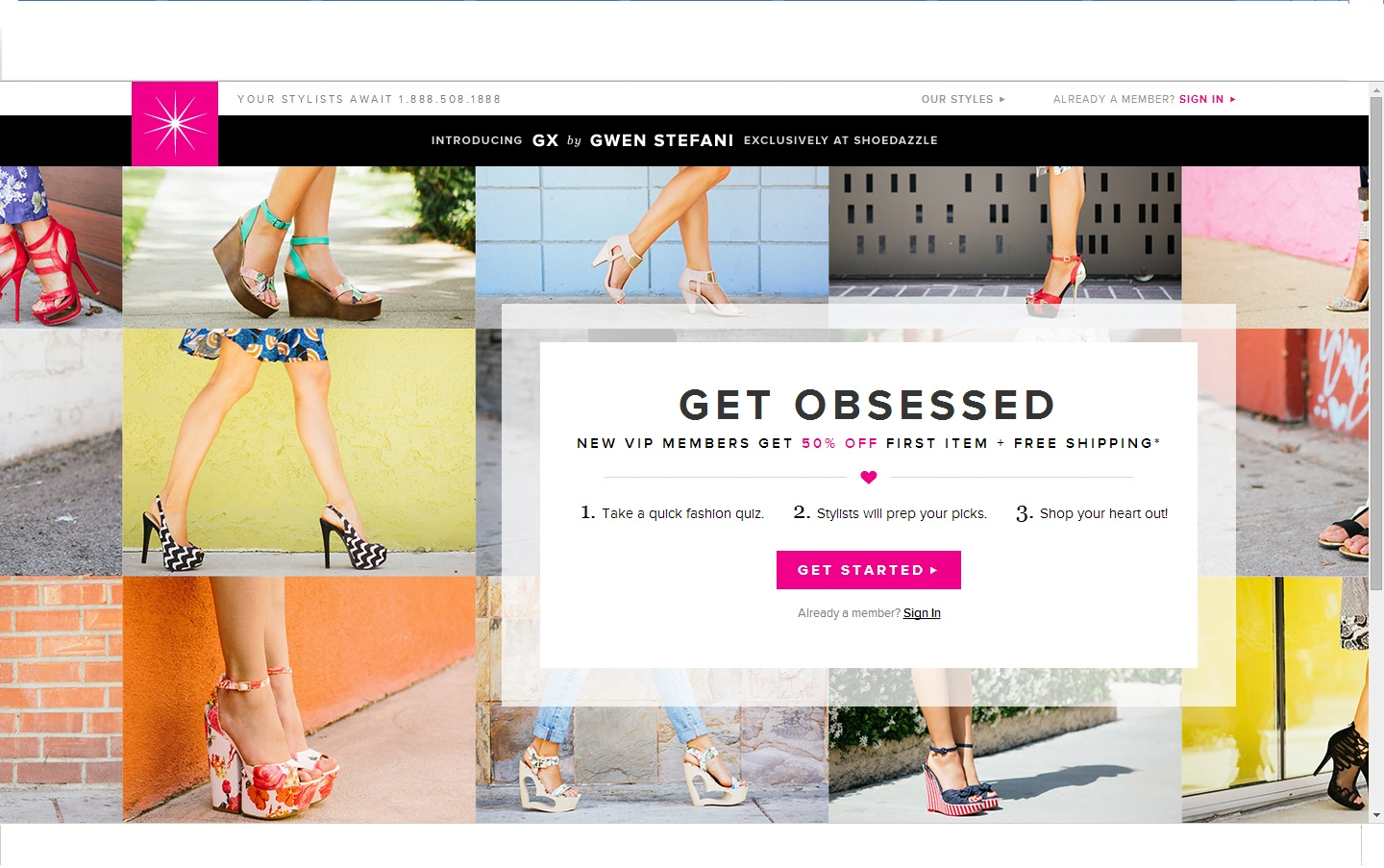 ShoeDazzle.com
16. Use Dynamic Banners or Carousels
Dynamic banners or carousels let your website display a variety of products, categories and offers. This is particularly useful for sellers with a vast product portfolio. For example, O.biz rotates its top four categories, and displays four top products in each category. These banners utilize limited homepage space efficiently. To improve their effectiveness, try not to juggle more than five categories. The text and images should be clear. In addition, customers should be able to control the banners, such as move back and forth and know how many such banners are displayed. The carousels should not move too quickly, and should have a pause button.




17. Display Social Media Icons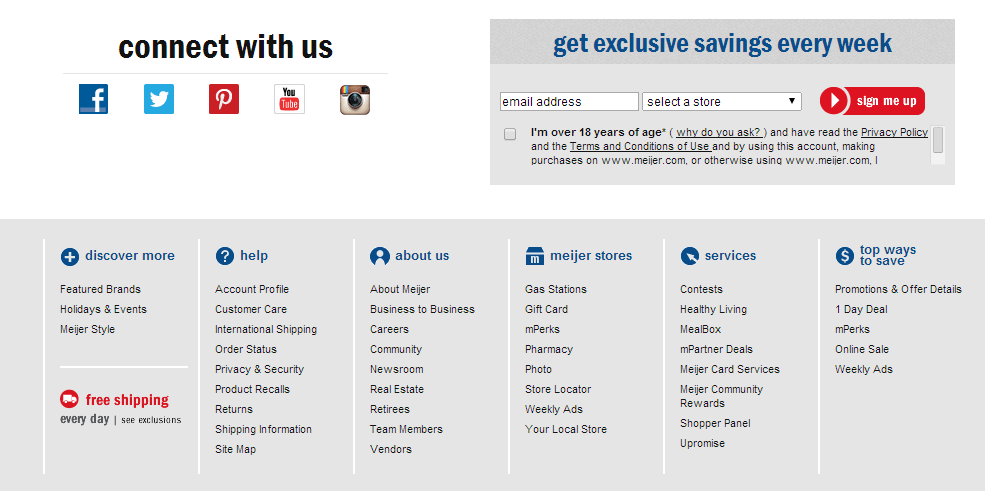 Your website should display social media icons prominently. They help build relationships with customers. If they like a page, they will share it with their network, and this can improve conversions. As per a global survey of digital marketers, 39 percent feel social sharing plays an important role in improving conversions.
One of the key things you should keep in mind is the concept of "social proof." People want to know that others find your site valuable. If your page has very few fans or followers, customers may get a negative impression of the site.
18. Encourage Social Sharing
Give your visitors incentives to share your site or your products via social media. Incentives can take the form of discounts or credit points.
For example, Lifebooker offers a $10 discount to the referring user on the next purchase if a friend signs up through their recommendation. Fab provides credits or points for "liking" or "sharing" a sale, which recipients can redeem later. Living Social provides a product free if customers convince three or more friends to buy it. Gilt.com rewards users with $25 of credit when the first order of a friend is shipped.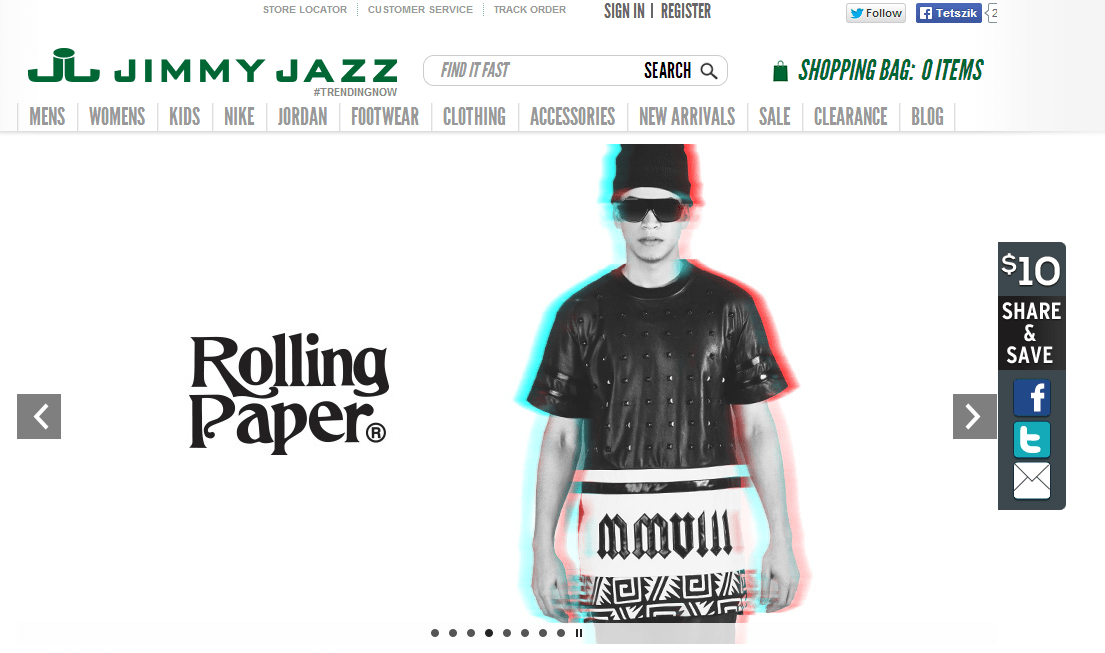 19. Use High Quality Images
Almost 79 of all customer just scan a website instead of reading it line-by-line. Therefore, the style and quality of its images plays a large role in visitors forming a good impression. This is particularly true of fashion, furnishings, and outdoor retail items, to name a few. A study indicated that customers associated poor images with poor product quality.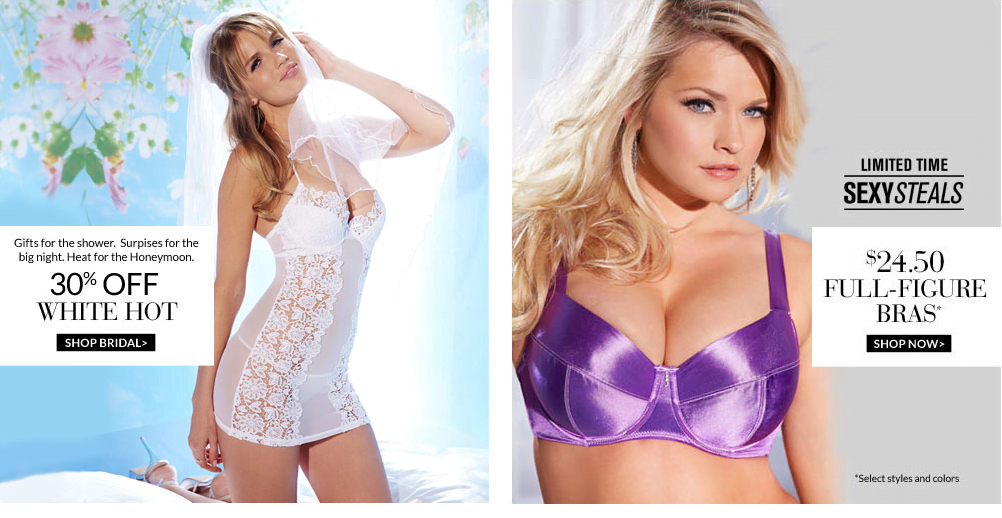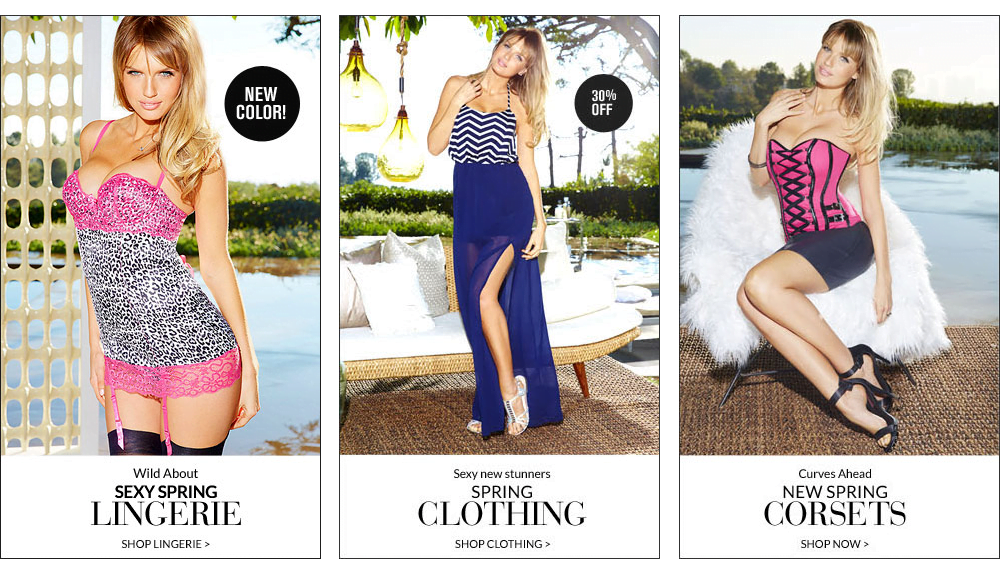 Fredericks.com

Avon.com
20. Differentiate New and Returning Visitors
Returning customers may not like to see the same display every time. Therefore, it is important that you provide them a new display on every visit. This information can include previously viewed items, special coupon codes, new items, and items related to their browsing/purchase history. It can also display information about unpurchased items still in the buyer's shopping cart.
21. Display Customer Testimonials
Displaying customer testimonials on your homepage can improve your credibility. Birchbox, which displays testimonials dynamically, is a great example of this.

Birchbox.com
22. Link to a Help/Customer Service Section
The homepage should have a link to a "Help" section and, preferably, sub-links to other areas of interest, such as FAQs, payment methods, warranty information, shipping costs, and your cancelation and return policies.

Overstock.com
23. Display a Press Section
News and press coverage plays a big role in building your credibility in the eyes of both first-time and returning visitors. One of the most effective ways to display this information is by showing logos of news organizations that have written about your business or website. Also use this section to display any awards or recognition you have received, as this can further improve credibility. JewelMint.com is a good example.

Overstock.com
24. Country-specific Communication
For global retailers, country-specific information is an essential feature of the homepage. Once you know their country of origin, you can provide them with location-specific information, such as shipping availability, and you can do it in their native language.
Eileen Fisher, which changes its language of communication upon selection of location, is a great example of this.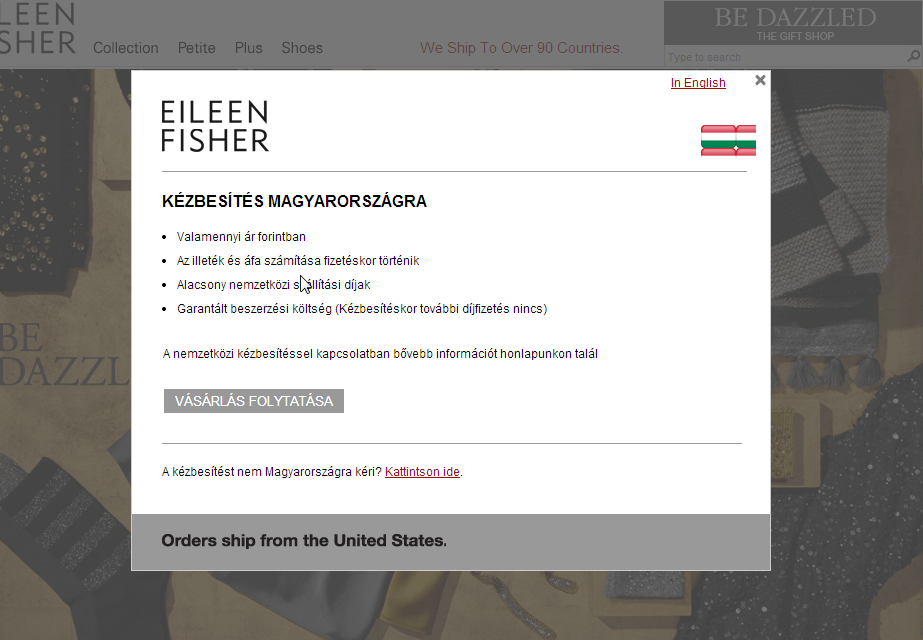 EileenFischer.com
It can also display specific information such as availability of shipping to visitors from the particular country.

BabyAge.com
25. Other Essential Items
Apart from the above, all e-commerce website homepages should have links to certain essential information, such as
My Account/Email Sign-up
Accepted payment systems icons
Shopping cart
About Us
Store Locator
Link to corporate site
Link to blog
Summary
You must optimize your homepage design continuously to reflect new categories, new product launches, new offers, seasonal offers and so on. What worked once may not work forever. It is also important to keep an eye on your competitors' websites and those of leading e-commerce companies to get ideas and to learn about trends.