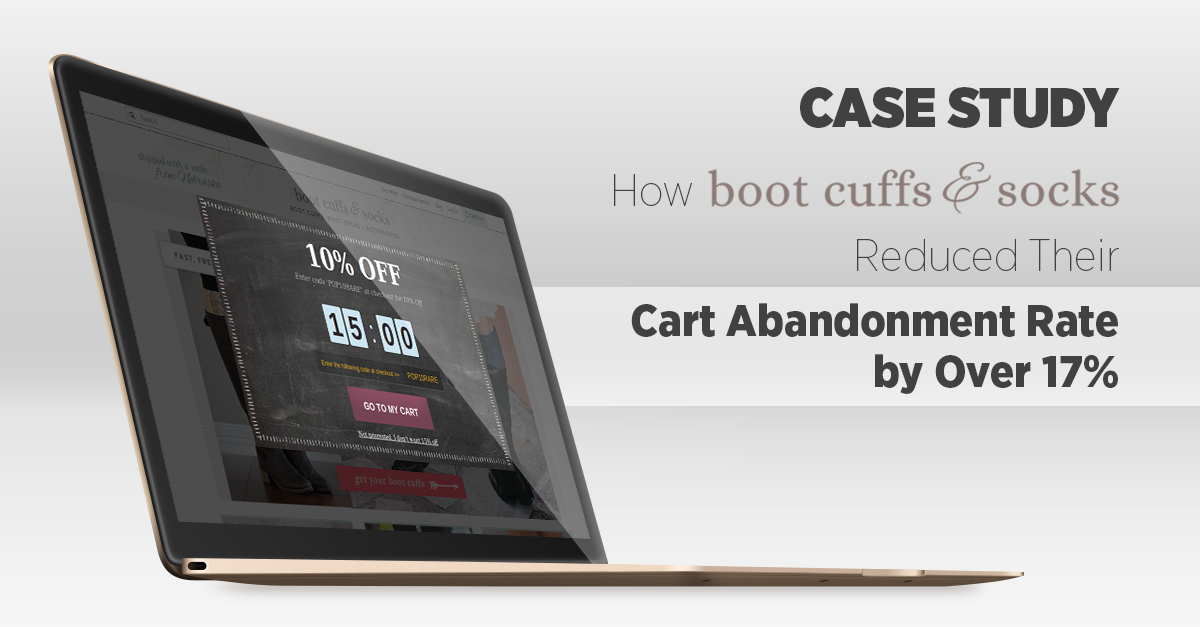 All ecommerce site owners know the feeling of spending a lot of money to generate traffic. At the same time, they all also know what it's like when the majority of their visitors are simply "window-shopping" and leave their site without buying anything. Compared to the resources invested in driving traffic to the average ecommerce site, there is little revenue in return.
We've got some good news for you. There's an entirely new solution called onsite retargeting which allows ecommerce owners to increase their revenue and repeat business on their site. In this case study, we'll show you step-by-step how an ecommerce store decreased their cart abandonment rate by more than 17% using onsite retargeting powered by OptiMonk.
Meet BootCuffsSocks
BootCuffsSocks.com is an online store that sells a wide variety of boot accessories for women. With a high volume of traffic, they are continually working to convert visitors into valuable sales by providing high-quality products, impeccable customer service, fast and free shipping, and easy returns on their selection of boot cuffs, boot socks, and leg warmers.
As part of their effort to convert more visitors into buyers, BootCuffsSocks.com started using onsite retargeting with two primary goals: to decrease their cart abandonment rate and increase their number of subscribers.
They achieved spectacular results using OptiMonk – and now, you can learn the solution they applied successfully and use it to boost revenue on your site.
We'll show you exactly how they:
generated 601 new transactions
increased their total revenue by more than 8%
decreased their cart abandonment rate by over 17%
got 3175 new subscribers just within 3 months
And, consequently:
achieved an incredible 280% monthly ROI (their return on investment was 280x's their monthly subscription to OptiMonk)
… all by using onsite retargeting.
Challenges
Due to the company's sophisticated online marketing efforts, BootCuffsSocks.com was generating a lot of traffic, primarily search engines directing organic traffic to homepage of their online store: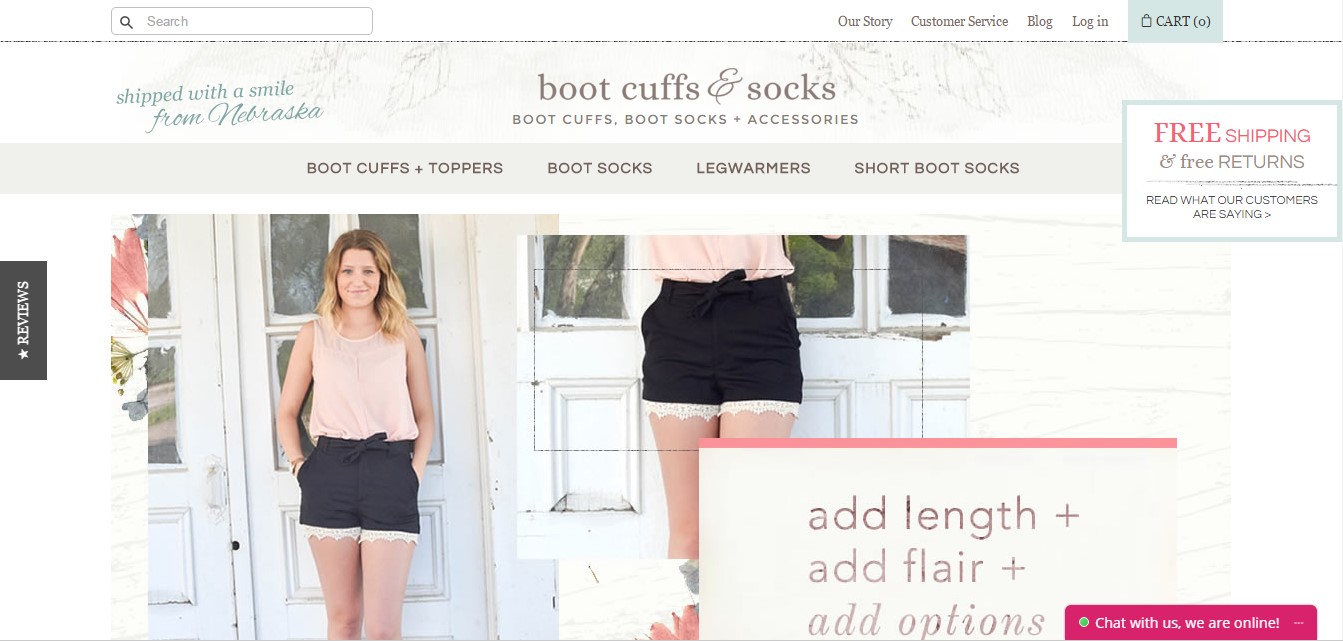 To improve their conversions, BootCuffsSocks.com fine-tuned their homepage to include easy-to-understand navigation elements. They designed their homepage so major product categories could be reached in one click, and included eye-catching illustrations to convince visitors to take a step ahead in the buying process, and ultimately, make a purchase. In addition, they filled their site with irresistible incentives (e.g. free shipping and returns, top selling products, customer reviews, etc.) to encourage visitors to buy.
Despite a well-designed homepage and attractive offers, many of the visitors to BootsCuffsSocks.com would browse around, then simply leave the site without buying or subscribing to any lists. Many opportunities were being lost, and their newsletter subscription rate wasn't growing as expected.
The main challenge of BootCuffsSocks.com, was the same that many ecommerce site owners face, a relatively low number of sales and signups compared to the volume of traffic.
In order to monetize the abandoning trafficBootCuffsSocks.com decided to try onsite retargeting as a new way to encourage visitors to make a purchase. They also wanted to encourage people to subscribe to their newsletter so they would have the opportunity to convert those subscribers into buyers later on through email marketing.
Solution
Campaign 1 – Boosting immediate purchases and increasing the subscription rate
To increase their chances of conversion and their number of subscribers, BootCuffsSocks.com started by suggesting their visitors sign up for a newsletter, which also served as a welcome offer.
The essence of a good newsletter campaign is providing value in exchange for personal data, so they offered a discount to anyone who signed up for their list. Their subscribers were offered a $10 coupon for making a purchase the same day.
However, instead of using a simple one-page newsletter opt-in, BootCuffsSocks.com created a multistep popup campaign to increase their conversion rate and encourage immediate purchases.
A multistep popup campaign is designed so that visitors are asked to reply to a YES/NO question before they are asked to sign up for a newsletter. This gives visitors the opportunity to decide whether they are truly interested in the offer.
Here's how it looks in action: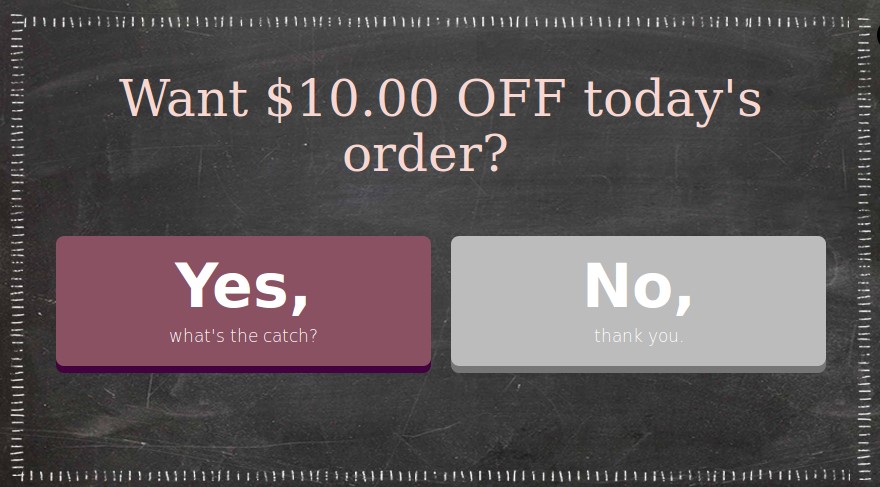 Asking a YES/NO question has a strong impact. When a visitor chooses YES, they subconsciously respond more positively to the offer that's presented and are more likely to make an immediate purchase. Even when they don't buy right away, visitors who express their interest are more valuable and relevant leads, which helps build a healthier email list.
After clicking on the YES button, the next popup appears asking visitors to provide their email address: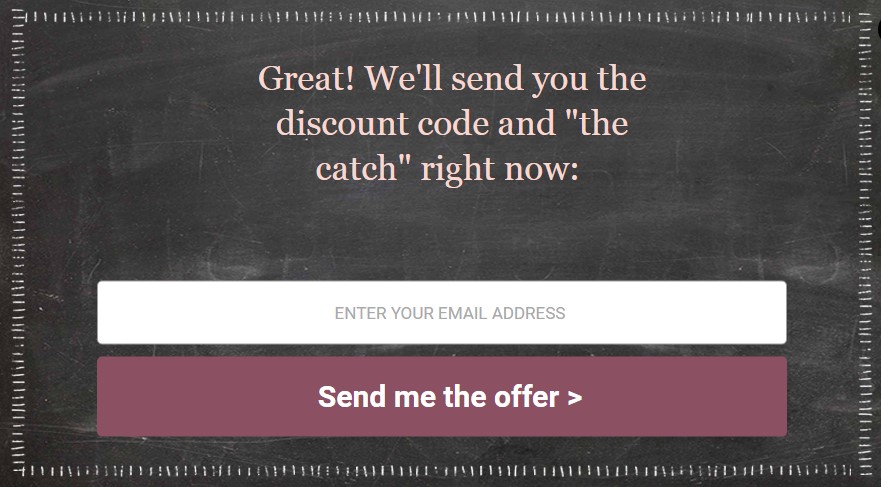 Immediately after signup, an autoresponder is sent to subscribers that includes a discount code. BootCuffsSocks.com uses a thank you popup as a closing to their offer which also lets visitors know to check their inbox for the discount code.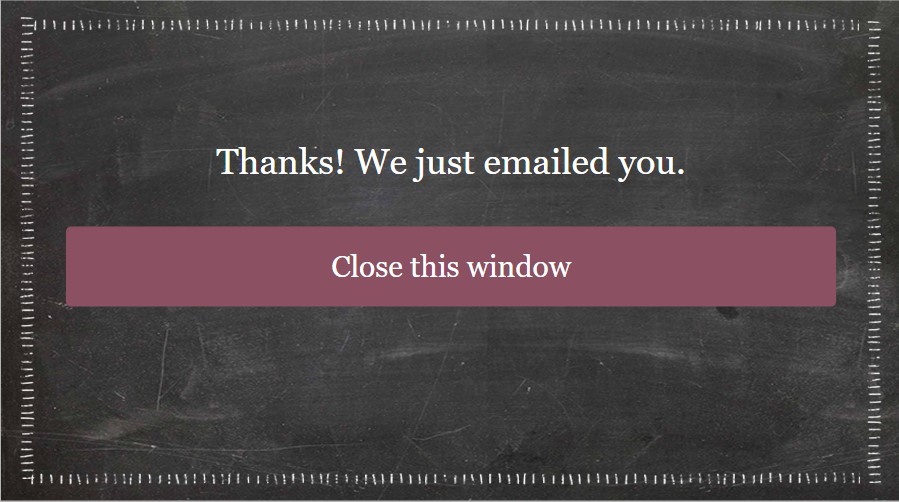 OptiMonk includes a number of built-in integrations that link onsite retargeting with well-known email newsletter and CRM systems. By integrating OptiMonk with their newsletter system, BootCuffsSocks.com was able to send the coupon code to subscribers immediately after they signed up.
Although a subscription doesn't mean that a visitor will purchase something immediately, it's an important step in the overall conversion process, what's known as a "micro conversion". Incorporating onsite retargeting with email marketing allowed BootCuffsSocks.com to send relevant information and special offers to their subscribers, boosting overall conversions and improving the loyalty of existing customers. to send the discount code out immediately after the subscription. It is important as after someone signs up, doesn't mean that the code will be used immediately.
Using well-timed popups to keep customers happy
To avoid disturbing visitors when they first entered the site, BootCuffsSocks.com's popup campaign was only displayed to visitors who showed some level of engagement.
They chose to use time-triggering and set the popup to appear after 15 seconds of browsing. The goal was to present the offer to visitors at the beginning of their session, but so fast that it would annoy visitors: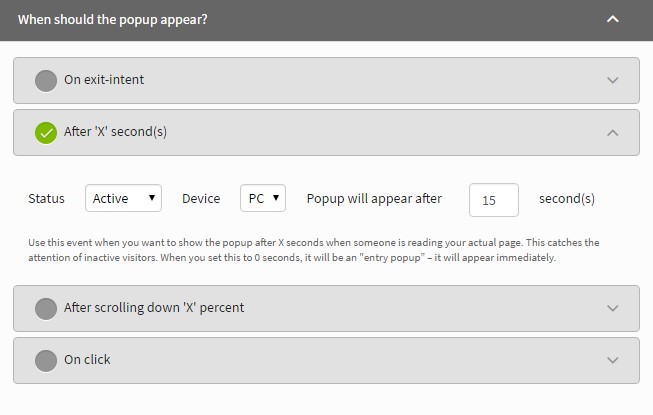 To prevent visitors from being annoyed by the same popup over and over – a common issue with poorly designed popups – they set their campaign to only display once per visitor.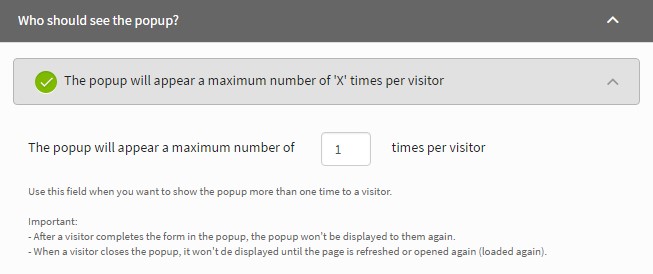 By using these options, BootCuffsSocks.com was able to easily get their message across without bothering visitors, or interrupting them later on in their browsing.
Campaign 2 – Decreasing the cart abandonment rate
Like many ecommerce sites, BootCuffsSocks.com had many visitors who added a product to their cart, but decided to abandon their cart at the last moment. As a result, the bounce rate of their cart page was significantly high, more than 60%:

In addition to increasing the subscription rate and some sales from those, who haven't reached towards the cart so far, it was important to concentrate on cart abandoning visitors.
With more than half of the visitors not completing their transactions, they looked to onsite retargeting as a way to reduce cart abandonment. In particular, they chose to use exit-intent technology for their cart abandonment efforts.
Exit-intent technology is a particular type of onsite retargeting where the popup is shown to visitors at the exact moment they are about to leave your site. This is usually indicated by the visitor moving towards the address bar, bookmarks, or closing X button in their browser.
BootCuffsSocks.com used a highly-targeted campaign which was only directed at visitors who had placed an item into their cart, and then decided to leave the site without buying it.
In addition to a high rate of cart abandonment on their cart page, many visitors who placed an item in their cart where also leaving the site from other pages, after continuing to browse, before or after they reached the cart page.
To account for these two possibilities: cart abandonment on the cart page, and visitors leaving with an item in their cart from another page, they created a special campaign with two different popup versions to test which one visitors preferred most.
The following offers were shown to visitors who were leaving the site with an item in their cart, and they were A/B tested against each other:
10% off the entire purchase
$4.25 USD store credit
Let's take a look at the two offers:
Version 'A':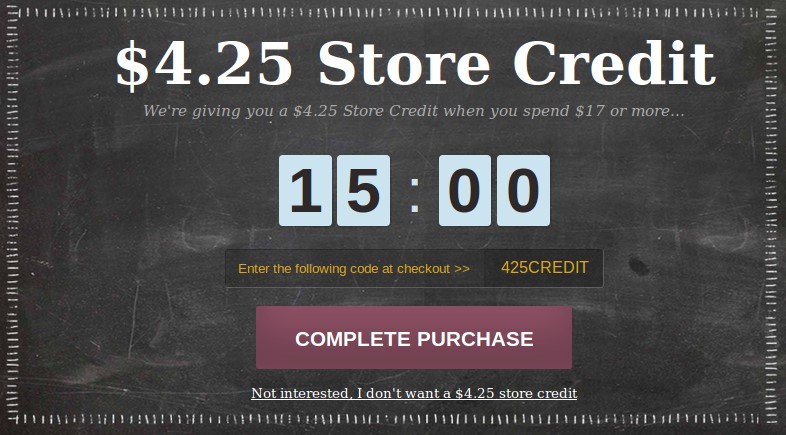 Version 'B':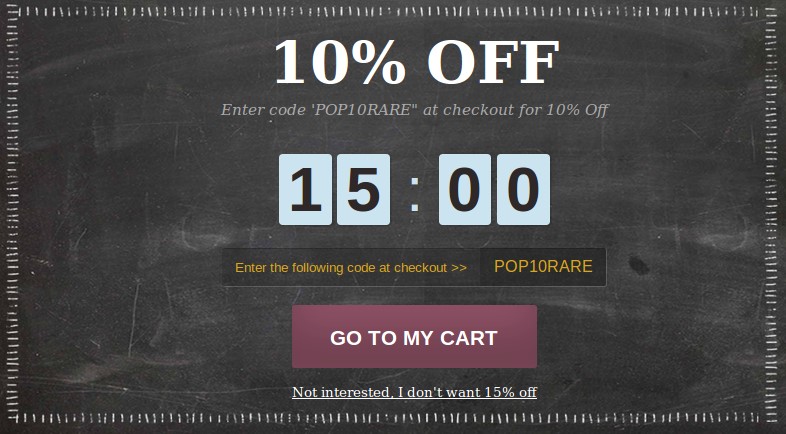 After testing the two variants against each other for 40 days, they saw that 15% more people signed up for the 'B' version compared to the 'A' version – the 'B' version was clearly the "winner".
After clicking on the "GO TO MY CART" button, visitors were forwarded to the cart page to make it easier to complete their purchase.
Here are the settings BootCuffsSocks.com used to make sure their popup only displayed to the visitors they wanted, and didn't bother the other people browsing on their site.
First, they set the popup to display on exit-intent so it would only engage visitors who were starting to leave the site.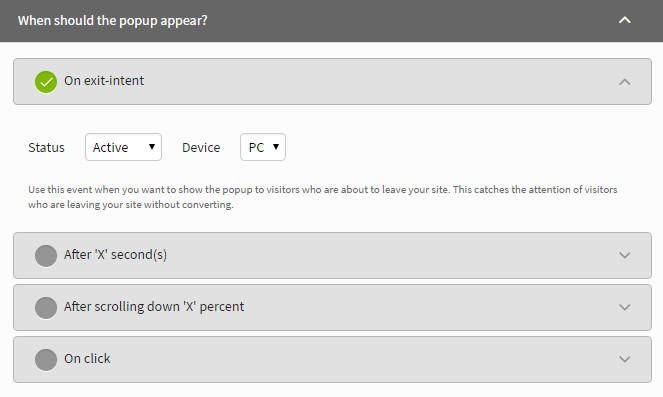 Like their first campaign, they prevented the same popup from being shown over and over by limiting the display of the popup to once per visitor.

BootCuffsSocks.com only ships within the US, so they used the IP targeting feature to display the popup only to people in the United States:

And, here's probably the most important setting that allows BootCuffsSocks.com to provide their discount only to the "hottest" prospects, those who had at least one item in their cart:

Looking at the cart abandonment campaign by BootCuffsSocks.com, it's clear that A/B testing was helpful in improving results, simply to see which messages had the most impact.
A countdown template was chosen to increase the sense of urgency, making visitors feel that it's their only chance to get a special discount, which results in more immediate purchases. When the timer reaches the end of the time limit, the popup disappears.
Lastly, the closing link under the button has a subconscious effect like the YES/NO question campaign: visitors are more resistant to refusing a beneficial offer.
Overall results
BootCuffsSocks.com achieved spectacular results using OptiMonk. By taking the time to review their target audience, and using the options for customizing popups in the OptiMonk dashboard, they created two powerful onsite retargeting campaigns to increase their conversions and reduce their cart abandonment. Let's take a look at the overall results.
BootCuffsSocks.com was able to generate 601 new transactions with OptiMonk in just 3 months: OptiMonk:

In addition, during the period evaluated, BootCuffSocks.com was able to reduce their cart abandonment rate by over 17% in comparison to the same period last year.

The overall result was a return of 280x's their monthly subscription cost to OptiMonk – an incredible 280% ROI!
The bottom line was total revenue increased by more than 8%:

Summary
Within only 3 months of using OptiMonk, BootCuffsSocks.com made a significant improvement to the return on their marketing investment. They were able to convert more of their organic traffic into buyers, reduce their cart abandonment rate, and build a healthy email list of subscribers they can continue to market to well into the future.
Would you like similar results?
Create a free OptiMonk account and see the results for yourself. Stop losing customers today!