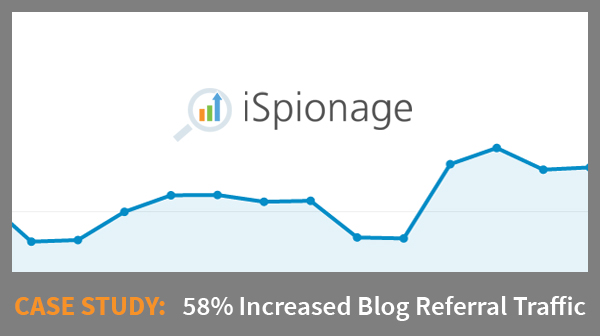 iSpionage is one of today's best Growth Hacking tools. It allows you to download AdWords competitor keywords with the click of a button and monitor competitor PPC landing pages. iSpionage is the only competitive intelligence tool that monitors the entire conversion funnel which makes it easy to gather competitive intelligence data, respond to threats, and discover new opportunities.
iSpionage also runs aPPC marketing blog where you can learn more on how to become a smarter PPC marketer. The blog covers the following four topics: PPC Advertising, SEO, Conversion Rate Optimization and Copywriting.
With regard to customer acquisition, iSpionage was interested in directing more of their blog traffic to their main marketing site so they could capitalize on the traffic they were generating from their content marketing efforts.
In this case study, we're going to present how iSpionage got closer to their goal using onsite retargeting.
You'll learn how they:
achieved a 5.47% CTR
increased their blog referral traffic by 58.09%
… using a traffic redirection popup campaign.
Challenges
iSpionage invests significant resources in content marketing with the goal of directing high-quality traffic towards iSpionage's main site. Visitors, who've read the blog previously, are considered "warm traffic", because it won't be the first interaction with the brand when they visit iSpionage.com. As they've already visited iSpionage's blog and read PPC marketing articles, they've shown a certain level of engagement.
However, despite the fact that iSpionage publishes new blog posts regularly, their blog wasn't directing a satisfactory amount of referral traffic to the main website.
So their main challenge was not enough traffic coming from blog.ispionage.com.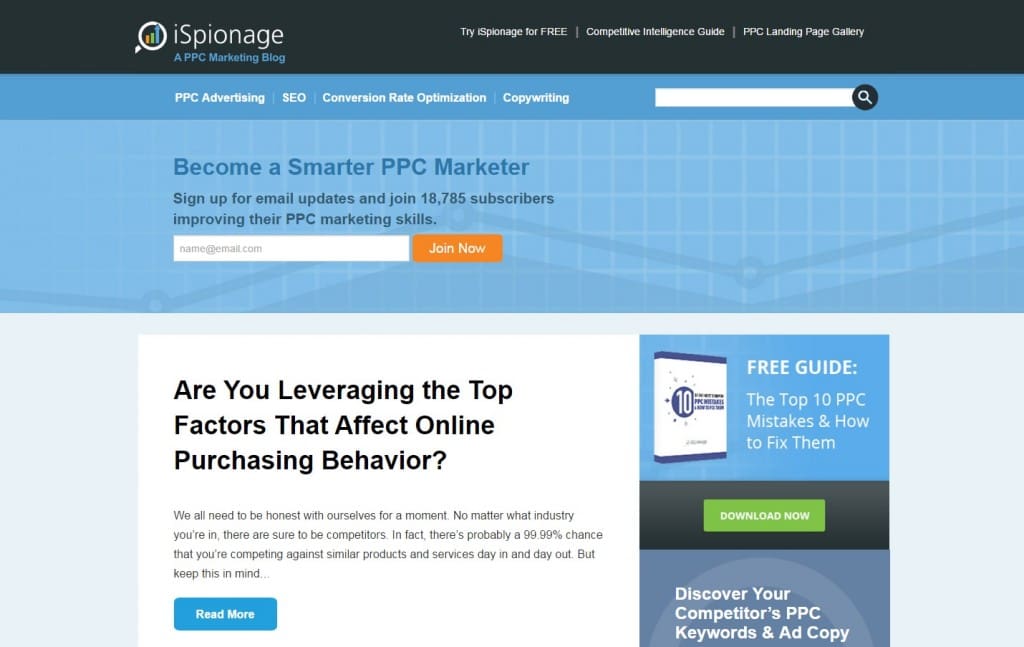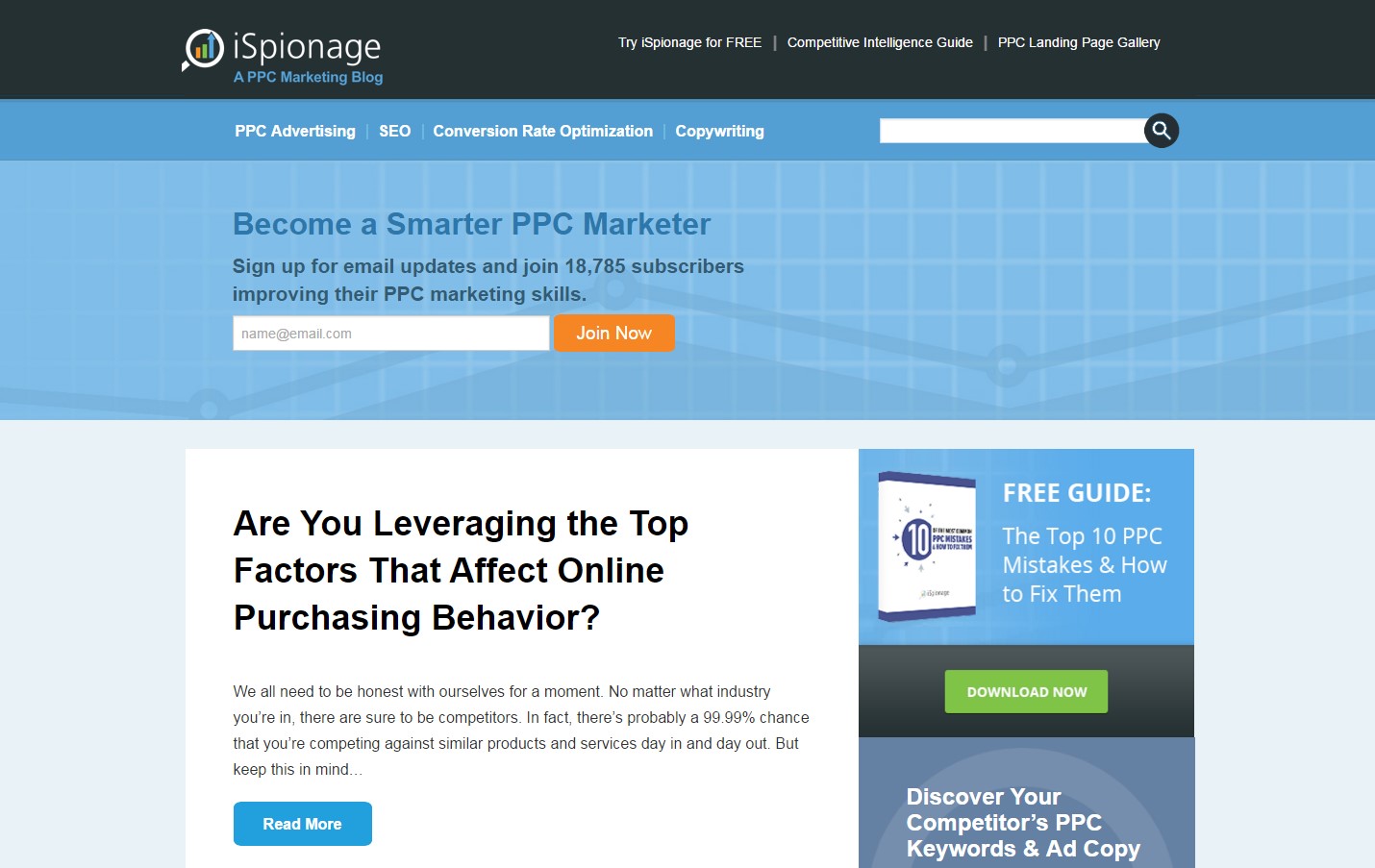 Solution
When they learned that onsite retargeting provides the opportunity to redirect website visitors to another preferred page, iSpionage started using an OptiMonk exit intent popup on their blog in order to get more blog visitors to their main site.
They selected one of our popup templates that can be used for traffic redirection. Their campaign was based on the Dharma template, which they used to ask a yes-no question. By clicking on the YES button, the blog visitors were redirected to iSpionage's main site, by clicking on NO, the popup was closed.

iSpionage knew that the majority of their visitors were interested in downloading competitors' keywords, so they decided to get their blog visitors' attention by asking the following question: "Would you like to download your competitors' most profitable PPC and SEO keywords?" – this question was shown in the headline of their traffic redirection popup: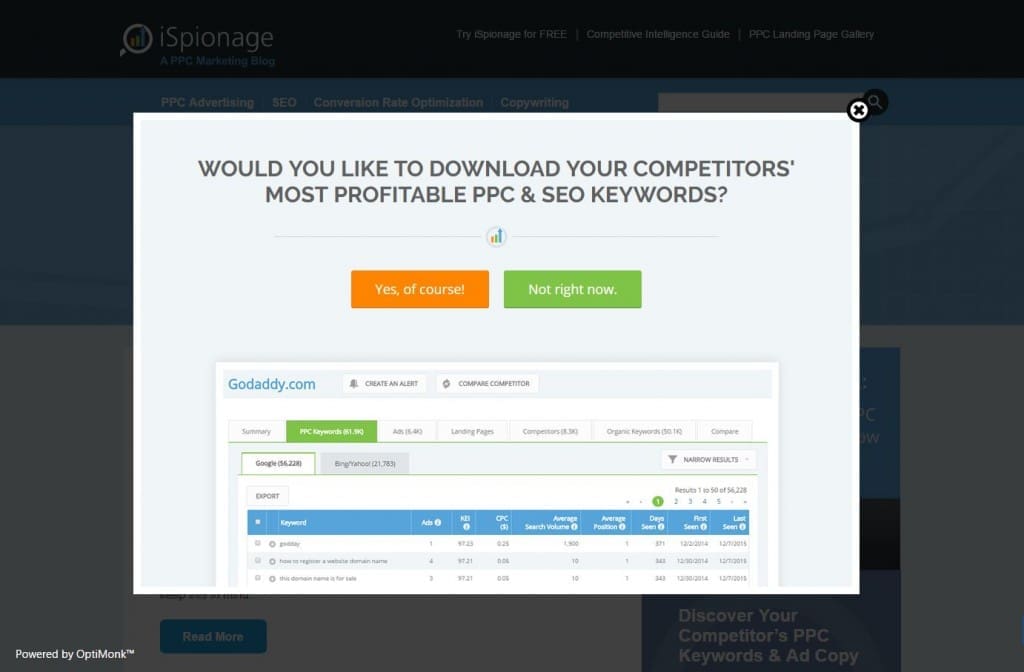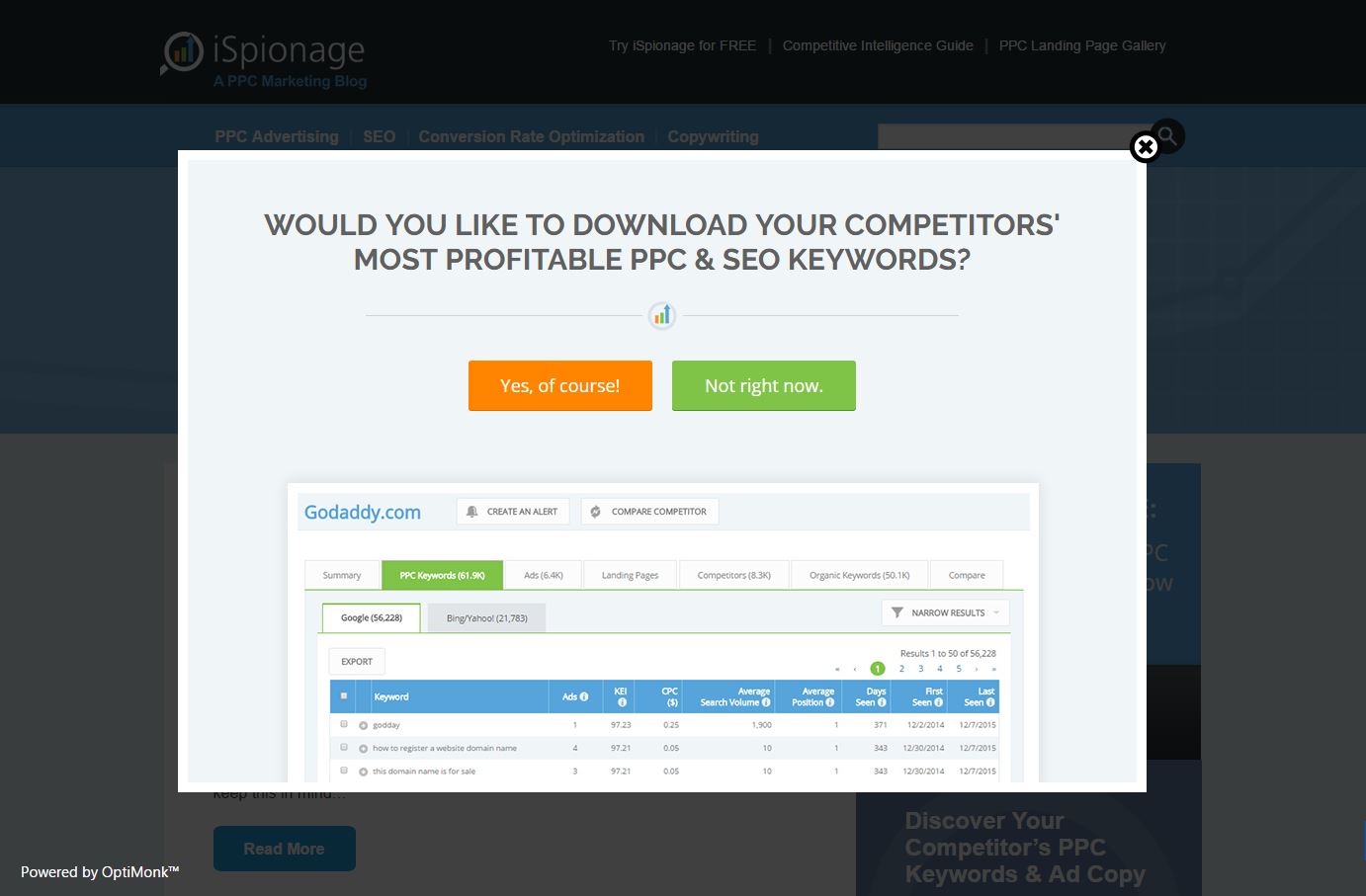 They wanted to catch the attention of visitors who were trying to leave the blog. For this reason, the popup only appeared on exit-intent: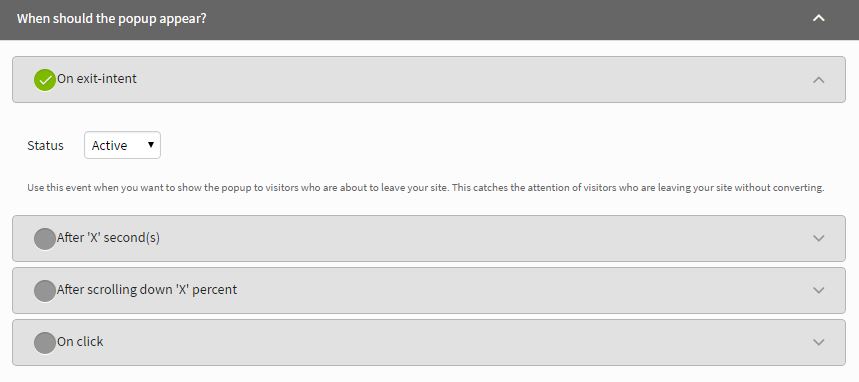 So when visitors of the blog showed "exit intent," behavior that suggested they were going to leave the page, OptiMonk allowed iSpionage to redirect them to a page where they could download their competitors' top PPC and SEO keywords: to the main page of iSpionage.
However, they didn't want to redirect "cold leads" which weren't engaged enough. Assuming that visitors who have spent a certain amount of time viewing the blog are more interested in PPC and SEO issues, iSpionage setup the popup so it would only be displayed to visitors who had spent a minimum of 10 seconds on the blog:

This was also helpful to ensure the popup wouldn't appear too soon, wouldn't be annoying and disturbing, and wouldn't interrupt visitors; but, would allow iSpionage to connect with visitors who were engaged.
In addition to the well-timed triggering, iSpionage wanted to make further improvements to their visitors' experience, so they setup the popup to only appear a maximum number of 5 times per visitor with at least 1 day between two appearances:

Results
And here are the results of their efforts!
The number of popup impressions was 4,144 in the period that was evaluated. The number of visitors who clicked on the "Yes, of course!" button and were redirected to the iSpionage.com website was 227. So the CTR was 5.47%.


They achieved an almost 5.5% conversion rate in only one month.


The efficiency of the popup and the accuracy of the triggering were proven by the fact that the number of sessions coming from referral traffic increased by 58.09% during this time period.


Summary
By using OptiMonk to redirect blog visitors to their main site, iSpionage.com was able to boost their referral traffic, increase their number of new visitors and improve their site engagement. By redirecting the most engaged visitors, they were able to get more prospects to their website. This led to a 58% percent increase in referral traffic from their blog in 1 month!
(Note: If you'd like to find out how to leverage the power of onsite retargeting, download our free ebook.)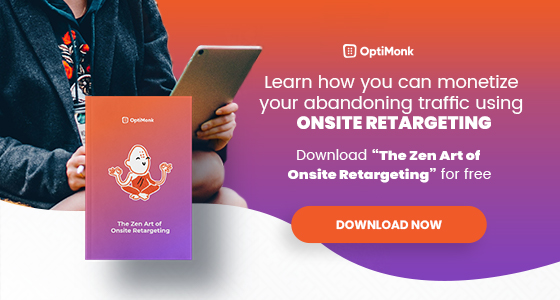 Would you like similar results?
Create a free OptiMonk account and see the results for yourself. Stop losing customers today!