We're in the Christmas holiday season now so it's time to get ready. That's especially true when you have an ecommerce store, since the Christmas season is the most lucrative period!
It's a great time to increase your sales, but you have to keep in mind that competition for customer attention is also very high. That means you can't just come up with your Christmas marketing ideas on the spot—you need to have a well-planned strategy to boost sales so put your Santa hat on.
If you can capture the attention of your target audience with your Christmas marketing strategy, you can drive more sales and increase profits.
In this article, we'll share the best marketing ideas for Christmas that will help you increase Christmas sales while spreading plenty of holiday cheer! 😉
How to run a successful Christmas marketing campaign in 2023?
As people are getting their Christmas gifts ready in the leadup to the festive season, you need to make sure that you have Christmas marketing campaigns are holiday shopping ready on several different channels, from your social media accounts to your email newsletters and your landing pages.
Here are 14 of the best Christmas marketing campaign ideas you can run in the upcoming months.
1. Launch a pre-holiday sales campaign with a countdown timer
There's no better way to say Merry Christmas to your customers than with a holiday-themed sale that promises big savings. However, like all seasonal sales, you don't want to wait until the day the sale goes live to announce your big Christmas campaign!
Before launching it, make sure to tell your visitors about the big event that's coming up. You'll generate interest (boosting sales in the process) and you'll also build your email marketing list by asking holiday consumers to sign up in exchange for updates and early access to your deals.
Use popups to highlight your upcoming event and notify visitors about the sale date. It's a good idea to tease your Christmas shoppers with a preview of what they can expect and mention potential savings (e.g., "Up to 80% off!"). You can also use a countdown timer to increase urgency and encourage potential customers to mark your sale on their calendar.
2. Promote your holiday sales on a popup
Once your big holiday sales campaign gets going, you'll definitely want to let your visitors know about it by promoting it on a popup on your landing page. You never want someone to be browsing your site without realizing that they can take advantage of huge savings while buying a Christmas gift for a loved one!
You can also offer your customers an extra discount in exchange for signing up for your email marketing list. This ensures that you'll continue to benefit from your Christmas marketing campaign in the new year, since you can keep targeting these customers.
Here's how BlendJet promoted their holiday sale last year.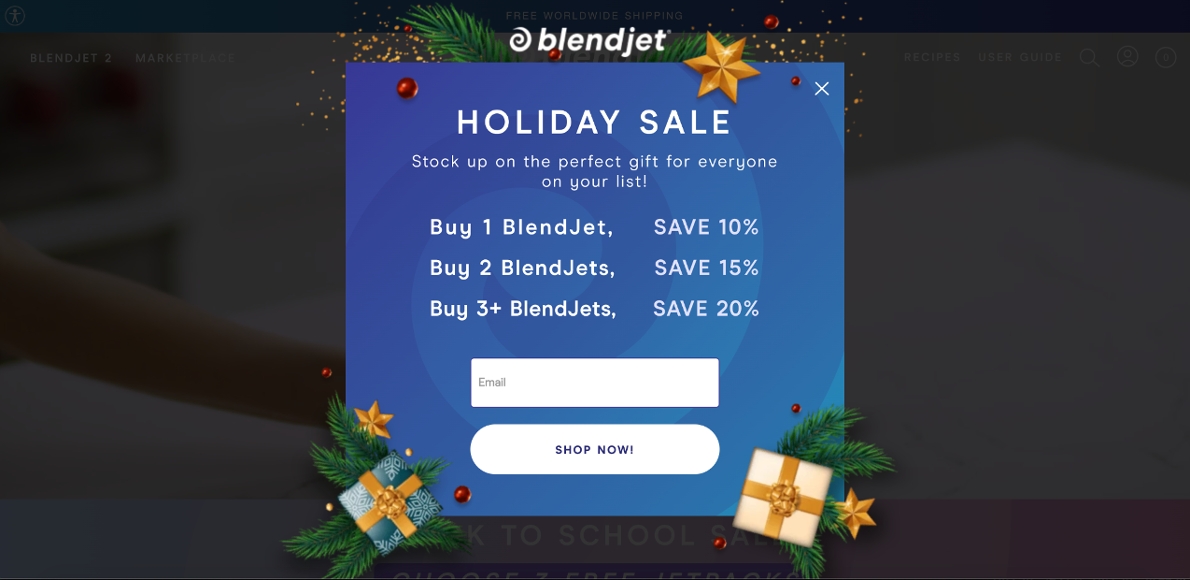 To get started, you can use one of OptiMonk's stunning, ready-to-use templates for your next Christmas marketing campaign:
3. Remind subscribers about their active coupon codes
Once people subscribe to get access to a discount code, you want to make sure that they actually use them. A follow-up sticky bar is a great way to make sure that customers don't forget about their coupon codes.
Sticky bars are always on screen, helping keep an active coupon at the top of your customer's mind, but they're subtle enough that they don't interrupt the shopping experience. This will ensure you're getting the most out of your Christmas marketing campaigns.
When customers have an unused code that's only going to work during the Christmas season, they'll feel a sense of urgency, making them more likely to finalize their purchases.
You can use any of these templates to add this feature to your online store during your holiday campaign:
4. Offer free shipping and highlight shipping conditions
For any online retailer, unexpected shipping costs are the number one reason shoppers abandon their carts. When customers don't realize they'll have to pay for shipping until the checkout process, it changes their whole attitude about the purchase. More often than not, these shoppers will simply abandon their carts.
When it comes to Christmas shopping, people are particularly anxious to know that their gifts will arrive on time. Highlighting shipping conditions, delivery times, and fees is really important for any Christmas marketing strategy.
However, you'll want to keep in mind that research shows 9 out of 10 consumers say free shipping is the best incentive to shop more online. Offering free shipping as part of your holiday-themed promotion can quickly boost online sales, average order value, and overall revenue.
Using a sticky bar like the one below is a great Christmas marketing idea, since it ensures that all your visitors will be aware that they can get free shipping on their holiday purchases.

You can either offer free shipping for everyone, like in the example above, or only offer free shipping for orders above a certain threshold. If you do the latter, make sure to promote how much more your visitors need to spend in order to get free shipping. You can use one of OptiMonk's Dynamic Free Shipping bars to encourage Christmas shoppers to spend just a little bit more in order to get the benefit of free shipping.

5. Gamify the user experience
Gamification helps to turn your visitors' interaction with your website into an unforgettable experience. Even if a visitor isn't very familiar with your brand or products yet, they'll still be excited to play a game.
By incorporating fun-filled popup campaigns like scratch cards and lucky wheels on your site, you can capture the attention of new visitors and keep them engaged. If you use a holiday season-themed gamified popup, you can create a memorable, enjoyable shopping experience for your visitors and add Christmas flair to your site.
Here's a Christmas marketing scratch card example that you can use to spread the Christmas spirit.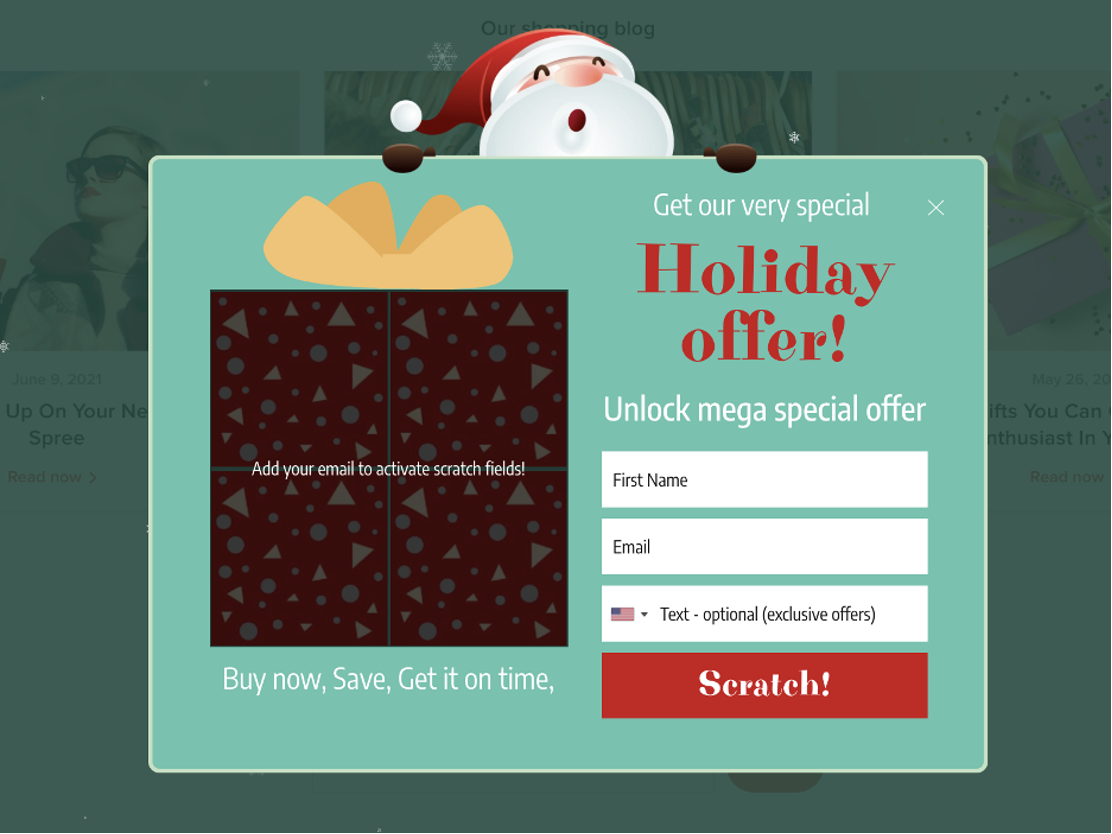 Or, you could use a lucky wheel that features Christmas decorations, like in the example below.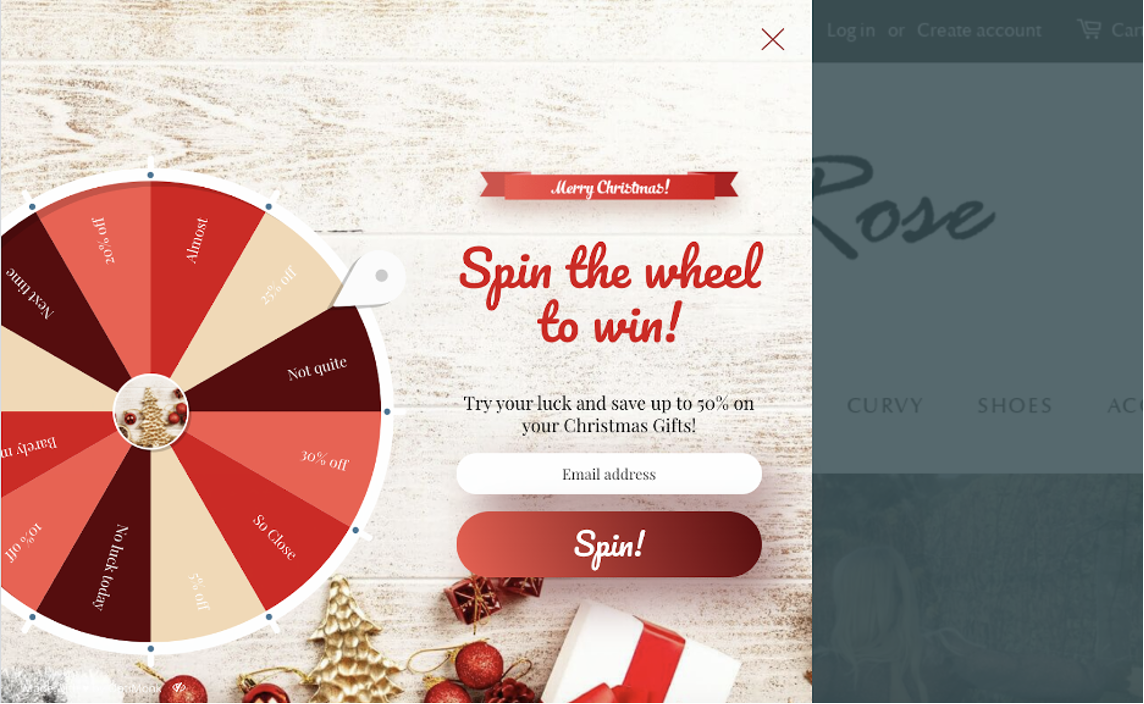 Get started with one of these OptiMonk Christmas campaign templates:
6. Create festive quizzes
Quizzes are another great Christmas marketing idea, and an effective way to boost audience engagement and sharing, especially if you use a Christmas season-themed quiz during the season. A successful quiz should have easy-to-answer questions for broad appeal, and it should tell people something they really want to know about themselves.
Based on their answers, you can provide them with personalized recommendations to help them find what they're looking for during the Christmas shopping season.
7. Create Christmas bundles
Another Christmas promotion idea is that you can create bundles of Christmas-themed products that complement each other to add some seasonal ambiance to your store. Bundles not only simplify shopping for customers seeking the perfect gift, but also provide a cost-effective solution because they offer a more attractive price point than individual purchases.
A Christmas catalog that has a bundle filled with Christmas tree ornaments, Christmas lights, and an advent calendar, for example, can add some Christmas flair to your small business. That's especially true if you wrap up the bundle in some festive packaging.
Promote your holiday season bundle in a popup to ensure visibility.
8. Promote best-selling or discounted products
First-time visitors can easily feel lost in online stores that have very large inventories, and they may feel unsure about how to get started. This is called analysis paralysis and can quickly lead to visitors leaving your website without doing anything significant.
If you have lots of products on your website, you should promote your best-selling or discounted products on an exit-intent popup. During the holiday season, you can promote these products as part of a Christmas gift guide.
9. Stop cart abandoners with an exit-intent popup
With the average cart abandonment rate hovering around 70%, this is one of the biggest challenges for any ecommerce store. What you might not know is that the cart abandonment rate can be even higher during the holiday season, since people are shopping around and trying to find the perfect gift.
By harnessing the power of urgency and limited-time offers, you can stop visitors from abandoning their carts and motivate them to complete their purchases before time runs out.
Try using a Christmas-themed countdown popup to showcase your limited-time offer. Customers will worry about missing out on a great deal, and this fear becomes their driving force to take action and complete their purchase.
10. Personalize messaging for returning visitors
When users are shopping in the leadup to Christmas time, they often check out multiple websites in their quest for the perfect gift.
While shopping for a loved one, people are even more likely to check out other options, compare products, and consider their decisions carefully. However, that longer shopping process doesn't necessarily mean that they won't return to buy from you later!
Make the user experience for returning visitors as smooth as possible by helping them pick up where they left off last time. Show them their previously viewed products so they can continue with a single click.
11. Launch special offers for VIP customers
You certainly want to make sure that the customers who are buying your products throughout the year have happy holidays.
Present exclusive discounts, offers, and deals to your most loyal customers to boost spending during the holiday season and also customer loyalty.
12. Collaborate with social media influencers and boost the effectiveness of those campaigns
The Christmas period is a great time to leverage influencer marketing on social media. After all, social media provides an excellent channel to reach a broader audience and generate demand for your brand.
Whether you're running Christmas giveaways or just giving a free gift to an influencer who's popular with your target audience, you need to make sure that you get the most out of that incoming traffic.
Imagine visitors arriving from an influencer marketing campaign being greeted with a photo of their favorite influencer, messaging that echoes the words the influencer used when promoting your product, and a special discount to welcome them to your website.
Creating a customized welcome popup experience can speak directly to your customers' hearts, especially when it comes to Christmas campaigns.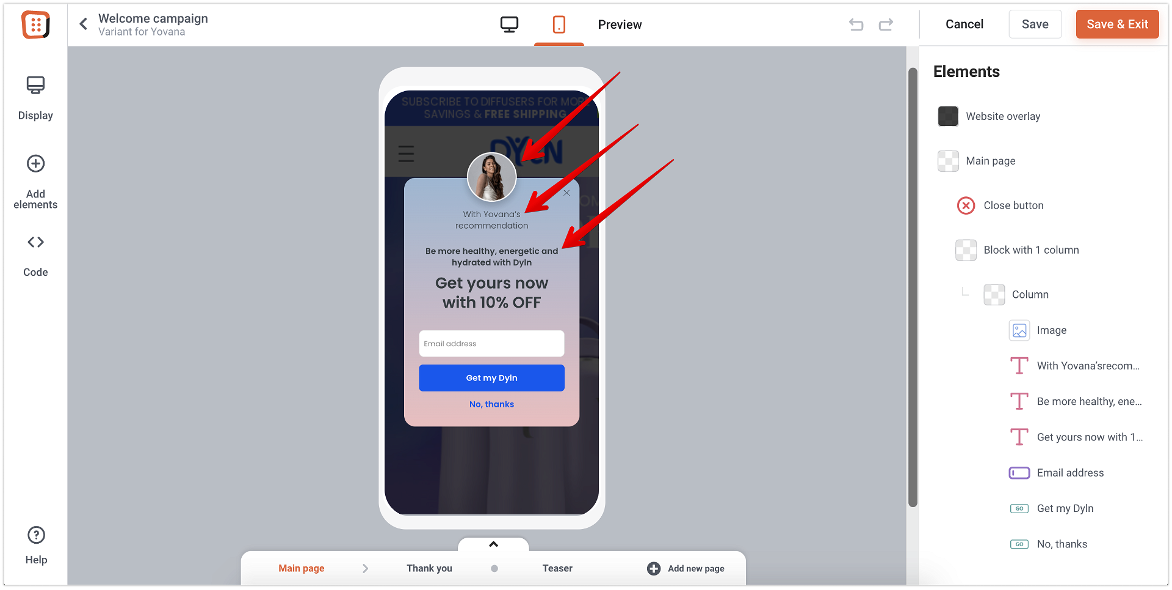 13. Offer Christmas shopping guides
Offering valuable Christmas promotion ideas and shopping guides for website visitors is a great way to build your email list while providing valuable assistance for shoppers so they are informed about the best Christmas sale ideas.
Shoppers are often desperate for Christmas gift ideas as the pressure mounts close to the 25th, making this one of the best Christmas marketing ideas on this list.
Christmas gift guides can help shoppers discover the perfect gifts for their loved ones while simplifying the sometimes overwhelming task of choosing presents. These guides not only improve the shopping experience but also showcase your expertise and dedication to customer satisfaction.
14. Don't forget after-Christmas sales
If you're looking to maximize your success as an ecommerce business owner over the entire holiday season, don't neglect the period right after the Christmas sale.
While the peak shopping rush subsides after Christmas, the period following the festivities presents a valuable opportunity for small businesses to extend the shopping momentum. Offering compelling deals and promotions on remaining inventory can help you clear out excess stock and generate additional revenue.
Furthermore, many shoppers will be looking to redeem Christmas gift cards they got in the days prior!
The above Christmas marketing ideas we've covered in this article can get just about anybody into the holiday spirit. Whether you add cute Christmas trees to your seasonal promotions or focus on creating helpful gifting guides, or just hold a Christmas giveaway, every little bit can make a difference during this critical period for ecommerce stores, and spread holiday cheer.
If you'd like to use any of these Christmas promotional ideas, sign up for a free OptiMonk account to gain access to all the templates you've seen…just in time to prepare for Christmas!