Welcome to our ultimate list of conversion rate optimization tools for 2023!
There are now more tools than ever designed to help you create a smoother customer journey, improve your website performance, and boost conversions. And since all your competitors are likely using conversion rate optimization tools to deliver a cutting-edge customer experience, you're going to fall behind if you don't jump on the bandwagon, too.
If you're a small business owner or a digital marketer, the users you're interacting with are expecting personalized, convenient shopping experiences. And whether your top marketing goal is gathering more leads or making more sales, CRO tools will help you skyrocket your conversion rates.
So, without further ado, let's dive in and discover the best CRO tools of 2023.
What are conversion rate optimization tools?
Broadly speaking, conversion rate optimization tools include any solution that businesses use to optimize their conversion rates, improve their website performance, and make their marketing campaigns even more successful.
However, there are many different types of CRO tools out there. For instance, some tools allow you to create landing pages or popups that convert visitors really well, while others (like behavior analytics tools and heat mapping tools) are designed to analyze user behavior so that you can identify areas of your website that may be causing friction for users. Still others are designed to help businesses conduct split testing and maximize conversions.
Needless to say, there are a lot of different CRO tools that you can consider using to improve your customer experience and boost your conversion rates.
The 16 best conversion rate optimization tools
Now, it's time to raise the curtain and discover our list of the best conversion rate optimization tools for 2023 and beyond!

If you're short on time, here's a tl;dr of the best conversion rate optimization tools to help you reach your goals:
Website personalization tools
Website personalization is a way to raise your conversion rates by having customers interact with content that's tailored to their interests.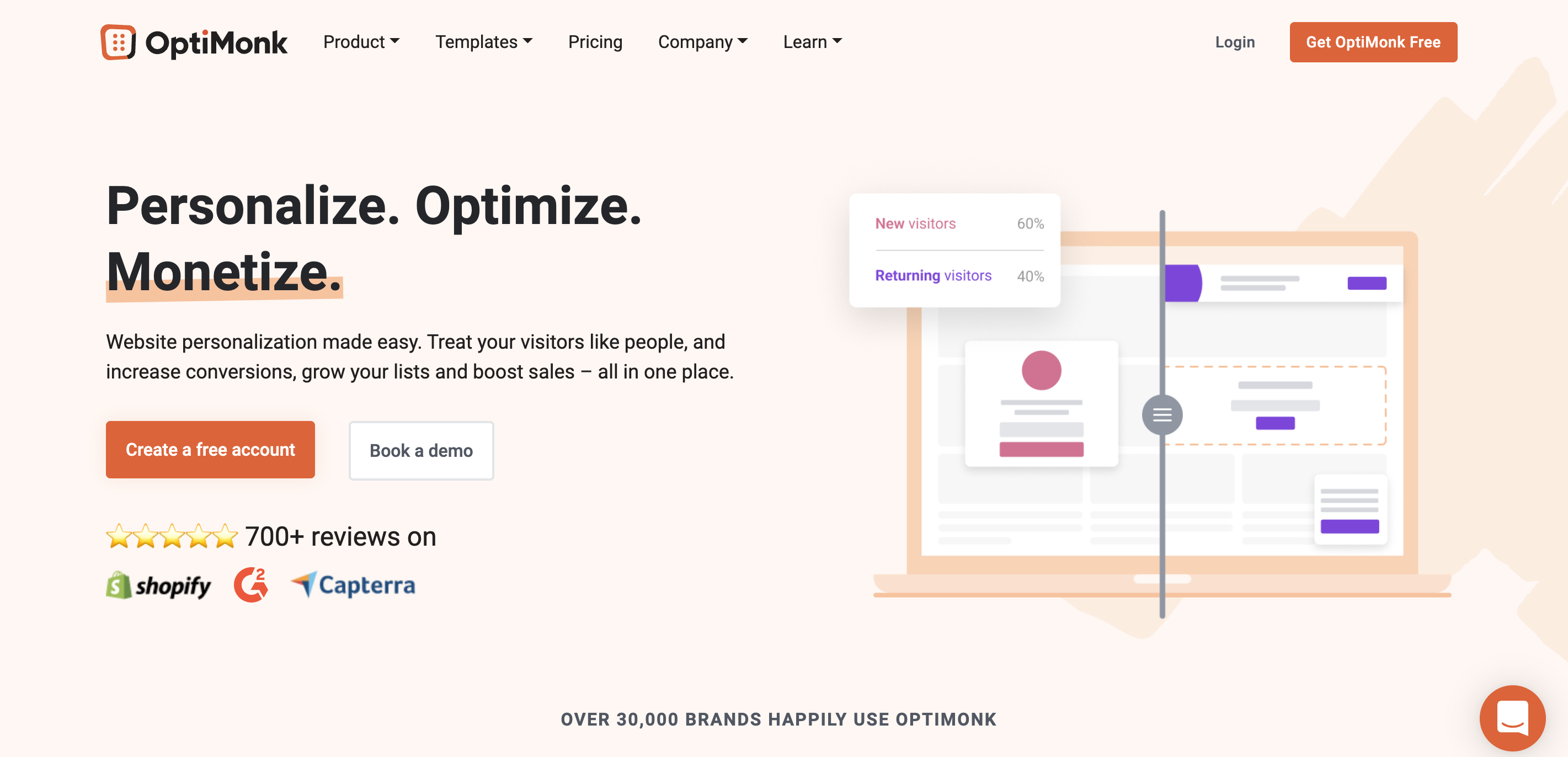 OptiMonk is an all-in-one CRO toolset that provides popups, website personalization, and A/B testing.
With a variety of features and tools for conversion rate optimization, it allows ecommerce businesses to use precisely-targeted messages to deliver personalized content and offers that will maximize conversions and grow their revenue.
Let's look at some specific OptiMonk features that can assist you in meeting your conversion rate optimization goals.
Key feature #1: Deliver personalized content to your website visitors
OptiMonk's innovative Dynamic Content capability allows you to deliver fully personalized content without slowing down your load speed or causing flickering, and without ever needing to involve a developer.
Personalized experiences help you achieve maximum conversions by ensuring that your visitors are always seeing relevant content.
Key feature #2: Laser target your audience
One of OptiMonk's key benefits is its ability to segment website visitors based on a wide range of criteria, such as their location, browsing history, and user behavior.
The new Segments feature provides OptiMonk users with recommendations for pre-defined user segments to target with personalized campaigns.
Furthermore, you no longer need to define your own custom customer segments for each campaign. Instead, you can save specific customer segments and then use them quickly in future campaigns. This allows businesses to consistently target customer segments with tailored content and offers that are ideal for their needs, interests, and stage of the customer journey.
Key feature #3: Experiment with A/B testing
It's crucial to understand how well your marketing efforts are paying off, and analytics tools are essential for this purpose.
OptiMonk's Experiments feature allows you to test multiple versions of a marketing campaign against each other (making it A/B/n testing instead of just A/B testing). You can also show two or more variants of the same campaign to different segments of website visitors, so you can compare which variant drives more conversions for each target audience.
All this data creates the opportunity to fine-tune your personalized messaging.
Pricing:
Freemium available. Paid plans start at $39 per month.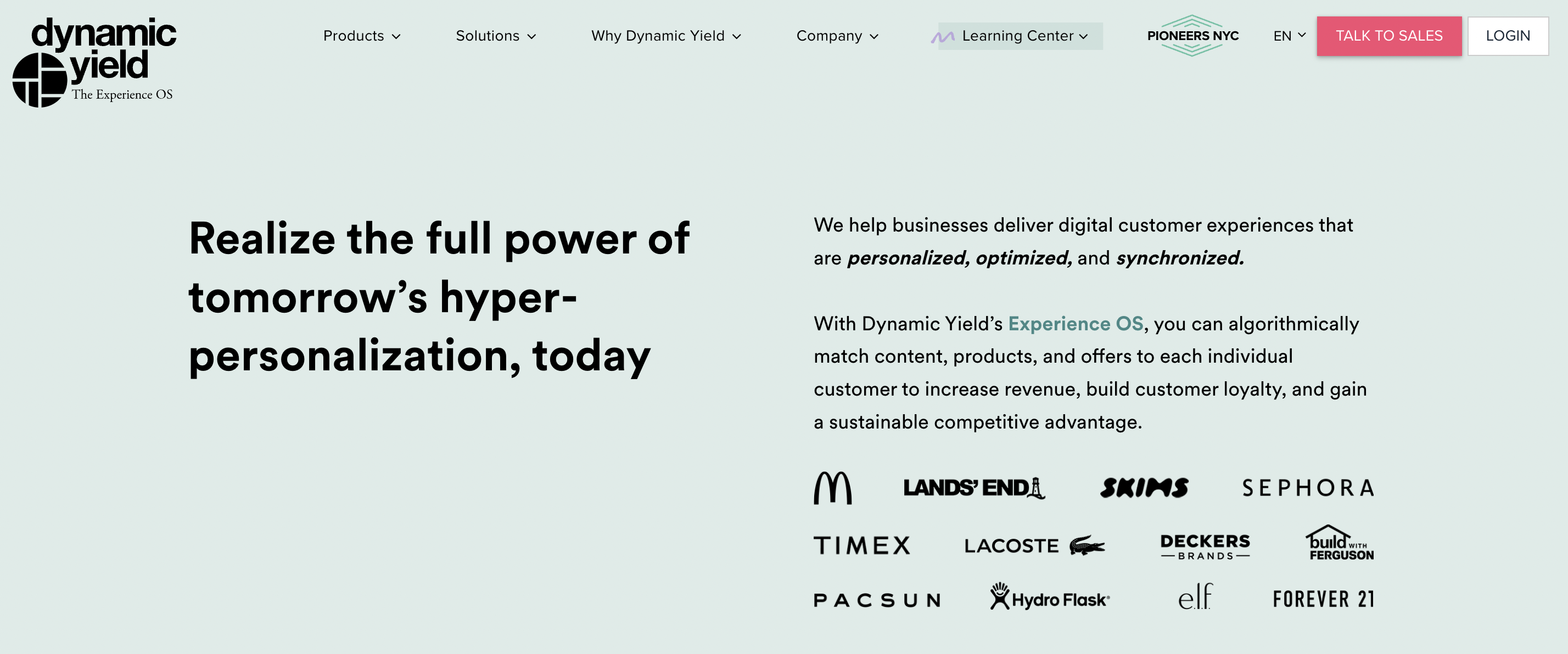 Dynamic Yield enables website owners to create real-time personalized experiences for their users. Using a variety of features such as personalized web content, product recommendations, and email campaigns, you can create airtight conversion funnels.
Dynamic Yield is most popular with larger enterprise ecommerce companies since it's too pricey for most smaller business owners.
Pricing:
Not publicly available, you'll have to contact the sales team.
An all-in-one tool like HubSpot can increase conversions across the entire customer journey.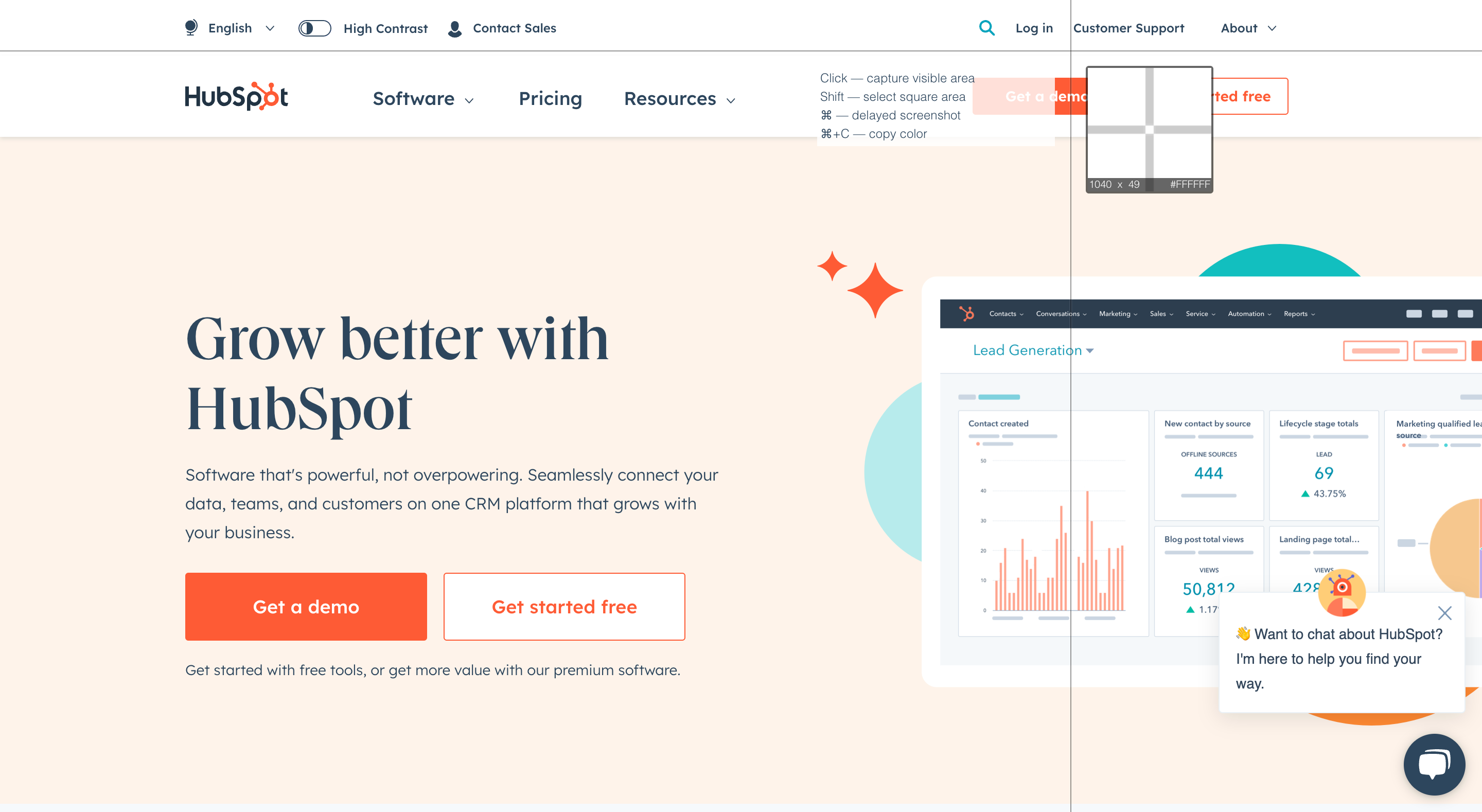 HubSpot is comprehensive marketing, sales, and customer service software that can be used as a powerful conversion optimization tool. HubSpot offers a variety of features that can help raise conversion rates, including forms, landing pages, and lead generation. It also includes both CRM (customer relationship management) software and marketing automation tools.
As you can see, there's little that HubSpot can't do. However, that also comes with the drawback that specific features might not have as many capabilities as dedicated software devoted to the same purpose.
Pricing:
Their CRM system has a free version, but you'll have to contact sales for enterprise pricing.
If you can capture emails from your site visitors, you'll see your customer acquisition costs fall and have more leads to nurture at all times.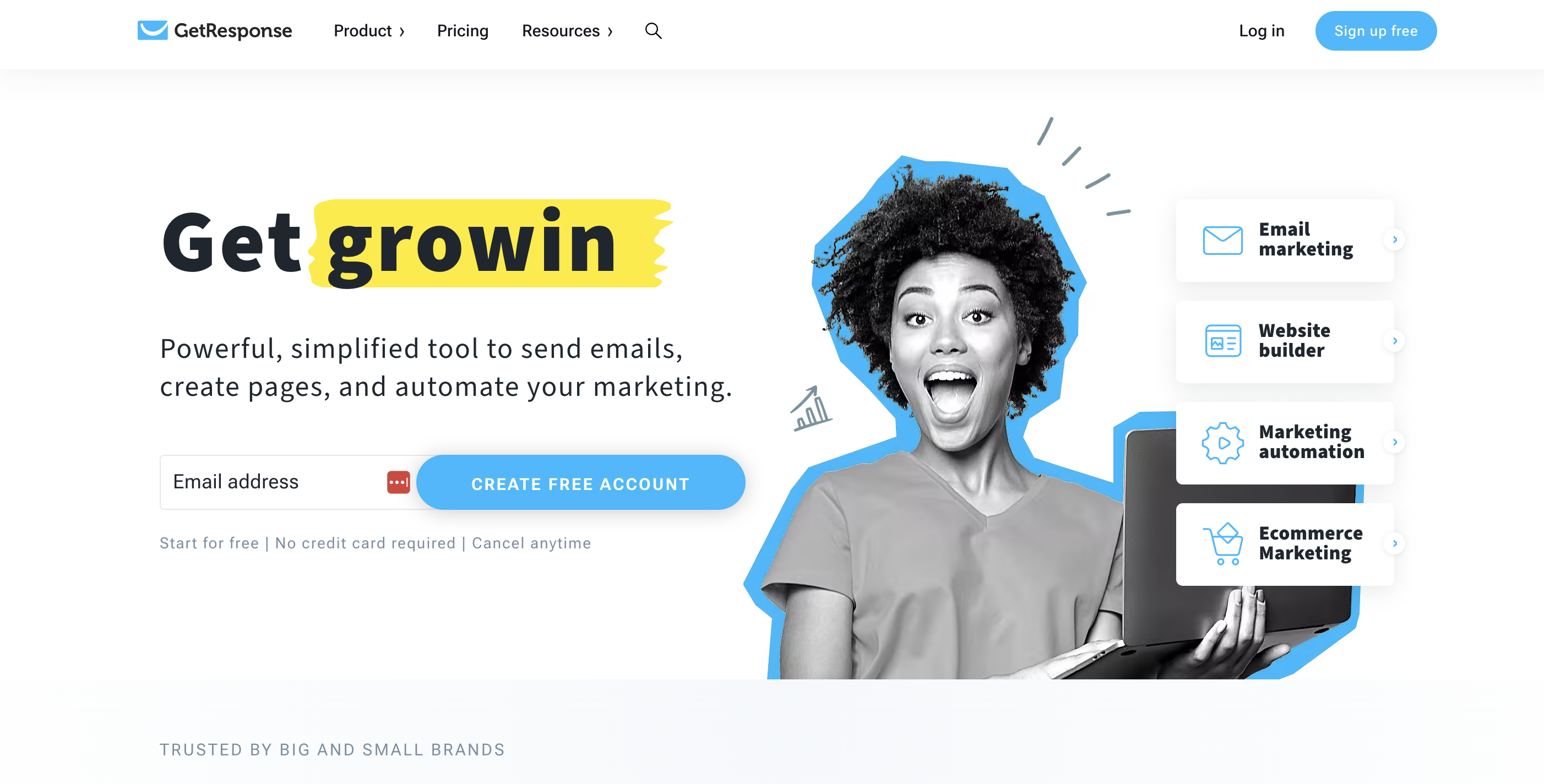 GetResponse is an email marketing and automation platform that's also useful for lead generation. With GetResponse, you can easily and quickly create opt-in forms, landing pages, and content like webinars. Then, once these lead magnets have brought in some new leads, you can split them into segments and nurture them with targeted, personalized automated emails.
Pricing:
Free trial available. Plans start at $15 per month.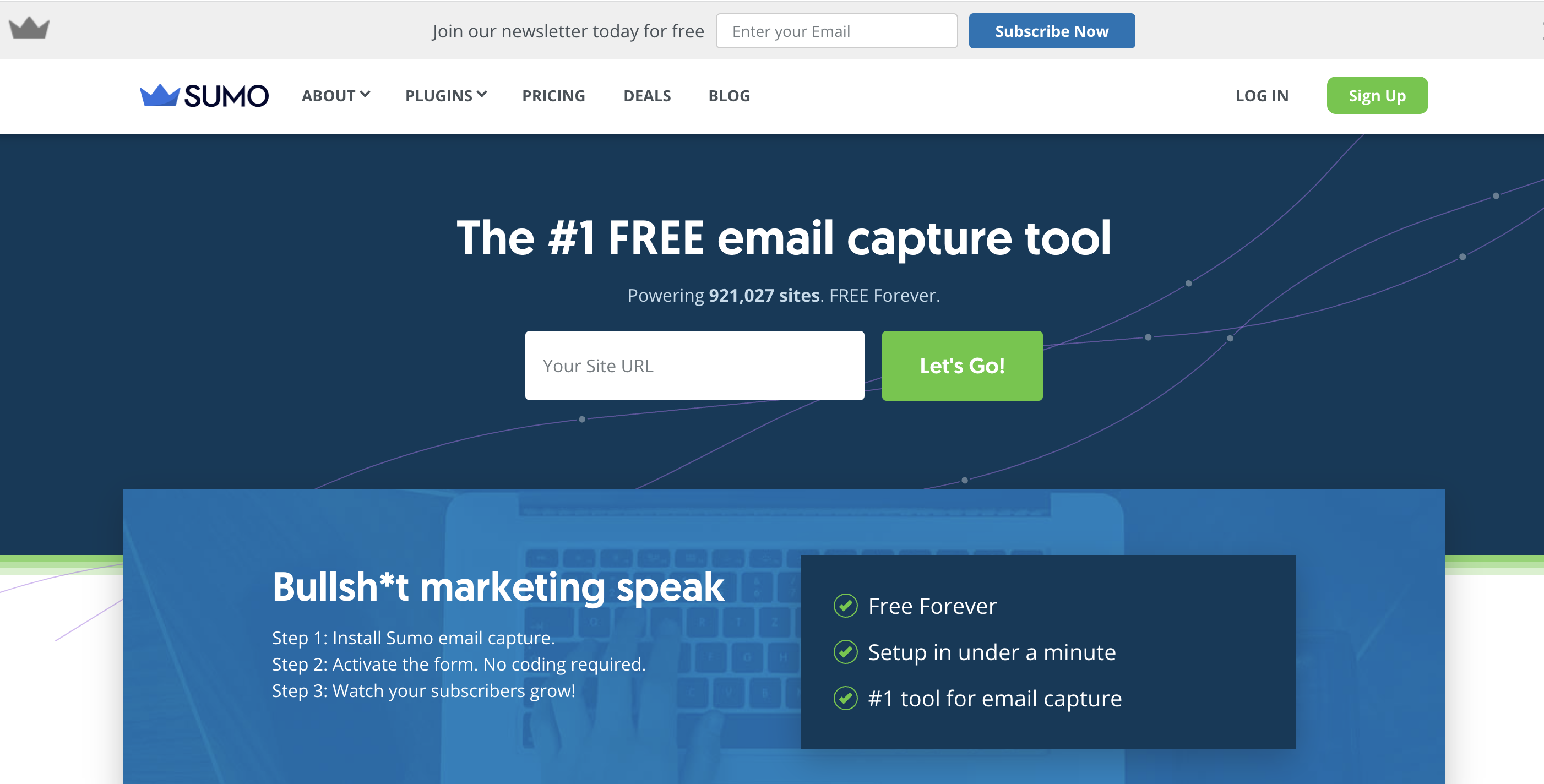 Sumo is a good lead capture option for small businesses that need an easy-to-use tool that integrates well with email marketing platforms. It has a variety of features that can help with lead generation such as forms, pop-ups, and landing pages.
Pricing:
Free trial available. Plans start at $29 per month.
In addition to your conversion rate optimization tool, it's important to have an analytics tool. You need to know where to make improvements in order to increase your website conversion rates.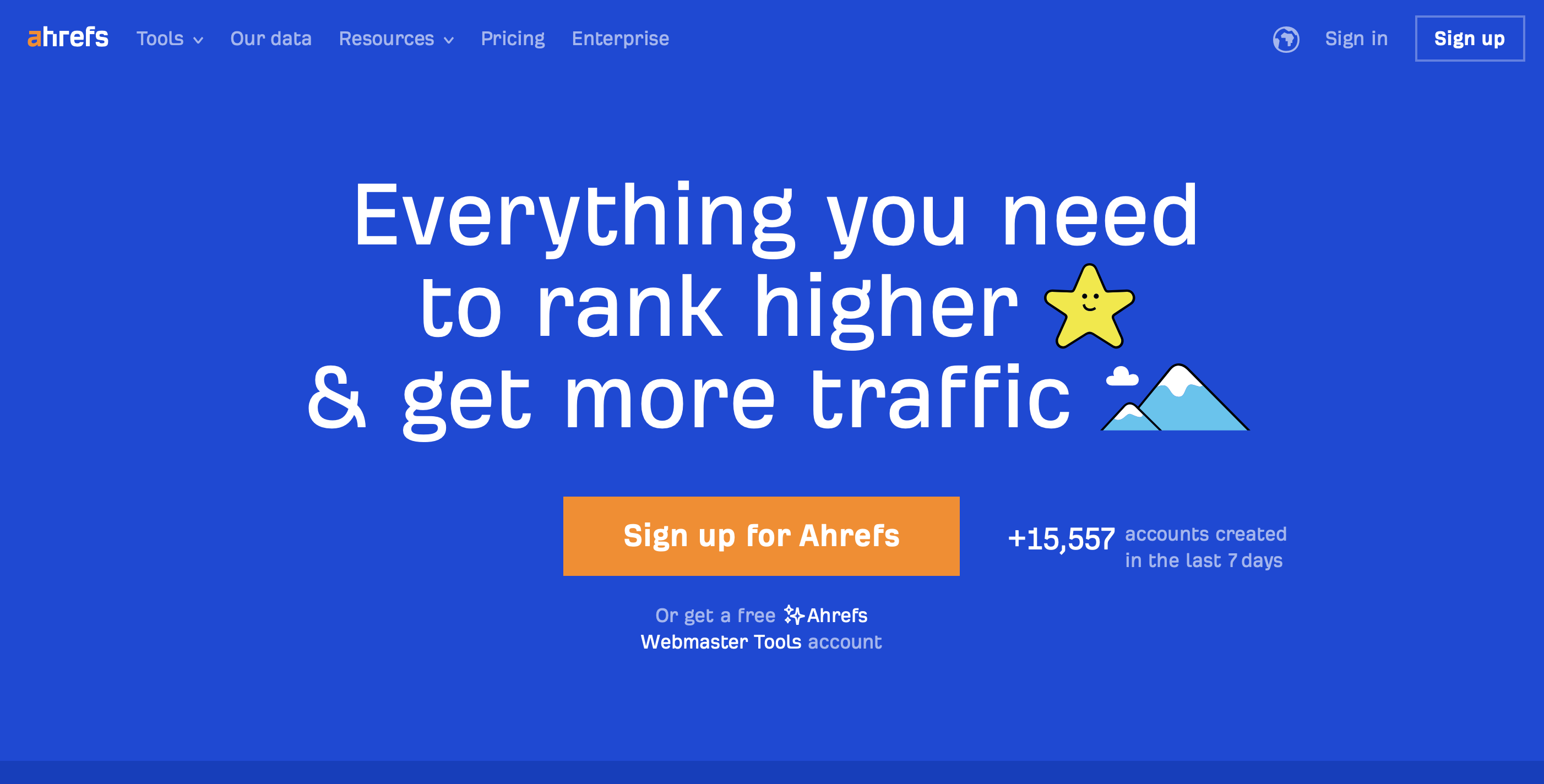 Ahrefs is a powerful and comprehensive research tool. It's primarily known for its SEO and keyword research capabilities, but it has other features that help increase conversions on your blog.
If you rely heavily on content marketing, you need to be using Ahrefs.
Pricing:
Plans range from $99 to $999 per month.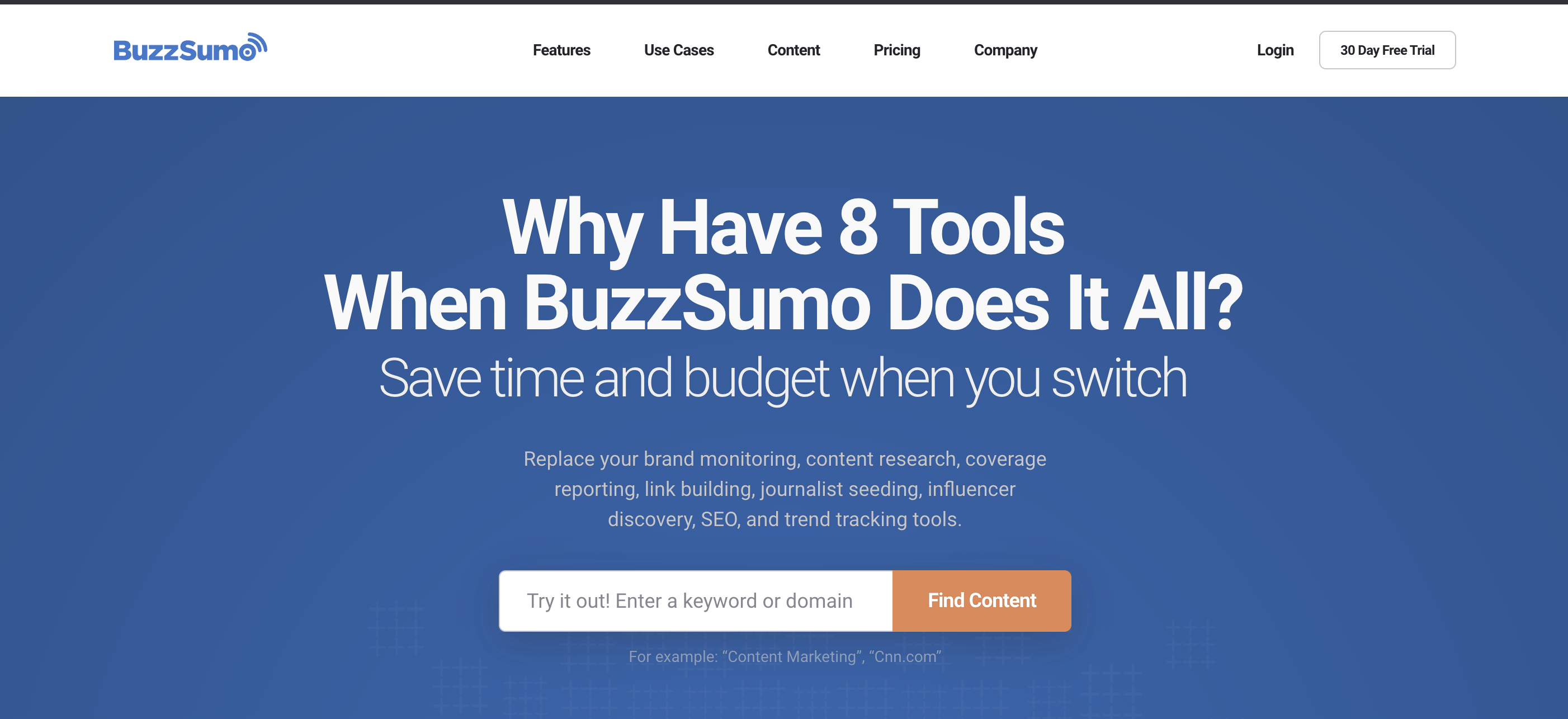 BuzzSumo is a multipurpose tool for researching your content marketing, social media, and influencer marketing efforts. It can be hard to figure out your customer acquisition costs when you're using tactics like influencer marketing without using a popular web analytics tool like BuzzSumo.
Pricing:
Plans range from $99 to $499 per month.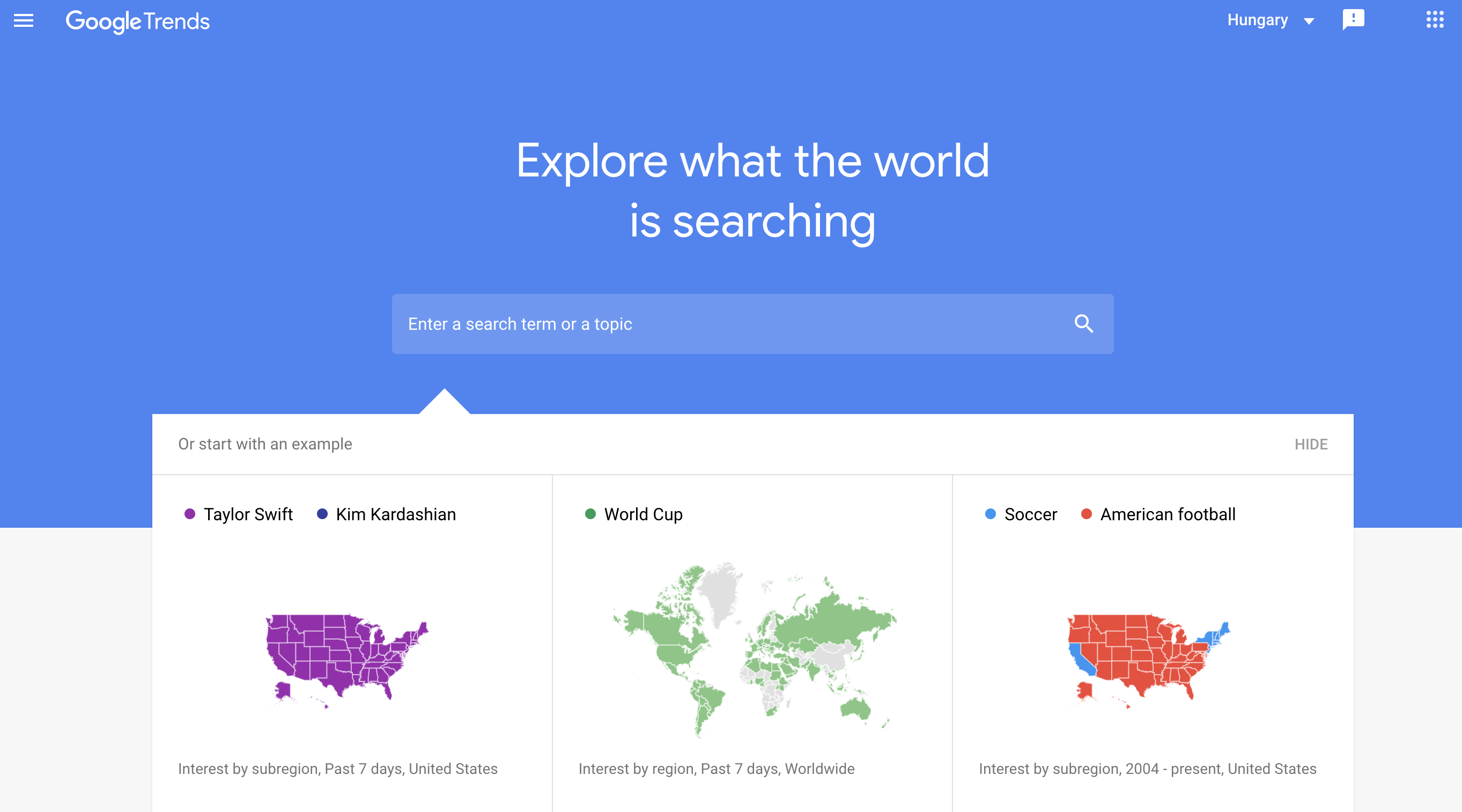 Google Trends reveals the popularity of search terms over time by tracking the search behavior of real users. It allows you to see what topics are trending and gain insights into geographic and demographic patterns of search behavior. That means you can adjust your SEO goals based on what your target audience is interested in.
It's a great idea to use Google Trends in concert with other Google products, such as Google Analytics.
Pricing:
Google Trends is a free tool.
Another great way to guide your conversion rate optimization efforts is by using survey tools to ask your existing customers how you could improve your business performance.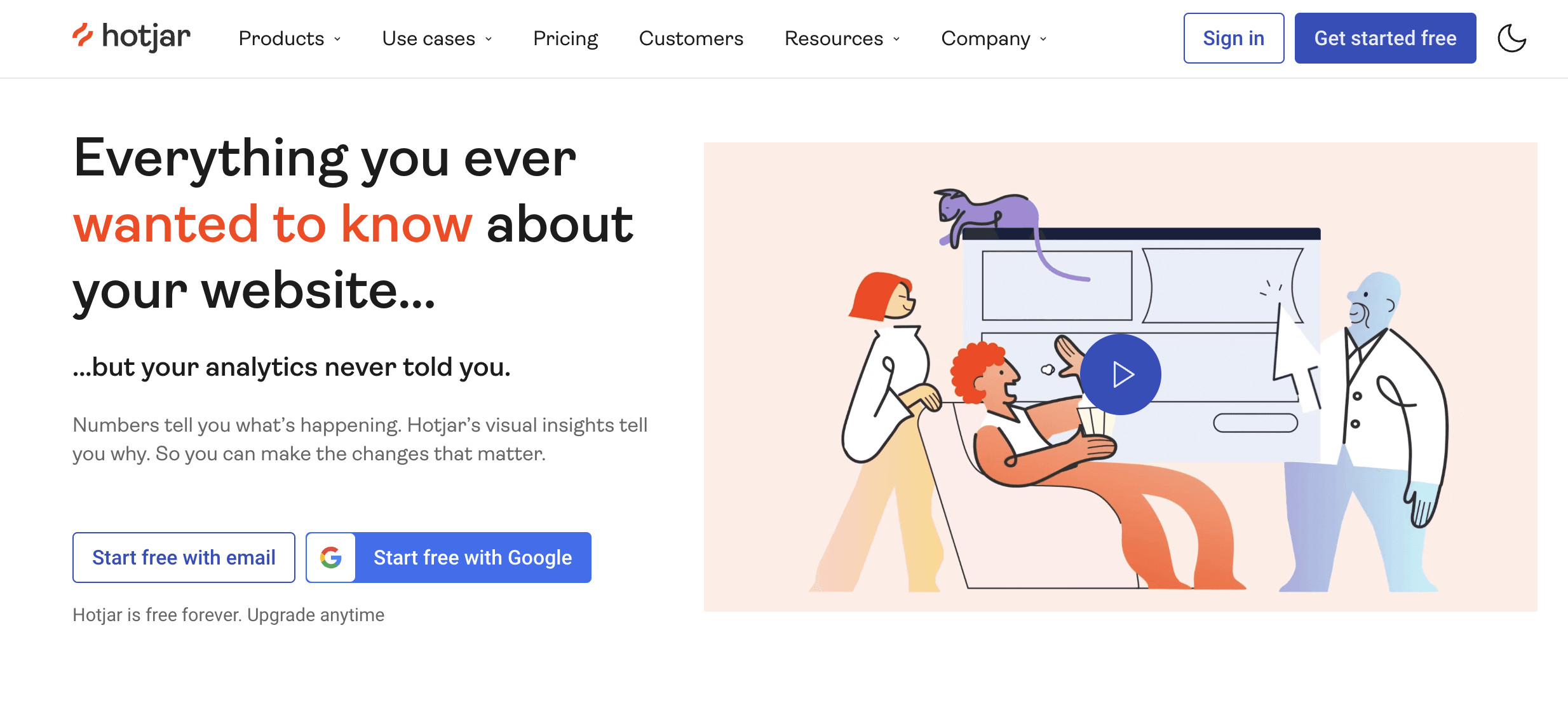 Hotjar is a heat mapping tool that provides businesses with a range of features to help them understand how users interact with their website. It's really useful to see visual data about how your site visitors interact with your site.
In addition to heat maps, their key features include session recording, online surveys, form analytics, and customer feedback polls. 
Pricing:
There is a free plan available, and paid plans start at $29 per month.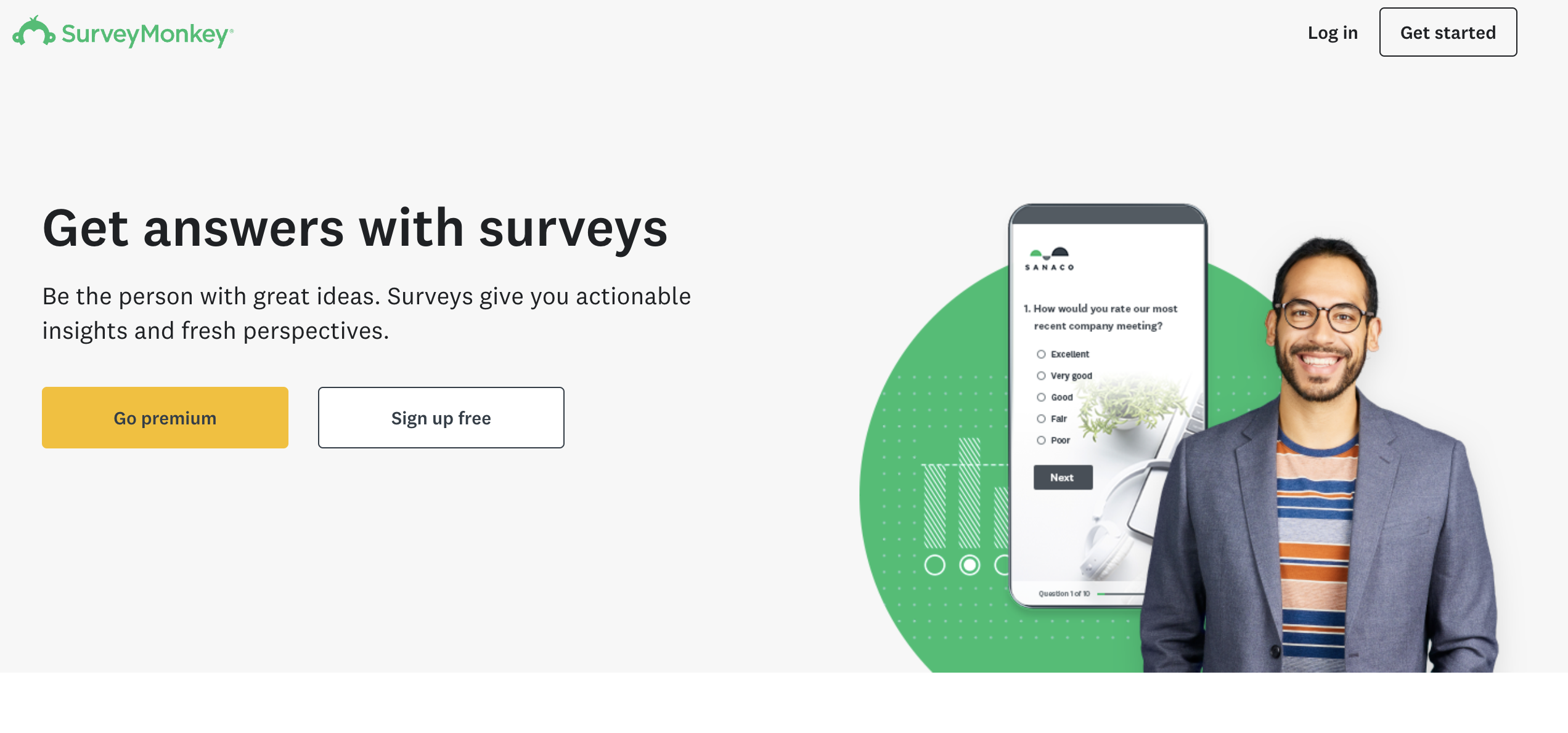 SurveyMonkey is a web-based customer feedback software that allows users to create, send, and analyze surveys. The reports that the tool creates combine all the data available and make your market research a breeze.
Pricing:
There is a free version available, and the Standard plan starts at $35 per month.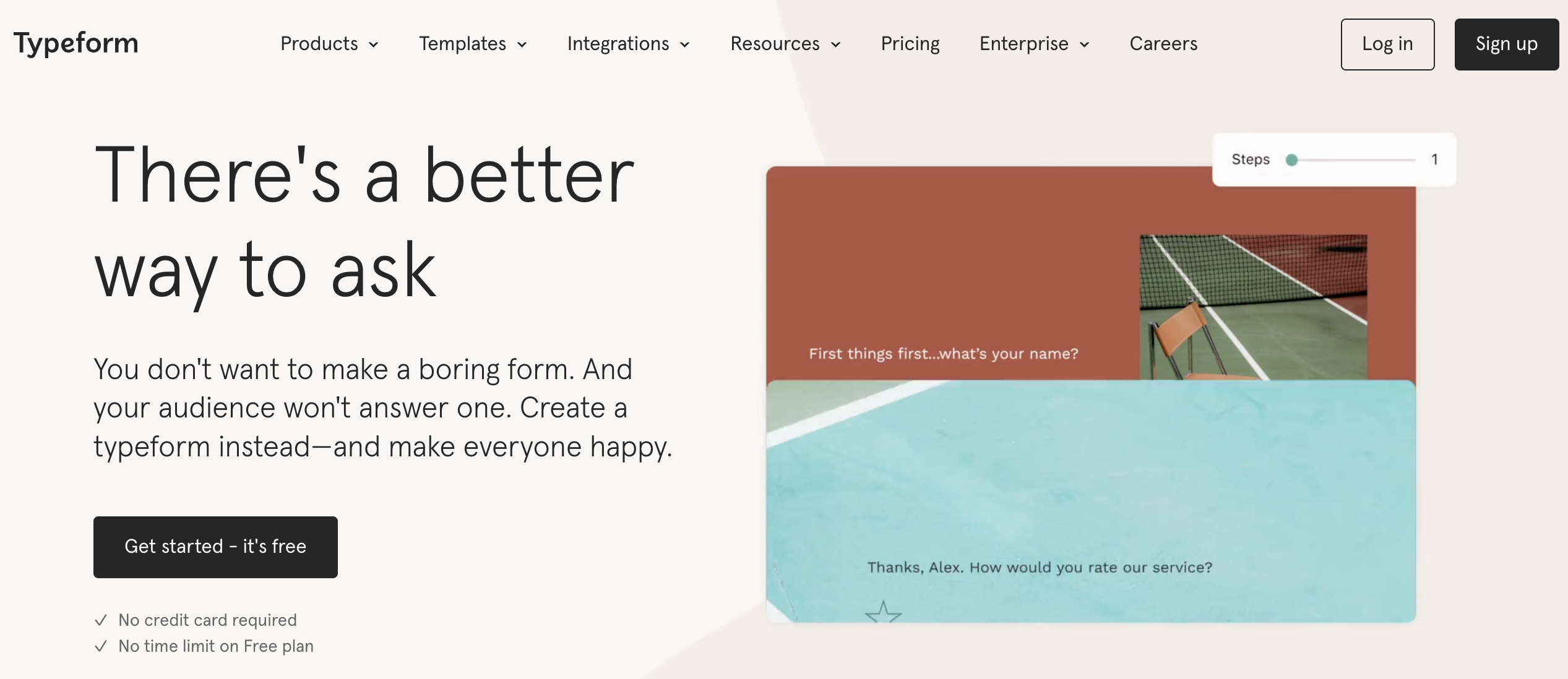 Typeform is a survey-building tool that allows users to create interactive forms on any webpage. Their visual editor can create surveys, quizzes, contact forms, and a variety of other forms. This, combined with Typeform's distinct conversational style, makes gathering data from your web traffic easy.
Pricing:
There is a free plan available, and the Essential plan starts at $35 per month.
Many of the most popular CRO tools are devoted to helping businesses gain an understanding of their traffic and user behavior.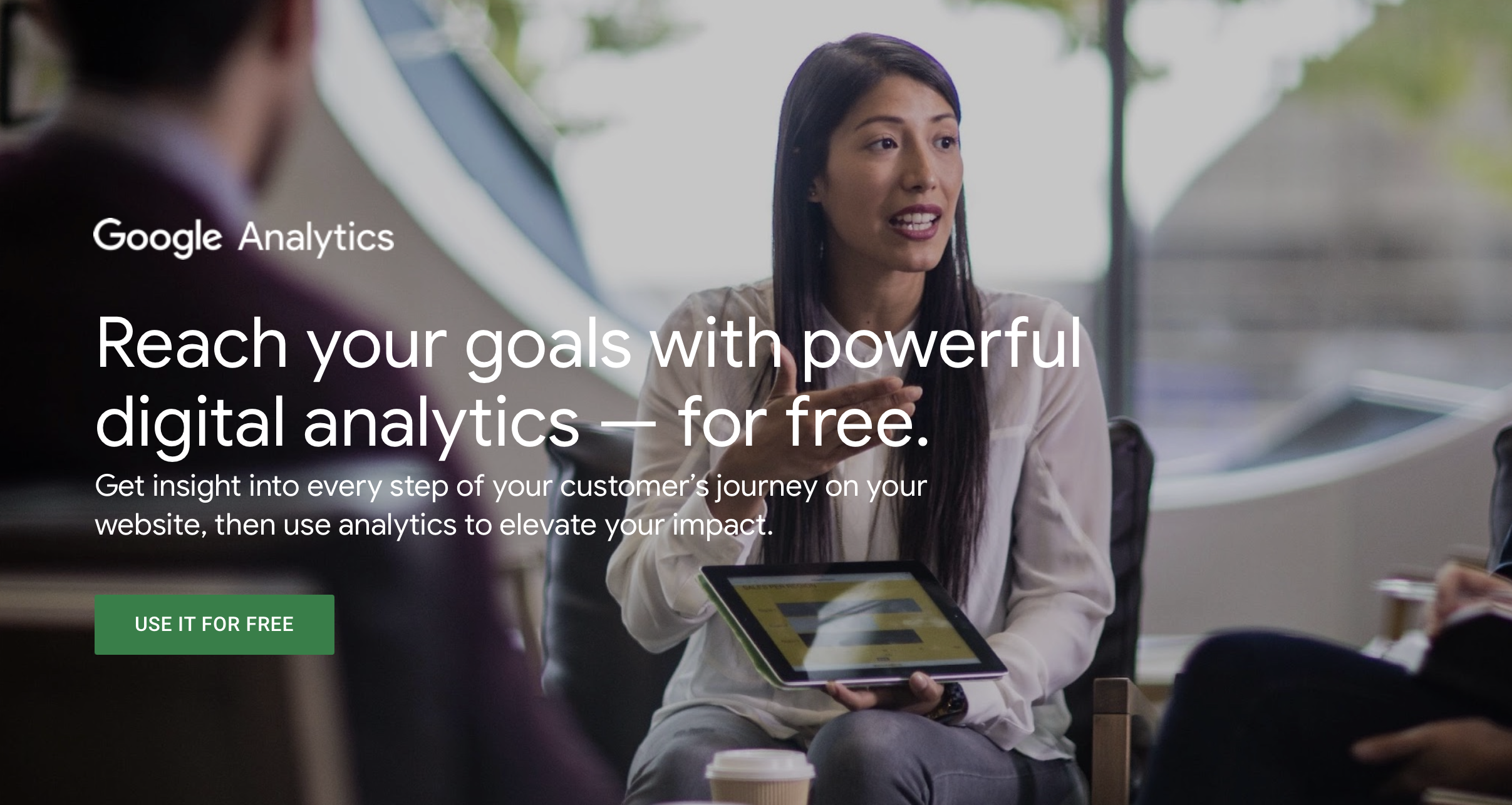 Google Analytics is one of the most popular web analytics tools for a reason. It's a free service that Google offers to help website owners track their website traffic. Google Analytics provides reports about various aspects of website performance, including visitor numbers, traffic source, and user interactions.
Pricing:
Google Analytics is a free tool.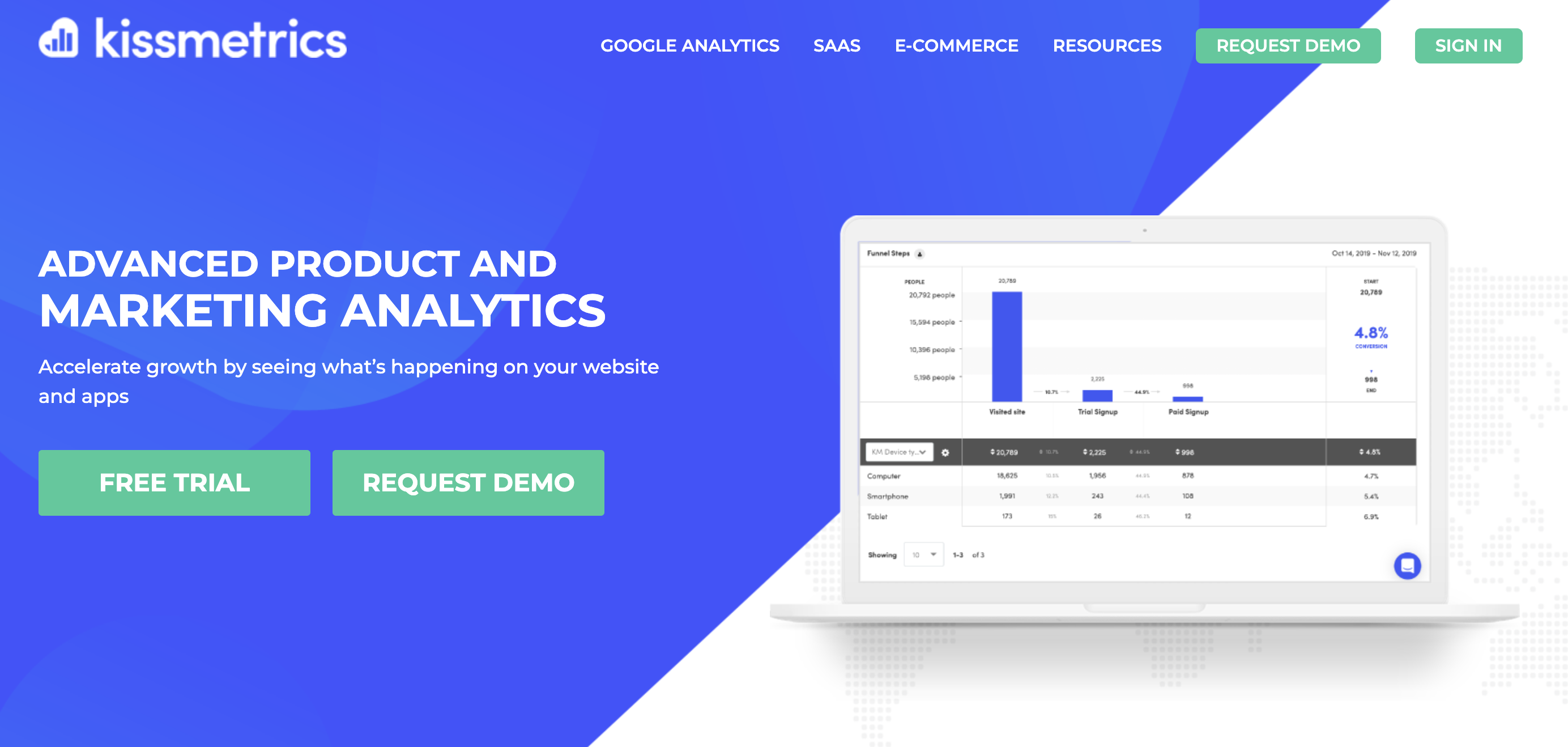 Kissmetrics is another conversion rate optimization tool that provides data about visitor interactions with a webpage. Like Google Analytics, this software reports on traffic source, pages visited, and user actions.
Importantly, users can also analyze how well specific marketing campaigns have performed, which can help you see which of your campaigns have the highest conversion rate.
Pricing:
There is a free plan available.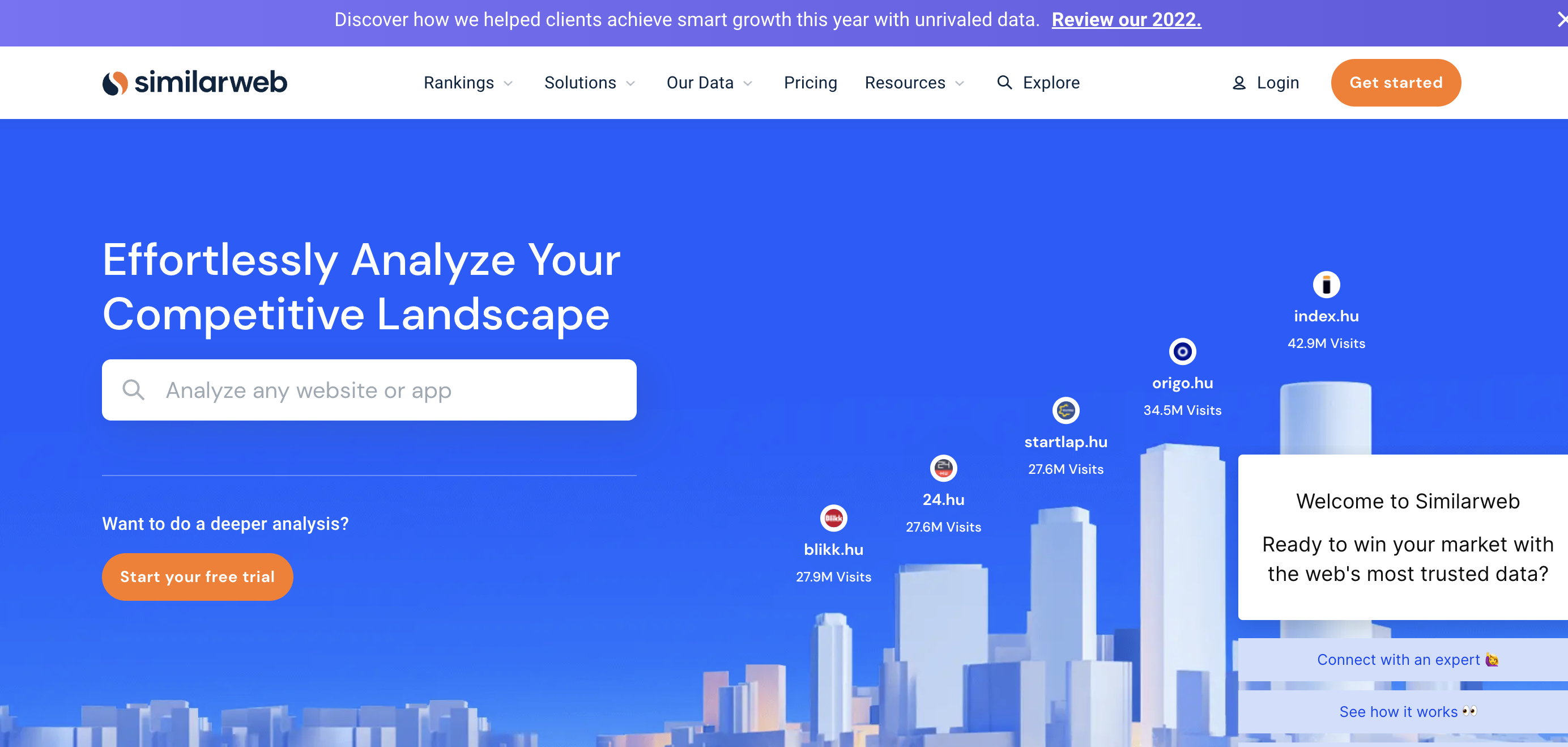 SimilarWeb is a unique web analytics tool because it automatically gathers and indexes public data from billions of webpages. What this means is that you can see where your competitors' website traffic is coming from. These traffic sources are divided into six categories (referring sites, social traffic, top search keywords, etc.).
Pricing:
There is a free trial available. You'll have to contact sales for premium plans.
CRO testing tools allow you to A/B test your campaigns in order to ensure that you're getting the best possible conversion rates.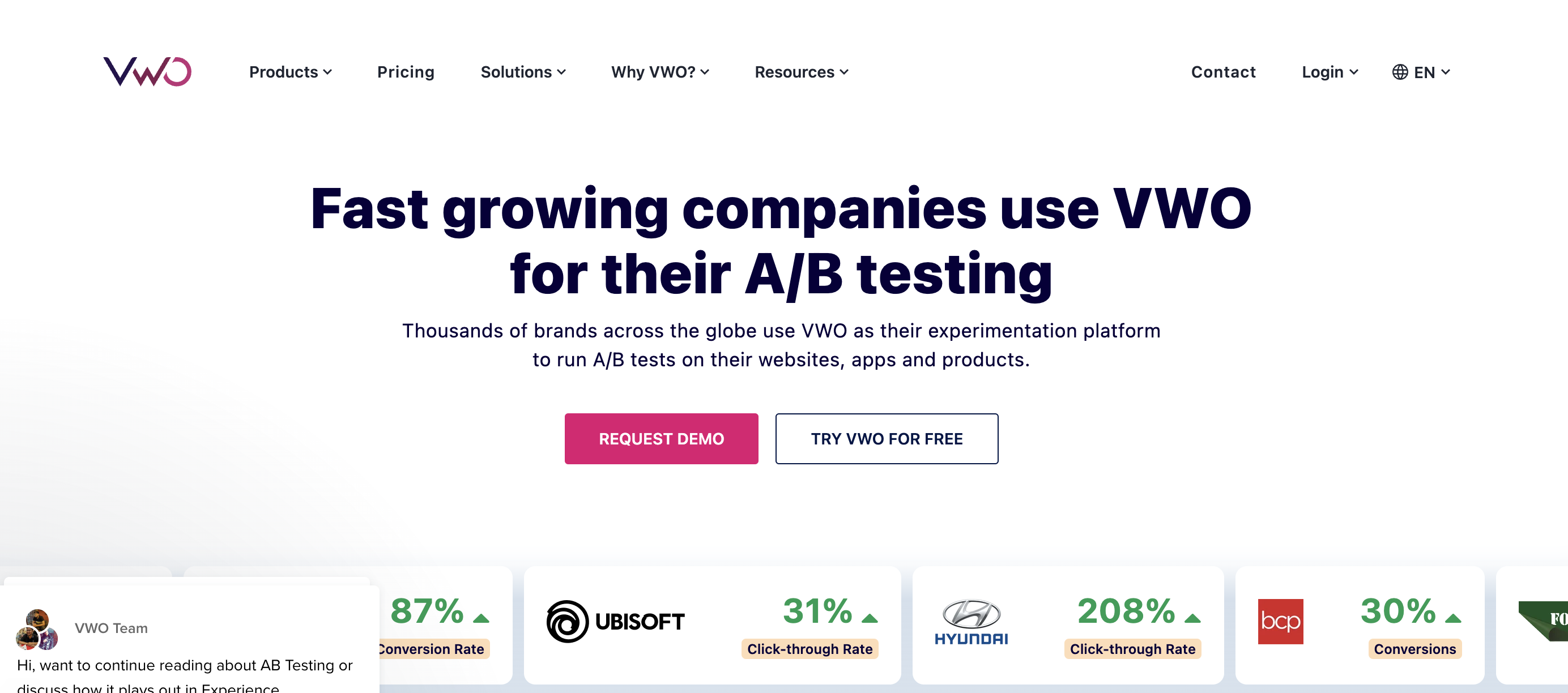 VWO (which stands for Visual Website Optimizer) is a conversion optimization tool that combines A/B testing, heat maps, and visitor recordings. You can test out variations of whatever website elements you think are important, including headlines, images, and buttons. As a result, you can make data-driven decisions about which version of your website to use.
Pricing:
There is a free plan available. Paid plans start at $49 per month.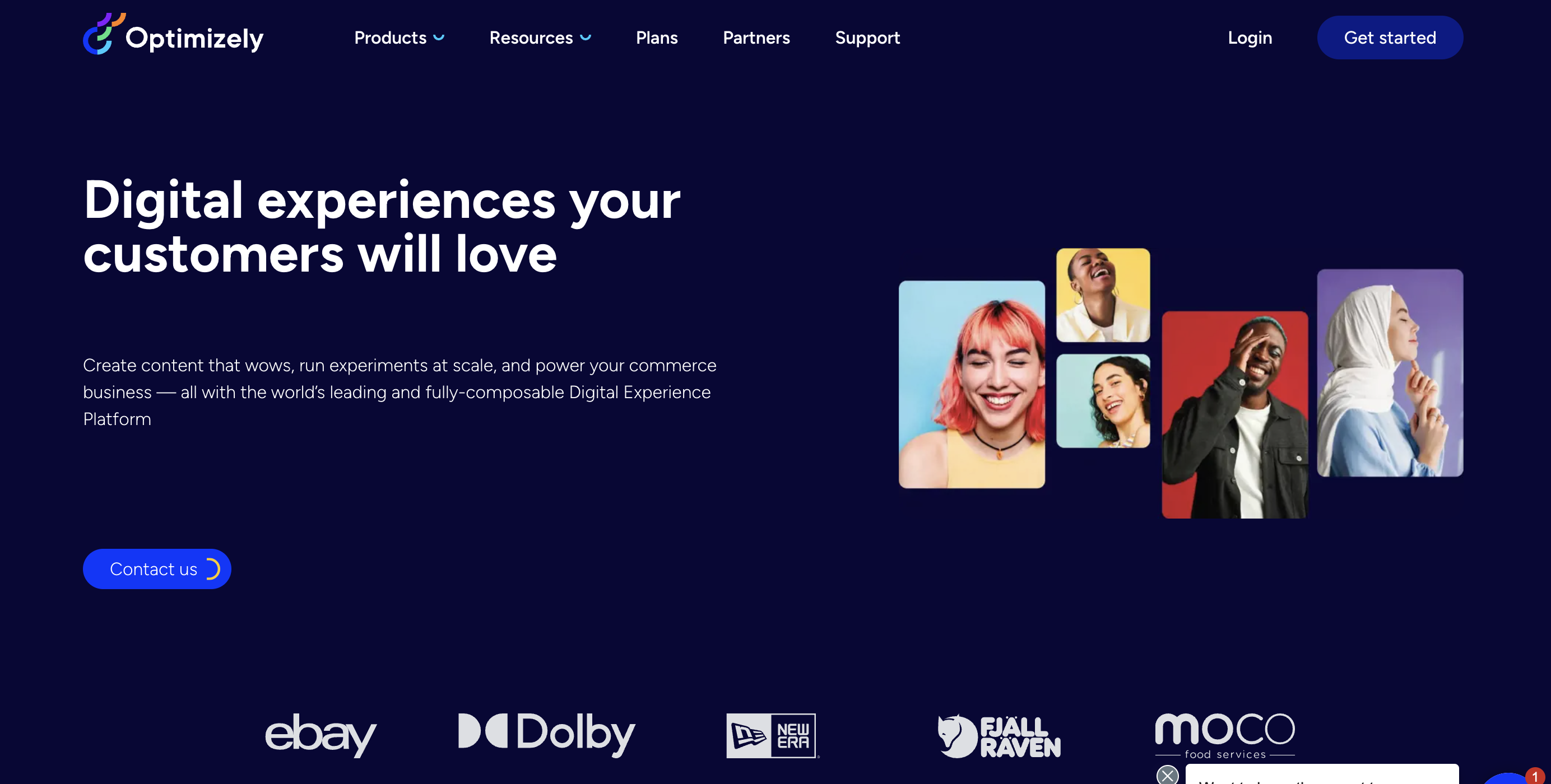 Optimizely is an advanced experimentation and A/B testing platform. It's one of the best conversion rate optimization tools, allowing developers to conduct multivariate testing and other tests.
However, it's an expensive solution that's popular among enterprise-level ecommerce companies. Therefore, it might not be the best fit for smaller businesses.
Pricing:
There is a free plan available. For more, you'll have to contact sales.
Choosing the best conversion rate optimization tools for your business is a must for ecommerce success in 2023. Whether you're focused on generating leads or maximizing sales, you need to be ruthlessly optimizing and A/B testing all your pages.
If you're looking for an all-in-one CRO tool, OptiMonk is the right choice. It combines state-of-the-art website personalization features with powerful conversion rate optimization features like Segments and Experiments.
And since OptiMonk is a free tool, there's no reason not to give it a try today and start boosting your sales and conversions!