A coupon popup is a fantastic way to convert product-aware visitors into customers. People love to save money, and engaging coupon popups can focus their attention on a great deal that you're offering.
Displaying the right discount coupon to the right segment of visitors and at the right time is the best way to boost your ecommerce conversion rate—and popups help you to do that easily.
In this article, we'll show you exactly how to create coupon popups that drive sales. But first, let's take a look at exactly what a coupon popup is.
Coupon popups offer your visitors special discounts, coupons, promo codes, or buy-one-get-one-free (BOGO) deals. Usually, website visitors need to enter their contact details and subscribe to a store's email list to get access to the coupon code.
Coupon popups typically make use of urgency and scarcity to encourage potential customers to take immediate action. Sometimes this urgency is tied to a specific holiday, but you can also use elements like a countdown timer to increase urgency (and sales) at any time of the year.
When a discount coupon popup is well designed and delivers a high-value offer, it can be among the best converting popups on an ecommerce site. That means more sales, more email subscribers, and less cart abandonment.
Let's take a look at a successful discount popup from Christopher Cloos: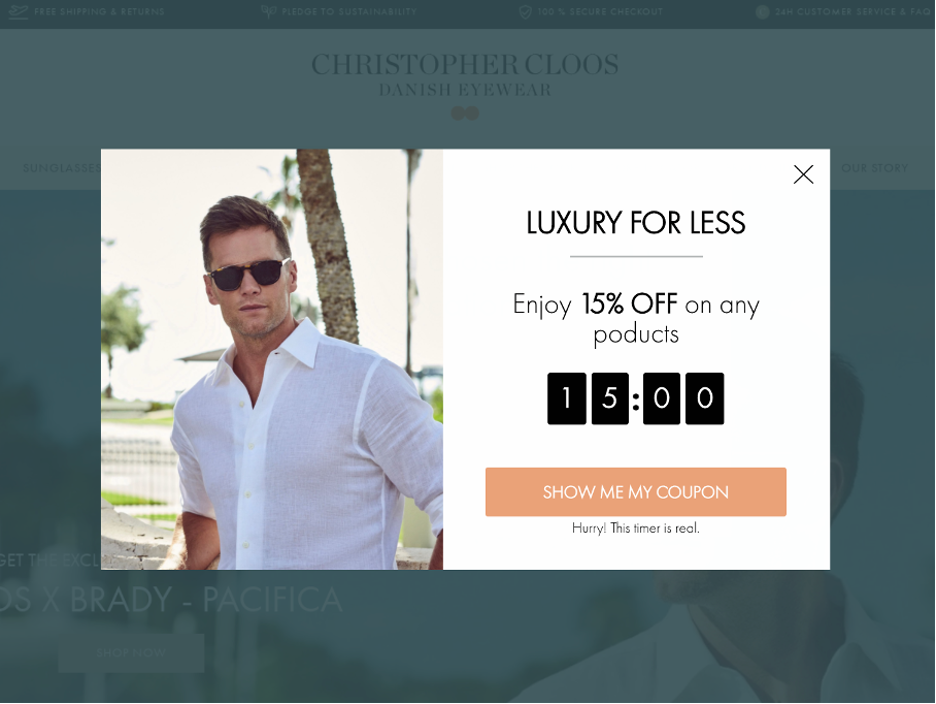 How to make a coupon popup in 6 steps?
Now that we know what a discount popup is and we've seen an amazing example, let's go over the steps you can use to make your own with OptiMonk's powerful popup tool!
Step 1: Plan your offer
There are a few important questions you need to answer before starting to create your popup. These include:
What's your offer? Is it a percentage discount, BOGO, or a specific dollar amount?

Who do you want to target with your offer? New customers? Returning customers? Only cart abandoners? Traffic from a specific source?

How long will you run your promotional offers? A few hours? A few days? Will they be tied to a holiday?
Generally, you want to run popup campaigns that deliver relevant offers to well-defined segments of customers. That way, you know that your visitors will be interested in your coupon popups.
Step 2: Design your coupon popup
You've figured out your offer and defined your target audience. It's time to create your popup!
If you have the resources, you can always design your popup from scratch. But if you're short on time or don't have an in-house designer, you can use a pre-built template to create your discount popup.
The OptiMonk Template Library contains more than 300 templates that you can filter by goal and message type. Here are just a few of the templates for discount popups that we have available:
Once you've found the perfect template, you can easily customize it with OptiMonk's intuitive drag & drop editor.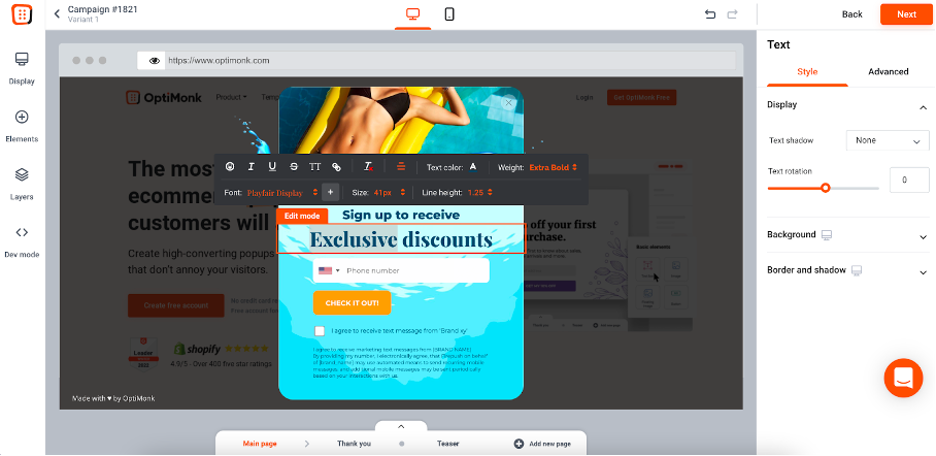 The most important edits you'll want to make are to the copy. Add in the details of your discount code offer and choose a catchy headline that fits with the tone of the rest of your website. But you can also add new elements, customize colors and fonts, and make many other changes to the design of your popup in just a few clicks.
Recommended reading: Ultimate Guide to Best Popup Design: Popup Examples & Best Practices
Step 3: Set up your coupon code
While designing your coupon popup, don't forget about the "thank you" message, which is where you'll display the coupon code.
In OptiMonk, you have lots of options. You could choose to use a generic coupon code, like "10OFF," to display on all the discount coupons.
You could also opt to provide unique coupon codes to your visitors by uploading coupon codes into OptiMonk. This will guarantee that each visitor gets a unique discount code, which helps you track the success of your promotional popups.
To use this feature, select "Unique" under General>Discount code type in the Coupon Code Element settings: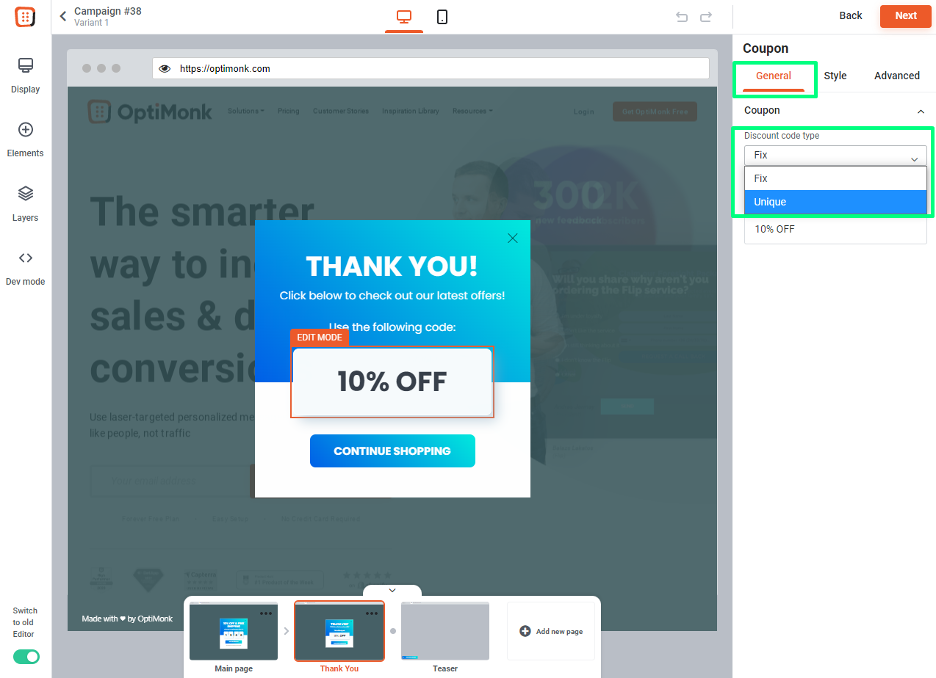 If you have a Shopify store, you can also use OptiMonk to create automatically generated coupon codes. This will create unique coupon codes for every one of your visitors.
You'll be able to select a fixed discount or a percentage, and you'll also be able to set an expiration date for your coupon codes.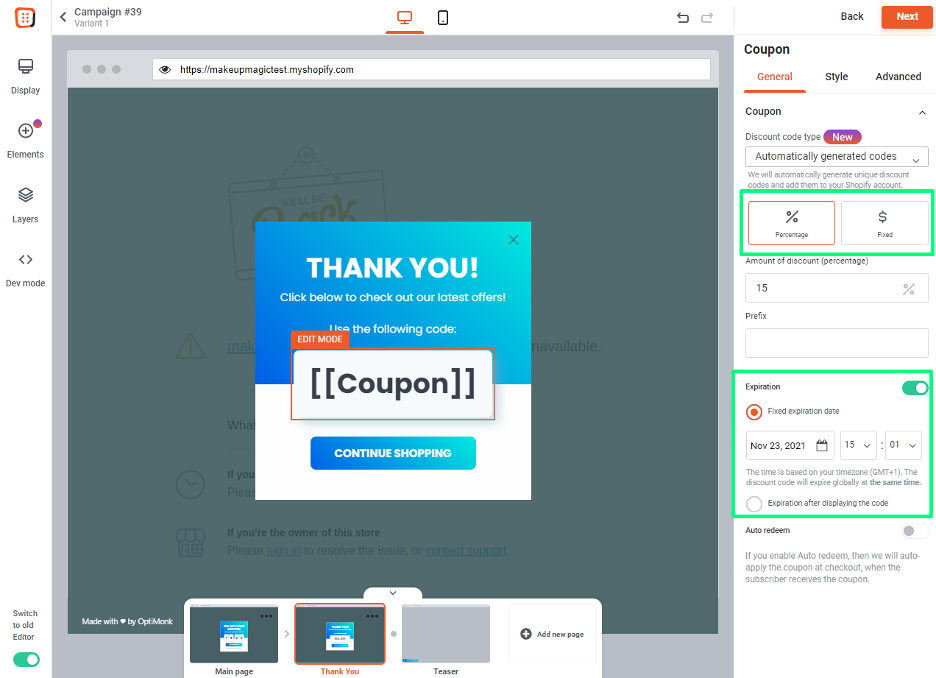 Recommended reading: 12 tactics to make discounts work better
Step 4: Set your targeting options
OptiMonk has a wide variety of triggering and targeting options. The right settings for your campaign depend on who you're targeting with your offer.
Let's go over triggering first, which determines when your popup will appear.
If you want to decrease cart abandonment, you'll want to use exit intent as a trigger. And if you want to target returning customers, you might want to use a time-based trigger (after X seconds).
But you have lots of other triggering options in OptiMonk: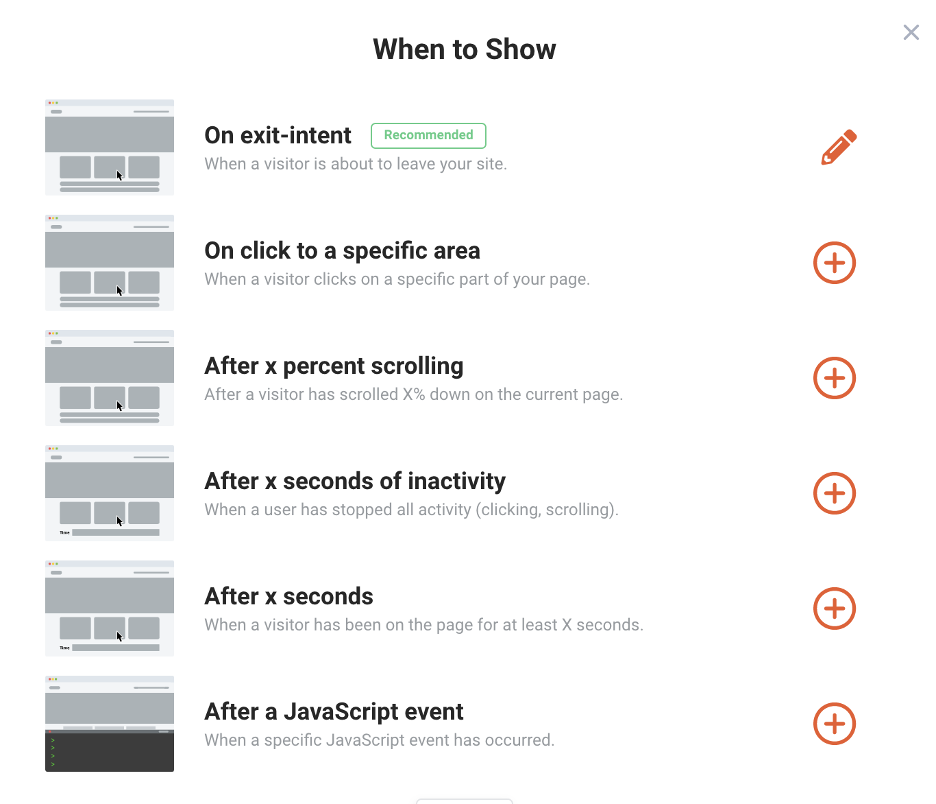 After you set up the trigger, it's time to set the targeting rules for your popup, which determine who will see your popup.
You shouldn't show the same popup to each visitor, and targeting options help you to create different segments and target them with different messages.
Using OptiMonk, you can target people based on many factors, including:
Returning or new visitor

Traffic source

Country

Subscriber or non-subscriber

Cart content

URL(s) visited
Recommended reading: Top 9 Ecommerce Segments & How to Help Them With Popups
Step 5: Connect it to your email marketing tool
If you have an email field in your coupon code popup, don't forget to connect it with your email marketing tool. This way, all the details you collect over the course of your coupon promotion popup campaign will be automatically sent over.
OptiMonk seamlessly integrates with some of today's most popular email service providers, including Klaviyo, Mailchimp, ActiveCampaign, GetResponse, and more.
Check out all OptiMonk's integrations here!
Step 6: Activate your coupon popup
And finally, when you're ready to make your campaign live, all you need to do is activate it. You can either launch your campaign immediately or schedule it for the future. That's it!

Discount popups are a great way to boost sales for any ecommerce website. With OptiMonk, you have complete control over when your discount code popups appear and who sees them. It's easy to make great-looking popups with OptiMonk's expansive Template Library and intuitive drag and drop editor.
If you'd like to offer your customers discount codes via engaging popups, make an OptiMonk account today and create your first campaign for free!
If you'd like to do a little more research about popups, check out these articles: