Giveaways are a popular way of promoting a brand, and they've been a staple of marketing since before the digital age.
Free stuff combined with suspense is basically a guaranteed way to generate attention and interest. That's why giveaways continue to be one of the most effective promotional tactics, both online and offline.
Follow our actionable formula from this post, and your giveaway campaign will be much more than just gifting a cool surprise to your target audience!
We'll show you giveaway email examples for each stage of the process and share tips on what to do before and after the contest. This will do wonders for your brand recognition and turn each giveaway participant into a true fan of your brand.
Let's get started!
Why should you use email giveaways?
Giveaways don't necessarily have to be complicated.
You can announce them on your Instagram page, telling followers that whoever likes and comments on your post will have a chance to win one of your products. That will undoubtedly give more product exposure, and if you boost the post, it'll bring in more followers, likes, and shares—which is all great.
But if you stop there, you won't even scratch the surface of what a carefully planned email giveaway can bring in.
Email marketing is a far superior way to run giveaways.
Asking people to fill out a form on a landing page created for this purpose will help you gather email addresses and set off a chain reaction for your future marketing efforts.
Check out this giveaway landing page that promotes a free three-month gym membership: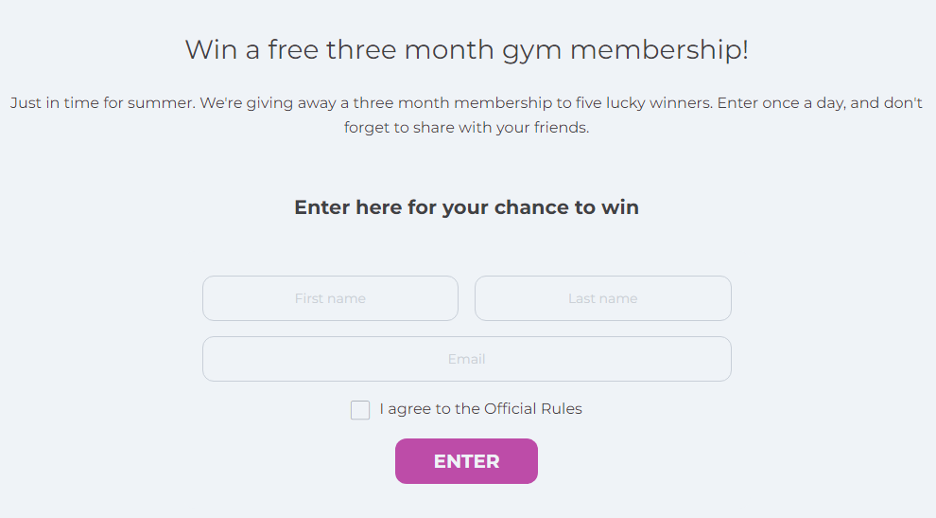 Image source: Shortstack
A carefully designed email giveaway will boost all of your social media profiles and can lead directly to more sales. And it'll help to increase brand awareness, even for those participants who were initially just there for the prize.
Don't forget to polish your signature as well with the help of an email signature generator and thereby make sure that people can easily reach you if needed.
Whenever possible, gift your own products
While any giveaway contest will attract attention, you should be extra careful about the gift. The goal here is not just to draw attention to your brand, but to attract potential customers.
For example, if you're giving away an iPhone, people will give you their emails in bulk. However, unless you sell iPhone accessories or service mobile phones, that kind of attention will hardly monetize later.
For that reason, gift products your target audience would love having, ideally something from your own roster.
If you own a children's bookstore, gifting an iPhone probably won't attract the right type of potential customers: children and their parents. But if you give away the full Harry Potter boxed set, you can be sure that both parents and kids will be interested!
And even more importantly, once the giveaway is over that interest will remain. Since they fit your buyer personas much better, your future marketing efforts will be much more effective.
Giveaway tools you should have
If you want to make the most of your giveaways, you're going to need some tools.
The emphasis here is on "making the most of your campaigns"—we already discussed that you could pull off a giveaway just by asking for likes on Instagram and randomly choosing people to give them a prize. But that would be leaving so much opportunity on the table!
Using tools designed specifically for giveaways and prize contests will give you more advanced options, including the option for contestants to collect points by sharing the giveaway— more on that later.
There are many tools out there, but we'll mention two that have decent free versions: Woorise and Rafflepress.
6 giveaway emails you should send (with examples)
Giveaway email #1: 10 days before takeoff
The first giveaway email should go to your existing email list.
Not only will this email get you more participants, but it will also tell you who the most engaged email subscribers are.
Those who regularly open your emails and sign up for the giveaway when they learn about it are probably ideal customers. Note that information for your future marketing efforts.
Here's how it could look:
Subject: BIRTHDAY GIVEAWAY – Earn a yearly supply of our (product) and other prizes
Hi (name),
The countdown has started: 10 days from now, our birthday giveaway begins! You'll get a chance to earn a yearly supply of our best-selling (product name), which translates to $XYZ in value for the lucky random winner.
But it doesn't end there! Five other winners will get rewards, too. That makes this year's giveaway our biggest yet, with a total prize pool of $XXX. And each participant will get a special surprise at the end!
Stay tuned for an email with more details in the upcoming days. Make sure you open the email you get on (date) – that's when the frenzy starts!
Cheers,
(company name) team
Giveaway email #2: Launching the giveaway contest
The launch day giveaway emails should not only have the right copy, but also be visually appealing.
Ideally, you want to include pictures or even videos of the prizes themselves, as they're the focus of the whole giveaway.
Here's how it could look: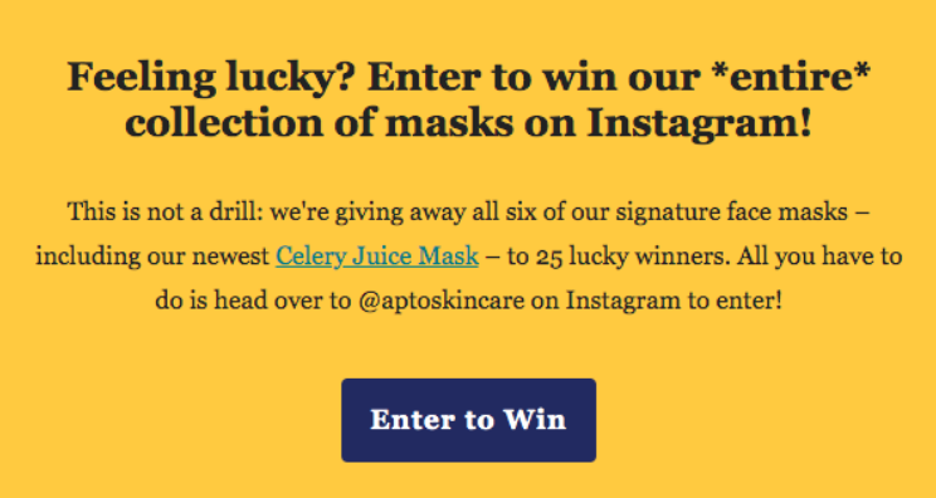 Image source: ReallyGoodEmails
Subject lines here don't need to be ultra-creative… the classic "GIVEAWAY – Win a yearly supply of our (product)" will do.
Just make sure the prize is mentioned in the subject line. If your prize has a name that's too long, you can put its value instead: "ANNUAL GIVEAWAY – win prizes worth $1,536!"
Giveaway email #3: Thanks for signing up
The third giveaway email should land in participants' inboxes immediately after they sign up.
As for the subject, it should look like this: "Here's how to improve your chances of winning the main prize."
The email body should include a thank you note, as well as the most important part of the whole giveaway—several ways for the participant to improve their odds of winning by sharing.
This can be anything from following your Instagram, LinkedIn, Twitter, and Facebook accounts to liking a specific YouTube video, sharing a giveaway link with friends, etc.
This is another reason we recommend using giveaway apps, as they have plenty of functionalities integrated. Without such tools, you would have to manually track every participant's actions.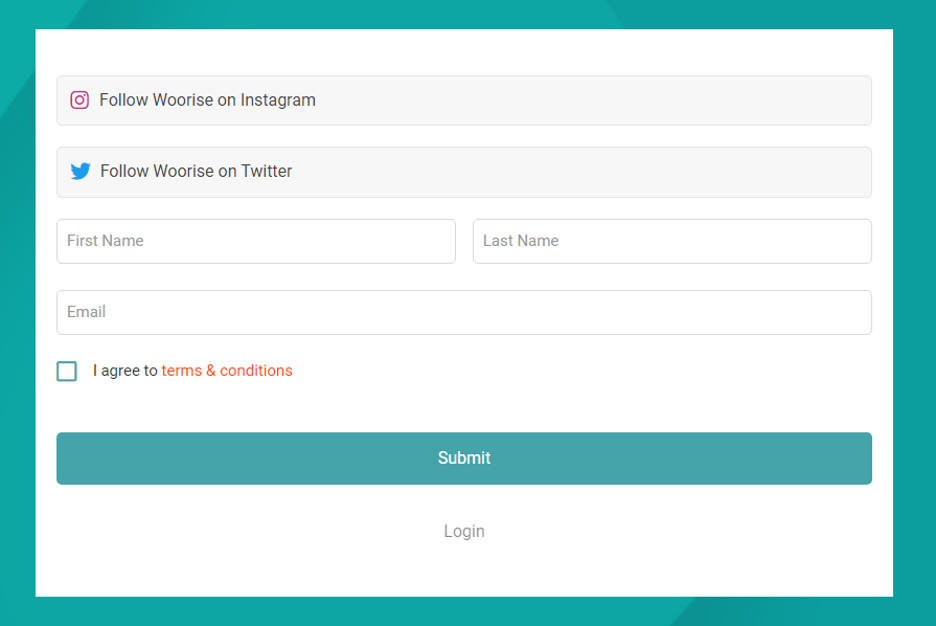 Image source: Woorise
Giveaway email #4: Engagement email
The fourth giveaway email in the sequence is there to re-engage with contestants. Many people sign up for a giveaway but tend to forget it after a day or two, so it's worth reminding them.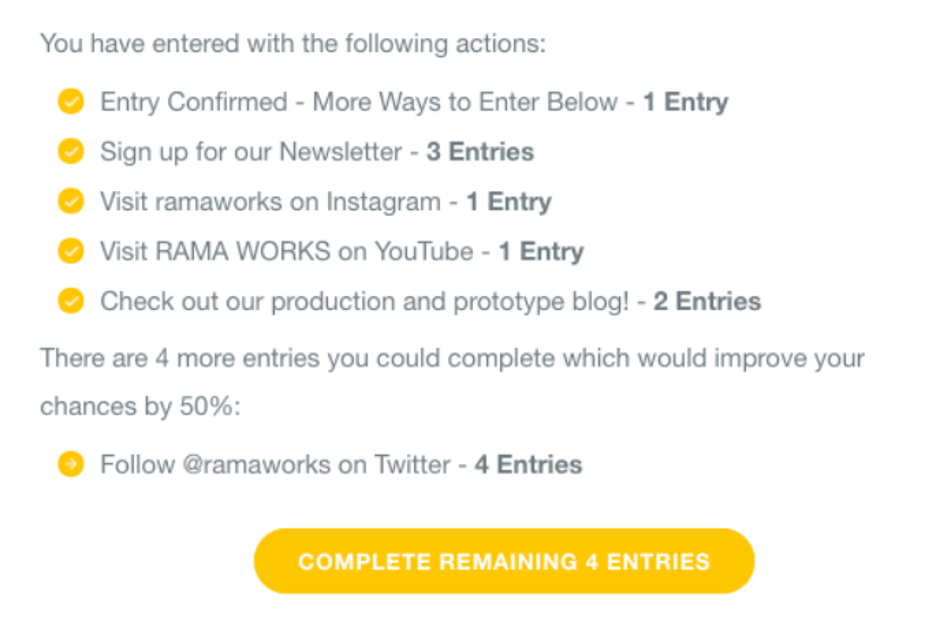 Image source: ReallyGoodEmails
This email should repeat how they can improve their chances of winning, especially because some of your recipients probably marked the thank you email as read without actually reading it— it happens!
Also, if you have a leaderboard, you can mention it in this email. However, this is optional, because sometimes leaderboards can discourage people from taking more steps, especially if they feel they don't stand a chance compared to others.
Giveaway email #5: Last call email
This giveaway email should trigger the good old fear of missing out, or FOMO. Use it to target people who haven't yet participated in the giveaway, as well as those who have, reminding them they still have time to increase their chances of earning rewards.
Here, you need a compelling subject line to prompt urgency. Try something like "ONLY THREE DAYS LEFT: Don't miss your chance to earn $XYZ in prizes!"
The body text should also prompt urgency, either by displaying a countdown timer or a strong call to action that increases the sense of FOMO: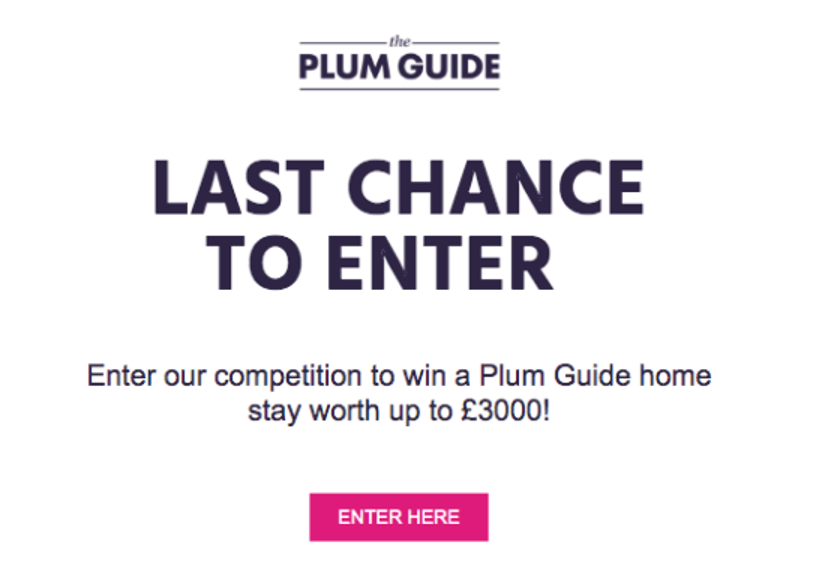 Image source: ReallyGoodEmails
Giveaway email #6: Thank you for participating
The giveaway email announcing the winner is a tricky one, as most people will feel disappointed.
Even worse, some will get annoyed that they haven't won anything despite completing all of the promotional actions. As a result, they might even unsubscribe from your list.
To prevent this from happening, you can consider giving out consolation prizes. These can be anything from discount codes for your products to three months free for the premium version of your tool.
The tone of this email should be upbeat, letting people know that not winning the main prize isn't the end of the world, and that you still value them as customers.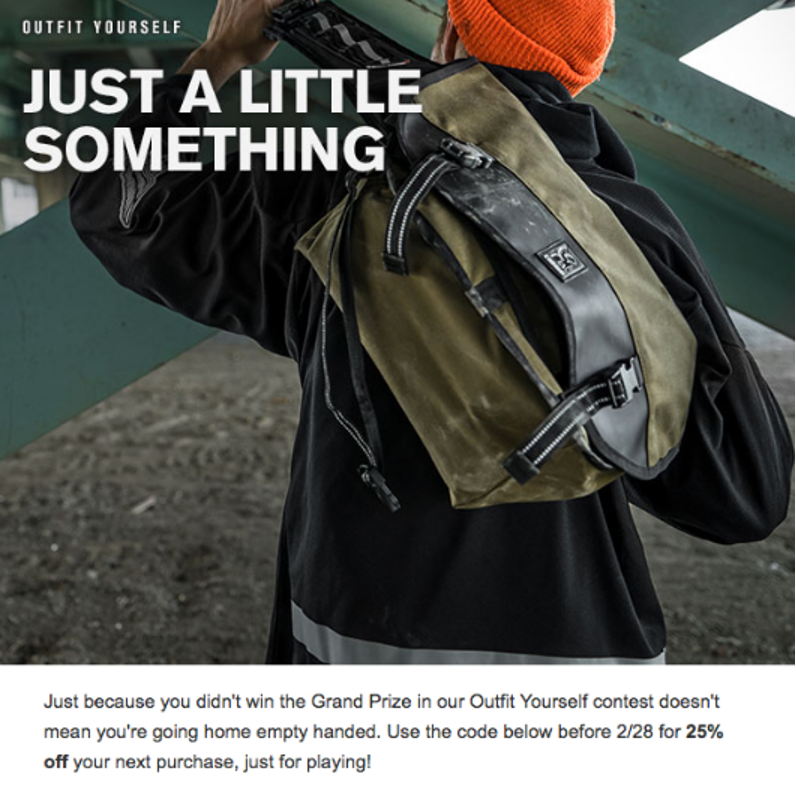 Image source: ReallyGoodEmails
Also, you can notify them if more giveaways are coming in the future or if you plan to run a special sale for the upcoming holidays.
What to do after the giveaway
After the giveaway has finished, all participants should go back to receiving your regular email campaigns.
Hopefully, your list is bigger now, and your social media pages have more followers and better engagement.
But there are also a few more giveaway-related actions you can take to get the most out of your efforts:
If the main prize was a product/service from your roster, interviewing winners will make a great blog post.

You can also record a video of the interview and add that positive feedback to your testimonials page.

After the giveaway ends, the first few emails should also talk about the main prize. Because people entered the giveaway to win it, offering them a discount code for a limited time will be a great move, as you already know they're very interested. However, stick to your word—after that promotional period is over, get the items/services back to their full price.

Release social media posts about giveaway statistics: let everyone know how many people participated, how many new subscribers, likes, followers, and shares you got, the total prize pool, and when they can expect the next giveaway. All of this will draw even more attention to your pages and make it easier to organize a successful giveaway in the future.
Even the most basic Instagram giveaway will get you new likes, comments, follows, and shares. But by following the giveaway emails tactics in this article, you'll get so much more out of your giveaway!
You'll simultaneously grow your social media presence and email list while obtaining the right type of leads for your future marketing efforts. All of this combined will improve brand awareness, recognition, and reputation, leading to better conversions.
And the best part of all? Giving away your products doesn't cost you anything extra, so giveaways are one of the most cost-effective promotional marketing tactics you can implement.