Holidays are the best profit opportunities for many ecommerce store owners. While making sales is one thing, maximizing your sales is a whole different story.
So how can you ensure that your brand is generating the maximum Customer Lifetime Value (CLTV) and Average Order Value (AOV) during the holidays?
By focusing on Customer Lifecycle Marketing.
Customer Lifecycle Marketing defines all strategies that businesses use to attract, convert, and retain clients to grow their revenue, CLV, and AOV.
In this article, we've collected some tested and proven lifecycle marketing strategies. And as a bonus, we've included some of OptiMonk's traffic monetization strategies!
Merging email marketing with lead capture strategies
Maximizing your CLTV and AOV will require a combination of advanced email marketing and on-site lead capture strategies.
Your digital holiday marketing initiatives shouldn't focus solely on literal sales campaigns. As we've observed since last year's BFCM, customer-focused marketing is the way to go. It boosted the revenue generation of our clients and also their business growth.
We helped our clients gather all the money they'd been leaving on the table—and circulate it into their online business' bloodstream. 
How? By implementing effective customer engagement and re-engagement strategies. 
Let's see some examples! 
Monetize your site traffic with on-site capture strategies
1. Email capture forms
Effective email marketing starts with a healthy email list. Grow your list by capturing emails from visitors on your online store.
This is a great way to utilize incoming traffic and convert them into subscribers!
Here's an example of an email capture popup from OptiMonk:
Quick Tip: It's best to optimize your popup forms for mobile device viewing. 
54.25% of online traffic has come from mobile devices since March 2021. So if you're looking to further boost your email list growth, why not include that huge chunk of mobile users in your on-site email capture initiatives as well?
2. Cart abandonment emails
Ah, cart abandonment…the classic culprit behind any online store's underperforming revenue generation.
Online stores tend to lose over 75% of their sales due to cart abandonment. That makes this not just one of the most common issues, but also the most important concern to address right away.
You can't really avoid abandoned carts, but there is a way for you to rescue these forgotten carts.
Cart abandonment emails are great for reminding your customers that they left something behind. Yes, it's just that simple in most cases.
A simple text-based reminder would often be enough to get your customers to come back and complete their purchases.
Here's an example of a text-based cart abandonment email Chronos Agency made for one of its clients, ForChics: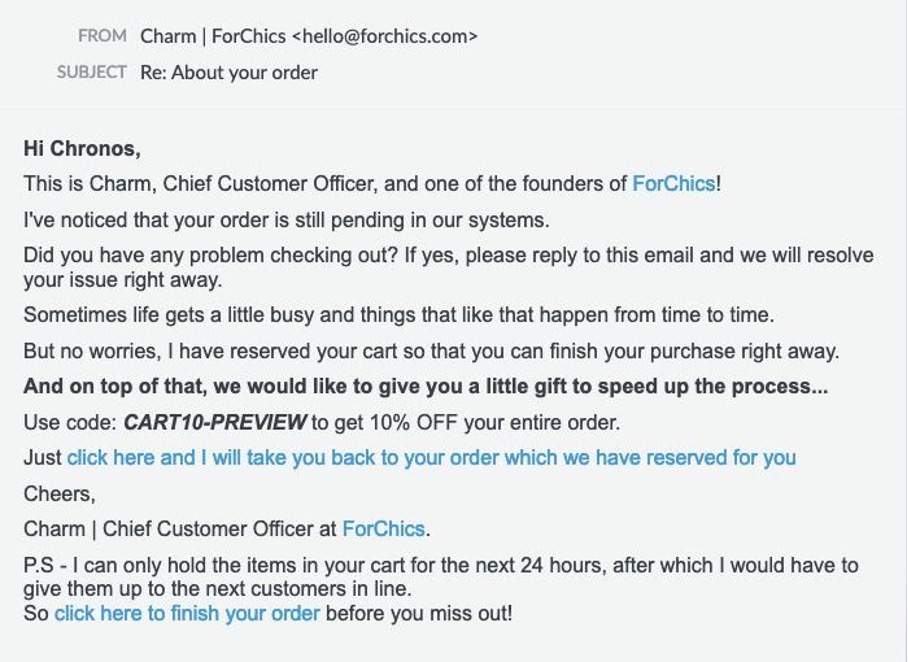 Quick Tip: You can throw in a special discount code as an added incentive for your customers to complete their purchases.
If all else fails, adding a sense of urgency to your special discount just might give your customers that much-needed nudge.
Check out OptiMonk's helpful guide to find out more about cart abandonment popups.
3. Purchase follow-up emails
Engage with your buyers by sending them more than just a simple "Thank You for Buying!" email.
A great example is adding relevant information about the product your customers bought from you.
Let's say they bought an item of clothing. You can add additional information on proper maintenance, such as a dos and don'ts guide on how to wash it.
Top it off with a Call-to-Action (CTA) and lead them back to either your FAQs, customer service page, or even throw in your store's contact details.
This way, you can engage with your customers even after their customer journey. Additionally, you can further establish a healthy line of communication with them.
You also want to throw in the important details of their order to reassure them that they'll have their new purchase soon. This can be as simple as the date, time, and an attached invoice, or you can go a little further and add a link to track their order so they know where it's reached.
4. Newsletter emails
These are your standard information and update content emails. Newsletters are the best way to convey any important updates or detailed product highlights.
They're great for keeping your customers engaged, especially when it's done right. 
Here's a simple yet effective newsletter example from one of Chronos Agency's clients, Sommer Ray's Shop.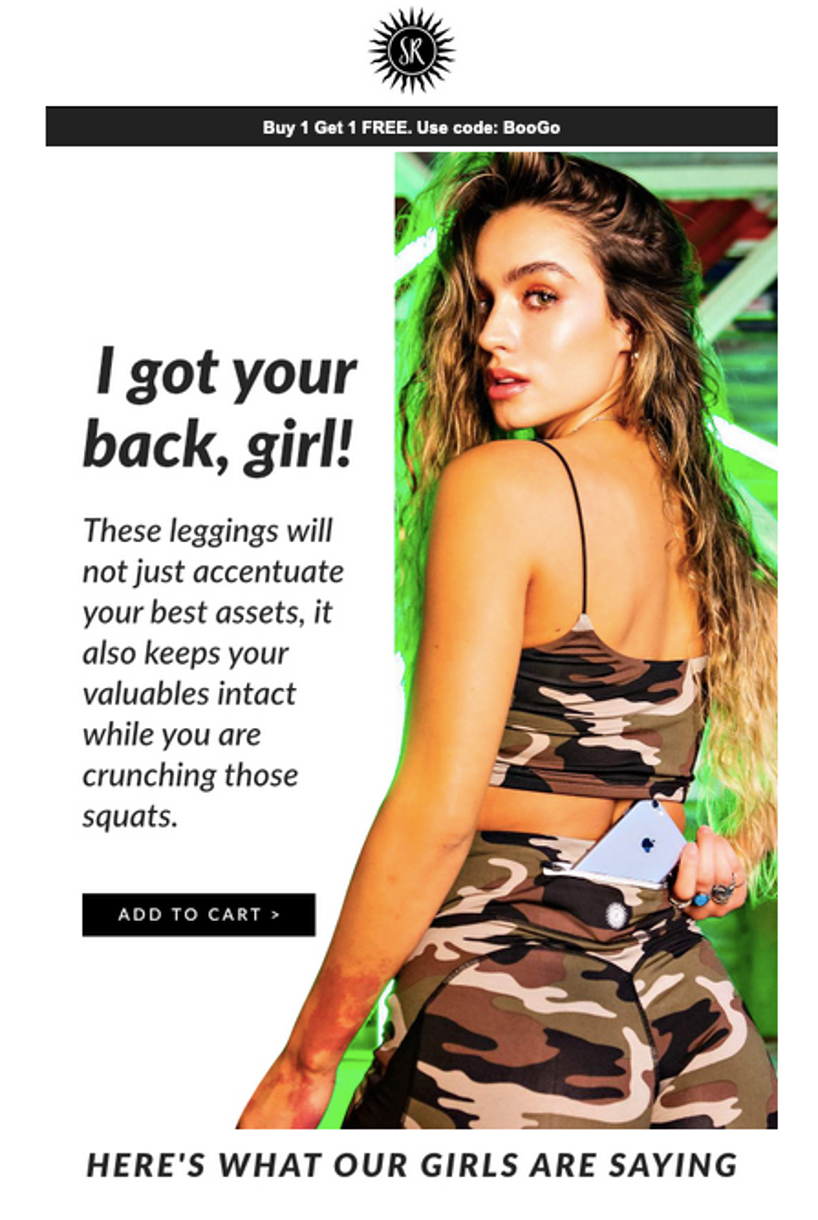 Quick Tip: Be sure to include clear CTAs if your newsletter showcases multiple products.
This way, you give your customers a convenient way to visit your store immediately—in case something catches their eye.
Check out OptiMonk's awesome guide for more information about using email popups to get more newsletter subscribers.
5. Cross-sell email
Why let customers stop at one purchase when they could still be itching for another? 
Customers don't really know what they want until you show them. Cross-sell emails highlight relevant products based on the initial purchase. 
You can encourage your customers to become repeat buyers this way.
Because of how it works, cross-sell emails are usually part of a post-purchase sequence or a standalone follow-up email.
Here's another great example from ForChics. Chronos sent this email following a purchase confirmation email.

What you choose to cross-sell depends on what your customers initially bought. This can also be automated.
Implement the tested & proven 6-step holiday email launch strategy
This is one of Chronos Agency's top-performing holiday email strategies.
The 6-step holiday email launch sequence was responsible for Chronos Agency's record-breaking BFCM 2020.
Long story short, this strategy is a sequence of emails that aim to engage your customers before, during, and after the actual sale event.
Here's a quick rundown of each of the 6 steps: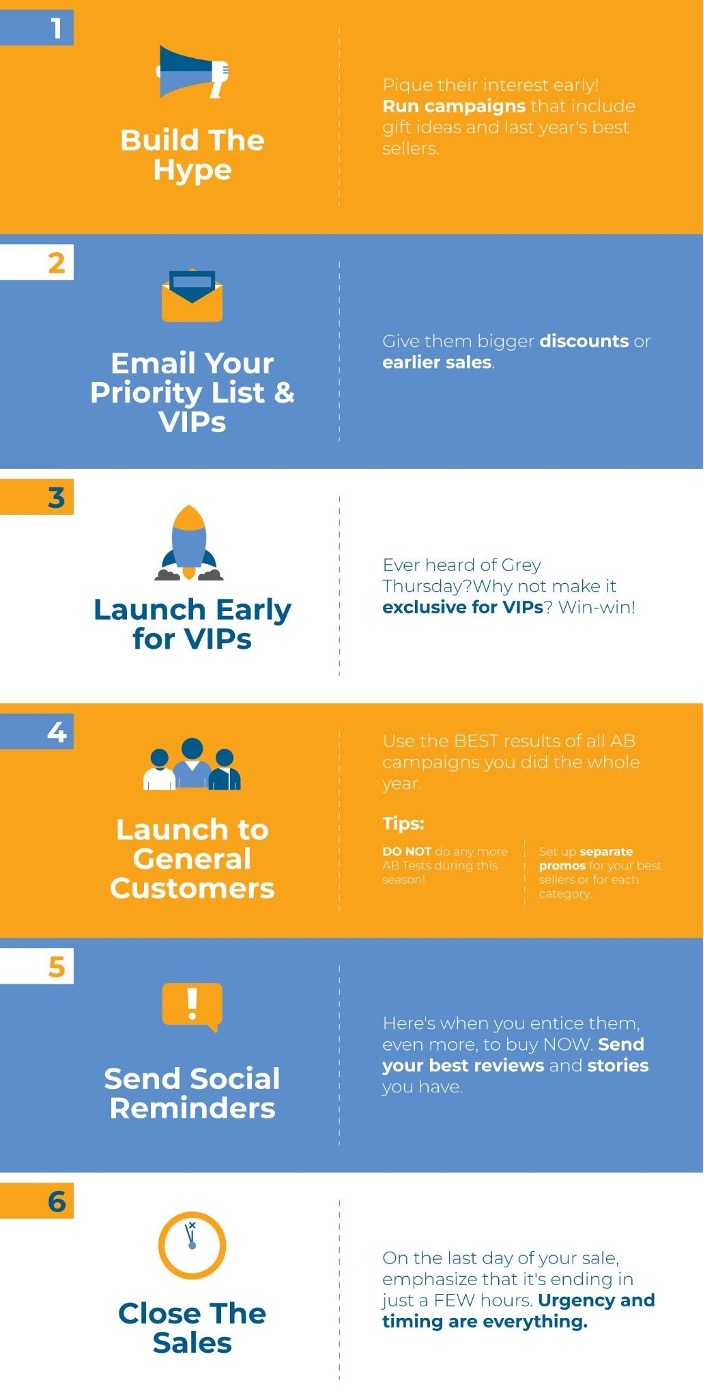 Consider these additional tips & ideas for your holiday sales strategies
1. Utilize segmentation
Not everybody celebrates the same holidays around the world. Imagine promoting American Independence Day to customers outside of the United States.
In this case, location-based segmentation would be a big plus for your holiday marketing initiatives.
Consider some advanced segmentation practices as well. Here are some examples of advanced segments you can incorporate:
Customers who purchased from you around this time last year

Customers who recently purchased from you in the last two or three months

Customers who visited your website recently but didn't purchase anything

Regular customers who have already spent a specific amount purchasing your products
2. Be creative
Don't stick to a single generic or overused email format. Make your holiday emails more fun and engaging by experimenting with various designs.
a) The holiday-relevant offer or sale email
Don't just slap a holiday discount on your products. Focus on highlighting your products that are relevant for each holiday.
Then from there, you can sneak in the rest of your catalog that's directly relevant to those products, through cross-selling and upselling.
b) The checklist email
Add more engagement to your emails by making checklist-style emails. List down what they need to prepare for the upcoming holiday celebrations.
You can list down relevant products, gift bundles, or just a purely fun to-do list to remind them to have fun during the holidays.
c) The celebratory email
Holiday emails don't have to be purely about sales or product promotions. 
Sending out a simple holiday celebration message would be enough to keep your brand at the top of your customers' minds.
Focusing on customer engagement initiatives will help further solidify your relationship with them.
3. Make your offers irresistible
Holiday sales should feel special to the specific holidays they take place during. This adds to their value when the holiday season rolls in.
This is where the classic Fear Of Missing Out (FOMO) strategy works best. Make your holiday offers stand out from the usual everyday sale.
Exclusivity is key here. Creating one-of-a-kind offers that come and go with the holidays entices your customers to quickly take advantage of your once-a-year special offers.
4. Leverage User-Generated Content (UGC)
Ease your customers' doubts by highlighting UGC. These include customer reviews, product ratings, and even product demonstration media.
According to The Guardian, 70% of consumers would trust their peers more than conventional ads.
This also helps build your brand image further, by showing that your brand listens to its customers.
Here's an example of a product rating style UGC from ForChics: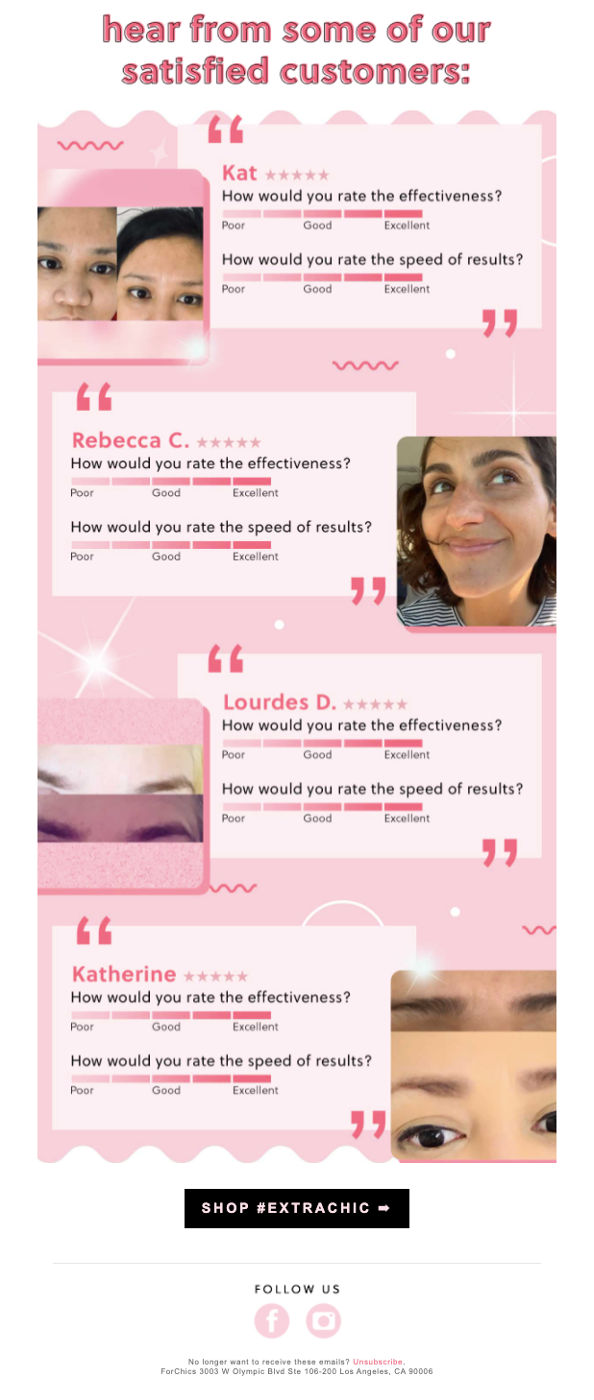 It's all about standing out in an ocean of competitors
Standing out means crafting strategies that effectively and accurately reach out to your target audience.
Maximizing your revenue generation requires careful analyses of your data. Zero in on the potential holes in your ship (your online store). That's where you could be leaking revenue.
A good chunk of revenue doesn't just come from direct sales initiatives. Optimize your store's website to capture more leads. Craft a highly engaging email sequence.
Consider expanding into and investing in other marketing channels, such as SMS marketing and push notification marketing. Aim to maximize your reach into your target market, so you can maximize your revenue generation.
Such customer-focused strategizing would require a dedicated team of customer lifecycle marketing experts.
We understand if your team is more focused on making those front-line sales and other important operations with the big holidays coming up. 
Rather than worrying about stretching your team even further, why not hire a reliable and proven ecommerce lifecycle marketing agency?
Chronos Agency has helped its clients achieve exponential business growth and revenue sustainability by using lifecycle marketing.
Schedule a free strategy meeting with them if you feel that your revenue might be under-generating, especially during the holidays.