If you're an ecommerce store owner, chances are—you've heard Austin Brawner's name before. He's the host of the popular podcast: Ecommerce Influence. But you might not know that he's also the Chief Fixer at Brand Growth Experts. 
Brand Growth Experts uses a unique 5-step Effortless Growth Operating System in coaching & trainings to help founders scale their ecommerce business to 7-figures and beyond while working less and having more free time to do what they love.
The Ecommerce Influence podcast drives a ton of traffic. But the Brand Growth Experts team wanted to find a way to convert the people coming to the podcast into clients. To do that, they used OptiMonk to create popups and stickybars.
Let's see how they succeeded and we'll show you how you can do the same! 
13%
growth on new subscribers
The team already had thousands of podcast listeners. The problem? They weren't paying customers yet. Therefore, the team wanted to guide these listeners through their sales funnel and capture more applications for their resource & training membership for ecommerce founders: The Coalition.
To do that, it was time to grow their newsletter list. They planned to nurture their leads with killer email content.
In addition, they also launched a new accelerator program and wanted to fill as many virtual seats as possible!
This is how they addressed these challenges: 
1. Growing their newsletter list
To kick off their list growth, the team created a popup offering site visitors an enticing lead magnet. 
The lead magnet of choice? Their newsletter. 
They packaged it in a smart way to hype up the value for visitors with:
Weekly updates with proven resources and tools that are working right now for ecommerce business growth. 

Podcast series to help ecommerce founders quickly scale to 8-figures. 

Exclusive access to 33 unique tools for fast-growing ecommerce brands.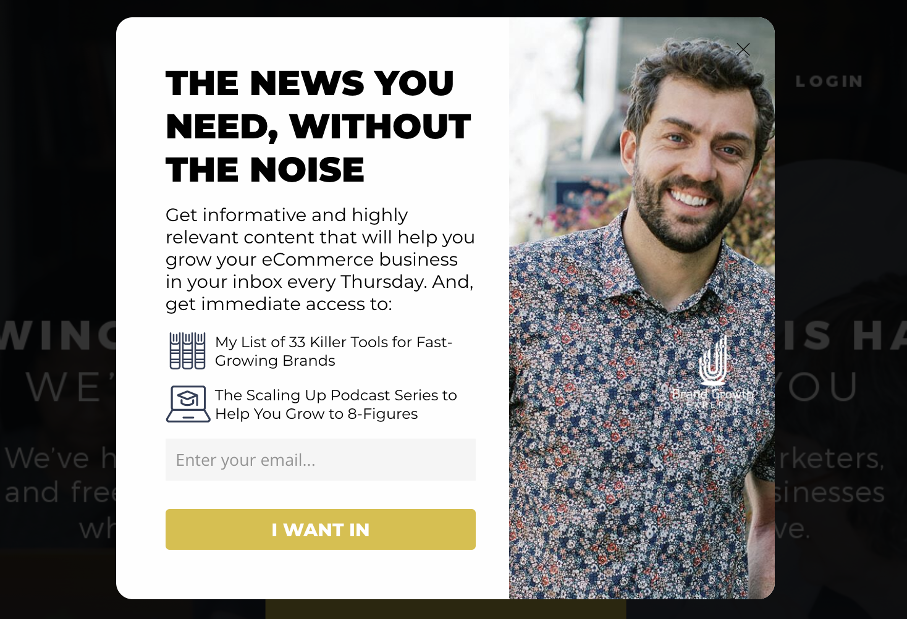 The popup targeted colder visitors after 30 seconds if they didn't view the site landing pages or—visitors with exit intent:

The results of the campaign?
8.33% of visitors who saw this popup became a newsletter subscriber. This is an amazing result from a simple newsletter promotion—without offering any discounts or ebooks.
2. Promote an upcoming event 
Brand Growth Experts had an upcoming event: the Intentional Wealth accelerator program. And they wanted to promote it on their site.
To drive sign-ups, they set up a stickybar that included an urgency-boosting countdown timer. 

They used phrases like "only 4 spots left" to intensify a sense of urgency.
The "Learn more" button redirected visitors to the Intentional Wealth landing page.
This sticky bar appeared immediately to everyone at the bottom of the website. It stayed there until the visitor closed it. It was shown on all pages, except the Intentional Wealth landing page and the Coalition landing page.

This campaign ran for one month and it achieved a 2.11% conversion rate.
3. Highlight a lead magnet on the homepage
Once the Intentional Wealth promo ended, they set up another sticky bar, promoting a free resource: 

This new sticky bar was only displayed on the homepage. It redirected visitors to a landing page where they could download the free Growth Pack.

Results: a 6% conversion rate—an awesome result for a single stickybar.  
4. Show social proof to increase conversion rates
Many cold leads were arriving on the Brand Growth Experts membership application landing page. However, these visitors needed more encouragement to arrive at a decision. 
A great way to encourage these visitors is to show social proof. In fact, 70% of people will trust a recommendation from someone they don't even know.
So, the team decided to set up a sidemessage to promote a testimonial from one of their clients.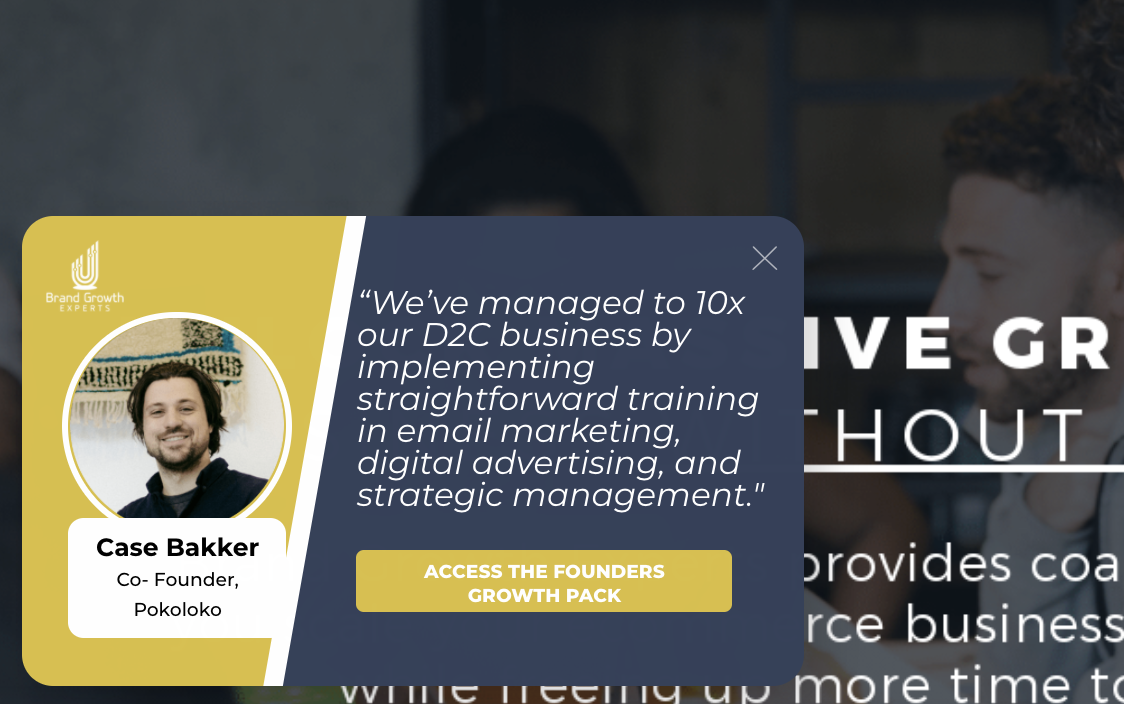 Visitors were shown this message if they spent 30 seconds on their site and if they weren't already subscribed through another campaign.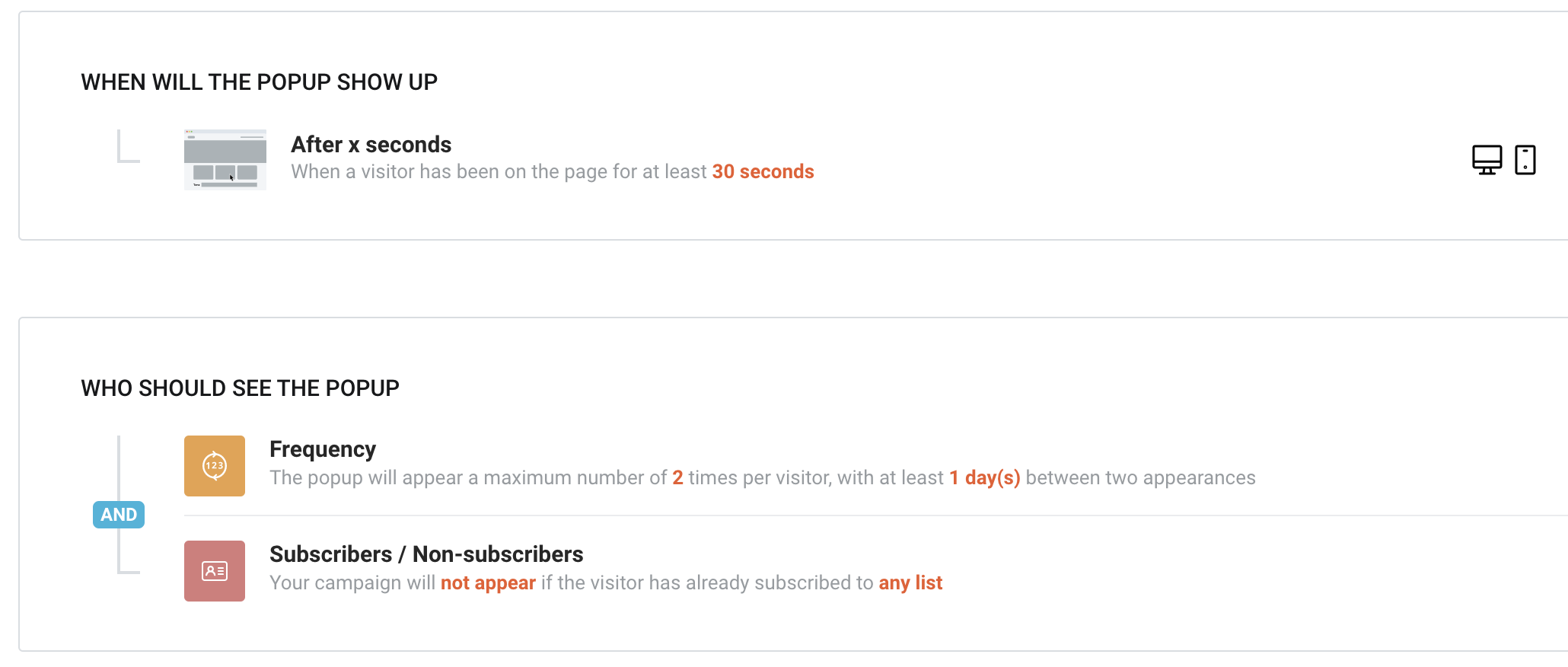 Most visitors will apply through the landing page they're on—rather than click on the sidemessage. But it still generated a 3.03% conversion rate. 
The team has seen massive growth and impressive conversions by using OptiMonk popups. They've managed to get 881 new email subscribers in 3 months which was a 13% increase. They've also boosted the growth of their brand by getting 73 new Coalition members.