Evan Henshaw started two successful ecommerce businesses at the same time. One common factor drove their success: targeted messaging.
His first store is PatchPanel and it specializes in collectable, custom patches. His second store: MILSIG Direct Canada and he sells high-quality paintball gear. Both stores struggled to generate immediate sales and suffered from high bounce rates.
Keep reading to learn how he boosted his conversions by 10% and grew his list of subscribers by 1,400+ in just two months.
1,400+
subscribers within two months on both websites
10%
monthly conversion rate
increase
About Evan's Shopify stores
PatchPanel is one of the biggest sources for collectible patches, morale patches, and custom patches.
Since its early days, the company has blown up and now boasts full-scale distribution. They currently offer a huge selection of patches to retail stores at wholesale prices.
Alongside PatchPanel, Evan launched MILSIG Direct Canada in 2012.
He was never happy with the paintball equipment available in stores. He collaborated with talented creators to manufacture some of the most unique and functional gear that paintball enthusiasts have seen to date.
Both stores were successful from the start. But Evan noticed that they struggled to generate immediate sales: "Our main obstacle was: extremely low conversion rates and high bounce rates."
To find a fix, he researched solutions in the Shopify App Store.
He looked for a popup tool that offered engaging templates. But he also wanted a range of targeting choices so he could customize each message for each visitor.
When he came across OptiMonk, he saw that it ticked all of his boxes.
Gamification popup on PatchPanel.ca
Evan's first choice was a gamification popup—a lucky wheel popup for PatchPanel: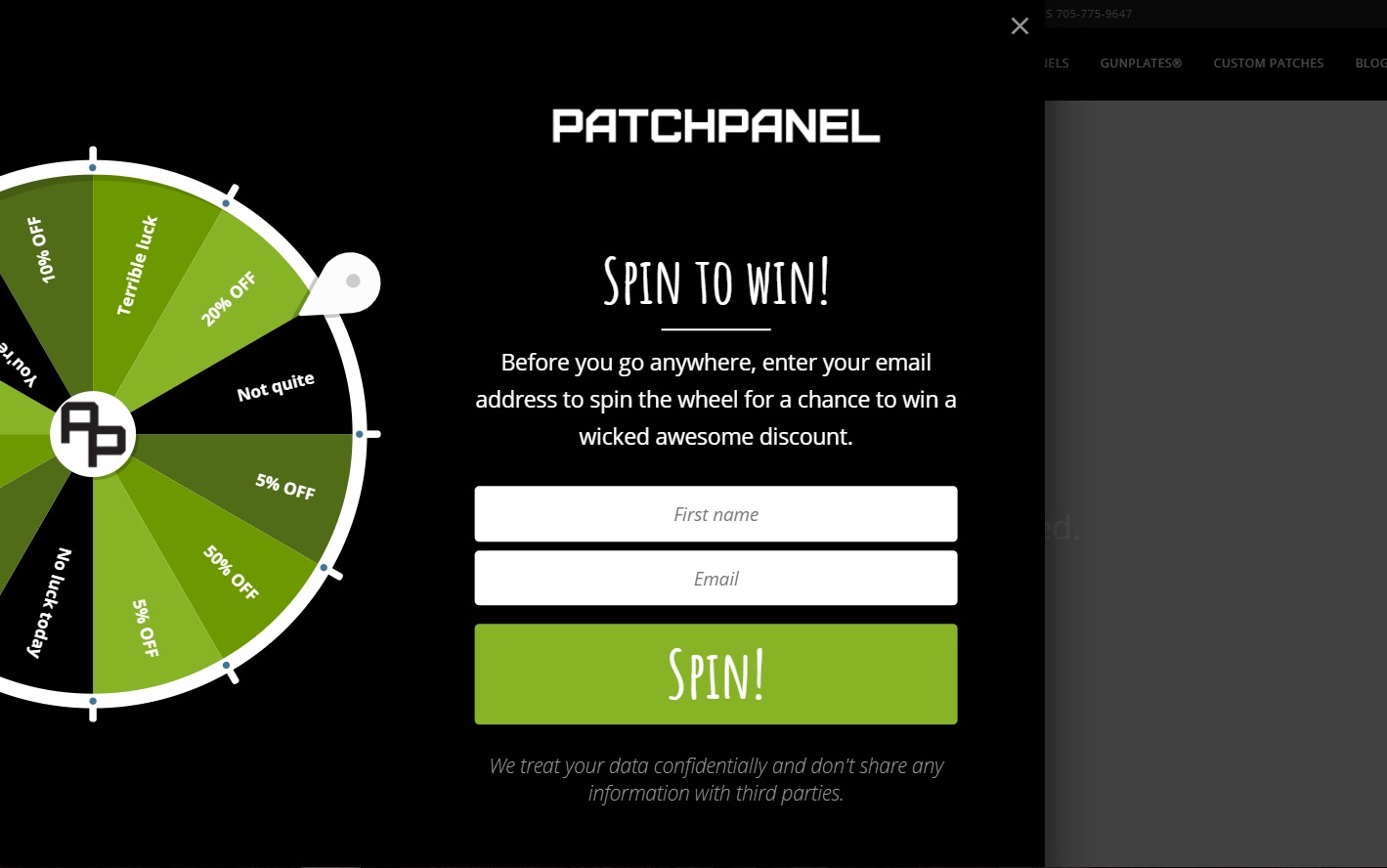 Gamification is the application of game-design elements in non-game contexts—such as scoring points or competing against other players.
It offers a similar rush that people get from the unpredictability and the potential for a reward like with video games.
Gamified templates work well in ecommerce, triggering a sense of curiosity and fun.
With this popup campaign, Evan gave visitors the chance to win a prize in exchange for their subscription.
After visitors spun the wheel, the following thank-you popup displayed: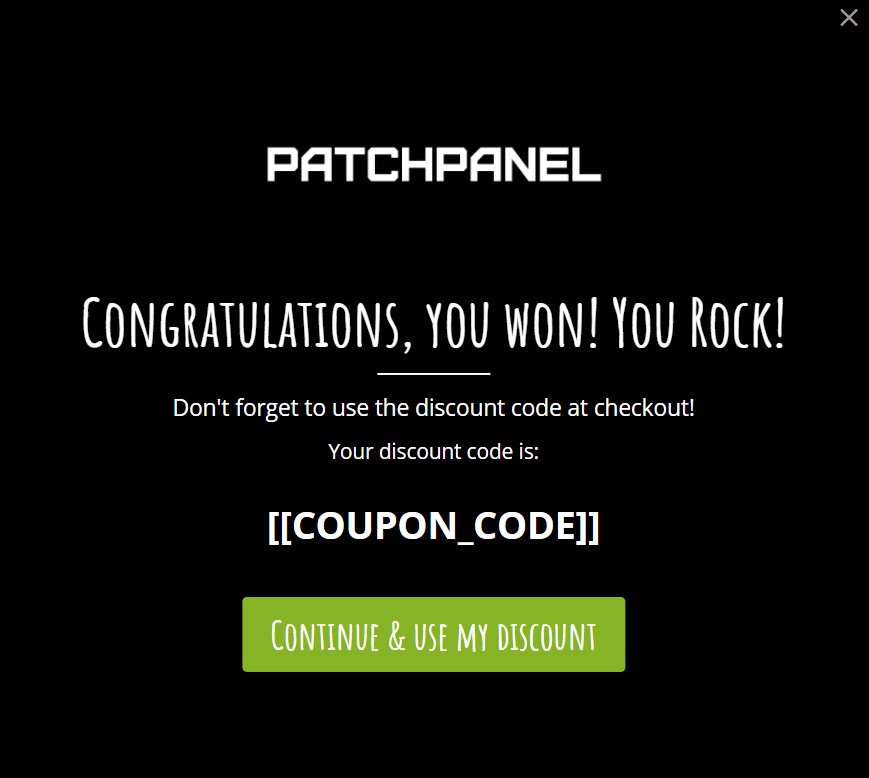 The goal of the popup was to capture subscribers' interest and motivate them to buy straight away with their coupons.
Evan didn't want to annoy his visitors by interrupting their browsing experience. So, he used exit intent as a trigger (which only appears when people hover over the 'X' button).

In addition, he set the frequency to 2 times max per visitor. And visitors only saw the popup after they'd spent at least 5 seconds browsing the current page they were on:

The impact? The campaign boosted conversions by 12%.
Evan explains, "Results were showing within days. We experienced a consistent 10% monthly growth. We employed several campaigns to do so, but given the conversion rates of our OptiMonk popups, I'm certain it is a large portion of the increase."
Want to try out gamification for yourself? Check out this pre-made template.
Messenger popup on MilsigDirect.ca
For the Milsig Direct website, Evan chose a different approach.
He was looking for a hassle-free way to connect with subscribers and collect their contact details.
So, Evan used an OptiMonk popup to build his Messenger list. And he used Recart, the Facebook Messenger marketing app, to communicate with his Messenger subscribers.
The Facebook Messenger subscription worked great because it provided a quick and easy sign-up experience for his customers, especially those on mobile devices.
Moreover, most Facebook users are available online most of the time. This means message open rates will be significantly higher—even up to an impressive 88%.
For this campaign, Evan switched up his targets. He displayed a popup after a visitor browsed the site for 30 seconds:
However, popups were only displayed to visitors who'd browsed one specific page. He also used a frequency limit to avoid irritating his visitors with several distracting on-site messages.

This campaign reached an unbelievable conversion rate of 74% in just 1 month! Evan says, "Our subscription rate has grown MASSIVELY."
Grow your list of Messenger subscribers with this special-offer popup:
Evan's case proves the importance of building your list. By following the latest marketing trends and setting up the Messenger and lucky wheel popups, he achieved amazing results:
He gained 1,400+ subscribers in just two months on both websites.

His monthly conversion rate increased by 10%.
Evan is now a big fan of popups and recommends that every ecommerce store owner starts using them to grow their revenue: