The more products you have, the more guidance your customers need to find what they are looking for. Simply put, a frustrated customer is a lost customer. In order to help the customer, you need to organize your Shopify experience, personalize it so they can find what they are looking for.
This means defining conversion funnels based on consumer product categories, for example, a hardware store owner should look to organize their store by the customers' typical "job to be done" and assign product categories that are based upon those common tasks achievable with your products.
If you have hundreds or even 1000's of products and you are wondering how to improve your conversion rate for each product, keep reading, this is for you.
Note: There are many ways to organize products depending on your business and product type, one size does not fit all.
Considerations for Organising product categories
If you are somewhat successful with your ecommerce efforts then your store is expanding, and you are looking to scaling up in terms of the number of products.
But before upscaling you should consider going beyond just the standard product types and opt for a category hierarchy. For example, below bullet list shows different ways of organizing categories.
By Industry
By Functionality
By Convenience
By Consumer Needs
By Consumer Preferences
By Demographics (age, gender, location)
By Performance
By Quality
By Price
In a large store, these considerations are often combined through the use of a category hierarchy, tags, and custom fields, enabling the creation of highly focused conversion funnels.
The answer to the question "which option is best for my business", is another question, specifically – what product type you are selling and to whom? For example, a car dealership might have a hierarchy as follows:
By Brand (consumer preference)

By Type – Consumer needs / Functionality (4×4, hatchback, small/City, Saloon, Sports, Electric/Hybrid, Family etc)
New / Used

By Type

By Brand
New / Used

New / Used

By Brand
By Type
Of course, there are many auxiliary options with cars and therefore dealership websites often supply an advanced filtering system to help the consumer to find what they are looking for.
The below image is a fantastic advanced example.
Example https://www.hasznaltauto.hu/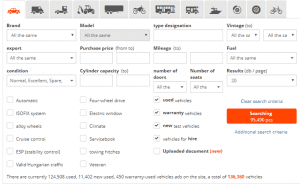 In the above example, the top most hierarchy/category is the vehicle engine size and then the type of vehicle, although you may not realize it by looking at the form. Why it's done this way is that this website is not just a car dealership but rather a vehicle dealership.
All the additional preferences that users can apply enable the segmentation by their vehicle selection, and in many other different ways. The difficulty is often deciding which option is the most effective route for personalization. In this example all of the below options are valid.
Preferred brand and model
New / Used
Vehicle type (export in the image)
Price range
Engine capacity (Cylinder capacity)
Number of doors
Number of seats
Fuel type
Model Year
One of the biggest benefits of this filtering system is that it provides a very clear picture of what the customer is looking for. There is clearly no shortage of data, enabling an extremely narrow segmentation and yet this website could do far more to utilize the data they obtain on each search.
For example, a quick reload of the website shows cars selling for prices far above the previously selected options, forcing users to reapply all their filters once again. They do not target or retarget anonymous returning visitors onsite!
Once the user has applied their search criteria, ideally it should be remembered because in the case of an auto merchant the visitor is likely to return over and over again, looking for their preferred brand and product.
While this can be done even without identifying the user but the goal should be to identify the user so that they can re-engage whenever a vehicle of interest is listed.
Upscaling your Shopify Store? Use product conditions!
One of the best things about Shopify is how easy it is to group products into collections, automatically based on product conditions. All-to-frequently Shopify users manage their collections by manually adding and removing products.
If you are struggling to keep up to date with your store administration then it's time to adopt product conditions. This really does save so much time.
Your product selection should fit within your carefully selected categories. Try to stick to these categories and the strategy defined at the beginning of your store creation process, no divergent categories.
New products that don't fit into the existing category structure should go into a new store with a clearly defined brand and marketing strategy designed to build an audience for the new brand.
How to Choose Your Shopify Store Categories?
You should use an SEO platform to help define your product niche and your product categories. If this was not the case then you should seriously consider scrapping your categories and start again.
AHREFS.com is a good choice tool-wise, although costly. Start your research by looking at competitor stores and their store category structure and build your potential category list by copying these.
For example, let's look at www.thebodyshop.com with the goal of opening a similar Makeup Store like Colourpop.com.
Isolate the URL prefix for makeup, in this case, thebodyshop.com/en-us/makeup/
Using your SEO tool investigate the URL prefix (URL above). In the case of AHREFs use the website explorer feature, copy-paste the URL for investigation. By default, "Prefix" is selected. Then search.
Do a quick export (xlsx) of the top 1000 keywords
Open your newly generated spreadsheet and generate a new column next to the volume column.
Input the following formulae in the newly generated column as shown in the image and copy down.
Filter column largest to smallest
Simply copy and paste the top categories and the best performing products, just as shown, highlighted in column E in the image below. Choose another competitor and repeat. Here it is also worth recording the top-performing keywords.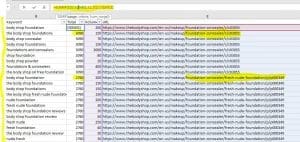 The formula used in the example sums the volume in column D if the URL in column E is duplicate. Ergo you are calculating the popularity for each of the store's individual products, which can then be summed up to provide category data. In the above case, Foundation Concealer is the most popular makeup product at The Body Shop.
Not all of the categories will be worth using if they are highly competitive, note the "KD" Column in your export, this column provides an indicator of difficulty to rank, if not using AHREFs, other tools like MOZ also have their own difficulty assessment.
Each category phrase should be tested for KD value and if there is too much competition, indicated by a high number, then look for an alternative / similar term that should be used to categorize the same group of products.
This method of competitor analysis works for any industry and any ecommerce website. You can seek advice from top AHREFs experts to get started quickly.
Conclusion
When creating a new ecommerce store, whether you are building it to sell your own product range as a manufacturer or you are an outlet for numerous manufacturers, selling someone else's brands or your own brand, how you structure your ecommerce store matters greatly.
If building a new brand, then how you decide to structure your ecommerce website should determine the products you source for your store and consequently the marketing campaigns you run to drive traffic and sales.
The entire consumer journey depends on these decisions.
By carefully planning your store structure, (according to how your customers search for the products you stock) you can better optimize what you offer and to whom. By using OptiMonk you can create campaigns based on categories and display product recommendations according to previously purchased together items (OptiMonk's product recommendation engine) or generate special offers that are triggered by shopping cart value.