Like all online businesses, HostAdvice's main goal was to boost their online sales. In an environment that is laden with challenges, it wasn't easy.
They decided to try OptiMonk popups to see if it solves their issues and concerns.
In this case study, we'll show you how HostAdvice:
Increased sales for InterServer (one of their top advertiser) by 340%
With a high conversion rate of 37% on this offer
Maintaining high ARPU
HostAdvice.com is the leading global portal for web hosting information. It's the largest database of web hosting companies.
They currently have 3,500 companies listed on the site with their full information and hosting plan details, which are translated into 33 different languages.
Beyond company listings and plan details, the site also contains user reviews and comments about the companies.
The enormous amount of information on the site is a great resource for anyone researching hosting companies and hosting plan options.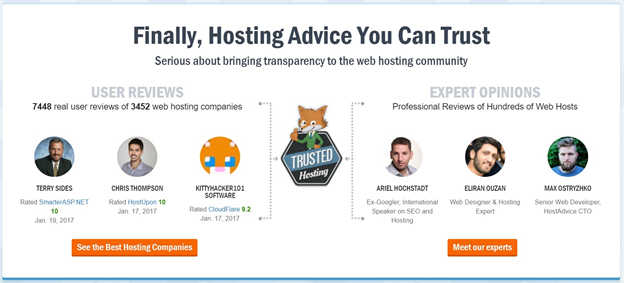 The HostAdvice team was somehow in a dilemma about offering special deals for their visitors.
They knew that it would lower their ARPU (Average Revenue Per User).
On the other hand, not offering a special deal would mean that they will end up with fewer users signing up. As a result, they will have to bear the lower overall revenues.
Another challenge was to display the special discount offers only to users who have not taken advantage of the standard offers.
In short, they wanted to present visitors with the right offer at the right time.
Redirect popups allowed the HostAdvice team to target users who were about to leave the site, and only then reveal the special InterServer deal.
That means if a user made the decision to use InterServer "naturally," they will be paying the regular price for the hosting services, thereby preserving the standard ARPU.
However, if the user was about to leave the site without a purchase, the popup would present the following special offer: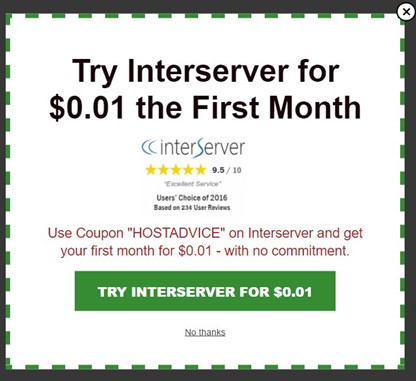 The HostAdvice team discovered that this offer was effective not only with users who had already considered InterServer but also with users who only looked at other companies since the offer was so amazing.
With a high conversion rate of 2.37% on the offer, they increased sales for InterServer by 340% while still maintaining a high ARPU.
Now let's take a look at the settings HostAdvice used to ensure their offers were displayed based on engagement and didn't interrupt or annoy their visitors.
It was important that the popup campaign would only display at optimal times. They set their popup to show up on "exit-intent":

This means the popup would only show when a visitor's mouse was moving towards the address bar or the "closing X" button in their browser.
In other words, only when the visitor's behavior showed they were intending to leave or exit the site.
Plus, they set the popup to display only two times for each visitor. This way, people would have a second chance in case they missed the first offer, but they wouldn't be annoyed by seeing the same popup over and over again:

Also, to make sure their popup displayed only to those visitors who were engaged, HostAdvice displayed their offer only after someone had opened at least 2 pages on their site:

HostAdvice was more than successful in using OptiMonk for their popup campaign.
By targeting the right audience at the right time with redirect popups, the number of visitors who made a purchase increased significantly.
They increased sales for InterServer by 340%
With a high conversion rate of 37% on this offer
Maintaining high ARPU
What HostAdvice had to say about using OptiMonk:
"One of the really wonderful, and somewhat unusual, aspects of the OptiMonk pricing plans is that the various plan levels depend on website traffic volume. However, all of the many different features OptiMonk offers, such as campaign types and triggers, design tools, and targeting options, are all completely available across all plans without any limitations.  We found an impressive solution using the OptiMonk Redirect Popups campaign type."
– Ariel Hochstadt, co-founder of HostAdvice.com
Would you like similar results?
Create a free OptiMonk account and see the results for yourself. Stop losing customers today!