What's with the mass exodus of customers? Why do they just leave without saying a word??
Well, I hope you're not experiencing an exit en masse, but all online retailers work on pinpointing the reasons customers leave.
Even more importantly, they're trying to determine what would make them stay.
It's all about making the shopping experience on your site the very best, right? Deliver faster, do it better, be the most interesting!
An Ecommerce customer rewards + loyalty program is a good way to combine fast followup time and great offers while rewarding your customers for a variety of interactions they make on your site.
But what exactly makes a rewards program effective? Let's see what components are at work in a successful loyalty program, analyze a great example of online loyalty, and see how companies can build their own program.
How to Start a Loyalty Program
Your team has put their blood, sweat, and tears into creating a killer brand, so when it comes to implementing a rewards program you should spend a bit of time considering how you want that beautiful brand to shine through.
Sure, customers will sign up because of the rewards and special offers, but your program's success, in the long run, has a lot to do with the way your customers and brand connect.
So how do brands make this connection happen?
Common names for a rewards program very closely revolve around the terms "Loyalty program" or "Rewards." And that's fine because people know exactly what that means… but think about whether or not your customers expect more creativity. The title of your loyalty program is a great way to inject a bit of fun or luxury or quirkiness into the program. The name also gives you a chance to capitalize on curiosity.
For example, National's rewards program is called Emerald Club a perfect reference to the brand's distinctive green color. MAC Select is the name of MAC's recently launched program, a name that represents simplicity and exclusivity. Then there's Pet Supplies Plus, which came up with the name "Preferred Pet Club" for their animal-loving shoppers.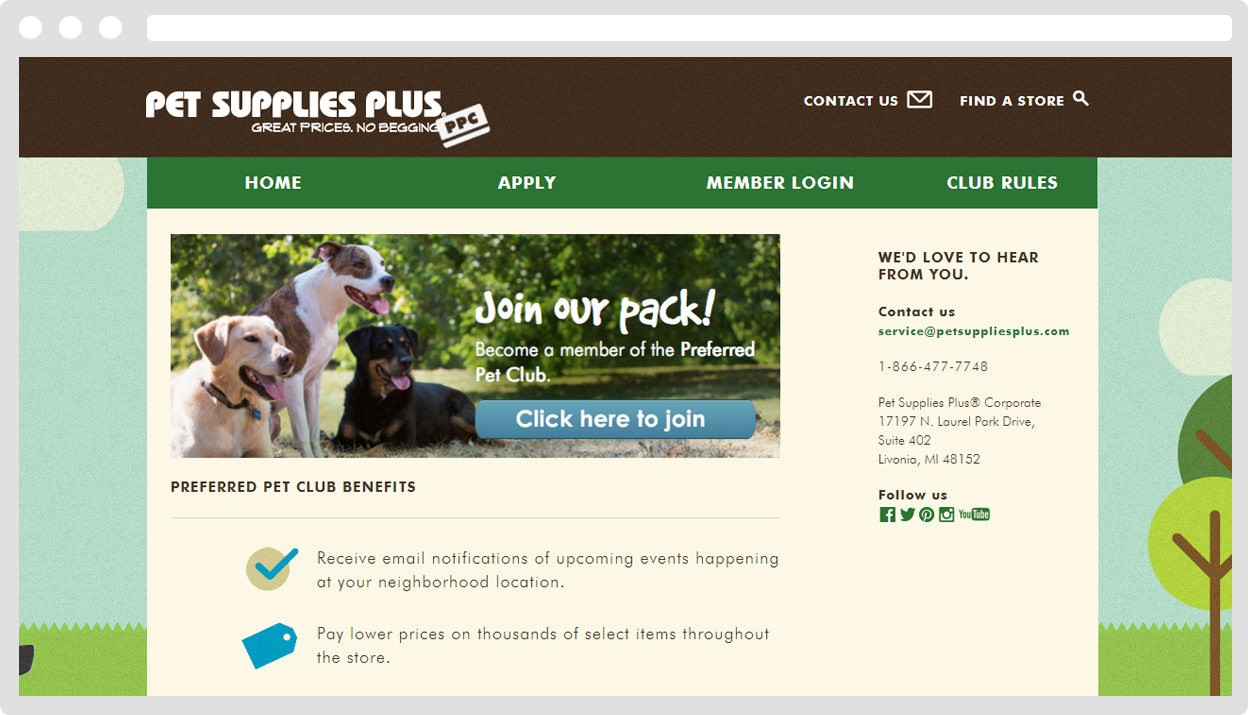 "Join the pack!" Clever and fun is a big part of Pet Supplies Plus's branding, and that includes their loyalty program (http://www.psppreferredpet.com/).
2. Seeing stars? Points? Coffee beans?
"Points" and "miles" have become industry standard names for the currency that customers earn and spend in rewards programs. And while there's no doubt that these are effective terms, you should know that you have the freedom in your own rewards program to choose something new.
Giving points a different name that is still connected to your organization, of course, is a fun way to make an impression. A map and atlas wholesaler might give out 2 "flags" per dollar spent. An organic dog food brand could offer 100 "treats" with the purchase of a large bag of kibble, and a shoe store might let customers earn, well, "shoes"!
3. Give a Chance for People to Earn Without Spending
There's one problem with building a loyalty program that rewards only purchases. Sure, you'll get people to sign up and come back, but if your shoppers feel like they're being used for their hard-earned pennies, you risk having a failed rewards program.
Build a program that rewards other engagements and actions in your store. For example, offer points when shoppers read your latest blog post or check out your latest video. Reward customers for sharing your pages and referring their friends. And, as time goes on and your program grows, reevaluate from time to time to see what new types of actions you'd like to reward. Keeping the program fresh through the years will keep your longest-standing members interested.
Loyalty programs are a great way to improve sales, but they're also an excellent excuse to connect with customers in new ways. Use it as a platform to communicate your own initiatives.
Don't forget what's important to you and them! Share content and reward actions that are linked to your community. Working on any social causes or volunteer programs? Make a video about it and reward those who watch.
Did you know that Office Depot actually gives rewards to their customers who recycle? That's a really cool way for the company to put its ideals on display and show they care about the environment.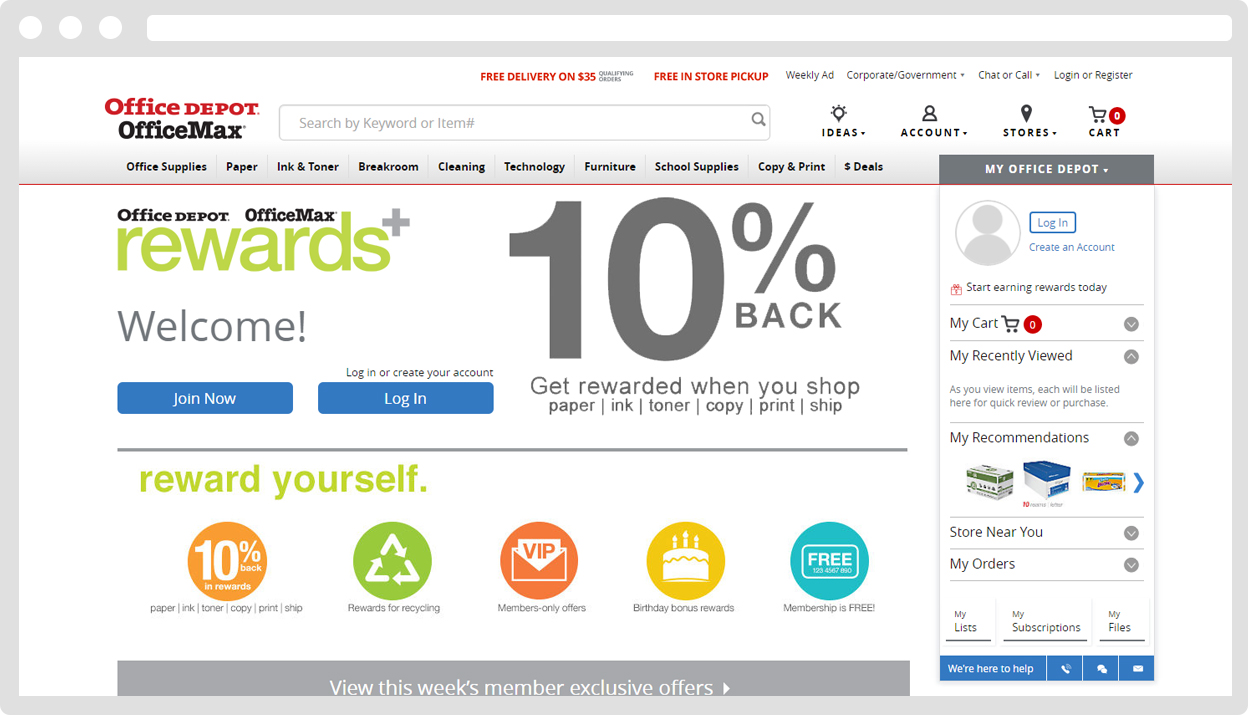 Office Depot shows off its respect for the environment and rewards its customers for their recycling habits.
5. Look for Opportunities to Personalize Communication
Encourage customers to give you information related to their interests during registration. Or get more info later by giving points to users who complete their profiles. That's a pretty good incentive if you ask me!
Customer profiles are a way to keep track of consumer interests and are the key to personalized communication. Created segmented lists based on customer interests (i.e. home/office; cat person/dog person; bride-to-be/ wedding guest) and send targeted communications to shoppers with common interests.
This makes your communications more relevant and increases the chance that recipients will open your offers, click through and, in the end, make a purchase.
Let's look at online loyalty done right
A great example of loyalty done well is the Balance Rewards program from Walgreens, an omnichannel brand that has quite a presence with their iconic corner stores and on walgreens.com.
Balance Rewards has taken their health-centric mission to the next level by actually rewarding customers who put effort into leading and tracking a healthy lifestyle: like the amount of miles people work every day, or if they easy healthy food such as keto fruits or not.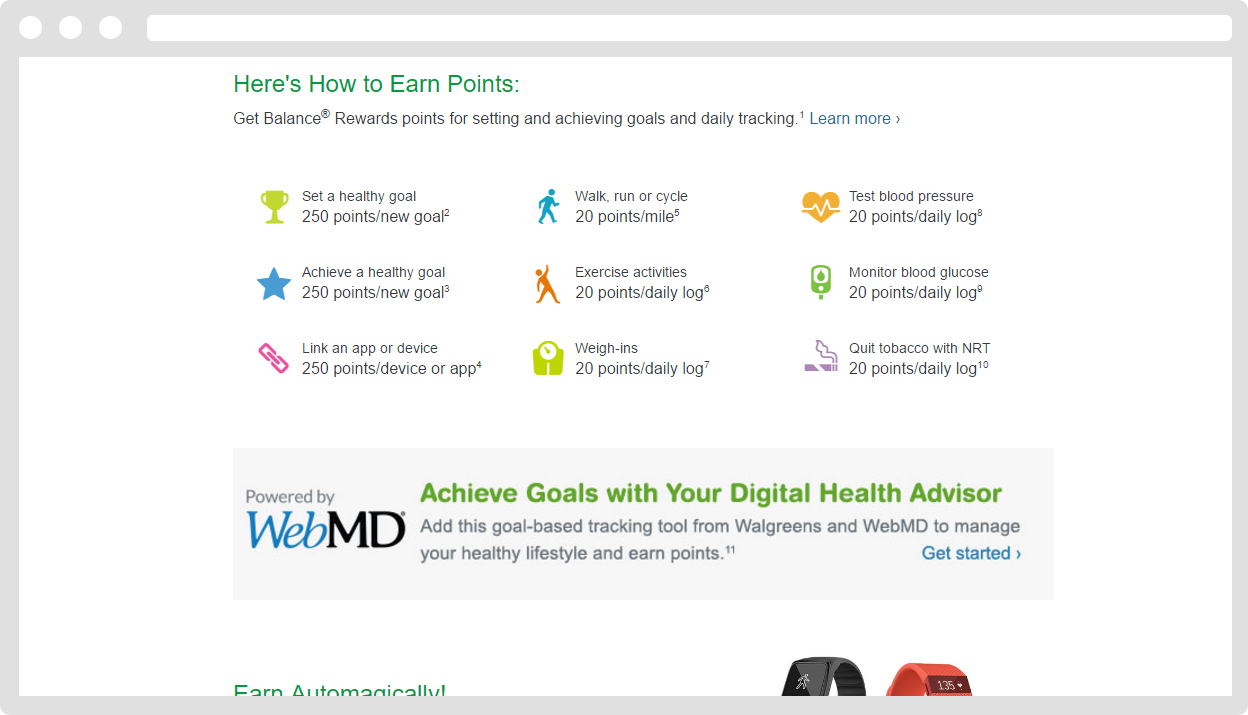 The health, beauty, and pharmacy retailer has a traditional in-store loyalty card strategy, which is tied to their ecommerce presence as well, including special online offers and an online loyalty center where customers can check in and see what rewards they've earned, and what else they can do to earn more.
One thing they're doing really well is letting shoppers know about their loyalty program on several areas of the website.
Of course, there's a dedicated page for loyalty, so the customers who know about the program can go directly there and read more about it. But for visitors who go directly to www.walgreens.com, it's also visible on the homepage: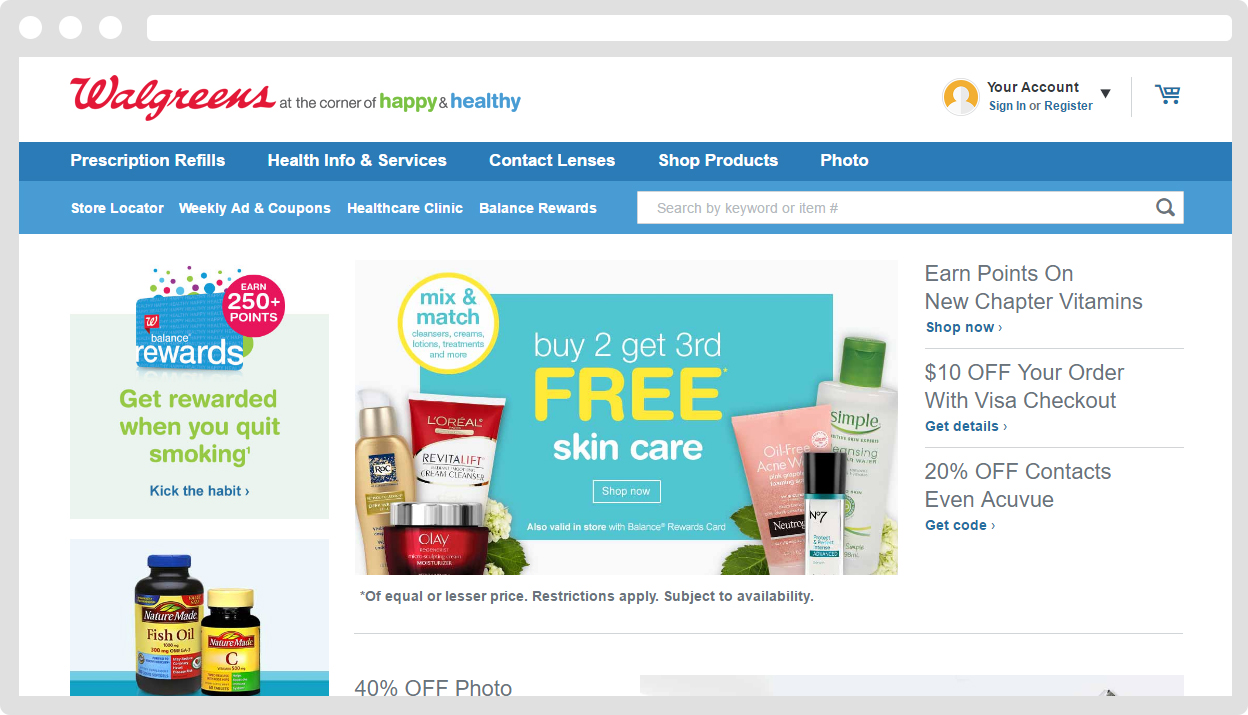 Also, in order to reach visitors who arrived on the website while searching for certain products such as vitamins, loyalty offers are listed as a link to learn more on relevant product pages. That provides an opportunity for those customers to learn more about the program, and convert them into a new register.
This is really important. I repeat this is really important!
Why?
Because online shoppers enter websites through a multitude of pages, often coming in from Google or other search platforms, often going directly to a particular product page. So the more visible your rewards program is, the more likely it will reach all of your curious shoppers: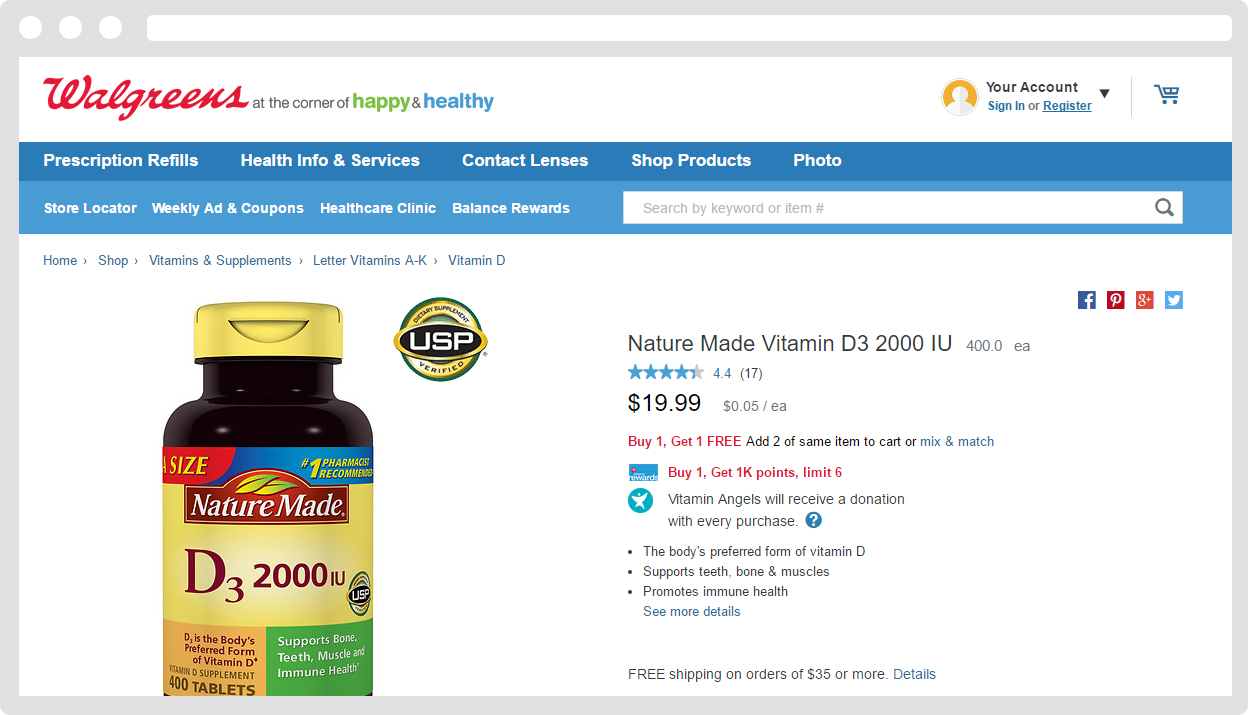 Begin building your store's rewards program
Now that you've seen many of the building blocks of a rewards program, it's your turn. How can you go about setting one up?
There are several options:
1. Have your team build it. This is a great way to ensure a one-of-a-kind loyalty program. But like many development projects, it's expensive and time-consuming. Creating a unique and complete loyalty program involves a lot of research time and, as you can imagine, a whole bunch of developing and testing.
2. Hire an agency to develop your rewards program. The distinct benefit of using an agency is that it will save you a lot of time and allow you to focus on your core business. However, this particular route usually comes with the highest price tag.
3. Go with a loyalty application. Find an app like Antavo Loyalty software, which is already built and runs automatically, saving your team time and monetary resources. Use the application asis or ask for custom developments based on your store and business model.
Ensuring that your rewards program is relevant is the key. It should be relevant to your goals. And the language and feel of the program should be relevant for your customers. Think about how new visitors come to your site and make sure the rewards program is a visible part of your pages. Finally, make sure you have a way to track customer activity in the loyalty program.
Loyalty is for the Longterm
A rewards program that gives points (or stars, or miles) for a multitude of actions, rather than purchase-only rewards, is more likely to hold customer attention in the long run. Make sure targeted communication is a part of your rewards program and keep it fresh through the years.
Our experience at Antavo Loyalty Software is that a good loyalty program can increase returning customers by 200%, as well as help you increase average basket value for a great ROI. So go ahead, start encouraging purchase completion for your first-time shoppers, rewarding medium frequency buyers, and showing each and every one of your customers that you truly appreciate their business!
Author Bio
Jessica Mizerak is a Customer Loyalty Strategist at Antavo, a loyalty marketing software for ecommerce companies. Antavo can increase returning customers by 200% and has helped over 30,000 marketers increase customer engagement since 2011. In her spare time Jess enjoys painting teddy bears and reading about creative ad campaigns.