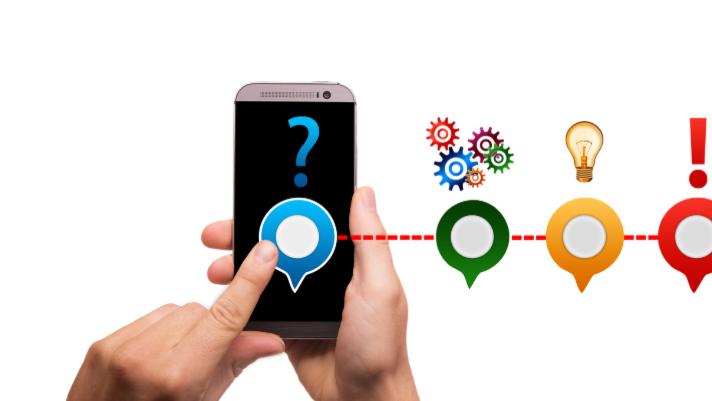 Offline in a retail sales environment, your customer touch points are those points of contact where your business interacts with your customer. This includes the moment of the first contact to the moment of sale and support both during and after purchase. Every customer touch point is an opportunity to sell your brand.
In physical retail shops, a good shop assistant can spot someone who is interested in a product, a simple look in the assistants direction can be a request for help, so the assistant knows when to approach the shopper to ask if they need assistance. There are many other benefits, for example, there are certainly more physical tells and visual cues even without a request to the shop assistant for help. Instinctively shop assistants can learn when to intercede to point them in the direction of the right product or to push a sale or to upsell or cross-sell.
The problem for physical retailers is that you can't network your employee's brains to capture that data, what products are failing to inspire and why. Businesses are reliant on employees to write down their experiences in store, – a slow and ineffective process.
Online ecommerce providers have a huge advantage, namely, that every online interaction is trackable. In addition, the customer touch point is potentially every moment the user is on your website or even just online (eg through FB retargeting technology). With the right toolset, you can reach out to create customer touch points in a non-invasive way, while capturing data to improve what you offer through personalization. Physical retailers aren't able to just phone customers because it would be seen as invasive and annoying.
Of course, these days every online retailer also has a website, big retailers carry out cross channel marketing and are therefore Ominpresent. The point of this introduction is to highlight what you should be doing with your website and to highlight that most ecommerce websites fail at many different points to capitalize on customer touch points online.
Online Customer Touch Points
When online it is far easier to initiate contact, at any second you can engage the customer during their journey in order to further facilitate forward momentum down the conversion funnel, for example by supplying additional information about a product of interest.
The point is to give them what they want, more reasons to buy.
The customer's journey no longer ends when the customer leaves the website, indeed very few customers visiting for the first time end up purchasing during the same visit. Often the journey is interrupted, for example in the case of Mobile First, an individual might be first encountered browsing your products while on a train, traveling from A to B and then arrive at point B forcing a pause in the customer journey.
Today ecommerce is multi-device, tracked across all user devices. In addition, social media applications make their service multi-device, therefore as an online retailer your ability to reach out to your identified users, subsribers and followers is endless.
The question here is WHEN should you reaching out?
The Ecommerce provider Initiated customer touch point.
You need to be able to do all of the following in a device independent manner.
A promotional offer, discount, cross-sell, upsell, downsell.
Feedback Request
An Offer of customer support (chat perhaps)
Training materials, Knowledge base (40% of users prefer self service)
Other Notifications – Cart abandonment reminder. Upcoming sales events etc.
How to Initiate a Customer Touch Point
There are many SaaS tools that provide a solution, but typcially these only provide part of the solution, the trick is to find an ecosystem of tools features that does not result in duplication of features so that you don't pay for unnecessary unused features. This is easier said than done, marketing automation tools try to be all things to all people to force people to use their service only. The consequence is often a disappointment when some features are disappointing and you are locked into using them.
It is often better to define your own ecosystem using best in service products. MailChimp is one such tool, an email marketing platform that is simple to use and widely trusted with great email deliverability rates. The best thing about them though is that every SaaS provider supports them with an integration.
OptiMonk integrates well with MailChimp, and any other email marketing service for that matter. While OptiMonk solves the targeting, customer touch point, and engagement requirements, the MailChimp solves the question of email with its advanced API.
OptiMonk provides the custom list building, supplying everything in the bulleted list above. Since it was designed from ground up to be a onsite retargeting tool with an innovative team behind it, constantly adding extra features, it excels in communicating with customers at the right time and the right moment.
It uses triggered messages or popups based on demographic data and utilizing your custom field collected psychographic data, while also meeting all GDPR requirements in terms of data security. It integrates with all the main ecommerce platforms including Shopify and Magento, Woo Commerce and BigCommerce etc.
Touch Points and Conversion Funnels
Of course, the question of when to initiate contact depends very much upon the stage of the customer journey that the individual is at, which in turn varies according to the persona of the individual. Therefore, the customer journey is a data collection exercise, necessary to personalize the journey, even before the customer has been identified (before the user has subscribed or opened an account) you can know certain things about the customer.
Source
Demographic Data, gender, location etc
Interests (what have they looked at on your website).
Returning visitor?
Additional information in the form of Psychographic data should also be collected using custom fields, any data can be requested, just don't ask for too much at once (too many form fields) because it will be seen as invasive and you will lose customers. Also, be sure to comply with GDPR, using OptiMonk's functionality or else open yourself up to a potentially hefty fine.
How to Target Vistors / Customers according to their Conversion Funnel Stage?
Typically for an individual to reach a specific point in the customer journey, they must have supplied a certain amount of personal data, this is beside the demographic data typically provided by Google Analytics. Your goal should be to use that data to mark and define the stage and enabling you to determine what the next stage should be.
Ask yourself the question of what additional information would be useful to you in personalizing your service or product offering to meet their needs?
With OptiMonk you can define a series of popups, each one can use custom field data, in addition, the last popup triggered can be used as a trigger for the next so that no popup is triggered out of series. Effectively you can define the entire conversion funnel using OptiMonk.