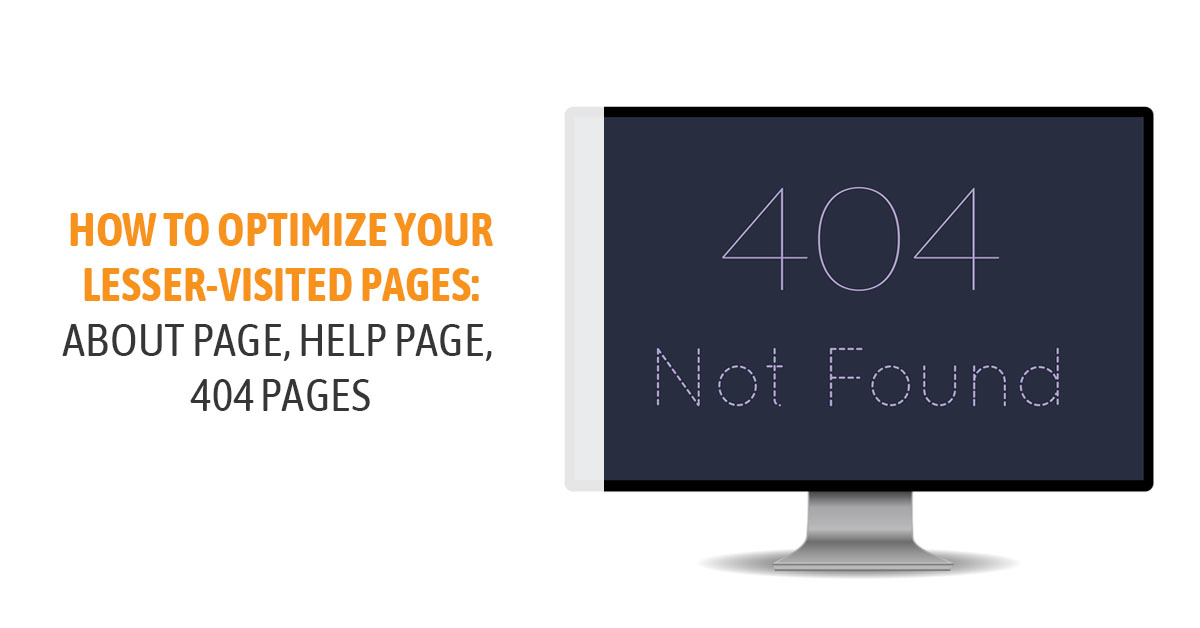 If your website isn't capturing every possible lead, is it really doing its job? No! Your website exists to educate and entice consumers to purchase your product or service. While this is becoming better understood, with more and more websites implementing best practices for lead generation and capture, there are still many ways in which businesses can optimize their site to ensure the highest possible number of leads.
High quality content, pop-ups and interstitials, and more have become standard practice, but less-visited pages are missed opportunities for lead captures. Help pages, About pages, and even 404 pages can be used to initiate a conversation and relationship with a prospective customer, with the goal of converting them into a loyal patron. While these pages may receive fewer visitors, they are simple to optimize and can increase your conversions and revenue.
These pages often see minimal visits, causing companies to overlook simple optimizations that could be included on these pages. However, a few simple changes can ensure that every possible lead is garnered from your website.
In this piece, we'll look closely at these three pages which are often overlooked on sites and include examples of good optimizations for them.
About Page
The About page serves as the background of your whole website. Visitors who seek out this page are trying to learn more about the company as a whole rather than specific products. They may be looking for company history, goals and values, or past accomplishments. Many About pages also include information about the company staff.
Regardless of what information your About page holds, think of it as an introduction between you and the prospective customer. They are getting to know about you, so present an opportunity for you to get to know them through a contact form or another call-to-action. Yellow Leaf Hammocks has a great example of an about page that asks visitors to connect further:
By asking visitors to share, sign up, or shop, Yellow Leaf Hammocks gives several options for initiating or continuing the relationship with their prospective customers.
About pages are also a great opportunity to target branded keywords, and these pages are likely already ranking for these terms with little to no effort. It may be difficult to gauge whether visitors for these search terms are new leads or loyal customers – they could have some interest and be searching for further information about your company to solidify their purchasing decision, or they could be current clients searching for an answer to a question. Either way, put some effort into making your About page easy to find both through your website and through search engines to keep customers both present and future happy.
Creating content around the right keywords can be a complex and challenging process, but this thorough guide from Backlinko is a great place to start.
Often times, About pages can be a great source of link equity for your domain. With domain and page authority still largely dependent on a site's backlink profile, it's important not to let any link equity being passed to your About page go wasted. As you work on a strategy of link-building for SaaS, make sure to keep this factor in mind and incorporate other pages as well. If you find that your About page has a strong backlink profile, be sure to utilize internal links on the page so its authority can be passed on to other important landing pages within your domain.
You can see a great example of this approach from Guava Family on their About page:
Within the company description you can see that they have included internal links to two main product pages, the 'Lotus Crib' and 'Bassinet Conversion'; effectively passing on any link authority from the About page to their two most important pages for generating sales.
Help Page
Help pages are another low-visited and widely varying page that often need better optimization to maximize their ability to generate and capture leads. Help page content can take a number of forms, like the about pages discussed above: you might find FAQ content, how-to videos, tutorial documents, or simply direction for getting in touch with a customer service team. To learn more about creating effective FAQ pages, take a look at this informative guide from Visual Hierarchy.
Most often, help pages are only created with the current customer in mind, but ideally they will serve both as a resource for existing customers and as a sales tool for prospective clients. Help page content should answer broad questions about the company while also providing detailed or technical information for the troubleshooting needs of current customers.
TransUnion's ShareAble for Hires is an excellent example of this. In the screenshot below, you can see how they include general questions about the product and industry, as well as specific instructions for elements of using the product:
Of course, contact information is also hugely important for help pages – visitors should be able to reach you easily if their question isn't answered by the content on your site. To make it easier to separate leads generated with this content from current customers who simply need assistance, provide separate contact email addresses (or a drop-down menu indicating the nature of their query) on the help page.
Under Construction & 404 Pages
Error pages may be one of the biggest causes of lead loss on websites. A default 404 or under construction page that offers no alternative solutions to the visitor's query is almost guaranteed to lose that prospective lead, but one that demonstrates your brand voice and directs visitors to an alternative or an email capture can be very successful.
Coinlookup is a great example of a 404 page that does just that: its unique set up makes visitors feel as though someone considered their feelings when they arrived on a 404 page, and the email capture offers an opportunity for the visitor to engage further with the site:
Calls-to-action (CTAs) are highly crucial for conversions to take place and are often overlooked when designing custom 404 pages. These can be more sales-focused, direct visitors to a specific action such as signing up for a newsletter, or simply send visitors to a relevant landing page they may find useful. CTA is a broad term that covers many elements, but that makes it all the easier to include them throughout your site.
CTAs can be particularly useful to include on 404 pages as a way to keep visitors engaged with your site and can greatly reduce your bounce rate for pages that no longer exist or are currently under construction.
Renovate America uses this strategy on their 404 pages, utilizing a CTA that directs readers to their homepage rather than leaving them stranded on an empty page:
Optimizing your CTAs for the highest conversion rate can be a tricky process. Including action-oriented language and a bright or contrasting color are always good practices, but you may need to test variations to see what works better for each type of CTA you include. Don't be afraid to make minor tweaks to see what works best.
Here are some examples of CTAs designed to stand out and boost generated leads and conversions:
Coming soon pages can also be leveraged to generate leads before your website launches. By creating a custom page, you can offer to let visitors know when the site goes live. Since you won't have any content currently available, they may forget about you, but an email reminder upon site launch will put you back at the forefront of their mind. Learn more about the dos and don'ts when creating 404 pages with this article from Design Shack, including various examples of successful 404 page designs.
Keep it Simple
In all of these practices, simplicity is always essential. While it can be tempting to cram a web page with email captures and CTAs every few lines, this can come across as spammy, irritating, or unreadable to visitors, causing them to leave your site.
When asking leads to engage with you and provide some of their information, remember to make it as easy as possible for them to do so. A large contact form with many fields can be a deterrent – if all you really need is their email address, don't require superfluous information. Sometimes additional information is necessary or useful for following up with leads or segmenting email lists, but be sure that any extra information is used to benefit the lead. If you ask for their name, personalize their emails! If you ask for their zip code, give them location specific content.
Pop-ups and interstitials can be used to great effect, but again, constant pop-ups can sometimes do more harm than good. Follow these best practices for timing and setting up your pop-ups in the best way.
Conclusion
Your website is just waiting for you to make it the best it can be for generating and converting leads. By paying attention to some lesser-viewed pages and adding essential elements to every section of your website, you can dramatically increase the leads generated and converted from your website. Make it easy for visitors to connect with you once they've decided to trust you due to the content on your site, but avoid coming across as annoying or spammy. With simple, standout lead generators and email captures, you can make your website work for you better than it ever has before.
(Note: Have you heard of OptiMonk? It's a powerful onsite messaging solution that helps you convert up to 15% of abandoning visitors to sales and leads. Give it a try – click here to create a free account.)