In 2020, approximately 4,5 billion people are active internet users, and that is no less than 59% of the world's total population. And let me tell you: these people are hungry for new content every single day. Nowadays, this is the source where we learn about the news, read books, look up any information we need, and search for entertainment.
With the trends of social media and influencer culture on the rise, blogging gains popularity day by day.
However, blogging is not what it used to be a couple of years ago: it is no longer limited to niche hobbies, and everyone can have a blog now in some form or another. The idea of starting a blog can be attractive to companies and individuals, and there are many reasons for that.
As an individual, you may want to improve your skills or your writing ability, inspire other people, share your story, document your life, generate income, build your own online brand, or build the foundations for landing your dream job.
A company may want to improve customer experience; build loyalty among the long-term customers; acquire new ones; or generate subscribers, followers, traffic, or revenue.
For all the goals above, you need to do only one thing: generate as many visitors as you can. 
And there are a number of ways to do that. For example, by leaving a lot of comments, posing content frequently, promoting on social media and adding social sharing buttons, incorporating keywords, using search engine optimization, or inviting guest writers. 
But getting new visitors is only one side of the coin. Keeping them in the long term is just as (or even more) challenging. 
That's where popup campaigns can make a real difference.
Let's see how popups can help you!
1. Collect email and Messenger subscribers
In order to lead your blog to success, you need visitors. And the most valuable visitors are those who come back from time to time, become loyal to your blog, and spread positive words about your content. 
How do you reach out to these customers? Usually by email or Messenger. And one of the best ways to collect this contact info from your visitors is building a subscription campaign with intelligent popups. Email is still one of the best marketing tools to motivate visitors to visit again and make them loyal to your page. It still counts as the "classic" way of engaging users, and a lot of people find it more convenient and less disturbing. 
However, Messenger is on the rise in this matter, as in-application chat is already revolutionizing the whole customer experience.
In addition, Messenger has a much higher opening rate, almost 85%!
If your users are typically visiting from mobile devices, it is extra convenient, as they can subscribe with a single click—no need to type in any additional information. 
In addition, your offer is crucial. You can set up your intelligent popup campaign without using any incentive or "catch." It works best for those websites or blogs that share useful and valuable information with their users from time to time, like this website: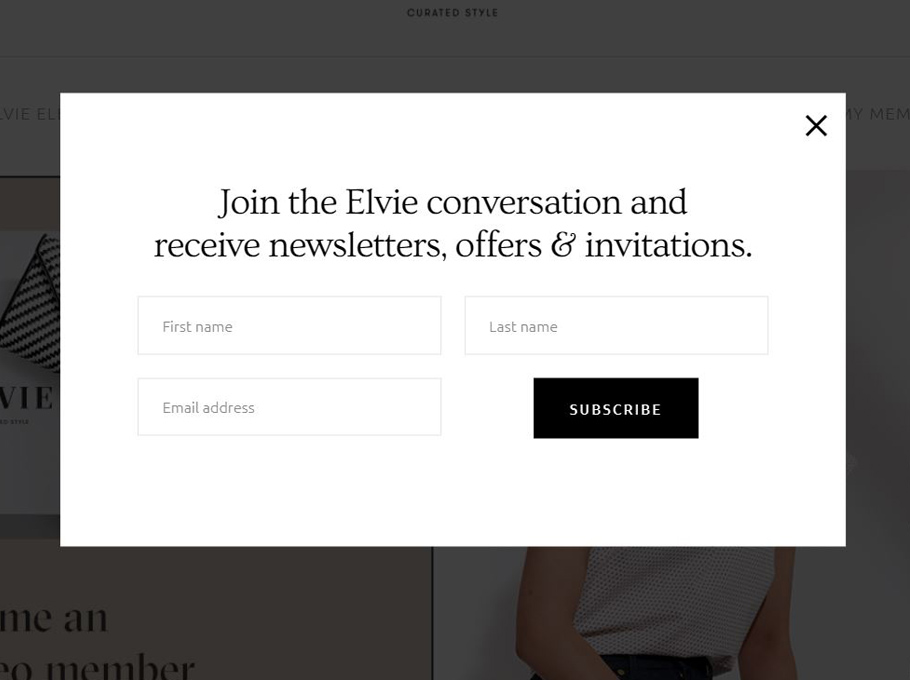 You can kick your blog up a notch if you offer something in exchange for the subscription.
It can be a VIP membership, private offers, discounts, free e-books, early access to content, free gifts, or anything that your visitors will find valuable and charming. This way, you can motivate your users even more, and you will definitely generate more traffic, and maybe even more revenue. Here's an awesome example of an exchange – a useful guide for the subscription.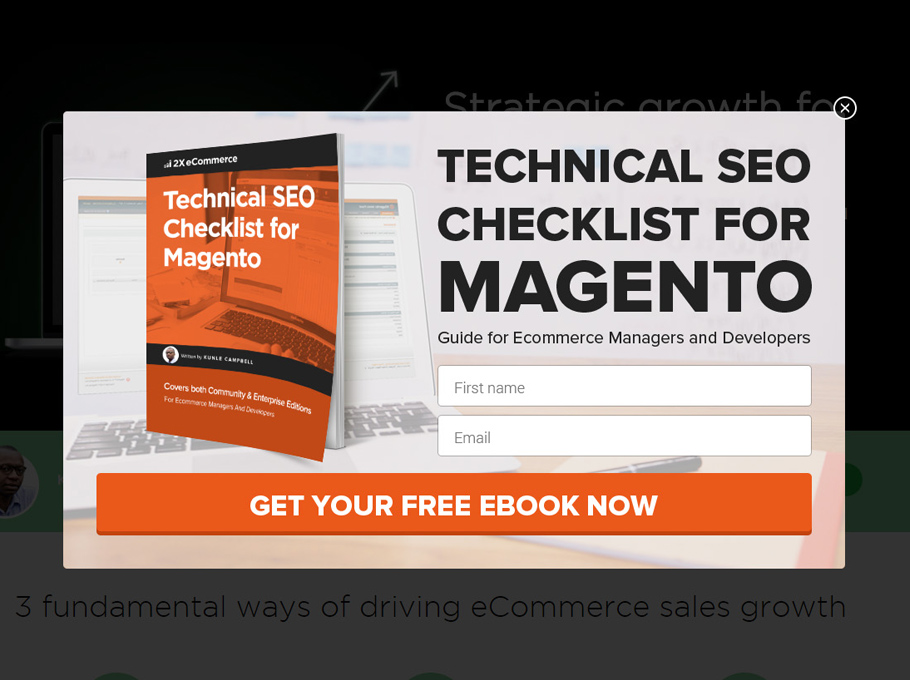 If you are promoting a product or a service on your blog, or you have a partnership or sponsorship with an online shop, you can offer limited-edition products, discounts, and coupons like how this website does – while growing their Facebook Messenger list: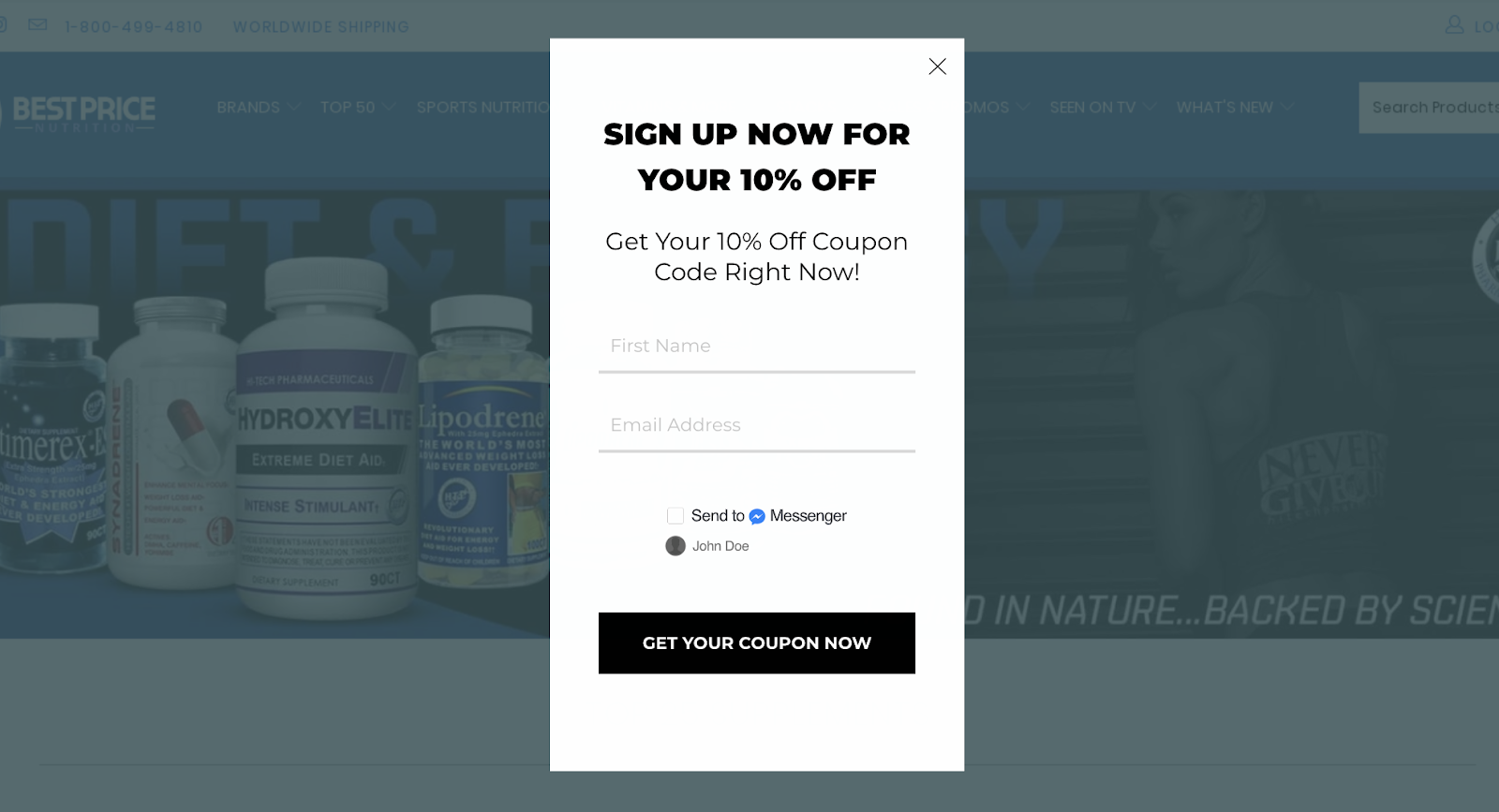 Let's take a closer look at the popup above and see how Bestpricenutrition.com used detailed settings options on OptiMonk, and how they reached more than 4 000 conversions!
First of all, it is important to decide whether you want to show your popups on desktop, mobile, or both. In order to reach as many people as possible, the campaign was displayed on both devices. 
It is crucial to target your customers correctly. Bestpricenutrition.com decided that the popups should only appear when a visitor has been on the page for at least 8 seconds (so, they showed some basic interest by not leaving the page immediately).
To avoid being too much or too pushy, they set up the campaign so it will only appear  2 times per visitor (checked by the computer's IP address), with at least 1 hour between the 2 appearances.
With this campaign, Bestpricenutrition.com generated more than 4 000 conversions – which means thousands of new subscribers, thanks to the popups.
To multiply your results, there are a bunch of additional settings which enable perfect targeting, for example. You can trigger the popup on exit-intent, when a visitor clicks on a specific part of your page, or even after a visitor has scrolled X% down on the current page. You can also set up the frequency of the campaign, how much time visitors should spend on the page, which country or marketing channel they should come from, etc., to control who can see your campaign. 
2. Redirect visitors to a sales page
There are a handful of situations where you want to redirect your visitors to another page. If you own a webshop, sell goods on any platform (like Amazon or Etsy), offer services yourself, or you have a sponsor or partner to promote, you can benefit from this redirection.
Let's take a look at PayPlan's popup solution to advertise their services connected to a relevant website content. It's a nice, well-designed popup with a clear message and a serious incentive. They also show customer reviews and feedback on their campaign, which increases the visitors' trust: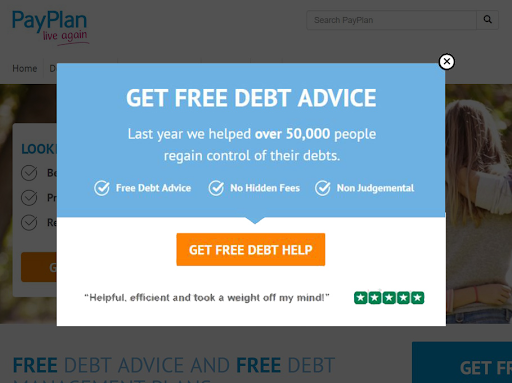 You don't offer a service or sell goods yourself?
Well, maybe your partners do!
Below, you can see a perfect example of a fullscreen popup that can be useful if you're an affiliate partner or just promoting a friend's website.
As you would think, fullscreen messages are similar to popups, but – as its name implies – they cover the entire screen. With this feature, they are able to eliminate a very important factor: distraction. When you are displaying your message or offer in a full-screen message, there is nothing else that can grab your visitor's attention.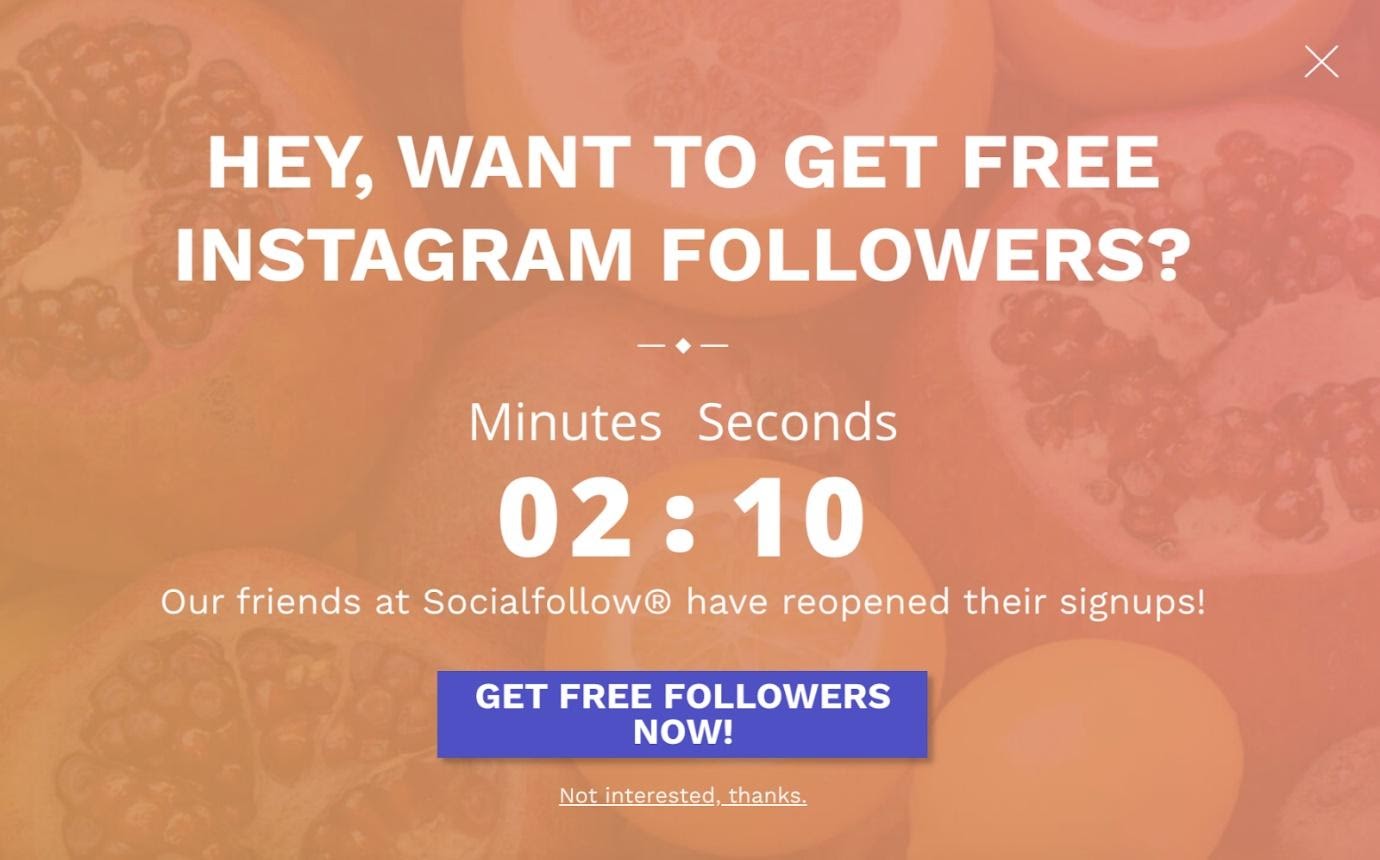 In the example above, you can see another awesome tool for motivating visitors to take action: a countdown element. This is one of the more efficient ways to create a sense of urgency—it shows your users that it is worth taking an action now, because this is an offer that does not stay on the table forever.
Do you find the fullscreen solution a bit too much to start with, or it doesn't fit your style? 
Don't worry, there are other forms of on-site messaging you can use.
A nanobar is a "fixed notification bar" at the bottom or on the side of your page. Its huge advantage is that it stays visible all the time while your visitors are browsing the page. A lot of people prefer this way of messaging, because it's less pushy and it doesn't cover up any part of the content – just like Funding Circle does: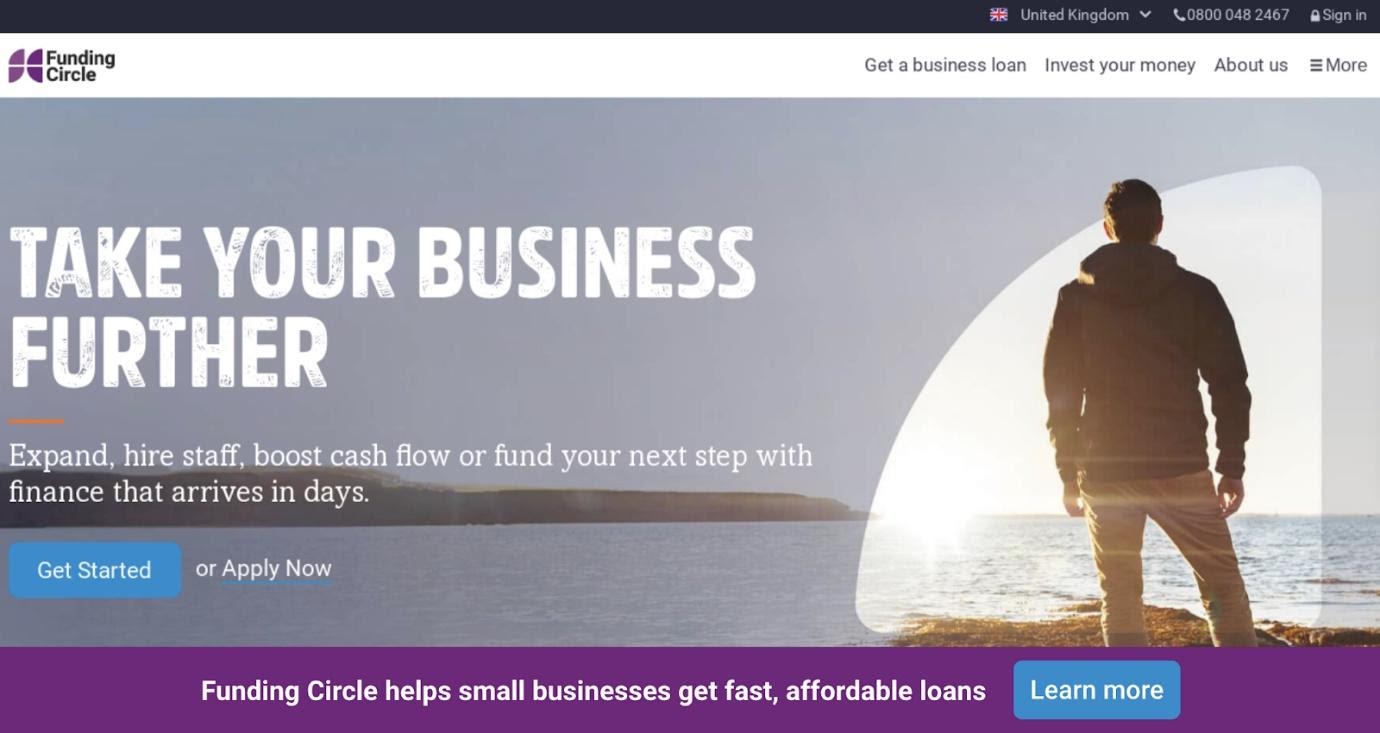 Fundingcircle.com also decided to use nanobars for redirecting, with the help of OptiMonk.
Just like Bestpricenutrition.com, they also defined a minimum time so the nanobar only appeared when a visitor spent at least 5 seconds on a subpage. But they also added something more.
Their campaign only appeared when the visitor scrolled through 95% of the page. This way, the popup did not ruin the user experience during reading or browsing.
When visitors reach the end of the page, they come to a critical decision point: continue browsing or leave the page. With its precisely set up campaign, Fundingcircle.com finds its visitors at the right time to show the message and engage them.
However, they did not want to show the campaign on every subpage, because the message may be not relevant to all visitors. So, Fundingcircle.com defined that the nanobar only appears if the currently visited page contains either "/white-glove-service" or "resources." That is a perfect example of a sophisticated targeting.
In order to evade intrusion, they configured the message so it only appears a maximum of 3 times per visitor, with at least 1 hour between 2 appearances. They also excluded some IP address ranges, which can be a perfect way to exclude geographical areas you don't wish to target.
And with this campaign, Fundingcircle.com reached an amazing 18.18% conversion rate – so almost every 5th visitor who saw the nanobar clicked to learn more.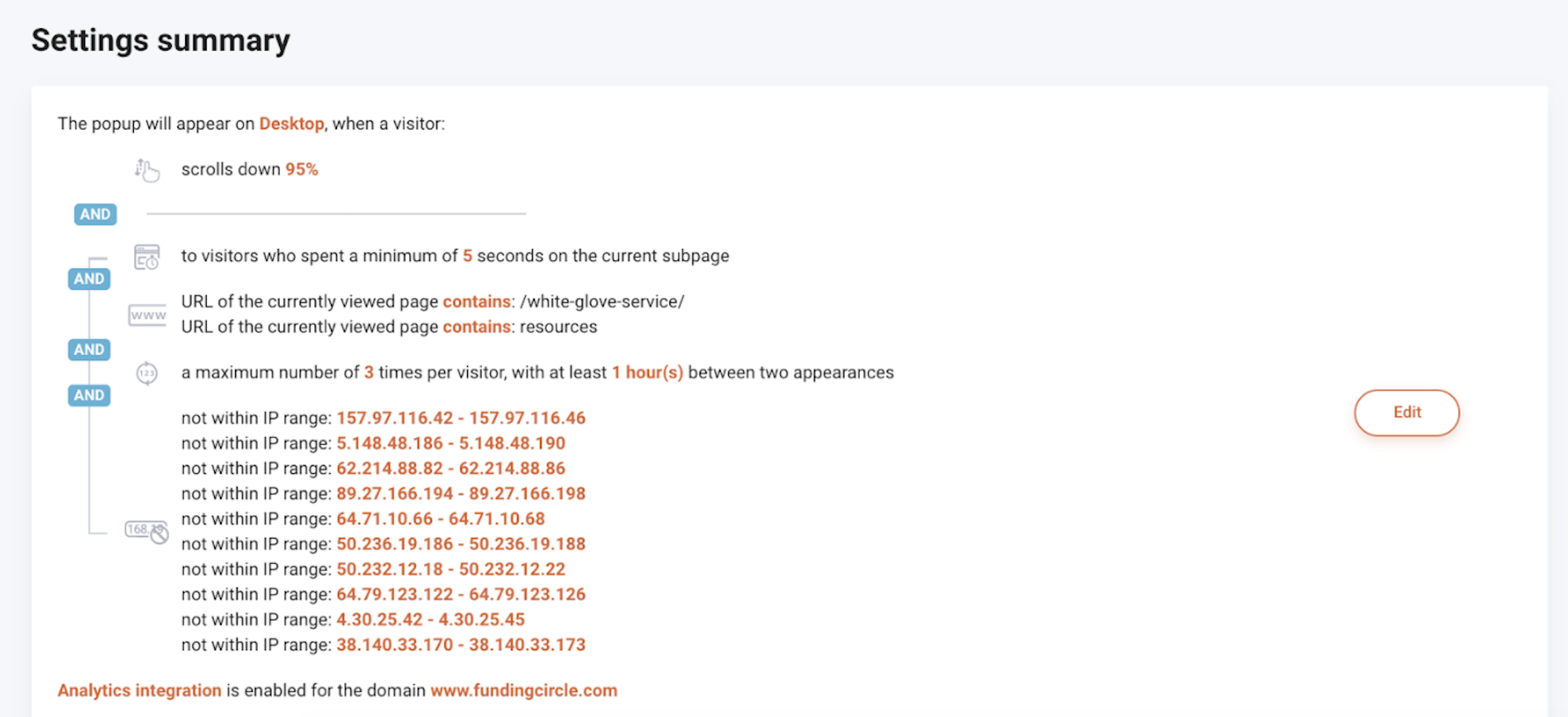 3. Get more social followers and shares
We live in a social-media-driven world. Half of all people using the internet are on Facebook, too, and it's just one platform. It's time to realize that there is no escaping social media in 21st-century marketing; ignoring its potential to advance and enhance your blog is a dangerous oversight.
Focusing all your time and energy into creating an amazing blog but neglecting to utilize social media can limit your reach, no matter how good your content is.
Using social media can bring a whole lot of benefits to your blog. It can drive traffic to your site, help build a network with people who share your interests, and let you build your online presence. It works amazingly as a marketing tool, as well, and it can even help sponsors, agencies, or other brands find you. Not to mention that it helps you keep up with trends, hot topics, and latest developments. 
Use social media to gather quality followers! Whether your visitors are customers or not, by checking your site they've already shown some level of interest to your business. You can expect more interactions on your social media sites if you ask these visitors to follow your page: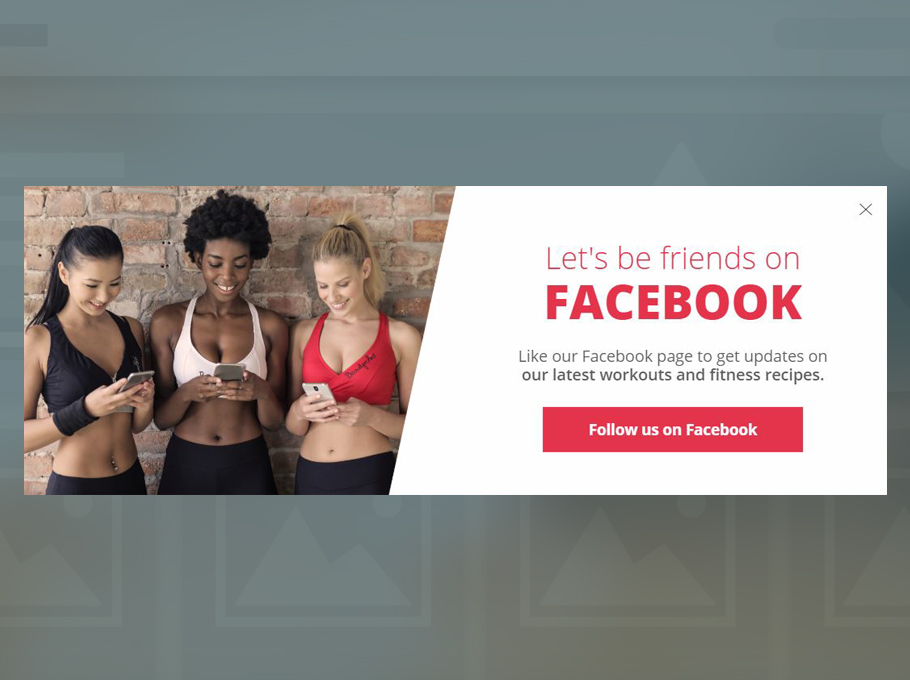 How can you reach even more people on social media?
By facilitating social sharing!
Studies show that people value other users' opinions and build trust sooner if a friend recommends a site or a product.
Use social share buttons on the thank you page of your offer and let your visitors spread the word. Launching this kind of user-generated content campaigns can be one of the best ways to build your brand: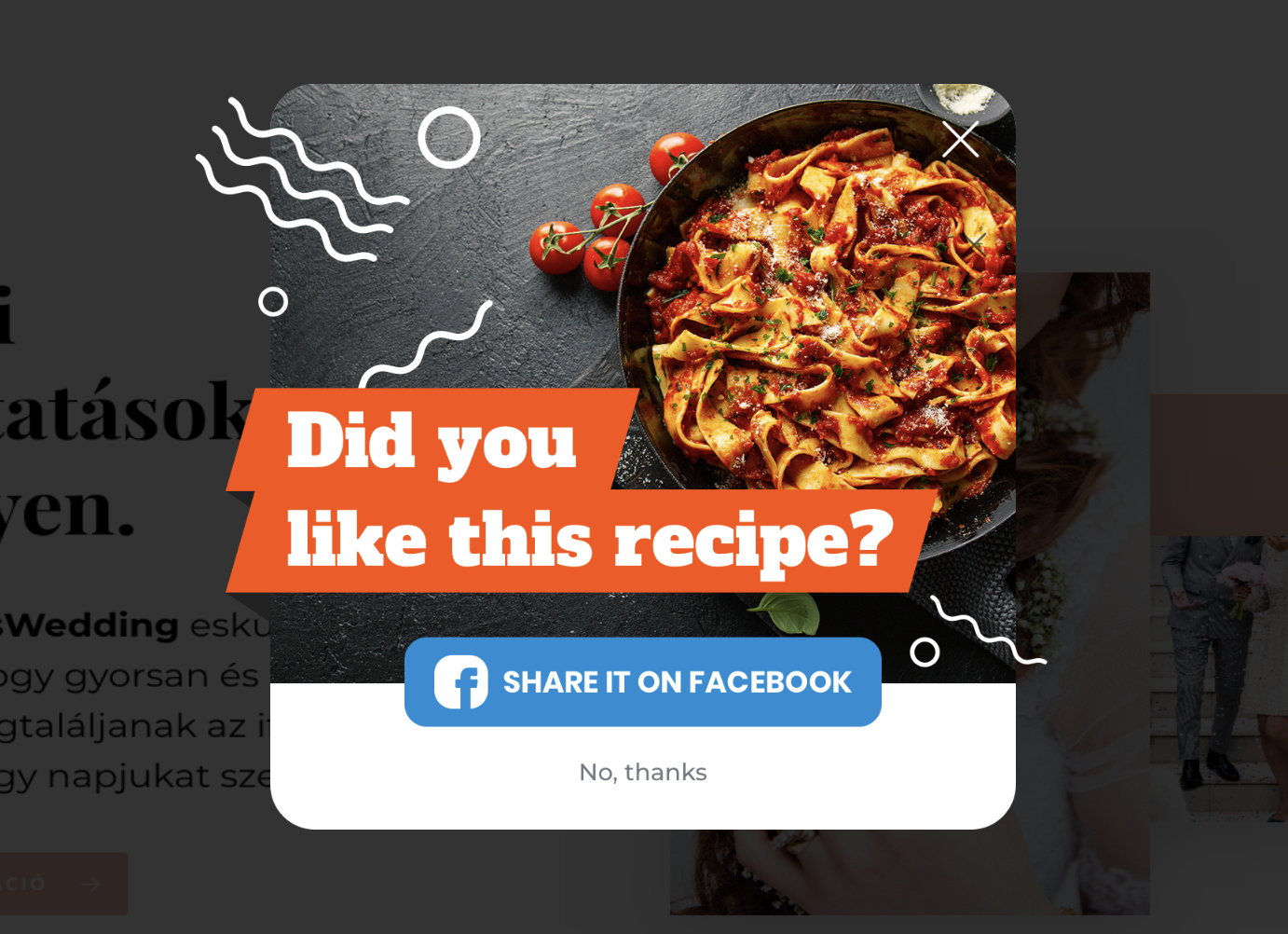 4. Promote featured blog posts or new content
Writing great content is awesome, and it is absolutely the basis for your blog to be successful. However, visitors usually don't just appear from thin air. Unless you have millions of fans who live and breathe your every word, you'll have to promote your content in order to reach more people.
But reaching a wider audience is only one part of the show. With the help of various promotion techniques, you don't just attract more visitors, you can engage your visitors for a longer time (so they will spend more time on your blog) or increase your ROI from the advertisements on your page. And of course, your content gains extra publicity.
Think of it as the content's ad that you feel might get you more blog followers. Your popup should include a link to the promoted page and a clear call-to-action showing why another post is worth readers' attention.
But be aware, timing – as always – is everything.
You probably wouldn't like being interrupted by a recommendation for another blog post while you're still in the middle of reading an article. So, the best practice to promote other content on your blog is by displaying the popup when a visitor scrolls down 80% of a webpage. (Alternatively, you can use exit-intent popups, too.)
This would be a great time to ask, "Have you seen this?" and link to something cool visitors might have missed, like this sidebar below: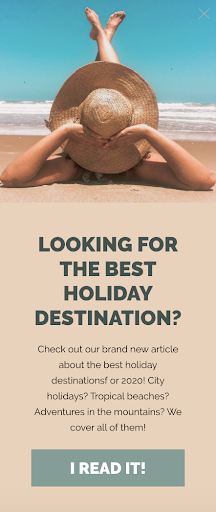 Use catchy phrases like "Looking for," "Have you seen," "Have you missed," and "You could be also interested" to get your visitor's attention. 
Make sure that your button has a convincing call-to-action on it, like "I read it," "I read on," "Continue," "Go ahead," or "Let's see!"
5. Proven tips to supercharge your popup on your blog
Regardless of the aim of your campaign, there are some rules of thumb and best practices to follow when you are preparing your popups. Here are 5 proven tips to raise your campaign to another level:
Looks are everything

. First impressions really make a difference.

Keep your campaign minimalist and clear. Make sure it fits to your website's design!
Check readability

! Your content is the essence of the blog

,

so avoid using really fancy fonts that make reading difficult.

Add relevant, quality images to your campaign

! Studies show that people often look at images first.

Use clear headlines with a single goal!

 Your headline should quickly summarize the offer. And remember, often times less is more. Don't try to summarize multiple messages in a single popup.

Always A/B test!

You should always create more versions of your popups and compare them to each other. The best results occur when you optimize your campaigns based on actual results.
If you want to read more about this topic, check out this detailed, 25-point checklist for creating awesome popups here.
There's a huge amount of "virtual noise" in the online space, and there are so many websites and blogs to choose from. Grabbing visitors' attention has never been so difficult.
However, popup campaigns can help you move forward and bring your blog to another level regarding visitor loyalty and engagement, traffic generation, and even revenue.
Whether you just started your blog a couple of weeks ago or you define yourself as a "blogging veteran," you can use popups in a whole lot of different ways to improve your blog.
You need to know: everything begins with quality content—without that, popups just won't do their magic. But if you provide the best quality to your visitors, these types of campaigns can really lift your blog to the next level.
Grab the opportunity and stand out from the crowd!
If you feel like you would like to try these methods on your blog, the only thing you have to do is creating your free OptiMonk account. With our easily customizable, wonderful templates, and user-friendly campaign editor, you'll be able to create your first campaign in a matter of minutes!