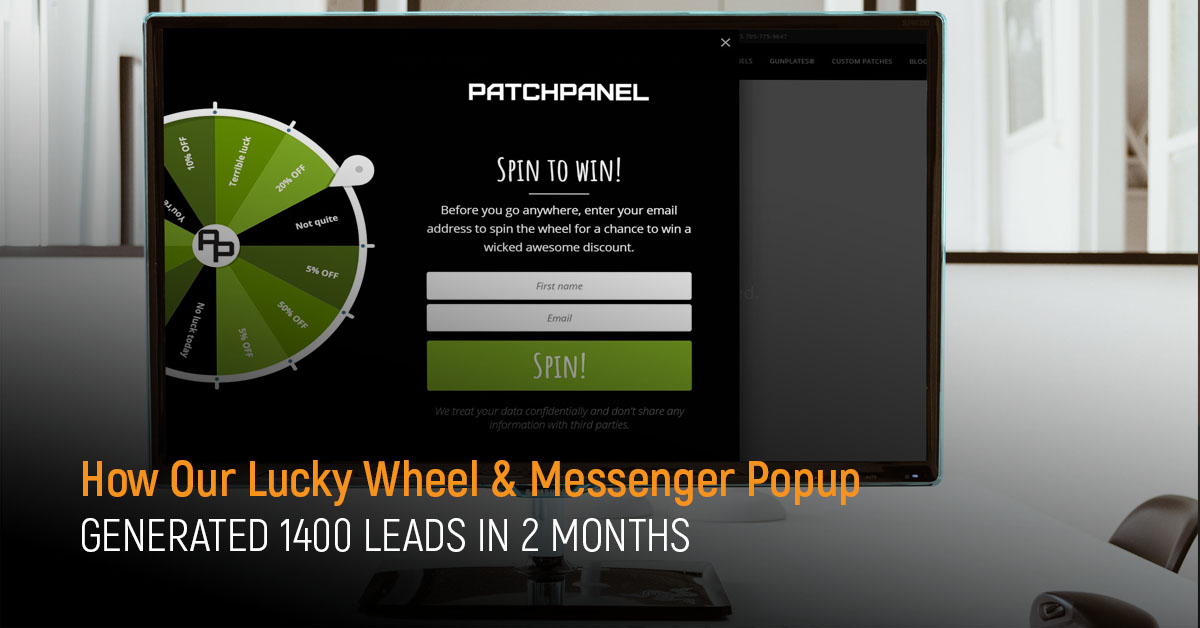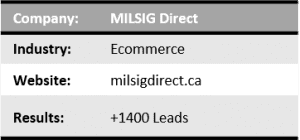 In eCommerce, one of the most important things you can to do is to build a sales funnel that leads potential customers to the final goal: the sale. We all know that not all of the visitors who come to the website are engaged enough to purchase immediately. However, most of them can still be converted later if you support your sales funnel with great content that provides value to your visitors, therefore strengthen their engagement, but the question of how to do this without breaking the bank remains. In this article, we show you how you can boost engagement through gamification with our Lucky Wheel Maker.

Let's see how you can achieve this!
To gain their trust during the first visit, an eCommerce store owner can offer them to learn more by signing up for the newsletter. Building your list is crucial in order to be able to communicate to your leads. Then, a properly built newsletter campaign can be convincing and dependable so much so, that some of the subscribers will come back and purchase later.
We were honored to have interview with Evan Henshaw, the owner of www.PatchPanel.ca and www.MilsigDirect.ca who shared with us his story and how he used OptiMonk's lucky wheel:
He generated more than

1400 subscribers

just within two months of using OptiMonk on both websites which is, according to Evan's experience is a massive growth in comparison to before.
Since the OptiMonk campaigns strengthened the rest of his ongoing marketing campaigns, an incredible,

10% monthly conversion rate increase

was experienced
About the Company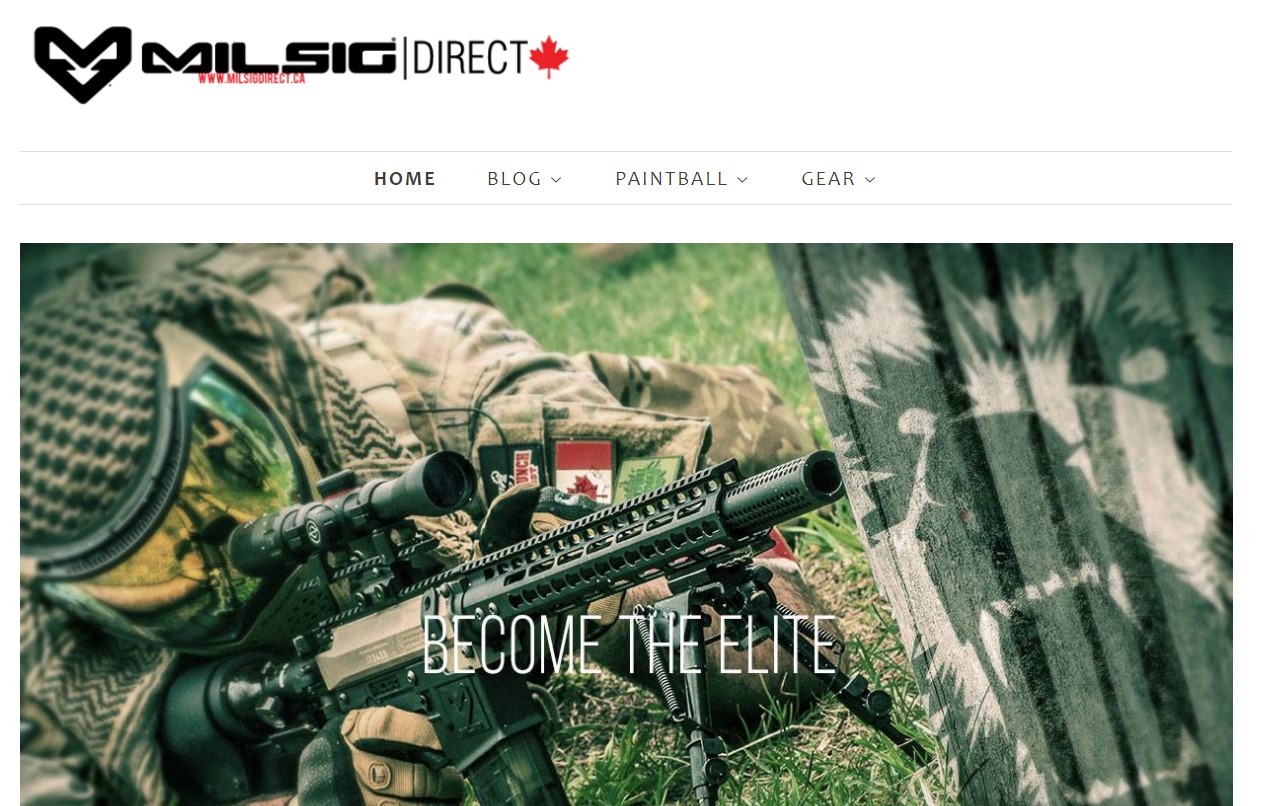 WMI Sports Ltd. was founded in 2012 through a passion for paintball, gear, and diversity. Never satisfied with what was on the shelf, the Evan with his team set out in ventures with talented creators to design and manufacture some of the most unique, reliable and functional gear that paintball has seen to date.
Alongside this, The Patch Panel was launched as well. Patch Panel manufactures, distributes and retails morale patches. It has been in business for 5 years. Now known as one of the biggest sources for collectible patches, morale patches, and custom patches, The Patch Panel has expanded into a full-scale distribution, offering retail stores the access to a huge selection at unbeatable prices.
In the past 6 months, the owner Evan Henshaw and his team made a heavy push on website optimization for retail sales with great success. Their goal is to provide a unique selection of morale patches that can't be found anywhere else.
Now, let's learn about Evan's success story from his own perspective:
Thanks a lot Evan for accepting the invitation to participate in the interview.
I'm curious that when it comes to your visitors, who is your best target audience?
Patches are a quickly growing fashion item. We can find a reason for just about anyone to be interested.
That is very interesting! Please, tell us a bit about what were the obstacles you faced before getting involved in conversion rate optimization?
The main obstacles were extremely low conversion and high bounce rates.
I see. Where did you meet OptiMonk for the first time?
I saw it within the Shopify App Store.
I wonder, what were the biggest advantages of using OptiMonk?
I saw a much bigger variety of built-in popup options than other solutions offered.
I'm glad that you liked the templates OptiMonk offers 🙂 What did you use OptiMonk for?
Exit intent is our primary use, but we're expanding our onsite retargeting with new experiments.
How effective was it?
The spin the wheel/gamification concept has played out quite well!
Thanks a lot for the introduction, Evan! Before moving on, let's stop for a while and take a closer look at the first campaign: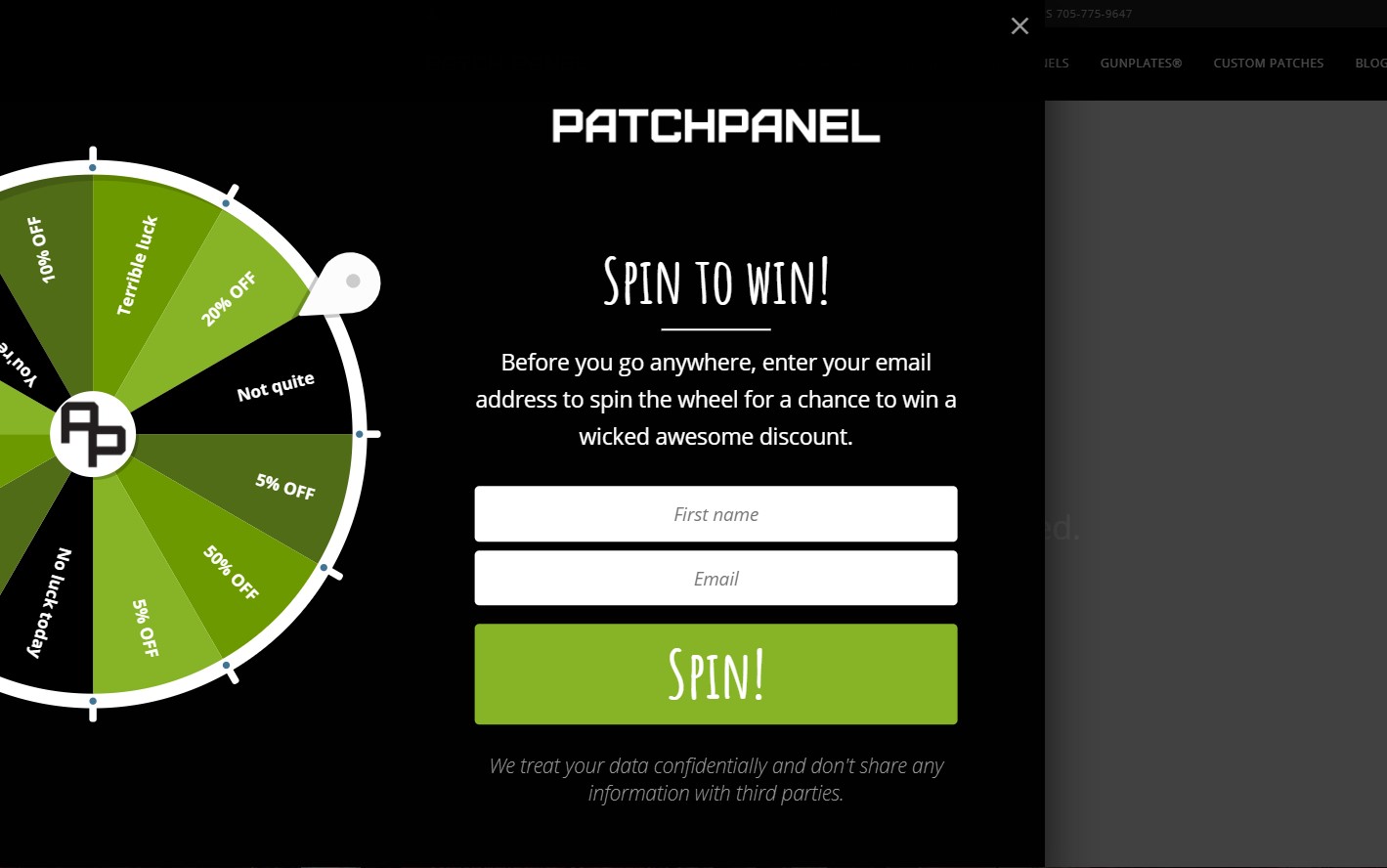 The Lumira campaign has been designed with the idea of gamification in mind. What is gamification? Gamification is the application of game-design elements and game principles in non-game contexts.
How does it work with OptiMonk? The visitors get an opportunity to win a prize in exchange for their subscription. This type of template may work very well in case of e-commerce store or in case, where the business type is not that strict (for example real-estate, etc.) Why it works well is that it raises the feeling of curiosity while being fun to participate in.
It means, that with OptiMonk, by inserting a game element the subscription rate can have an incredible result in case of an e-commerce store which has an aim to increase the conversion rate and decrease the bounce rate.
This type of template gives an opportunity to visitor to spin the wheel after they provided their email address in order to get the desired prize.
After the spin, the following thank you popup displays: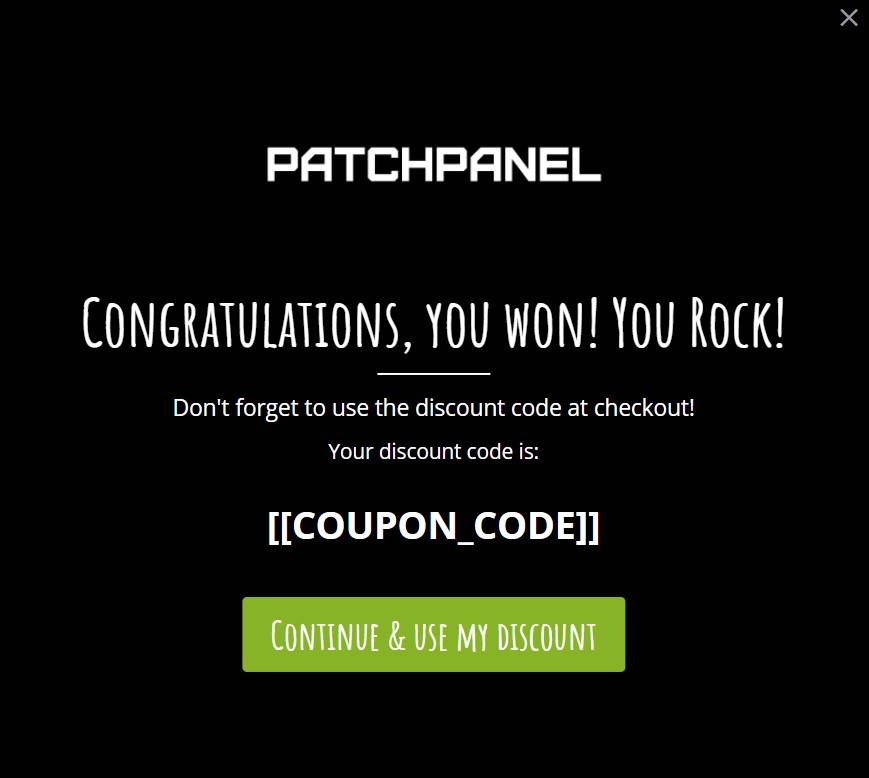 Because the subscribers see their coupon codes immediately, some of them will buy straight away, while the others can still be converted via the newsletter depending on their level of engagement.
In order to display the popup to the right visitors only, the following settings have been used:

Showing the popup on exit intent allows to target those visitors only who are no longer interested in the offers of the site. This way you are not going to prevent visitors from browsing but can communicate to those who have already lost their interest for some reason.

Inactivity on the site may also be considered as a state when the visitors are no longer interested in the offers on the page. That is why Patch Panel used this setting but on mobile devices only.
Additionally, to make sure that the popup is only displayed to the targeted audience, the popup displayed up to 2 times maximum only and only when someone spent at least 5 seconds browsing the page: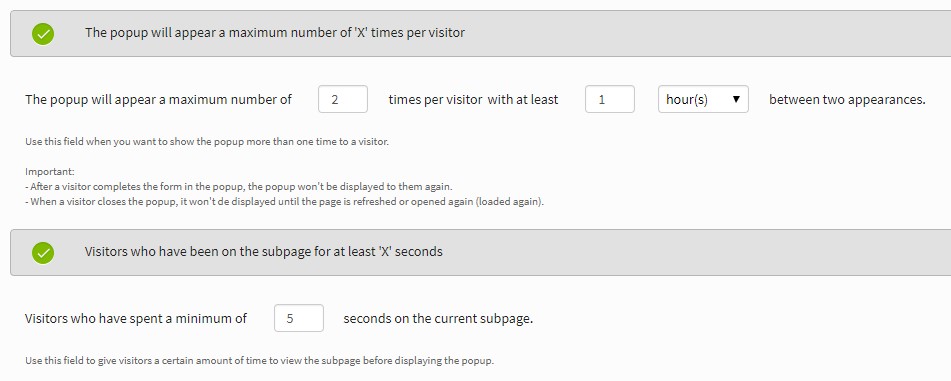 In the case of newsletter campaign, the final conversion goal can be achieved only if the subscribers are followed up actively via newsletter. To do that, the campaign was connected to MailChimp:

As a result, the campaign reached an incredible conversion of 12%.
Now, let's find out what is Evan's opinion about the setup process and the results.
What was the setup process like for you?
It was quite simple, and now we just make minor tweaks and refinements to make sure it's displaying to our highest intent buyers.
That sounds awesome! How long did it take to achieve the first results?
Results were showing within days.
Unbelievable! By using OptiMonk did you experience any increases in revenue or growth?
Definitely. We experienced a consistent 10% MONTHLY growth, we employed several campaigns to do so, but given the conversion rates of our OptiMonk popups, I'm certain it is a large portion of the increase.
Thank you for sharing your experience, Evan!
Now, let's move forward to the second solution applied to increase the conversions in terms of subscription with OptiMonk.
Solution No 2: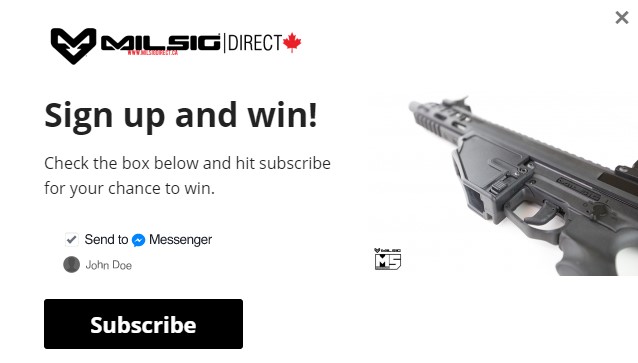 Messenger popup has been designed for Shopify stores and it works together with the Recart app. Recart is the biggest platform that provides messenger chatbots for Shopify stores. This brand new method is often referred to as conversational commerce. Let's see why:

During the 2nd quarter of 2017, Facebook reached 2 billion monthly active users, which is still keep on increasing (now it's over 2.1 billion)
Facebook is the #1 app in the US
According to

studies

, smartphone users check their Facebook 14 times a day. Using Messenger sequences, you can achieve 80 to 90%+ open rates.
This also provides very unique, quick and fast subscription experience for your customers, mainly those coming from mobile devices. As an extra, you can send lead nurturing messages and promotions using chatbots through Facebook Messenger.
Its' secret lies in its' simplicity. In order to subscribe to the newsletter, the visitor is not recommended to provide an email address, but it is enough to be logged in to their Facebook accounts. It takes only one click to sign up to the newsletter and the subscribers can be easily reached out via their Messenger accounts later on. Many of the Facebook users are available online most of their times which means the message opening rate will be significantly higher, even up to 85%.
Let's see which settings have been used for this campaign:

The popup displayed after 30 seconds browsing the website on PC and Mobile devices. However, only for those visitors who browsed the following page:

To ensure that the popup does not display too frequently or too early, it has been shown after 5 seconds browsing the page up to 2 times:

As a result, the campaign reached an unbelievable conversion rate of 74% percent just within 1 month! Just imagine, if 300 people subscribe and 85% of them open the message, it means that you can still convert 255 leads into potential buyers. Don't forget, that the most important reason of keeping in touch with the visitors is to build rapport and to strengthen their engagement. Engagement leads to final goal: the sales.
Evan, what are your thoughts about the subscription rate you have reached?
Subscription rate growth is MASSIVELY increased, there is no comparison to previous.
I'm glad to hear that! 🙂 How has OptiMonk impacted your success? Your team's success?
It's simple to use, so we don't need to spend huge amounts of time working with it. Whenever I can't figure something out, support has been great.
What is your favorite feature or part of our product? Why?
Great support that helps me fix things when I screw up 😉
Summary
As learned from Evan's experience, it has been proven that with the well-designed newsletter campaign, an extremely successful results can be achieved at the end. At the same time, by following the latest marketing trends and setting up the messenger popup, it was proved that incredible results can be achieved within a very short time.
Evan, what would you recommend to those website owners who hasn't started saving their visitors yet?
I'm a believer now. I believe that if you're not taking the simple steps of CRO, you're wasting your money.
Thanks a lot for sharing your thoughts and experience with us, it was very insightful to learn about it from you personally! 🙂
(Note: If you'd like to achieve similar results, why not try OptiMonk for yourself? We offer a forever free plan. All you have to do is register here.)