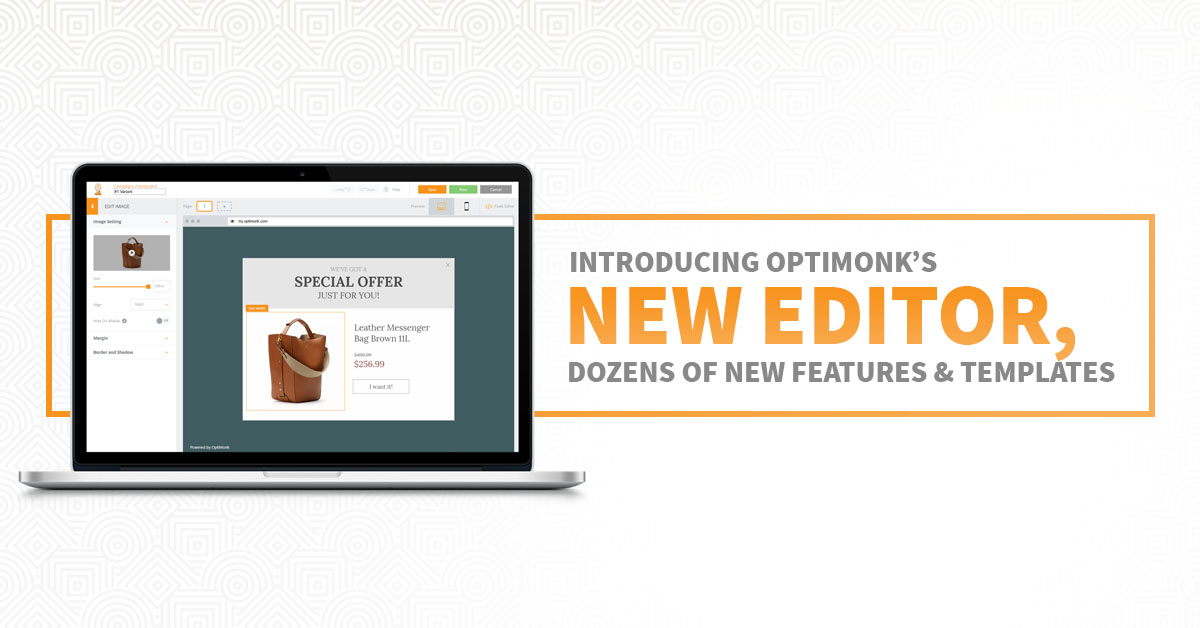 Onsite messages are great to build an email list, save abandoning visitors and drive more sales.
But what if you could…
build a Messenger list?
get feedback?
evaluate customer loyalty with NPS?
increase video views?
…… and all using the same technology.
All that in just a few minutes with ready-to-use templates.
Then easily edit it to your own style without any technical knowledge.
Interested?
Introducing the brand-new OptiMonk Popup Builder featuring drag and drop elements and more advanced settings (yet it's easier to use) and dozens of new popup templates! AKA the *new* way to create a popup.
Once you try it, you're gonna wonder how you ever lived without it.
Spoiler alert: This is just the first step on the long way because at the moment we are working on a new, more user-friendly admin interface. You'll hear more details later but for now let us introduce the new popup builder.
Let's get into the details!
Table of contents:
---
Get feedback from your customers
You already have a group of customers who love you and would be happy to give feedback. So why wouldn't you ask them?
You don't have the right tool?
Luckily, with our new toolbox you can get the data you need to deliver a more personalized experience for your audience.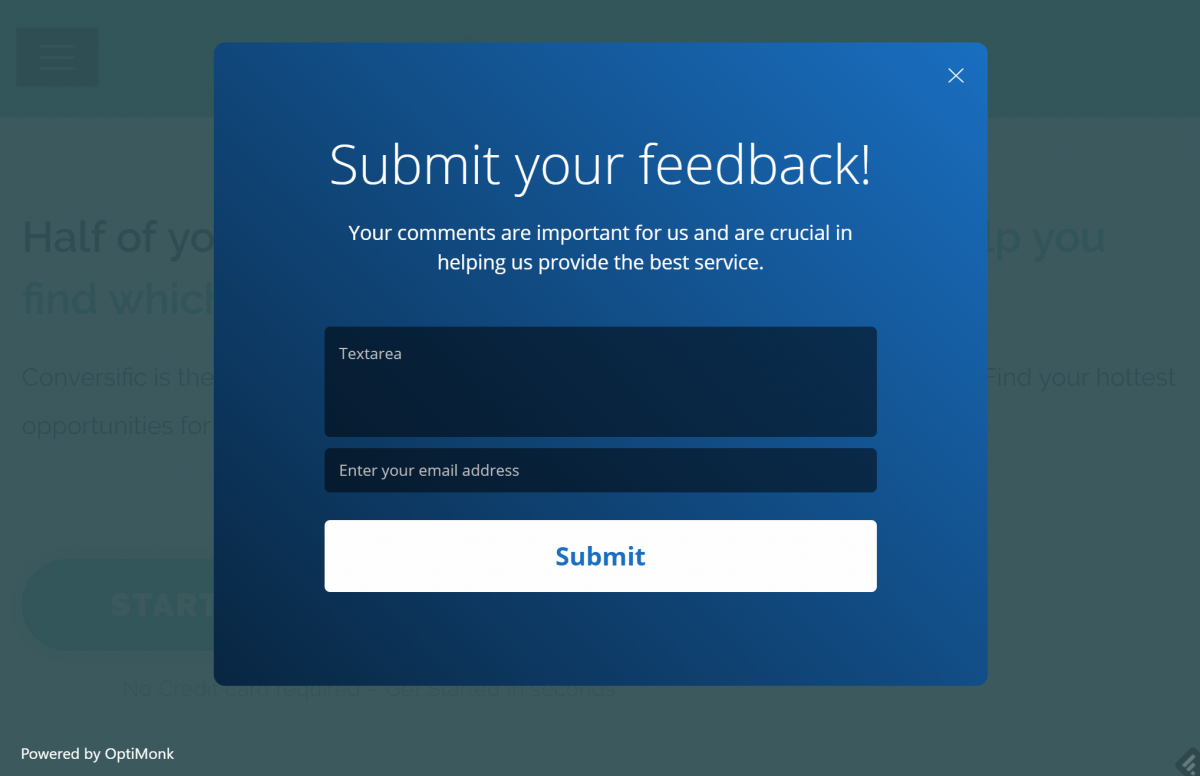 ---
Build surveys
With our new toolbox, you can not only ask one question, but you can also collect deeper insights from your customers. Add customized forms to your popup and display responsive surveys to your visitors.
Simply by asking your customers and listening their needs can take you and your business a long, long way!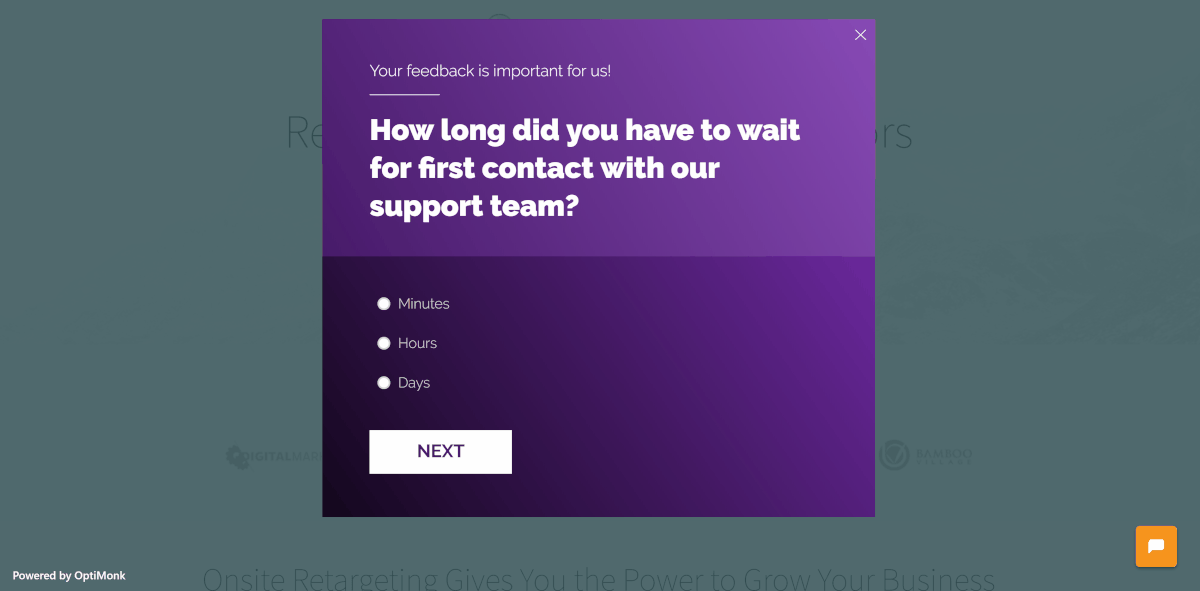 ---
Increase the number of video views
Have you spent months to create a new product video, but no one has seen it yet? You want it to go viral and has millions of views?
You shouldn't expect your visitors to find your videos on YouTube, instead of it just pull in any video asset from YouTube and increase the number of views immediately.
Not to mention that most people – in fact, four times as many consumers – would rather watch a video about a product then read about it. If you're looking to drive more sales, videos can help you with that. Ecommerce sellers found that using product videos can increase purchases on an online store by 144%. Sounds good, right?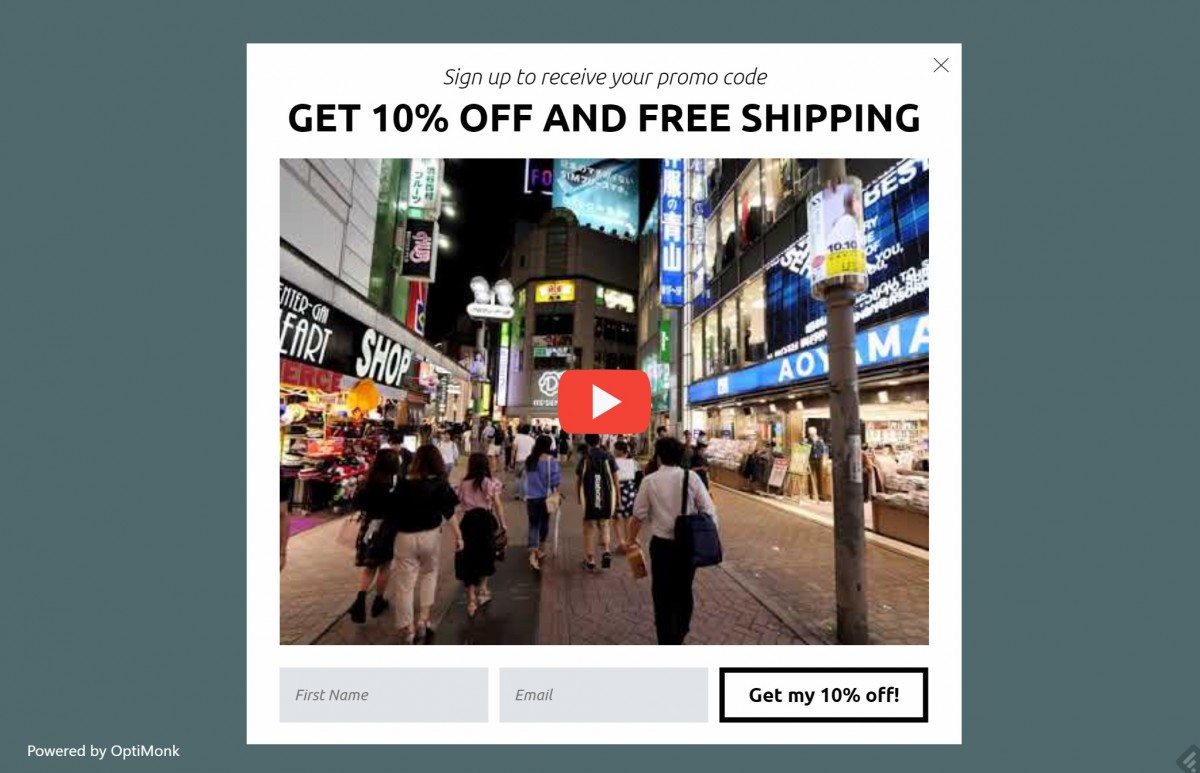 ---
Build a Messenger list
Chat and in-app messaging are already revolutionizing customer service, it also looks to replace email marketing as the preferred method of customer contact for marketing purposes simply because it provides much better open rates than email (85% vs 20% open-rate).
Today we open the world of Messenger marketing to everyone with a website. This feature is no longer limited to use with Shopify as previously. You can start to collect Messenger subscribers and generate leads using popups.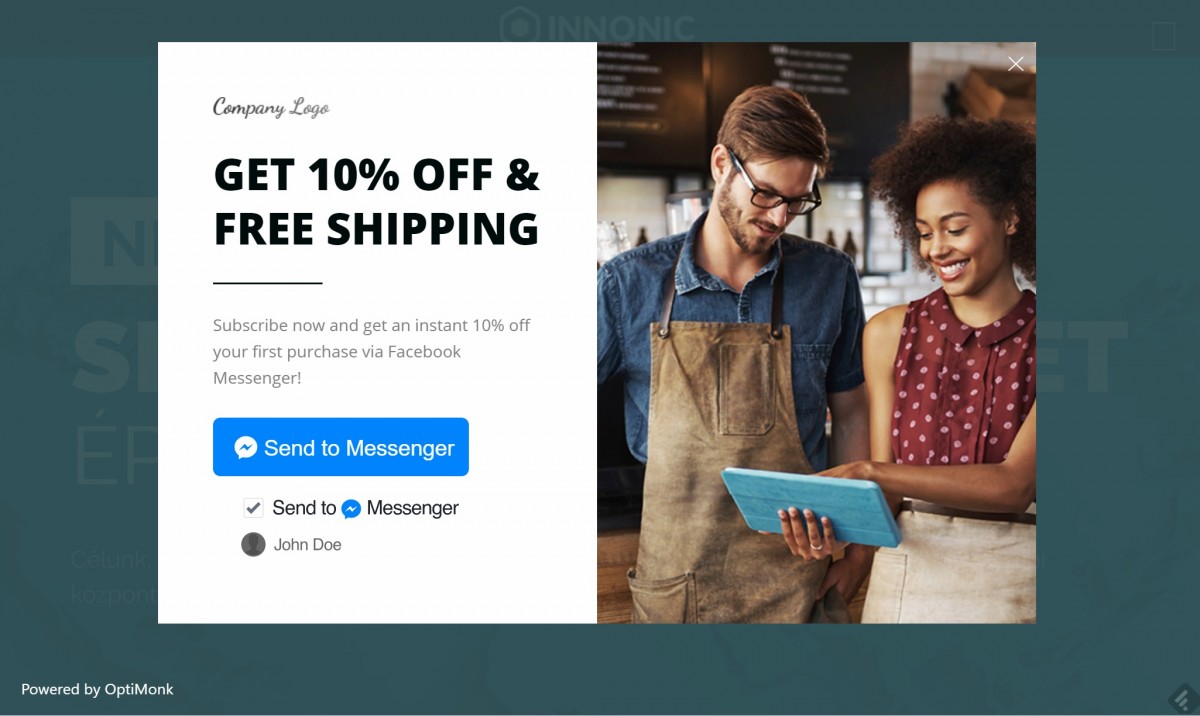 OptiMonk gathers Messenger subscribers for you and integrates with two popular chatbot services, Recart & Manychat that you can use to send messages.
---
Evaluate customer loyalty with NPS
Net Promoter Score (NPS) is a customer satisfaction benchmark that every website should measure. It shows you how likely your customers are to recommend you to a friend.
Using our brand-new NPS nanobar your customers can easily rate you on a scale from 0 to 10 and you can find out how satisfied your customers are.

---
Show that you're GDPR-compliant
GDPR is a hot topic nowadays, not only for businesses but for visitors also. They want to know that their privacy is priority for you and that you are GDPR-compliant.
With the new editor, your visitors can accept your Privacy Policy on a nanobar.

---
Display an after-purchase offer
Do you want to maximize your profit? Of course, you do.
Offering a discount to customers after purchase can help you to make them repeat customers. With the new editor, you'll be able to ask for feedback about the purchase experience and offer a discount in exchange.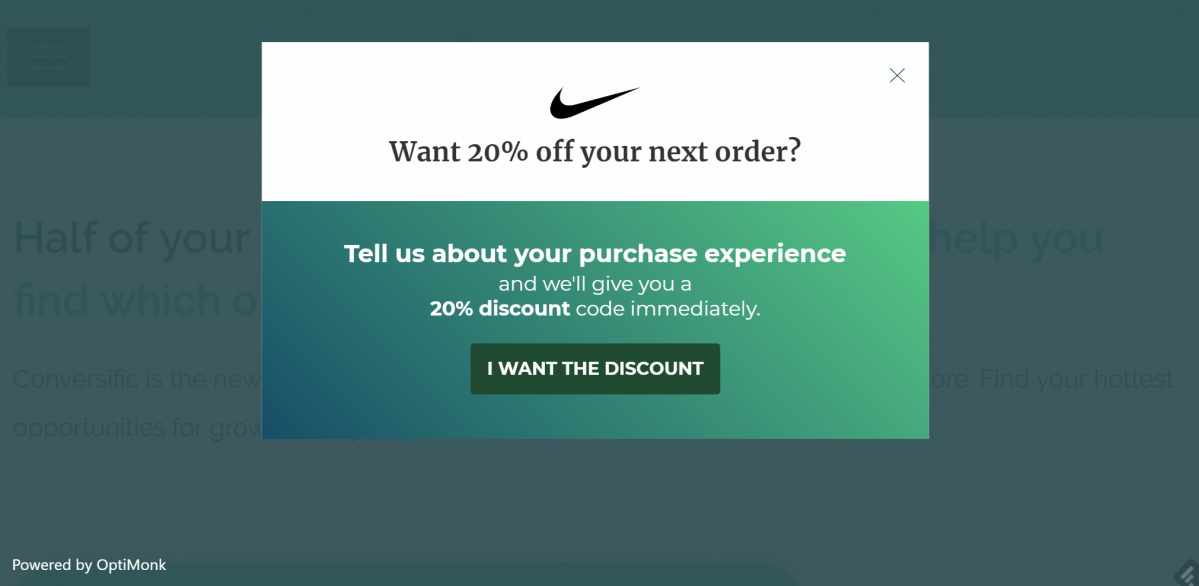 ---
Now you're wondering how all the above is possible?
Alongside the new editor we are releasing 20+ new templates for all kind of use cases. Basically, we have at least one template for everything you might need. Plus, we've updated our existing templates and gave them a more modern look. Choose the one you need, and you can customize it in 5 minutes.
Not to mention that all popups created in the new editor are fully responsive. Your popup will look perfect on mobile devices and tablets as well.
We added custom form fields, that makes you able to max out the data you can collect from subscribers. You can ask much more than an email address and a name, your imagination is the only limit.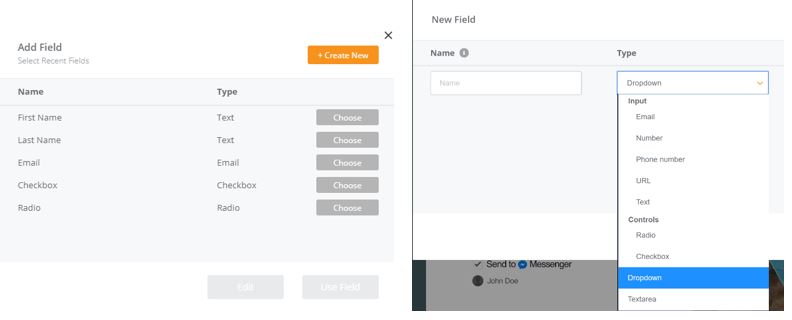 We also added tabs, which is the minimized versions of your popups. They are positioned to one of the corners of your visitor's screen when they are browsing your site, which helps you to maximize your conversion rate. They highlight your offer before/after it would actually appear, so visitors have more time to digest the value they can get from you.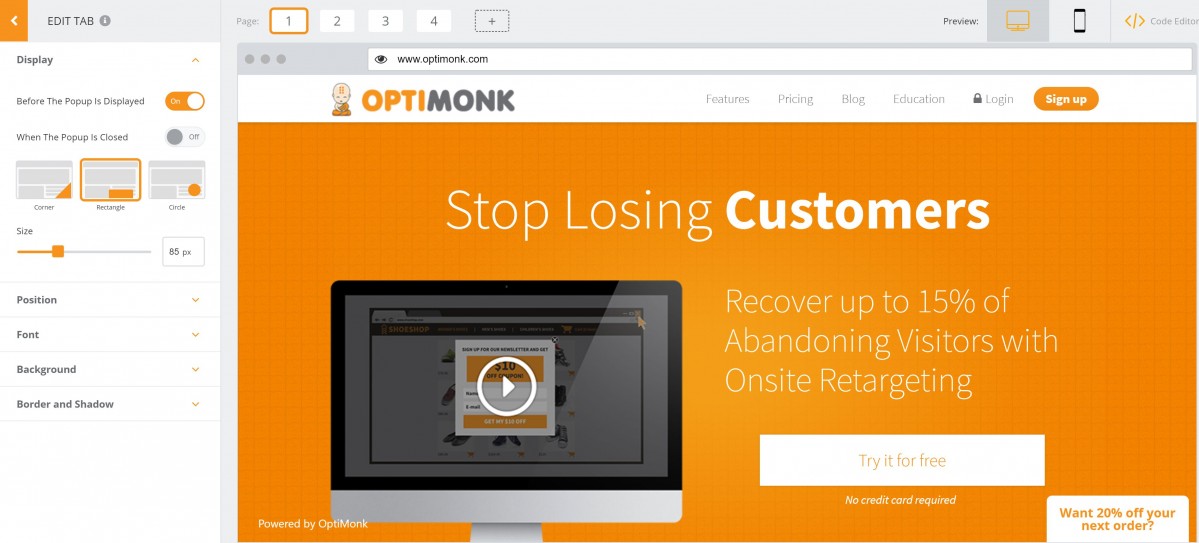 ---
Achieve it all with the brand-new Drag'n'Drop Editor!
All of the features mentioned above are available in OptiMonk's new drag'n'drop editor.
With the new drag and drop editor, you are not locked to fixed layouts anymore. You can freely move elements around and customize the looks of your popup to meet your needs. It'll make it much easier to edit your popup and it provides far more settings, for example you can change the size of the CTA button or the placement of the closing x button.
But really… you can change every small detail.
Text elements, images, countdown timers, dividers, social buttons and CTA buttons: everything can be configured without any HTML or CSS knowledge. Yes, you've heard it right: no coding needed to create a custom popup. You can create a custom popup from the base in a few minutes by simply dragging and dropping the elements you need.
(That's pretty awesome, right?)
Here's how you can customize a popup template in less than 5 minutes:
AND it also includes professional image editing options, meaning you can easily add images and customize them – either as a background, or as an illustration.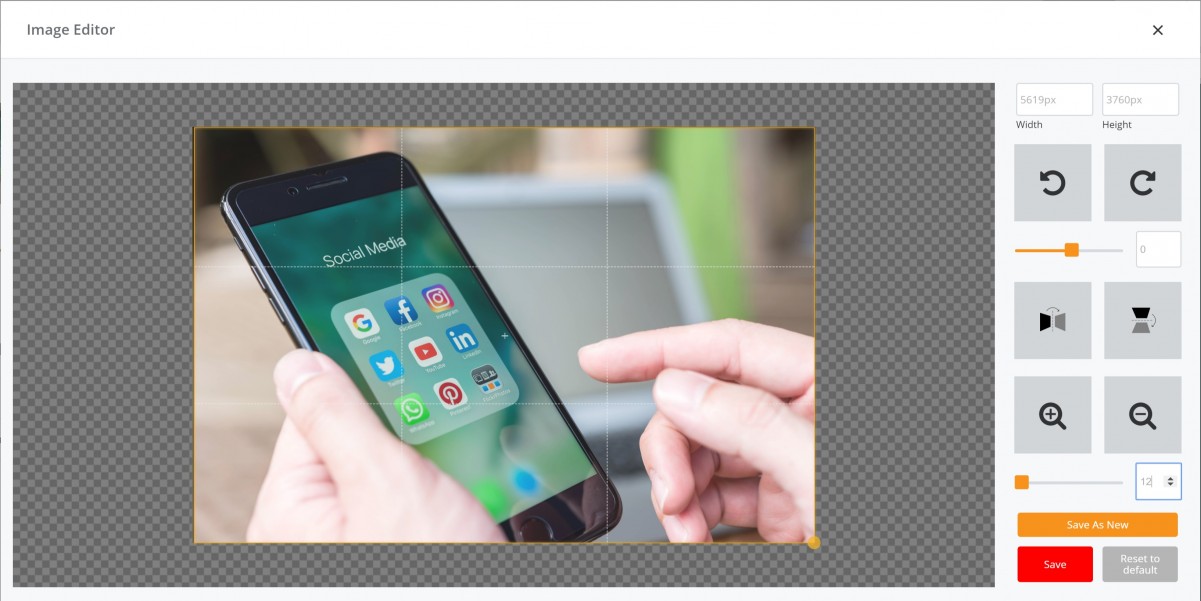 So, we released an editor that not only provides the world's best editing experience, but also makes you able to take your popup strategy one step further – with fully customized popups.
Imagine how many more leads and customers you can get with the new popups.
Now, we hope you're excited enough to give it a try right now!
Create a free account or sign in to your existing one. When adding a new campaign, you'll see the following screen. Choosing the button on the right, you can try all our new features and templates immediately.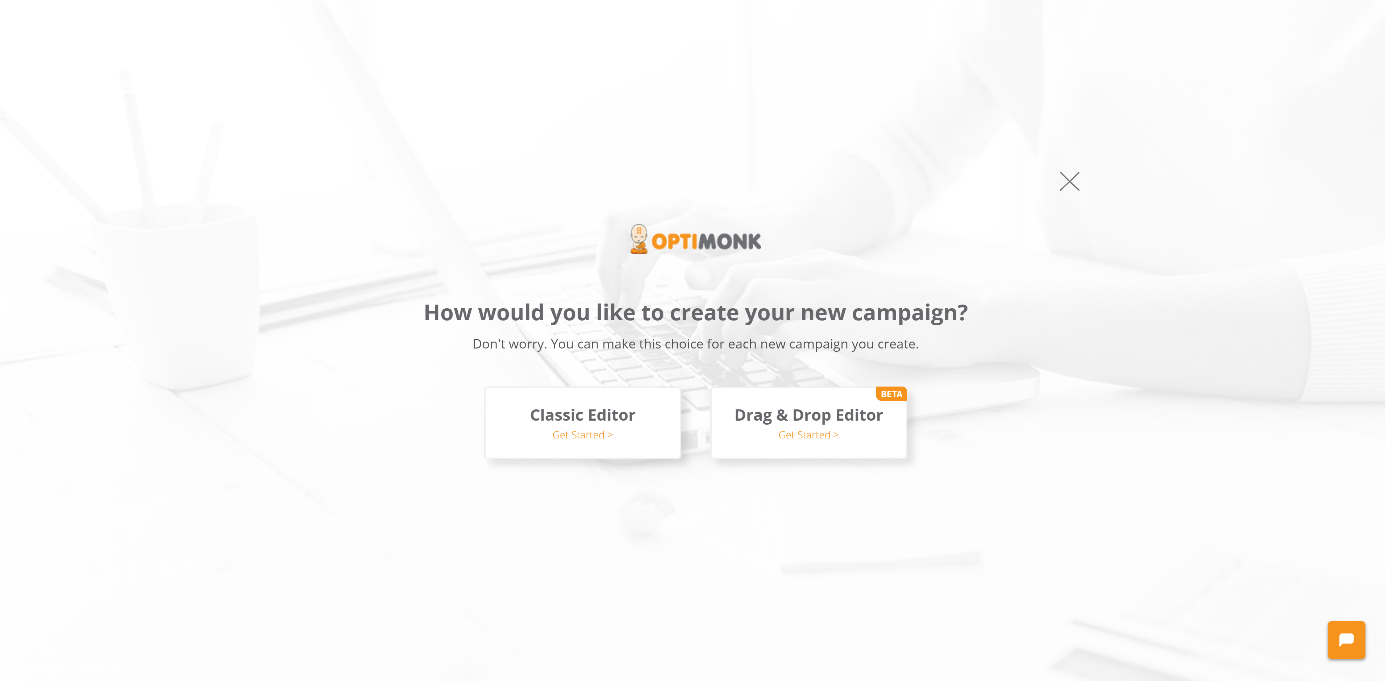 Note: As you can see, you still have the chance to choose between the classic editor and the new editor up until the end of the year. However, it's worth to recreate your old campaigns in the new editor, because after that you won't be able to edit old campaigns.