One common assumption is that because a website is responsive is that it is also mobile-friendly. This is frequently not the case, and consequently, businesses are often unaware that their website has been classed as unfriendly by Google search. While there is several simple mobile-friendly tests that can be carried out to test for mobile SEO status, the same can not be said for CRO.  
Why is Mobile First so Important for Conversion Rate Optimization?
One statistic sums up why mobile-first is so important, not just for how you optimize your content but for business in general, and that is, – according to Google, 77% of web searches on mobile devices are made at work or at home, precisely those locations where desktop computers are also available.  People are choosing to search on mobile-first rather than desktop because of its convenience and its always-on availability.  
Consequently, if most of your organic traffic is not coming from mobile, then you know you have a problem.
Consider, that in past, in the majority of consumer journey's multiple devices were used, the acronym ROPO (research online / purchase offline) has effectively been consigned to the history books because in 2019, the majority (53%) of of all ecommerce sales were via mobile devices. The majority of consumers are no longer researching online and buying offline but instead buying and doing so on mobile devices.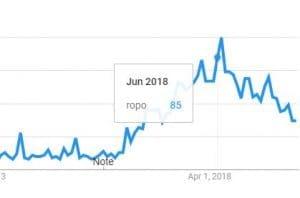 If this is not convincing enough, consider that 65% of all ecommerce traffic came from mobile devices in 2019, highlighting why mobile devices are so important today. 
Mobile first provides the impressions of your business that convinces potential buyers to return later on mobile or other devices.   
Industry by Industry Variation 
On an industry, by industry basis, mobile website traffic and sales vary extensively, with more expensive items less likely to be purchased on mobile devices.  The fashion industry is leading the way, for example, 75% of all traffic and 67% of all Sales coming from Mobile and yet in the Travel industry, even though 53% of traffic came from mobile-only 29% of sales were made on mobile devices.  (source: Salescycle).
The Merging of SEO + CRO
As a direct result of Google Search algorithm changes in 2018, search results are increasingly being prioritized by search intent, rather than the search terms used.  Consequently, we are seeing a confluence of SEM, CRO, and SEO.
Previously business objectives determined the terminology focus for SEO research, this is as it always was, no change here, but what has changed is that SEO professionals can no longer increase the share of the search without considering CRO factors and this is increasing with a focus on mobile-friendly content. 
Mobile-Friendly SEO
Google has created a simple guide to SEO and provided several free testing resources to help you detect problems with your mobile content.  The mobile-friendly test and the more general page speed test, which is great because it provides plenty of suggestions on how to speed up your website for both mobile and desktops.
Google Chrome also has a device emulation tool built directly into it, alternatively, there are several addons in the Google Chrome store that provide the functionality to reset browser width to any specific size.  Run a quick check to see if your site is responsive at common screen dimensions by resizing the browser window to see if the content moves to fit the available space.
One of the many steps to becoming Mobile Friendly in terms of both SEO and CRO is speed related enhancements, such as minimizing image, javascript and stylesheet sizes.  If your website loads quickly on any device you are more likely to get them to stick around to read your USP and subscribe.
How to be Mobile Friendly for CRO.
Being mobile-friendly with regards to CRO is to be mobile-first within a potential Multi-Device consumer Journey.  While most consumers will find you first via mobile search, it is unlikely they will buy your product or service on the first encounter, although how consumers eventually buy varies greatly depending on your business model and industry. 
Tips for Capturing Leads with Mobile First (CRO)
In order to make sales, you need to get website visitors to come back to your website time and time again in order to convert them into customers (on any device).  The problem for business owners is that while their website might look good and capture leads via desktop, it does not mean that it will via mobile.  Adjustments must be made to be user-friendly.  
Conversion rate optimization is typically carried out and optimized over time through A/B testing and just like with search engine optimization it must be constantly refined for best effect.  The purpose of mobile-first is to entice them to return and make it easy for them to return.
Your mobile content should be:-
Easy to read, short and to the point.

Use different imagery to your desktop offering. (rare that the same image dimensions can be used).

Supply the ability to communicate via FB messenger (multi-device tracking – enabling retargeting).

Use correctly proportioned elements like buttons.

Add social share and bookmarking functionality.

Provide the option of video overview with subtitles (understandable even if the visitor doesn't have headphones)

Be easy to navigate and exit.

Be easy to subscribe to with for example FB Messenger.

Keep the content the same BUT make the message shorter (see point 12). Visitors need to find the same content no matter the device used.

Avoid mobile applications where possible. They just aren't necessary in most cases thanks to HTML5.

Don't block the message! Use time delayed popup overlay to capture data.

If the user did not interact with the initial popup then trigger an exit-intent popup when leaving. (Popup must be designed for mobile)

AB test your mobile content, just like you should for desktop versions.

Follow Google's website advertising rules.

Make sure your mobile users accept your tracking and be GDPR compliant.
Optimonk makes CRO for mobile easy
It takes time to optimize your mobile experience, and some of the points in the above list do sound less than easy.  Luckily OptiMonk provides the solution to most of these issues, from delivering a simplified message via popup whether it be time-delayed or on exit intent to video delivery.  Capturing details is also a breeze with subscribe with FB messenger. 
OptiMonk is GDPR friendly, with a banner designed for obtaining consent, and with the latest release, it can detect popup blockers, while the features of OptiMonk are designed to be Google friendly.  OptiMonks simple drag and drop editor makes it easy to add share buttons and subscribe with FB messenger button.
Let us know what are your thoughts on CRO for mobile devices in the comments.