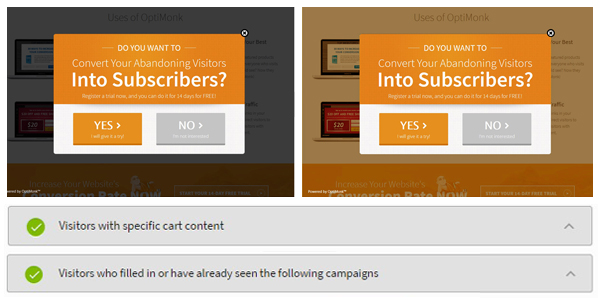 With OptiMonk's customer segmentation you can target your visitors based on the items in their cart and the campaigns they've seen before. This makes OptiMonk more powerful than most Onsite Retargeting tools. You can also control the opacity and color of the overlays that appear with your popups. With our new popup editor, code additions are no longer required and mobile views are automatically generated. It has never been easier to modify every aspect of your popups. Let's take a look at these features of OptiMonk and how they can improve your chances for success.
1. Ecommerce cart based customer segmentation
Our new ecommerce cart segmentation feature makes it simpler than ever to carry out customer segmentation and reduce your site's cart abandonment rate. This feature enables you to target visitors who are trying to abandon their cart with customized popups based on the items in their cart.
You can target visitors based on cart value, total number of products in their cart and the number of different products in their cart. Using this information you can create more engaging messages that are personalized to meet your abandoning visitors' needs. It can double your chances for convincing them to finish their purchase.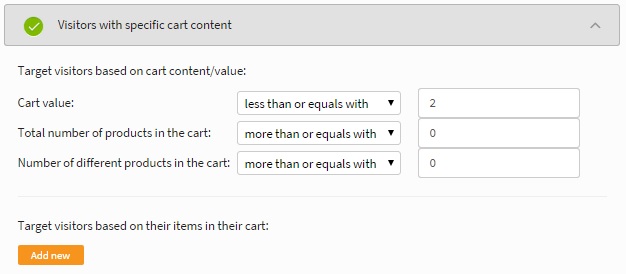 2. Campaign-based targeting
Campaign-based targeting lets you display specific popups to visitors who have already seen, filled in or closed popups from certain campaigns. This gives you laser precise targeting like never before.
Use this feature to display your messages depending on other campaigns. For example after a visitor signs up to your email list to receive a discount or coupon, remind them about the offer in a nanobar or sticky notification bar at the top or bottom of your site.
To see how this works, let's take a look at a simple multi-page example. You can offer a coupon on a popup: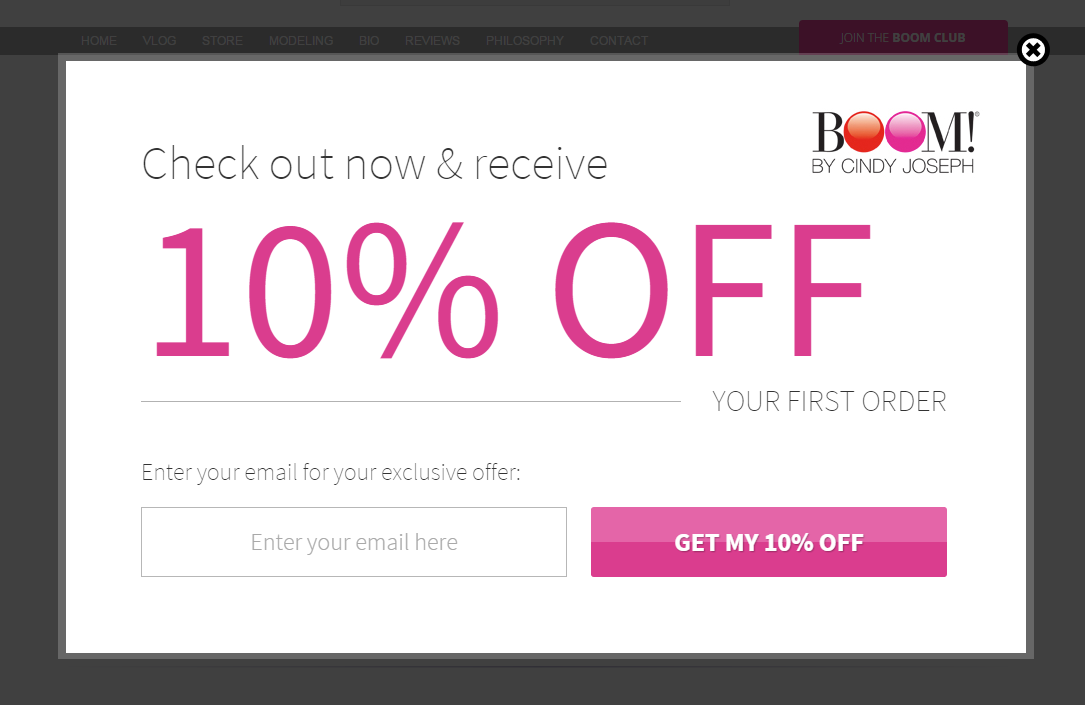 After your visitors signs up and confirms, you can remind your visitors about their discount by displaying the coupon code in a nanobar:

It's as easy as that.
Campaign-based targeting also enables you to easily convert visitors who have refused any of your previous offers by showing them a whole new campaign.
3. Controllable lightbox
When you want your popups to match the look and feel of your site, the details matter.URL With this feature, we added an easy way to control the color and opacity of the overlay that appears with the popup in your site.
By setting up the color and opacity of the overlay, you can design onsite retargeting campaigns that fit even better with your site and your visitor's needs and taste.

Try out the new features now! Create a free OptiMonk account!