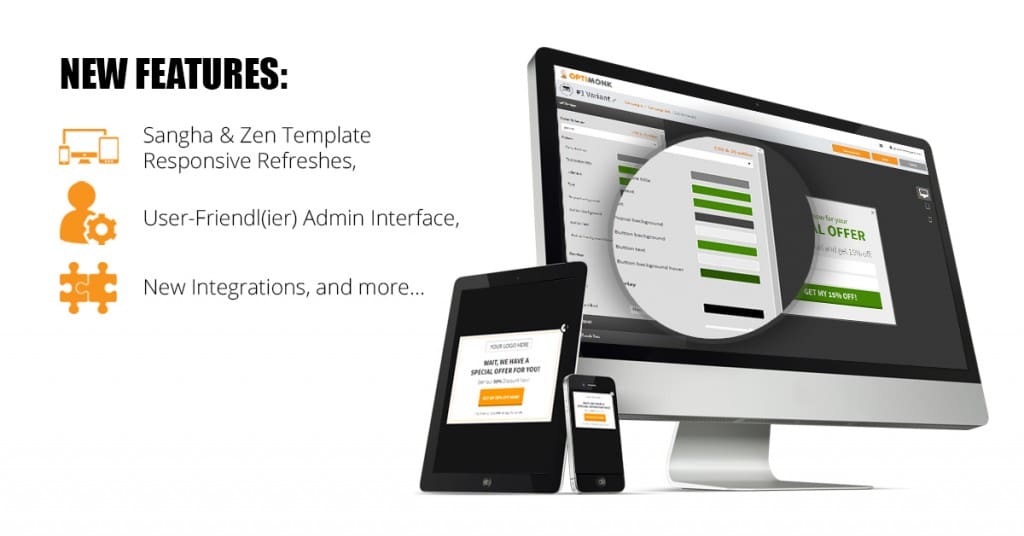 Recently, we've paid special attention to improving our existing templates – and we've got some BIG news: two of our most popular templates are now responsive! Many people use the Sangha and Zen templates, and we're excited to tell you that they can now be for desktop computers and mobile devices as well! Now your campaigns will look beautiful on any platform and you can easily control everything from your OptiMonk dashboard.
We've always developed OptiMonk to play nice and be friends with other platforms. Naturally, we've added another integration to the long list of newsletter and CRM integrations with OptiMonk. The list of friendly platforms keeps on growing!
For those of you who prefer to customize your popups, we've made handling custom HTML popups easier. To make managing your campaigns more effective, we've also added a new role related to previously visited pages.
Check out our latest features below, and read on to learn about the new design and content at the updated and improved OptiMonk.com.
1. Renewed Sangha and Zen templates
Sangha is one of our most popular popup templates for grabbing your visitors' attention.
Using the Sangha template, you can communicate special offers and relevant content easily – and, at the same time, direct your visitors towards your best converting pages.
Considering how popular this template is with OptiMonk users, we felt it was time to make it a bit more modern and better adapted to today's UX design trends. We improved the size of the popup, and made the template more engaging by modifying the default font and layout, making sure it's in spec with the latest website designs.
Take a look at the old template, and the new refreshed template: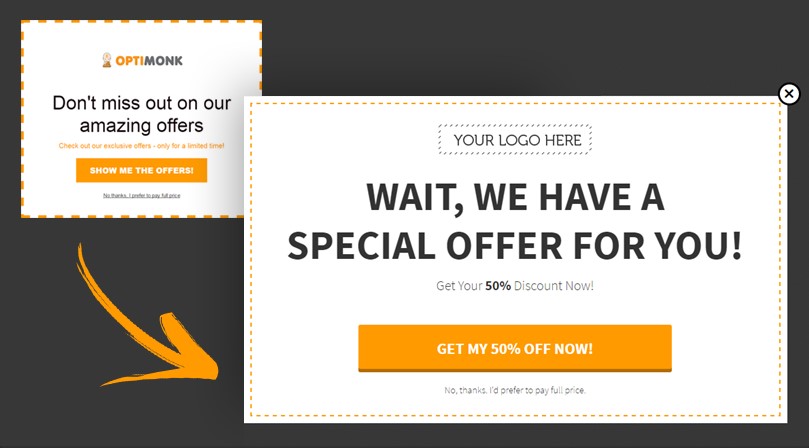 When it comes to building or expanding your subscriber list, the Zen template is probably one of the best to use in your campaigns. This is another template that is hugely popular with people that use OptiMonk. It's used by many online stores that want to encourage their visitors to take a meaningful action before they leave their website without offering a discount in their campaign.
This template is also frequently used on websites where selling is not the primary goal (e.g. – blogs), but gathering email addresses is important for communicating fresh news, up-to-date information, and new features or content to subscribers.
Clean and more modern design, prettier input fields, less text – this is what has changed for the Zen template: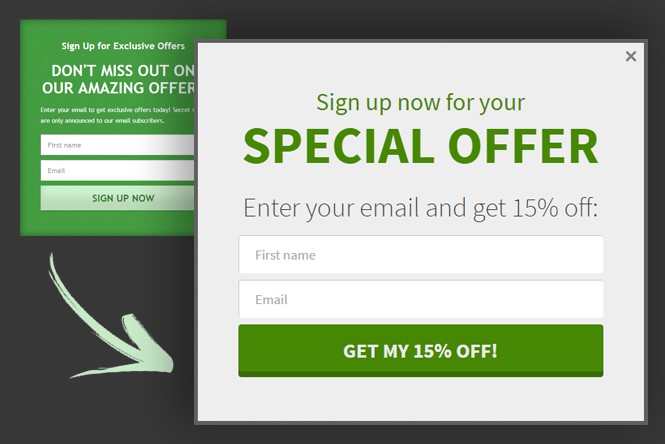 And perhaps the BIGGEST improvement: both of these refreshed templates are now responsive! This means you don't have to create a dedicated mobile campaign in order to display your offer on smartphones and tablets. By using the revamped Sangha or Zen template, your popups will appear on desktop computers and notebooks, and will also be displayed beautifully on tablets and smartphones!
To manage the appearance across platforms, we've added a separated preview to check how your popup will look on mobile devices, including tablets…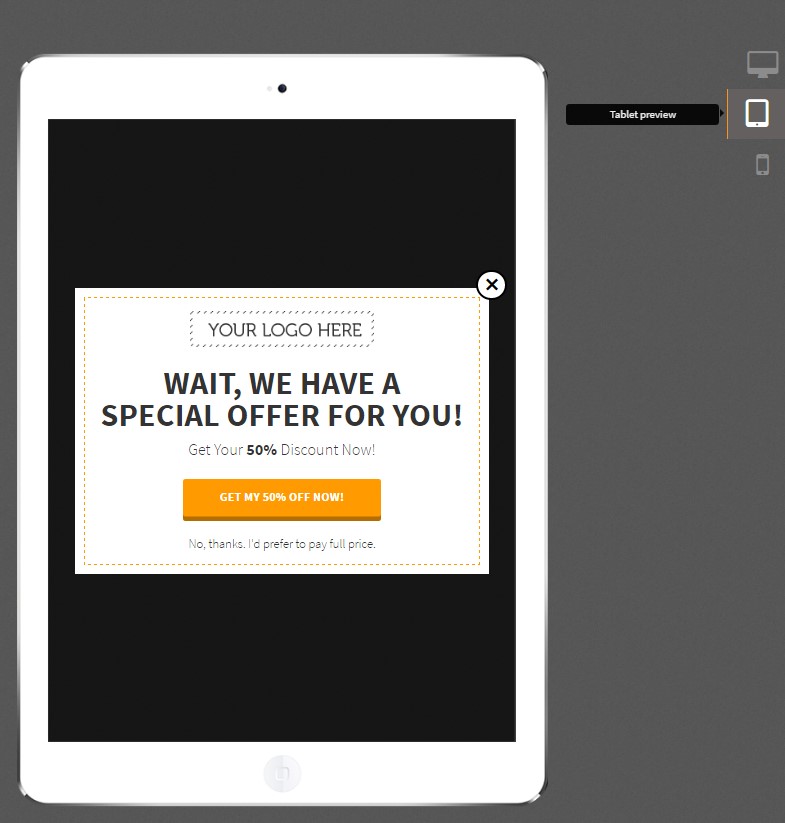 … and smartphones: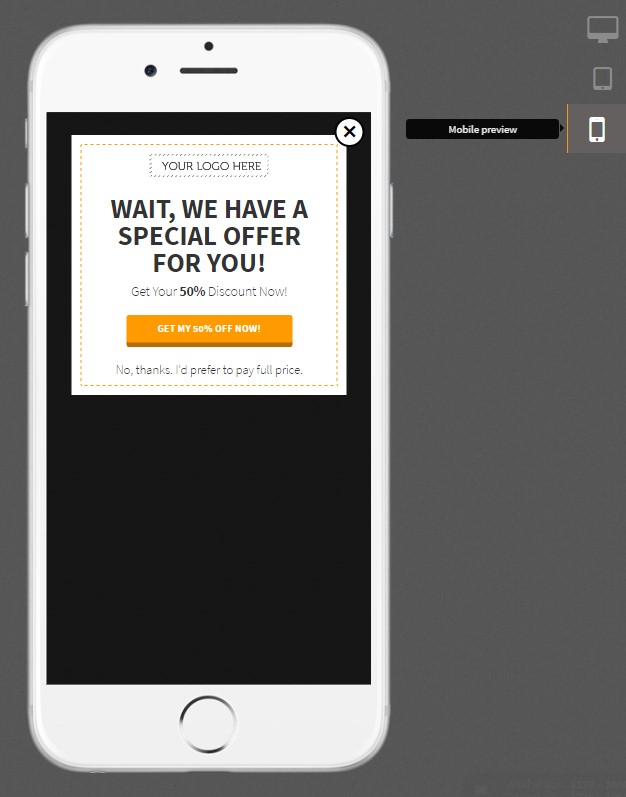 (Can you keep a secret? Well it's not a secret, really. We've got a definite agenda here! 🙂 Our goal is to provide more and more responsive popup tempates to our users. Making the Sangha and Zen templates responsive is the first step in the process. Our development team has already started working to make the other OptiMonk templates responsive as well.)
We've also added a new color picker tool to make the appearance of your Sangha and Zen popups easy to customize. With this new feature, you select the color scheme, AND you can also change the color of the call-to-action button, the main headline and even the button text!
And it only takes two clicks: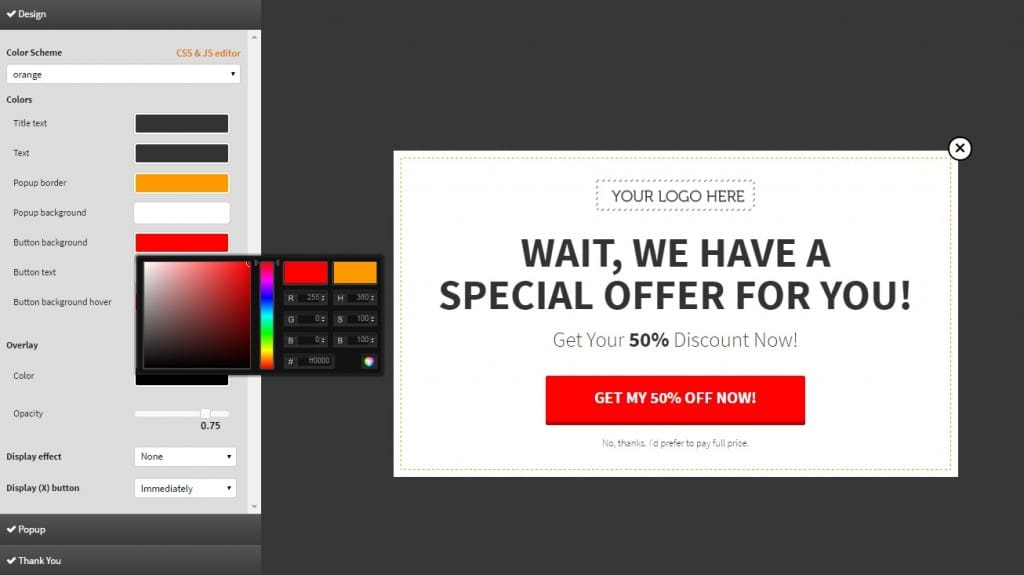 In addition to the new color-picking tool, we made some minor improvements to the left editing interface. We've rearranged the configuration options in order to make it easier to change the settings for each popup page.
We've also improved the custom CSS / JS editor to make it more user-friendly by improving the buttons:

With the new features and updated templates, it was necessary to make some improvements to the OptiMonk admin dashboard. One of the most important changes to note is a new column, called "Device", which has been added to the "Campaigns" page. This new column displays which devices your campaign appear on:

We've improved the campaign settings as well. We've added a new input called "Device" in the "When should the popup appear?" section. This option appears after selecting the "Active" status, and can be used to configure when the popup should appear on different devices.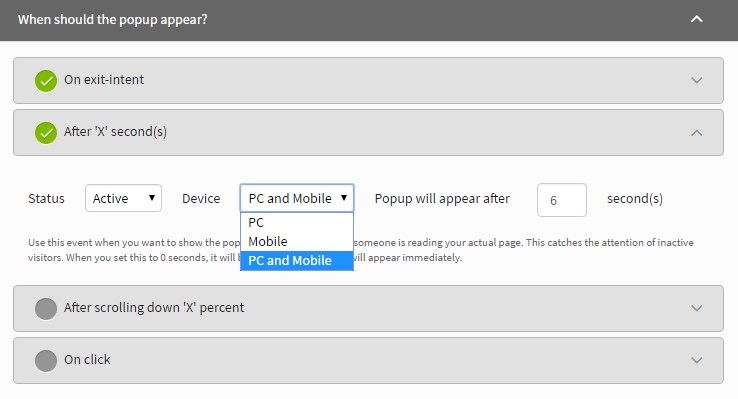 To accommodate the new responsive templates, we've also restructured the preview option on the list page of the campaign variations. By clicking on the magnifier…

…you can now preview your campaigns on 3 different devices – desktop, tablet, and mobile: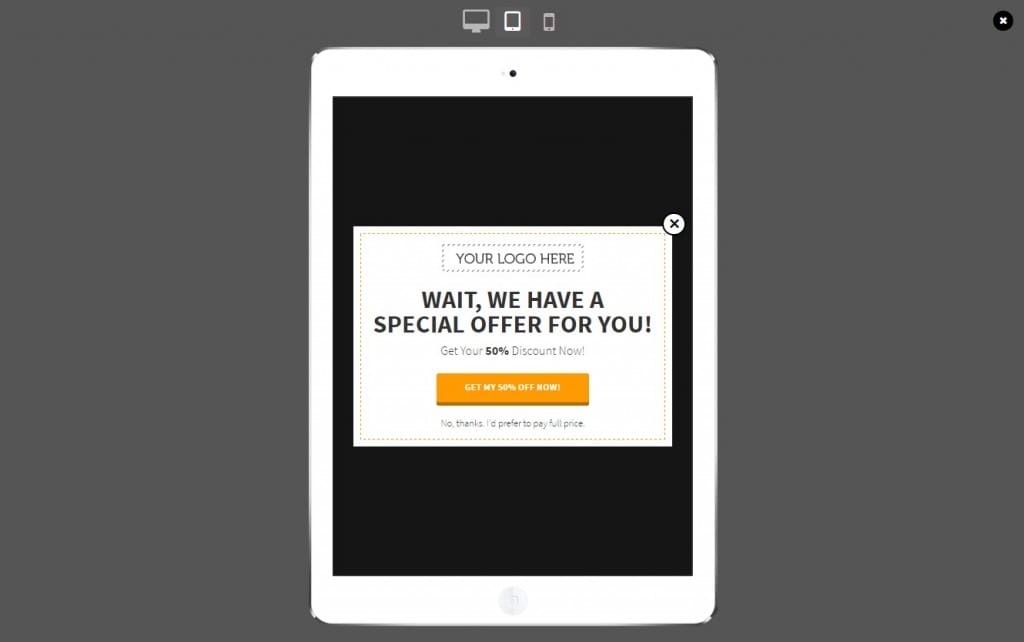 2. ConvertKit integration
OptiMonk is designed to play nice with other platforms, and we're constantly adding new integrations to connect OptiMonk to more and more newsletter and CRM systems – making your email marketing more effective. Our latest integration is ConvertKit, so you can now transfer your OptiMonk subscribers automatically to this system too.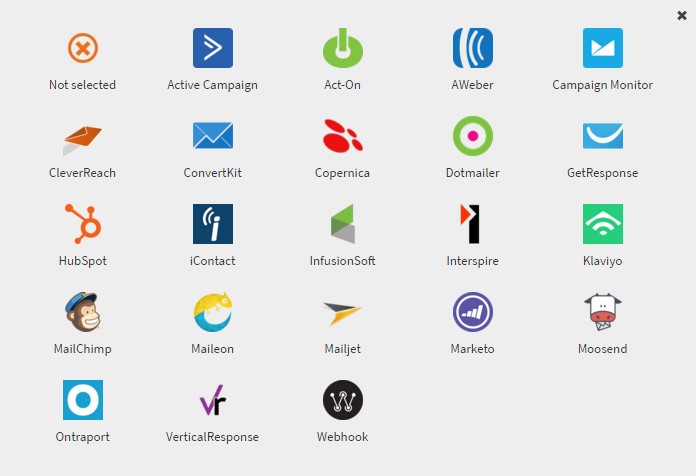 3. Simplified custom HTML popup handling
This development is especially useful for advanced OptiMonk users who build custom popups to communicate with their website visitors instead of using our built-in templates.
You can now design custom HTML popups without any JavaScript knowledge. Everything can be implemented with simple classes. As a result, it's much easier to transfer data to OptiMonk.
We've prepared documentation for you with a detailed description of this feature: Custom HTML Popup Guide
4. New role for previously visited sites
We've added a new configuration option in the "Who should see the popup?" section called "Visitors who have previously visited these pages". This option can be used to set your popup to only display when a visitor has already visited a particular page (or pages).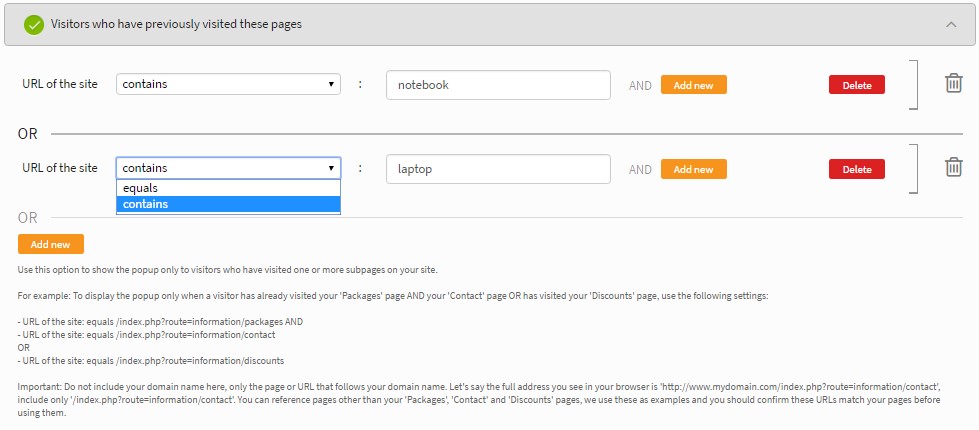 Here's a simple example. If you'd like to promote your notebook discount only for those visitors who have already shown some interest in notebooks, you can set the popup so it will only show to visitors who have visited URLs that contain the "notebook" expression.
You can use this for remarketing purposes as well. For example, by excluding those visitors who have already visited the confirmation page (or thank you page) of the offer (so that we can assume that they've taken advantage of the offer before), then you can setup that the same offer shouldn't appear to them. What's more, you can display unique, customized offers to them – the number of uses is almost endless!
5. Renewed OptiMonk.com
In addition to our latest features, it's worth taking a look and our improved website design and all the new content we've added for you at OptiMonk.com.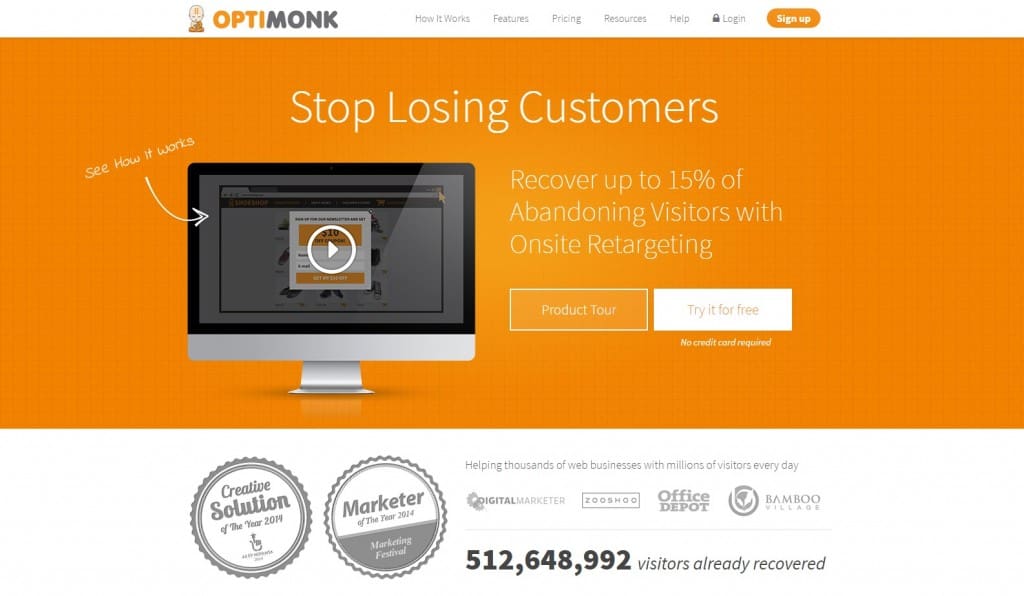 For example, we've created a new "Features" menu item to present more clearly how you can use OptiMonk.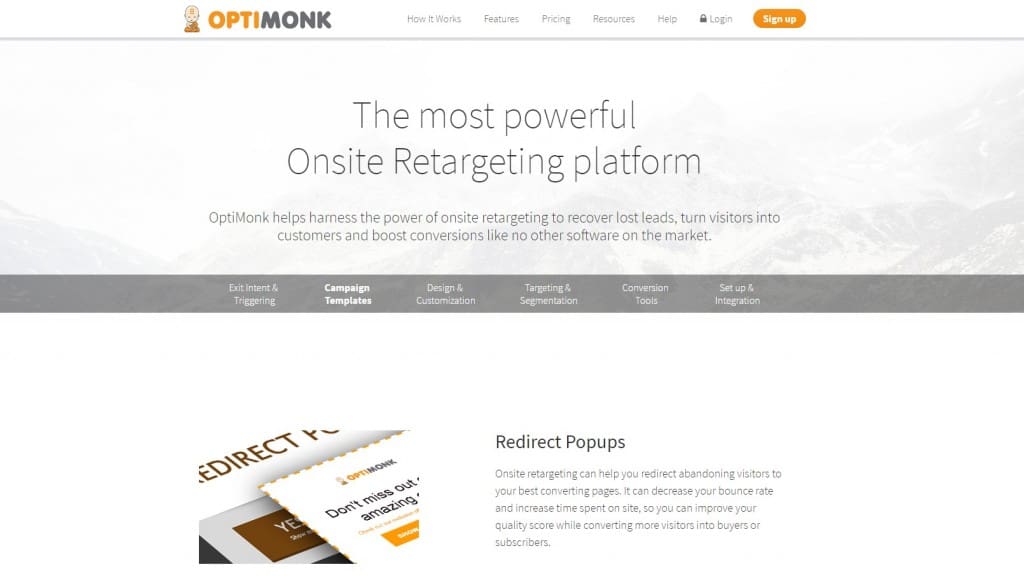 The new "Features" menu provides a detailed description of the features of OptiMonk and also gives you some great new ideas on how to use your campaigns to achieve your business goals. Check it out and get some inspiration to create highly converting onsite retargeting campaigns on your site. You can really boost your conversion rates with some of our tips to get the most out of OptiMonk!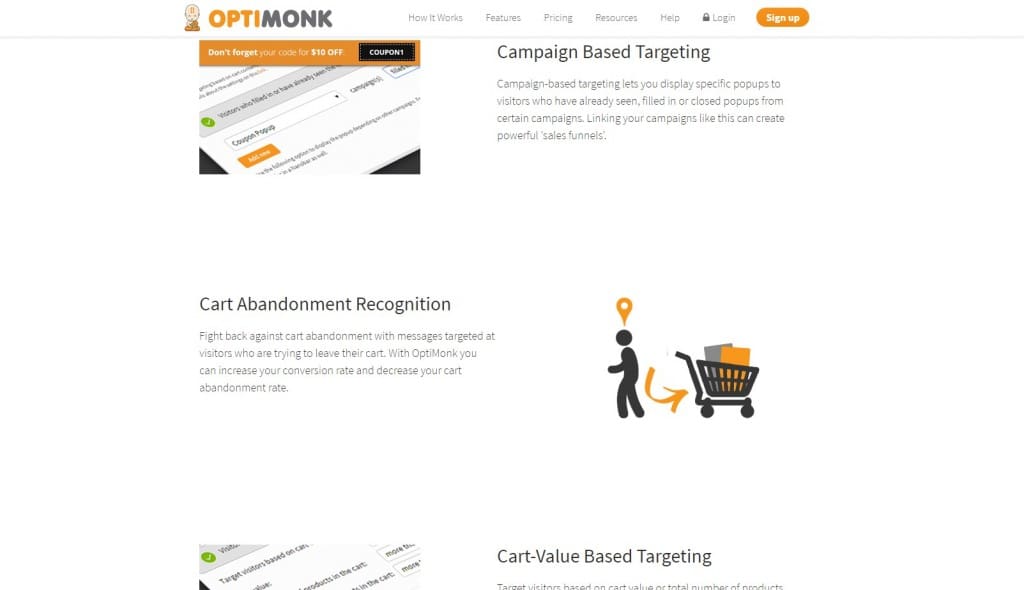 We hope these new features will contribute to the success of your campaigns, improving the performance of your site and making your experience with OptiMonk even better.
Don't miss another conversion – check out these new features now! Create a free OptiMonk account today!