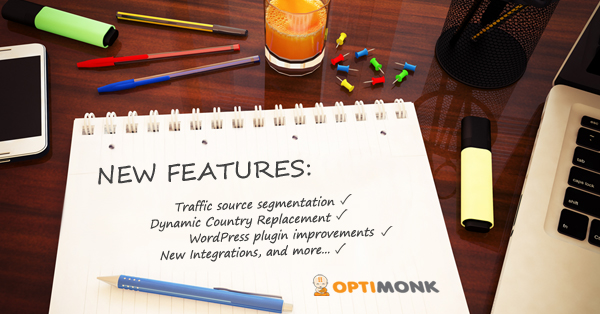 Discover onsite retargeting, made even more powerful with new features. At OptiMonk, you know we're always rocking for you. To boost your conversions further, we're rolling out a set of updates that make OptiMonk even more powerful — new targeting options, improved WordPress plugin performance, four brand-new newsletter system integrations and a built-in JavaScript editor.
1. Traffic source segmentation
Our new traffic source segmentation feature allows you to display specific messages to visitors coming from different sources. You can show unique popups or nanobars to visitors who come from any of your social media sites, paid advertisements, organic search results or even from your affiliate partner's website.
You can easily target visitors coming from Google AdWords, Google Organic and Facebook right in your OptiMonk dashboard with a click of a button. And, by defining custom sources, you can target as many traffic sources as you wish.
By crafting your campaigns for each traffic source, you can create more engaging messages that are personalized to meet your visitors' needs. You can double your chances for convincing your visitors to buy or subscribe.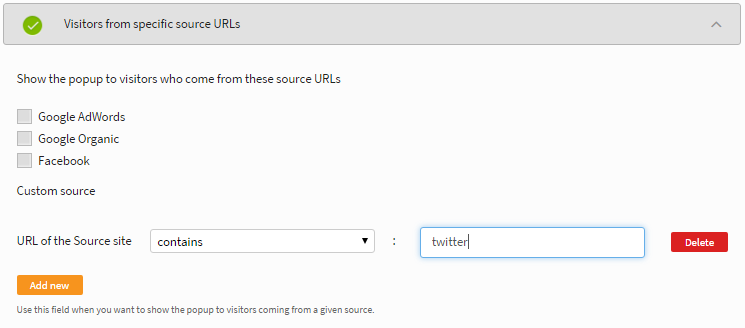 2. Dynamic Country Replacement
Dynamic country replacement takes the guesswork out of geotargeting. Using this new feature, the name of the country in your popups will change automatically based on each visitor's location.
For instance, if you want to promote your free shipping offer, you can strengthen your message by highlighting the destination country: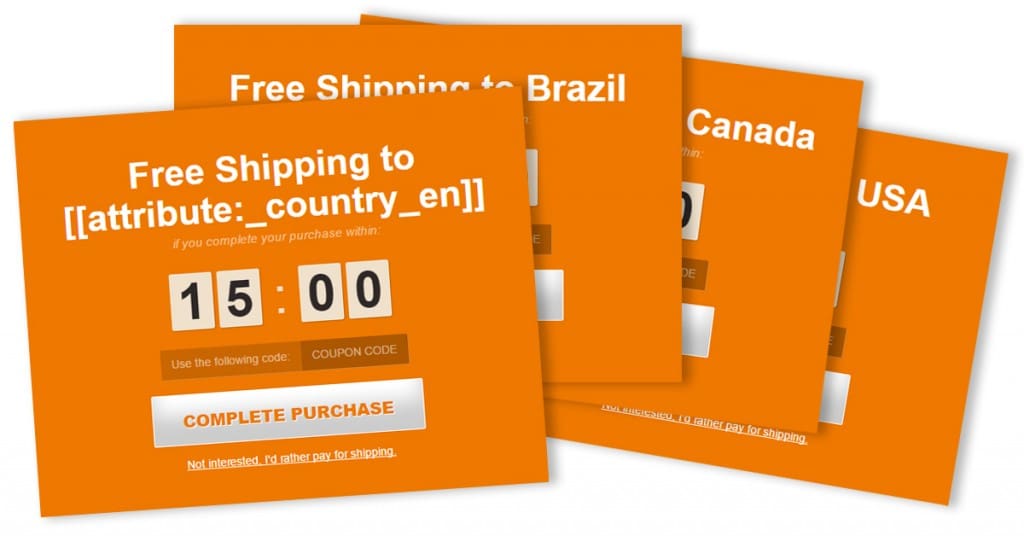 Using dynamic country replacement is a lot like using dynamic text replacement. With the variables below you can display customized country names in English, German and Hungarian:
[[attribute:_country_en]]
[[attribute:_country_de]]
[[attribute:_country_hu]]
This is great for sites that serve customers in multiple locales. You no longer have to create different popups for all the different geographic groups in your audience. Instead, using dynamic country replacement, you can display highly targeted messages to individual visitors using only one popup.
3. WordPress plugin improvements and WooCommerce integration
The latest OptiMonk WordPress plugin (Version 1.1.2) is full of enhancements. With custom variables, you can now target your onsite retargeting campaigns based on specific attributes.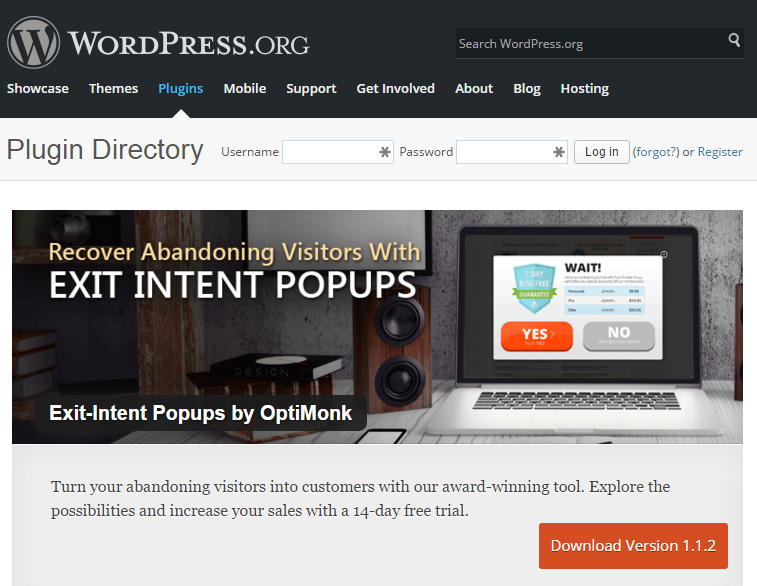 Among the many enhancements to our WordPress plugin, one particular feature of note is the ability to display a popup only to users who visit blog posts with a particular page title or UTM parameters. There's a ton of possibilities packed into the new plugin. You can display specific popups to visitors based on the blog posts they have viewed from certain categories, authors, dates and even based on your visitors' search queries. Check out the full list below: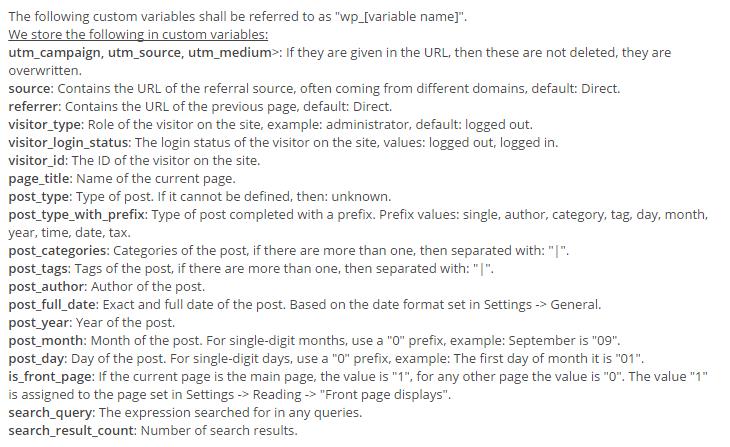 There's some great features for ecommerce site owners that use WooCommerce with WordPress too. You can target potential customers based on the attributes of the items in their cart. Visitors can be targeted based on cart value, the number of different products in their cart, the total number of items in their cart and even more specific targeting based on the name, ID, price, stock availability, category and tag of the products. Check out the full list below:

4. Interspire, Marketo, Ontraport and Moosend integration
OptiMonk plays nice with all sorts of email, CRM and automation systems. We continue to connect more external systems to OptiMonk so you can harness the power of onsite retargeting to capture more subscribers – and, improve your email marketing efforts using some great third-party tools. This latest round of updates adds the ability to transfer subscribers into Interspire, Marketo, Ontraport andMoosend.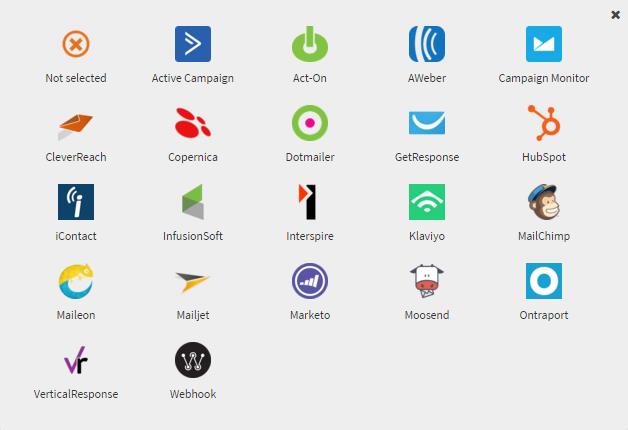 We're also happy to announce an improved "Integrations" interface. As with all of our updates, you'll find these new features are automatically installed in your OptiMonk dashboard. Check out your Campaign Settings to see the new interface, which also makes it easier to apply the settings of other campaigns during the configuration of an external email, newsletter or CRM system.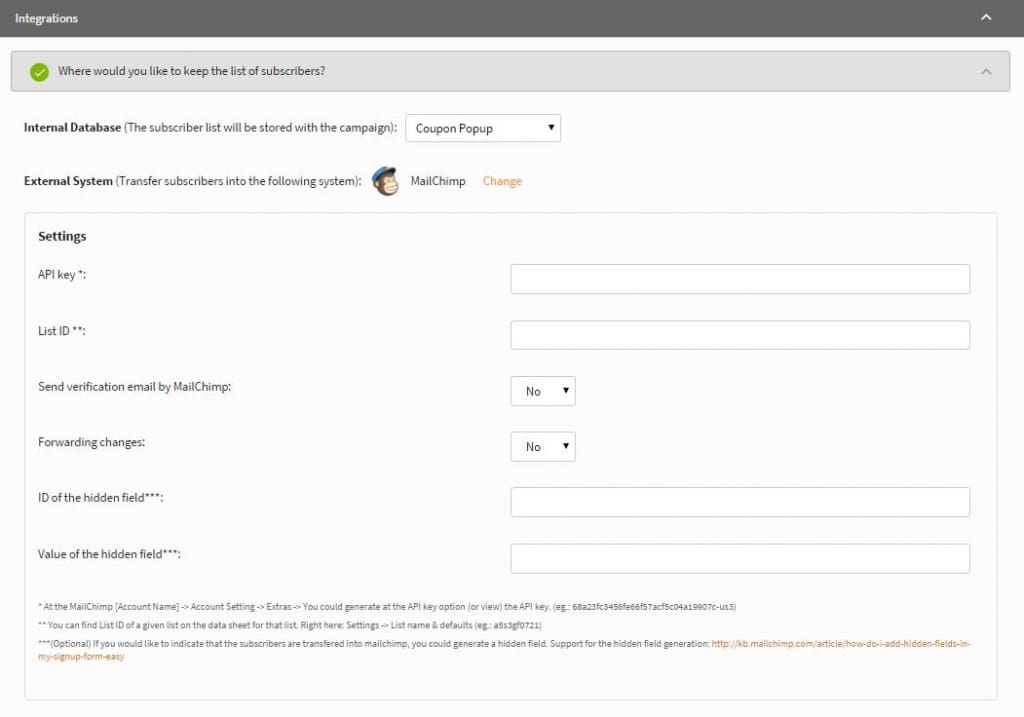 5. Built-in JavaScript editor
For advanced users who are familiar with our CSS editor, we've now created a built-in JavaScript editor to easily insert any JavaScript code. For instance, you can use the JavaScript editor to insert your Google Tag Manager tracking code.
Here's another great example. Using the new built-in JavaScipt editor, you can display a Like button in your popup or nanobar.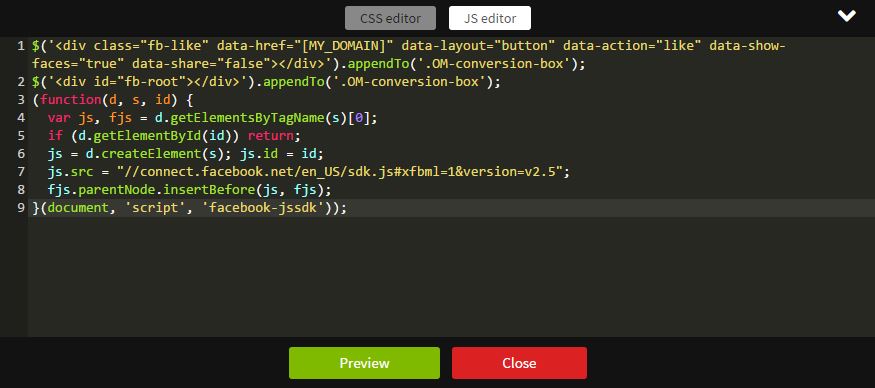 And, here's the result:

More powerful onsite retargeting based on Traffic source, easier geotargeting with Dynamic Country Replacement, more external email, newsletter and CRM integrations along with a new interface and a built-in JavaScript editor — at OptiMonk, we never stop working to boost your chances of success.
Don't miss another conversion, check out these new features now! Create a free OptiMonk account today!