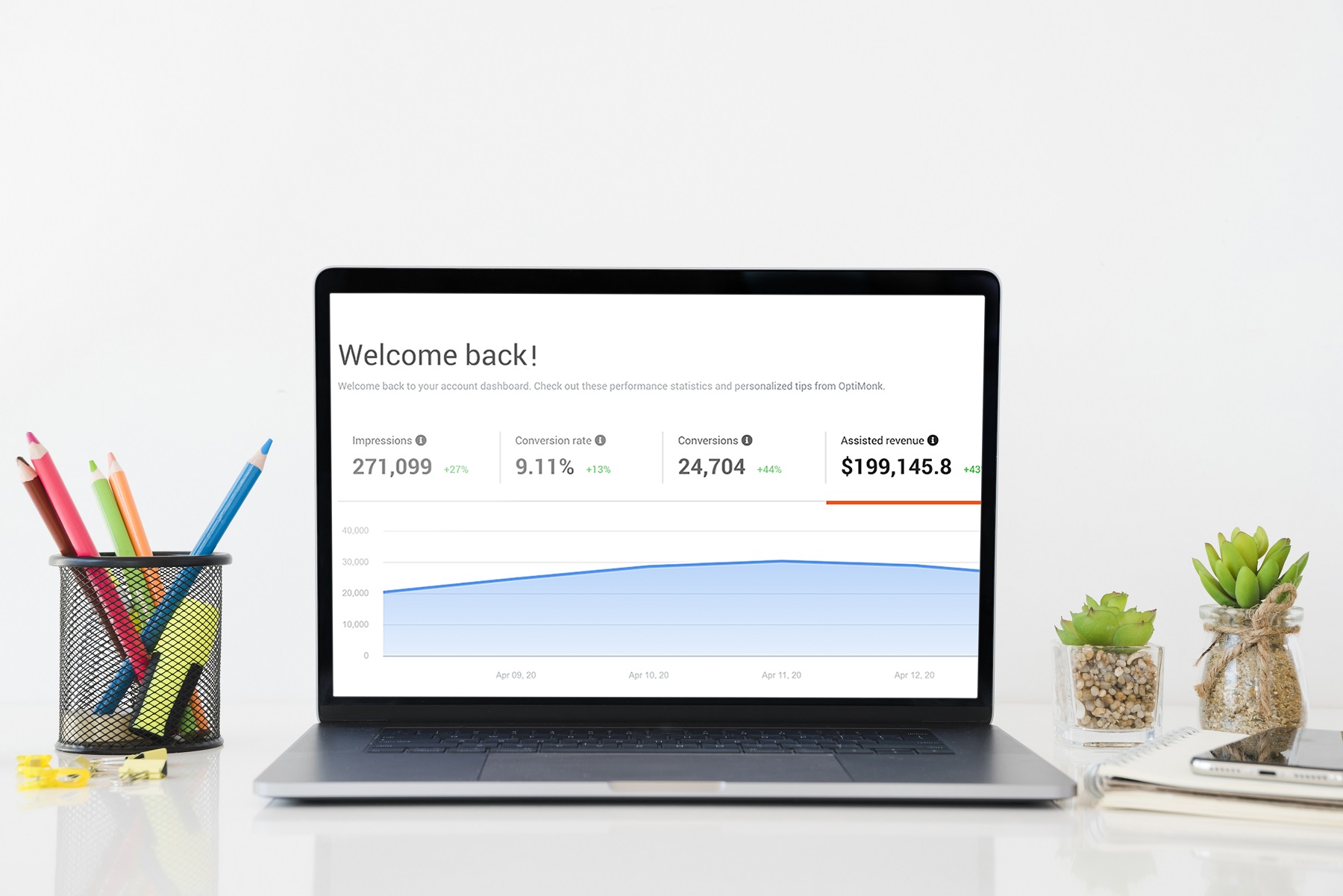 Like many of you, the OptiMonk team went fully remote in March, to help contain the spread of COVID-19 here in Hungary… but it doesn't mean that our team has stopped working. 
On the contrary; we are continuously focusing on helping eCommerce stores to get the most out of this challenging situation.
This is how we created a new and advanced reporting dashboard for Shopify stores, that shows you exactly how much money OptiMonk has made for you. 
Go Beyond Usual Metrics with our Brand New KPI, called Assisted Revenue
We know how important it is for our users to be able to see how their campaigns are performing. 
Previously, you've been able to see the number of impressions, the number of conversions, and the conversion rate of your campaigns. 
Starting now, Shopify stores are able to track success by using the statistics that are most important: how much revenue can be attributed to OptiMonk, in addition to other essential data that we will provide. You can now track monetary value, efficiency, and the performance of your campaigns over time.

Are you wondering how we estimate the Assisted Revenue? 
We use a 5-day Attribution Window: 
If a visitor places their order within five days of the OptiMonk conversion, their purchase will be attributed to our Assisted Revenue calculation.
Explore Our Other Great Shopify Features!
That was just one feature that OptiMonk offers exclusively for Shopify Store owners. There are even more powerful features and that's why more than 18,000 Shopify Stores have already successfully tackled their eCommerce challenges with OptiMonk.
Let's see them! 
1) Hide/Unhide for Logged-in Users
Using the Free OptiMonk App, you can easily set up a rule to hide or show a specific on-site message for your logged-in Shopify Store customers.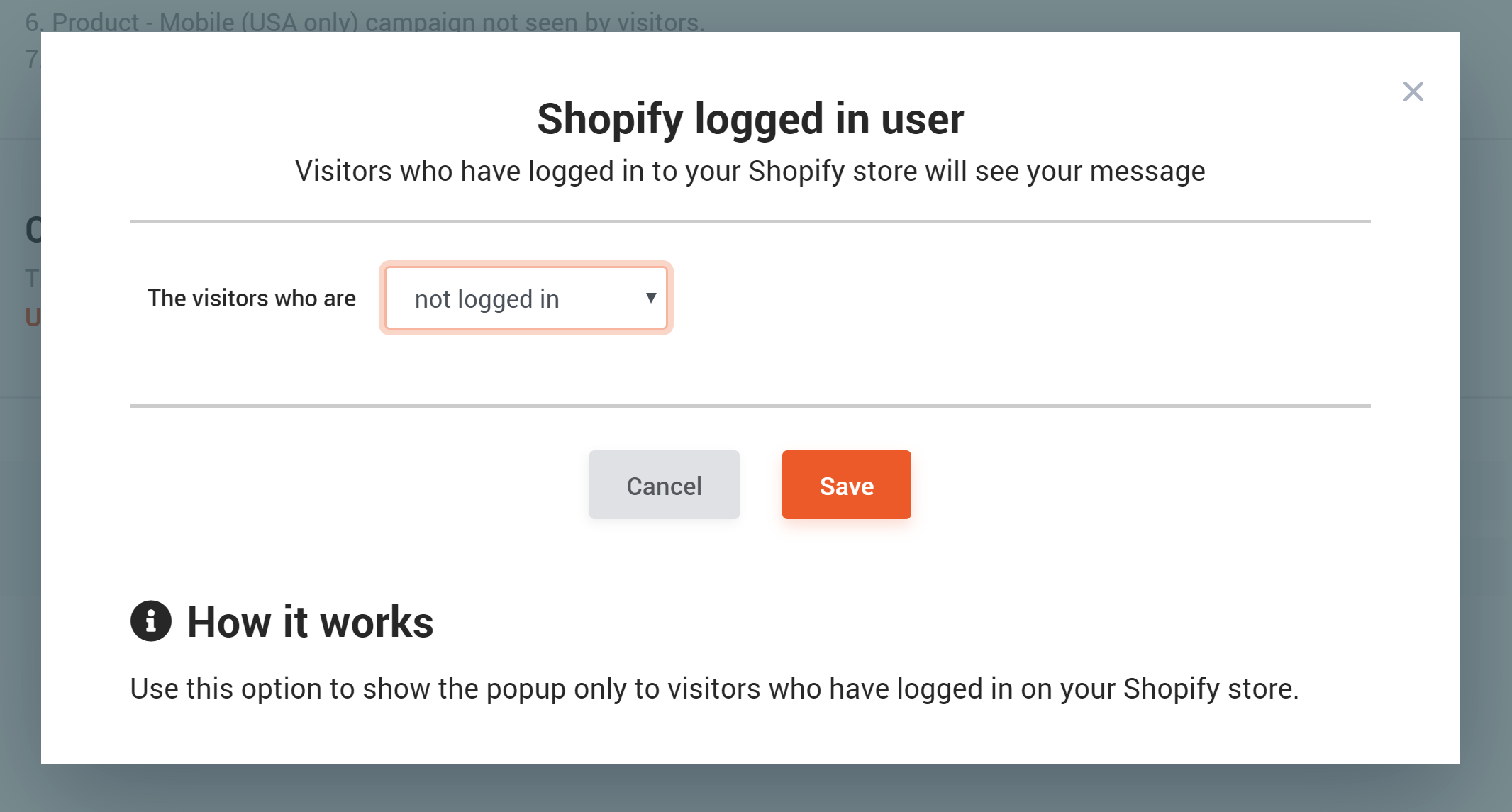 2) Product Component Catalog
OptiMonk can feed both your Shopify Store's product images and info, directly into on-site messages so that you can design content to include product offers much faster than ever before. 
We also provide several pre-made templates that help to increase your cart value. 
3) Automatic Discount Validation
Coupon codes will be automatically validated during checkout so that your customers don't forget to add them. This feature will be activated each time you offer a coupon to your Shopify Store visitors, ensuring a smooth and effortless transaction for your customer.  
SMS marketing might not be new, but it is experiencing a rebirth. Statistics say that response rates to SMS marketing are 7.5x higher than email and the average SMS campaign conversion rate is 45%.
Connect your Shopify Store with SMSBump, the SMS marketing and automation app, so that you can add the phone numbers that you collected with OptiMonk.

5) Smart Display for Recart Users
If you use Recart for Facebook Messenger marketing, you can use the Smart Display in your subscription campaigns to enhance visitors' subscription experiences. 
It detects when a visitor is logged into Facebook via browser. Your campaign will offer a Messenger subscription when they are: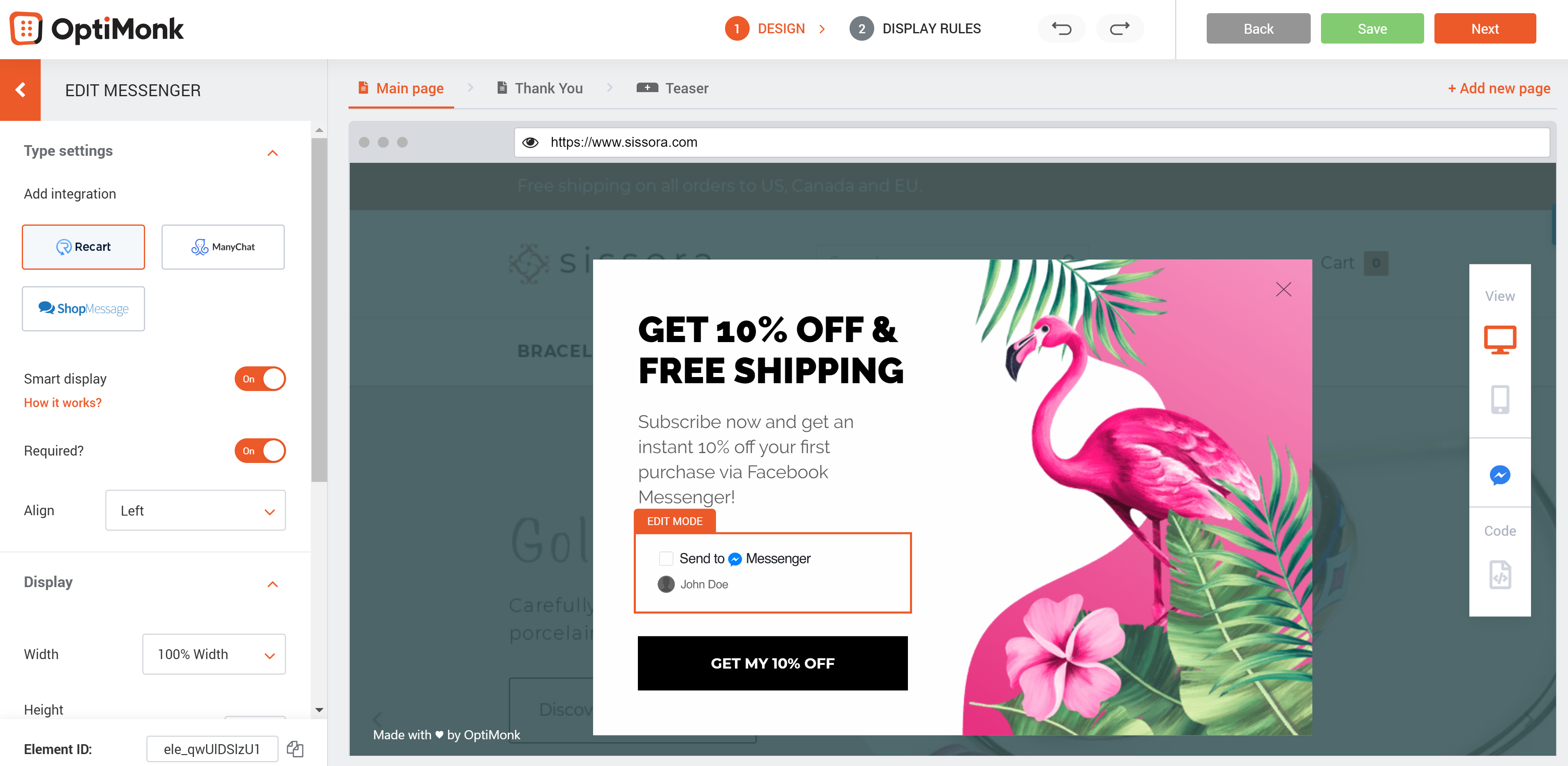 … and prompt for an email subscription when they are not: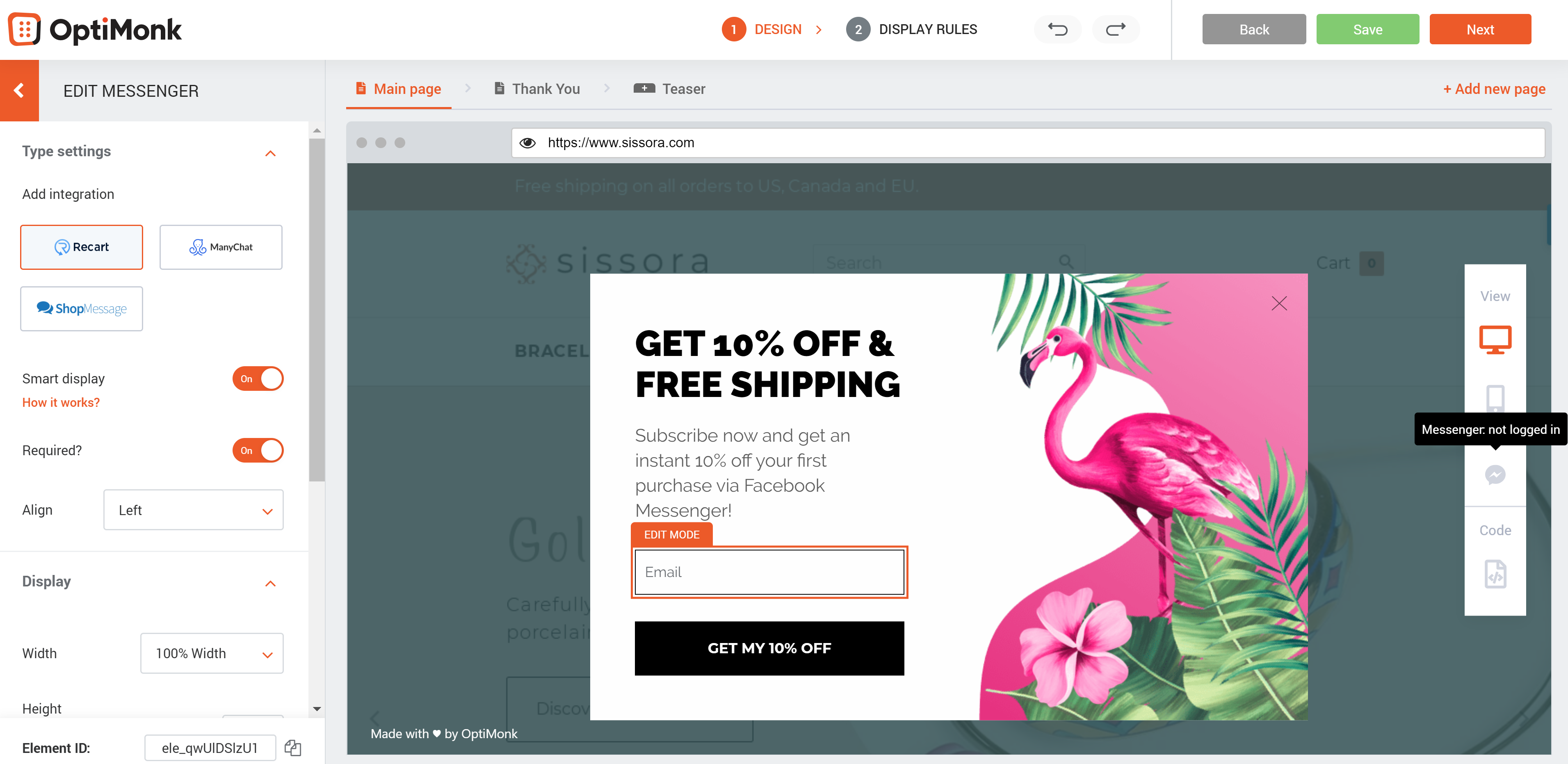 It will significantly improve visitors'  willingness to subscribe since they won't have to go through the cumbersome process of logging in to Facebook just to subscribe.