In this day and age, you can start a business from the comfort of your home with just a few clicks. Everyone, from full-time parents to avid travelers, can run an online business— it just takes a bit of hard work to get your store set up!
Choosing to launch an online business idea has many perks: it reduces the enormous overhead associated with starting a brick-and-mortar shop, it puts your business in front of global customers, and it presents considerable growth opportunities.
The most significant hurdle to starting an online business is finding the right platform and idea. Here, we've compiled a list of business ideas you can start in 2023. Most of these ideas are great for Shopify—the company that provides tools and solutions to launch, grow, and manage your business online.
5 successful online business ideas to start your own website
Imagine waking up every morning to a thriving online business in the best state that brings in a steady stream of income while you pursue your passions and enjoy the freedom of being your own boss.
There are many successful online businesses out there, and they didn't all start with an exceptionally unique idea! Lots of those entrepreneurs began in the same position you're in right now: unsure where to focus. 
To succeed and achieve your goals, you'll need to narrow down your options, choose a good business idea, develop unique branding, including a memorable company logo, and design a strategic plan that works for you!
If you need a bit of inspiration, we've listed 5 of the best online business ideas you could use to launch your own business and start generating revenue.
1. Create your own clothing line
If you're using Shopify, you can start your own clothing line with the help of Printful, Printify, or any other product-sourcing application. Each app automatically links your online store to clothing manufacturers and printers. 
The best thing of all is that you don't have to handle the retail fulfillment process—they do it for you. As a result, you'll have the freedom to create and deliver a wide range of clothing pieces with minimal effort.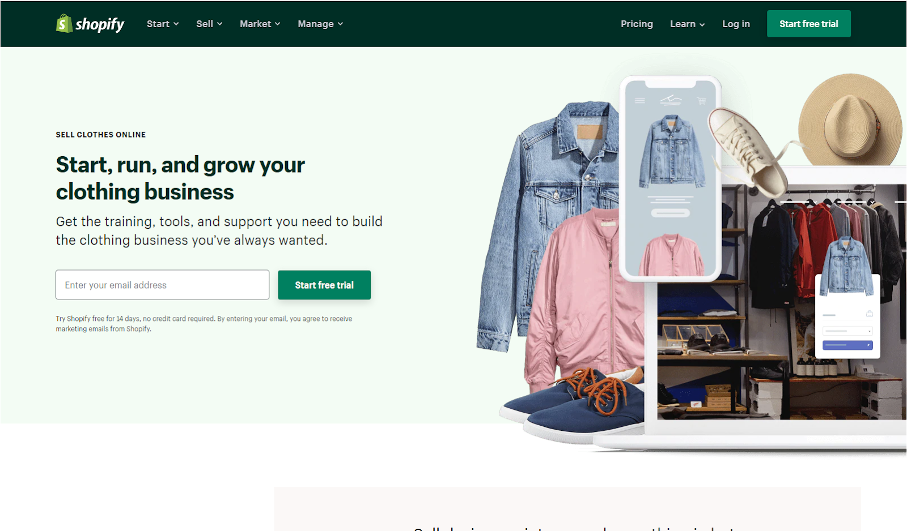 Why should you start a clothing line?
By creating your own clothing line, you'll have the freedom to create a distinct look and a recognizable brand. 
With the advent of POD (Print-on-Demand) services, designing and shipping processes have become much simpler. You can print only when an order is placed, meaning there's no need to stock up inventory in advance.
Also, you'll probably find it quite inspiring to see your designs growing in popularity and generating profit!
If you're a painter, musician, photographer, or other creative, you can start your own business by selling your art online through Shopify or with the help of a specialized platform like Sellfy!
Other Shopify apps like Printful or Printify can help you turn your photos or designs into a range of products, or you could go "classic" and sell framed posters and canvases. If you create music, you can sell songs, beats, samples, and more.
For inspiration, check out The Drum Broker: it's the largest drum sample platform in the world, and it was able to build a successful business model using the FetchApp and ShipStation apps.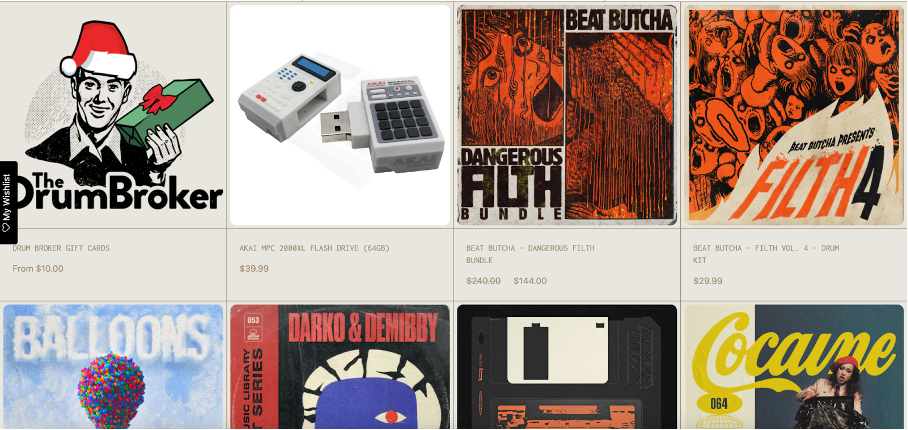 Why should you sell your art online?
If you love to create art (of any kind), you'll enjoy sharing it with the world and seeing how people respond. It's also amazing to see your artwork adorning your customers' walls! By selling your work online, you'll get the chance to turn your talent and passion into a profitable revenue stream. 
Flexible platforms like Shopify make it easy to showcase your work in a single place and reach more customers. 
3. Start teaching an online course
Did you know that by 2025, the worldwide e-learning market is projected to be worth $325 billion? Since 2020, the online education sector has been growing exponentially. 
You can leverage this opportunity by teaching an online course. There are also many platforms that provide one-to-one teaching sessions or on-demand teaching services. Whether you decide to offer a pre-recorded course or on-demand lessons, teaching online is a low-cost business idea with lots of opportunities for growth. 
If you're creating a course, you'll need to put forth your best effort to create valuable, well-made videos that people will learn from and enjoy watching. If you can accomplish this, your efforts will pay off as people flock to your content and you see the money start rolling in!
For example, if you're wondering how to teach English online, you can leverage this opportunity by creating an engaging and informative online English course. As the worldwide e-learning market grows, tapping into platforms that facilitate one-to-one teaching sessions or provide on-demand teaching services can be a strategic move.  
Before you launch your first online course, be sure to choose a topic that you're well versed in. You can teach anything you have special knowledge about, like social media marketing, physics, music production, regular school subjects, web development, and many more. 
Once you design the flow of your course, it's time to use an online video editor application to shoot and edit your videos. When you're happy with the result, get them live on your platform of choice!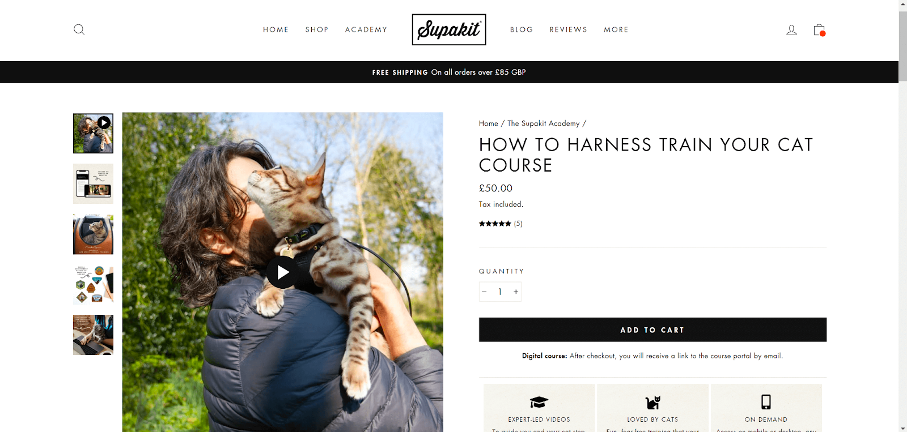 Image source: LearnWoo
Why should you choose online teaching?
With its low barrier to entry and huge potential market—many students around the world want to learn what you already know—this is one of the best ways to make money online.
By shooting and sharing videos or offering one-to-one tutoring, you'll be able to help people and generate a tidy profit!
4. Become a freelance designer, developer, virtual assistant, or writer
Graphic designers, developers, writers, and others can leverage their talents to start a low-investment freelance business.
By going freelance, you'll get to work on a variety of projects and earn money at the same time! And freelancing isn't limited to the "creative" professions: there's also plenty of demand for other skills. Case in point: virtual assistants.
As a virtual assistant, you provide online services to busy professionals who require remote assistance with their business, cause, or special occasion. Virtual team communication in a meaningful way is one of the most important aspects to get the most out of the experience. If you're organized and motivated, this could be an excellent option.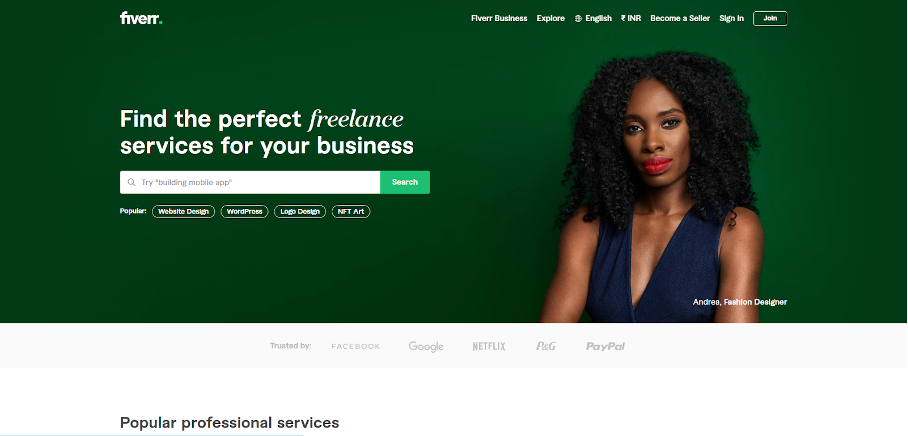 Freelancing doesn't always mean spending months and months on a single project. You're free to choose any task that fits your schedule, small or large, including things like developing an app, designing logos for businesses, or writing a few product descriptions here and there. 
If you're ready to list yourself as a freelancer, marketplaces like Designhill, Fiverr, and Upwork are great ways to connect with the clients who need your skills.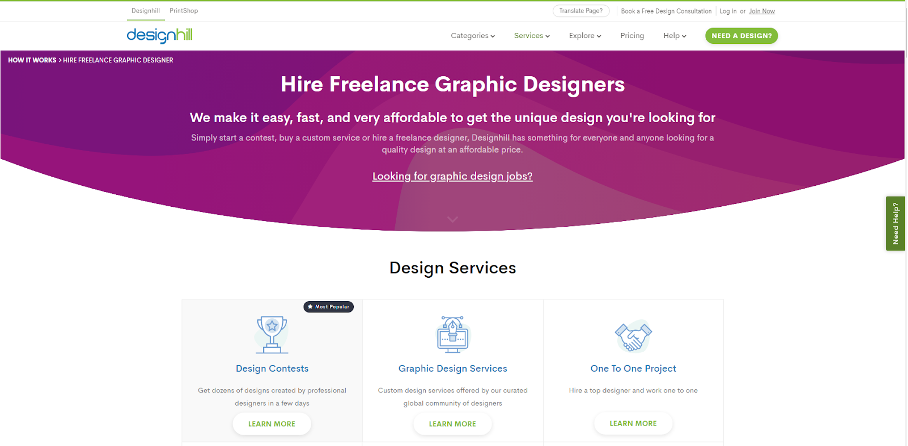 If you're a freelance designer and you'd like to maximize your income using your creative talent, then Designhill could be the perfect choice for you. For other freelancers, the other two platforms are solid options.
But if you prefer to have total control over your prices or terms, you could also choose to build your own Shopify store. The platform lets you list your services and customize how you present them to clients. You can easily disable shipping (you won't be sending any physical products to your customers) and you can use BookThatApp or Events Calendar to help your customers schedule appointments.
Why should you freelance?
Freelancing gives you the freedom to choose the projects you like and set your own schedule. You'll be your own boss, and you can work from the comfort of your own home and you can easily sell your business whenever you feel like it. 
Plus, getting paid for something you're good at is empowering…especially when you're able to build your portfolio and attract attention from clients around the world. 
5. Build your own apps and websites
Are you tech-savvy? 
If so, you can make the most of your coding skills to build mobile apps, Shopify apps, and websites. 
For example, you might consider creating a Shopify theme template that you can sell to merchants who need something affordable for their website. You could also work with clients to build apps or websites and customize them to meet their needs. Remember you can also build sites to eventually sell them at a profit. 
Remember that your own website or app is the perfect place to show clients your creativity and skills, helping you score more projects.
Why should you build apps and websites? 
Technology evolves quickly and it's certainly here to stay. Demand for up-to-date technical skills related to apps and websites is growing by the day… if you can stay ahead of the curve, clients will be clamoring for your time! 
If you've been thinking about starting your own online business, now's the perfect time to finally give it a go.
You don't need tons of money to get started— you can start it as a side hustle and keep dedicating more and more time to your new online business as it grows. Then, when you switch over to focusing your full attention on your fledgling business, the sky's the limit!