Building an opt-in email list takes a little bit of time and effort, but once you've created high-converting opt-in forms, you'll have a steady stream of new subscribers that you can nurture into paying customers.
Email campaigns that go out to interested prospects, rather than whoever happens to be on a purchased email list, actually have the potential to grow your business.
You won't believe the results you can achieve when you send valuable content and promotional emails to an interested family of loyal customers who are devoted to your brand.
In this article, we'll dive into the different ways you can go about creating an opt-in email list and some best practices for lead generation campaigns.
Let's get right into it!
Opt-in email marketing involves getting website visitors to willingly provide their email addresses in exchange for a benefit.
There are two methods: single opt-in (one-step signup) and double opt-in (two-step signup with confirmation).
Building an opt-in email list is an investment that can yield loyal customers and higher engagement.
To build an effective opt-in email list, offer compelling incentives, use welcome popups, personalize opt-in forms, ask segmentation questions, and more.
Tools like OptiMonk can help implement these strategies effectively.
What is opt-in email marketing?
Opt-in email marketing revolves around convincing your website visitors to voluntarily provide their email addresses in exchange for some benefit. You might offer prospective subscribers a discount or premium content when they complete an email opt-in form.
Once they've done that, they've both told you where you can send your marketing emails and given you permission to do so.
Gathering direct subscribers through opt-in forms is incredibly important for several reasons. The most important is that they help you achieve permission marketing, which means that you aren't sending marketing campaigns to anyone who hasn't consented to receive them. Many jurisdictions have introduced legislation that protects consumers from receiving unwanted emails (such as the GDPR in the European Union and the CAN-SPAM Act in the US).
In addition to staying compliant with regulations, there are several other benefits to using opt-in email forms to build your list.
We'll get into many of these benefits in detail in a moment, but the top reasons to implement opt-marketing emails (in a nutshell) are:
Connecting with your target audience on a personal level

Collecting up-to-date data about your customers through multi-step email opt-in forms

Building a marketing channel that's owned by you (rather than depending on third parties like social media platforms)

Sending promotional emails that actually boost sales

Collecting feedback from a group of customers that are invested in your brand

Receiving fewer spam complaints
Different types of opt-in methods
When it comes to creating an opt-in process to convert website visitors into email subscribers, you have two options. You can use a single opt-in or a double opt in-system, each of which has their own pros and cons.
1. Single opt-in method
The single opt-in approach is a one-step signup process. That means that potential subscribers only need to complete one sign-up form before they are confirmed as having opted in, so you can start sending marketing emails right away.
You'll usually notice a single opt-in email form has some fine print that reads "By providing my email address I agree to receive email marketing communications" or something similar. This establishes that the site visitor who is signing up consents to getting emails.
2. Double opt-in method
A double opt-in system doesn't consider people as "subscribed" until they've completed two opt-ins. The first opt-in is the completion of a signup form, like above. But then, they'll be asked to confirm their choice via the first email they receive.
Double opt-in email lists are usually more stable than their single opt-in counterparts because the people who have subscribed twice really want to be there.
How to build an effective opt-in email list?
Whether you're pursuing single or double opt-ins, the first step is the same: you need to get your visitors to complete an email opt-in form and enter their contact information.
If you'd like to build a compelling opt-in form that will drive lots of new subscribers to your email list, try our "perfect opt-in form" recipe:
1. Offer a compelling incentive
Online shoppers are used to seeing email opt-in offers almost every time they visit their favorite websites. If you want to cut through the noise and get more email opt-ins, why not forget about using fixed discounts like "10% off" and instead offer a mystery discount?
Framing your discount offer as a "mystery" will automatically generate curiosity in everyone who sees your campaign. They're likely to l feel a sense of FOMO, increasing the likelihood that they sign up.
This tactic works great as a single or double opt-in campaign and will drive more conversions than a traditional percentage discount.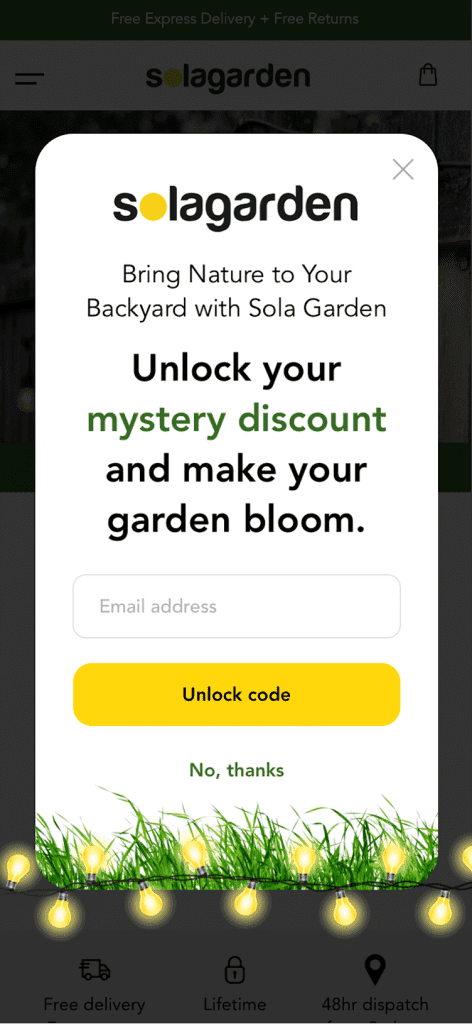 2. Use a welcome popup
A welcome popup helps introduce your brand to new visitors and can give their browsing experience some direction. If you display your opt-in form on a welcome popup that appears 10 seconds after people arrive on your page, you're signaling that it's a key part of getting the most out of experiences with your online brand.
It's also a great place to feature a valuable lead magnet or great discount offer.
Here are some email opt-in popup templates from OptiMonk's template library.
3. Add a "no thanks" option
Your customers should never feel like they're being forced to complete an email opt-in form. If they do, you'll have a lot of people who aren't genuinely interested in signing up, which translates to a lot of unsubscribes in the future.
When you create your sign-up forms, make sure to give customers a "no thanks" option. This will give your customers a feeling of control and show that you respect and value them.
The best part is that very few site visitors will actually ever click the "no thanks" button. Just the fact that it's there increases conversions and helps you collect more email addresses!
4. Create urgency by adding some seasonality
When prospective subscribers feel like your email opt-in incentive will always be available, they're naturally inclined to think "I'll just sign up next time" and procrastinate on joining your email list.
That's why it's important to create a sense of urgency for your email opt-in offer. One way to do this is by giving your offer a seasonal spin. A "special offer of the month" feels much more urgent than a generic discount.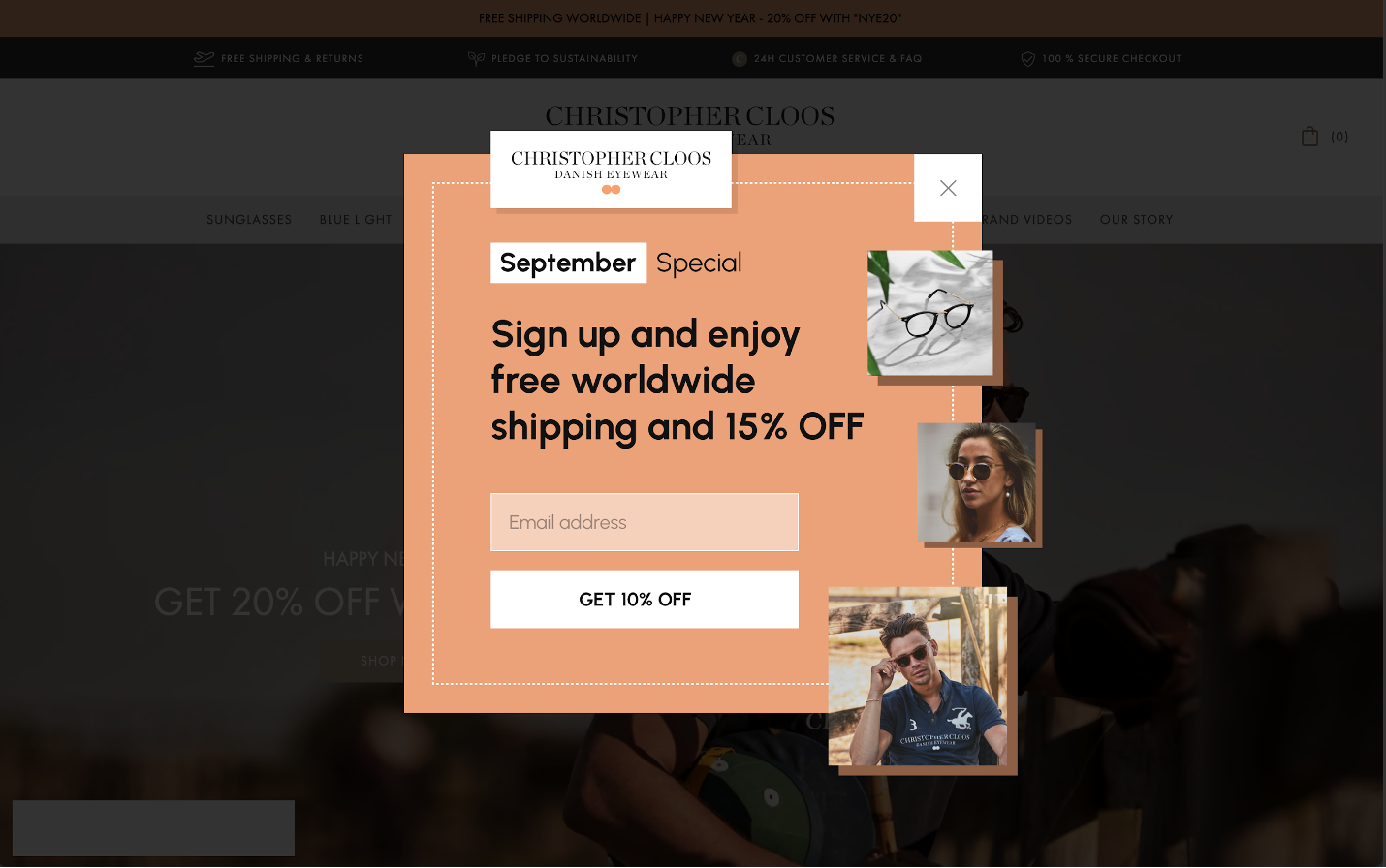 5. Personalize the messaging of your opt-in form
One-size-fits-all messaging will never work as well as campaigns that are tailored to the individual interests and preferences of users. If you're going to invite subscribers to join your email list, you want to make sure the email opt-in form is relevant for each of them.
OptiMonk has many different personalization options. Two of the most popular ways of personalizing email sign-up forms are by traffic source and by interest.
The campaign below was designed to appeal to visitors from Facebook. If you were to arrive on their site from a different social media network, you'd see a different opt-in message. It uses a version of the "mystery discount" strategy as a lead magnet.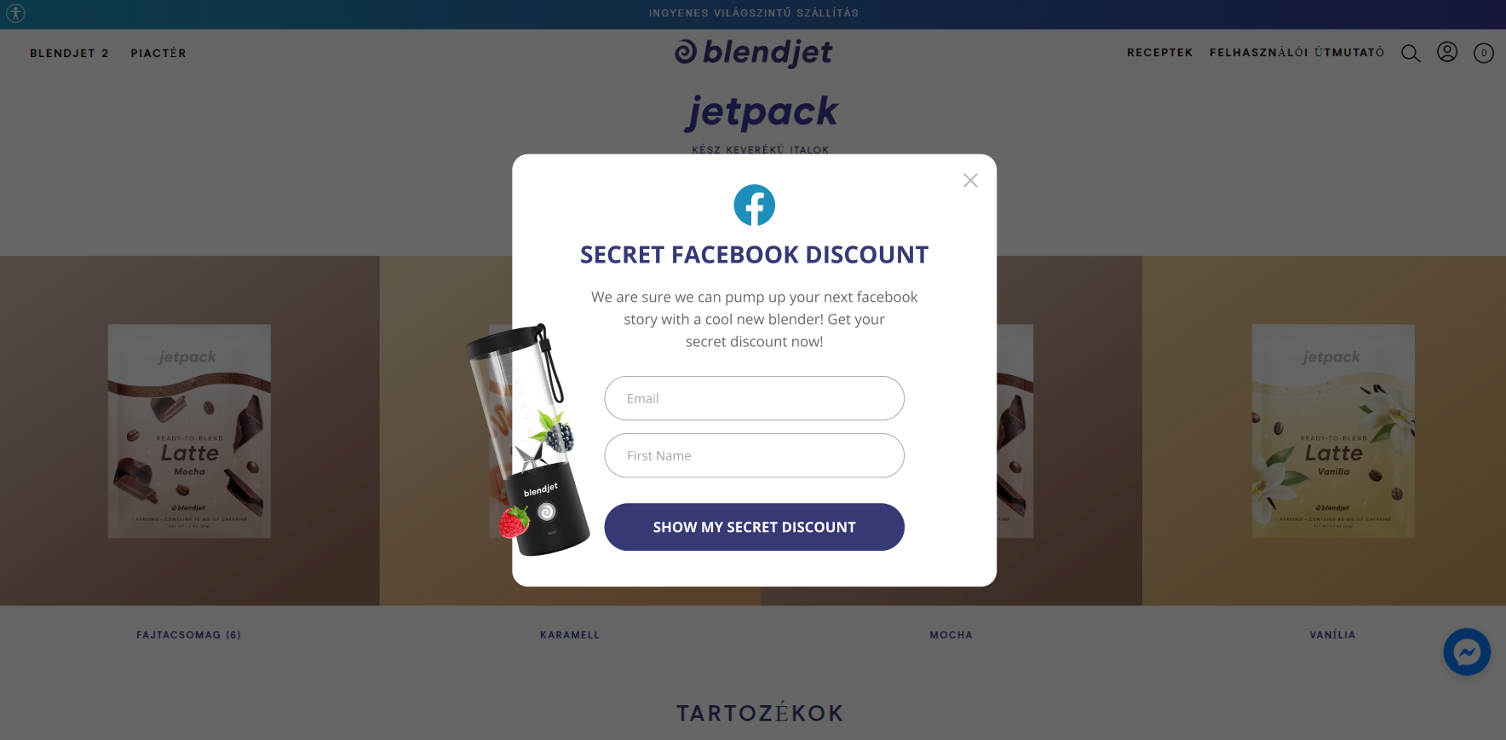 Obvi went a different route and personalized their campaign based on interest. Customers who clicked an ad about sleep improvement or are reading a blog post about sleep science will see the popup below, while customers with different interests will see different versions of the campaign designed to appeal to them.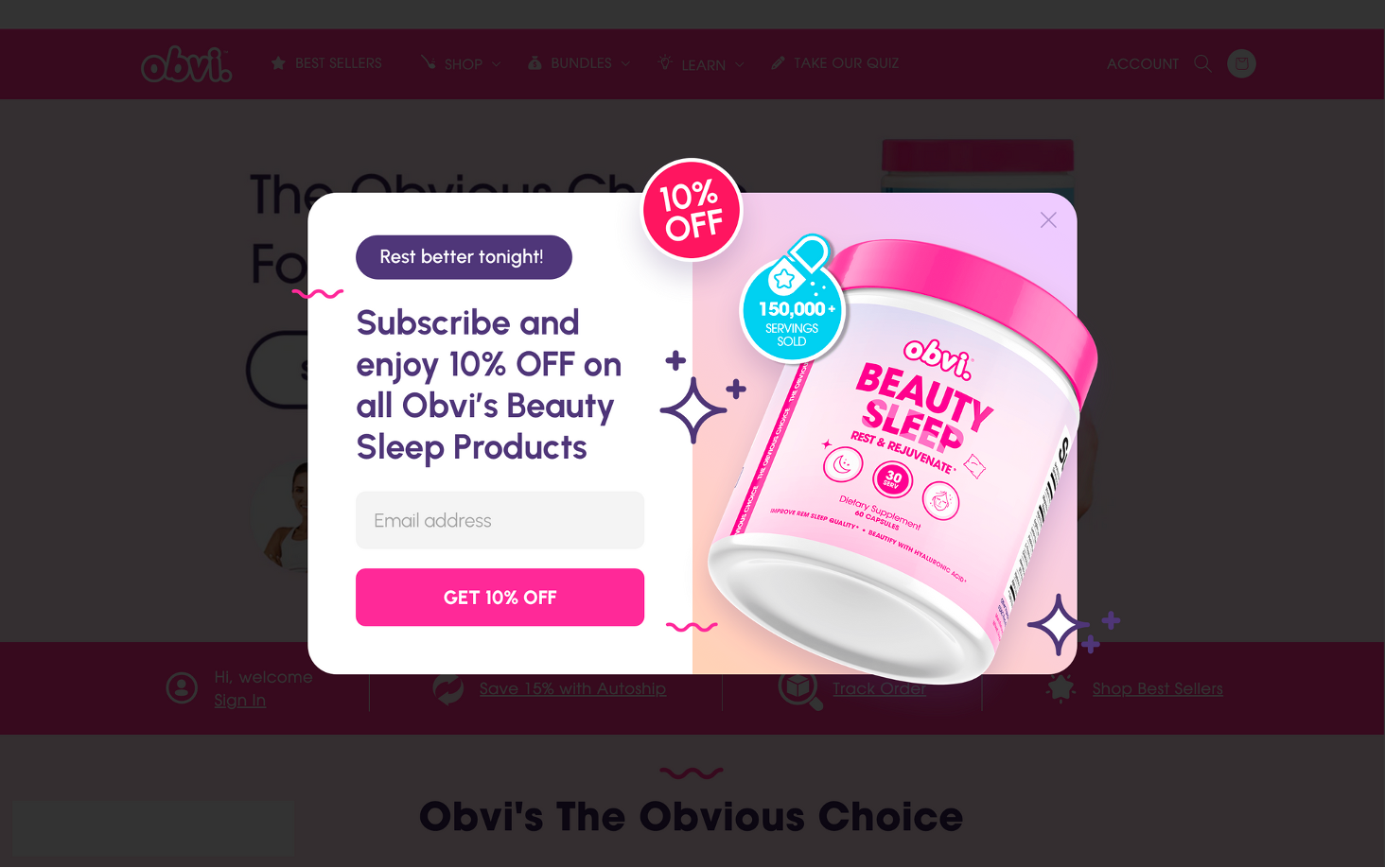 6. Ask a segmentation question
You can use email sign-up forms to do more than simply build your database of email addresses. Instead, you can ask a segmentation question to get to know your new subscribers better.
This will help you grow your business in the long term, as there will be lots of opportunities to personalize key stages of the customer journey with the information you collect.
Once a visitor fills out your form and subscribes, ask a question that will allow you to segment your email list and send personalized emails to these subscribers. Since it takes so little effort for visitors to declare their interests, almost all of them (95%+) will answer your question!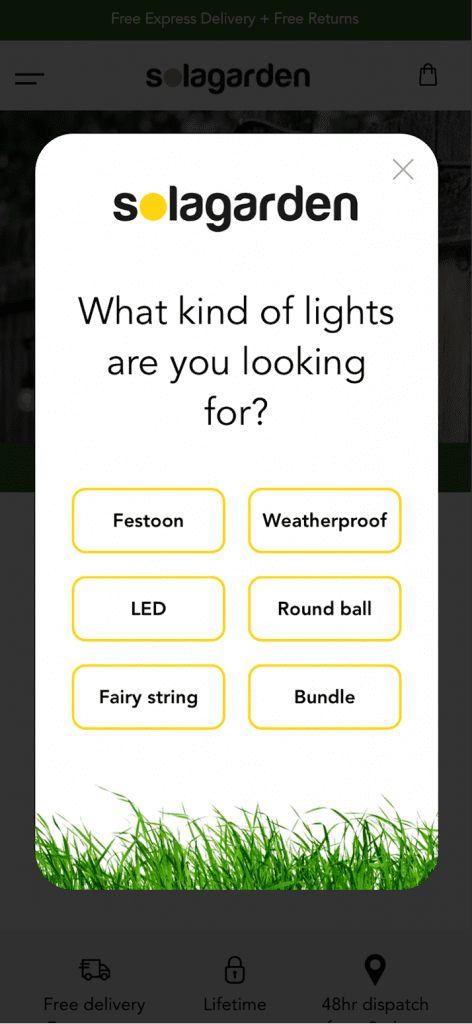 7. Implement a sticky teaser
A sticky teaser is a great way to keep your opt-in email offer at the top of your customers' minds throughout the online shopping experience.
There are two ways to implement a sticky teaser campaign. You can either show the full popup campaign and then have the teaser appear after it's been closed, or you can first show the teaser and then have the full campaign appear when it's been clicked and on exit-intent.
Both of these options help you tell a consistent story—and ensure your visitors can always pull up your offer.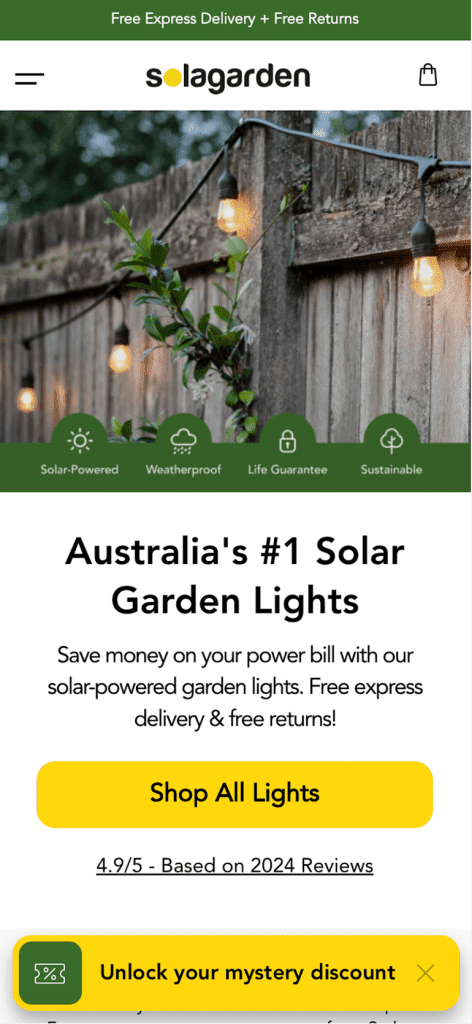 5 tips for a successful opt-in email campaign
These five best practices for building your email marketing list with opt-ins are essential for a successful list-building strategy.
1. Set campaign goals and objectives
Before you jump into creating and designing an opt-in campaign, it's important to think carefully about what you want to accomplish.
If your goal is to simply build an opt-in email list, choose a campaign that's meant specifically for that purpose. However, if you also want to drive sales at the same time, you should end your signup process with relevant product recommendations.
There are lots of different approaches you can take to creating a lead magnet and an opt-in popup, so make sure you're choosing the best route for your store and your goals.
2. Choose the right email service provider
You have a lot of options when it comes to email marketing software. There's plenty to consider when you're deciding on which to choose, from capabilities to costs to your team's technical ability.
3. Design responsive email templates for different devices
In 2023, there's an incredible amount of consumers who are doing most of their online shopping from their mobile devices. That means that you need to make sure that your opt-in form is both readable and functional on mobile devices. If it's not, you're going to be missing out on a lot of conversions!
4. Automate email workflows and drip campaigns
Collecting email addresses is just the start… once you have them, you have to convert them into paying customers!
You should use marketing automation to send both your welcome email and your double opt-in email (if necessary). You can also schedule future campaigns that are filled with valuable content, social proof, and great discount offers.
We also recommend setting up a dedicated landing page for each email marketing campaign you send out in order to maximize your sales.
5. A/B test and optimize campaigns for better results
Finally, you should always optimize your opt-in email campaigns using A/B testing. You don't always know what type of offer will resonate with your website visitors or what design choices will work best.
In general, you should always A/B test your offer, headline, and description. You should also A/B test the visitor segments that are viewing your campaigns.
Is opt-in required for email marketing?
Yes, in order to send email marketing campaigns to a consumer, they must have opted in (given their consent) to receive campaigns from you. Depending on where you (and your customers) are based, you could potentially face large fines if you send emails to someone without their consent.
Make sure you check out the relevant regulations (i.e. the CAN-SPAM act in America and the GDPR in the E.U.).
What is the average opt-in rate for email marketing?
Industry reports place the average conversion rate of an email opt-in campaign between 1% and 5%. Double opt-in emails have a lower subscribe rate, since some customers won't complete the second step of the signup process.
However, if you follow the best practices outlined in this article, you'll have no problem outperforming that average!
What does it mean to opt out of an email list?
When you choose to opt out of receiving email marketing messages from a brand, you are preventing them from keeping you on their list and sending you emails in the future.
Building an email marketing list using opt-in email sign-up forms is an investment, but it's one that can really pay off. There are lots of benefits to developing an email list that's filled with enthusiastic, loyal customers. After all, when your email marketing campaign lands in a subscriber's inbox, you want them to be excited to open it!
If you use a top marketing automation platform like OptiMonk, you won't believe how many subscribers you can generate in a short period of time.
Give OptiMonk a try if you'd like to implement any of the strategies we've covered in this article. And, since OptiMonk is a free tool, there's no nothing to lose!