Your cart abandonment rate figures are not at all impressive? Wondering where did your visitors go? You've put so much effort into earning them, but still, they leave you behind with an empty cart? What if we say that it's all about psychology?
Read our case study below and learn all the tricks about your visitors' emotions when it comes to adding extra products into their carts. Ready?
Results
Reflexshop's main goal was to reduce the average cart abandonment rate with the help of OptiMonk. Their goal was achieved because after starting to use OptiMonk on their ecommerce store, they have managed to double the number of their orders. Their Black Friday campaigns – aimed to increase the average cart value while decreasing cart abandonment rate – were so popular that they have managed to achieve a 60.04% conversion rate without communicating any discount on the popup itself. With the help of another campaign they have achieved no less than 72.97% conversion rate within 24 hours by making their visitors curious with the message on the popup. This means that in case of the first popup, more than half of the visitors clicked on the popup for more details, whereas in case of the second one, almost two third of visitors were interested in the offer.
Statistics
+ 100% increase in orders
+ 72.97% landing page views
+ 60.04% conversion
Reflexshop is an online store that sells different types of products to help spend leisure time creatively (ie: frisbee, board games). Besides their ecommerce store, they have two brand shops as well located in Budapest, Hungary.
Reflexshop believes that your life is highly affected by the activities that you're spending your leisure time with.
In our accelerated and results-oriented World it's a challenge to use our free time in a way to feel energized both physically and mentally, to do active and creative outdoor activities, and to create memorable moments with our families.
Their mission is to offer quality alternatives for You to banish TV from your life once and for all! They are constantly looking for those logical, parlor, skill-developing, and outdoor games that help you stay forever a child and don't ever grow old!
Nowadays, when the Internet and Facebook rule the World, we have to face it that the majority of visitors are 'just looking around' in our ecommerce store. There are very few 'good' visitors who arrive with an actual and immediate intention to buy.
If we check the figures, sadly, only 2% of visitors will actually complete their order, and the remaining 98% simply move on without buying.
Those who happen to place a product into their cart can be easily interrupted by their phone ringing or by having other errands to run, leaving the carts behind. Their focus will be diverted and in a worst-case scenario, they will completely forget about their abandoned carts.
Just think about it: how many potential customers do we miss by not trying to turn their focus back to their abandoned cart? How many abandoned carts could we save with a simple message on the cart pages that can bring back our visitors' attention? The answer is simple and straightforward: a lot!
The importance of communicating with visitors on the cart pages was also recognized by Reflexshop. As a result, they have decided to set up short and straightforward campaigns, making their visitors feel a sense of urgency to buy. Their primary goal was to target impulse buyers and increase the average cart value by offering minimal discounts and giveaways within a very short period of time.
We have interviewed the Marketing Manager of Reflexshop, Kitti Komoróczy.
Hi Kitti, can you give us a quick overview of who is your target audience?
Our primary target audience is parents between 30-50, grandmothers, and young adults between 18-25, mostly university students.
What were the obstacles you faced before getting involved in conversion rate optimization?
We wanted to increase our average cart value and collect subscribers.
Why OptiMonk?
Because of the professional and creative segmentation settings and the quickly and easily customizable templates.
Where did you hear about OptiMonk?
It was a very long time ago 🙂
Who did you target with the campaign and which settings were used?
We targeted new and returning visitors, we used exit-intent popups and cart abandonment settings.
How did you find the setup process?
The setup process was easy, straightforward, and logical.
How do you measure the effectiveness of OptiMonk?
We monitor the % conversion results.
How long did it take to achieve the first results?
Immediately!
How did OptiMonk impact your core metrics? Did you experience any increases in revenue or growth after starting to use OptiMonk?
We doubled our sales (although these numbers were affected by other factors as well).
What would you tell those ecommerce store owners who didn't yet start conversion optimization on their store?
That they are leaving big money on the table by letting their visitors go without converting them into first customers and doing nothing to increase their average cart value.
Templates and campaign settings
Although Reflexshop has been running a few seasonal campaigns to increase their average cart value, we are going to take a closer look at two of their most successful Black Friday campaigns now.
1. Increase average cart value with a 5-minute campaign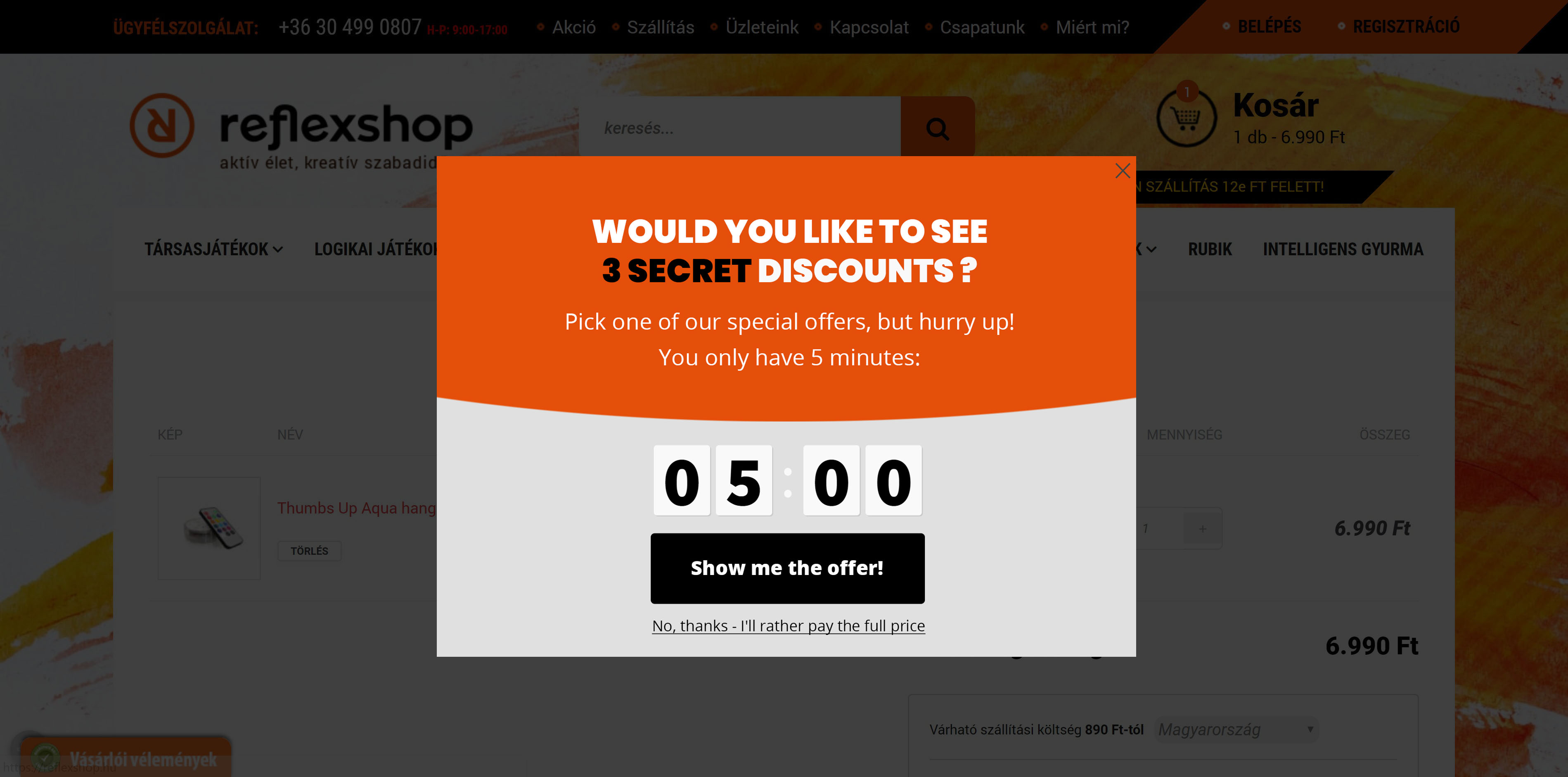 The "3 secret discounts" offer was only communicated on the cart pages to those visitors, who were extremely fast. To get one of the "secret" products, they had to complete their order within no less than 5 minutes.
The reason why this type of offer worked pretty well is because they did not communicate any discount or specific products on the popup making the visitor open the secret offers out of curiosity. Besides, the fact that they only had 5 minutes to check the products made them have a sense of urgency.
By applying these two marketing tricks they basically activated two push-buttons at a time: the curiosity that's biologically coded in human nature and the fear of missing out 🙂 Those who were interested in the offer were redirected to a landing page created for Black Friday where they could check out the 5 minute offers.
This campaign is a great example of how much psychology plays a major part in our purchase behaviours. Just like us, our visitors are humans and when it comes about campaign creation, it can be effective to imagine ourselves in their places for a moment. Sometimes, what works magic for us can work magic for them as well. Of course, this is not a golden rule, we are not alike, but it can be a great starting point.
The campaign ran with the following settings:
It only appeared once on the checkout pages to visitors browsing from PC and Mobile and spending at least 1 second on the cart page:


The campaign was only active for one day and during this period, it achieved a 72.97% conversion rate that is a great proof of emotion based, impulsed purchase.
It's important to see that we don't necessarily have to jump into regular discounts, sometimes it could be enough to try and make an emotional effect just like Reflexshop did in this one-day campaign.
2. Free gift above 1,000 HUF order value on Black Friday
Besides the secret 5 minute campaign, Reflexshop parallelly ran a campaign where they provided a free Finger Spinner for those who had products above 1,000 HUF in their carts.
This way, they could make those who didn't plan to purchase above 1,000 HUF place one more product into their carts, therefore increasing the average cart value. Of course, these types of campaigns are worth running no longer than a few days. This is because although we won't have any income from the free giveaway, the additional products placed in the carts can increase the order value. These types of campaigns can not only convert well during Black Friday but we can use them on special, 1-day occasions as well, for example, birthday campaigns.
The campaign was a two-page campaign: on the first page, visitors could see the free giveaway, whereas the coupon code was included on the second page. Once they clicked on the 'Take my free Fidget Spinner' button, they were directed to the product page of the Spinner, where they could easily add it to their carts.
Page 1: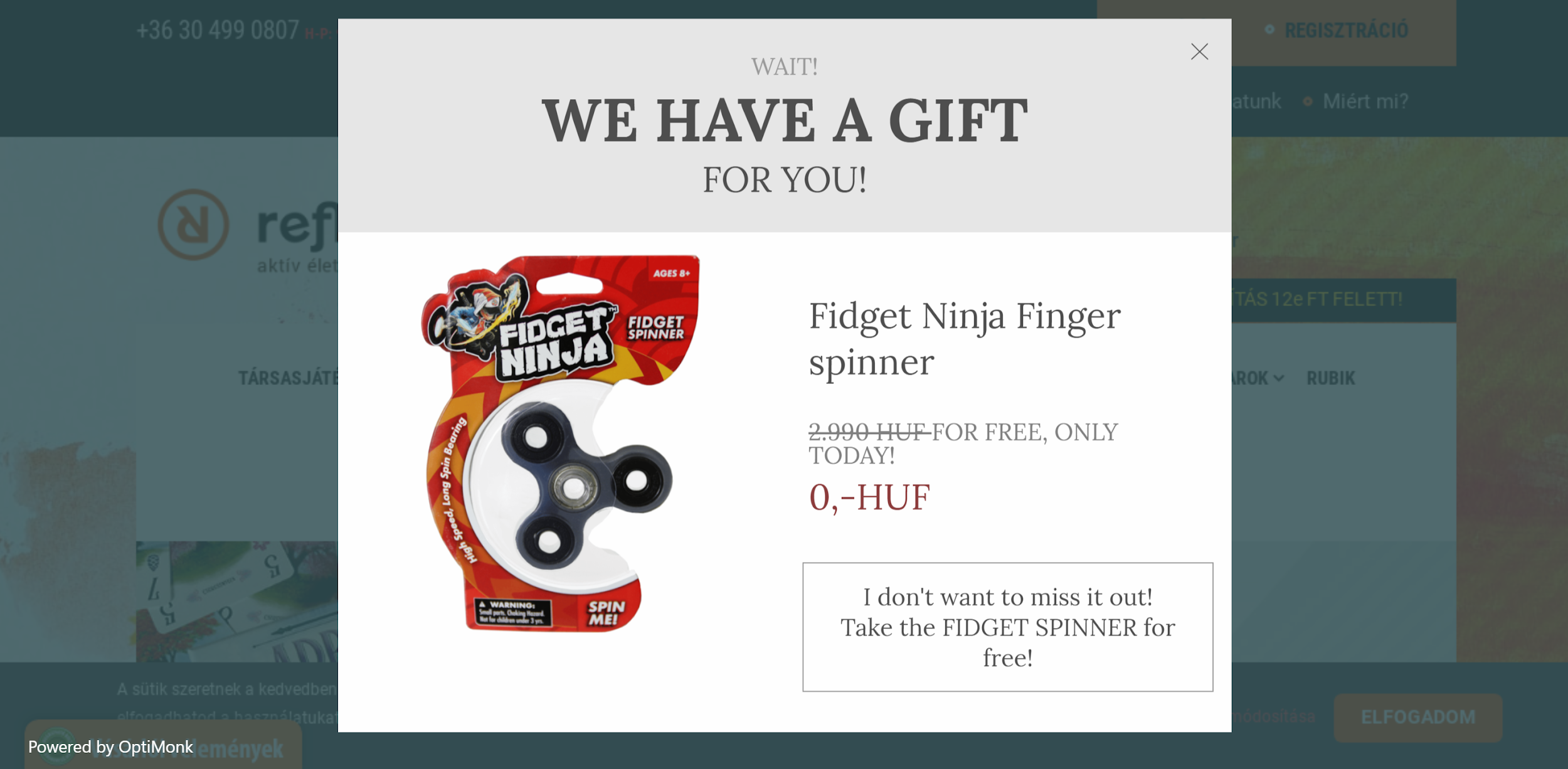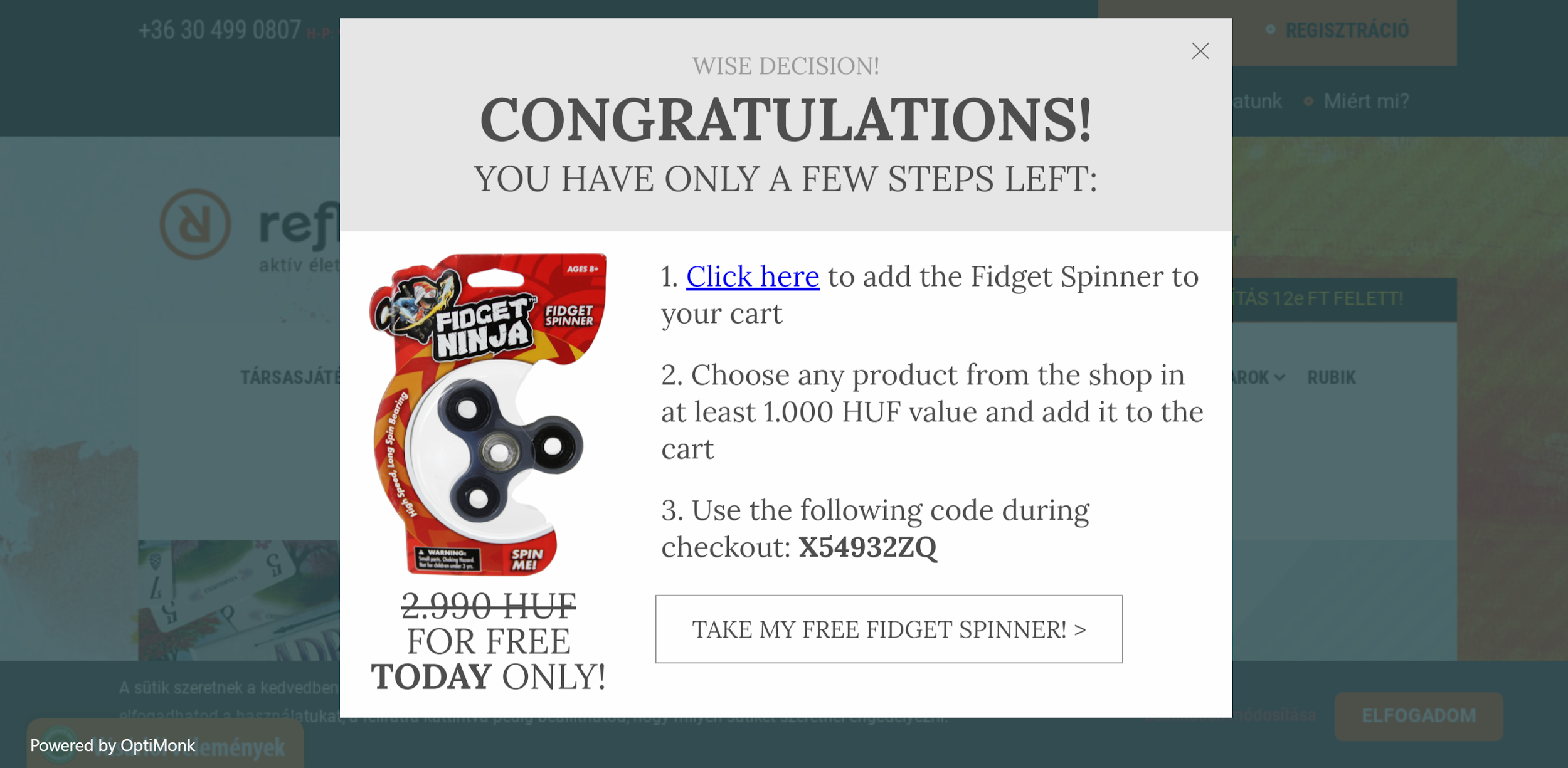 The campaign ran with the following settings:
It only appeared once on the checkout pages to visitors browsing from PC and Mobile, on exit-intent. It was blocked from the Thank you pages so that those visitors who already completed their orders didn't get the free gift:


With this one-day campaign, they have achieved no less than a 60.04% conversion rate, which is an amazing result! This means more than half of the visitors clicked on the popup for the details of the offer.
As we could see, it doesn't require hard work and big money to increase the average cart value in our store. All it requires is to pay attention to details and look at our visitors as humans! In most cases, with little things, we can achieve better results.
If we take psychology into consideration (curiosity, sense of urgency) when creating our messages, we can be sure that we'll achieve better results. Just as Reflexshop did with their two, Black Friday campaigns, by achieving a 72.97% and a 60.04% conversion rate.
This means that in the case of the first popup, more than half of the visitors clicked on the popup for more details, whereas in the case of the second one, almost two-third of visitors were interested in the offer. Not to mention that since using OptiMonk, they doubled the number of their orders.
Attila Ádám, the CEO of Reflexshop said the following about OptiMonk:
If you as well would like to achieve such great results, why no try OptiMonk? You can easily create a free account. Or if you already have an account, just sign in.