Sometimes it's a great idea to see what the competition is doing differently, especially if your competitor seems to be doing well with specific products or with products you don't have, but how do you know? In this blog, we'll show you how to be a Shopify Spy.
When using the term Shopify spy, really it's just great detective work. Luckily this isn't too difficult because there are some great competitor research tools for Shopify websites. One such tool is Shopistores.com
This search tool only works for websites using specific Shopify themes. There is also a question about how frequently this list is updated since the review numbers do not reflect the reality of what's listed on the Shopify app store.
My reason for referring to it is that it supplies a great list of Shopify stores to analyze. The list includes only stores using the following Shopify themes.
Clothes theme
Jewelry Theme
Venture Theme
Testament Theme
Unfortunately, there are many factors that determine Alexa ranking, and stores can be very successful on social media without doing well on Alexa.
If you want to target a specific store, luckily there are other ways to determine the best selling products for any category of the item on any store and most of you will already know most of your key competitors.
Be a Shopify Spy: Determine the Best Products to use for any category
For this investigation, let's assume we are doing some competitor research for a gym-related Shopify store, we will use Gymshark, a top 500 Shopify store as the target for investigation.
Step 1 – Choose and navigate to any store (but in this case Gymshark).
Step 2 – Navigate to the collection of interest.
https://www.gymshark.com/collections/energy-seamless/womens
Step 3 – Add ?sort_by=best-selling to the end of the link
For example https://www.gymshark.com/collections/energy-seamless/womens?sort_by=best-selling
It's as simple as that, by applying this query to the end of the URL, you can know the best selling products for any category of any Shopify store. It takes less than 30 seconds.
In addition to the best-selling category, you can generate a list of best-selling items for the entire Shopify store simply by adding the following to the end of the store URL after the domain name.
/collections/all?sort_by=best-selling
How to Find Shopify Stores
Google has limited its search syntax, making it more difficult to find webshops using this section of the URL listed above. However, this can still be done via other search engines like the Duckduckgo.com search engine.
CRO TIP: What's popular sells! You can leverage this Shopify Feature for your own Shopify store as social proof, no matter the volume sold. Why not create a weekly/ monthly/seasonal 'bestsellers' popup campaign based upon your best selling?
There are some that would prefer that their competitors can't find best-selling items and would prefer to deactivate this Shopify feature if this is you check out how to deactivate it.
We have to disagree, as CRO experts we feel that second best is a chance to optimize. You might see our most popular at any single point in time but they never stay there, second best is transitory, changing day-to-day as we optimize them. Therefore it doesn't matter if you see our most popular.
The value of Competitor Research for CRO
Via the investigation above you can see how your competitors are presenting their best selling products and see what their best selling products are. This provides some information to consider.
Where your products are not performing as well as they could – time to get down and dirty with CRO.
Find new tools with great features, better than you are currently using.
In terms of onsite retargeting, moments in the customer journey you could target customers differently (perhaps your competition is doing some inventive popup targeting).
If you don't have the exact same product or style you can compare it to similar items you have. Perhaps you need to source something similar, or if 3rd party-branded then find the very same product? Before putting your orders in, make sure you check out how they are selling their product so that you may improve your own methods. After all, the value of this competitor research is to generate ideas about how to improve your own product marketing. With this in mind, check the following items.
Shopify Spy Tips.
Check their FB page, what are they doing that you aren't? In the case of Gymshark, with 1.6M likes, clearly, they are doing a lot on FB, and in terms of Gym wear, they are clearly trendsetters, at least in the USA. Therefore, the best-selling items are likely to be high-volume items, selling something similar will likely yield results. What are your competitors selling that you are missing?
Brand building via own gym, high profile brand ambassadors and fitness how-to demonstration videos, and their own fitness app. Inspirational quotes are also commonly used across all channels. Who would be a good brand ambassador for your brand? Could you make demonstration videos for your products? Perhaps you can partner with a Gym to market your brand?
Imagery is essential in relation to all Shopify Stores, not just Gymshark but for Gymshark it is a definite strength. A fit, attractive body is a goal and therefore appealing to the viewer, ultimately sexy (sex sells), with fit men and women showcasing their product range. Make sure your imagery is equally as appealing and appropriate where possible in relation to your products. Oh and keep your picture sizes less than 350kb at the most and be sure to use jpeg format.
If you like a particular feature of a store you are researching but are not sure what Shopify add-on provides it, then it's pretty easy to find out. How?
Right-click (mouse) on the element, (Google chrome) at the bottom select investigate. In the elements panel that loads you will see a highlighted portion of code. From this, you know what Shopify add-on they are using for that function.
For example: https://kith.com/
At the bottom of the page you will see a subscription box, just try out the above on this. Check out the "div class" and you will typically see any 3rd party newsletter service provider that they use.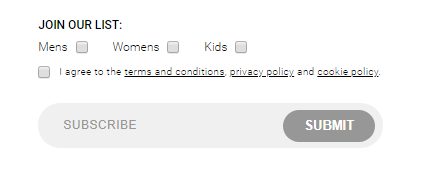 Here, the pre-segmentation of the list into Men's/Women's/Kids is a great idea, however un-necessary if a Shopify addon like OptiMonk is used. Visitors should be segmented by what they look at rather than by gender (what if they are shopping for someone elses birthday?), with the very act of looking for a specific period of time triggering a relevant subscribe popup, unique to the category or product they are looking at.
Many ecommere store owners fail to keep up to date with technology just as in this case, where they rely on email marketing features where alternative, better methods (automated, and more targeted) are available to capture user's data.
Pro Tip: Install an analytics platform bestseller such as Conversific onto your Shopify store. The insights provided save an incredible amount of time and enable quick targeting via onsite retargeting tools like OptiMonk.
Both email marketing and onsite retargeting provide the means to target customers, personalizing experiences however you need to delve into your analytics to understand what to target.