Sleeknote is a lead capture software that allows you to turn your traffic into revenue with popups, forms, sidebars, and slide-ins.
While Sleeknote can certainly help you generate more leads, it's expensive. Their cheapest package is €62 per month (around $66 US) and there's no free plan for smaller websites.
Yikes!
Here's what one user said about the pricing on Capterra:

While your lead capture software can help you convert leads and increase sales, it's an investment that comes with a monthly cost.
So if you're looking for a new popup software that can bring you similar results to Sleeknote without the high cost, you're in the right place. In this article, we'll share the 10 best alternatives to Sleeknote.
Which lead capture tools are the best Sleeknote alternatives?
All the tools on this list can help you boost your lead generation campaigns and convert visitors.
However, there are important differences between them: one might offer more marketing automation while another might have a particularly useful advanced targeting feature.
So while you're checking out your options, consider the main goals of your website's marketing efforts and the challenges you're facing now.
OptiMonk's popup tool helps ecommerce stores grow their email lists, promote sales, and stop cart abandonment. With powerful customization options, you'll be able to control precisely when and how your popups appear to your visitors.
Users appreciate these options and the great results they bring: OptiMonk has over 450 five-star reviews in the Shopify App Store.
OptiMonk's unique features
OptiMonk's popup software is full of useful features that lead directly to higher conversion rates.
Even better, almost all of these features are available in the free plan (except A/B testing, unbranded popups, and targeting based on custom variables—which are useful upgrades you can take advantage of with their paid tier plans).
Over 300 pre-made templates
OptiMonk's template library is full of tried and true templates that deliver great results. There are more than 300 popups you can choose from for various use cases. And all the templates are mobile-friendly.
The template library also contains popups designed for seasonal events like Mother's Day, Black Friday, and Cyber Monday.
Check out some of the available templates below:
Powerful drag and drop editor
Once you've chosen a template for your popup, you can easily customize it to match your website design in just a few clicks… no coding skills required. Some of the customization options include:
Size, layout, and position

Color

Images

Opt-in form fields and copy
The process is simple, and you won't need any coding knowledge to customize your popups.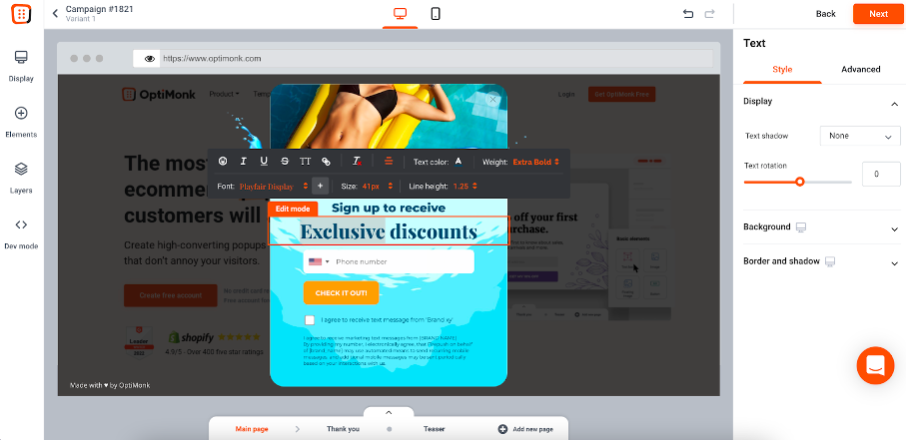 Lots of campaign types
OptiMonk offers many campaign types and use cases for your ecommerce store, including:
Gamification campaigns

(Spin to wheel, Scratchcard, Pick a gift)

Sticky bar (or floating bar)

Side message

Feedback form

Email signup

SMS signup

Advanced targeting features
You can tailor your messages toward different segments of website visitors using OptiMonk's many targeting features.
For example, you could display certain popups to users who have added specific items to their cart. You could also show different popups to first-time and returning visitors. Or you could target visitors based on a specific landing page they've already visited.
You can also target customers based on:
Location

Traffic source

Time spent on pages

Time spent on site

Cart rules
With these advanced targeting features, you'll only show relevant popups to your visitors—which means you'll improve the overall experience rather than annoy your customers.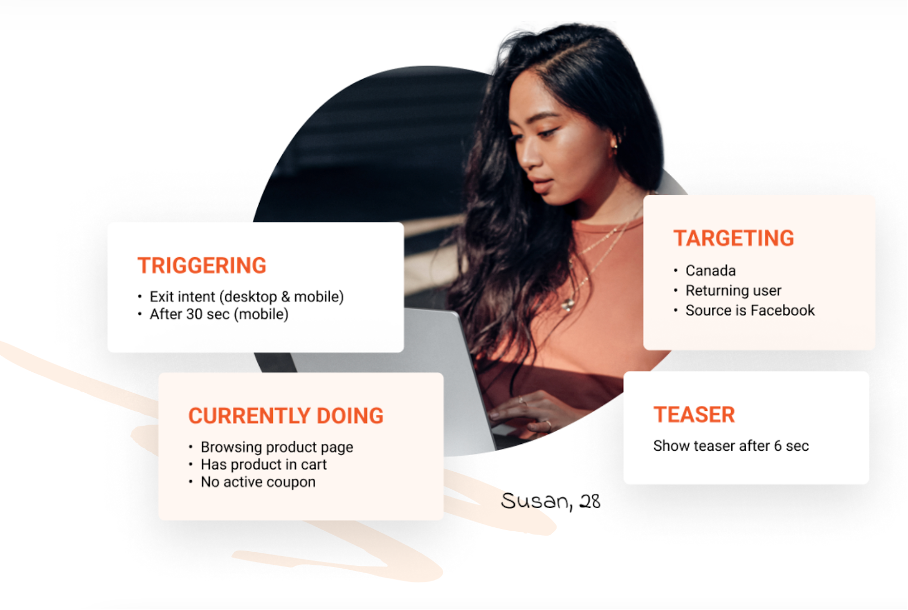 Stellar customer service
If you're unsure about the best setup for your popup campaign or if you have any other questions, you can always reach out to OptiMonk's professional customer support team. They'll be happy to assist you.
Check out this customer review below:

A wealth of integration options
OptiMonk integrates with all the most popular tools that help business owners run their online stores, including email marketing tools like MailChimp and Klaviyo.
Here are just a few of the many integrations available through OptiMonk (see the full list here):

Who should use OptiMonk?
Any ecommerce store can use OptiMonk to grow their email list and boost their sales and conversion rates. This all-in-one tool is easy to use and offers tailored solutions for your marketing campaigns.
If you're running an online business all by yourself, you can create popups quickly and efficiently. And if you're part of a big team (with web designers, copywriters, etc.), everyone can use their skills to the fullest extent thanks to the deep customizability of OptiMonk popups.
Pricing
Free, or from a $29/month starting price.
The second entry on our list is a marketing platform that brings together a number of different functionalities. With Privy, you can create popups and run your email marketing directly through their app.
Privy's unique features
Privy's dual functionality has both pros and cons. While using only one platform is convenient, the available features can fall behind a software that's dedicated to just one purpose.
Lead generation popups
Since Privy is geared towards marketing to your contact list, they have lots of templates designed for that purpose.
They have additional popup types, like cross-selling and gamified popups, but other types like fullscreen popups and sidemessages are missing from their offering.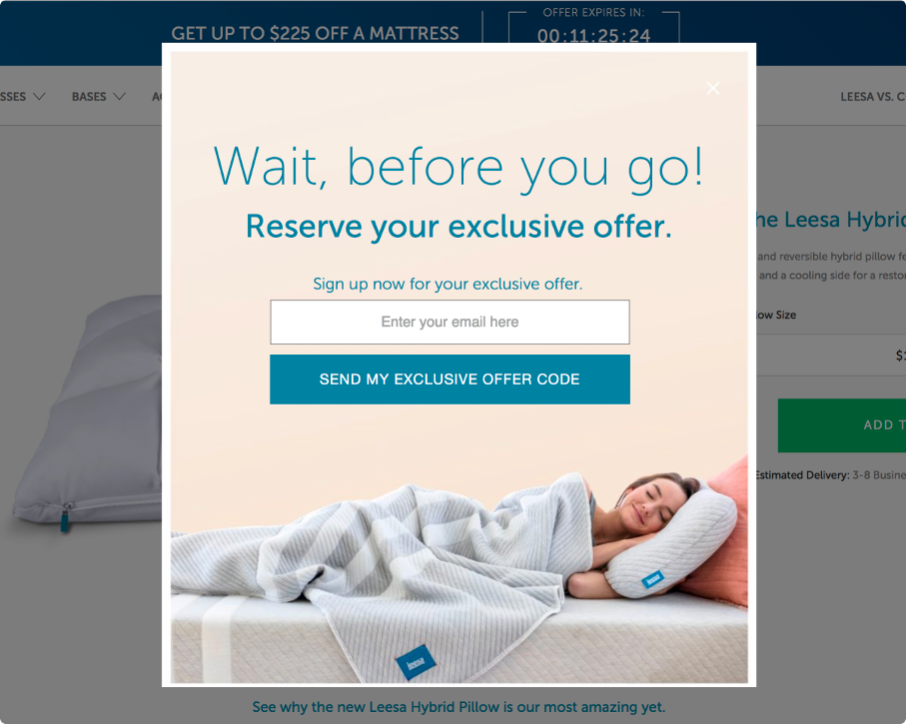 Cart abandonment emails
One great feature of Privy is its system for sending cart abandonment emails. If an exit-intent popup fails to generate a conversion, you can try again with an email prompting users to complete their transaction.
Who should use Privy?
Privy is great for store owners who love running as much as possible through a single platform. However, others might prefer to use a more powerful marketing tool in combination with a dedicated, feature-rich popup maker.
Pricing
Free for 100 contacts or less, then from a $15/month starting price.
OptinMonster helps ecommerce stores generate leads using popups and inline forms. They have a large template library that contains many types of popups with reliable features.
OptinMonster's unique features
OptinMonster's popup maker allows you to create diverse, customized exit-intent popups.
Drag and drop editor
Their platform has a popup editor that offers a great deal of customization.
You can easily add and edit elements like times, contact forms, and images so your popups blend in seamlessly with your store's theme.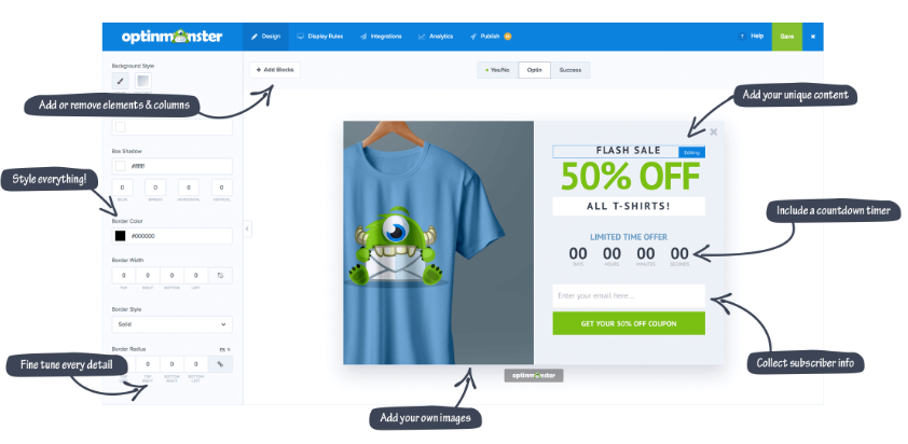 Targeting features
OptinMonster also gives you access to an impressive suite of tracking and targeting tools. These include geo-location, page-level targeting, and an "InactivitySensor."
There are also options for using both onsite retargeting and follow-ups to improve your conversion rate.
Who should use OptinMonster?
OptinMonster can be a useful popup tool for lead generation. Ecommerce stores that rely on their contact list for a large percentage of their sales might consider using this popup software.
Pricing
From a $14/month starting price.
Sumo is a lead generation plugin that's all about simplicity. The cornerstone of their approach is a quick setup process that allows you to get your opt-in forms up and running within minutes.
Sumo's unique features
One of Sumo's catchphrases is "set it and forget it," which encourages users to configure their popups quickly and then simply let them run. This is great if you don't have much time to invest in running your popup campaigns.
Intuitive drag and drop builder
You can create an opt-in form easily with Sumo. You can start with one of their opt-in form templates and be ready to launch it after minimal editing.
The downside to this simplicity is that you can't create as many form types as you can with other Sleeknote alternatives on this list.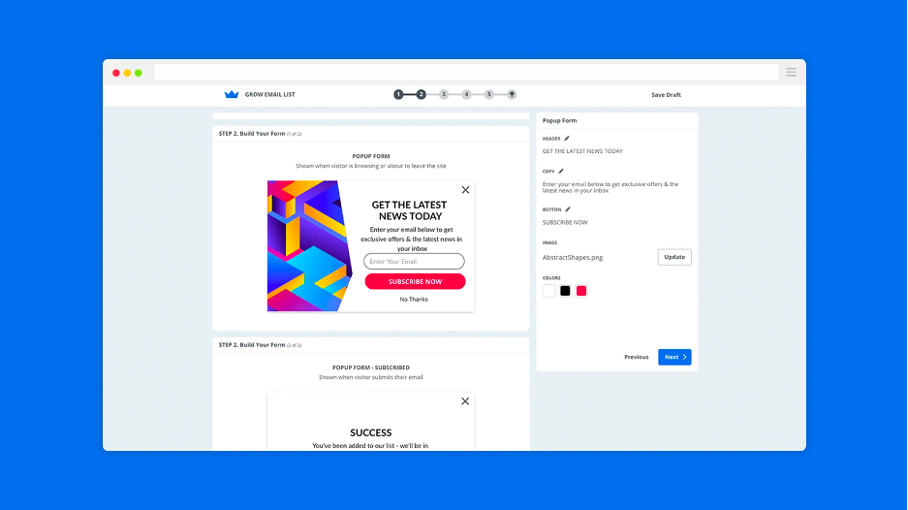 Integrates with other Sumo products
This lead generation tool has several other products that integrate seamlessly with their popup maker.
Who should use Sumo?
Sumo is perfect for store owners who don't have a lot of time to spend on creating, A/B testing, and optimizing their popups. If all you want is a simple email opt-in popup, then this is the Sleeknote alternative for you.
Pricing
Free, or from a $49/month starting price.
Elementor's popup maker is part of their general web design application, which allows you to create landing pages, blogs, and ecommerce stores.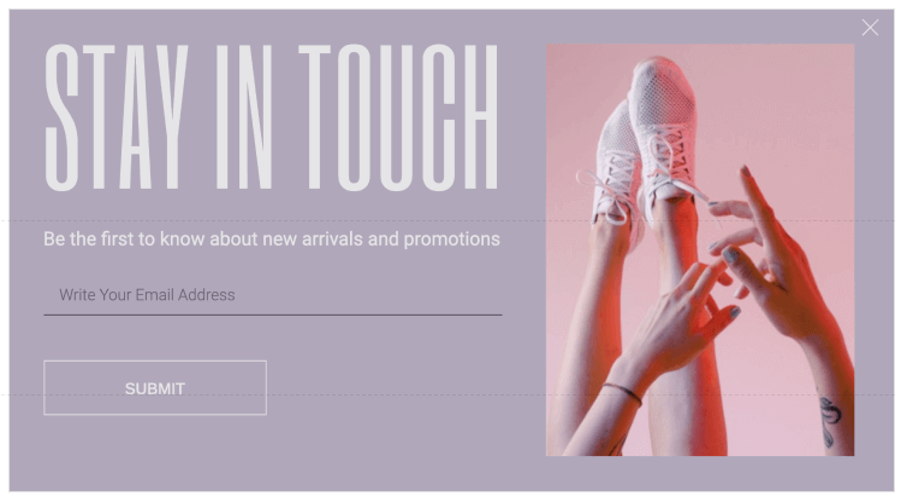 Elementor's unique features
Here are a few of Elementor's unique features that revolve around their powerful editor:
Mobile-friendly editing
You can easily create mobile-responsive popups that look great on any device. With the click of a button, you can go from editing a popup for desktop to modifying it for mobile viewing.
SEO optimization
The code running behind the scenes of Elementor is quite efficient—meaning that your low page-load times will help you reach the top of Google's search rankings.
Who should use Elementor?
We'd recommend Elementor for people who are using WordPress and are still in the early stages of getting their websites up and running. You'll be able to take advantage of a range of features you might need during setup.
Pricing
From a $49/year starting price.
Unlike some of the lead generation tools we've just reviewed, Justuno is all about conversions. The company leverages an advanced AI system to deliver insights about your customers and their preferences.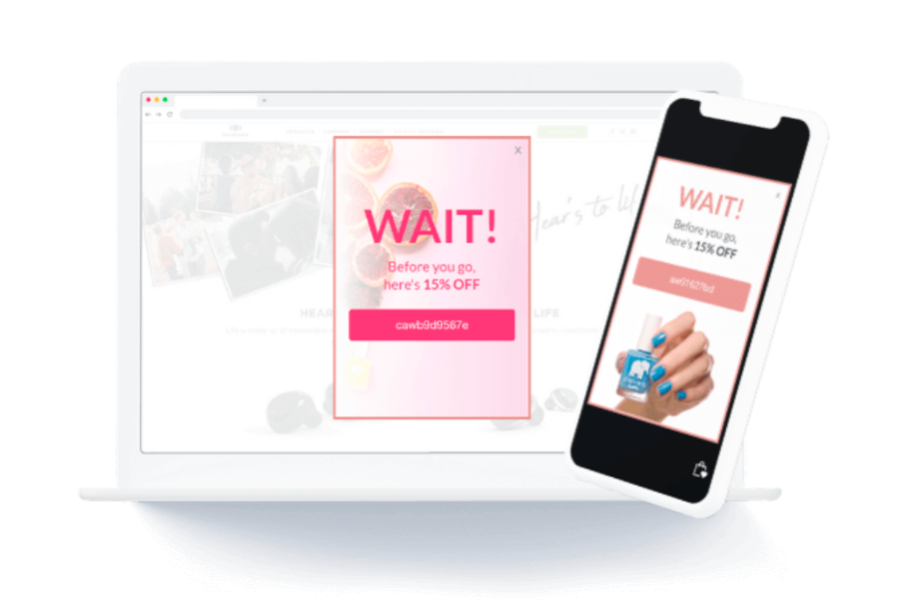 Justuno's unique features
Justuno has a number of features to help you convert visitors at high rates:
Personalized popups
Justuno automatically gathers data about your users to personalize your popups. Based on the browsing history of each customer, you can recommend certain products or deliver tailored messages that will appeal to them.
Upselling and cross-selling
You can also take advantage of Justuno's personalization features while upselling and cross-selling products to your customers. The specific offers that Justuno displays to your customers are based on what they've already shown interest in, helping to boost your average order value.
Who should use Justuno?
Since you'll need to be on the Justuno Plus payment tier to access their AI-recommendation engine (which will cost at least $399/month), we'd only recommend this tool for very large ecommerce operations.
Pricing
From a $49/month starting price.
Thrive Leads is part of the "Thrive Suite," which has software that solves several ecommerce needs like creating landing pages, A/B testing, and automating sales and messaging.
Their Leads software is geared toward building opt-in forms for ecommerce sites and has all of the key features you'd expect from a solid Sleeknote alternative.
Thrive Leads' unique features
As a dedicated WordPress plugin, Thrive helps users cut through the complexity of the CMS platform with its drag and drop form builder and elegant themes.
A/B testing engine
The advanced split testing capabilities of the Thrive plugin come from the developer's experience of creating "Thrive Optimize," which is a standalone A/B testing WordPress plugin.
You'll be able to run an A/B test easily, and you'll get detailed data on your crucial results and useful insights.
Inline forms
Unlike some of the other tools on this list, Thrive Leads gives you the option to create embedded inline opt-in forms (that are part of your page) as well as popup forms. This type of email signup form is excellent for certain use cases like blog posts and landing pages.

Who should use Thrive Leads?
Thrive Leads is a WordPress plugin, so it's a no-go if your store is on Shopify. But it's among the best Sleeknote alternatives for midsize and large businesses that use WordPress. Small businesses might opt to look elsewhere because there is no free plan available.
Pricing
You can't purchase Thrive Leads as a standalone product. The Thrive Suite basic plan has a starting price of $30/month.
Picreel is a lead capture tool that places a lot of emphasis on their exit-intent technology. This helps keep more potential customers in your sales funnel by capturing their contact information just before they leave your website.
Picreel's unique features
Picreel has lots of features to engage visitors and keep them on your web page. However, it has no floating bars or welcome-mat popup. Here are some features that stand out:
AI triggering
You can send personalized, dynamic messages to individual users with Picreel's "AI-assisted" targeting and triggering. The system will learn from what has and hasn't worked in the past and apply those lessons automatically to your campaigns, helping you convert visitors and generate repeat buyers.
Collect phone numbers
Picreel has several popup templates designed to collect phone numbers from your web visitors. This is valuable because SMS marketing campaigns have a much higher open rate than email marketing campaigns.
Who should use Picreel?
If you're seeing lots of new visitors bounce from your landing or product pages, Picreel is a good Sleeknote alternative. However, this tool isn't as great for creating popups that are unrelated to abandoning site visitors.
Pricing
From a $19/month starting price.
Poptin helps ecommerce websites add popups to capture leads. Their lightbox popups allow you to create sidemessages and fullscreen popups.
Poptin's unique features
Poptin's approach to lead generation is focused on beautiful opt-in forms. They have lots of options to choose from, including gamified popups like scratch cards.
Exit-intent popups
One nice feature of Poptin for smaller stores is the fact that their exit-intent popups are available on their free plan.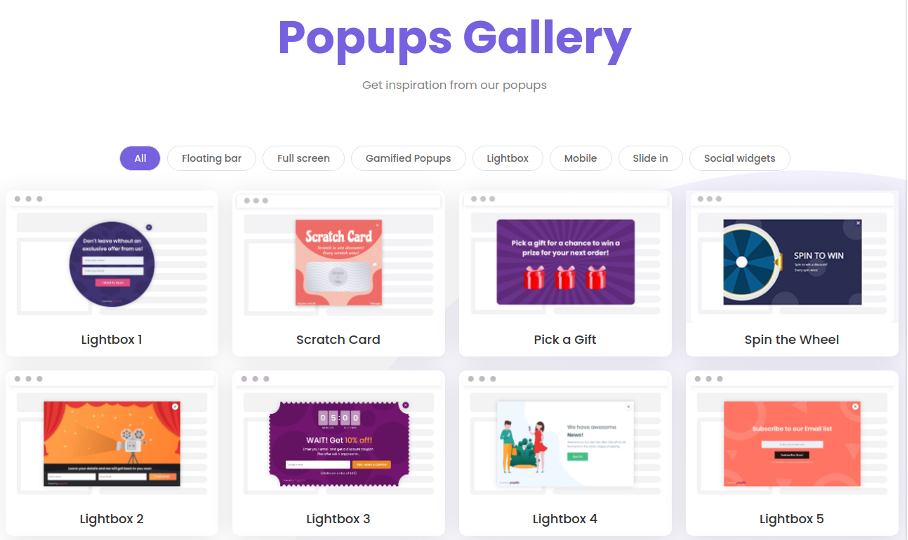 Built-in autoresponder
Poptin doesn't offer a full email marketing tool, but you can automatically send "Welcome" and "Thank You" emails to new subscribers.
Who should use Poptin?
Poptin is ideal for users who simply want to capture contact info to send a thank you email, but it's not appropriate for those who want to run a full email marketing campaign.
Pricing
Free, or from a $25/month starting price.
Wishpond bills itself as an "all-in-one marketing platform," which is fitting because their services cover everything from social promotions to landing pages (and of course, popups).
Wishpond's unique features
Wishpond can do a lot for an online store, but some of its features fall behind software dedicated to a specific purpose.
Basic popup technology
Wishpond offers customizable popups and several triggering/targeting options. However, you don't have as many options or as much control as you would with dedicated popup software.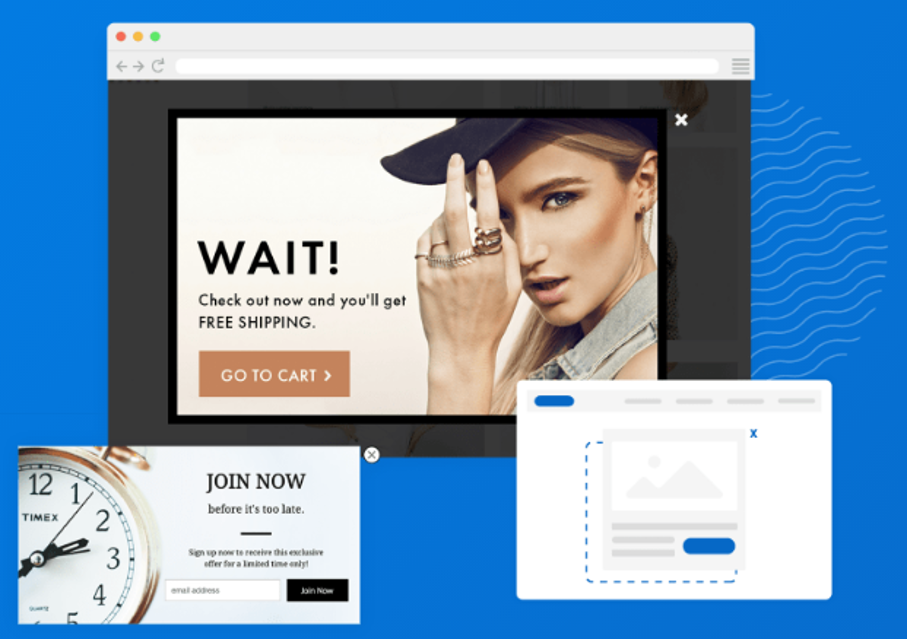 Other features
There are lots of additional ecommerce features available in Wishpond, including:
Conversion optimization

Email marketing

Lead database

Payment systems

Ad campaign scheduling

Exit surveys
Who should use Wishpond?
This is one of those alternatives to Sleeknote for store owners who don't want to juggle several different SaaS products. If you're already on a feature-rich CRM tool (like Shopify or WooCommerce), you'll automatically have access to many of the extra features available within Wishpond.
Pricing
No free plan or posted starting price. You'll need to speak to Wishpond's customer service for custom pricing.
By now, you should have a good idea of which Sleeknote alternative will work best for you.
OptiMonk is the perfect Sleeknote alternative for both small online stores and large enterprises. Its wide range of features, which balance the need for ease of use with deep customizability, make it a powerful ally.
Other Sleeknote alternatives like Elementor and OptinMonster can also help you grow your business. But keep in mind that their advanced features come with a heavy cost and relatively limited options.
So why don't you pick out one of OptiMonk's freemium opt-in forms and give their drag and drop builder a try?