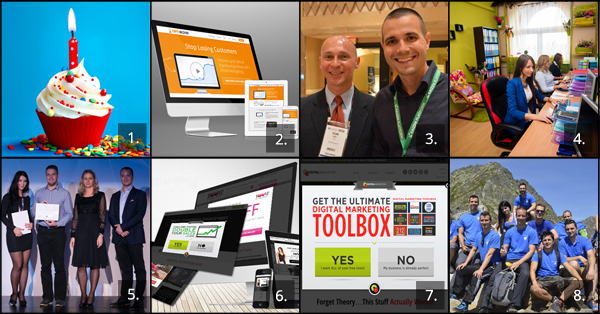 I must say, the OptiMonk team really had a rockin' year. I'm so proud of our team and our accomplishments, and all of this is thanks to you!
Everyone on the OptiMonk team is dedicated to the success of our customers, and they've all been putting in extra effort to make OptiMonk the best tool for boosting conversions.
We also had some fun along the way, check it out…
1. We celebrated our 1st birthday: Holy cow, we are 1 years old! Time is running crazy fast! Seems like yesterday that we announced the launch of OptiMonk. Looking forward to bigger strides with our 2-year anniversary this May!
2. OptiMonk's got a ton of new exciting features: Our software developers kept busy this year rolling out new features. This team is so customer-focused – they're constantly testing and implementing great features and integrations that make OptiMonk fully-adapted to our customers' needs.
3. We introduced OptiMonk at numerous national and international conferences: We met a lot of amazing marketing professionals and businesspeople and learned a lot from marketing events here in Hungary and around the world. It's truly a rewarding experience to be an exhibitor and to get firsthand feedback while meeting some of the people behind the latest tools in digital marketing. In addition to the Hungarian Marketing Expo and Marketing Festival, we were at the Conversion Conference in London and in the US as well. I had the good fortune and pleasure of meeting the pioneering expert of digital marketing, Tim Ash, in person in Las Vegas, it was an amazing experience!
4. We revamped our office: During the summer, we got our hands dirty and started a complete renovation of our offices: we replaced the floor cladding, added new wall colors and decorated everywhere. Our team dreamed up the new look of the office together with the designer: some rooms sought to conjure the warmth of home, while others expressed the characteristics of their job on the walls – and that's how the "Google Room" or "Jungle room" was born among others. The new revonations have made an already bright atmosphere even brighter and more fun. It's more pleasant to work here than ever! 🙂
5. We're picked up our "The Creative Solution of the Year" award and received a "Marketing Diamond" award: In January, we received our "The Creative Solution of the Year 2014" award that we won at the end of 2014. This autumn, we received the "Marketing Diamond" award for our marketing efforts. My hat goes off to our team for performing at the top of our industry.
6. We reached a new milestone in OptiMonk users: After blowing out the candle on our 1st birthday cake, we soon reached 2,000 unique websites using OptiMonk to improve their conversion rates. Wow, that was fast! We're especially thankful to our customers.
7. Leading online stores and opinion leaders chose OptiMonk as their solution: In addition to leading online stores like Office Depot and AVON here in Hungary, we're especially proud that great online stores all over the world such as ZooShoo, Boom By Cindy Joseph and Bamboo Village have chosen OptiMonk as well. It really feels great to get positive feedback from the digital marketing industry too. Many domestic and foreign marketing experts recommend OptiMonk, including DigitalMarketer.com and ConversionXL.com.
8. We had a team building in the High Tatras: After putting in a lot of hard work, we couldn't miss the company trip this year. This time we spent a long weekend in Slovakia, in the High Tatras, where our team relaxed with climbing and rafting tours. In addition to the outdoor activities and programs, the sightseeing and the dinners together really charged up the whole team.
And, these 8 points are only a fraction of the events that happened at OptiMonk in 2015 – it would be impossible to sum up all the learning, building and having fun from this year. Simply put, it rocked!
And stay tuned as we've got a lot of exciting innovations in store for 2016 as well.
I hope you also had a great year in 2015. Wishing you continued success and happinness in the New Year!