We invited merchants to join our new journey. A journey in which we rise against consumer manipulation and help merchants to please their customers while increasing revenue. We introduced the mindset that focuses on the customers while increasing merchants' revenue. This mindset is called Customer Value Optimization.
To support this mindset, our product team developed a lot of new and updated features for OptiMonk. Let me introduce them to you and tell you a bit about how you can optimize Customer Value with them.
(1) Get inspired by hundreds of campaign ideas and create yours with a few clicks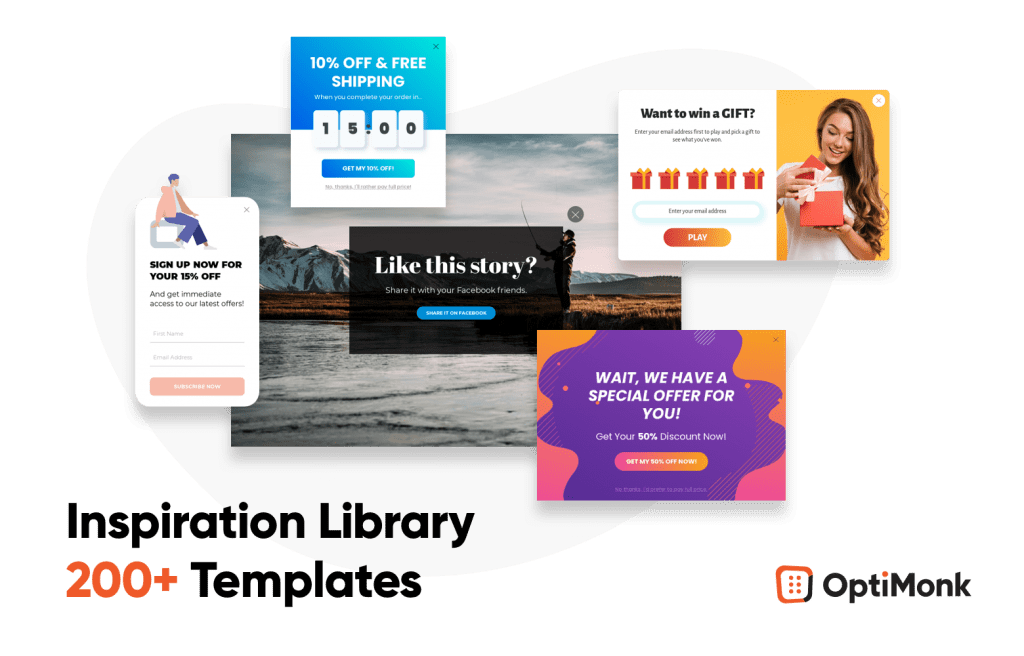 It is easy to get lost in all the tasks a merchant has to do. That's why we believe it is not enough to provide a great marketing software. We want to help merchants with tangible ideas. We want to inspire them on how to use all the tactics to reach their goals.
Our Inspiration Library is an extensive collection of campaign templates and targeting recommendations for your ecommerce website. In other words, Inspiration Library is a list of Customer Value Optimization tactics ready to be used for anyone.
With the help of the Inspiration Library, you can start your new campaigns with a couple of clicks. Here is how it works:
1. Select the goal you want to reach: Grow list, Increase sales or Connect with visitors.
2. You can further narrow the template list down by using the Tactic and Industry filter. Tactics help you to find the templates that deliver the best solution for your needs.
3. If you are an OptiMonk user, you can immediately start editing the design or the content if needed. The templates also incorporate the best targeting and segmentation rules to make your campaign the most effective.
4. You are ready, congrats! You can launch your brand new campaign now!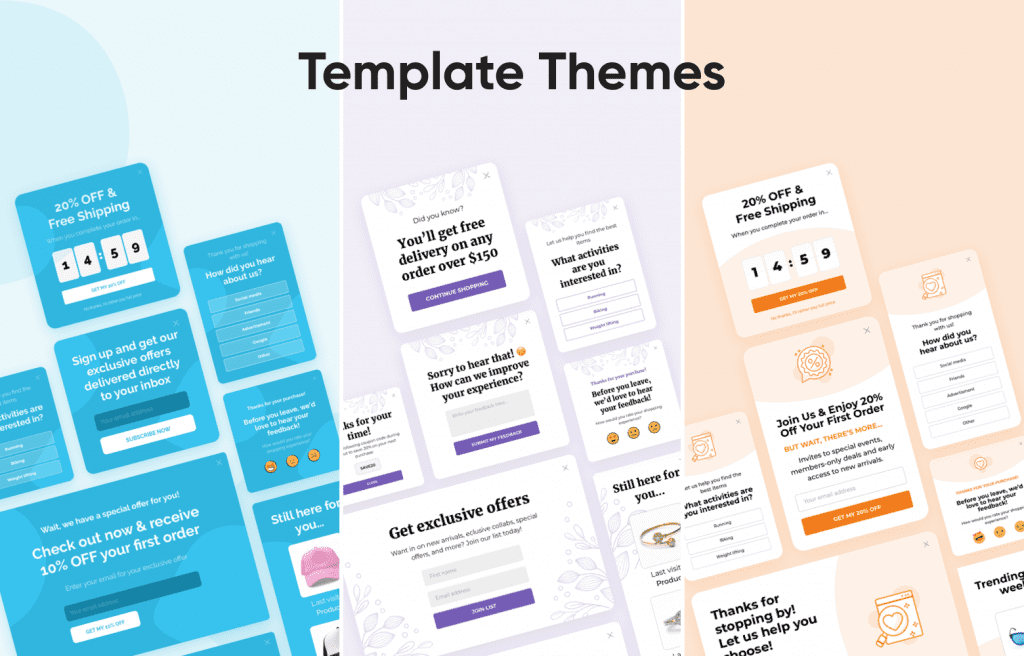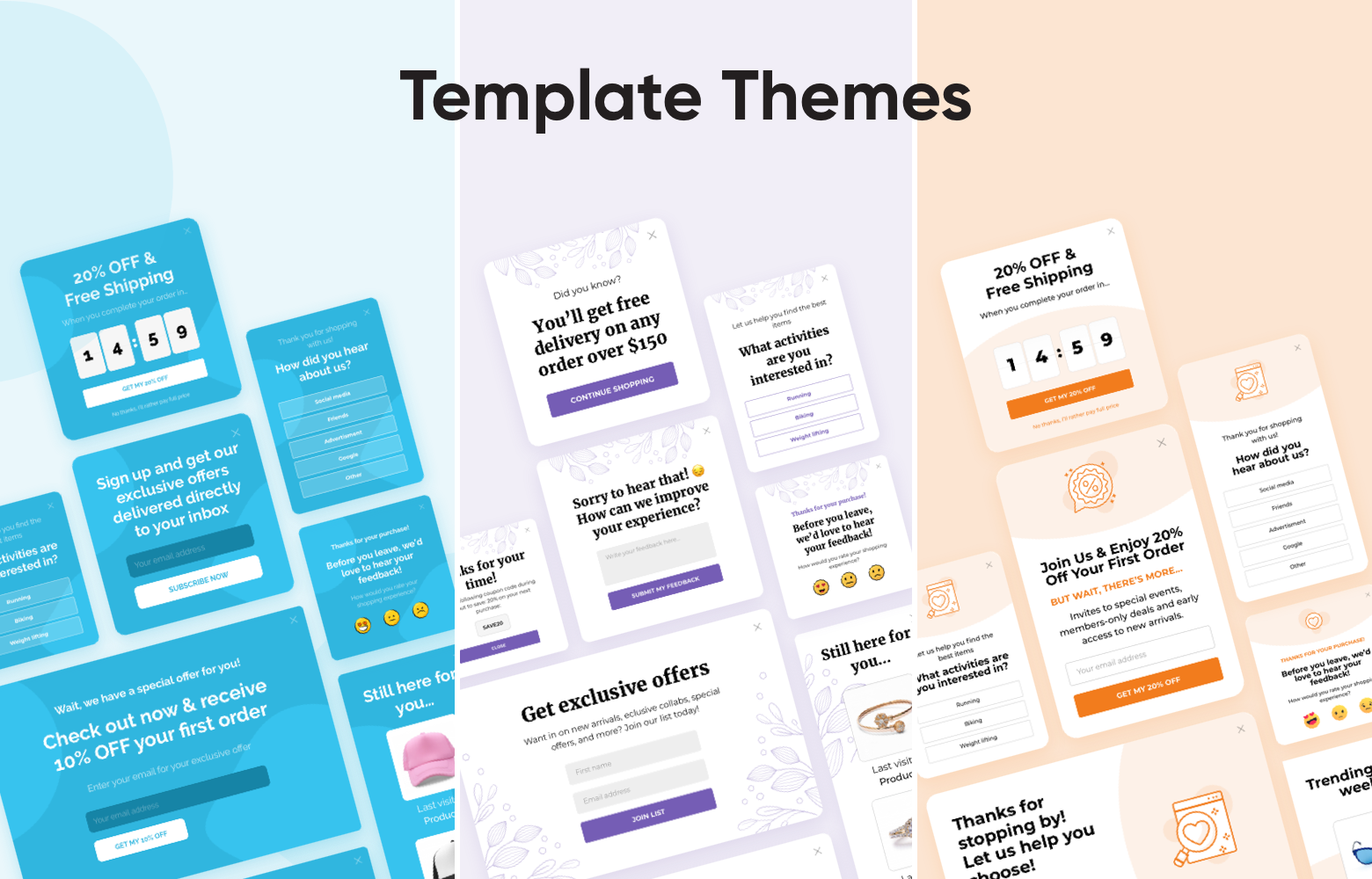 OptiMonk's new template themes reduce the time you'll spend on design. Create matching, consistent and professional campaigns effortlessly. Access our collection of pre-built template themes with different design styles for various use cases. This includes list building, downloadable content and feedback forms.
Improve your website visitors' shopping experiences by adding personalized, embedded content. OptiMonk's embedded content lets you enrich your website with relevant messaging for different audiences.
Insert a wide variety of website contents like feedback forms, CTAs, banners, personalized copies and product recommendations. Further optimize website performance by testing different content and designs.
What to use Embedded content for 💡
Capture more subscribers:

Insert subscription forms on pages where you want to collect subscribers.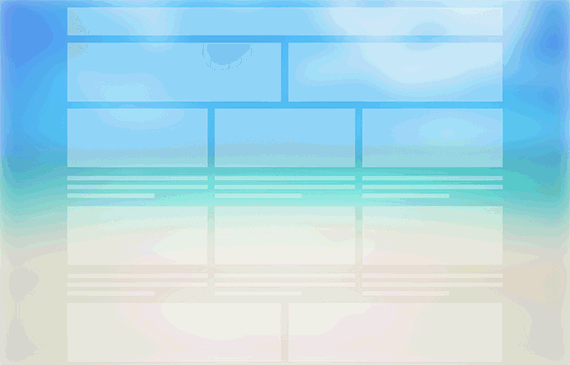 Show personalized offers to returning visitors:

Show gratitude to returning customers with placing special offers. We also recommend placing product recommendations alongside last visited products.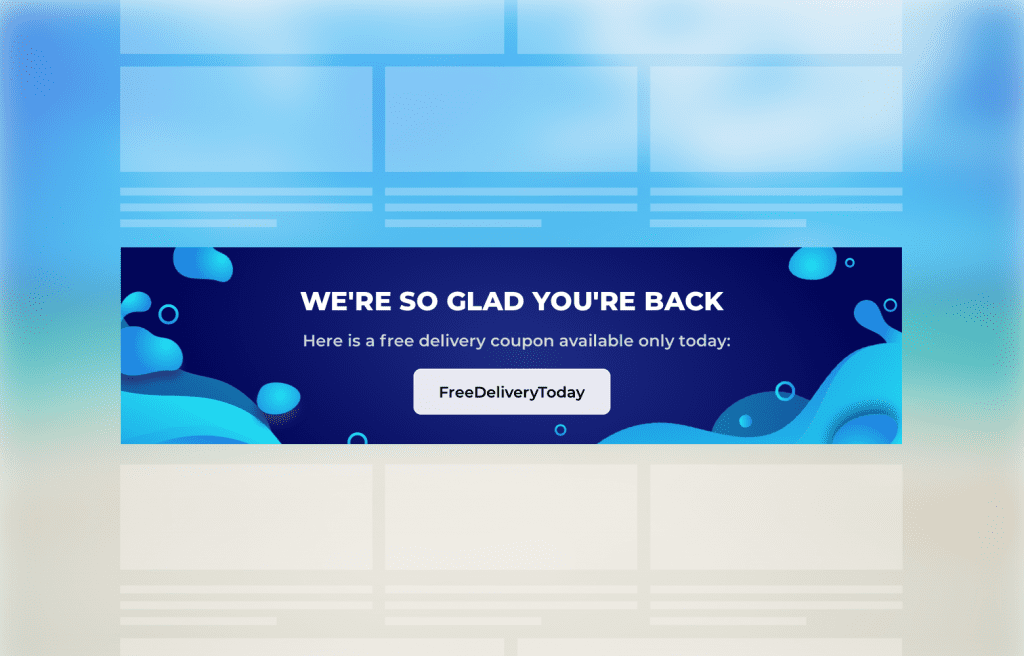 (4) Updated teaser messages
You want to get your message to as many visitors as possible while remaining non-intrusive. For example, welcoming website visitors with a pop-up might get your message across. But it can also annoy customers. OptiMonk's updated teaser feature increases conversions by being more subtle and less annoying.
We created the teaser function to provide a great customer experience. With teasers, you can increase engagement by enticing visitors back with a complimentary small tab.
What to use teasers for 💡
Gentle campaign reminder:

Keep your campaign visible on a teaser even after the visitor closes it. This helps you redirect visitors to your campaign. Simply choose to show the teaser after your popup was closed.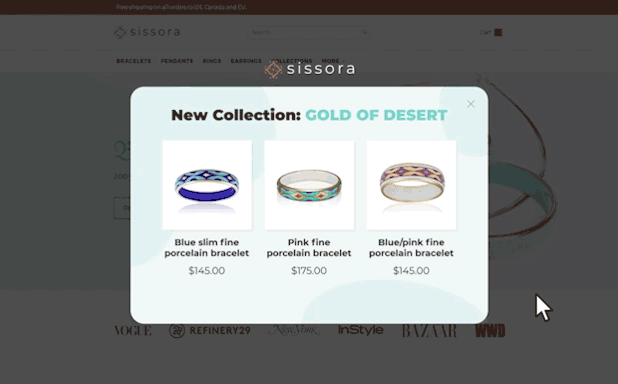 Tease a message in a non-intrusive way:

Create more excitement around your campaignswithout being intrusive. In this case, add the teaser before the popup.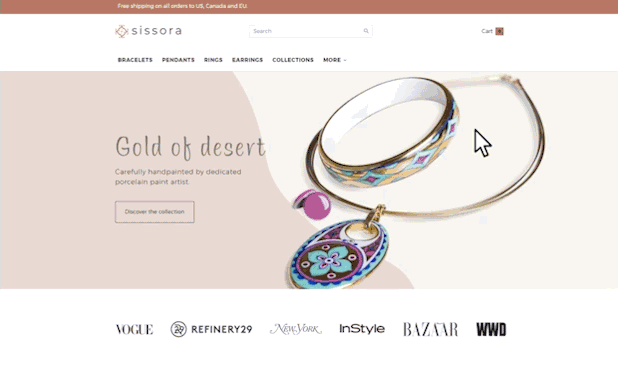 (5) Improved targeting rule: Engaged with OptiMonk campaigns
Control campaign appearance to the same person. Disclose a campaign when another OptiMonk campaign has already appeared in the session or within a certain timeframe.
What to use engagement rule for 💡
Minimize distraction:

When you run multiple campaigns, it's possible that visitors get too many campaign messages in a short period of time. This can be annoying, therefore bad for their journey. With the engaged campaign rule, you can exclude campaigns when a visitor already received another campaign recently.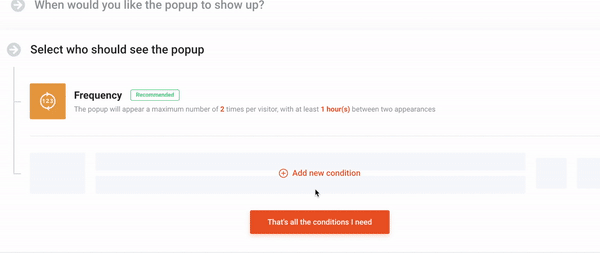 (6) New Recommendation logic: Most popular product by category
This is the third recommendation logic in our lineup, following the Most popular and the Recently Viewed product recommendations. With this logic, you can narrow down the most popular product recommendations to a selected category.
What to use recommendation logic for 💡
Recommend the most popular products of a certain category on product pages. Assist your visitors by showcasing similar products to what they're currently viewing.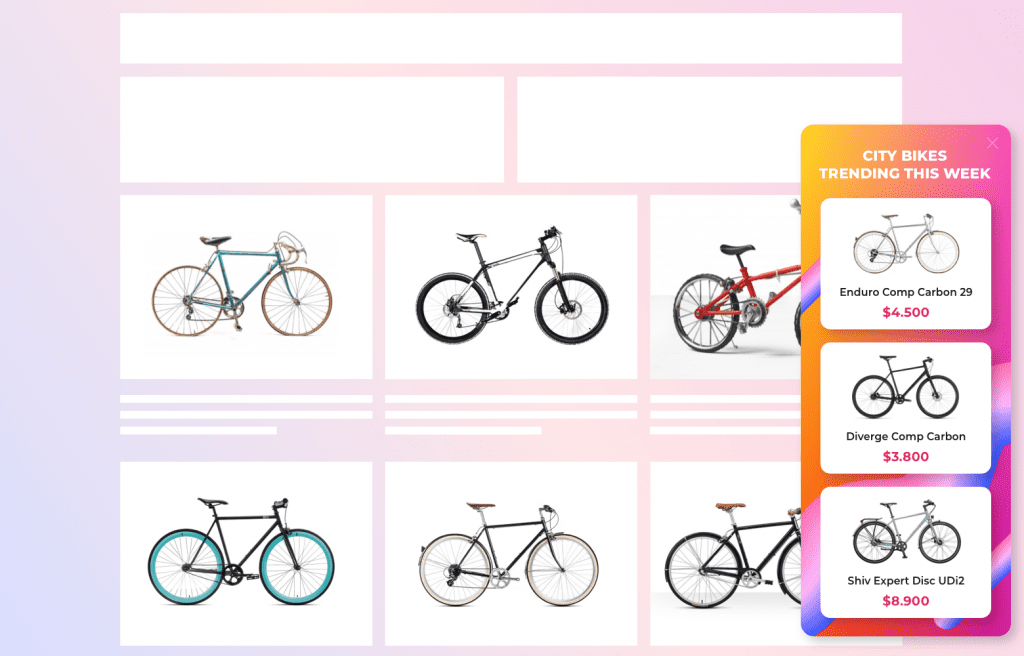 With the page type targeting function, you can launch a campaign on all product or category pages. Have a unified campaign on all pages.
What to use page type targeting for 💡
Run a most popular product by category side message on your category pages. It helps capitalize on the fact that consumers often veer towards trending products. Draw shopper's attention to the most popular products in the category they're currently visiting.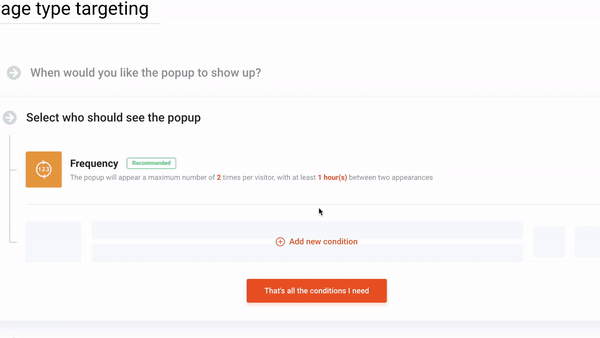 (8) Shopify tag targeting
You can use Shopify customer tags to label certain groups. For instance, loyal customers or VIP members. These tags are also good for helping you better focus and target your campaigns using OptiMonk.
What to use Shopify tag targeting for 💡
Secret VIP offers:

Create a popup with a special promotion, like a daily offer with a discount code on your homepage that is visible only for your VIP members.

(9) See the revenue uplift of each OptiMonk campaign
You can see how much revenue an OptiMonk campaign generated with A/B testing. Now you can set up A/B tests that compare an OptiMonk campaign to not having one. Track in Google Analytics how much revenue each test group generates and see the exact uplift from OptiMonk.

That's it for our latest new feature updates in the OptiMonk Customer Value Optimization platform. New features like teasers and embedded content are there to both enhance your customer's experience and increase your revenue.