More and more online retailers and ecommerce brands are using website personalization to provide better customer experiences. If you don't have personalization in your toolset yet, you're definitely losing out on customers and money. 
A great ecommerce personalization tool can not only improve customer experiences, but also boost conversions and help you accomplish all your other business goals.
In this article, we'll cover the best ecommerce personalization software available today to help you find the right tool for your business.
Let's jump right into it!
What is an ecommerce personalization tool?
Ecommerce personalization is a sales and marketing tactic that allows you to create unique website content for each customer, adapting the entire customer journey to fit their individual needs.
How do you create personalized experiences for each visitor rather than showing the same general message to everyone? By keeping track of all the customer data you can and using it to adjust the messaging according to what each person is interested in.
As you would expect, this requires a good deal of marketing automation—you need to collect all that data and then show personalized website content to each visitor on the fly. 
That's where an ecommerce personalization tool comes into the picture. It allows the user to set up dynamic content, personalized product recommendations, and tailored offers.
Most ecommerce platforms like Shopify and WooCommerce offer some personalization capabilities, but they tend to be very basic. If you really want to take your customer experience to the next level, we highly recommend using dedicated ecommerce personalization software.
Why should you use an ecommerce personalization software?
There are several reasons for using ecommerce personalization software, but let's highlight the most important ones.
Statistics show that 71% of users expect to see web personalization when they're browsing an online store. 
Furthermore, 80% of consumers are more likely to make a purchase when an ecommerce store provides tailored experiences.
Why are customers are so enthusiastic about receiving personalized content? Because it makes the shopper's experience so much easier, more convenient, and more enjoyable.
10 best ecommerce personalization tools
There are tons of ecommerce personalization tools on the market, so finding the best tool or software for your business can be a real headache.
We get it! That's why we've collected the best options here to make your job a little easier.
If you're short on time, here's a tl;dr of the best ecommerce personalization tools that you should consider: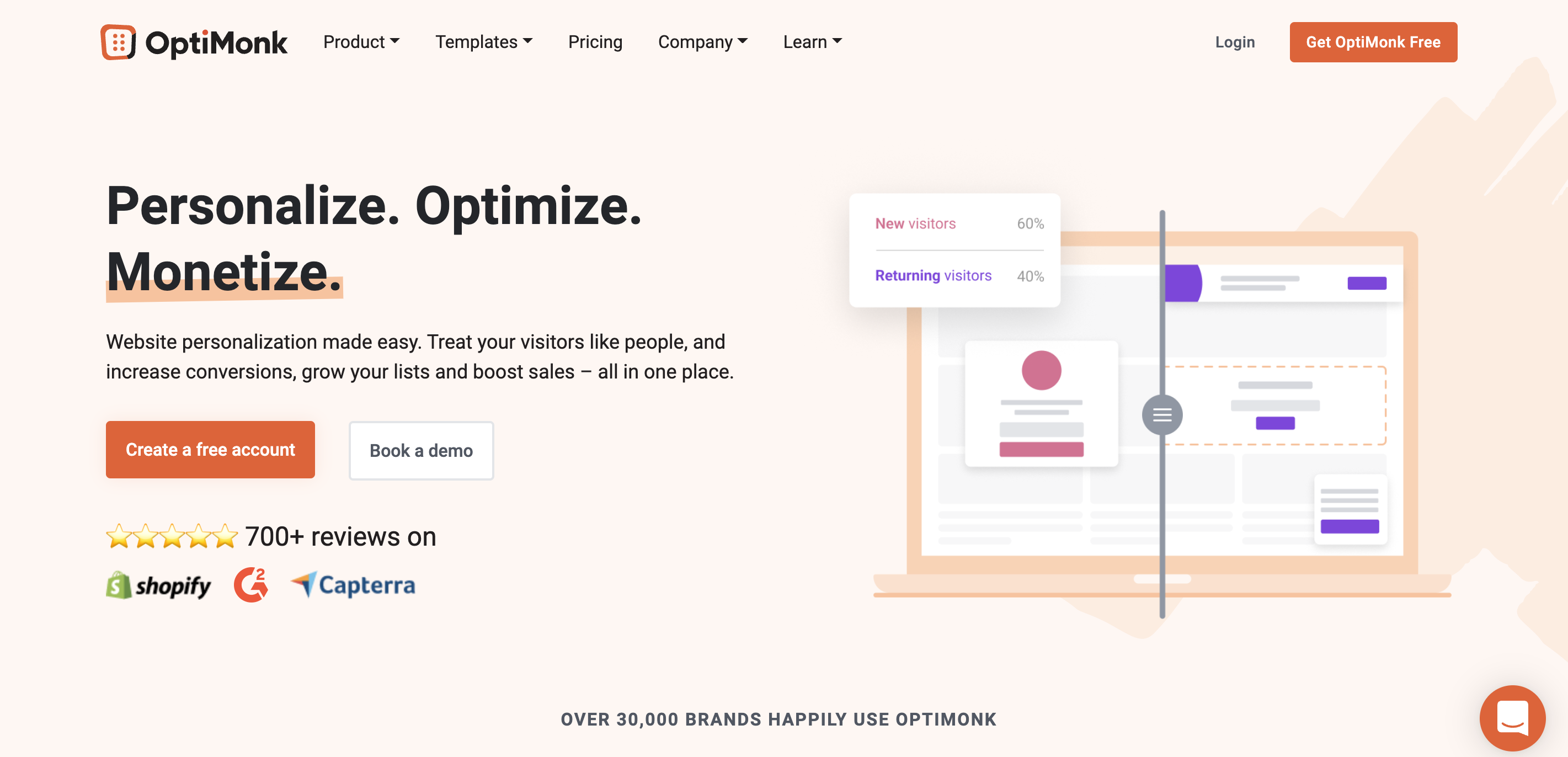 OptiMonk offers comprehensive ecommerce personalization software that has everything you need to boost customer engagement and conversion rates. With powerful real-time ecommerce personalization features, it'll help you win customers for life.
OptiMonk also helps you collect demographic, contextual, and behavioral data about your users, meaning that you don't even need to rely on a customer data platform. 
It takes care of everything, allowing you to target the right audience, create personalized experiences, and run A/B testing to optimize your campaigns.
Now, let's see OptiMonk's key features.
Create branded messages effortlessly
OptiMonk's drag-and-drop editor makes it easy to create personalized messages without ever needing to write a line of code or involve any developers.
It's no sweat to personalize entire sections on your website using both embedded content and overlays. All you need to do is point and click.
The innovative website personalization elements that OptiMonk has developed ensure that your site still loads super fast without "flickering," and you won't have to worry about compromising your Google search ranking.
Laser target your audience
Successful website personalization hinges on sending your messages to the right people. OptiMonk's Segments feature provides you with specific audience recommendations based on what you'd like your personalized campaigns to accomplish. You can also create custom targeting settings and save them for later campaigns.
Deep Shopify and Klaviyo integrations
OptiMonk has deep integrations with both Shopify and Klaviyo. On Shopify, you can run custom quizzes and surveys to learn more about your customers, then target them using Shopify custom tags. This is a great way to increase sales.
Making the most out of your customer data means leveraging it across as many marketing channels as possible. That's where OptiMonk's integration with Klaviyo comes in handy, allowing you to deliver highly personalized messages to your existing Klaviyo lists, or even build specific campaigns for them.

Pricing: You can start your free account today.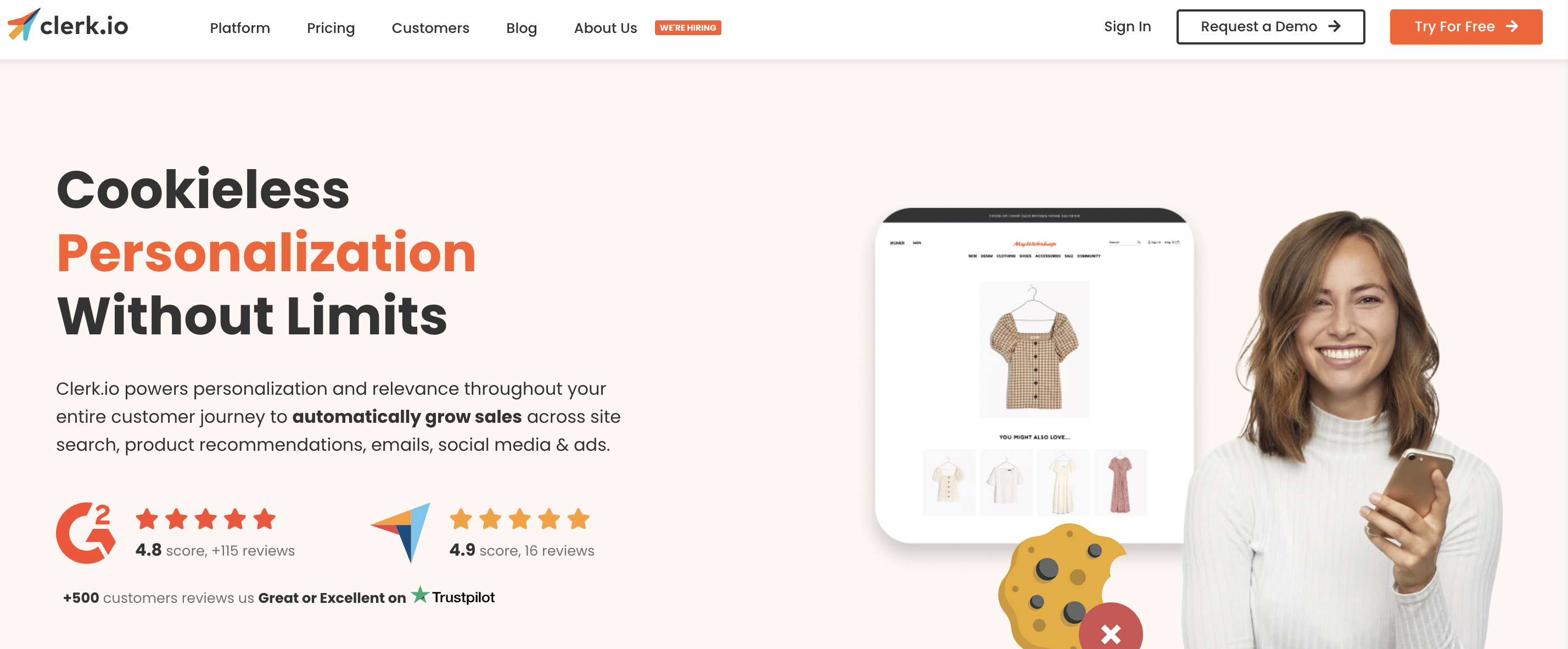 Clerk.io is an AI-driven ecommerce website personalization tool that can give you an edge over other retailers. It immediately analyzes behavioral data, transactions, and trends to optimize each visitor's on-site search results. This really speeds up product discovery.
This ecommerce personalization software can also customize product recommendations. Beyond that, its personalization options are limited compared to other personalization tools.
You can integrate Clerk.io with your email marketing.
Pricing: This tool offers a free trial.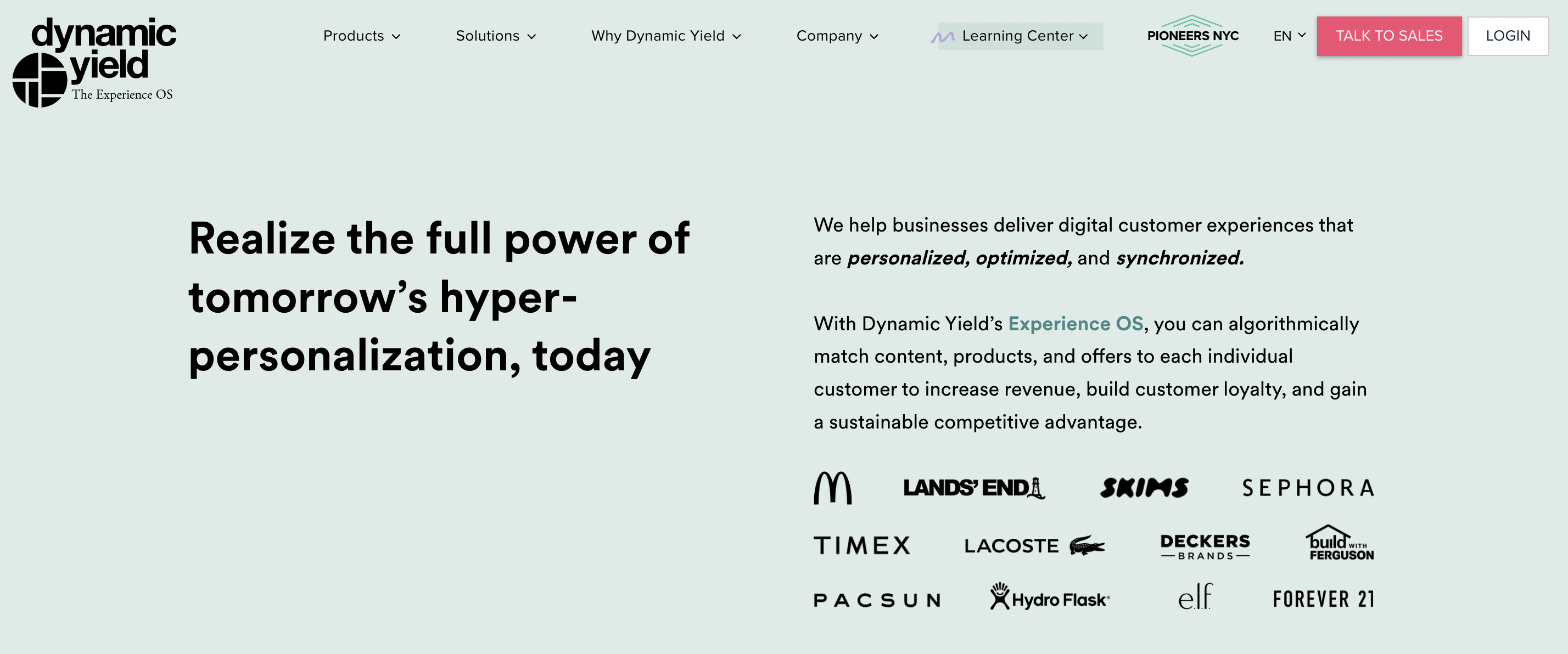 Dynamic Yield, commonly known as the "world's first personalization innovation stack," offers a full service that includes messaging, testing, personalization, and optimization. 
With a client base that includes Sephora, IKEA, and McDonald's, Dynamic Yield is a big fish in ecommerce personalization. As a result, it comes with a hefty price tag.
Pricing: Not available on the main site. Contact their sales team for details.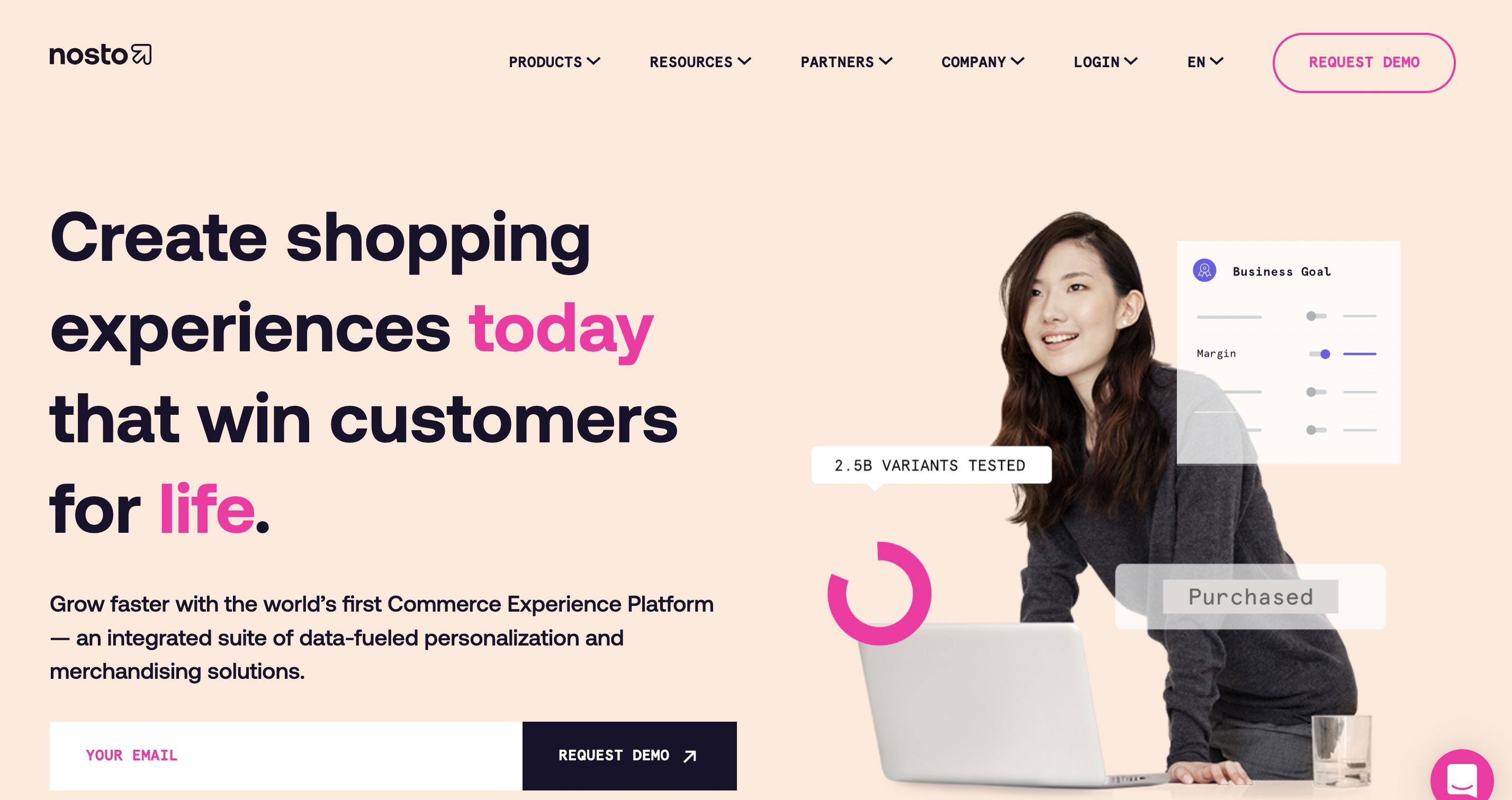 Nosto is an all-around tool for marketing emails, apps for mobile devices, and website personalization. 
Personalizing copy and images across the entire customer journey can optimize the entire online shopping experience, which makes this tool worth considering. The setup process is fairly complex, so you'll need the help of their support team and some technical knowledge.
Pricing: Not available on the main site, you'll have to request a demo first.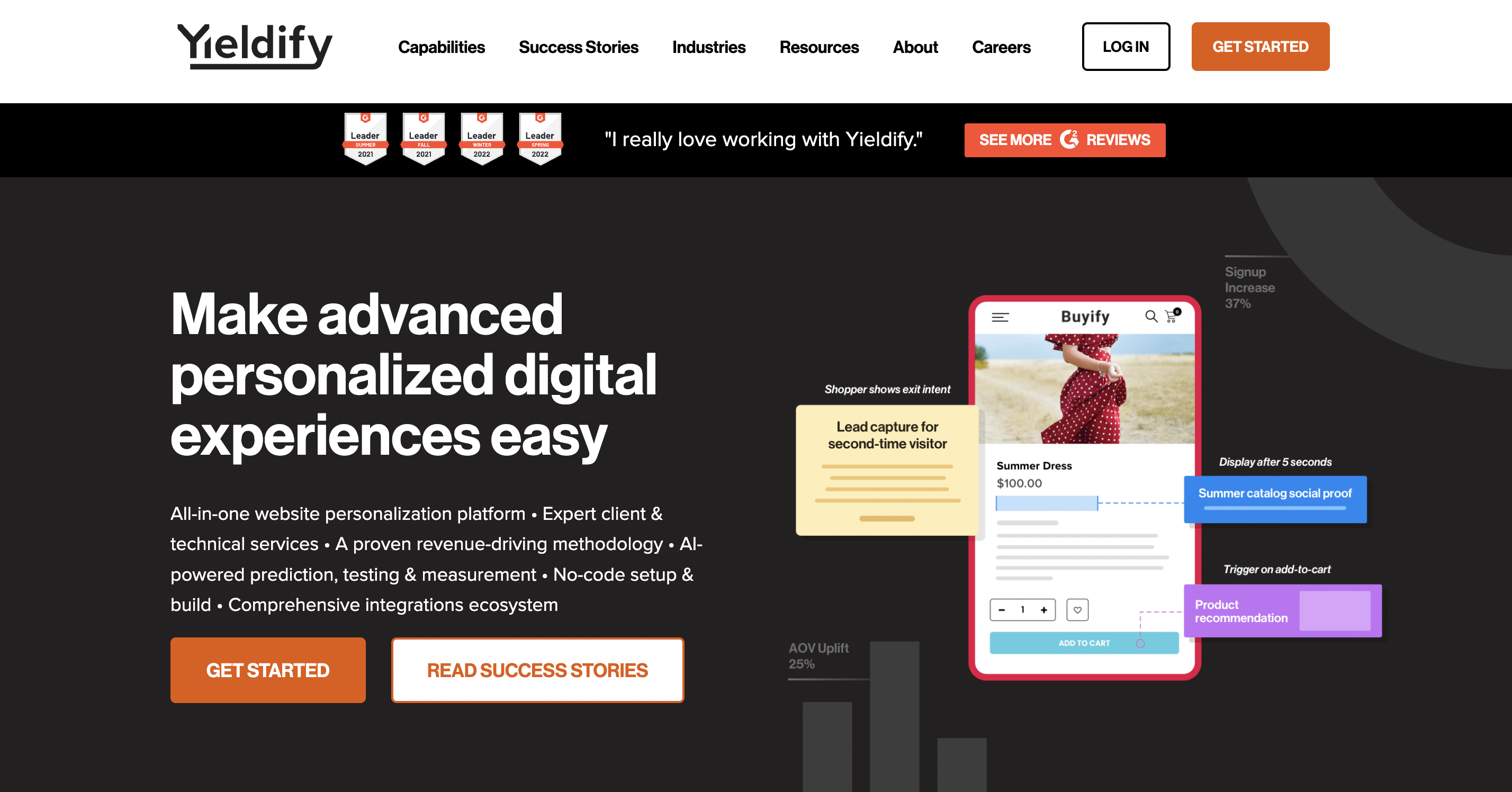 Yieldify is a personalization tool that improves the customer experience. It can help you deliver personalized experiences using a wide range of tools like A/B testing, email remarketing, and onsite personalization.
Integrations are available for the most popular ecommerce and CRM platforms, as well as email and SMS marketing tools.
Pricing: Not available on the main site, you'll have to request a demo first.

Qubit is great when it comes to providing personalized product recommendations. With Qubit, online retailers can not only create personalized content, but also gather data to generate product insights.
Qubit even provides omnichannel support so that you can conduct cross-channel personalization. However, you'll need a fair bit of technical knowledge to implement effective personalization with this tool.
Pricing: You'll have to talk to the sales team and request a demo.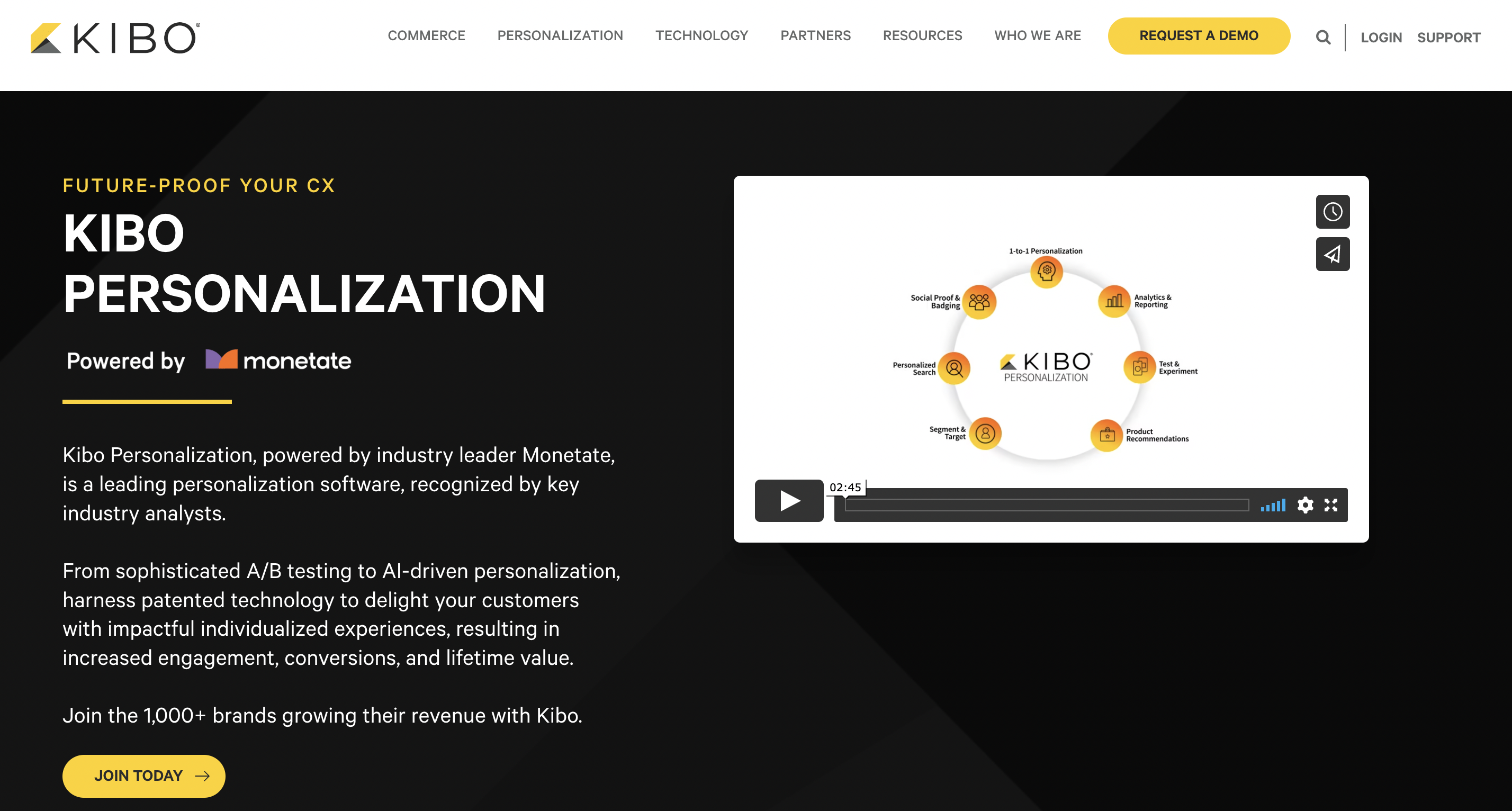 Monetate, now rebranded as Kibo, is a leading personalization tool that you can use to provide a personalized experience to every single person who visits your online store.
Kibo boasts a wide range of advanced features like segmentation and targeting, product recommendations, and dynamic social proof. Big brands like Dunkin Donuts, Waitrose, and Travelodge make use of these key features.
Pricing: Not available on the main site, you'll have to request a demo first.
8. Salesforce Commerce Cloud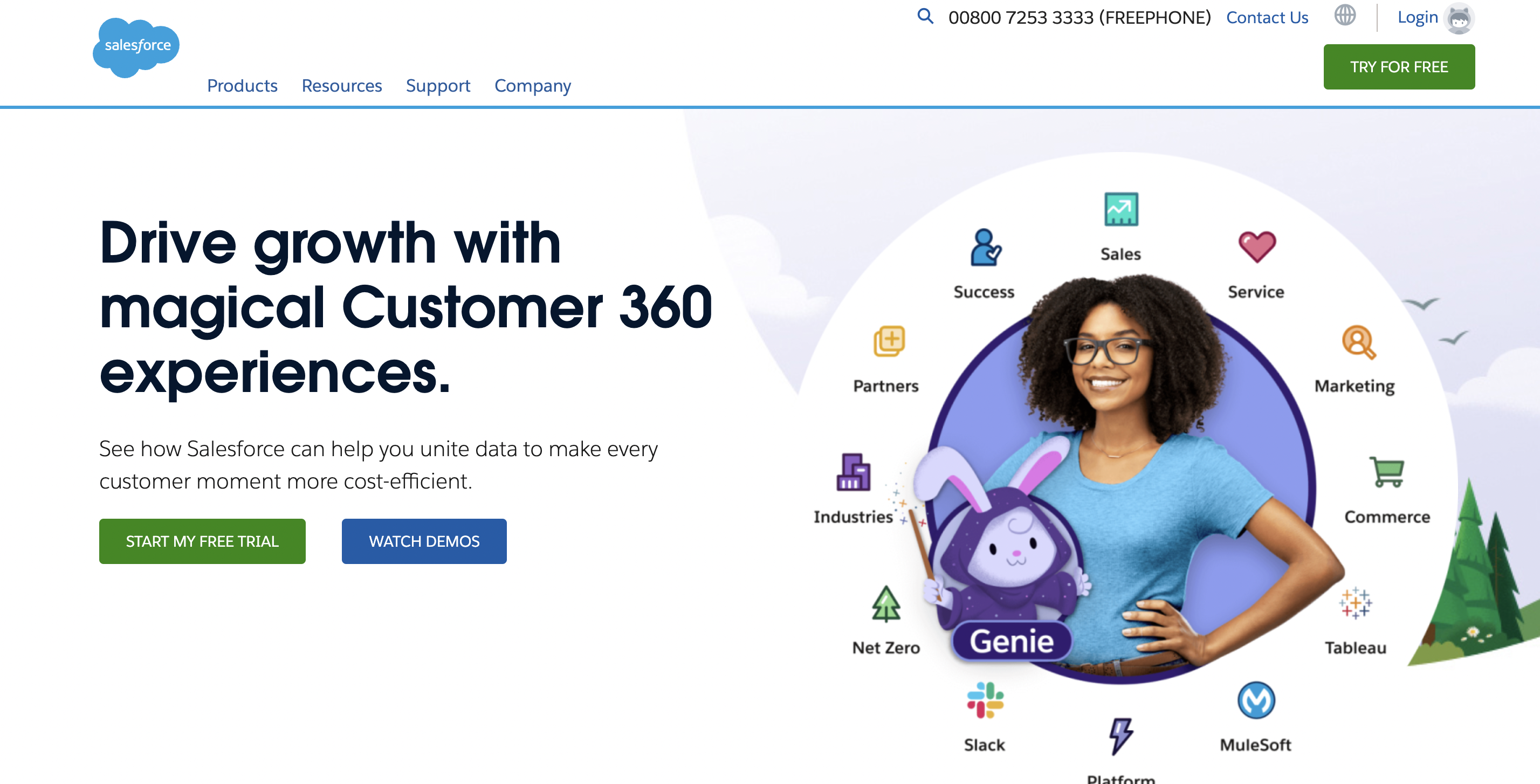 Salesforce's machine learning software, called Einstein, helps online businesses provide personalized product recommendations for their customers.
You can use the personalization tool to sort your products differently for each customer and show more personalized offers.
Pricing: A free trial is available.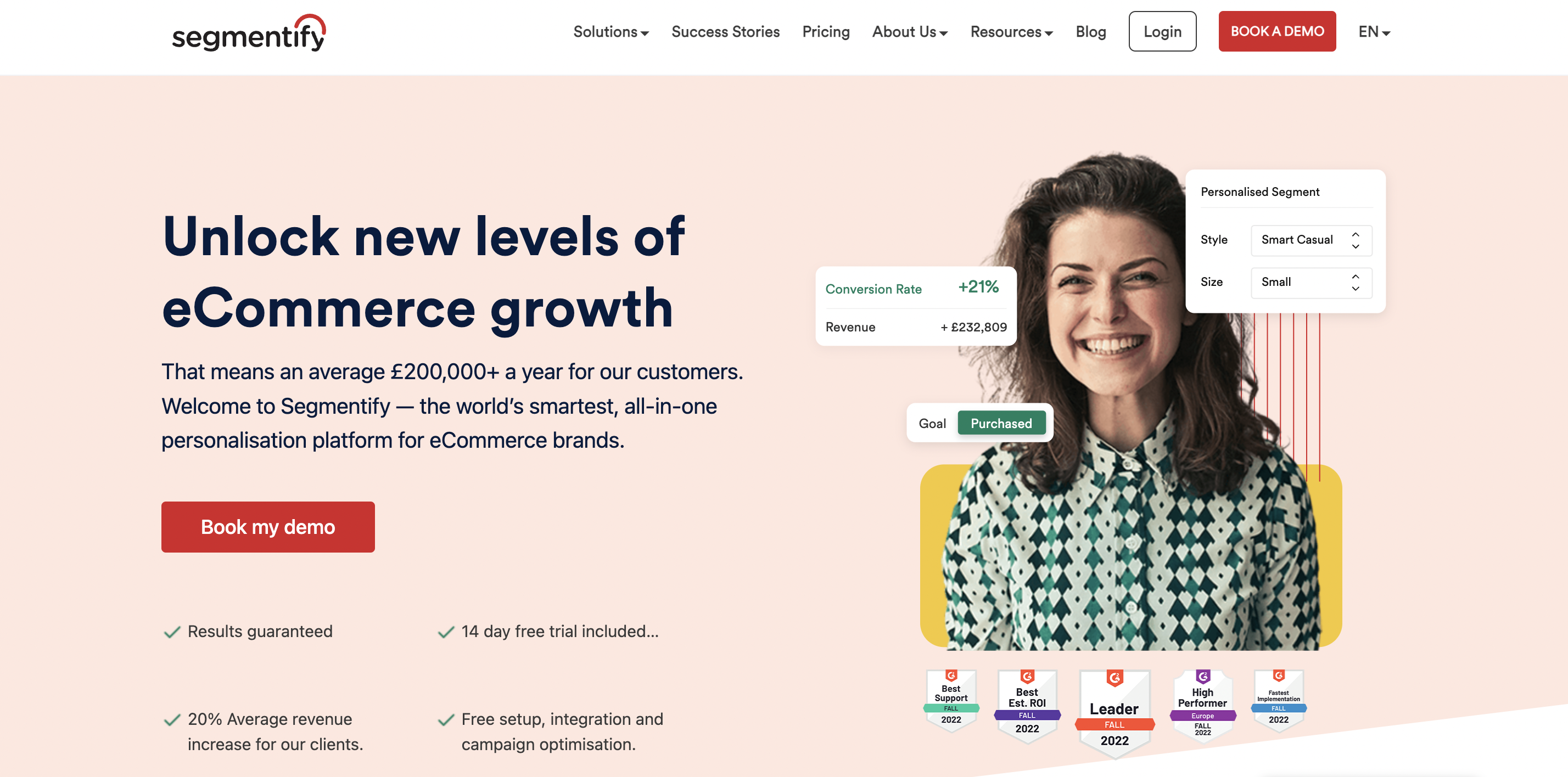 Segmentify is a simple, easy-to-use ecommerce tool that supports personalized search and product discovery, hyper-targeted push notifications, and personalized content. All these key features can lead to more sales.
The highlights of their personalization solutions are real-time analytics and email marketing.
Pricing: A 14-day trial period is available.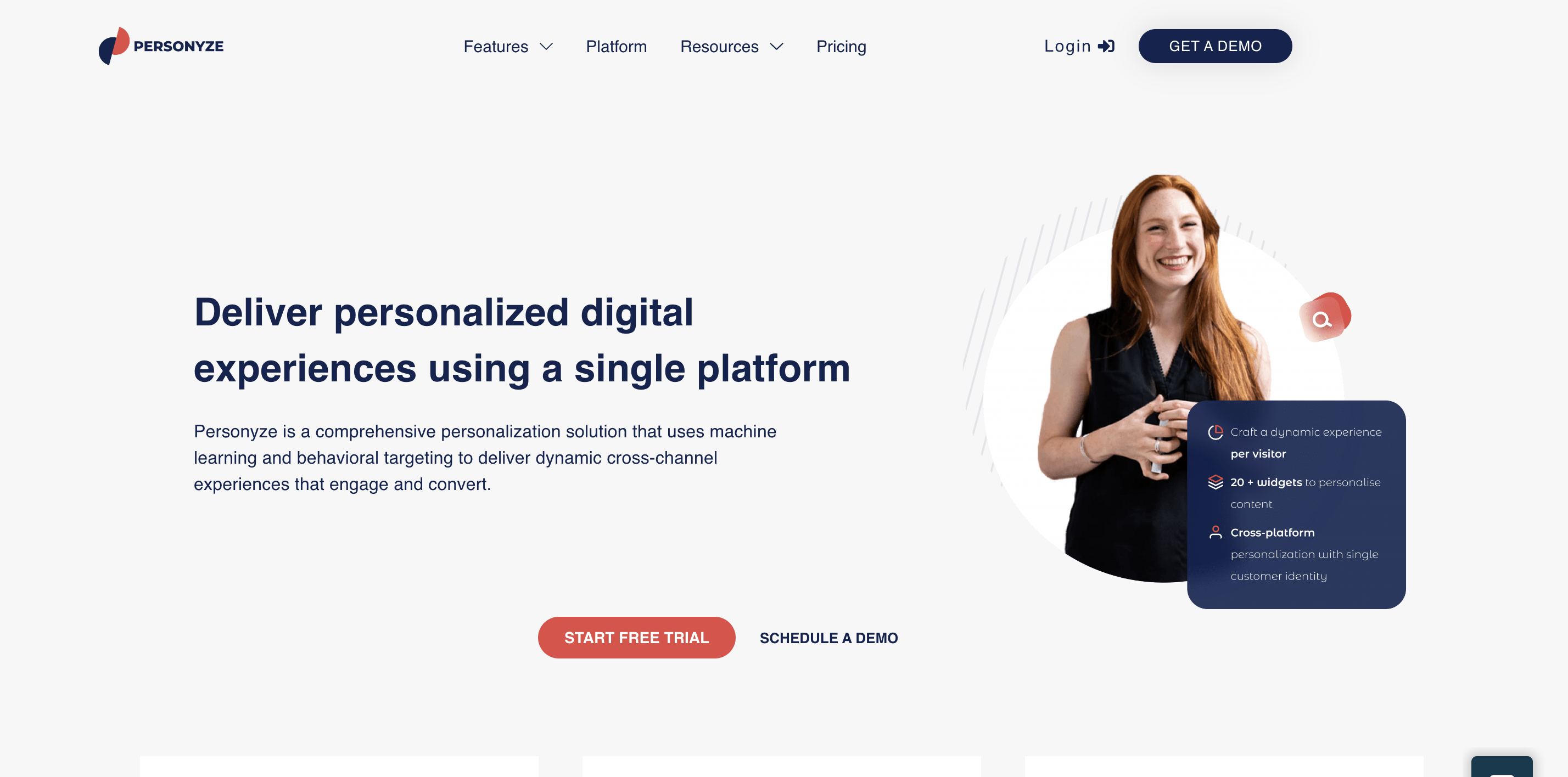 Personyze's specialty is customer targeting, which is perfect for ecommerce stores that want to improve their personalization game. 
They also support dynamic landing pages, A/B testing, product recommendations, and email personalization. This makes Personyze an all-in-one tool.

Pricing: You can use their free version for up to 5k monthly pageviews and 3 active campaigns.
How to choose the right ecommerce personalization tool?
Although we really narrowed down the options with our list of the best ecommerce personalization tools, 10 is still a lot to choose from!
Here are some questions you can ask yourself to help figure out which is best for you:
What's your personalization goal? Are you more interested in providing personalized search results or do you want to increase brand loyalty?

What features are the most important for you to accomplish your goal?

What is your budget?
You should also look for personalization platforms that offer a sharp analytics suite. The ability to track your results and optimize using A/B testing is essential for providing the best possible customer experiences.
In addition, consider the availability of an application support provider to ensure seamless integration with your ecommerce platform. This support provider can assist you in setting up, configuring, and troubleshooting any issues that may arise during the integration process.
There's our list of the best ecommerce website personalization tools available on the internet in 2023. Once you start with personalization, your customers will appreciate the ease and convenience of shopping on a website that feels like it was made just for them!
OptiMonk's excellent personalization software is a great option for ecommerce businesses of any size. It has the simplicity and user-friendliness that smaller businesses need, but enough depth and advanced features for larger enterprises.
If you create a free OptiMonk campaign today, you can have personalized experiences up and running on your site in no time!