If you have an online store, chances are that you're always on the hunt for new ways to improve the conversion rate on your site. But with the rise in online competition, how can you continue to grow your business as new online stores enter the playing field?
The answer is through ecommerce landing pages. 
What is an ecommerce landing page?
An ecommerce landing page is a single page on your site that encourages your website visitors to take an action. Ultimately, its purpose is to convince visitors to become customers.
Whether you're trying to get your visitors to purchase a certain product, sign up for an email newsletter, or claim an exclusive discount code, the best ecommerce landing pages consistently bring in higher conversion rates than regular product pages. This is because landing pages are more focused, which means your visitors are only tasked with one action. 
Here are some ecommerce landing page best practices to get you started. 
Ecommerce landing page best practices & tips to meet your conversion goals
The most effective ecommerce landing pages have certain features in common.
From using high-quality product images on your product landing pages to writing crystal clear copy to using white space effectively, there are many tips to follow when creating ecommerce landing pages. Below, we'll cover a few specific ones that will give you an edge over the competition.
Follow these best practices for ecommerce landing pages to increase your conversion rate:
1. Make sure your landing page is responsive
Because many people use mobile devices and tablets to do their online shopping, you want to make sure that your design looks great on every device.
No matter how great your content, if your ecommerce landing page isn't mobile friendly you'll, unfortunately, lose lots of visitors. And if people are constantly bouncing, you'll also hurt your search rankings. So don't forget to make your landing pages responsive!
2. Put the call-to-action "above the fold" on your landing page (or product page)
Be sure to put your offering "above the fold" (near the top of the page, before your user does any scrolling). This way, they'll know right off the bat what you have to offer them.
In a recent study by Google, ad campaigns appearing above the fold had 73% visibility, compared to just 44% below the fold. The same concept can apply to your promotional or product landing pages, too. By putting your CTA above the fold, you'll ensure more people see it and follow through on it.
3. Include more customer testimonials from multiple sources
Did you know that 92% of customers read online reviews before buying?
This is why it's so crucial to include strong social proof like customer testimonials or reviews on your ecommerce landing pages. You can collect these reviews from sites like Yelp, Google, or social media sites.
4. Use your landing page copy to echo your paid ad copy
Have you ever clicked on an ad but then landed on a page that wasn't what you were expecting? More than likely, you didn't stick around long!
Before launching a campaign, make sure your ad copy matches what's on your ecommerce landing page to boost conversions and ensure your ad spend doesn't go to waste.
5. Don't overdo it with the design
Creating your first landing page is exciting. You want it to look amazing, but it's important to remember that restraint and simplicity can be much more effective than over-the-top design choices. Having a cluttered, disorganized design can overwhelm or confuse visitors. This isn't the goal!
Some top design tips to keep in mind include:
Use plenty of white space

Stay on brand

Use copy as part of the design
This tip should go without saying, but if UI/UX design isn't your specialty, it's worth engaging a pro.
6. Use an enticing hero image that will convert
Your hero image is one of the best ways to take ecommerce landing pages from "just okay" to "great."
In fact, people process images up to 600x faster than text! This just goes to show that if you don't have a clear, attention-grabbing image, you might miss out on potential customers.
It's essential to keep in mind that many users like to consume content in different formats (written, video, audio, or imagery). So make sure that you're using an appropriate mix to ensure your message gets across to as many people as possible.
7. Only ask necessary questions on your submission form
When you haven't heard of a company before, the last thing you want to do is to hand over unnecessary contact information on the landing page. It's time consuming and, quite frankly, feels a bit intrusive.
If you ask for details like address, zip code, or phone number, it can turn your potential customers off altogether.
If you're creating an ecommerce landing page, it's best to limit your questions to the bare minimum you need for your purposes, like first name and email.
8. Be selective with your CTA text & A/B test
You've created a conversion-worthy landing page. Your form is all set. The landing page copy is persuasive. But for some reason, your CTA isn't performing!
What's going on?
The best way to ensure that your CTA is bringing in as many conversions as possible is to A/B test the CTA text.
Some common CTAs include:
"Buy Now"

"Start Free Trial"

"Take the Quiz"

"Get Started"
By testing out different versions, you can learn which works best for your target audience.
Recommended reading: 76 Email Call-to-Action Examples You Can't Help But Click
Now that you know some of the common factors that make a landing page work, let's take a look at a few ecommerce landing page examples.
6 great ecommerce landing page examples (and why they work)
Looking for some ecommerce landing page inspiration? You're in luck.
These ecommerce landing pages are from real businesses in various industries from countries around the world. They all share a common goal: to convert visitors into customers. 
There's a lot of variety here, and each page has something unique that sets it apart from competitor sites—that's what makes them so interesting! Let's dive in. 
1. Winc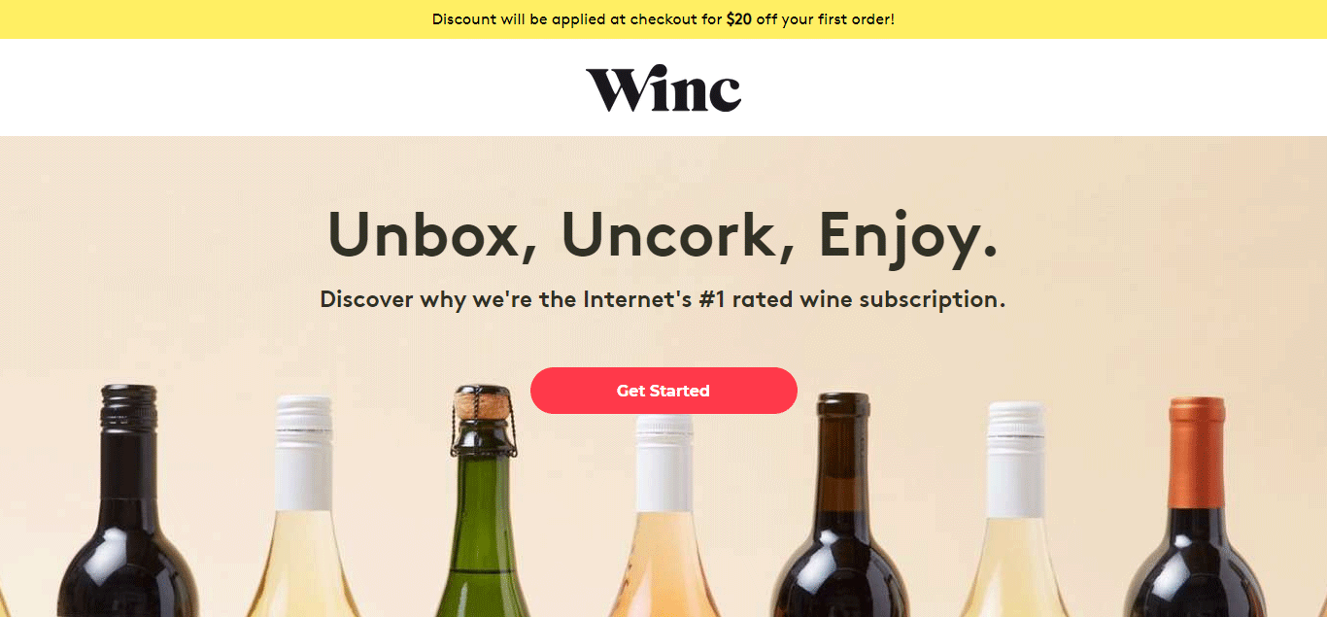 Winc is a wine subscription box that sends various bottles of wine that you'll love—right to your doorstep. 
This landing page is great because it has a single call-to-action button above the fold in a vibrant color that can't be missed.  After clicking, users are redirected to a fun quiz where the company can learn more about their flavor preferences, helping Winc personalize a box just for them. 
2. Publix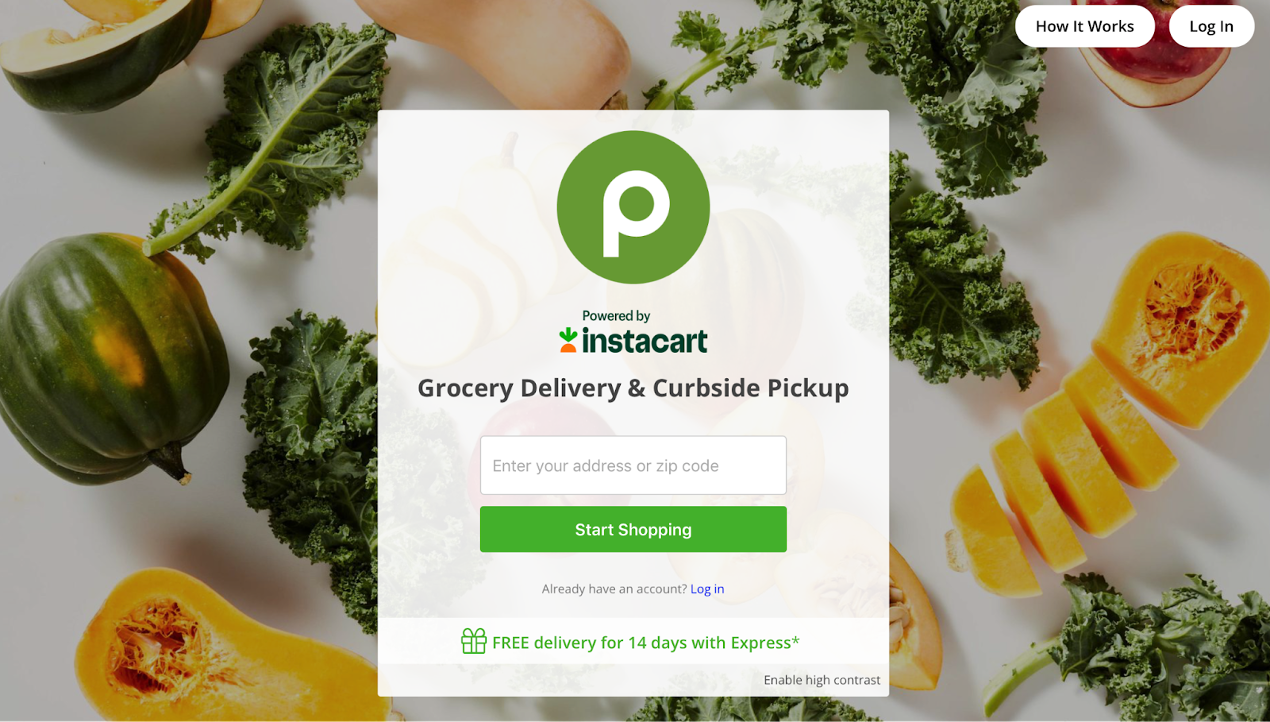 U.S. supermarket chain Publix now offers its customers a way to get their groceries delivered right to their doorstep. 
This landing page works well because not only do they offer free delivery for 14 days, but their copy is clear about what the delivery service entails.  
3. Rocksbox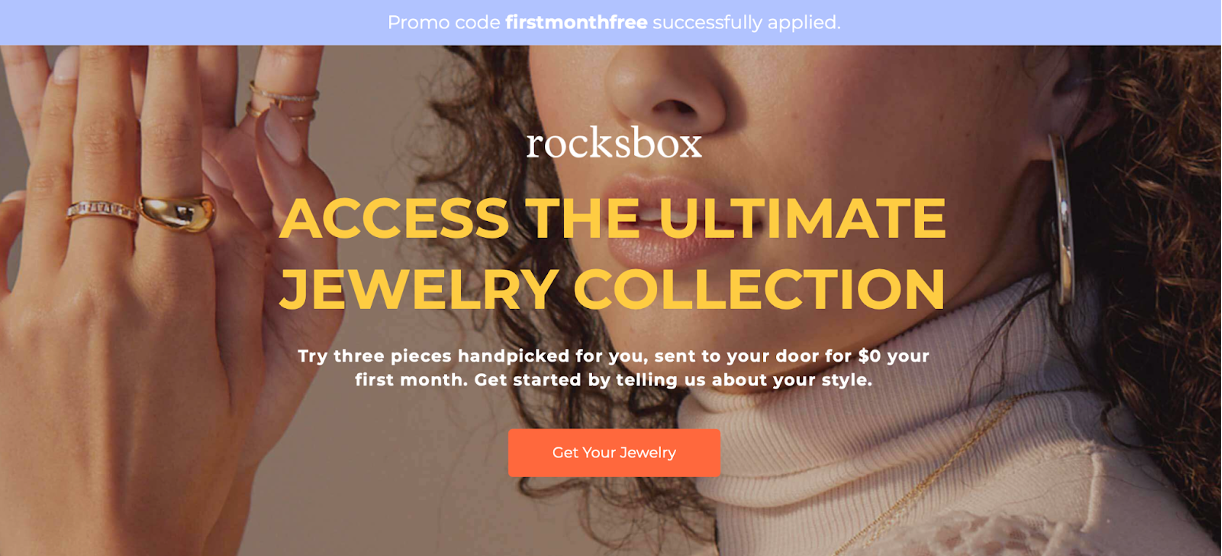 Jewelry subscription box service, Rocksbox, is known for handpicking jewelry pieces tailored to each individual subscriber's taste. 
This clear, concise landing page lets visitors get started in just a few clicks while presenting an irresistible offer: get the first month free. This landing page works because it presents the offer while staying on brand throughout the entire design. 
4. Tyme

Hairstyling tool company Tyme sells heat tools, hair care items, and brushes for people looking to take their hair game to the next level. 
This landing page is a great example because it's clean, easy to understand, conveys a strong value proposition, and offers the user a benefit in return for clicking through (a 30-day free trial). 
5. FabFitFun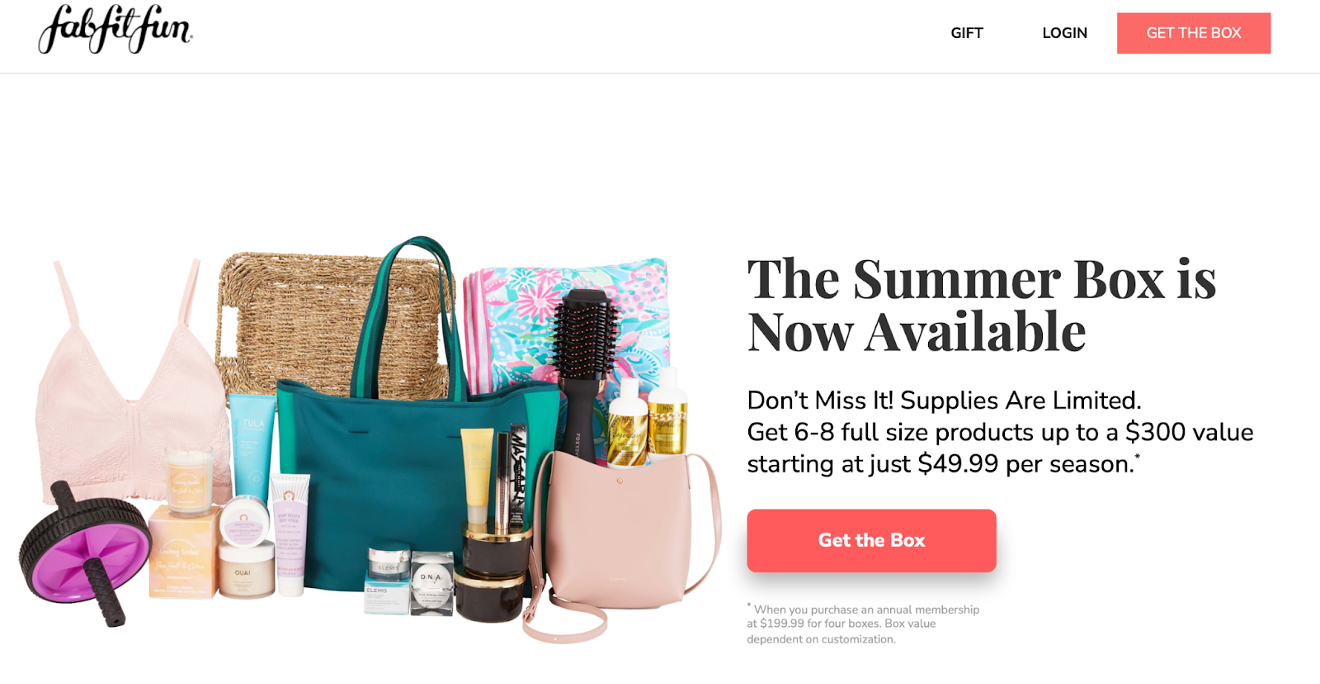 FabFitFun is a subscription fashion and lifestyle box that gives its members up to $300-worth of products at a discounted price of just $49.99. When we came across their current landing page, we couldn't help but get excited about the layout—and the offer!
By using brand colors for all of the CTA buttons, keeping the design clean, and focusing attention on the offer,  FabFitFun does a great job with this promotional landing page design. 
6. Rent the Runway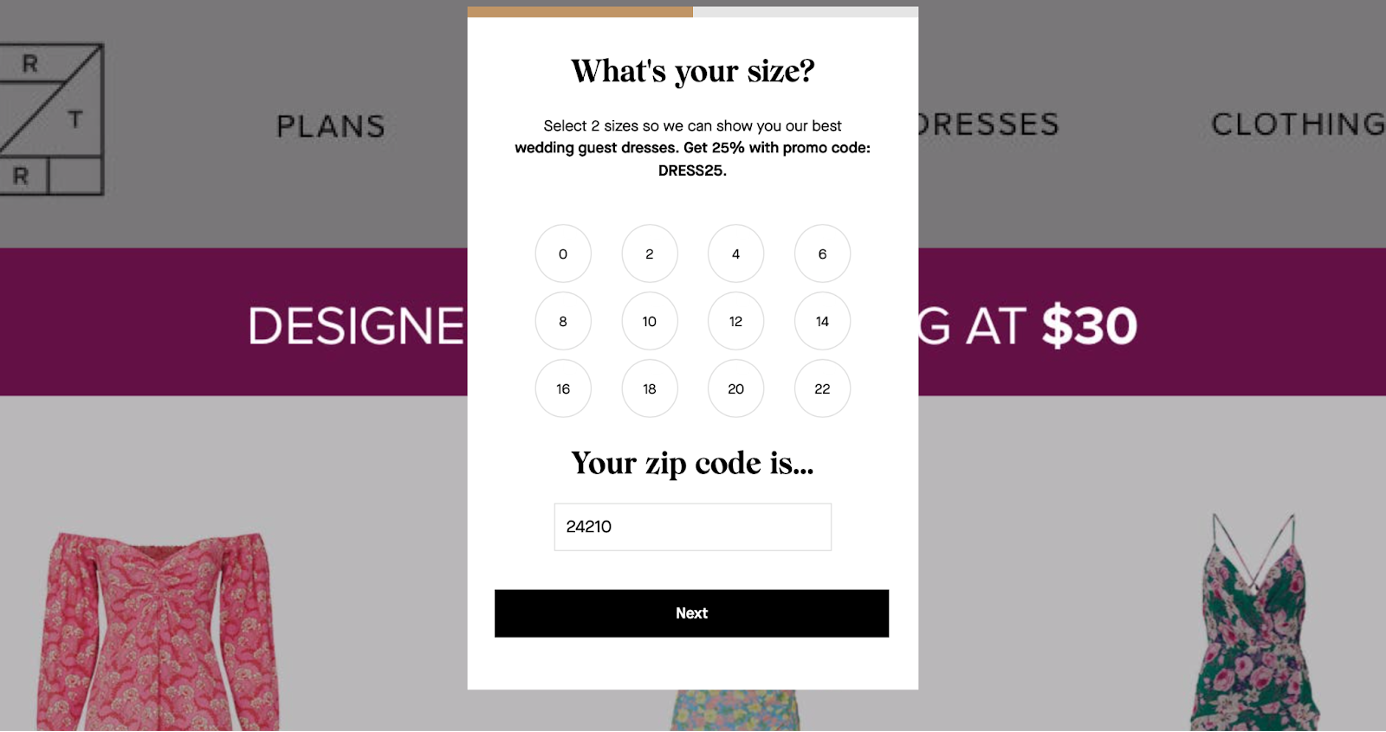 The last example comes from Rent the Runway, a service that allows you to rent out designer fashion without having to pay the hefty price of owning one of the designer pieces. 
This landing page works because it's simple and helpful, enabling users to quickly navigate to the designer clothing available in their size.  And as we all know, a user-friendly, streamlined shopping experience can work wonders!
After reading this article, we hope you now have a better understanding of some of the tips and tricks that produce great landing pages. 
While there's more than one path to building high-converting ecommerce landing pages, staying consistent with your design, your messaging, and your call-to-action will take you further than you think. 
What will your next landing page look like?