Email marketing is one of the most efficient and effective marketing methods. It allows businesses to communicate with their customers (and potential customers) through a direct, personal channel. It results in increased sales, loyalty, and customer satisfaction.
Even though it's been around for decades in a digital world that's constantly evolving, email marketing still has an insanely high ROI today.
Marketers who know how to use email marketing well and reap all its benefits see more than $30 in return for every dollar spent. Sounds good, right? Keep reading to learn how email marketing could benefit your own business!
Email marketing means sending promotional messages to customers via email.
These messages can include offers, discounts, updates or new product releases. Email marketing can be an effective way to reach customers and build relationships with them, but to be successful, campaigns must be well-crafted and carefully targeted.
Businesses have to comply with all applicable laws and regulations, like those regulating spam emails. When done correctly, email marketing can be a powerful tool for driving sales and growing a customer base.
Advantages of email marketing
As the world becomes increasingly digitized, businesses are finding new, innovative ways to market their products and services. But email marketing is still one of the most popular methods.
How popular?
According to Oberlo, more than 300 billion emails are sent each day..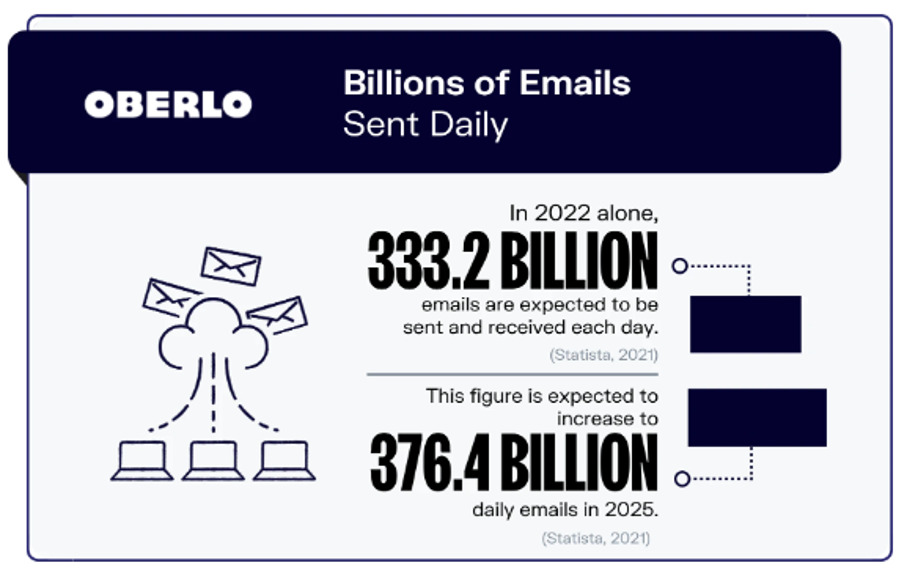 Email marketing allows businesses to reach a large audience quickly and easily.
It's a relatively inexpensive marketing tool, and it can be highly targeted. For example, companies can use email marketing to send special offers to their best customers or promote new products to those who have expressed an interest in similar items.
It also offers plenty of flexibility, allowing businesses to tailor their messages to specific demographics or even individual customers.
Disadvantages of email marketing
Email marketing can be an extremely effective way to reach a large audience with minimal effort. However, there are some disadvantages to consider before sending your next mass email.
One downside of email marketing is that it can be easy to spam people if you're not careful. Remember to only add people to your email list who have given you permission to contact them, and always give them an easy way to unsubscribe if they no longer want to receive your messages.
Another potential disadvantage is that your emails could end up in people's junk folders if you're not using good email marketing practices. This can be frustrating for both you and your recipients.
Finally, email marketing can be a time-consuming task, especially if you have an extensive list of contacts. If you're not careful, it's easy to spend more time on email marketing than you anticipate.
Despite these disadvantages, the benefits of email marketing far outweigh the costs. It's a great way to connect with customers and promote your business—just be sure to keep the above considerations in mind before hitting send!
Top 7 email marketing benefits
As you've probably realized by now, email marketing comes with so many benefits that it would be tough to cover them all in a single blog post. We've boiled them down to our top 7, and we've included a few pro tips to ensure you get the most out of your email marketing efforts.
Read on!
1. It's efficient and effective
Email marketing is a highly efficient, effective way to reach customers and promote your business.
You can easily reach a large audience by sending targeted emails to potential and existing customers. Email marketing allows you to track results and ROI, making it easy to see how successful your campaigns are.
Email marketing is extremely cost-effective, often resulting in higher conversion rates than other marketing channels.
2. It allows you to send personalized content
In today's competitive market, finding ways to stand out from the crowd is more important than ever. One great way to do this is through email marketing. Personalizing your content can create messages that resonate with your target audience and build lasting relationships.
One way to personalize your email content is to segment your list and send targeted messages to specific groups. For example, if your list includes customers who live in the same city, you might send information about local events or deals to those customers only. Or you could create a segment of customers who've bought the same item, and craft a helpful custom message with tips on getting the most out of their purchase.
Another way to personalize your promotional emails is to use dynamic content. Dynamic content is an element of an email that changes based on the recipient.
For example, you could use dynamic content to show different products to different people based on their purchase history or interests. It's a great way to keep your emails relevant and interesting!
3. It can improve sales
One of the best email marketing benefits for your bottom line? It's an easy way to improve sales. By building a database of customers and prospects, you can stay in touch with your target market and nurture leads through the sales pipeline.
Email marketing can build relationships and engage customers with special offers and loyalty programs. These tactics can boost sales and help grow a business that has a tight marketing budget.
For best results, remember to avoid spamming customers with unwanted emails and focus on creating quality content that provides value and supports your business's overall marketing goals.
4. It can increase website traffic
If you're looking for ways to increase website traffic, email marketing should be high on your list. By building a list of subscribers and sending them regular newsletters, you can keep your brand on their radar and drive more visitors to your site.
The key is to ensure that your emails are relevant and engaging, with a strong CTA that encourages recipients to visit your site. You can also use email marketing to promote special offers and drive traffic to specific pages of your company's website.
But remember, email marketing is only effective if your messages are opened and read. And similarly, your emails won't increase your website traffic if they're not opened! Check out these open rate stats: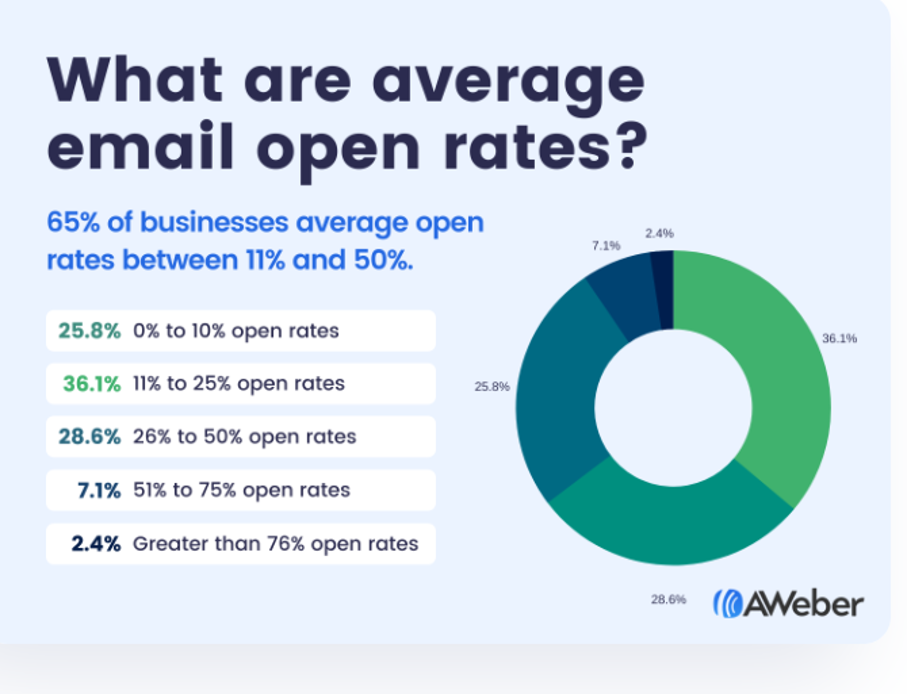 To increase the open and click-through rates of your emails, start by segmenting your list into smaller groups.
This way, you can send messages that are more relevant and targeted, which means they're much more likely to be opened. Regularly verify your email list to keep it up to date and avoid sending messages to non-existent accounts.
Also, don't forget about the subject line of your emails. This is your first chance to grab your recipient's attention, so make it clear, engaging, and reflective of the content.
Finally, avoid sending too many emails. You don't want to bombard your subscribers' inboxes, but you also don't want them to forget about you. Find the perfect balance to maximize open rates.
5. It will help you establish authority in your industry
Authority…it's the one thing that can't be bought. You have to earn it. But once you have it, people will listen when you speak. They'll read what you write. They'll buy what you sell.
Email marketing can help you get there!
By providing valuable content and insights on a regular basis, you can position yourself as an expert in your field. And when people see your name pop up in their inbox on a regular basis, they'll automatically start to associate you with authority and credibility.
Over time, this can help you build a strong following of loyal fans and customers who are eager to hear what you have to say next. So if you're looking to establish yourself as an authority in your industry, email marketing should definitely be in your toolbox.
6. You can reach a targeted, engaged audience
To be effective, email marketing must be targeted for a specific audience. Otherwise, the recipient will not find the message relevant and will most likely just ignore it. To properly target your recipients, start by segmenting your lists by interest.
For example, if you sell gardening supplies, you might separate your list into customers interested in flowers and customers only interested in vegetables. Use this tactic to send different messages to different segments, ensuring that each recipient sees something they're interested in.
You can also target customers by geographic location. This is especially useful if you have a brick-and-mortar store and want to encourage people in the local area to come visit.
No matter how you target your audience, the key is to ensure that your messages are always relevant. Because email is a relatively personal form of communication, it can be an excellent way to build rapport and trust with customers.
As you're crafting your email marketing content strategy, let your marketing team's creativity shine. By carefully segmenting your audience in industry-specific ways, you'll be able to send highly personalized, engaging messages that your subscribers will love to receive.
7. It's a great way to build excitement about new products and services
Nothing's worse than a product or service launch that falls short of its goals.
One of the most undervalued email marketing benefits is that it can be a great way to generate excitement about your new products and services. Businesses can even build their lists by encouraging customers to sign up for exclusive content or "early access" product drops.
Once on the list, customers can stay in the know about product launches, special offers, and other news. You can track responses to these emails to discover what customers want, and then retarget them as additional products and services become available.
Email marketing can give the boost it needs to get people talking— and drum up excitement about whatever's next for your business.
Email marketing for affiliate marketers
Email marketing benefits are not limited to traditional businesses and ecommerce stores. Affiliate marketers can also get in on the action. Also, you can use affiliate marketing metrics to measure your success.
If your network allows it, you could be making thousands of extra dollars each month with this method.
There are some limitations to affiliate links: you usually can't use them for a social media marketing strategy, and you won't have the luxury of a large marketing team with a substantial budget.
But don't worry! You can get the same success from email marketing that everyone else gets by building a list of subscribers and creating a targeted audience that is highly likely to convert into customers. Email marketing allows you to build relationships with your subscribers, which can lead to repeat sales and referral business.
There are a few key strategies to keep in mind.
First, make sure that your emails are well-written and informative. Nobody wants to receive a stream of useless spam, so take the time to craft quality content that delivers real value to your target audience.
Second, as mentioned above, be sure to segment your list. This way, you can send promotional emails relevant to each subscriber's interests, increasing the likelihood that they'll take action.
Third, experiment with different types of email campaigns. Try different subject lines, call-to-actions, and formats to see what works best for your audience. Finding the right combination can make email marketing a powerful weapon in your affiliate marketing arsenal!
Fourth, be sure to choose the right email marketing software. With modern email marketing tools, it's easy to automate your campaigns and segment your list to ensure that every customer receives relevant, targeted messages.
Email marketing is a powerful tool for businesses of all sizes. It allows companies to communicate with their customers and potential customers through a direct, personal channel, resulting in increased sales, loyalty, and customer satisfaction.
With so many easy-to-use email marketing tools available today, there's nothing standing in your way… follow the tips above to take advantage of all the benefits email marketing can bring to your business!
If you're looking for more tips about email marketing, check out these articles: