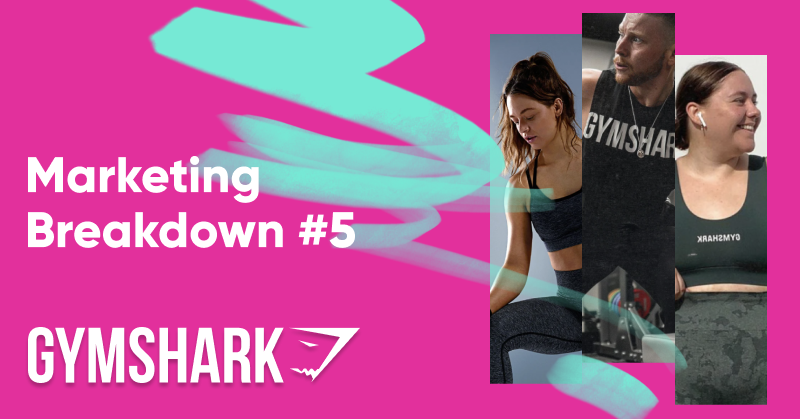 If you're looking for an ecommerce Cinderella story, look no further than Gymshark. 
Going from a DIY screen printing operation in a garage to a profitable business is no small feat.
But then-19-year-old founder Ben Francis and a group of his high school friends managed to build a $1+ billion valuation company with 9+ million cumulative Instagram followers, and global recognition from scratch.
We'll cover how Gymshark managed to build their fan base and spill what they do to continue to delight customers today. This marketing breakdown may inspire you as you ramp up your ecommerce store.
1. The brand's initial breakthrough
Despite now being named on Forbes' 30 Under 30 list, Francis had humble beginnings as an entrepreneur.

Francis has always considered himself passionate about both brand-building and bodybuilding. As an avid gym-goer, he suspected that there was a niche in fitness apparel that was totally untapped.
And he was right. When Francis attended the BodyPower Expo back in 2012, he realized something was missing. He found a niche, blending an apparel brand that balanced style with functionality— and Francis could not pass this up.
Here's where the magic happened. Remember how we introduced this as a Cinderella story?
Francis spent nearly all of his savings

to get a coveted spot at a future BodyPower Expo event on behalf of Gymshark.

He made a point to talk to as many people as possible at the Gymshark booth.

Speaking with many fitness icons firsthand, he managed to get his vision out there and convinced those same enthusiasts into becoming

fans

. 
The brand's energy was infectious.
Gymshark capitalized on the buzz from the event and sold out on all of their new products at launch within just 30 minutes. They scored more sales than they ever had in their brief history.
Fast-forward to the present day: positive PR and word-of-mouth are still keys to Gymshark's longevity. 
To say that the brand has serious name recognition would be an understatement.
2. Growing by getting a head start on social influencers
Becoming such a recognizable brand didn't happen by accident. The company turned to social media for its next move.
Instead of spending big on social ads, they decided to invest in relationships and community-building.
Francis honed in on his favorite Youtube influencers such as Lex Fitness, and realized that their Youtube subscribers are Gymshark's target audience. 
The brand then sent clothing samples to their favorite fitness stars on social media, eventually sponsoring them to promote Gymshark to followers organically.
Gymshark was one of the early adopters of influencer marketing before the concept even had a name in 2012.
"At the time, no one else was doing this," Francis explains in this vlog. "Now it's called 'influencer marketing'. But at the time it just came totally naturally to us because we were just fans of the guys."
Partnering with influencers became a staple of ecommerce marketing, and Gymshark managed to get in on the ground floor. 
The brand's visibility skyrocketed and Gymshark continued to partner with more fitness influencers like Nikki Blackketter or Whitney Simmons. — They both became ambassadors. 
Gymshark coined their "Gymshark athletes" and the program is invite-only.
Getting the attention of Gymshark means aligning with their values and regularly tagging their products.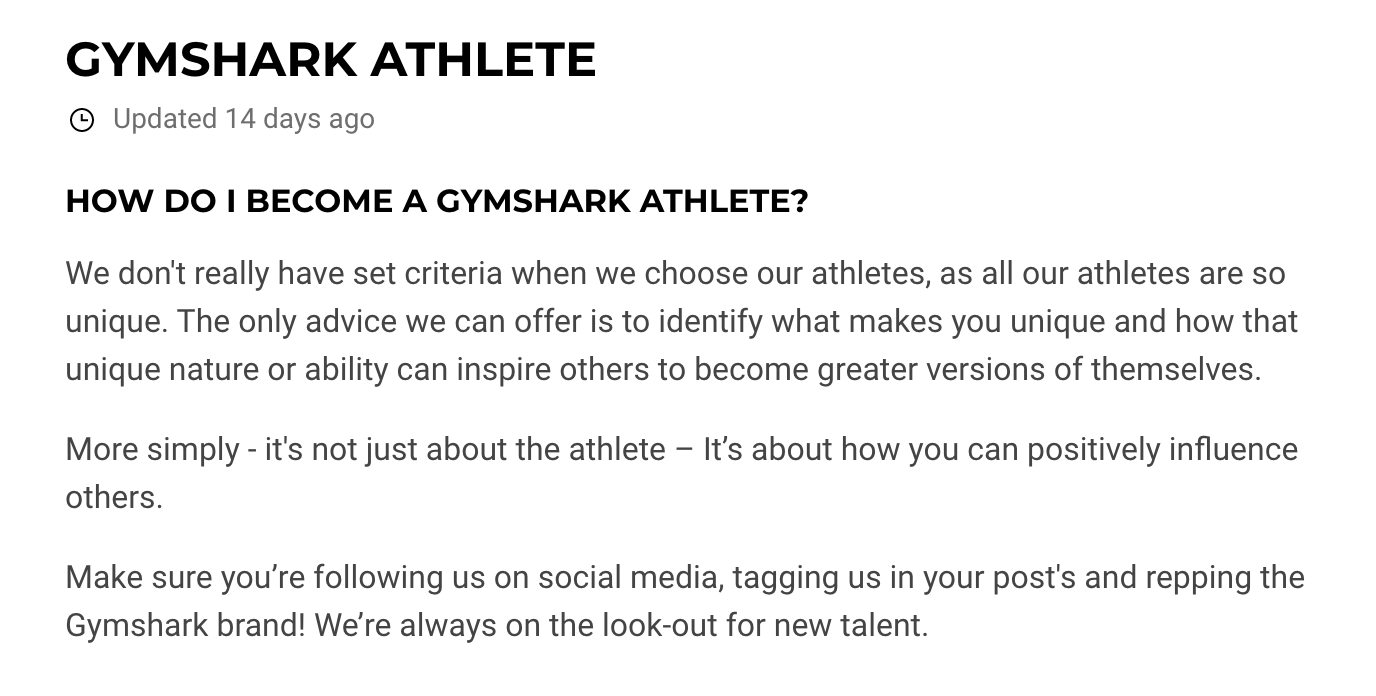 It's a win-win because there are tons of eager up-and-coming influencers looking to get the brand's attention which means regularly boosting their products for others to see via social media.  
What makes Gymshark's ambassador program iconic is that it doesn't just accept influencers with the largest followings. The exclusivity of the platform makes it the sort of "holy grail" of the fitness social media community (which is massive, by the way).
This tactic cemented fans, followers, and customers as central to the Gymshark brand. "Self-improvement," all while staying comfortable, and stylish is some of the biggest selling points for Gymshark's army of creators.
3. Fierce focus on building a community
Although the brand was initially ecommerce-only, they made a conscious effort to connect with customers via expos and meet-ups—featuring fitness influencers and brand ambassadors.
The brand went global with its Gymshark World Tour in 2016. Talk about front and center— they documented the whole event on their YouTube channel. Let's take a look at this video to see how Gymshark cultivated a taste of the excitement and sense of community. 
These events are a huge commitment that not just any brand can pull off, and they show off their loyalty, dedication, and gratitude to their community.

This customer quote from Gymshark's UK tour highlights the "family" that the brand has nurtured:
"What I found incredible was that my friend was meant to come with me but he canceled last minute. I'm here alone and before even stepping into Parliament Square, someone asked me 'Are you part of the Gymshark family?' Not 'Do you support Gymshark?' but 'Are you part of the Gymshark family?' And that's genuinely, coming to this, is what it feels like."
Over time, Gymshark realized that their community had become too large to have these events without them becoming chaotic. So, the brand started holding pop-ups instead (below is a snapshot from Gymshark's first pop-up in New York):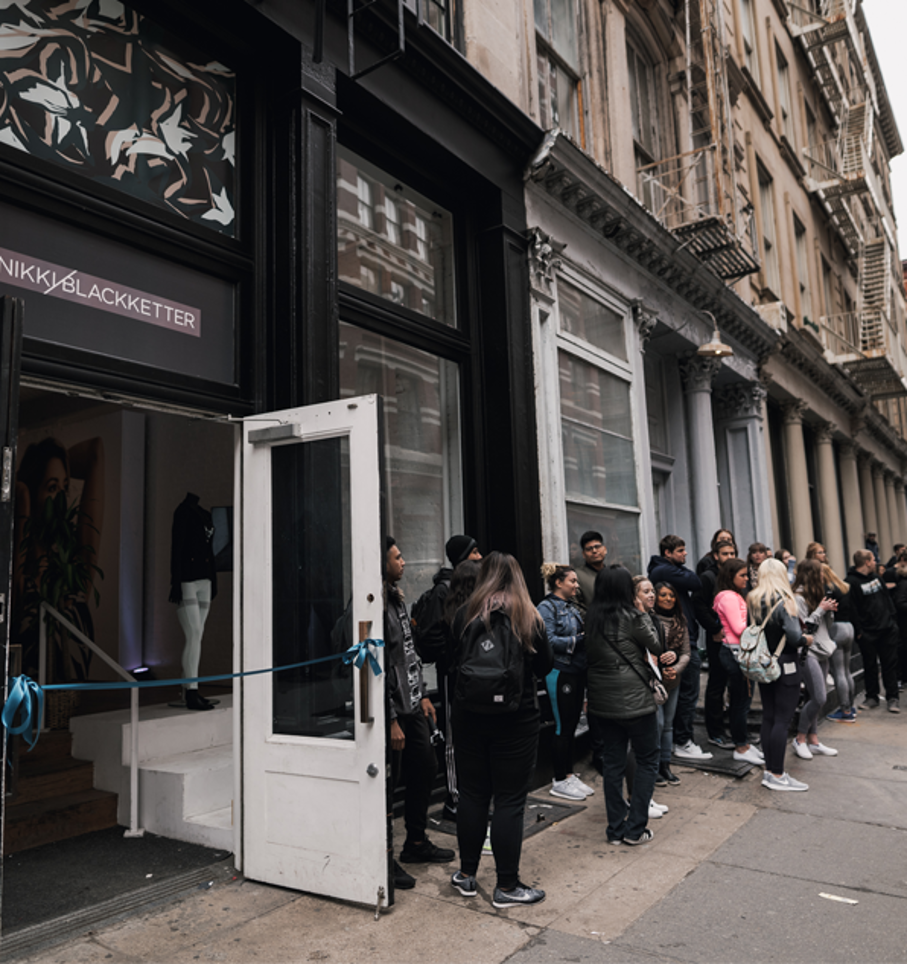 Throughout Gymshark's marketing, the concept of "community" is front-and-center. For example, the brand welcomes you to their family as soon as you sign up for their mailing list or purchase a product.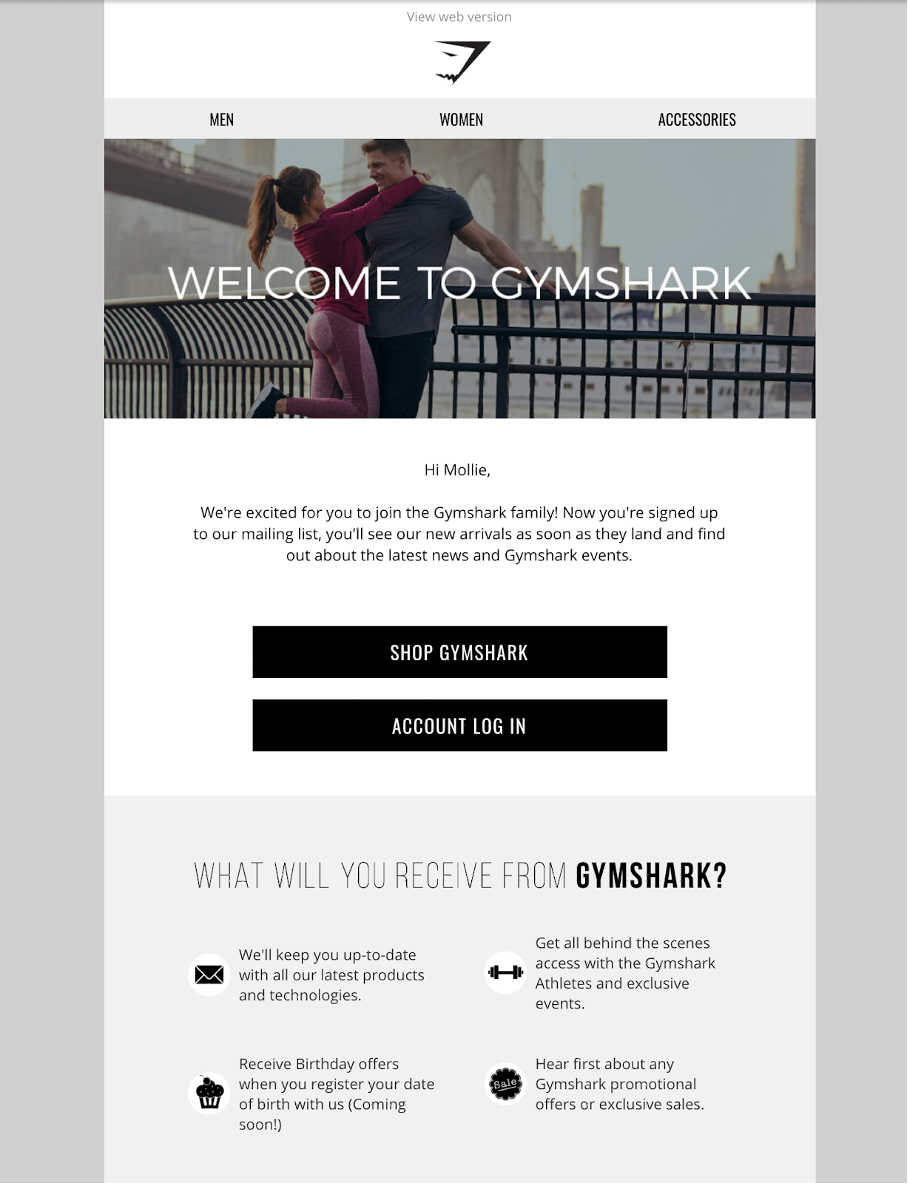 See how that works? 
From subtle mentions of "family" to holding events for their fans, Gymshark's emphasis on community has resulted in dedicated, long-term loyalty from their buyers. 
Clearly, the efforts to bring their followers together, both in-person and digitally, have been successful.
Click on the button below to download our Gymshark Email Marketing Toolkit and see more email marketing examples from Gymshark.
4. Selective discounts that create a sense of urgency
When it comes to ecommerce, many brands are aggressive about their deals and discounts.
However, Gymshark strategically takes a "less is more" approach to promotions. They could have pushed frequent sales, but they didn't. They decided to give their fans affordable pricing as their standard practice. 
Gymshark only has two sales per year: 
during the brand's birthday,

and Black Friday. 
That said, the marketing campaigns for both events are out of this world. 
Gymshark makes a point to push their sales weeks in advance to hype up their fans— demanding a sense of FOMO drive interest immediately. This teaser for Gymshark's 2020 Black Friday saw a 10,000+ spike in followers in a single day.
All eyes were on Gymshark when they published an influencer-heavy Black Friday video that got nearly 1.5 million views on YouTube. 

Being selective with discounts might not make sense for every brand, but it's definitely worked for Gymshark. The takeaway here is to think "quality, not quantity" when it comes to marketing pushes and sales can definitely pay off.
Recommended reading: How to Create a Sense of Urgency & Scarcity
The brand has three separate accounts to address its diverse fan base:
Unlike pushier brand accounts, Gymshark doesn't try to sell to followers directly with in-your-face promotions. Instead, they focus on motivational and education content (think: mantras and workout videos), which simply feature Gymshark athletes and apparel.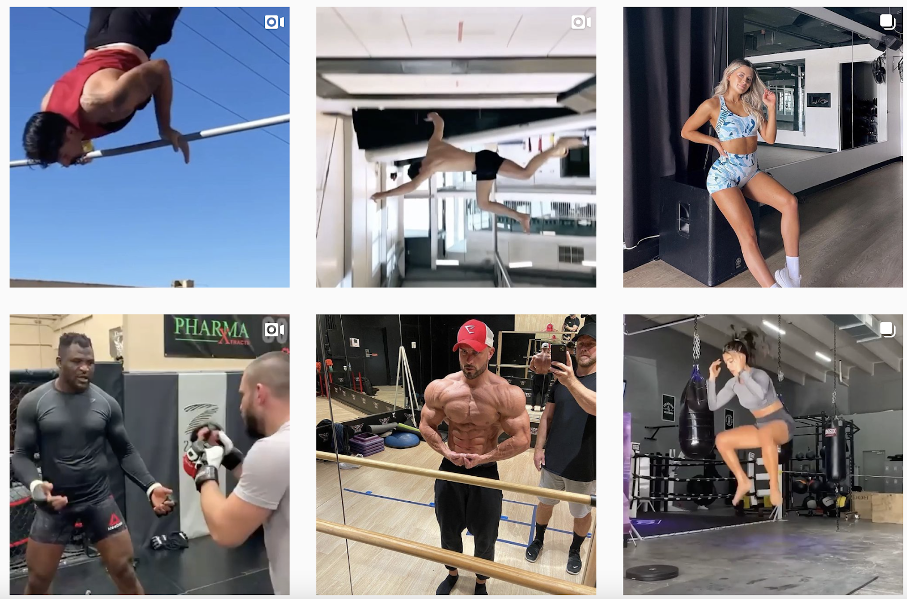 The brand's focus on workouts and motivation also extends to Gymshark's YouTube channel. Rather than try to push products in their videos, education and entertainment remain the cornerstones of their video content.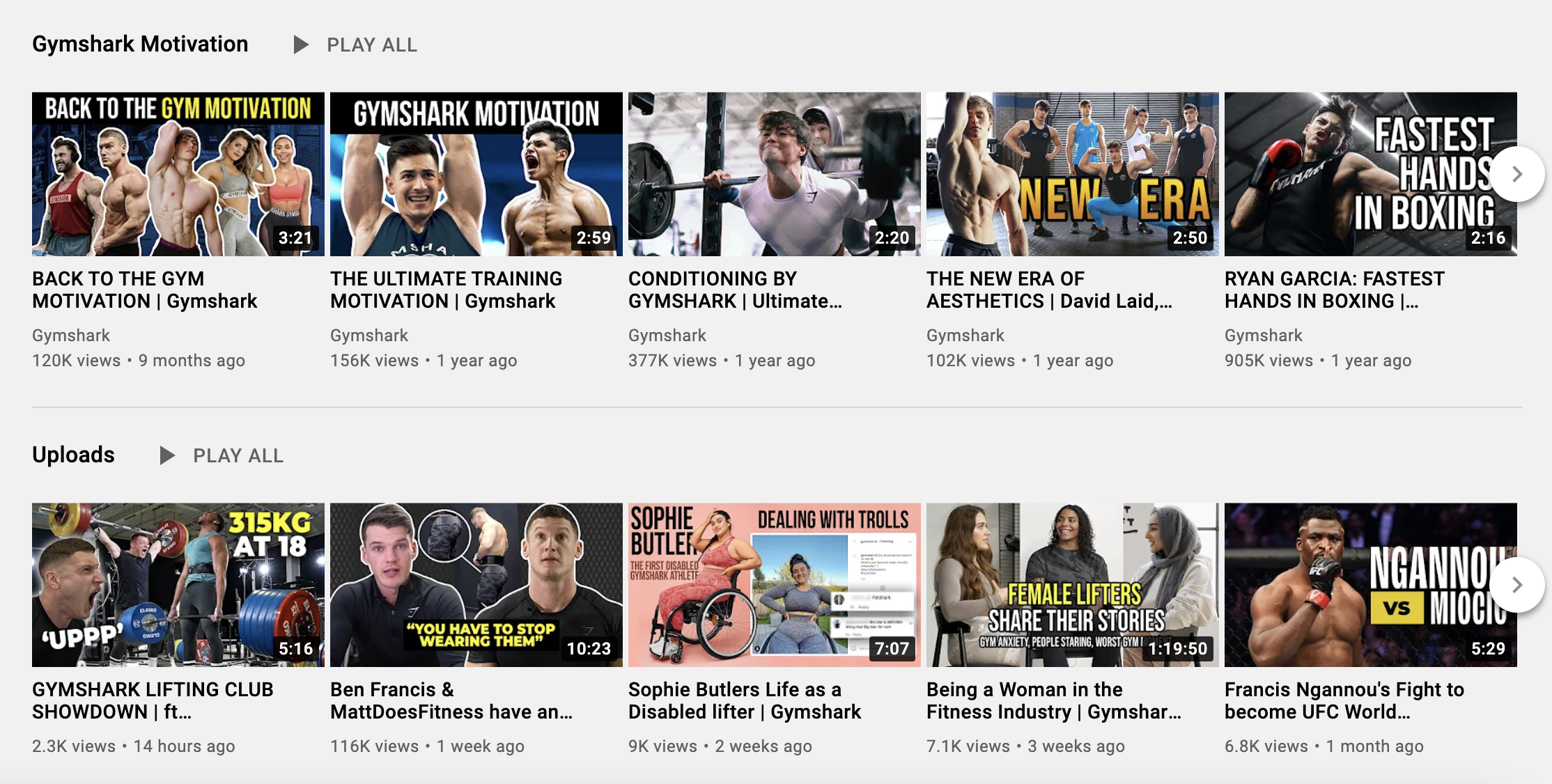 The brand even boasts over 70,000 followers on Spotify, promoting motivational playlists for followers looking to push through their workouts. 
Experimenting with new channels is central to Gymshark's marketing strategy and this is yet another example of doing so brilliantly.
Gymshark was also one of the initial brands to really blow up on TikTok. 
Back in 2018, they partnered with fitness influencers on TikTok to further their digital reach with their "66 Days, Change Your Life" challenge. Running for roughly two months, the campaigns resulted in a flood of user-generated content.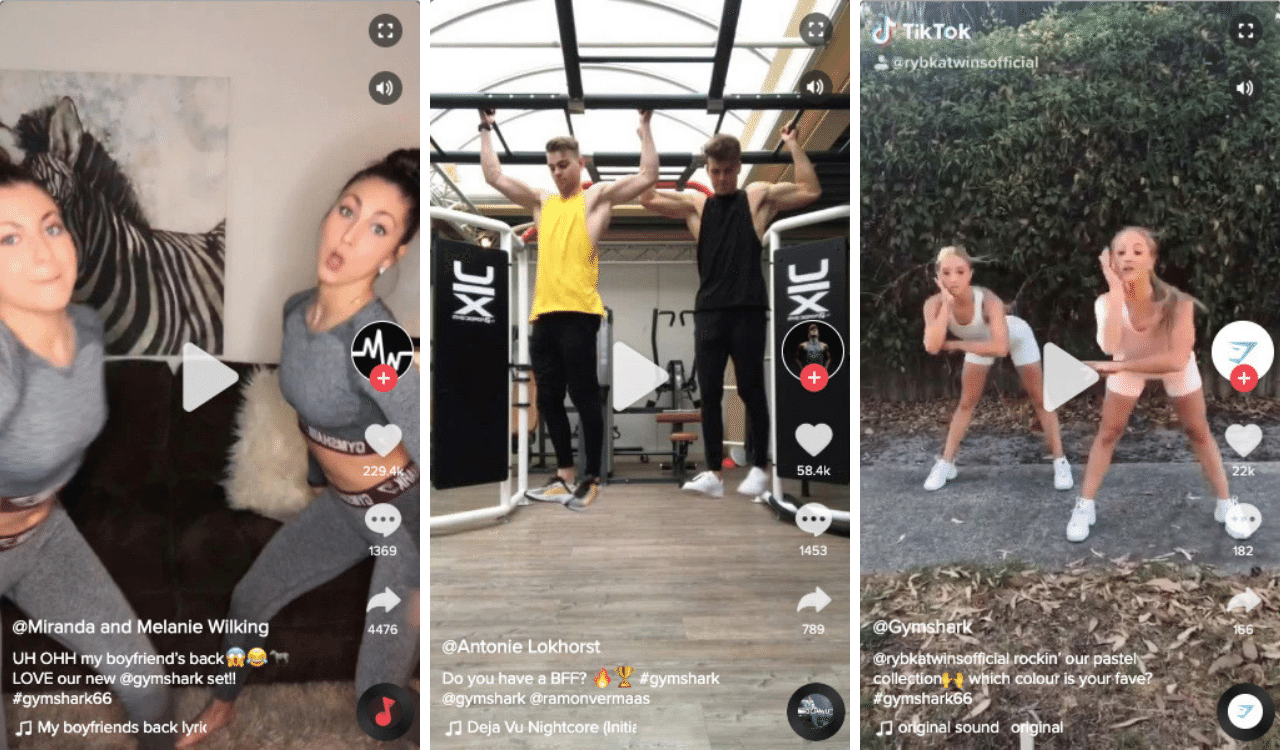 Recognizing the campaigns' ongoing potential, Gymshark launched the #Gymshark66 challenge again this year. With a hashtag prime for social sharing, the brand continues to flourish on just about every social channel they touch.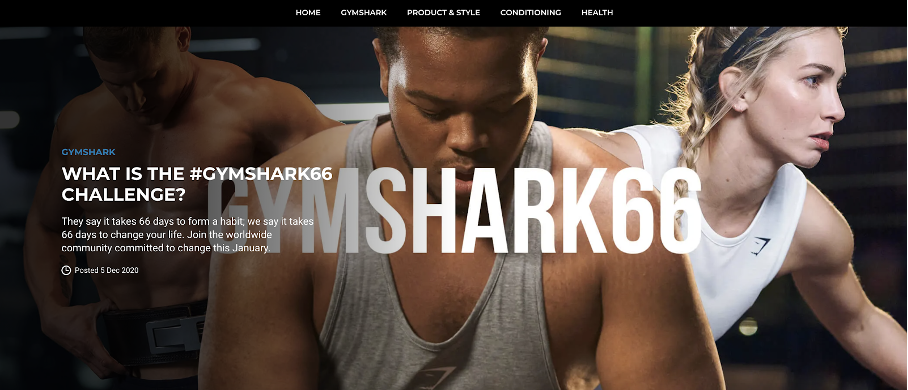 Gymshark has a massive social ad presence on Facebook and Instagram that seamlessly looks like traditional, organic posts that followers and fans can engage with.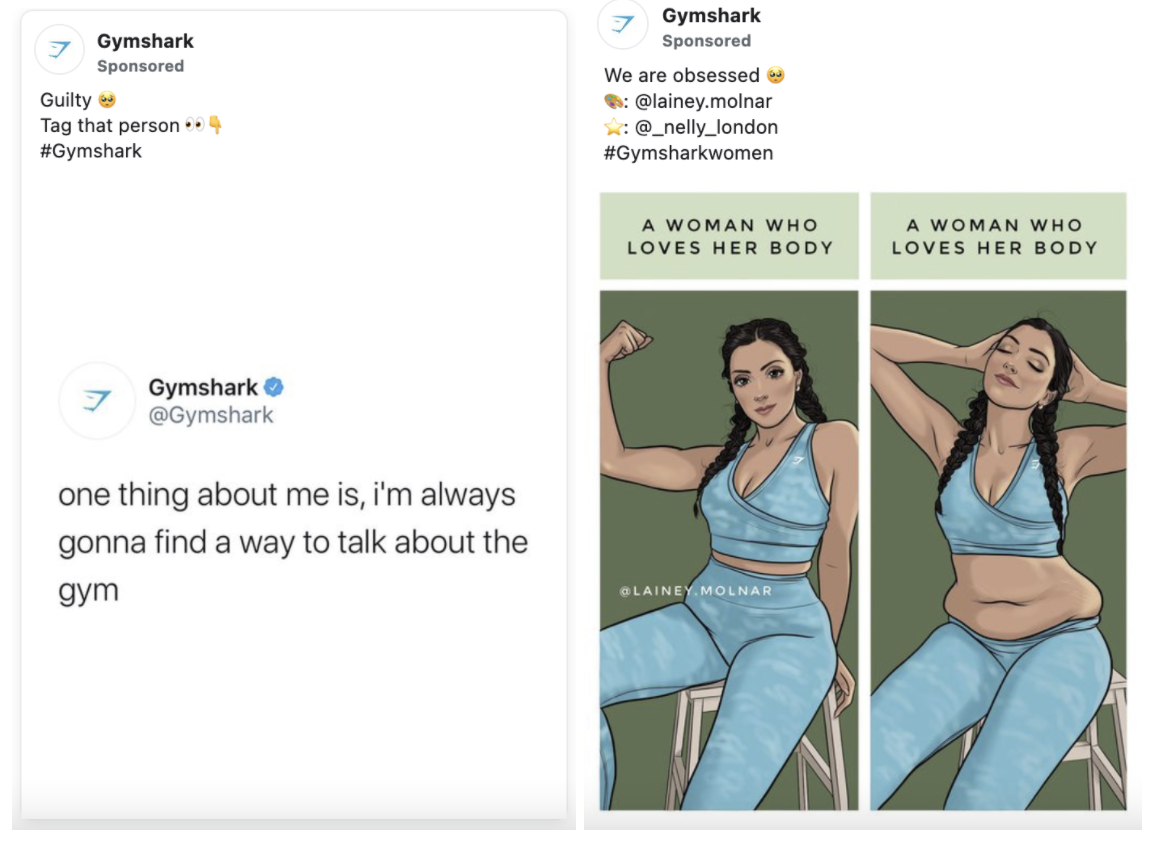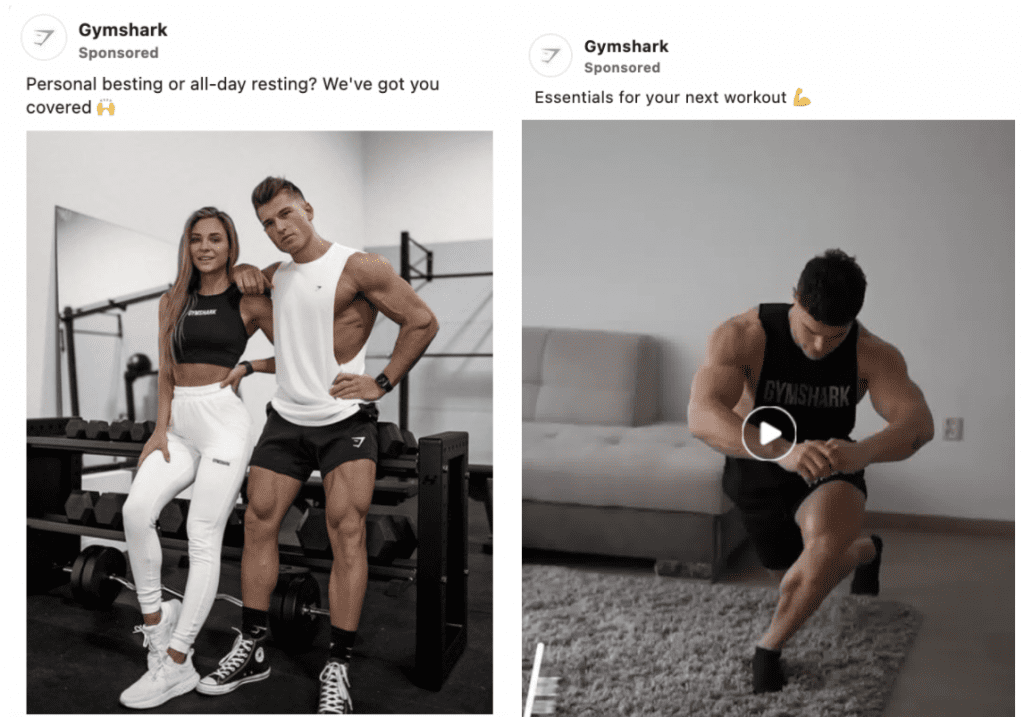 Click on the button below to download our Gymshark Facebook Ad Toolkit and see more Facebook ad examples from Gymshark.
6. Helping shoppers make the right decisions
Beyond supporting their community via social, Gymshark goes out of its way to help new and loyal customers find the right fits as soon as they land on-site.
Interactive elements such as their customer Sports Bra Fit Finder give shoppers some peace of mind as they browse items that they won't have to return later.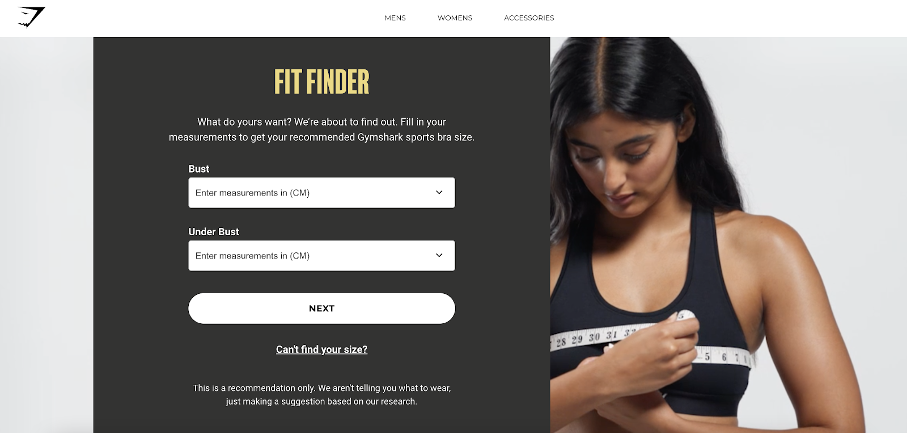 Gymshark's product pages are comprehensive in terms of highlighting what customers get. High-quality images and GIFs show exactly how their products function during a workout (for example, their leggings are verifiably squat-proof).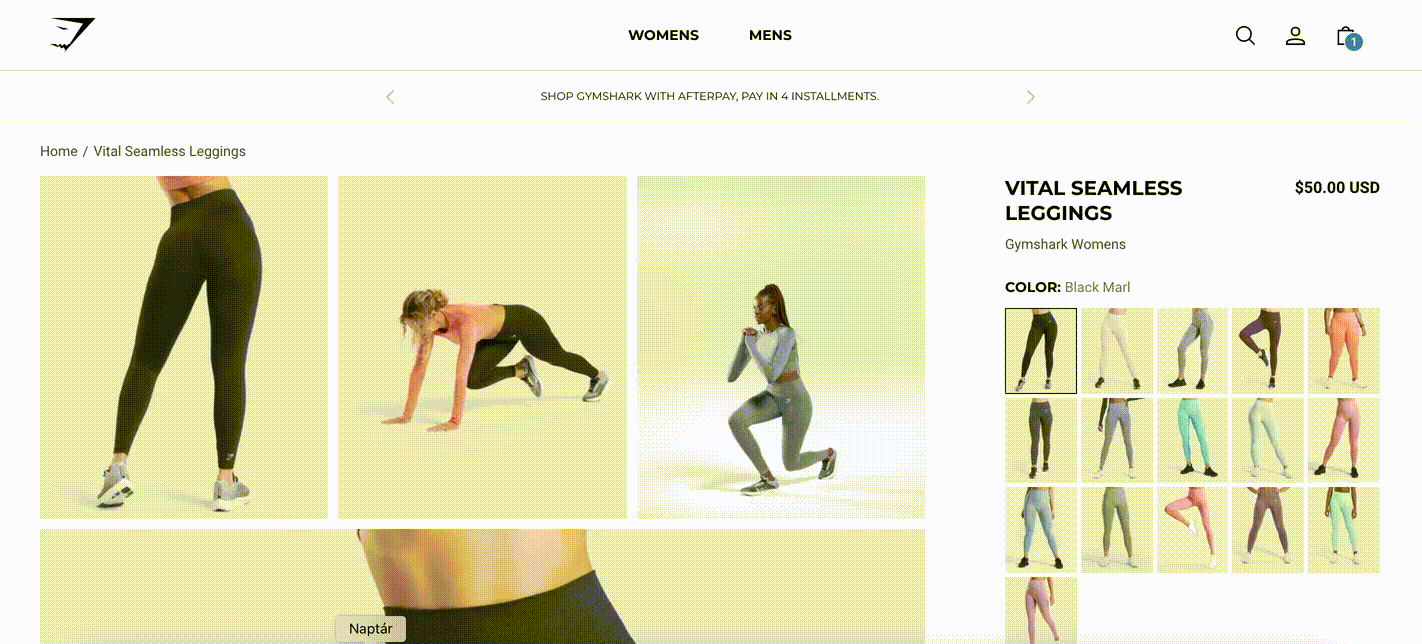 And whenever you add a new product to your shopping cart, Gymshark automatically recommends other styles to complete your order.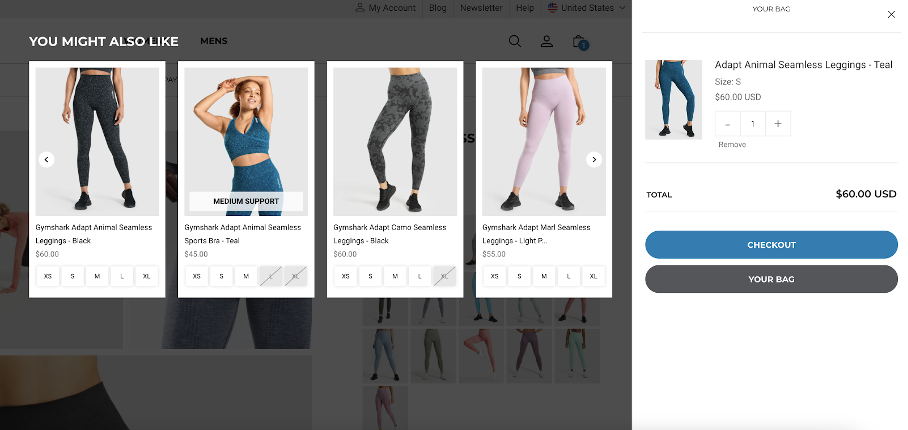 Gymshark continues to emphasize the importance of empowerment and education through their blog. From recipes to workout tutorials and beyond, the brand is a prime example of how ecommerce brands can effectively leverage blogging.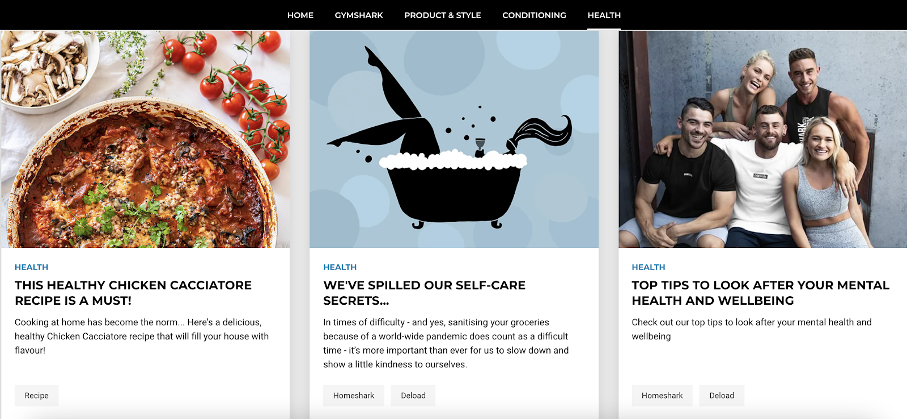 No matter where you turn, there's something that can help you find what you're looking for. 
Gymshark's growth might seem impossible to emulate, but their tactics are the stepping stones for big and small brands alike. 
Here's what we know for sure: 
Community-building. 

Grassroots marketing. 

An eagerness to experiment with new channels
These are foundational decisions that made Gymshark the Cinderella of ecommerce today.
This marketing breakdown will serve you well, no matter the product you're selling.