Watching thousands of people visit your ecommerce site without buying anything can be frustrating, and it's a daunting problem to fix. Conversion improvements just don't happen in a snap.
However, if you're serious about taking your ecommerce business to the next level, then you need to tackle the issue and find ways to increase conversions. This guide helps you do just that.
Any marketer knows the marketing mix model developed in the 1960s. To market a product effectively, you must focus on the four Ps: Product, Price, Place, and Promotion.
Ecommerce stores are no different. Converting a visitor into a customer is a function of marketing. In the sections below, we offer several ways to increase your conversion rate by studying the four components of the marketing mix.
The indexed Internet reachable by search engines (like Google and Bing) is 4.34 billion pages.
Excluding small businesses that sell exclusively on marketplaces like Amazon and eBay, there are over 100,000 ecommerce retailers in the U.S. alone, with the number growing every day.
These tips will help you attract visitors and differentiate yourself from the thousands of other sites online.
1. Ads should link to landing pages
When buying online advertising, make sure the ads link to your landing pages rather than the home page. Targeted ads that link to internal pages have a lower bounce rate than those that dump visitors on the home page and force them to guess where to go next.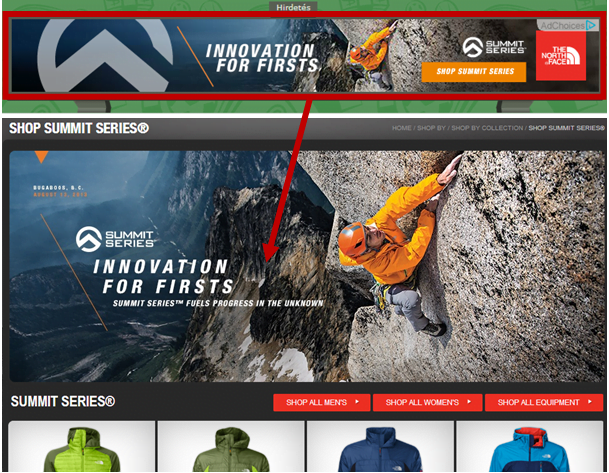 The banner ad for The North Face is a good example; it links directly to the advertised product.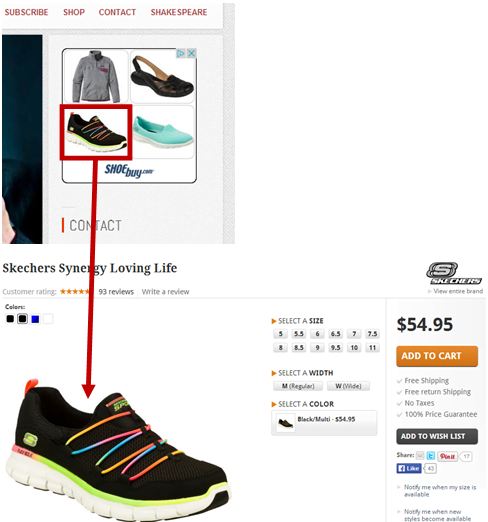 Skechers' advertisement links directly to the shoe model's page.

2. Let customers register for product notifications
Collect visitor information by asking them to sign up for product notifications. You can utilize this information during targeted marketing campaigns that inform customers of upcoming products and promotions. You can further increase loyalty by sending birthday messages and offers.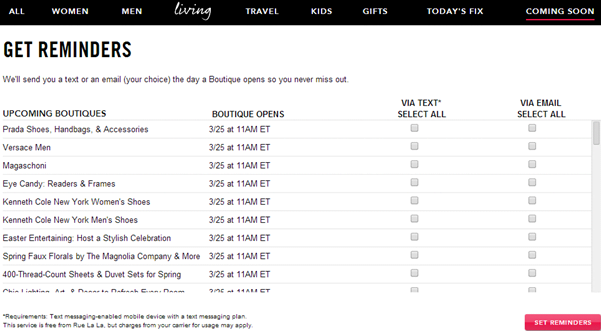 Rue La La, a members-only fashion boutique, sends customers notifications via e-mail and SMS.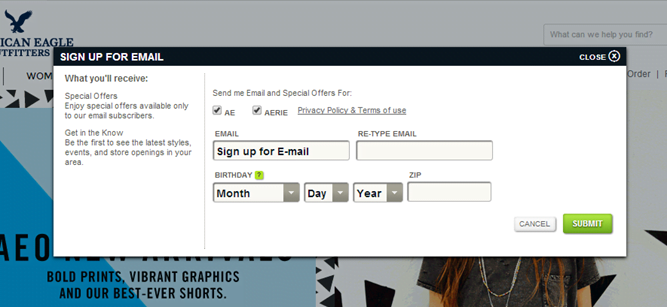 American Eagle Outfitters' registration page has "Birthday" and "ZIP Code" fields, which lets the company target customers more precisely.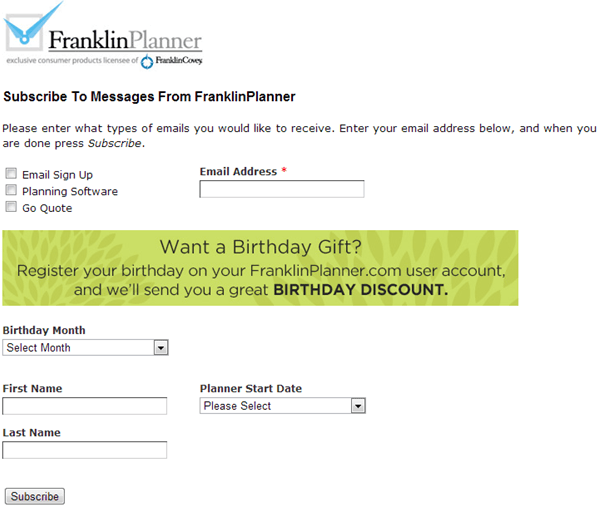 FranklinPlanner.com offers a birthday discount on its subscription page.
3. Provide sneak peeks of upcoming promotions
Previews can excite customers and increase anticipation about upcoming products. This increases the chance that they visit your site repeatedly.

Rue La La provides a calendar of upcoming products and events, under its "Coming Soon" category.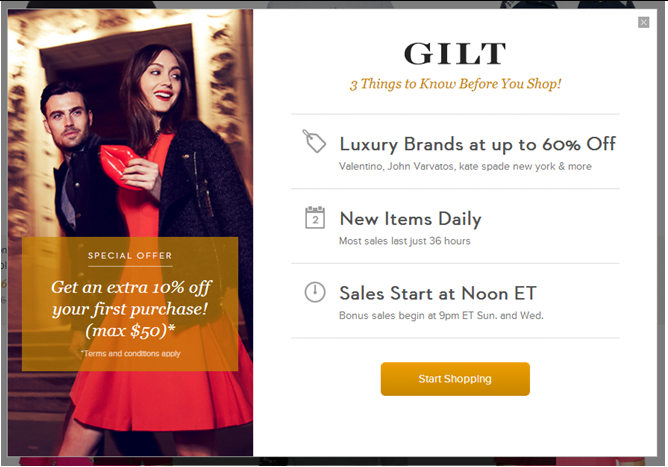 The Gilt Groupe increases anticipation by informing customers about upcoming sales and scheduling.
4. Adopt a cause
Companies that stand for something can build loyalty among like-minded visitors. Standing for a cause can give your target audience a warm, fuzzy feeling that can quickly convert a visitor into a customer.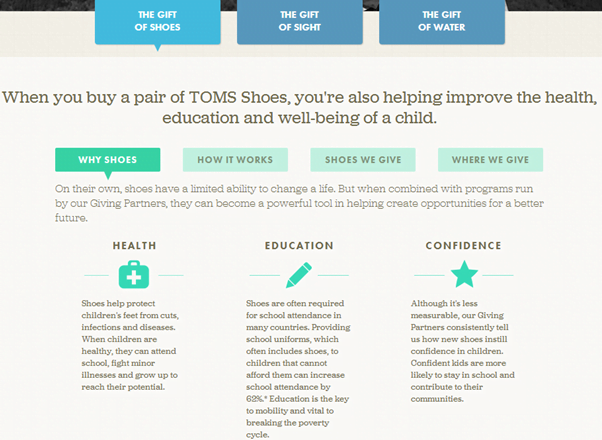 For every pair of shoes sold by Toms, it donates a pair of shoes to a child who needs them.
Toms.com
Once people are visiting your site, your site design must facilitate a conversion. The following tips can spice up your website.
They're divided into three main topics: provide more information to customers, increase site usability, and provide a good checkout experience.
5. Communicate how you're different
It is important that your site have a feel or design that differentiates it from your competitors.

The OakStreetBootmakers page features an artsy design that reinforces the message that its boots are handcrafted, designed for longevity, and made in America.
6. Add personality with a personal story
By adding a face and sharing your own story with your visitors, your site becomes more human in the eyes of visitors. Visitors who identify with you are more likely to stay.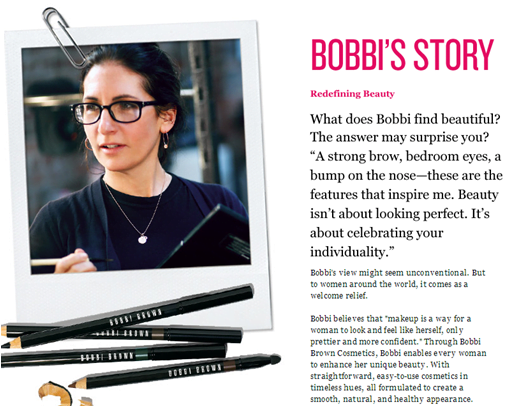 Sharing her own personal story gives Bobbi Brown's site a personalized touch and increases its uniqueness and personality.
7. Have a good FAQ page
Site visitors have come to expect a "frequently asked questions" section, which centralizes all information in a single location. Next to the home page, a FAQ page is one of the most frequently accessed parts of a website.
HP organizes its FAQ page by topic and makes sure it has a clean look. By presenting a lot of information in a single location, HP's FAQ page is accessible and very relevant. This ensures that the page ranks highly on search engines.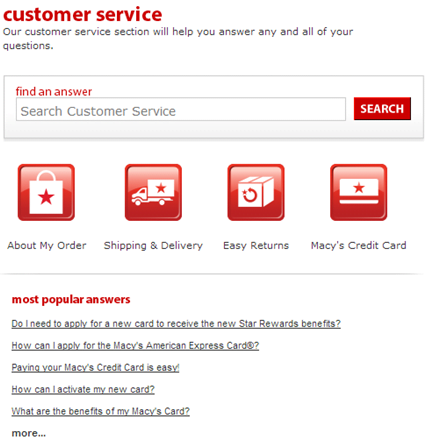 Macy's uses different terminology (Customer Service), but its "FAQ" page lets users quickly search for answers to the most popular questions.
Macys.com
8. Provide live chat
Visitor needs are often unique, and it is often not possible to address every concern in a FAQ section. Most companies let visitors ask questions through email or via a contact form, but nothing beats the immediacy of a live chat widget on your site, through which visitors can get instant customer service feedback.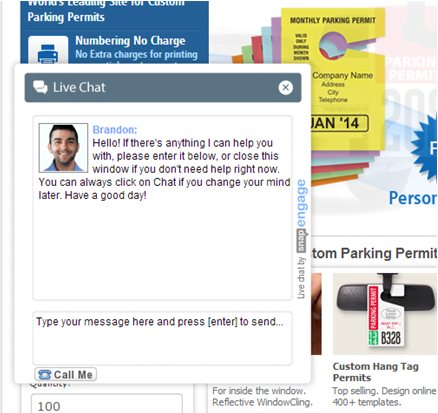 MyParkingPermit.com, which provides customized parking permits, has a live chat widget that lets customer service representatives answer any question asked by visitors.
9. Have a sticky search box and help section
Consider installing a floating search box and help section to give users access to information no matter where they are on your site.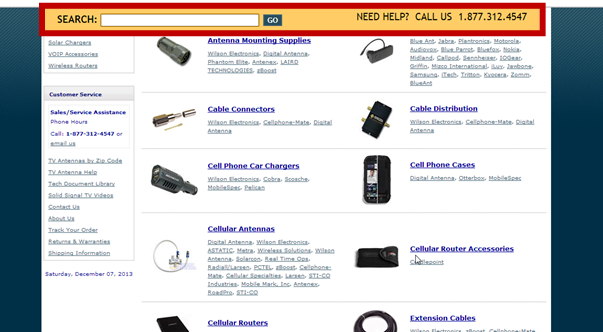 No matter how far down a page the visitor scrolls, SolidSignal.com's search box is always available should the need arise.
10. Provide an effective navigation menu
An effective navigation menu enables visitors to navigate your site quickly and drill down to the pages they want. The fewer time users spend figuring out the navigation scheme, the more time they spend shopping.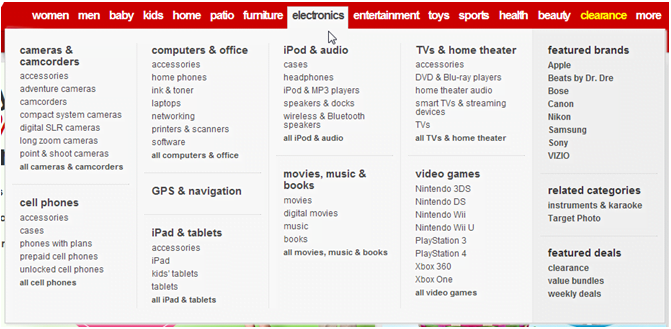 Target, a discount retailer, has a well-organized navigation menu complete with categories and subcategories.
11. Suggest products when a search returns no results
Some site searches return zero matches. However, the results page need not be empty. Instead, populate it with recommended products; even if your recommendations are not what the users searched for, something else may catch their interest.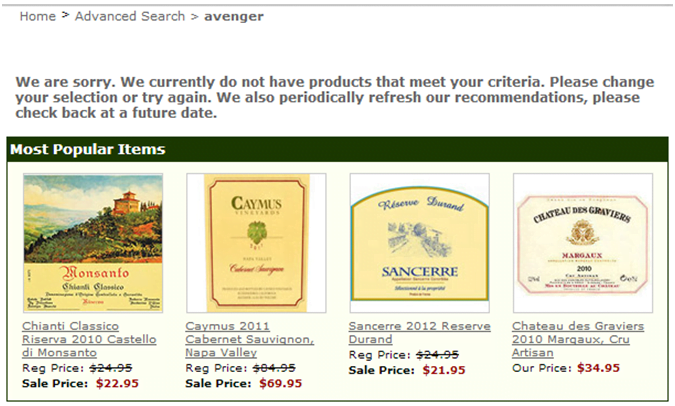 WineExpress includes its most popular items when a search returns nothing.
12. Provide filters to improve the browsing experience
When they browse a category or look through search results for a common term, customers can become overwhelmed by the amount of information available. Filters let them reduce visual clutter and quickly find the exact product they need.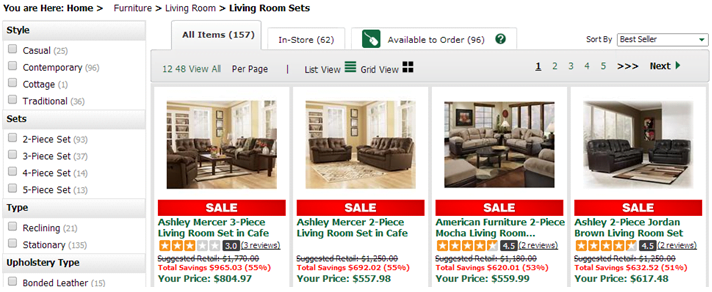 Nebraska Furniture Mark lets users narrow down their options to various attributes like style and type of furniture and upholstery. This saves users time and lets them avoid hassles.
13. Have a responsive website
Although design is important, Internet browsers are impatient. Many will not wait very long for a website to load. Therefore, make sure your website is fast and responsive, so that visitors will stick around.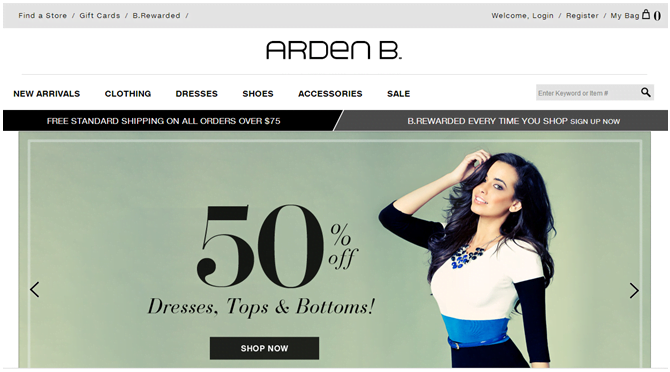 ArdenB.com strikes a balance between visuals and responsiveness; its website loads in seconds
14. Provide a buying guide
Some site visitors are uncertain about what products to buy. Help them decide with a buying guide.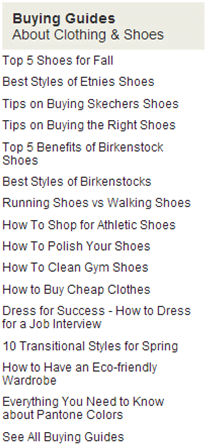 Online Retailer Overstock.com provides handy guides to help visitors decide what to buy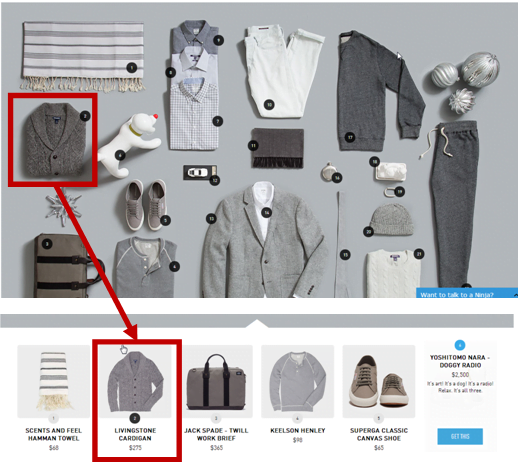 Bonobos, an online store for men's apparel, has a purely visual buying guide. Clicking on a specific item brings you to that item's catalog page.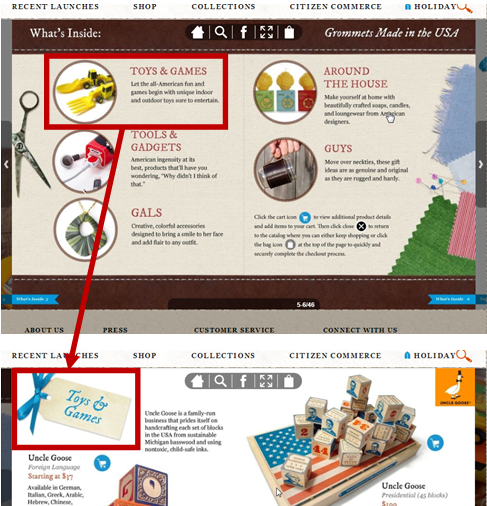 The Grommet, an online marketplace, has a well-structured gift catalog that emulates an elegant print catalog.
15. Use the holidays as a marketing opportunity
The holiday season is a great time to hold sales and attract visitors to your website. Leverage this by holding a holiday sale or by creating a holiday gift guide or special holiday-themed sections.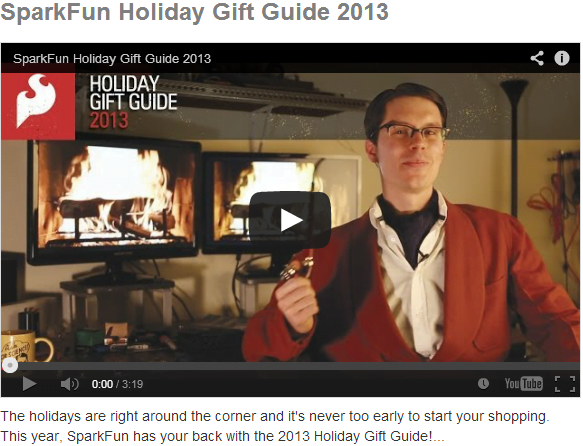 SparkFun Electronics got into the holiday mood with its gift guide for Christmas 2013.
16. Create holidays
Not enough holidays in the year? Create one! After all, Valentine's Day, Mother's Day, and Father's Day were all created in the United States to sell products.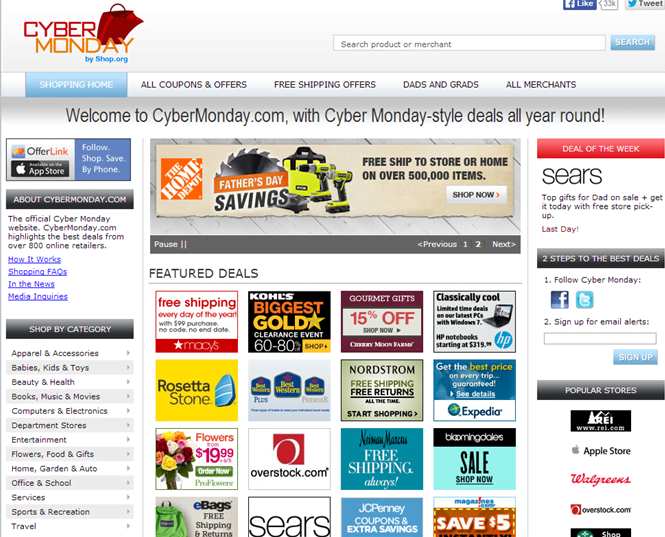 Online marketers created Cyber Monday in 2005 to celebrate the first Monday after Thanksgiving, when people log back in to fast company Internet connections after the long weekend. The purpose was to encourage web users to buy for the upcoming holidays. It is now one of the biggest online shopping days of the year.
17. Test your call-to-action copy
The call-to-action (CTA) is any visual prompt that users click to be converted into customers. To have the best combination of graphics and words for conversion, you should test your CTA copy for effectiveness by measuring success rates.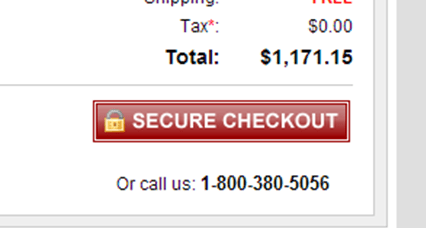 To allay privacy concerns, ivgStores (which sells niche furniture online) uses the term "Secure Checkout" with a lockpick as its CTA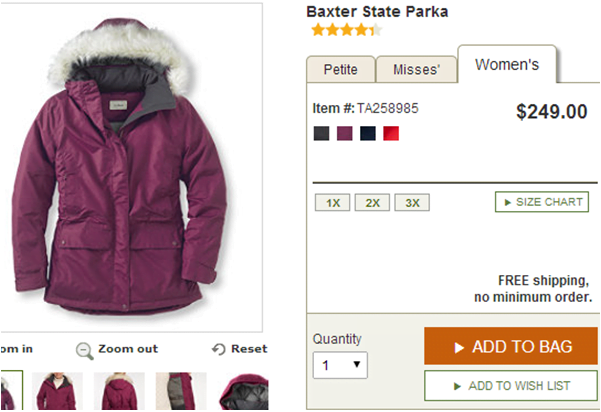 L.L.Bean, which specializes in clothing and outdoor recreation, evokes an outdoorsy feel by using the term "Add to Bag" instead of the usual "Add to Cart".
18. Reduce the steps during checkout
The checkout process is the final step where an interested visitor becomes a paying customer. This is a very delicate stage; the less complex it is and the quicker visitors can complete their checkout, the better your prospects of conversion.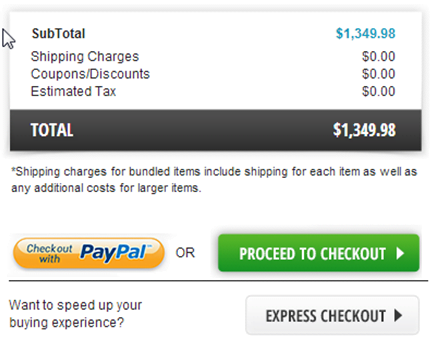 Panasonic has an expedited express checkout designed to be as painless as possible for the customer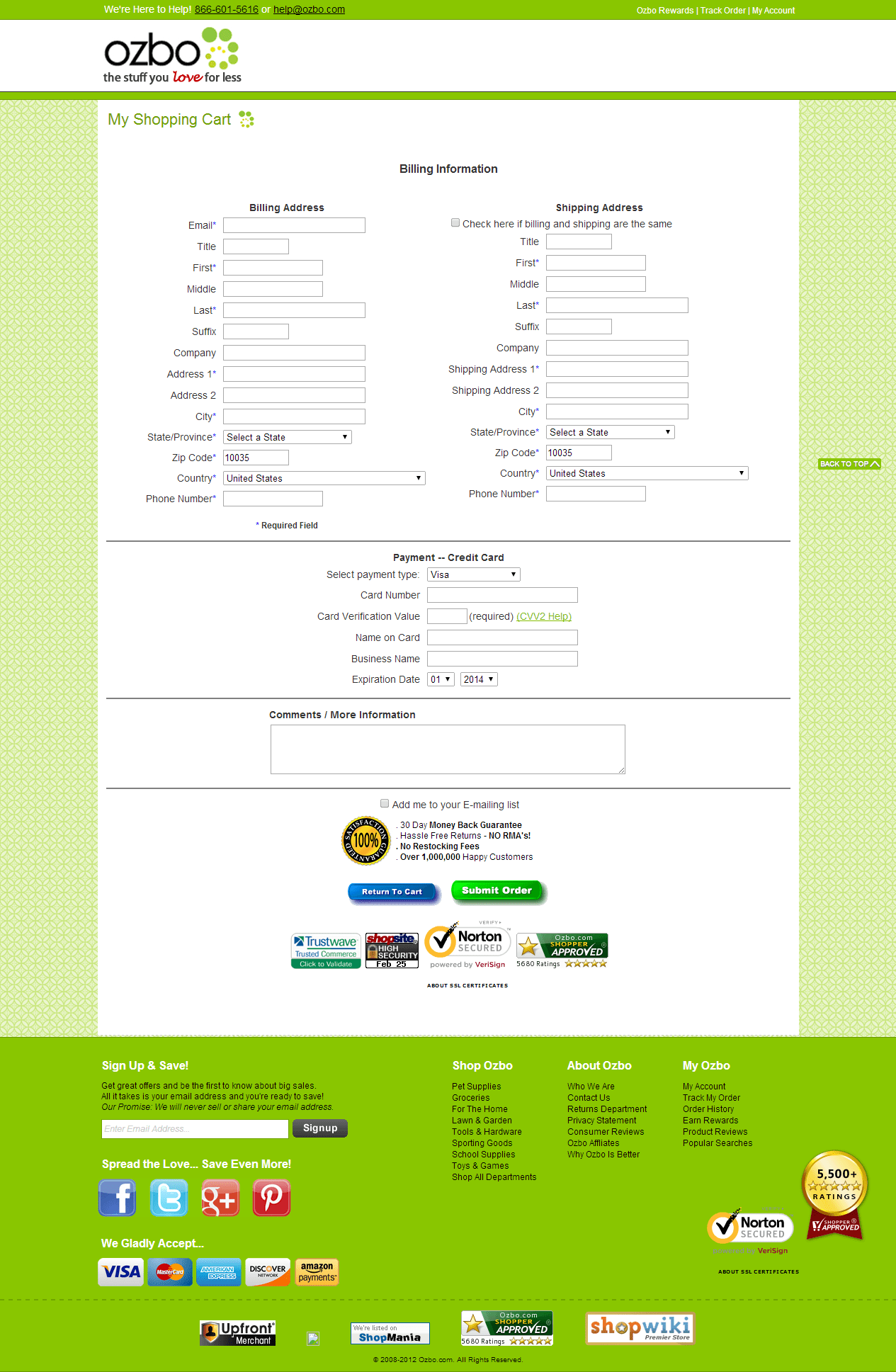 Although it may seem the site requires a lot of information, most information can be copied over. Ozbo has everything on a single page, so checkout takes place in the fewest number of clicks
19. Follow-up on cart abandonment
Despite your best efforts, some customers may abandon their shopping carts. Something might have interrupted them, they might have found something better, or they might have encountered unexpected costs.
Since time is of the essence, consider an e-mail recovery campaign that activates within 24 hours to complete the sale.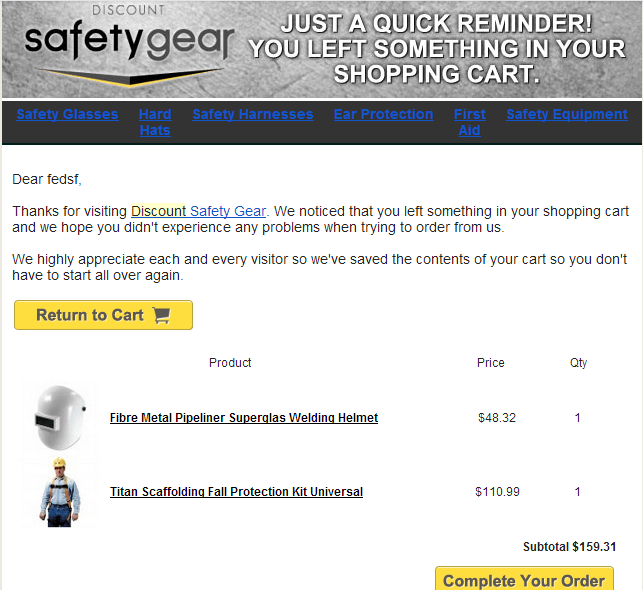 Discount Safety Gear sends a reminder e-mail as a last ditch effort. There is nothing to lose, and everything to gain.
Visitors come because of promotional efforts and stay because of the site. Great! But what now?
The product or service you offer must now be compelling enough to make them want to buy from you. The tips below will show you how.
20. Offer free samples
It is hard to argue with the word "free." Free samples give prospective customers the chance to try out your product. If they like what they get, they will be back for more.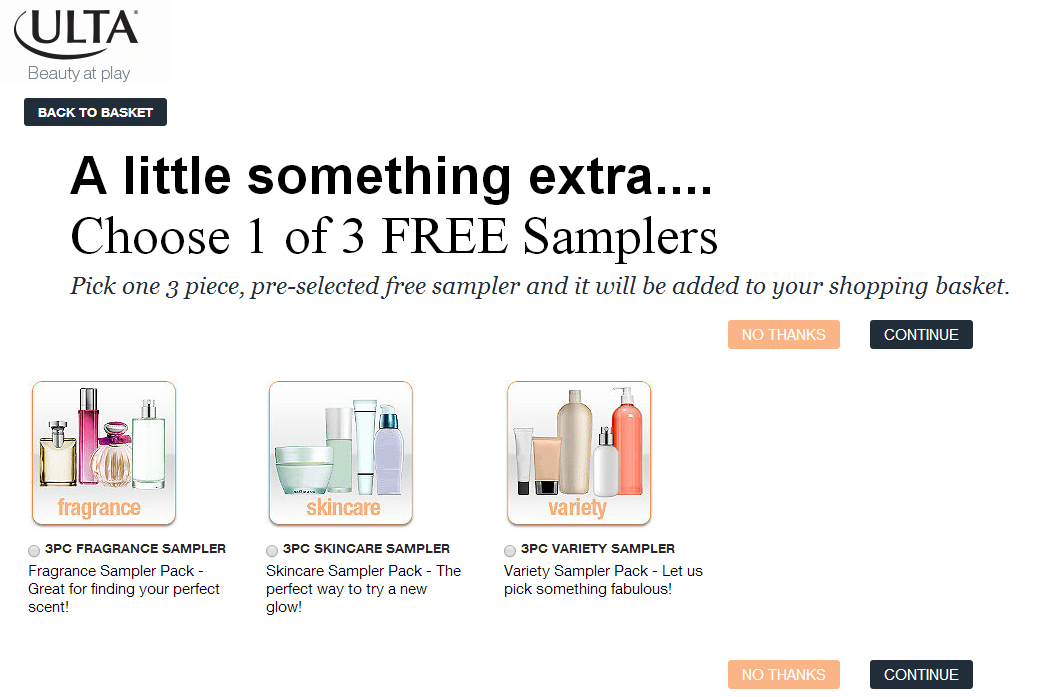 ULTA Beauty, which sells beauty products, offers free samples to customers who add a product to their cart for the first time.
21. Organize product information
A well-designed product page provides ready information at a glance. The judicious use of color and contrast can increase the functionality of the page and make it easy to understand.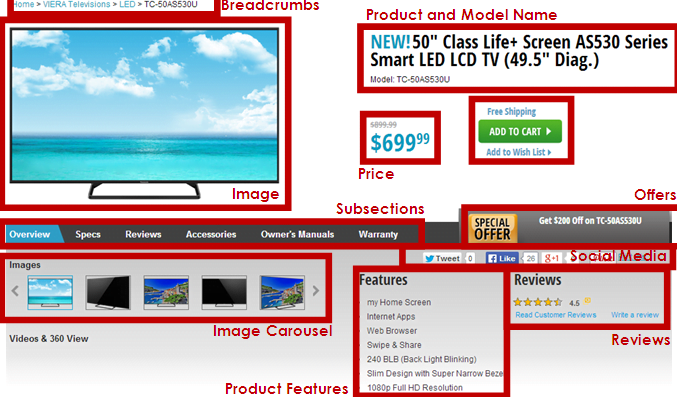 Panasonic has a clean, intuitive design that emphasizes its product and increases the usefulness to the customer.
22. Respond to customer concerns
Disgruntled customers are much more vocal than satisfied customers. Modify product descriptions to provide information and address questions or concerns customers may have.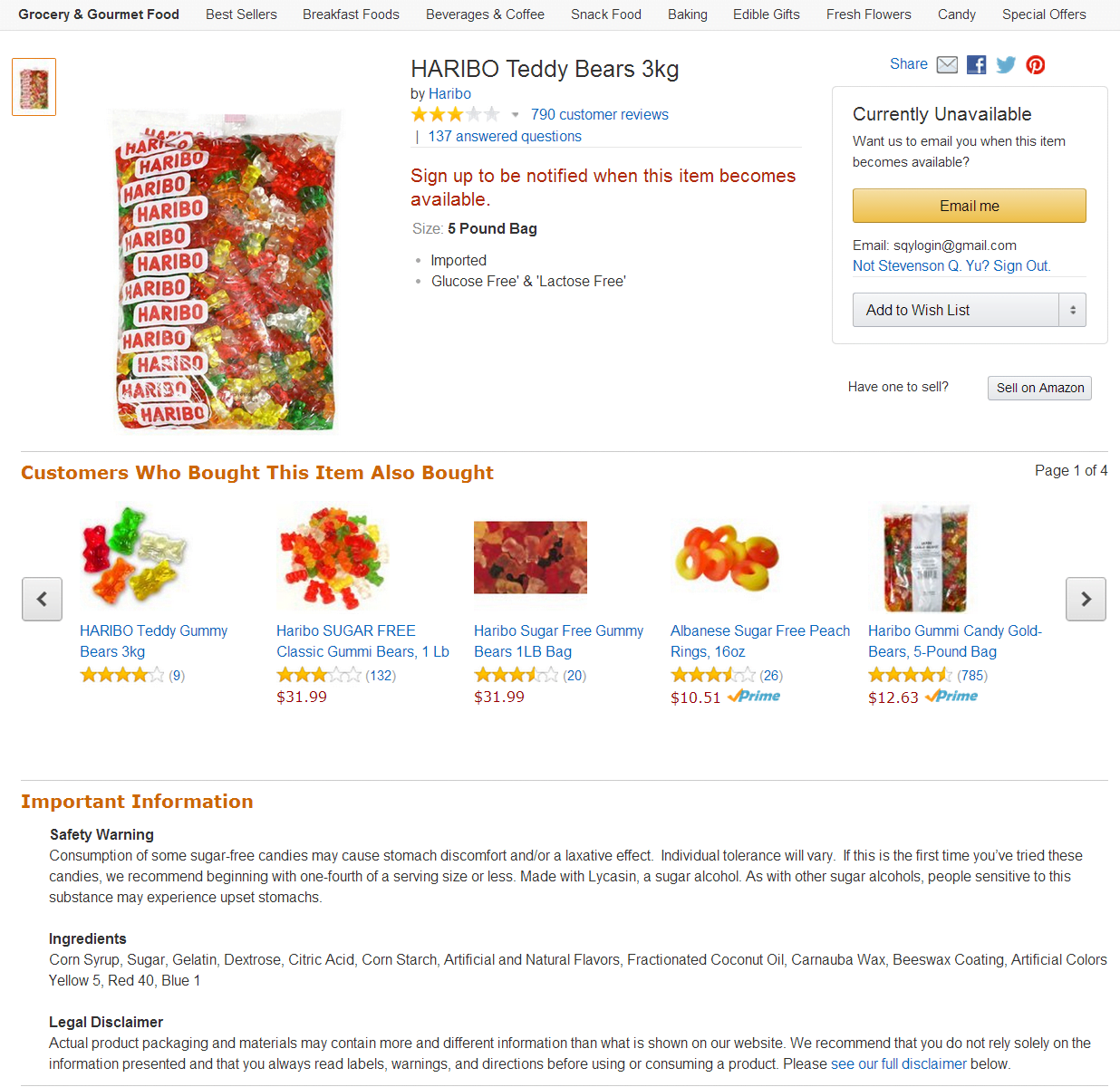 Haribo, the independent seller of sugar free Gummi Bears on Amazon, responded to customer feedback by adding a safety warning on the risk of consuming too much of its product.
23. Use user-created content
Social networks sites such as Instagram and Twitter make it simple for customers to share photos of themselves using a product. Capitalize on user-created content by featuring pictures of people using your products.

Guess' European site encourages users to share photos of themselves using Guess products using the hashtag #MYGUESS. User testimonials are more effective than company-generated content

Bebe features user-created content on the hashtag #bebegirl on its home page
24. Feature products in videos
Videos provide a lot of information in a compact space, and facilitate a 360-degree view of the product. They can also be shared on social networks and go "viral".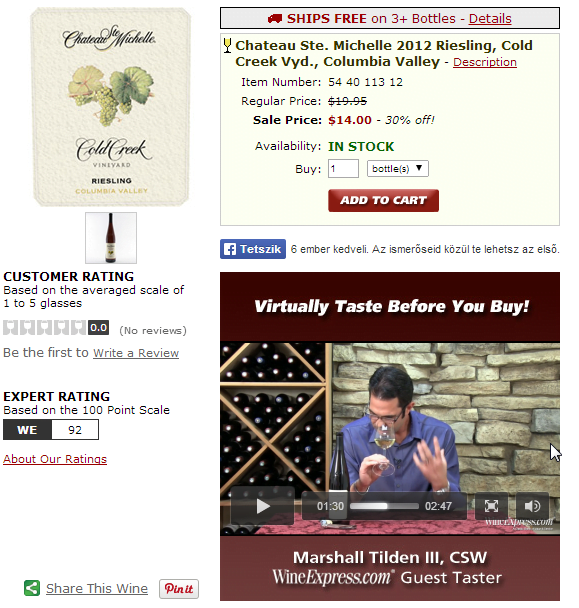 Embedding videos by a professional wine taster lets Wine Express present complex products to its customers
25. Don't autoplay videos
Auto-playing videos slows down the loading time of your site and irritates users when multiple tabs are open. Don't do it.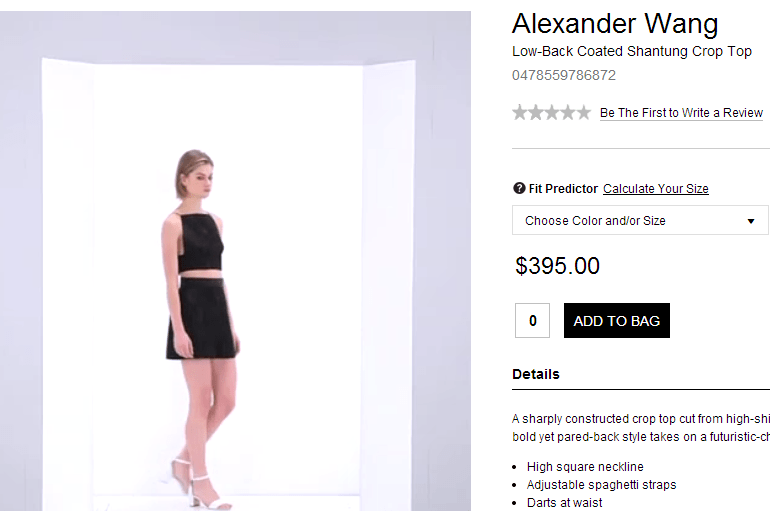 SaksFifthAvenue's site slows to a crawl because of auto-playing videos.
26. Offer great return policies
A company that has superior return policies compared to the industry norm can build a lot of customer goodwill and give site visitors more confidence to buy.

PureFormulas, which sells health supplements and vitamins, provides better returns than its competitors do, with no restocking fees or return shipping fees
27. Encourage customer reviews
Savvy visitors rely on customer reviews to decide on which products to buy. Visitors consider reviews by actual paying customers more reliable than marketing copy done by the online store.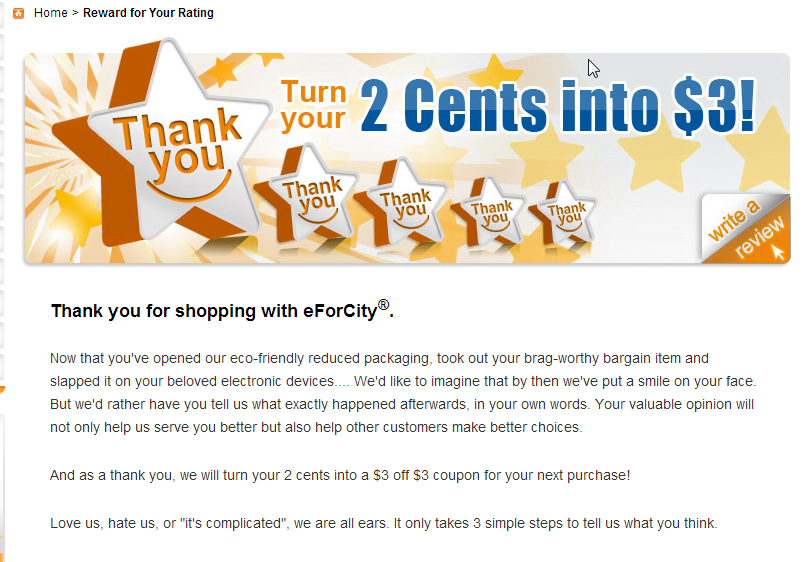 eForCity, an accessories retailer, offers a $3 coupon to customers who review products on third-party sites after purchasing.
Unless you have a unique product, chances are you are not the only merchant selling it. Online retailing is particularly cutthroat, so these tips can help you leverage the power of price to increase the chances of a buy.
28. Highlight cost savings
Hammer home your price advantage by prominently featuring the cost savings your visitors receive if they buy from you instead of your competitors. There are a number of ways to do this.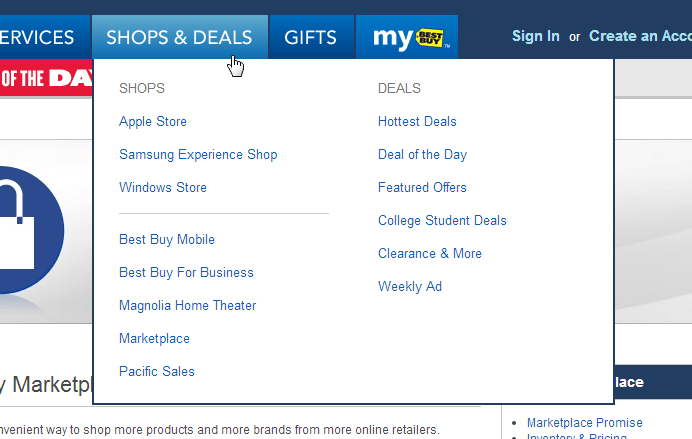 BestBuy incorporates "Deals" into its navigation submenu.

AdvanceAutoParts.com features cost savings in the site header.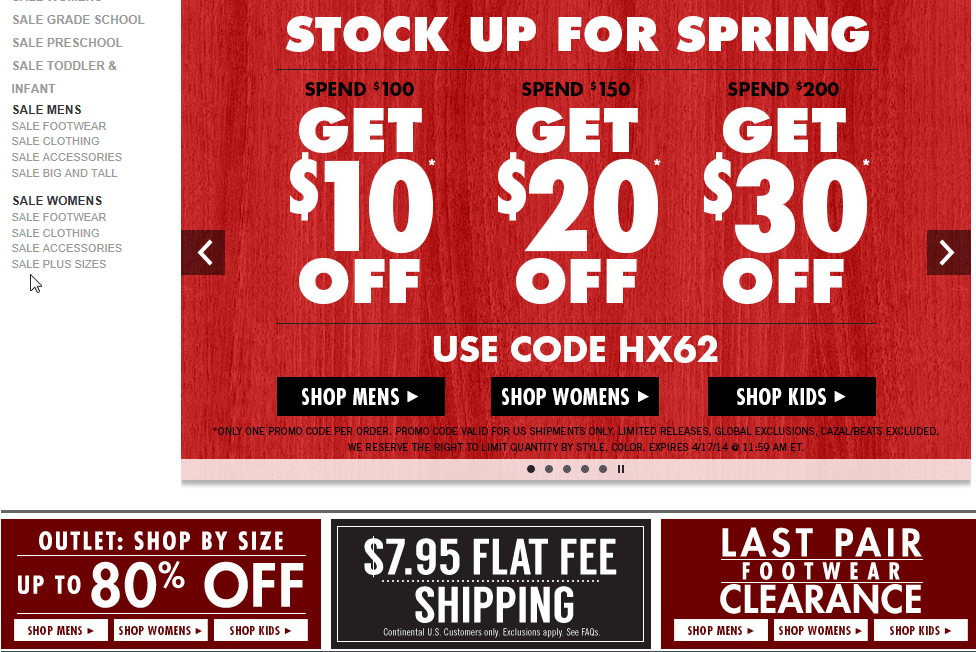 Jimmy Jazz, a street wear retailer, prominently features cost savings on its website.


Both Lands' End ("Sale") and Target ("Clearance") have a dedicated category for items put on sale.
29. Offer price matching
Many offline retailers have a price match policy. Price matching may result in extra costs, but the customer goodwill is worth it.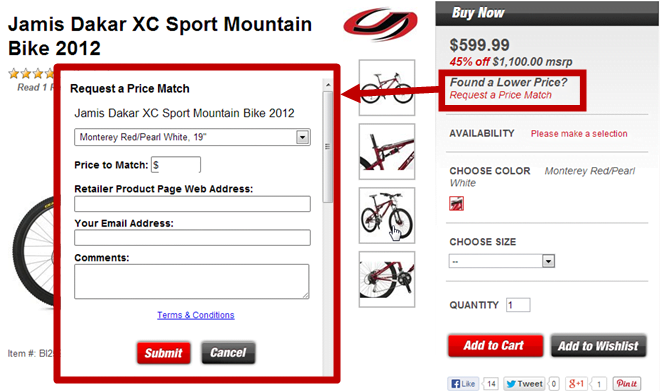 JensonUSA, an online bike shop, allows customers to request price matches on all of its product pages
30. Cut price in a different way
Instead of an outright price cut, consider volume discounts and "buy one get one free" tactics. Although the effect is similar, this helps you move more of your inventory.
However, it's better to market some products, such as software, using discounts, since customers rarely want more than one.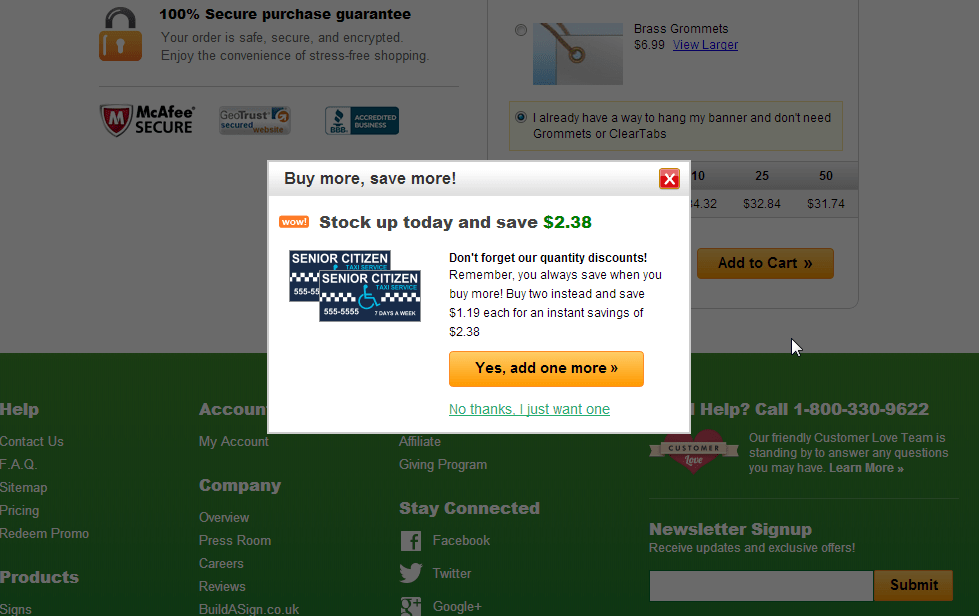 Adding a new item to your cart at BuildaSign.com generates a popup that offers a quantity discount for the second item.

Eastern Mountain Sports features quantity discounts on its product list pages.
31. Offer free shipping
Free Shipping (or after a certain spending level) is one way to compete on price without actually cutting prices.

DiscountSafetyGear offers free shipping for orders of $49 and above
32. Follow your customers
Social media nowadays made it super easy for up to get closer to our customers and contribute more to build a relationship. It is no longer a sell % purchase process, but its more of trust and understanding and sharing values today.
I consider Instagram is one of the top apps that is helping millions of business to bond with their customers, as well as connecting and reaching out to new business for partnership opportunities and scoring higher business reach.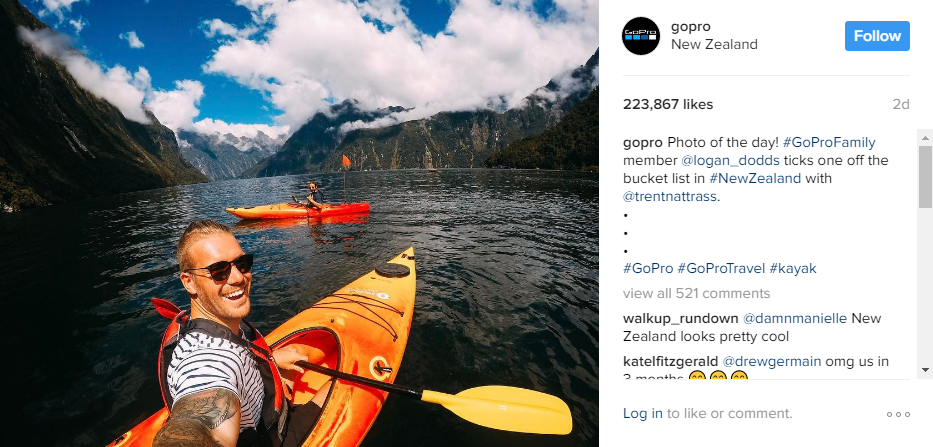 Some of Instagram's biggest and best brands use the power of user-generated content (UGC) to separate themselves from the rest. and GoPro is a great example.
To discover more examples of how Instagram can play a huge role in your ecommerce conversion, check RisePro.
Driving traffic to your ecommerce site is one thing, but getting people to actually buy is another. If you've been running an ecommerce site and are struggling to get your visitors to hit the "Buy Now" button, then the tips that we've mentioned above will surely do you wonders.
(Note: Have you heard of OptiMonk? It's a powerful onsite messaging solution that helps you convert up to 15% of abandoning visitors to sales and leads. Give it a try – click here to create a free OptiMonk account now.)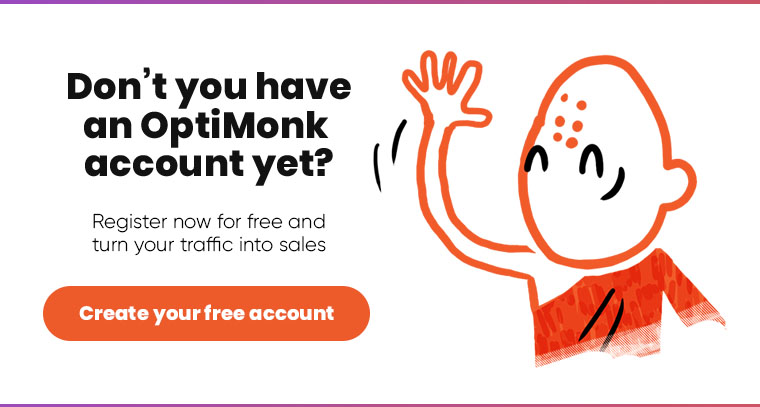 If you ever have any questions, tips or ideas that you'd like to share, please do so in the comments section below.