Capture prospects leaving their cart
Detect potential buyers who are about to leave without making
a purchase & show a secondary offer to prevent cart abandonment
We can show a popup to every visitor that helps the user experience or supports the purchase decision – says after achieving 16.5% decrease in AVON's cart abandonment rate.
Save your potential
revenue loss
The global cart abandonment rate is around 70%. Although it's a huge problem for online retailers,
it also provides a significant opportunity to generate more sales. Once a visitor leaves items behind,
it doesn't mean that the sale is gone. Just make sure you care about abandoners.
Make prospects checkout immediately
One of the easiest ways to reduce cart abandonment is to simply notify leaving visitors of their cart. Go a step further by encouraging them with a coupon that is automatically added to complete the checkout immediately.
I chose OptiMonk for cart recovery due to their flexibility and the ability to do dynamic text. [...] I was confident that the user experience would be improved.
Read full story
Promote ebooks as incentives to build your list
Offering an incentive not only helps you grow your immediate sales, but it also allows you to gather your prospects' email addresses and turn uncertain visitors into customers later with email marketing.
OptiMonk allowed us to gain 8,997 new subscribers within a month. We can offer these leads content and special offers via email to get them to convert.
Read full story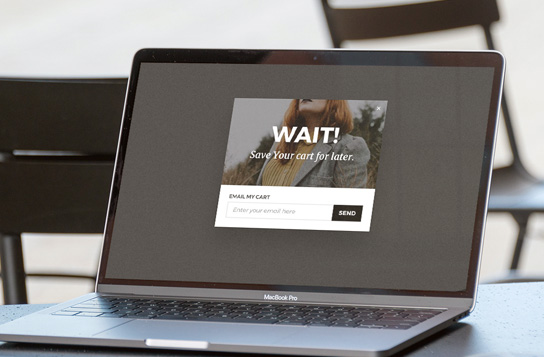 Save cart content
(coming soon)
Show a "save your cart" message to make abandoning visitors complete their purchase later. After signing up, the cart content will be sent via email and they can finish the buying process with 1 click.
I use a 10% off coupon popup and unique coupon code. We have received about $22,000 in sales from that coupon code in a little over a month so the app more than pays for itself especially if you have a lot of traffic like we do.
Powerful solutions to combat cart abandonment
Our toolkit has been designed to help you reduce
your cart abandonment rate effectively
Discover endless possibilities
Recovering your (almost) lost carts
can take a variety of forms
Works with all ecommerce platforms
Your cart abandonment messages
will be up and running on any online store
Create your free account &
Reduce your cart abandonment rate
Forever free plan ● Easy setup ● No credit card required