SMS marketing is a fast, convenient way to connect with your clients. It allows you to get to know your customers better without spending a fortune on market research. Besides, it might be just the thing you need to convince more people to use your services, purchase your products, and leave positive reviews on your website!
Since the dawn of mobile telecommunications, short text messages have been a staple of communication. Nowadays, despite the popularity of social media and other marketing channels, they still play a significant role in making businesses stand out from the crowd. Many companies use them to send marketing messages and inform their clients about various offers and promotions.
Here's everything you need to know to make this type of marketing work for you, including the best SMS marketing platforms on the market.
Let's jump right in!
SMS stands for Short Message Service and it's the most common form of messaging in today's connection-oriented world. As a business, you can easily transform it into an evergreen marketing channel, and many companies are already using it to market and sell their products.
Although other marketing efforts like using link building services or hiring PR experts have their benefits, only a few can match the cost-effectiveness of text message marketing campaigns.
SMS marketing involves sending promotional or transactional messages to your customers. And when you automate it, software carries out all steps of the process for you… all you do is provide access to the list of phone numbers you collected and want to target.
Over the long term, text marketing campaigns can yield exceptional results, increasing the number and value of transactions in your online store. By including SMS marketing in your company's growth strategy, you can boost your bottom line.
All that being said, it's wise to consider a few critical factors before adding SMS marketing tools to your business' marketing mix.
For starters, while SMS marketing software can help you deliver thousands (or tens of thousands) of messages per month, providers rarely allow for sending messages in more than one language. This can make things tricky, primarily if you operate on a global scale or in more than one market. If this is you, you'll want to make sure to pair your SMS marketing tools with other services, like text translation or simultaneous interpreting.
It's also important to remember that SMS marketing might not be suitable for every company. After all, there's a limit to what you can communicate through short text messages!
Suppose your organization wants to get a bit more creative to attract new clients and manage relationships with current customers. In that case, SMS automation may be the wrong choice, as there are limits when it comes to expressing your brand identity and mission. Instead, consider opting for marketing avenues with higher creative potential, like MMS messages.
SMS vs. text messaging vs. MMS
"SMS messages" and "text messages" refer to the same thing: short texts sent to a mobile phone.
MMS (Multimedia Messaging Service) is different: MMS messages carry multimedia like videos, images, and audio recordings. It gives them a clear advantage over text-only messages, as these forms of content usually provide a more compelling medium for the receiver.
In today's digital environment, photos and videos play a crucial role. In fact, their importance has skyrocketed in recent years, surpassing even the boldest predictions. As BuzzSumo pointed out, Facebook posts with images receive 2.3 times more engagement than those without images. There's a lot of value in visual content.
So is MMS always better than SMS? Not really— simple SMS messages are a highly effective way of reaching a large audience. And many SMS software providers offer packages that also include MMS marketing campaigns, allowing you to get the best of both worlds.
Next, let's take a look at why SMS is still one of the most effective channels today.
Why are SMS messages so effective?
Although people use many other channels to communicate with their friends and relatives (like Facebook Messenger and Zoom) they almost certainly own a cell phone. Because of this, SMS marketing campaigns remain a popular method fo creating long-term relationships with customers and increasing conversion rates.
Furthermore, receiving a text message feels more personal than, for example, waking up to another email in your mailbox. It propels text message marketing ahead of practices like influencer and email marketing by making it seem more genuine and casual.
When people use apps like Gmail, your message might end up in a folder they never check, reducing the effectiveness of your campaign. SMS services completely eliminate this issue. By sending personalized text messages to your customers' phones, you ensure they'll see it: SMS messages are opened up to 98% of the time!
Text messages are also, by design, more to the point than other mediums. It makes them inherently more suitable for a modern-day customer who needs to juggle several tasks and doesn't have the time to read a longer message.
Your clients can quickly reply to your messages, which makes SMS messaging a convenient two-way street.
What are SMS marketing platforms?
SMS marketing platforms allow businesses to create and send text messages in bulk. They handle numerous tasks, simplifying things for your marketing team. Whether you need to send transactional or promotional messages, these platforms can get the job done.
Text messages remain one of the staples of communication, allowing companies to cast a wider net and reach more customers. As such, SMS services are widely used—all thanks to the unparalleled reach of the medium, fast delivery, and easily measurable results.
Additionally, SMS marketing platforms provide access to valuable customer data, analytics, and reports. This can help companies adjust their campaign goals and strategies.
Finally, sending SMS marketing messages is one of the fastest ways to deliver vital information to your customers, and SMS marketing platforms make it even more streamlined. Unlike using social media or email, your customers won't have to enter a site or open the app to receive and read your messages. This creates a much better flow of information.
How to use SMS marketing platforms?
You can use SMS marketing platforms for many different purposes, including:
Staying in touch with the customers

Generating reports

Offering discounts

Informing customers about ongoing promotions

Creating polls and surveys

Reminding customers about payments

Sending automated messages

Delivering improved customer service
10 best SMS marketing platforms
Finding the most suitable SMS marketing software for your needs can be challenging. Still, a few platforms in this niche constantly outperform others, providing superb marketing services at a fair price.
Ready to get started with SMS marketing? Here's a list of top SMS marketing software you should consider:
1. Sender

If you run a small business, opting for services provided by Sender might be the ideal choice. This all-in-one email and SMS marketing platform offers everything you need to reach your target audience effectively. The company boasts an impressive 98% open rate and a 45% reply rate.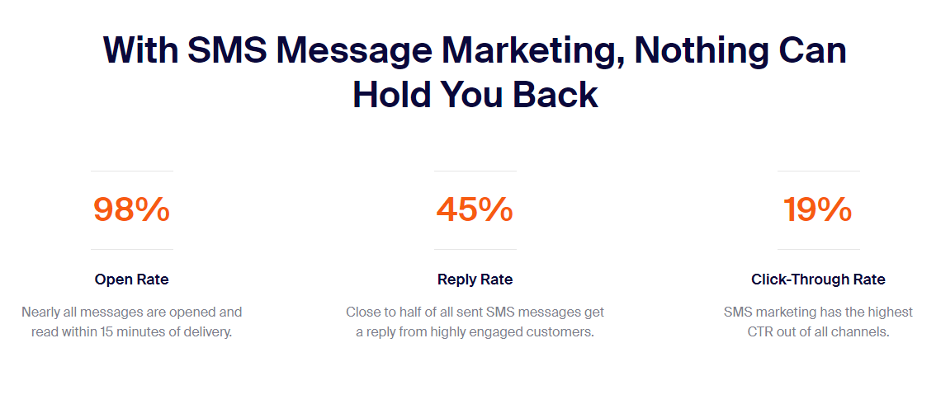 Most importantly, you can get started with Sender for free. There's no need to enter your credit card details, and you can cancel anytime. This factor makes it an affordable solution that any small enterprise can appreciate, and a great way to test the SMS marketing waters.
Sender provides its clients with free SMS credits if they use the Professional or Enterprise plan. But regardless of the tier you select, you'll enjoy running your campaign from one easy-to-use dashboard that makes personalizing outgoing SMS messages a hassle-free experience.
If you want to go the extra mile, you can even engage clients with combined email and SMS sequences. It's an excellent way to make the most out of your marketing opportunities and take your organization to the next level.
2. SimpleTexting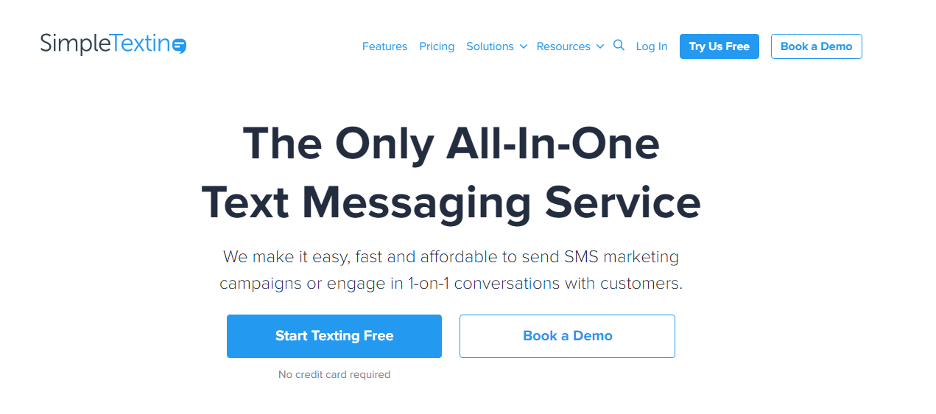 SimpleTexting is among the most popular text message marketing services today. Its intuitive interface and numerous software integrations make it a straightforward tool to master in just a couple of days. You'll be able to find your way around and grasp how things work without reading lengthy tutorials or contacting customer service for help.
Features that make this software stand out from the crowd are an unlimited number of custom keywords in all its plans, detailed breakdowns of campaigns, and the ability to save time by reusing your frequently-sent messages.
Let's go through some of its best qualities below:
Intuitive user interface: SimpleTexting goes out of its way to provide its clients with the most comfortable experience possible while using their app.

Many integrations: For no extra charge, SimpleTexting's development team can tweak the app to suit your needs and preferences.

Two-way conversations: The software allows businesses to track conversions and provides the tools necessary to text in real-time with customers.

Advanced automation: Need to send bulk text messages? SimpleTexting was created for this task, allowing you to send them lightning fast.

MMS marketing: If you want to create a more emotional experience for your customers, you can add picture and video messaging to your regular text messaging campaigns.

SMS API: Plugging your website or CRM into the SimpleTexting platform is a fantastic way to make the most of this SMS marketing service.

Drip campaigns: With SimpleTexting, you get the opportunity to automate one or more messages and send them as follow-up texts, increasing your chances of landing more sales.
3. Mobile Text Alerts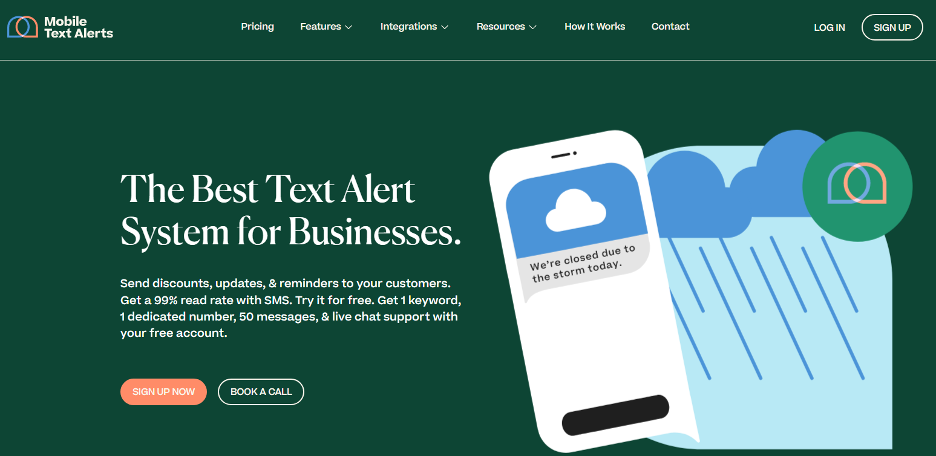 Mobile Text Alerts is another easy-to-learn software that you can use to achieve your marketing goals. The company's founder, James Pelton, created it in response to growing communication needs in his local community. Since then, the enterprise has flourished, resulting in its acquisition by Vimbly Group in 2020.
Over 20,000 companies use Mobile Text Alerts for their SMS marketing needs. These companies range from small startups to multi-million dollar corporations like Toyota and Yamaha.
What makes this SMS marketing platform so special is its superb live chat support. You can connect with the support team right from the Mobile Text Alerts platform and get answers to all your questions almost immediately.
Other noteworthy features include:
Text to landlines

Automated responses

Mass text messaging

Contact card usage

International messaging

Spreadsheet import

Integrations with WordPress, Slack, MailChimp, etc.
They also offer a free 14-day trial, giving your company full access to test all the platform's core features. Whether you're looking for a quick setup or a more complex way to handle your text messages, Mobile Text Alerts has your back.
4. TextMagic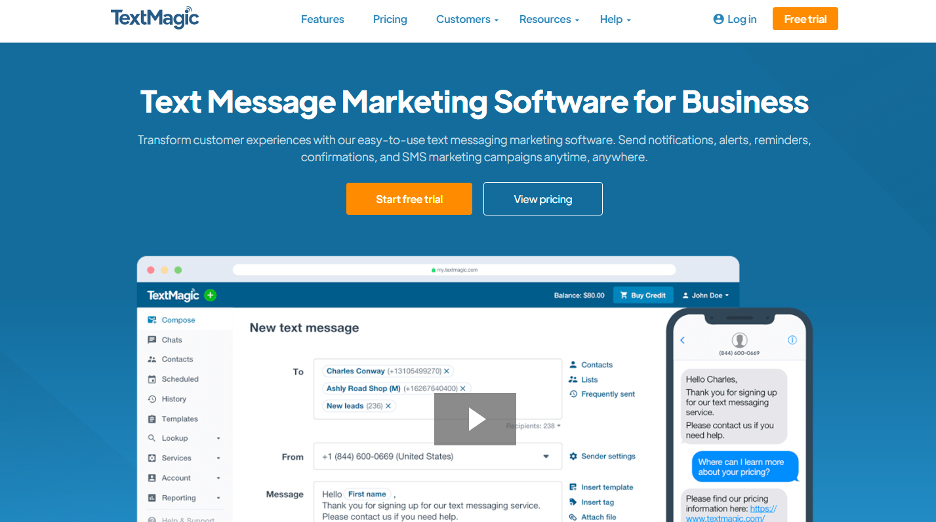 This SMS marketing software offers the same functionalities as other options, but the element that sets it apart from the pack is the scale at which it allows you to operate.
With TextMagic, you can send text messages anywhere… from Afghanistan to the United States Virgin Islands. It is a powerful tool to have if you operate in the global market.
With over 14 years of experience in helping companies reach their SMS marketing goals, TextMagic experts can provide you with invaluable advice to achieve success..
Want to go all out? You can send bulk messages to users in more than 190 countries. If you're aiming for a more personalized approach, you can create templates with personalization tags, like your customers' names and email addresses.
By integrating the SMS gateway API, you'll be able to make the most of the application and incorporate text messaging into your existing systems. You can also convert emails into SMS messages before sending them to your list of contacts.
Speaking of contacts, you can easily build your lists by importing an Excel spreadsheet or CSV file, manually entering contacts in the Contacts tab of the app, or adding a click-to-text form to your website.
Scheduling messages is a simple process, too: just head over to the Scheduled tab in the application and work from there.
Helpful team features like the ability to add an unlimited number of users to your account make TextMagic one of the most reliable, flexible solutions available. Plus, its pay-as-you-go payment model might be more suitable for you than a flat monthly fee.
5. EZ Texting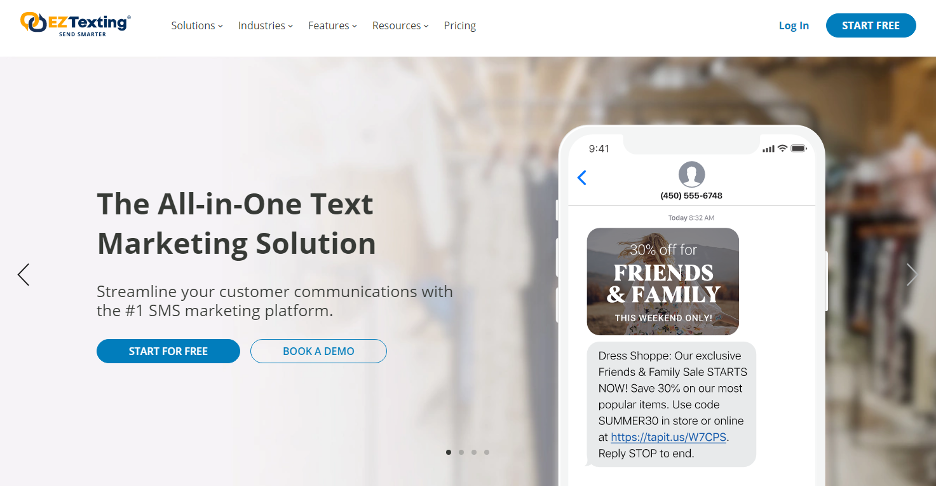 EZ Texting offers clear pricing plans and guidance for the less technically savvy among us who still want to get into SMS marketing. This transparent approach has already won over numerous entrepreneurs, making the software popular among those who want to send messages without worrying about every little detail.
The most impressive feature offered by EZ Texting is its native Shutterstock integration. The application provides you with high-quality, royalty-free stock images to add to your messages. And the best part of all? You can edit them with a dynamic image editor to meet your requirements.
EZ Texting allows for straightforward two-way messaging. You can either contact customers as a group or on a 1-to-1 basis. And, if you want to enrich your SMS list, you can include signup forms and QR code sign up to redirect to your website.
And that's not all. This SMS software also gives you access to dedicated short codes (5-digit numbers with unlimited keywords) and a toll-free number (an exclusive number for your brand).
Even the most elementary features offered by EZ Texting feel advanced, but never overwhelming to users. The app holds your hand every step of the way to ensure you successfully make SMS marketing work for you. It's an efficient SMS service solution for every business.
6. Textedly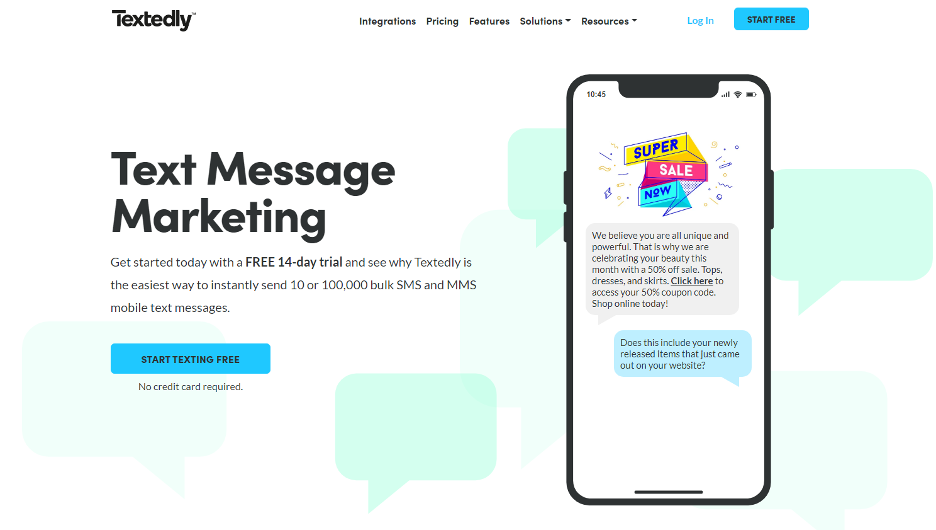 Textedly is one of the SMS marketing tools you should consider if you work on a tight budget. This software will grow with your business, providing easily scalable features along the way. Besides adding SMS functionality to your company, it offers voice services, custom keywords, free inbound messages, and contact management tools.
With Textedly, you can run drip campaigns, send voice messages to your customers, set automatic responses, and much more. For example, you can add a "text us" button to your Instagram profile, giving your followers an instant way to contact you.
You can mass send your SMS message to all your contacts in just a few seconds, and the software's user-friendly dashboard is incredibly helpful, especially if you've never used SMS services before.
Currently, Textedly offers 12 pricing plans spanning 1,200 to 240,000 monthly messages. This way, you'll be able to pick an appropriate option and never worry about extra costs from exceeding the monthly limit for text messages. It also provides unlimited contacts and mobile numbers with all of its plans, so you'll never be slowed down as your customer list grows.
You can integrate Textedly with over 3,000 other apps, including Zapier, MailChimp, Slack, and Salesforce. This factor makes it highly versatile—a welcome addition in today's ever-changing world.
Textedly charges on a month-to-month subscription basis, but you can also opt to pay annually. If you go with the latter, the company throws in an 20% extra text messages per month.
7. SlickText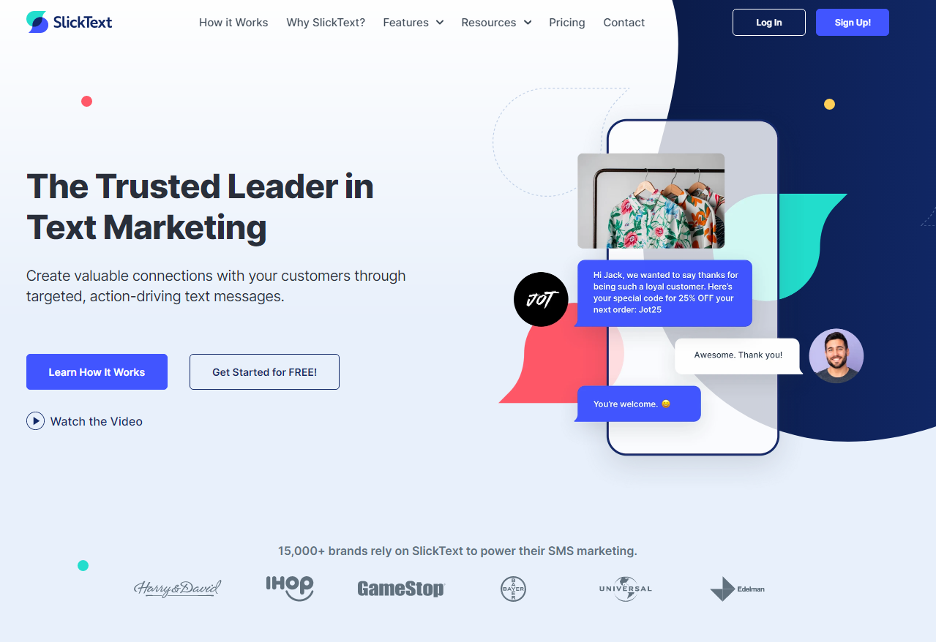 SlickText is yet another SMS marketing software that puts ease of use at the top of its priority list. Whether you're an SMS marketing expert or still figuring out the basics, this software will help you grow customer loyalty with minimal hassle.
Features like a loyalty rewards program, text-to-win contests, and mobile coupons with unique coupon codes are only the tip of the iceberg when it comes to what this low-cost, quick-setup text message marketing service can do. Overall, it might be one of the best tools to drive revenue and growth for your business.
So, how can you use SlickText to do all these things?
First of all, the software allows you to set up surveys and questionnaires within your dashboard. It is an excellent way to keep your customers engaged and satisfied with your organization. It also makes analyzing customer feedback a breeze, as you have everything you need in one place.
On top of that, SlickText provides valuable instructions on setting up your SMS campaigns. The website includes videos explaining how to create an account, prepare automatic replies, and reserve a keyword.
The system also automatically detects invalid numbers and removes them from your contact list, making contact management less strenuous. There are no hidden fees, and the company offers a hands-on approach, strategic advice, and ongoing support. If for any reason you're not satisfied with the service, you can cancel at any moment.
8. ClickSend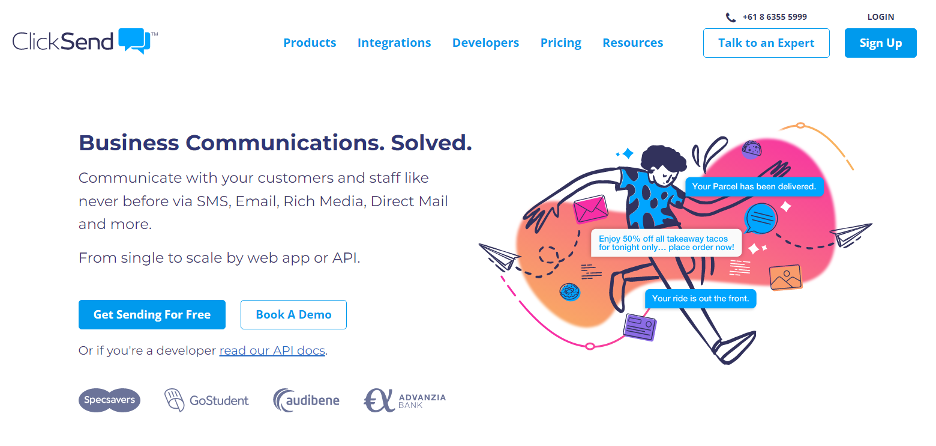 ClickSend helps you take your first steps in the text marketing world through a web-based SMS portal or an SMS gateway API. Thanks to this SMS messaging software, you can send thousands of messages worldwide.
An online SMS gateway allows you to reach out to individuals or multiple contacts. The process is pleasant and trouble-free for your business and your customers. On the other hand, a web-based SMS portal offers seamless integration with almost any email software.
Using this bulk SMS service is as straightforward as sending a regular email. With ClickSend's Microsoft Outlook Plugin, you can even send a text message to your clients using Microsoft Outlook.
ClickSend also has a few other features worth mentioning: the system automatically handles opt-outs, customer replies to your outbound messages are free, and you can send bulk SMS through the SMPP gateway to guarantee high-volume messaging with 100% uptime.
Another benefit of this solution is the security that comes with it. ClickSend uses a secure SSL, helping you to keep your company and customers safe.
9. Podium

While other SMS platforms are appropriate for any business, Podium works exclusively with small companies. If that's you, consider yourself lucky!
Podium's lightning-fast response rate and 45% average net profit increase are outstanding advantages that are hard to ignore. Similarly, its centralized dashboard is a fantastic solution that makes your job easier. It serves as a hub for your marketing campaign, allowing you to immediately send messages to your customers after setting your campaign goals.
Moreover, Podium allows you to target specific groups of customers with personalized content. You can create powerful marketing strategies in minutes, saving time for other tasks in your busy schedule.
The platform helps you offer timely customer service and convenient payment options with opt-in opportunities. You'll easily be able to jump on a video call with your customers, chat with your teammates, or respond to queries on your website.
Finally, using Podium Campaigns ensures you'll meet your compliance obligations. The application works within the confines of the Telephone Consumer Protection Act and the CAN-SPAM Act. You sleep soundly, knowing that no formalities have been overlooked.
10. Salesmsg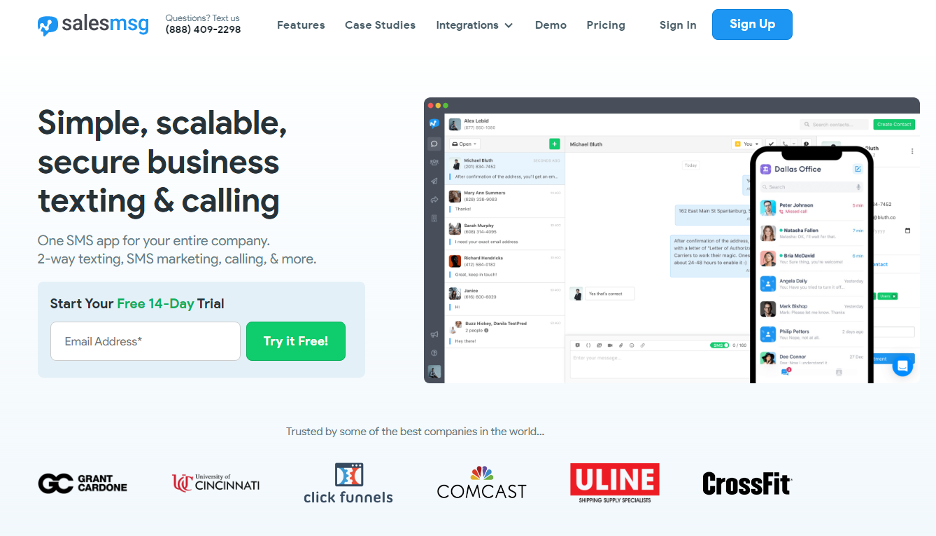 Which SMS marketing platform should I choose?
The final decision on the best SMS marketing software depends on your company. While some companies might place more value on email marketing possibilities and the option to use numerous marketing channels, others might want to focus on creating SMS surveys or care about taking advantage of a pay-as-you-go payment model.
Before getting into SMS messaging:
Consider your company's needs and the best way to address them.

Assess how many messages you need to send monthly and how much of your budget you can dedicate to SMS marketing.

Determine whether you need only SMS marketing or a SMS/MMS package to grow your company.
7 important SMS marketing software features
SMS campaigns are unique, meaning marketers create them with different goals in mind. This makes choosing the right software for your company even more complicated.
Many features can make your life easier, from seamless integration with third-party forms and A/B testing of text campaigns to predictive analysis and the ability to send personalized text messages.
That being said, there are a few universal features all reliable marketing platforms should offer. Make sure any platform you're considering has these functionalities:
1. Ease of use
A text message marketing app should be easy to understand, even if you're not a specialist. You shouldn't have to hire an expert just to handle the software you purchased! Instead, the software should adjust to you, providing a comfortable experience.
2. Two-way messaging
Staying in contact with your customers is crucial. As such, you should look for software that allows you to communicate with your clients and receive their responses directly. This way, you can keep your finger on the "pulse" and act accordingly.
3. Analytics and reports
Another vital factor to consider is what kind of analytics the software provides. How deep can you go with analyzing your SMS marketing campaigns? Do your reports explain why your campaigns performed the way they did? You want a platform that will give you enough information to learn from your mistakes and keep improving.
4. Integration with other apps
Nowadays, one of the pillars of text message marketing is the possibility to integrate with other platforms. The ability to send SMS messages is not enough. You need access to extra options to get the most out of your business software. That's why you'll want to look for SMS marketing software that allows seamless integration with the apps you use.
5. Scalability
Regardless of how you approach text message marketing, having the option to scale your SMS marketing platform alongside your growing business is a welcome addition. Top-notch services should allow you to scale up your operations without charging ridiculous fees. This way, you can avoid the chaos of changing your provider and keep everything running smoothly.
6. Bulk messaging
More often than not, sending standalone text messages is not enough. A reliable SMS messaging platform should allow you to mass message your clients, sending vital information out to thousands of people at once.
7. Email-to-SMS
If you're a massive email user, email-to-SMS will quickly become second nature. It's a straightforward way to send SMS messages via email. The most flexible SMS messaging platforms offer this feature.
7 SMS marketing best practices
Choosing the right SMS message marketing platform is vital to making your marketing campaign a screaming success. But it's not the only factor.
Here are a few valuable tips to improve your SMS marketing efforts:
1. Use all marketing systems
While you could technically make text message marketing your sole marketing outlet, using it alongside other marketing channels is a much smarter approach. You'll reach a broader audience, expanding your influence and improving brand recognition.
2. Personalize the message
Personalization is the key to every customer's heart. When you address your clients by their name and treat them as valuable individuals, they'll repay you with their business and positive reviews. Remember that making your messages compelling will pay off in the long run.
3. Be brief
People love SMS messages because they're not as wordy as other forms of messaging. Consequently, you'll want to keep your text messages short and sweet. Instead of stuffing as many keywords as you can into your message, use the space wisely.
4. Segment
Segmenting is similar to personalizing your message, but involves catering the message to a particular group instead of an individual. You can segment your target audience by various determinants, such as their interests, age, or shopping behaviors. Once you have some groups you want to target, draft appropriate messages for each. Your customers will surely love the effort!
5. Select the appropriate sending times
SMS marketing is not just about sending the right message, but also about finding the best time to do it. The rule of thumb is to avoid sending messages before 9 AM and after 9 PM. However, you can use your analytics to determine the ideal time for your target audience.
6. Be consistent
As with any other marketing practice, consistency is necessary for success. Sending a message or two and then forgetting about the whole affair will do you no good. Instead, stay at it and remind your customers of your existence. But remember not to overdo it, or you might come across as spammy.
7. Stick to casual English
Although you should avoid including specific, business-oriented language in your SMS messages, using slang is also a dubious practice. At best, it can make you seem unprofessional. At worst, it could make your customers consider switching to your competitors. Stick to casual English to avoid this issue.
Finding a suitable text messaging provider can be difficult, but it's not impossible! Check if the platform you're considering offers the features listed above, and then go from there.
Start with the software in this article, which provide great bang for your buck. Whether you pay as you go or settle on a monthly fee, these platforms can help you market your business without incurring high costs. Plus, they are an excellent way to streamline your marketing efforts and free up more time to focus on improving your company.
Once you choose a platform and follow the SMS marketing best practices, engaging with your customers via text will become second nature!