One of the most powerful uses of OptiMonk is to sign up new subscribers to your email list. But once you've built a strong email list, the next step is to contact these leads through email, and convert them into buyers. In this post, we're looking at how to get people on your email list to open your email, and I'll give you 30 best email subject lines that convert.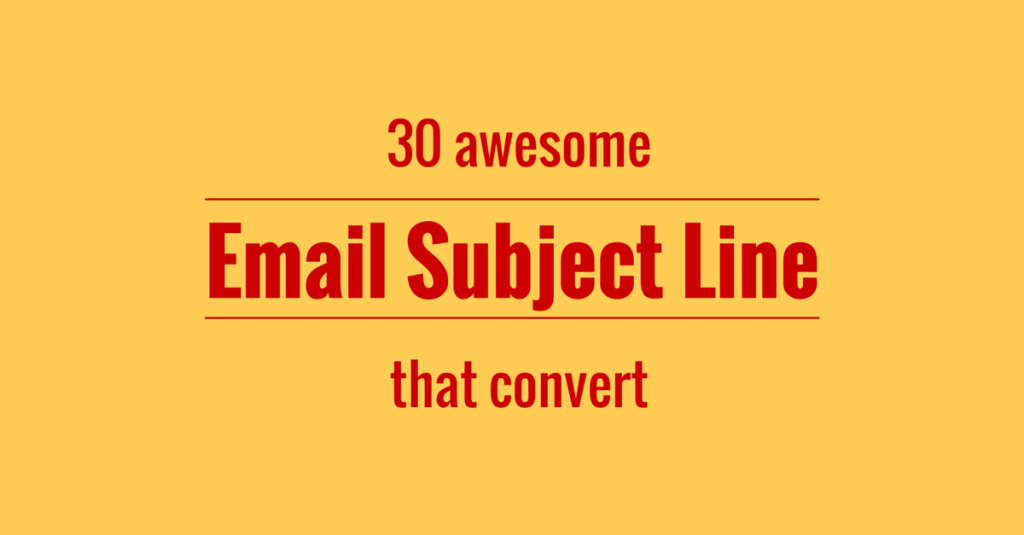 Knowing how to craft a compelling email subject line is one of the keys to success in converting subscribers on your email list. In this post, we're looking at how to get people on your email list to open your email. We'll see different examples of email subject lines and give you 30 best email subject lines that convert.
The key to writing an awesome email subject line is to Grab the attention of your readers. You've got to motivate them to read your email. Picture yourself sitting at your computer or browsing your email on your phone. What's going to get you to open that email instead of the many other emails in your inbox?
One way to do this is to Shock your readers:
1. You're Wasting Money Paying For Traffic That Doesn't Convert
2. The One Thing That Could Ruin Your Entire Business
While you want to write something shocking to grab your readers' attention, remember the rules of polite dinner conversation, don't bring up politics or religion. In other words, it's ok to be shocking, but Stay away from touchy subjects. For instance this is probably not a good email subject line:
3. 6 Reasons Why Ex-Pats Waste Taxpayers Money
When you want to grab attention without being shocking, you can Amaze your readers:
4. Our Clients Reduced Their Ad Budget 300% by Converting More Traffic
5. How 1 Business Grew Their Revenue 225% in 3 Weeks
For these types of email subjects, it helps to have a statistic to quote to add credibility. Amazement occurs when we see or hear something that's true and way above expectations.
Speaking of numbers, using Top X Lists is a great way to prompt people to open your emails:
6. Top 3 Ways to Convert More Buyers on Your Website
7. 8 of the Best Conversion Strategies You Can Apply Today
8. 5 Ways You Can Fit More Exercise into Your Daily Routine
It's good to use a number of 10 or even less for a list in an email. Awesome subject lines convert when people open and read your email. Don't make them think it's going to be a very long email, or they might skip it.
In general, Less is More when it comes to writing email subject lines that convert. Consider that most email clients offer a preview of the Subject line that is 100 characters or less. Short and snappy subject lines work well:
9. #1 Online Sales Secret
10. Stop Wasting Money
It also helps when you add some Urgency to the message. When people feel like they need to review the information within a specified period, they are more likely to open your email:
11. Your Last Chance to Get 40% Off is Today
12. Don't Miss Out – 1 Day Only Free Shipping
Another way you can convince your readers to open your email is to offer them something Informative like a how-to or advice on an industry issue:
13. How to Cook A Delicious Meal for Your Date in 30 Minutes
14. Learn Best Practices for Processing Credit Cards
15. WordPress 5.0 is Released Tomorrow – Learn What This Means For You
Depending on the type of business you have, it helps to go Local. Mentioning how your service is important for a specific audience can make the message feel more relevant and prompt your readers to open and read it:
16. How Global Tech Trends will Impact House Prices in SF this Year
17. 5 Great Date Spots in NYC Most New Yorkers Don't Know About
One well-known method to convert visitors on your website also works as an awesome email subject line to convert readers, the trusted Call to Action:
18. Turn Your Business Around Today with these 3 Steps
19. Start Your Holiday Season Right by Following this Schedule
While you want your emails to appeal to a broad spectrum of readers in your email list, it may be helpful to be more specific, you can Target particular groups of readers:
20. 3 Things Every Sporting Good Retailer Should Know
21. 4 Ways Tech Startups Can Reach More VC's
Targetting is particularly useful when you are segmenting your visitors as they sign up. When you have different landing pages or use different campaigns with a service like OptiMonk, to target several groups, you can segment these groups in your email list and send them more targeted messages.
Even when you don't have your groups segmented you can still take advantage of targeting without alienating other people on your list. Remember the character limit on the preview of the Subject line in most email clients? Use the character limit to your advantage. Start with a targeted message and then add 'Other' or 'More' in the end, so the message is not exclusive:
22. Tips for Sporting Good Retailers that Work for Other Businesses Too
23. Top 3 Lessons from Auto Parts Sites that You Can Use On Your Site
Another tried, and true marketing technique is to use a Secret. When there's something mysterious, people want to find out what it is. Curiosity converts the reader:
24. Learn the Secret To Converting More Visitors
25. Learn the #1 Lesson No Marketing Expert Will Tell You
A good rule for writing awesome email subject lines is to tell people what they have to gain by opening your emails. By offering an Incentive, real or implied, you give people a good reason to open your email:
26. Get Better Results from Your Adwords Campaigns in 15 Minutes
27. The First 5 People Who Reply to This Email Get a Free 6-month Subscription
When you want to give people a reason to open an email, you can show that it's in their best interest because other persons have received a benefit. This can be statistical or anecdotal Proof:
28. Learn The 3 Things Apple Does For Every Product Launch
29. This is What Richard Branson Looks For in a New Business
30. 4 of the Top 10 Successful Ecommerce Sites Use This Marketing Technique
OptiMonk is a powerful lead generation and conversion optimization tool that can help you build your email list fast. Once you have a substantial email list of prospects, the next step is to convert them into buyers. To turn readers of your email list into customers, you've got to get them to open your emails. The best way to do this is with an awesome email subject line. Following these tips and examples, you're sure to write subject lines that convert.