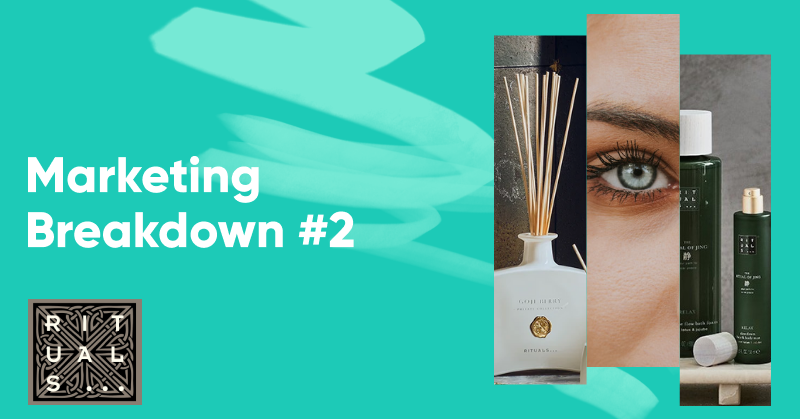 Rituals.com's first store opened in the early 2000s in Amsterdam and now they have stores from New York to Paris. Rituals is home to an impressive product line, including skincare, body care, make-up, and scented candles. In 19 years, they went from zero to hero with an annual revenue increase of a whopping $956.33 million in 2019.
How did they scale so quickly? In this post, we explore the marketing strategies that made the brand. Let's jump in.
Much of Rituals' success boils down to their expert brand positioning. Rituals positions itself as selling meaningful, life-enriching experiences — but not just by advertising nice body lotion and moisturizer (yes, we adore their products too).
The true secret? They care about their customers. Each one. You can get that vibe from their website, first off.
This customer-first approach shapes shopping experiences by seamlessly leading prospective shoppers through their customer journey. Sounds like a spa day, right? Exactly our thoughts too. 😉 Rituals makes sure that their guests and customers feel zen – as soon as they enter a store or open the Rituals homepage.
Raymond Cloosterman, founder and CEO, delivers their heartfelt philosophy:
"At Rituals, our philosophy is to transform daily routines to meaningful moments. Inside a Rituals store, you notice this philosophy when every customer is welcomed with a cup of tea. For their online shopping experience, we want to offer a meaningful moment and live our brand. Our app offers free professional meditation and yoga videos. We also have innovative features like our video gift card. We were the first brand in the world with this feature."
How can you create your own engaging shopping experiences online? Below, we explore 6+1 tips from the marketing masters at Rituals.
1. Make People Aware of Your Brand and Products
A feel-good shopping experience starts with capturing the attention of specific customers through dynamic outreach techniques. By zeroing in on people already interested in health and beauty products, Rituals found that working with big influencers on YouTube and Instagram is the way to go.
Influencer marketing is a modern approach for driving fresh traffic to your website and building brand awareness. This boils down to the high levels of trust that influencers build with their following. Influencer recommendations act as powerful social proof — 49% of consumers depend on influencer recommendations, and 40% buy after seeing something on social media.
If you do a YouTube search for 'Rituals Advent Calendar 2020', you'll find dozens of YouTubers unboxing and reviewing their exciting surprise-reveal product calendars. A well-orchestrated marketing campaign? We think so.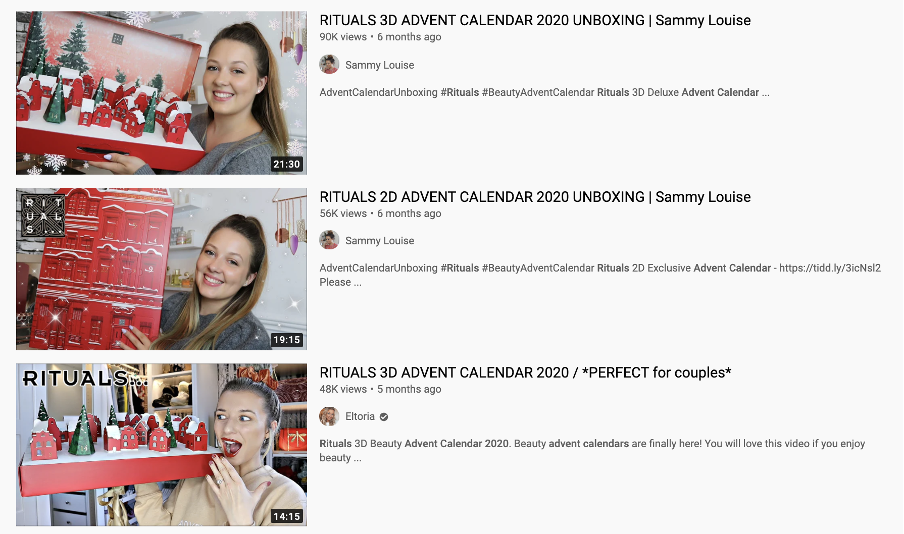 Rituals also leverages influencer marketing in other clever ways. They reach new audiences with regular product giveaways and they work with brand ambassadors who feature Rituals products in their posts.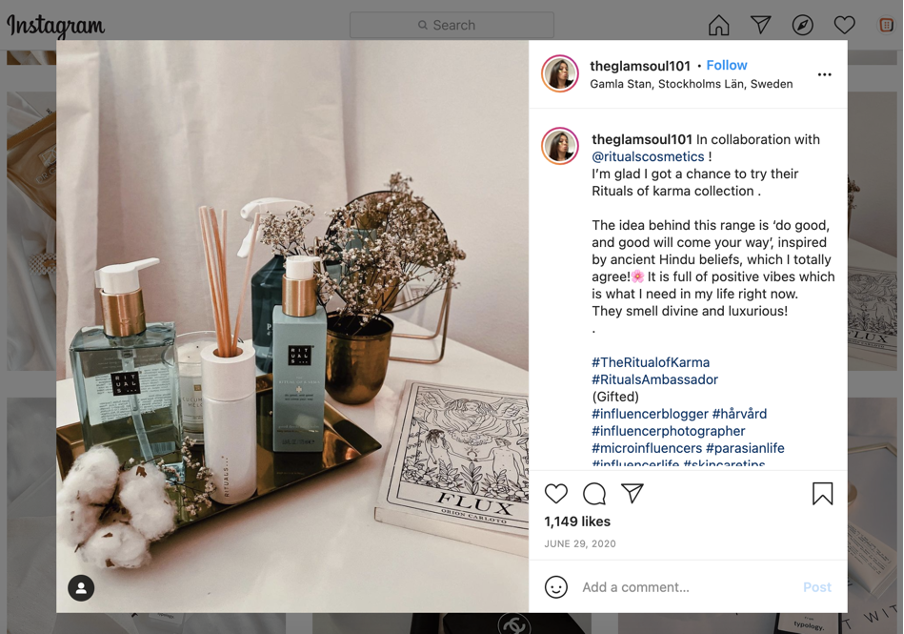 Want to work with influencers, but don't have a huge marketing budget? You don't need to be a big brand to work with them — micro-influencers can be just as powerful when it comes to building your brand.
Rituals.com usually works with micro-influencers, who have around 10K-50K followers. This approach is more affordable for most smaller businesses, but is often just as effective at driving more sales.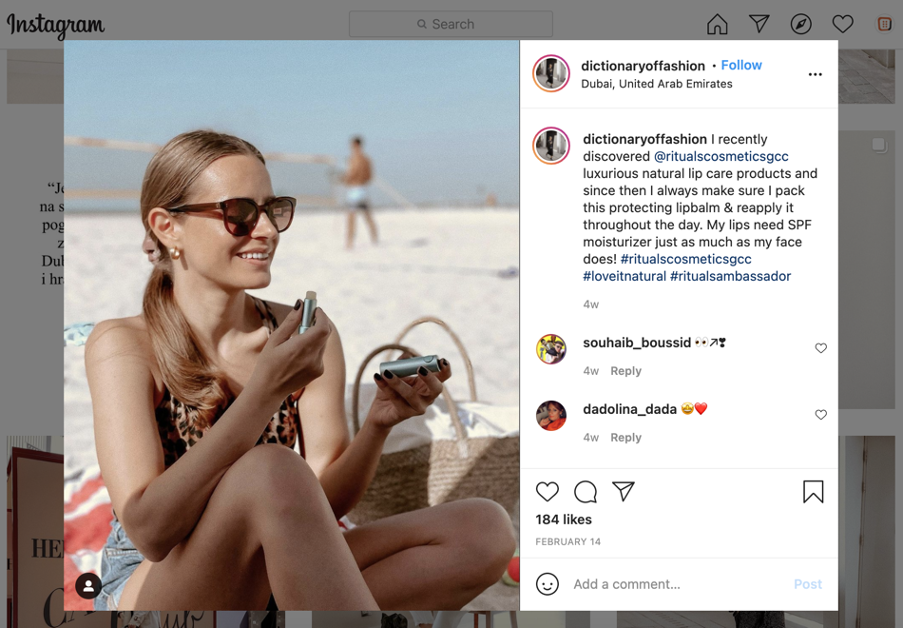 2. Lead Problem-Aware Visitors to a Decision
Problem-aware visitors typically know they have a problem and are actively looking for solutions — but are unsure what are those solutions.
In order to nurture problem-aware visitors, you need to help them find their way to the right solution. Rituals.com does this with a "What does your skin need?" test on the homepage: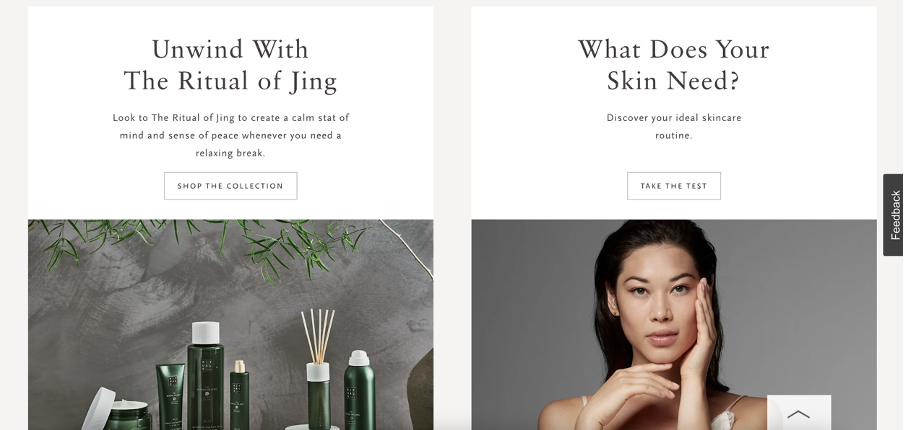 A quiz is perfect for problem-aware visitors. As a popular form of gamification, quizzes are a great way for brands to identify customer problems and help them find a solution in a fun and quick way.
In this case, visitors already know their skin issues — all they need to do is answer a handful of questions to discover the key product. Rituals.com enhances the luxurious, personal feel of the quiz by framing it as a "skincare consultation".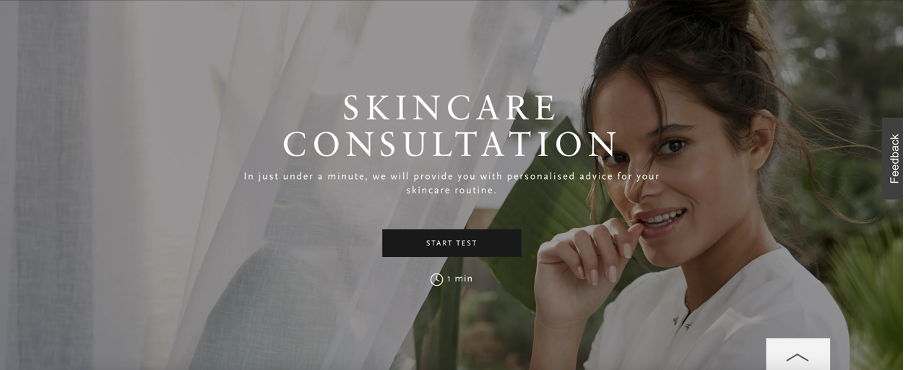 The beautiful, intuitive design adds to the user experience. The option of two different answers (rather than 7!) makes the quiz fun and easy to do: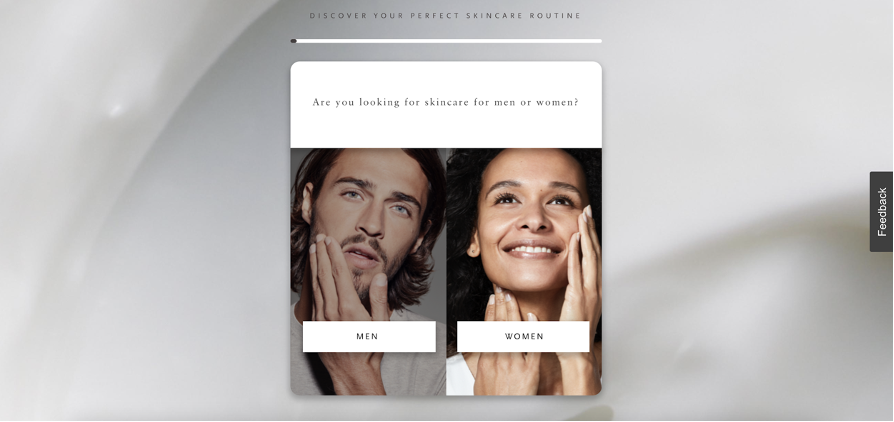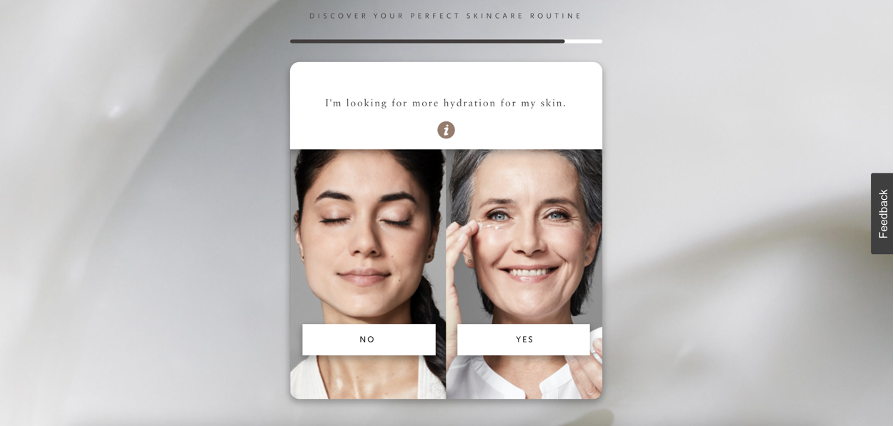 And when it's done, visitors get their personal results: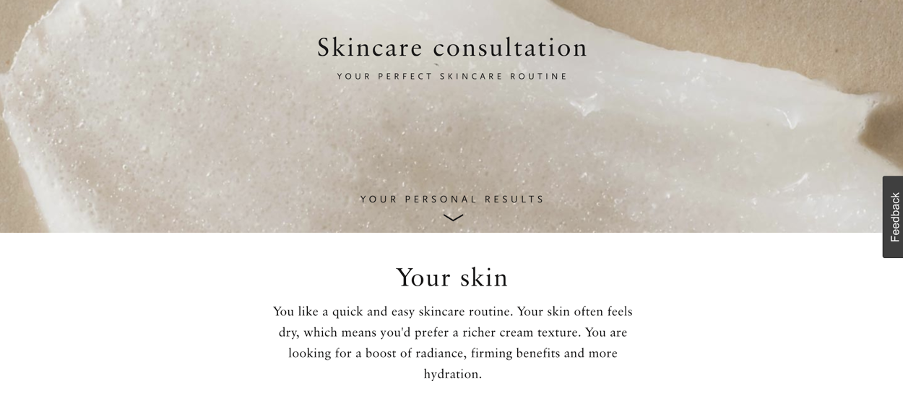 As well as personalized product recommendations for their skin: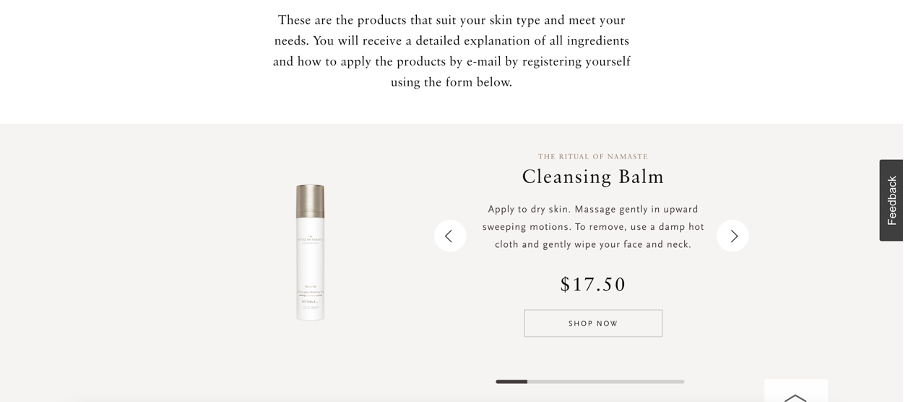 Rituals also targets the problem-aware visitor by categorizing their solutions based on common skincare concerns.
For example, visitors can shop based on anti-aging, hydration, or skin-firming concerns. It's much easier to shop by category based on a visitor's current skin issues and their desired results— than to shop by product type, like serums, creams, etc., which could be daunting.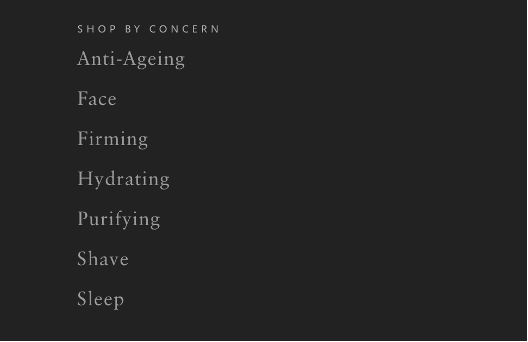 3. Display Product Information for Solution-Aware Visitors the Right Way
Solution-aware visitors already know which product category will solve their problems. They just aren't sure which of the many products is right for them. These visitors probably already have multiple tabs open and they're likely comparing different brands and items. But how do they decide?
To help these visitors find their match, Rituals offers a variety of nice on-site features.
Let's take a look at their beautiful product page and how they highlight the main ingredients. This is especially important in skincare, as many people want to know what they put on their face or body.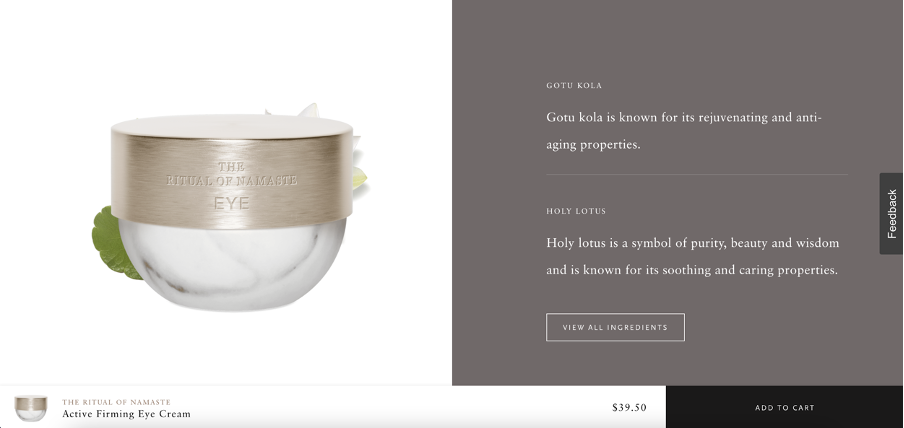 The best part of the product page? They offer a how-to video in the background. This allows visitors to see the consistency and look of a product and also understand how to use the product to get the most out of it.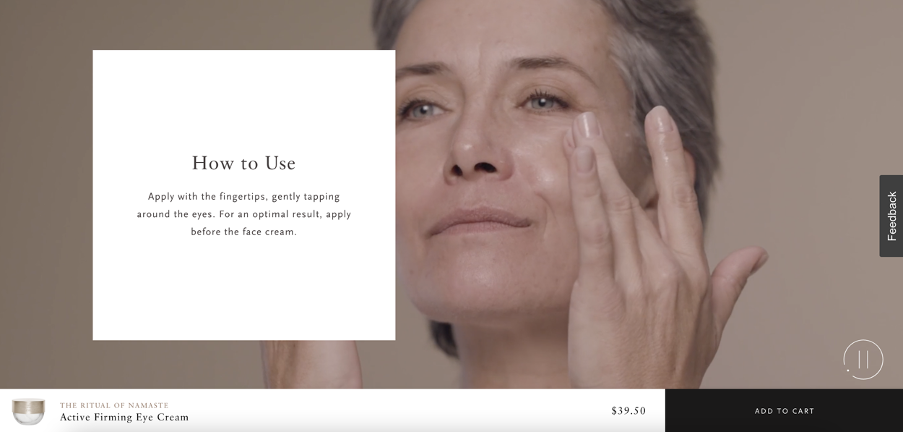 When scrolling down, visitors will see a sticky bar with all of the important information they need. They can also add the product to their cart — without needing to scroll back to the top of the page.
The more seamless you can make the user experience on a site, the more easily you'll convert each visitor.
4. Build Trust with Product-Aware Visitors
When it comes to product-aware visitors, your job is to resolve customer uncertainties and build trust. To do that, Rituals.com promotes the "My Rituals program" that offers a welcome gift and several other benefits (from excessive access to discount products to invites to special skincare events and workshops):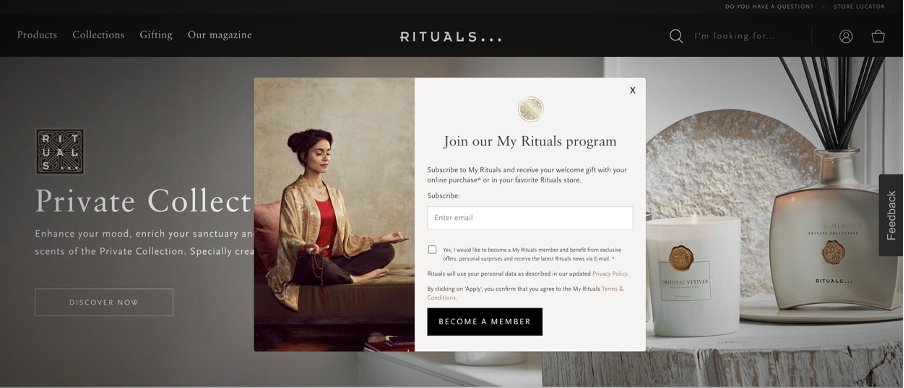 After visitors provide their email addresses, they ask for more information, including date of birth. This strategy helps Rituals.com to send personalized messages for their subscribers.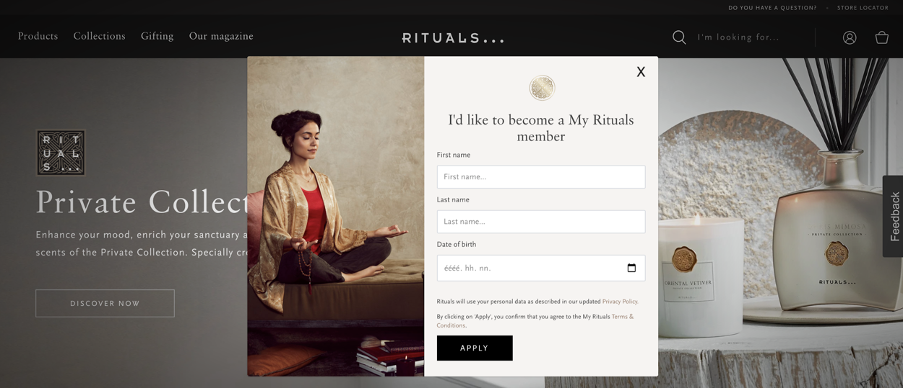 After becoming a member, visitors get a welcome email that encourages them to complete their profile.
They ask questions like "What is your favorite time of the day?" or "Which Rituals products interest you the most?", so they can send you even more personalized offers in the future.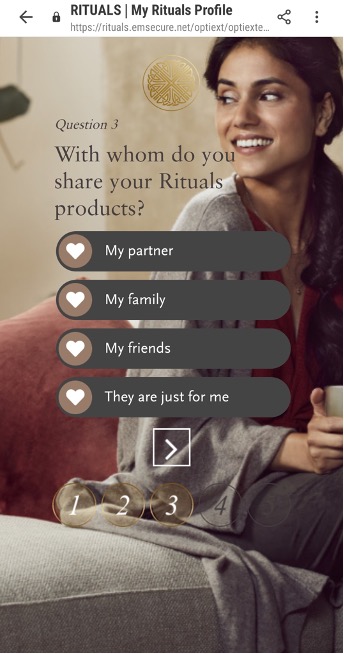 These added touches help to create meaningful, enjoyable experiences for customers.
Facebook and Google ads are another brilliant way to nurture product-aware visitors towards converting. These are the visitors who've already browsed your products and are returning to your site to weigh up whether or not to buy. Take a look at how Rituals does it: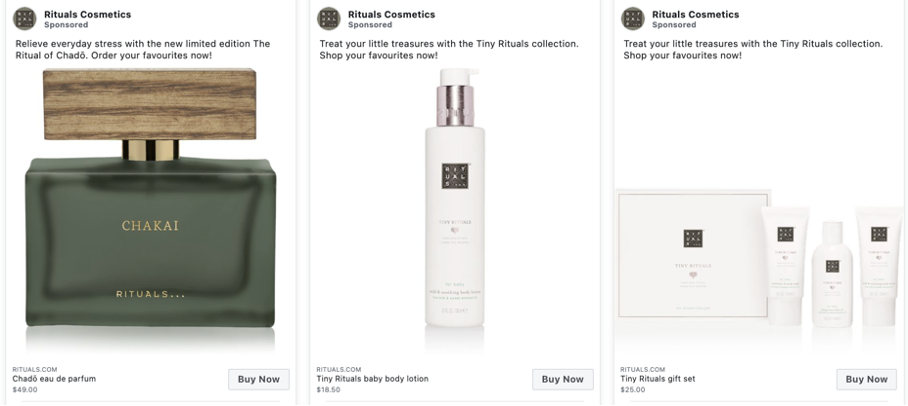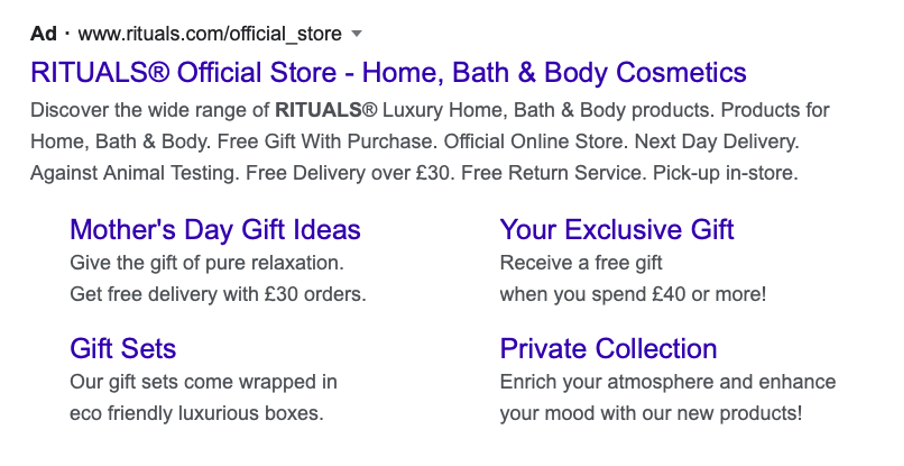 5. Nudge Customers to Complete the Purchase
Many visitors add something to their cart, but it doesn't mean that they finish the purchase. The average cart abandonment rate is around 70%, so optimizing your shopping cart is extremely important.
Rituals.com knows that luckily and they entice shoppers to finish the purchase with a special gift: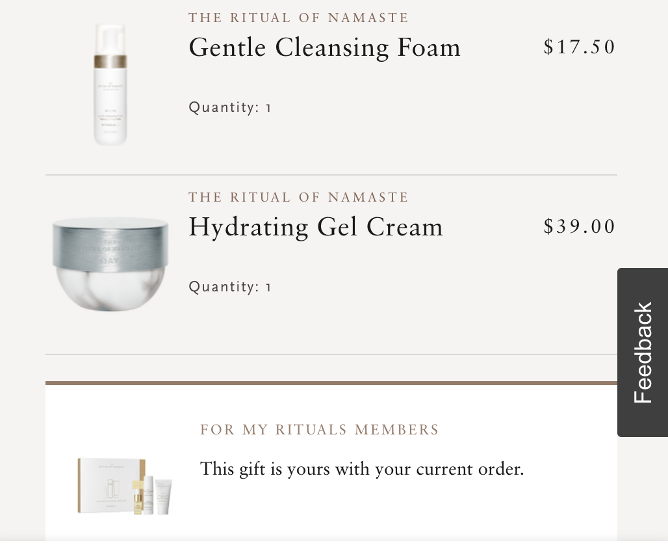 Another clever way Rituals combats the abandoned cart dilemma, is by sending a cart-abandonment email the day after a visitor has ditched their cart with an enticing subject line: "Still tossing and turning?"

6. Nurturing Long-Term Customer Relationships
Winning a sale feels great, but the most successful brands continue to nurture relationships beyond a customer's first purchase.
A digital magazine or blog that provides solutions for your customers is a brilliant way to continue to nurture relationships and build your brand image as an authoritative, helpful resource. Rituals.com has a stellar online magazine with dozens of helpful articles: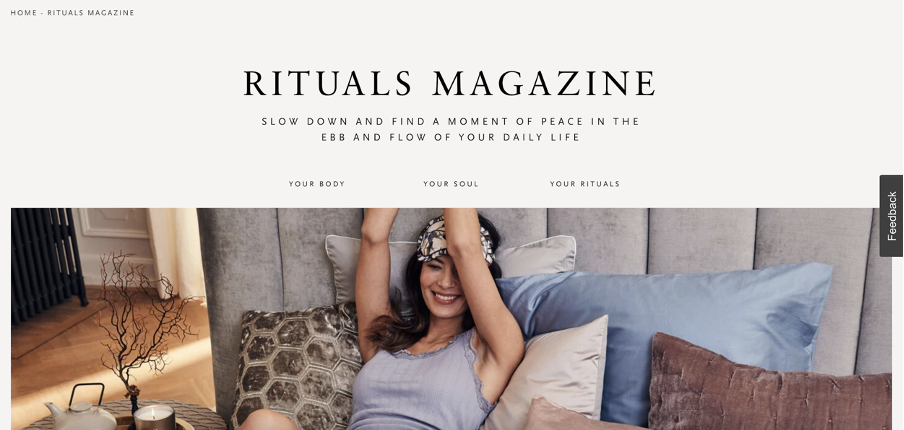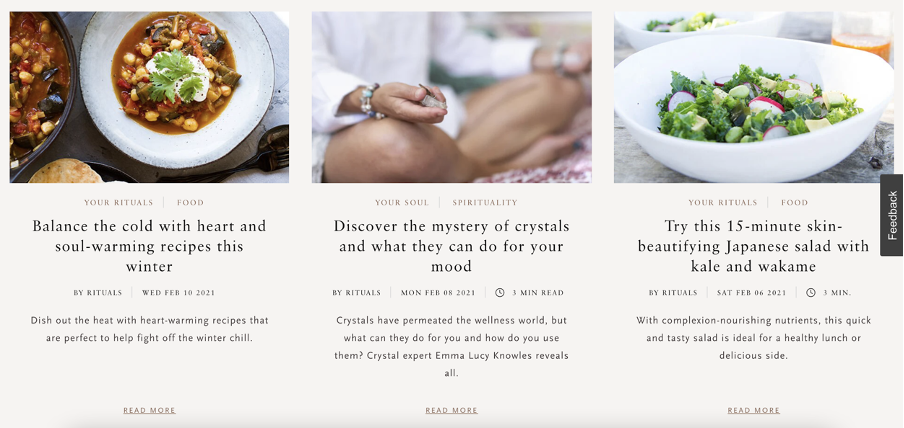 Social media is another great way to build a community and Rituals does an amazing job on Instagram. From sharing relaxing meditation exercises to engaging in conversations with followers via their live streams, Rituals puts building relationships and helping customers feel good before aggressive product promotion.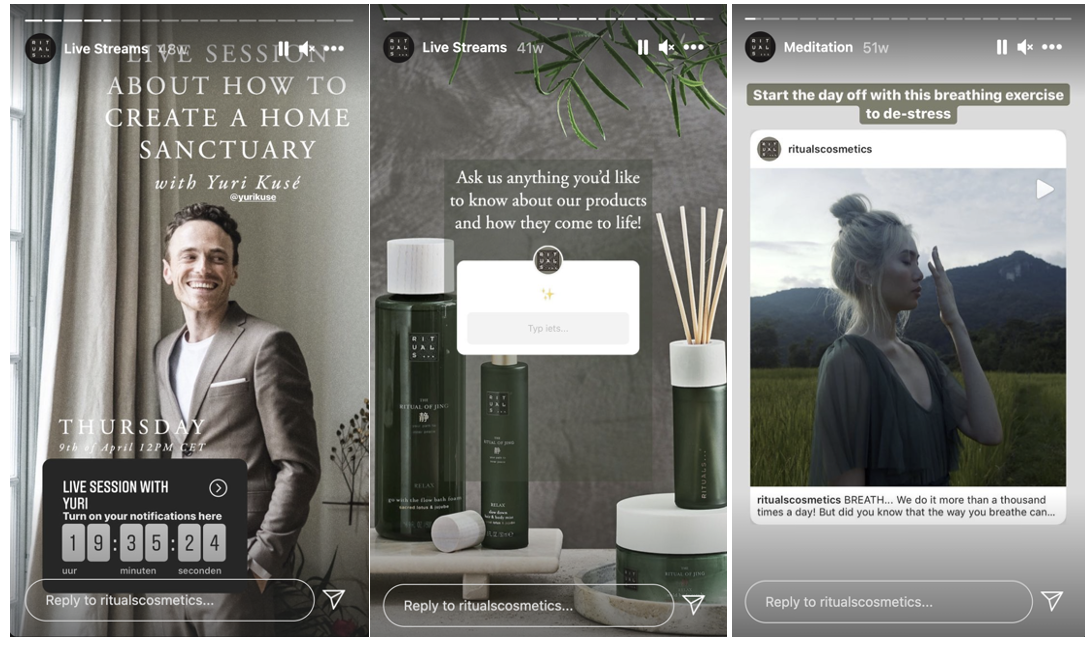 Their YouTube channel is another example of how they put customers first — nurturing their well-being and strengthening their relationship with the brand.
They share helpful videos on how their users can slow down and experience more meaningful moments in their lives.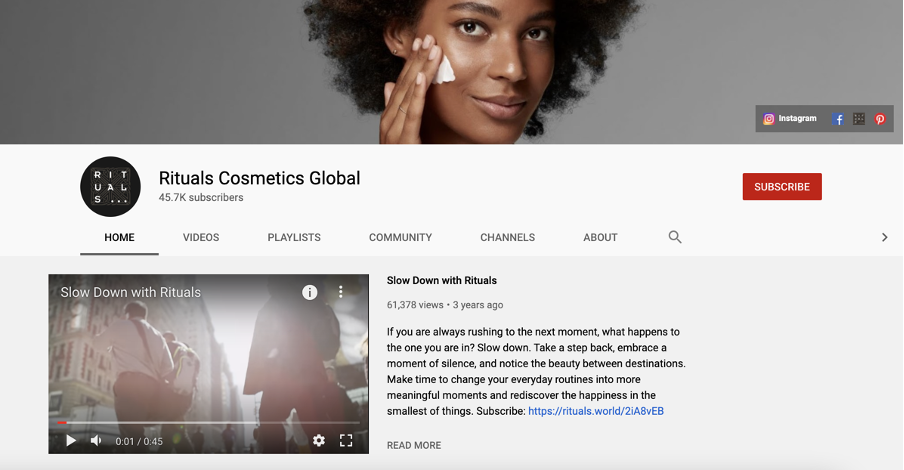 They have multiple playlists dedicated to promoting health and wellness— from self-care rituals to tips on how to be happier in daily life.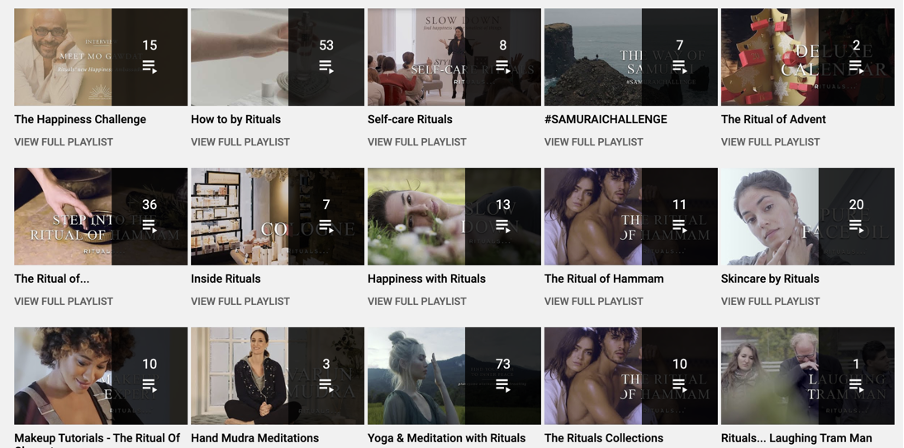 Rituals also offers free mediation content and expert yoga videos via their app. This highlights how Rituals nurtures relationships with customers across every channel — email, in-app, on their site, and on different social media channels.
In this way, Rituals deliver an engaging, seamless omni-channel customer experience that strengthens their relationship with the brand and keeps customers coming back for more.

+1 Focus on Sustainability
In 2021, more and more consumers consider the environment when it comes to choosing the brands they shop with. Hotwire reports that almost half of U.S. consumers dropped brands that clashed with their personal values — failing to protect the environment was the number one violation on that list.
What's important to customers should be important to you. When you implement environmentally-friendly practices, you retain your customer base and ensure the longevity of your business. Rituals gets this, as they showcase with their dedicated sustainability landing page: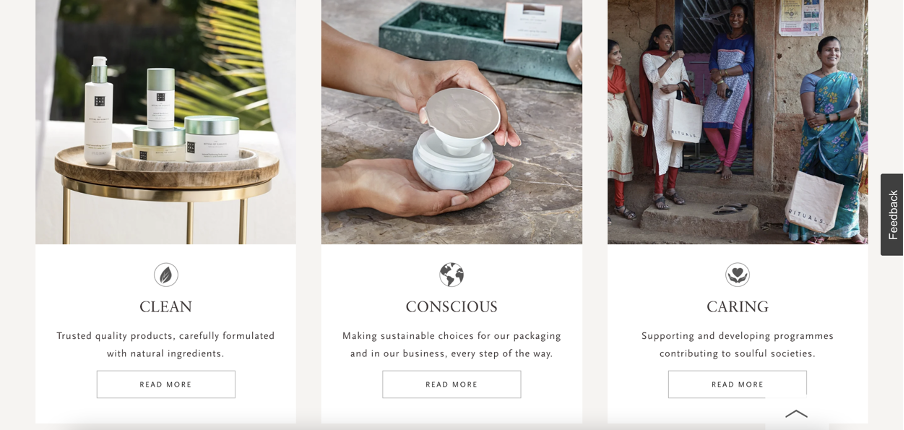 Rituals: Creating Meaningful Experiences Across Multi-Marketing
Rituals creates meaningful experiences in every area of their marketing. From their meditation videos on Instagram to their personalized quizzes, Rituals promotes their brand by helping their prospects and customers live a happier, more balanced life.
Want to replicate Rituals' approach? Look at how you can better personalize and enhance your customer's experience across different trending marketing channels.
Which content do they need to help solve their current problems? How can you use your content to help improve their lives? Long-lasting brands meet their audience's needs and you can too.